Concrete Basement Floor Staining Ideas
If you are looking to add value to your home with a finished basement floor,  staining the concrete floor that is already there is the most affordable option. A stained floor offers the lowest-cost and highest-return of any basement flooring option. Here are a couple of our favorite stained basement floor photos submitted by DIYers like you!
1. Elegant Charcoal Basement Flooring
This modern looking charcoal stained basement floor was submitted by Brad Allen (Dec '20 –  DIY Contest $250 Cash Winner). Brad shared some tips below to help you achieve this professional look.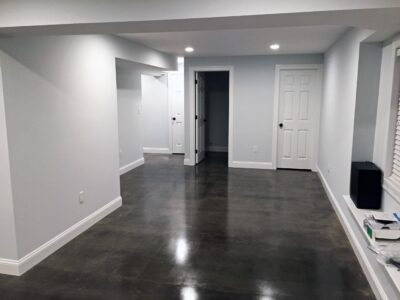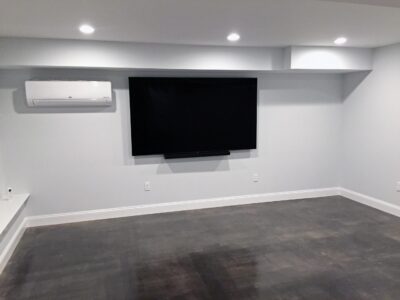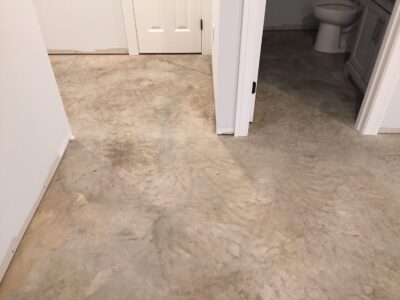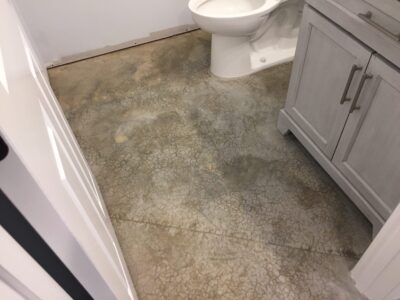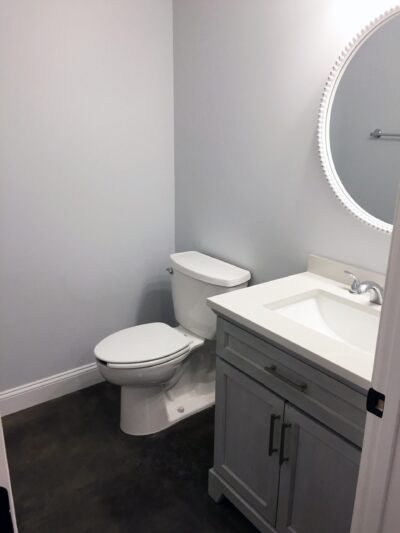 What was the approximate size of your project?
How long did your project take to complete?
26 hours total
It took 2 people 8 hours each to clean and apply hard troweled pre-treatment and rinse off using a wet vac.
Rinsed floor twice after hard troweled pre-treatment to make sure no residue left behind.
Let the floor dry overnight with heat on in the basement before proceeding.
Prior to applying AcquaTint, went back over the floor lightly sanding a handful of areas where sneaker prints from the hard troweled pre-treatment showed up.
Tip – Don't step in the area where hard troweled pre-treatment has sat for 20 min (which is pretty dry in most areas at that point) prior to rinsing or your sneaker prints will lightly etch themselves into the floor while rinsing. These areas will require sanding and we had a few. An hour (x 2 people) was spent lightly sanding a handful of sneaker prints and vacuuming up all the dust.
 It took about 3 hours of labor (2 people 1 1/2 hours each) to apply each coat of sealer.
Giving the floor two days to dry after the second coat of sealer brings us to Day 5 where wax was applied in the morning and again late afternoon.
It only takes about 1 hour to apply a coat of wax over 600 sq ft. Only one person needed for wax.
What products did you use to complete your project?
5 gal. Charcoal AcquaTint Stain
5 gal. Residential Concrete Floor Wax
5 gal. Hard Troweled Pre-Treatment
1 qt. Cleaner & Degreaser
9″ Roller
Scrub Brush
We would love to hear any personal tips about your project that may help another Direct Colors customer do one of their own
Tip  – Only put a small amount into your tray and always wet the roller by rolling it in the bottom of the tray to continue to mix what is in the tray. The pigment settles out pretty quick but is manageable.
Tip  – Apply some pressure to the roller before moving the roller from the tray to the floor so you are not dripping material from the roller.
Tip  – Always stir before adding more sealer to the tray.
Tip  – I would suggest pouring your entire amount of sealer into a pail before you start because it is easy to stir the contents in the pail.
Tip  – Use a coffee can or smaller container to transfer well mixed colored sealer into your tray.
Tip  – Work in small sections at a time (6′ x 4′).
Tip  – Move quickly but don't freak out over lap marks. You will get them but rolling over them a second or third time as you work the small section helps and then the next coat rolls the opposite direction which further helps them blend in.
Tip  – Back roll the final roll before you move on to the next section.
2. Clean White Basement Floor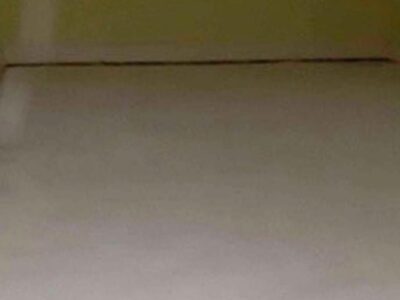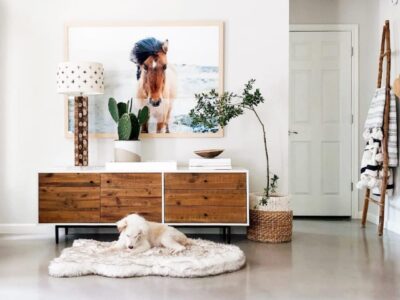 What was the approximate size of your project?
What products did you use to complete your project?
5 Boxes of White Smooth Concrete Overlay
HVLP Sprayer
Floor Trim Pad Applicator
3. Modern Black Basement Floor
A good acid stained concrete floor gives a room that cool modern industrial vibe everyone is going for.  Check out this mottled black stained basement floor done using Black Concrete Acid Stain EverStain™ .
When using Black acid stains take into account that composition of the concrete slab may alter the final color. A black acid stain may develop with a more "brownish" tint. If that is the case, no worries, the color can be corrected by replacing the clear top coat sealer with a Charcoal Colored Sealer  AcquaTint™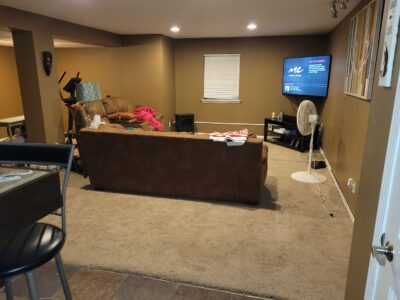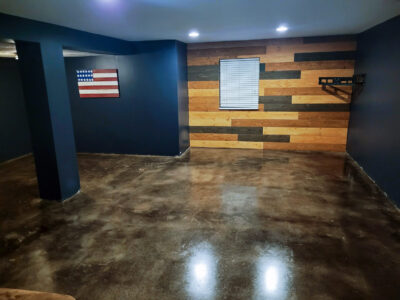 4. Industrial Farmhouse Look
Desert Amber and Coffee Brown acid stained concrete floors have been very popular this year. This color combination gives a room a casual  industrial farm vibe that can easily incorporate rustic elements such as a reclaimed wood wall feature and sliding barn doors.
When using acid stains take into account that composition of the concrete slab may alter the final color.
5. Turquoise Concrete Floors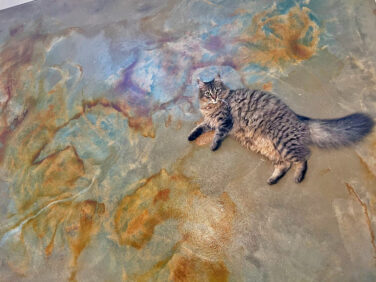 Here are a few things to keep in mind when selecting stain and sealer products for a basement application.