Make your concrete countertop project a conversation piece with  crushed glass aggregate! Direct Colors offers glass aggregate colors sized from 1/2″ to 1 mm for any poured or overlay finished project. Add aggregates directly into countertop mix and polish for a "sparkly" finish. Add larger glass aggregates for concrete countertop lighting features. Create unique designs and accents for both pour-in-place and pre-cast countertops. Add 3/4 lb. per square foot for a 1/2 in. dispersion for Size 2 and 3/8 in. for Size 1. Don't hesitate to combine crushed glass with our crushed granite aggregates for even more unique design elements!
Direct Colors has everything for DIY Concrete Countertops including a step-by-step how-to make a concrete countertop guide, project photo galleries and posts featuring our customer's countertop successes. Crushed glass aggregate isn't just for countertops. Consider using our glass for concrete paver and landscaping projects, too.
If you're looking for a way to make your next concrete countertop stand out, look no farther than recycled glass aggregates. Glass adds texture, color and design elements to both indoor and outdoor countertops. Glass aggregates come in many colors and four sizes from fines to pieces as large as 70mm. If you're not sure how to use glass aggregates in your next concrete project, read on!
Key Crushed Glass Aggregate Features:
• Cleaned, sized and easy to work with crushed glass aggregates
• Positive environment impact by reducing waste in landfills
• Crushed Glass Aggregate is available from Size #1 (small) up to Size #2 (large aggregates)
• Add richly colored glass enhance any concrete countertop. Just polish to reveal
• Create designs and accents for both pour-in-place and pre-cast countertops
• Available in several different varieties and in sample kits for testing or small projects
Do-It-Yourself:  Adding Recycled Glass Aggregates to a Concrete Countertop
Step 1 – Size Matters
Smaller aggregates are used differently from larger sized glass. Allow for at least 1/16" between size 1 and 2 glass to ensure good adherence, especially when later polishing to reveal. The larger pieces, Size 3 and 4, should be ½" to ¾" apart. Use different glass sizes and colors together to create your own unique look. Mix Size 0, fines and light bulb glass directly into the countertop mix for a "sparkly" appearance after polishing.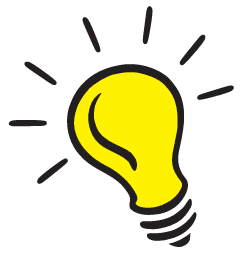 Idea:
Countertop lighting is increasingly an increasingly popular feature particularly for outdoor entertainment areas. Consider using the size 3 and 4 glass as "lit glass" elements on a bar or kitchen top.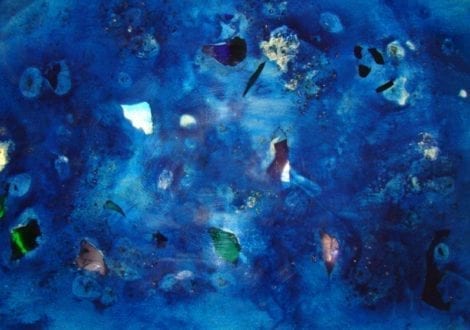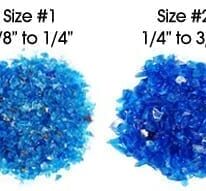 Step 2 – How Much Aggregate Do I Need?
You'll need 1lb. of glass aggregates per 1.5 sq. ft.  Size 1 requires ¼" dispersion and Size 2 1/2". In other words, you'd need 5 lbs. for a 7.5 sq. ft. If including light bulb glass, fines and/or size 0 aggregates to the countertop mix, add 15 lbs. per 50lb. box of countertop mix. Larger pieces can be pressed into place as desired.
Step 3 – Inspect, Wash and Allow to Dry
Though great care is given to sizing and sorting glass aggregates, they are reclaimed from municipal recycling programs and industrial waste glass. Check your glass carefully for paper, metal and undesired glass colors that might have been unintentionally mixed in. Wash and allow to dry completely before use.
Step 4 – Getting Started.
If you're pouring a pre-cast countertop, trowel a 1/8" of mix into the form for Size 1, ¼" for Size 2 and up to ½" for the larger glass aggregate sizes. For a poured-in-place countertop, pour the countertop mix into the form according to the instructions, trowel smooth, press glass into place the appropriate distance apart for the glass size and trowel again. Once the countertop has cured for 21 days and is out of the forms, polish to reveal with a 50-grit and continue polishing up to a 200-grit level. If desired, apply acid stain at this point and seal with the Penetrating Lithium Hardener Sealer before polishing to the 1500-3000 grit level. If sealing with a polyurethane or epoxy, polish up to 800-grit level and apply. Though countertops can be dry sanded, wet sanding is by far the better option because the polishing pads last longer and create a smoother, more streak-free finish.
Questions?
Our technicians are always available to help. Call us at 877-255-2656 or email at [email protected]