Quick Affordable Basement Flooring Options
Add extra rooms to your home with a finished basement floor.  Stain or dye unfinished concrete floors for an updated look in a wekend!
Concrete Dye or Acid Stain?
Acid staining involves several often time consuming steps. The combination of Tinted Concrete Sealer and Concrete Dye can provide an acid stain like finish without the additional cleaning steps. Floors can be returned to service in a fraction of the time without sacrificing beauty or durability.
Concrete Dye  and Water-Based Colored Tinted Sealer can be successfully used for any home flooring project. We offer a wide range of colors in both products to compliment any interior design. Our water-based products make this a low odor application for basements or enclosed rooms where a lingering chemical smell would be a problem.
Concrete floors are generally sealed with one coat of sealer prior to concrete dye application. For added depth, a colored sealer can be used as a base coat.
Remember to keep lighting in mind if you're working in a basement and select colors that won't turn the space into a dungeon.
Once the tinted concrete sealer is fully cured, apply Concrete Dye accents to the floors for additional color and movement. Concrete dye dries instantaneously and aside from a dry mopping with a soft, clean dust mop requires no further cleaning before applying the final coat of sealer.
For a glossier finish, apply our High Gloss Sealer or for a satin finish continue with the water-based, satin finish sealer. The final step in the process is to wax the floor with either a Commercial or Residential Floor Wax and Polish. We recommend commercial wax for high traffic homes and all businesses.
How to Apply Concrete Dye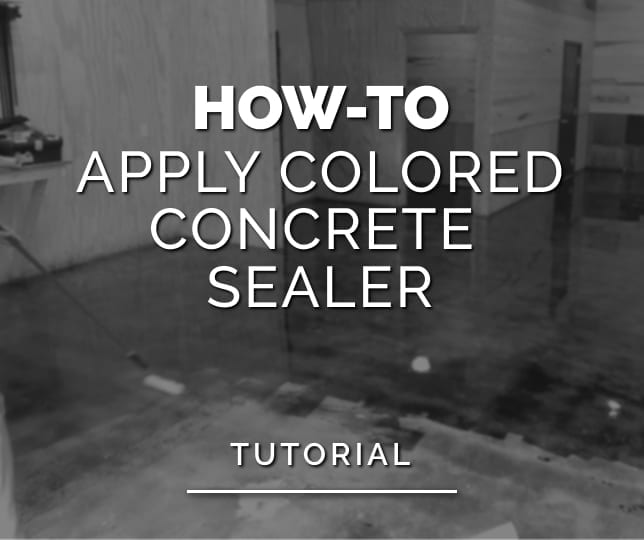 Water-based colored sealers are low odor which makes them a great choice for interior applications. Learn How-to