How to Choose the Best Pool Concrete Deck Stain: A Comprehensive Guide
by Justin Richardson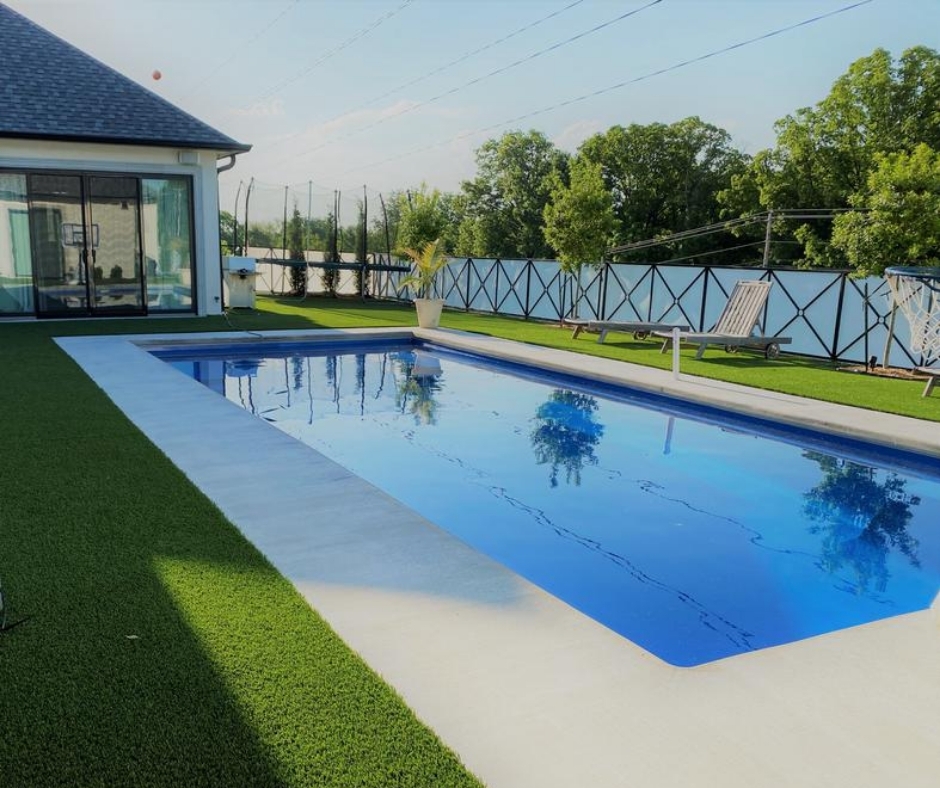 If you're looking to elevate the look and feel of your outdoor living space, then staining your concrete pool deck with a fresh coat of stain is a simple and effective way to achieve your desired outcome. In this comprehensive guide, we'll walk you through the process of selecting and applying the best pool concrete deck stain for your needs. From selecting the best stain for the job, to preparing the surface, to stain application, and sealing, we've got you covered. Let's dive in!
Step 1: Choose Your Stain
The first step in the process of staining your concrete pool deck is selecting the right stain for the job. Our top recommended products are Antiquing Stain and EasyTint Tinted Sealer, both of which are popular choices for both customers and contractors. These stains are favored for their user-friendly application, extensive color options, and natural-looking, semi-transparent finish that won't look cheap or artificial.
Antiquing Stain is a spray-on, quick-dry colorant that is perfect for creating an aged, mottled effect. It's often used on stamped concrete to create an antique look that enhances the pool area's charm and character.
To get an idea of the stunning effects of Antiquing Stain, take a look at this image of a beautifully-stained pool deck.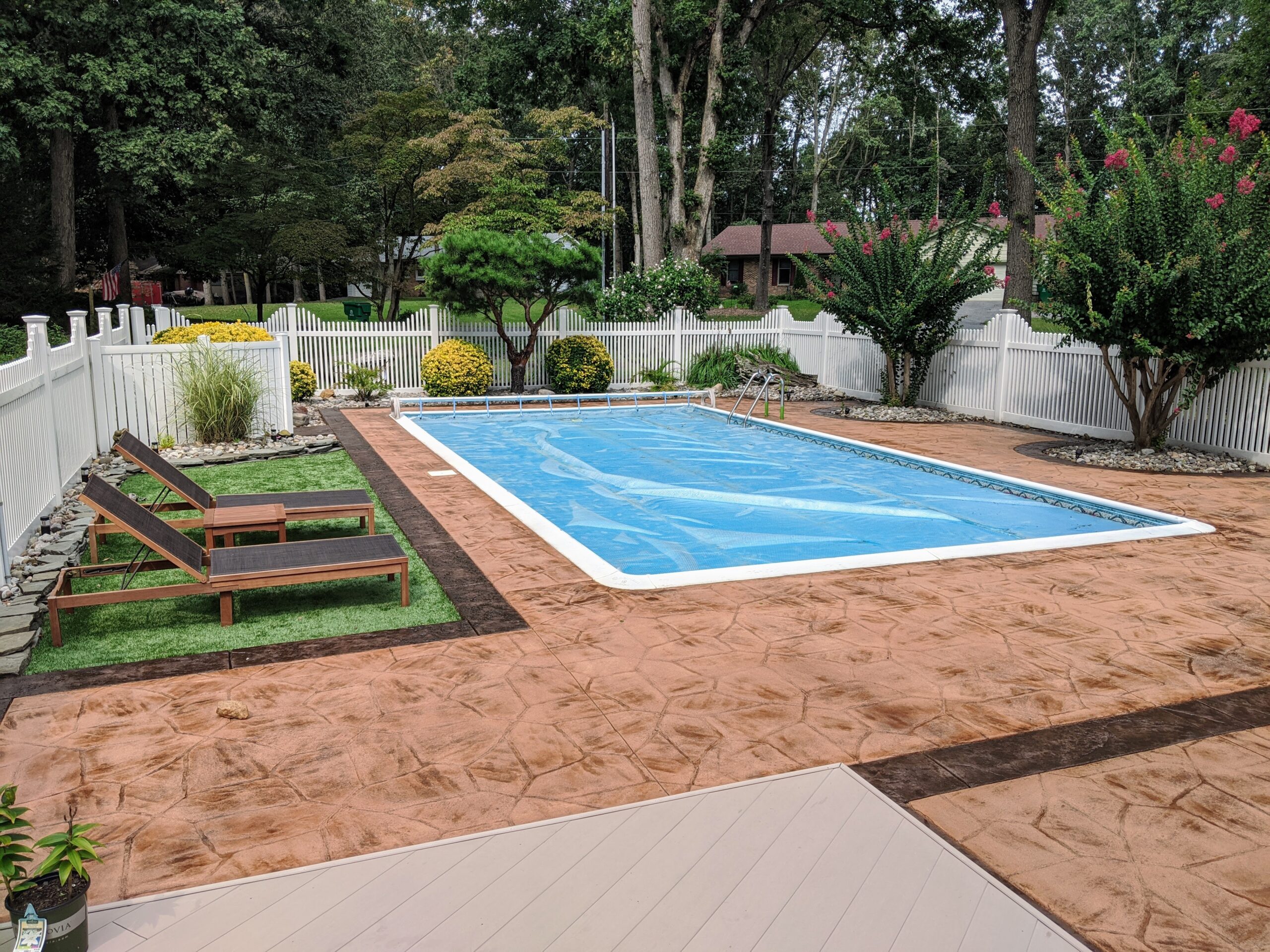 On the other hand, EasyTint has a thicker consistency and creates a more solid appearance that works well for broom finish concrete. With its exceptional coverage, EasyTint is a favorite among contractors and DIY enthusiasts alike, as it provides an attractive, long-lasting finish.
Here's an image of a pool deck that has been transformed using EasyTint, highlighting its versatile and impressive results.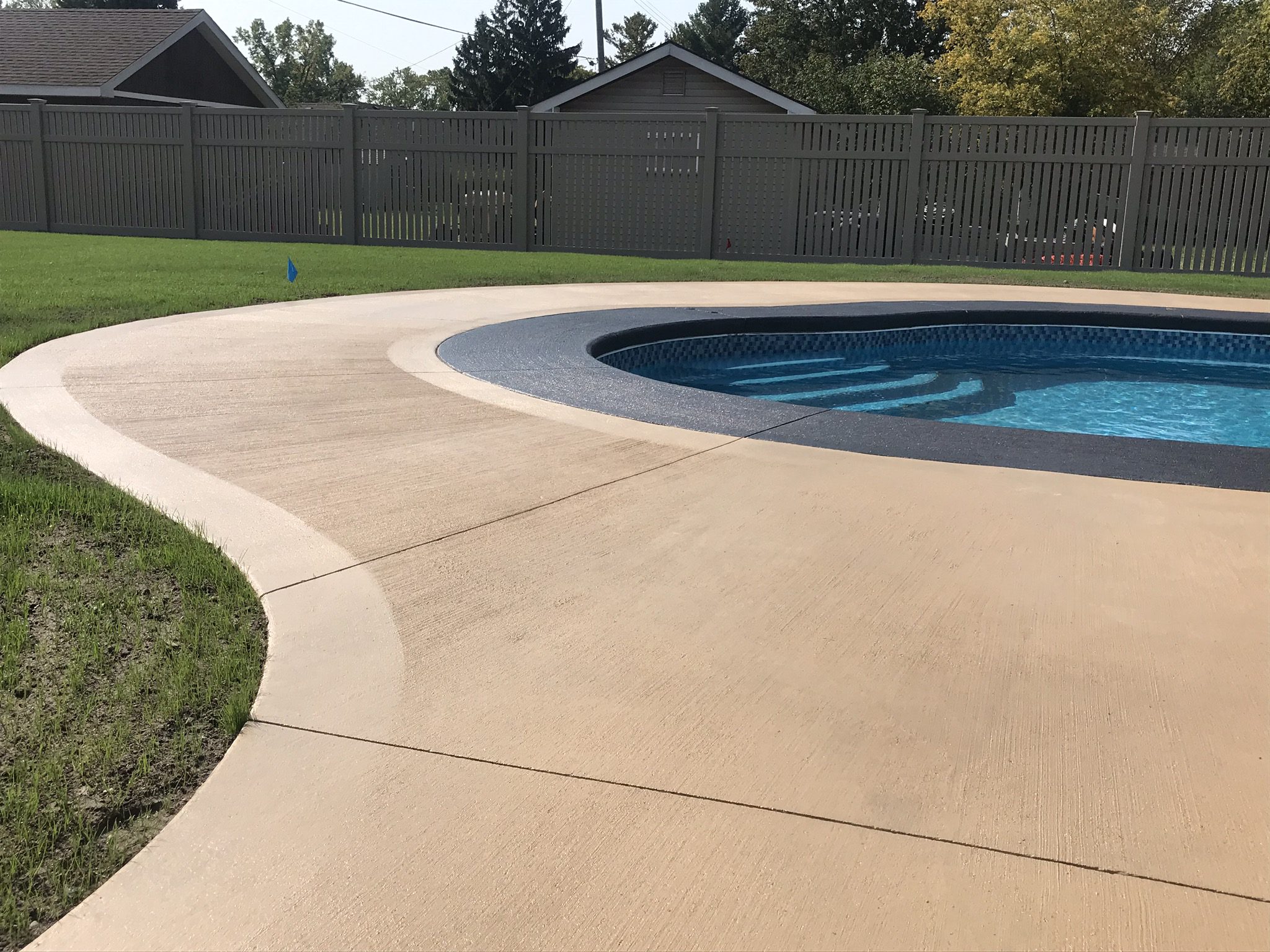 If you're unsure which stain color to choose, it's best to try it out on a small area of your pool deck first. Before committing to a full-sized stain, consider using an Antiquing or EasyTint Stain Trial Kit, which allows you to test out different color combinations on your concrete surface. These samples take only a few minutes to apply with a foam brush and can be easily removed later using a stiff bristle brush and xylene solution. Don't forget to use the sealer included in the trial kit to get an accurate representation of the stain's true color once it's sealed.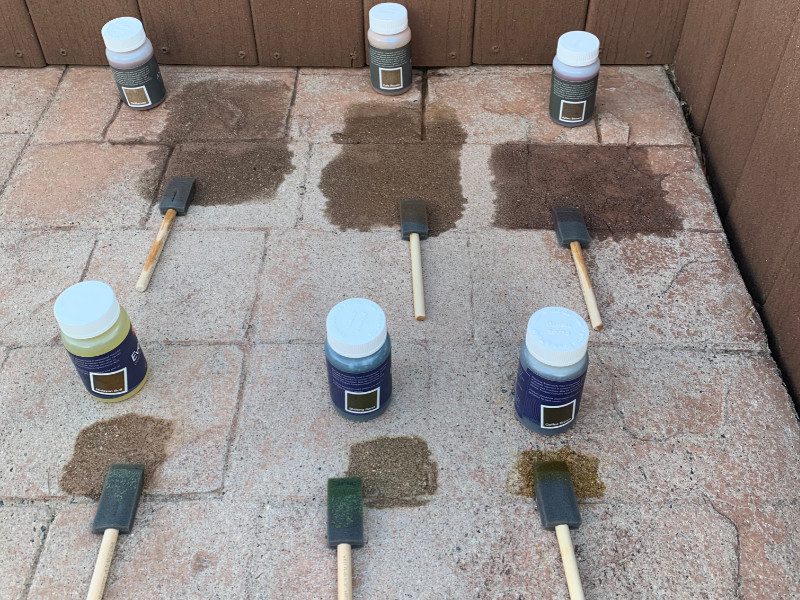 Step 2: Prepare the Surface
Before you can stain your concrete pool deck, you need to make sure the surface is ready. Here's what you should do:
If your concrete is newly poured, it needs to cure for 30 days before you can apply the stain.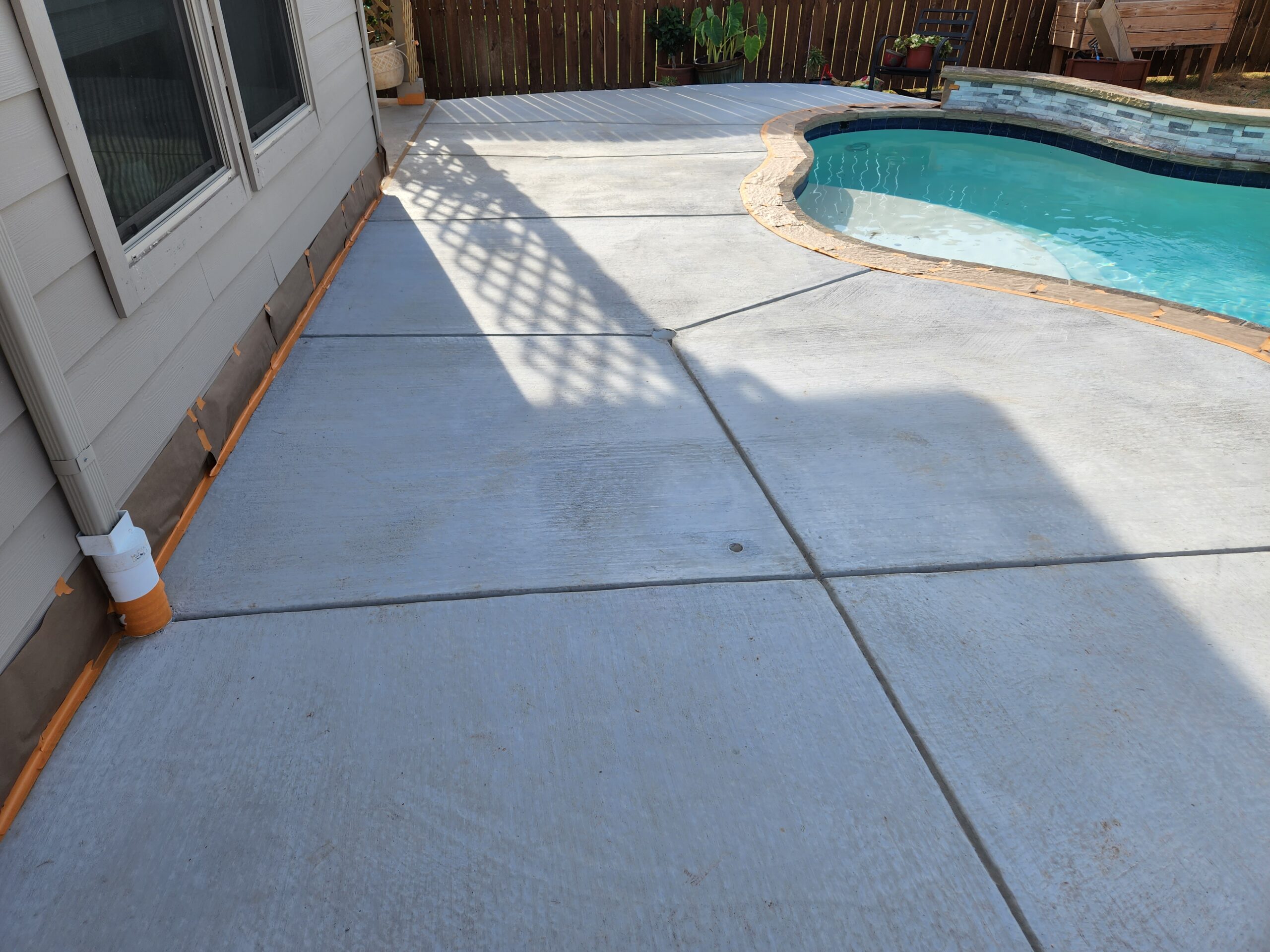 If there is any paint or old sealer on the surface, use Soy Gel Stripper to remove it.
To get rid of any oils, dirt, or debris, use a power wash or a scrub brush with ProClean Degreaser.
Check to see if the concrete absorbs water by pouring a cup in different spots. If it doesn't absorb within five minutes, use CitrusEtch to etch the surface, then neutralize it with ProClean Neutralizer and rinse thoroughly.
Wait for the surface to completely dry before applying the stain.
To protect the areas around your pool deck, like the coping and expansion joints, cover them with plastic or use a spray shield made of cardboard during the stain and sealer application process.
Step 3: Stain application
Now that you've chosen the perfect stain for your concrete pool deck, it's time to start applying it. For Antiquing, use a pump-up sprayer to apply two saturated coats of the stain, and remember to remove all filters before starting. You don't need to wait between coats, and it's easy to achieve the desired finish with this method.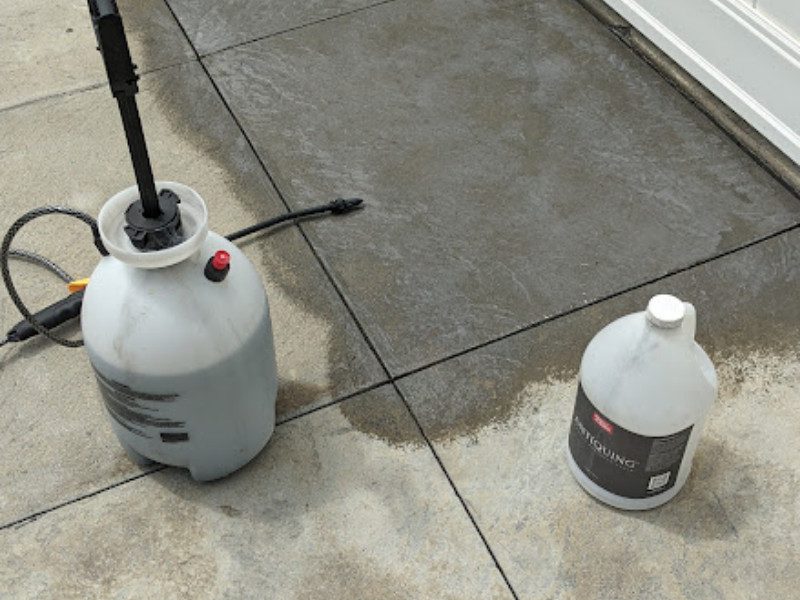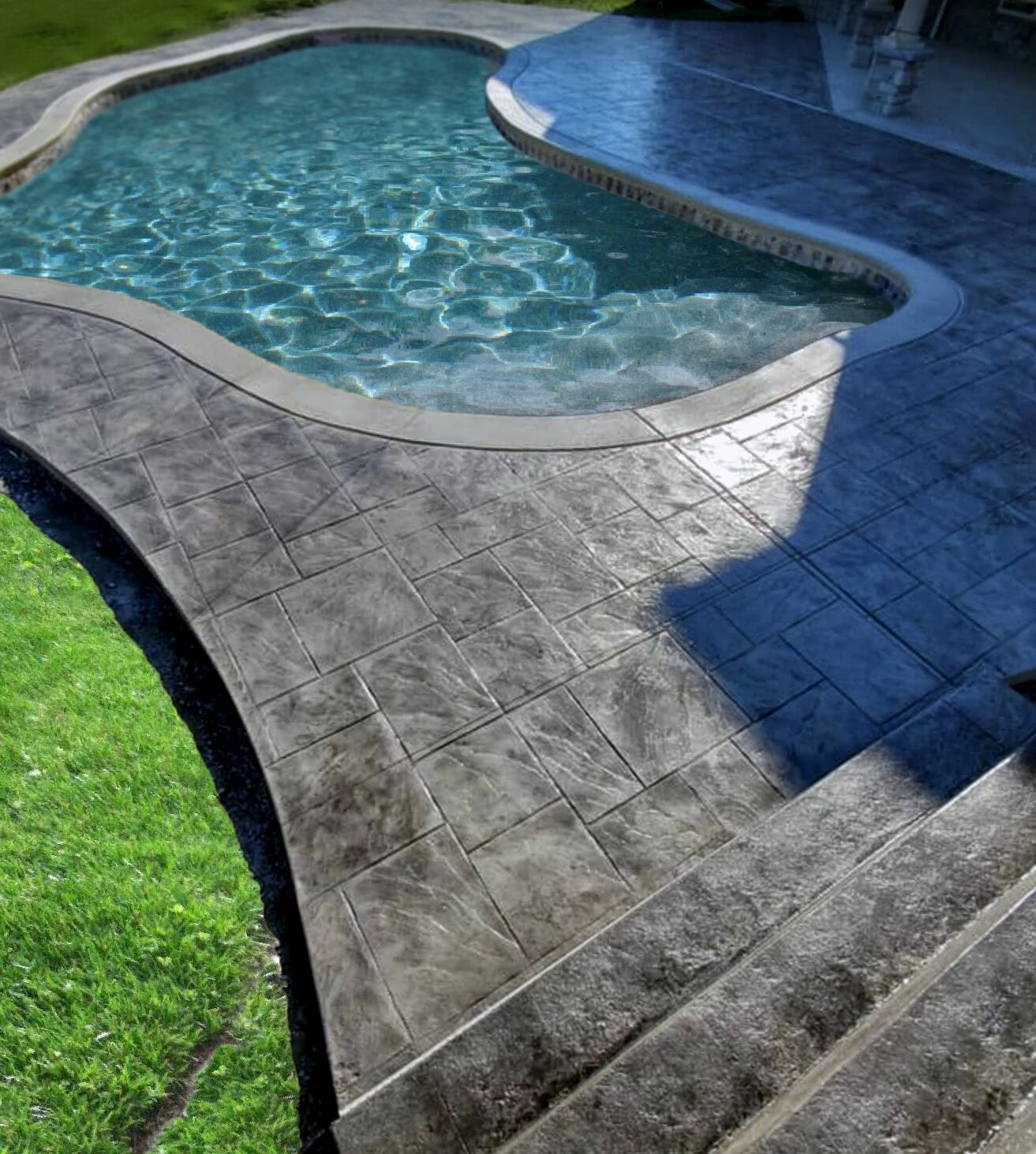 On the other hand, for EasyTint, you have two application options: spraying or rolling. Choose the one that suits you best and get ready to see the stunning results.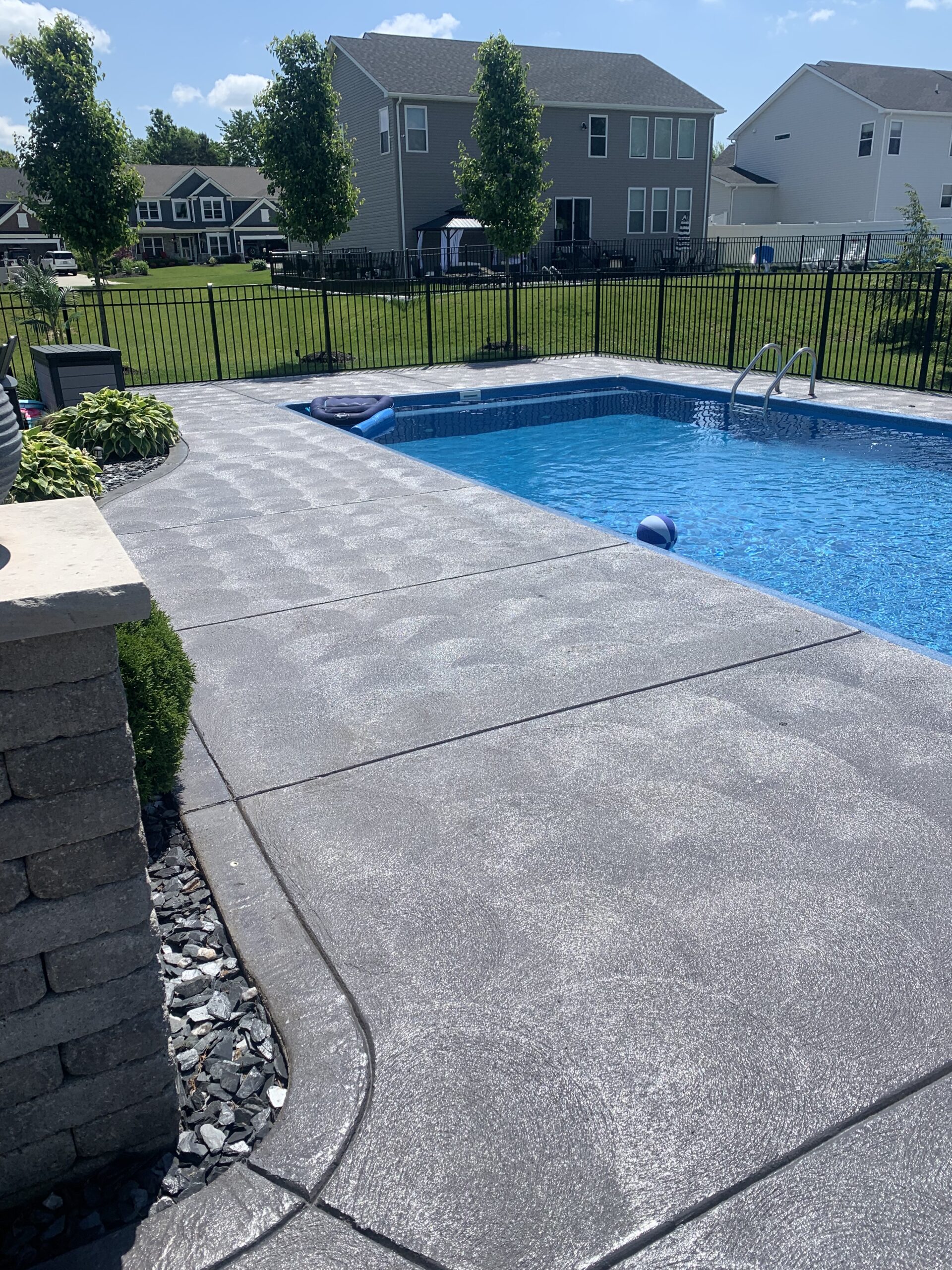 If you choose to spray EasyTint, make sure to remove all filters from the pump-up sprayer and shake the product well before pouring it into the sprayer. Spray the product on the surface in slightly circular motions with irregular overlaps. To prevent the color from settling, shake the sprayer tank from side to side often. Spray thin coats to avoid puddling and wait for eight hours before applying a second coat. Use a thumbnail to see if the coat dents or scratches. If it does, you need to allow more time to cure.
For rolling, shake EasyTint well before pouring it into a paint tray. Use a 3/8th nap roller to apply a thin first coat and roll in one direction only, without applying pressure to the roller as this can cause streaking. Allow eight hours before applying a second coat, and use a thumbnail to see if the coat dents or scratches.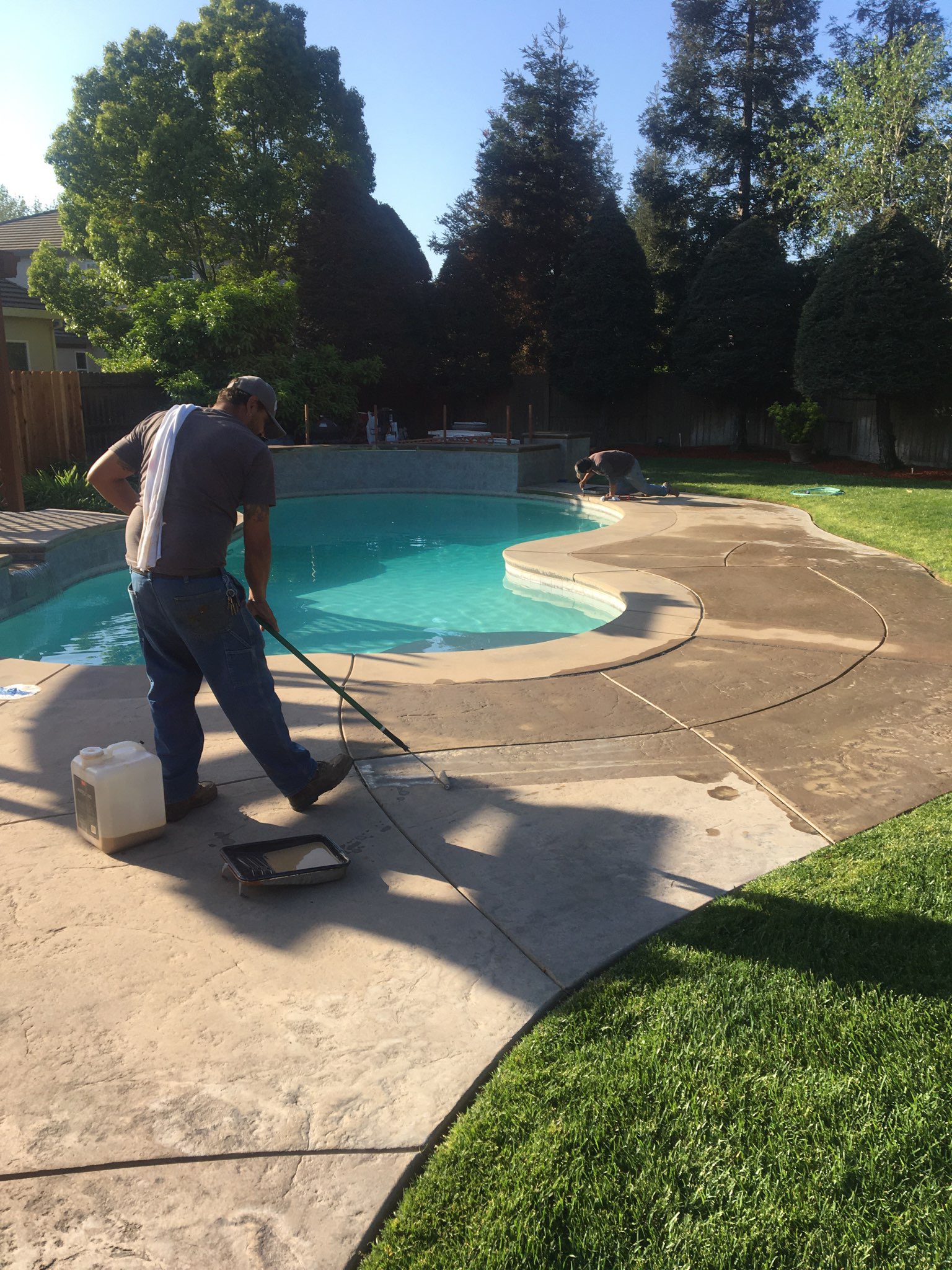 Once the stain has dried for at least eight hours, you can start applying the solvent-based acrylic sealer. Start by removing the filters from your pump-up sprayer before spraying a thin coat, starting from a far corner of the deck and using slightly circular motions. Allow the first coat to dry for at least six hours before applying a second coat.
For added slip-resistance and grip, you can mix in a finely ground aluminum oxide called the Slip Resistant Additive with the final coat of acrylic sealer. Simply add the additive to the container while stirring the sealer.
Pro Tips:
Begin spraying at a far corner to maintain a clear path to exit.
If sealer is pooling or appears uneven, backroll with a 3/8th nap roller.
Roller must be wetted in sealer with excess rung out before backrolling.
To avoid droplets dripping onto surface, before releasing sprayer trigger, immediately place tip in a bucket.
Step 5: Enjoy!
After the second coat of sealer has dried, your pool deck is ready for action! With its new, vibrant color and slip-resistant finish, your pool area will look better than ever. Now all you have to do is sit back, relax, and enjoy your transformed backyard oasis.
We hope this comprehensive guide has helped you choose the best pool concrete deck stain for your needs and provided all the necessary information for a successful staining project. Remember to follow the step-by-step instructions and pro tips, and feel free to use our calculators or stain and sealer trial kits to ensure the perfect finish. With a little bit of patience and effort, you can have a beautiful and functional pool deck that's perfect for summer splashing.