Staining Concrete Pool Decks
Can You Stain Concrete Around a Swimming Pool?
Yes, there are several products you can use to stain a concrete pool deck. Our customers preferred product is the Antiquing Concrete Stain. This concrete stain is an easy to to apply, spray-on, quick dry colorant for outdoor concrete. Antiquing stains come in over 40 colors so you can customize your deck color to enhance your landscape or outdoor furniture.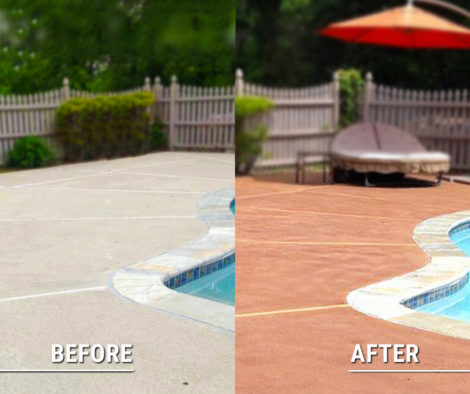 DIY SPOTLIGHT: STAINING  A CONCRETE POOL DECK 
Our customer, Jerry S. from Sussex, N.J., laid colored concrete pavers for a walkway in the backyard. He used several different colors and it looked great.
Later a pool was added and a deck poured in gray concrete. The gray concrete color wasn't complimentary to the pavers so Jerry decided to come back to Direct Colors for a complimentary color to his previous work.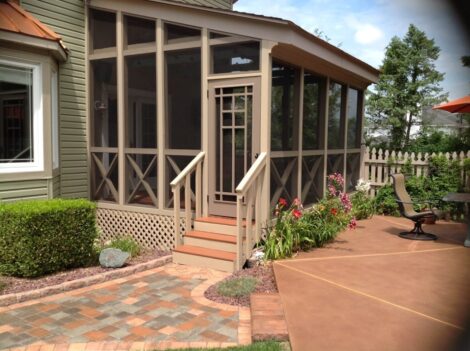 As the multicolor look of the pavers was already "busy," Jerry was looking for something with a more solid, neutral appearance. Acid stain generally provides variegated finish and probably wouldn't be the best option for this project. Jerry also preferred something he could quickly apply, seal and get on with his summer.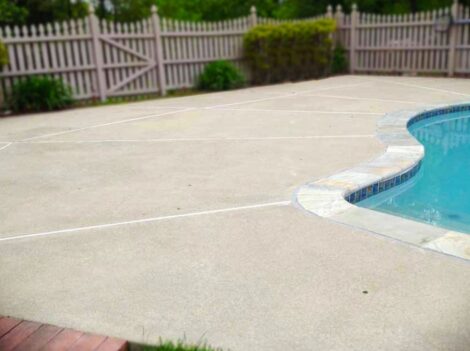 Jerry tried a colored antiquing stain trial kit to test color and color combination before ordering full sizes. The samples take only a few minutes to apply with a foam brush and can be scrubbed off later with stiff bristle brush and a soapy water solution.
Ultimately he selected the Antiquing Concrete Stain colors Cumin and Russet. For a 1000 sq. ft pool deck, Jerry ordered 6 gallons of Russet, 32 oz. Slip Resistant Additive and 5 gallons of solvent-based satin finish acrylic concrete sealer, our #1 outdoor concrete sealer.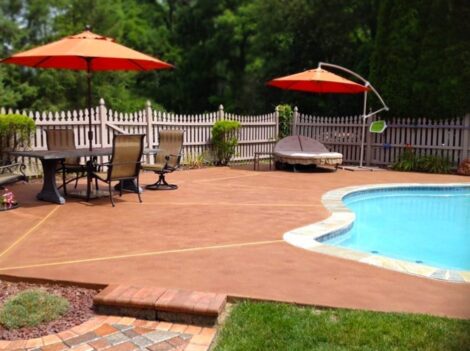 Staining pool decks can be a messy business if not properly prepared so Jerry carefully masked off his pool coping and expansion joints before proceeding to apply the stain,
Jerry also used plastic to cover surrounding plants and grass to prevent landscaping damage. You can also use a cardboard spray shield during the stain and sealer application process to protect surrounding areas.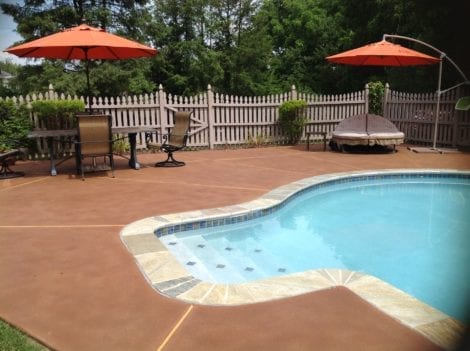 Jerry applied 2 saturated coats of antiquing stain using a pump up sprayer allowing each coat to dry for 3 hours.
TIP: Select tip with a wider aperture for rougher concrete textures.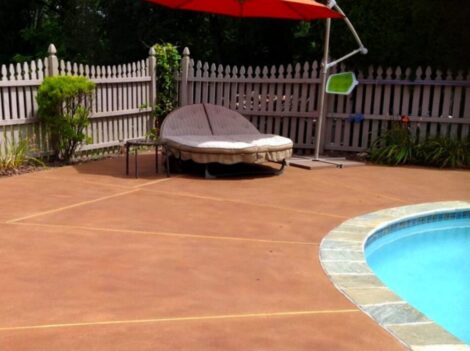 Jerry allowed the stain to dry for 8 hours before proceeding to apply the first coat of a solvent-based acrylic sealer.
He let the first coat dry for 6 hours, then he applied a second coat of the solvent-based acrylic sealer and anti slip additive for safety.
A few hours later Jerry and his family were able to enjoy their beautiful outdoor entertainment area!