4 Affordable Backyard DIY Ideas
By Mike McLean
If you're anything like us, you're spending your evenings scouring Pinterest, dreaming of what your backyard could be. But, if you're like us, you're running into the same roadblocks: you aren't an interior designer, you aren't a contractor, and you don't have a ton of money. What you need are affordable DIY backyard ideas, and we've got them.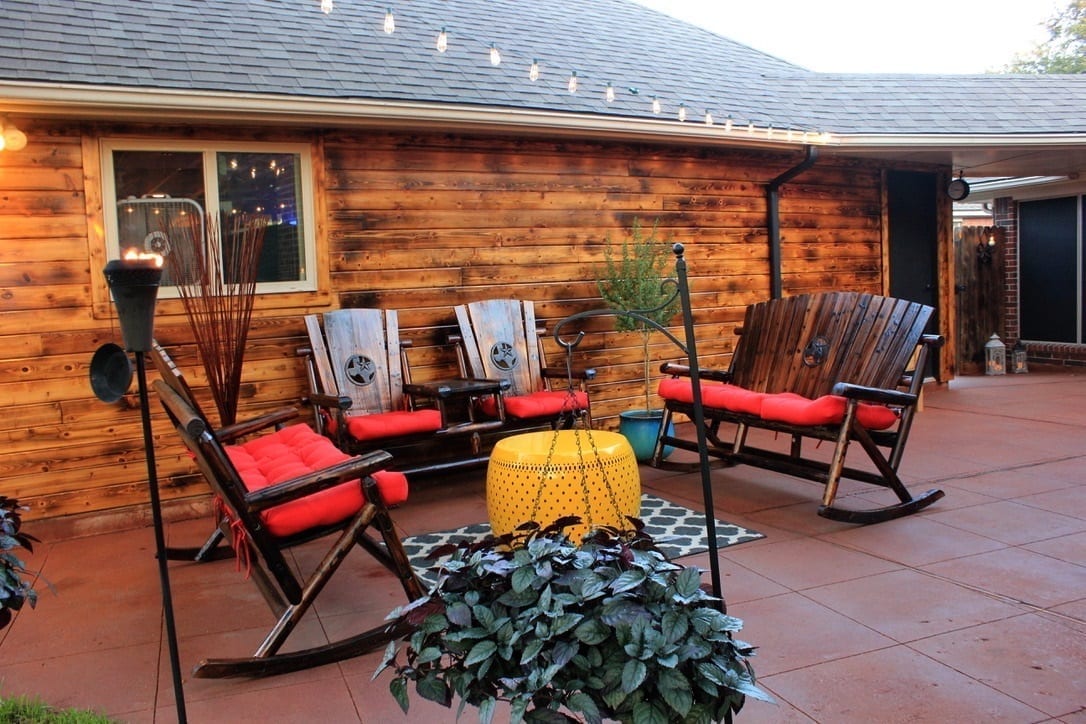 Thanks to the brilliant minds of DIYers around the world and the gift of the internet, there are hundreds of thousands of ideas, big and small, that DIYers can try to make their backyard go from drab to fab. Don't mind the excellent word play back there.
For anyone who has backyard dreams but can't seem to turn them into reality, this article is for you.
Here are 4 affordable DIY backyard ideas to help you create your backyard paradise this Summer.
1. Build a Deck or Patio
For the inexperienced, this may take more doing than the average DIYer is used to. But, with the right tools, materials, and a little know-how (ahem, YouTube tutorials), you can have your dream deck or patio with a few weekends of work.
As putting together your own patio space seems like the easier option, we're going to stick with that for now. There are a few routes you can go, such as pouring your own concrete into a wooden frame you've constructed, allowing it to dry, smooth it out, and decorate the slab as you see fit.
Or, what is probably the easier (if less cost-effective) option, you can also choose to buy separate patio stones and align them to create your patio. All you'll need is a measurement of your project space, and the size of the patio stones you've picked out. From there, do some easy math to figure out how many stones you'll need, and place them accordingly in your project area. 
Patio stones come in all shapes and colors. But, sometimes they aren't the exact shade you want, or just aren't unique enough for your particular style or vision.
To add some color to your outdoor patio stones, check out Direct Colors' Outdoor Concrete Stain.
2. Buy Some Lights
All DIY backyard ideas found on Pinterest include some amazing lighting. Whether they're LEDs stuck underneath chairs or steps, fairy lights warming a seating area, or some rustic light bulbs giving a patio a boho sheek kind of look.
In any case, lighting isn't just necessary for enjoying your outdoor space at night, but can become its own accent piece as well.
For the purposes of our imagined patio project, we're going to suggest some string lights. String lights can be mounted, draped, or hung wherever you need them to be. Stair railings, along your home, or strung along a deck or pergola are perfect places to brighten your space.
String lights aren't expensive, either. You can order a 20 foot string for around $24 from DoitBest.com.
3. Create a Stone Path
Whether it's through your garden space or along a high traffic walkway to protect grass, stone paths are a useful and great looking addition to your backyard.
Similar to the patio technique mentioned earlier, stone pathways or walkways are easy DIY backyard ideas if you have some know-how and a measuring tape. Simply choose which stones you'd like in your backyard, place them where you'd like them (ideally equally distanced), and voila!
Similar to patio stones, garden or walkway stones come in different shapes and sizes. But, if you want a unique look, coloring concrete slabs and foot paths is easy.
Check out this video to learn how to color garden stones and stone pathways with outdoor concrete stain.
4. Make a Pallet Daybed
Have some pallets lying around, or know where to get some? 
Outdoor Pallet Furniture is all the rage these days. A simple, cost effective backyard DIY project to transform your outdoor spaces, pallet patio furniture is easy to make, assemble, change, and remove as needed.
You'll need a few supplies to get started, depending on how many pieces of furniture you want:
Between 5 and 10 Wooden Pallets

Nails or Wood Glue

Cushions and Pillows

Wood Stain or Paint (If Preferred)
Depending on the intended size of your chair, love seat, or outdoor couch, place one, two, or three pallets next to one another, and stack a second pallet on top of them. Turn one pallet per seat upright to create a back support for each seat. Finally, place your cushions on the pallets, securing with string if you so choose. And you're done!
Bonus DIY Backyard Ideas: Planters
Elevated vegetable gardens made of wood sprinkle DIY forums and Instagram. But, an industrial, concrete planter juxtaposed against your greenery is another interesting, trending, and affordable backyard DIY project.
Large or small, concrete planters and plant pots are a great way to add some color and design to your outdoor space, while keeping your flowers and veggies safe from the elements.
How to Make DIY Concrete Planters
Choose containers of appropriate size for your concrete planters.

Thoroughly grease the inside of the containers with cooking oil to avoid sticking.

Mix concrete by following the instructions on the package. 

If you'd like to color your concrete, add

Direct Colors Concrete Pigment

while mixing.

Place a cup or other cylindrical container inside of the greased container, grease the outside!

Pour concrete inside of the larger container and around the smaller one.

Weigh down the interior container with rocks or pebbles to stabilize.

Tap the containers to remove bubbles.

Let dry for up to 24 hours.
Once the concrete has completely dried, simply shake or cut the concrete loose to free the planter from the container or mold. Now, add your soil and plant of choice to your planter. You're done! If you haven't used concrete pigment to color your planter integrally, Direct Colors outdoor concrete stain is a great option after the planter has completely dried.
There are many affordable backyard DIY projects to brighten up and stylize your outdoor space. For more ideas and information on how to create your dream backyard, check out our blog here.
For more information or to buy Direct Colors concrete coloring products and accessories, click here.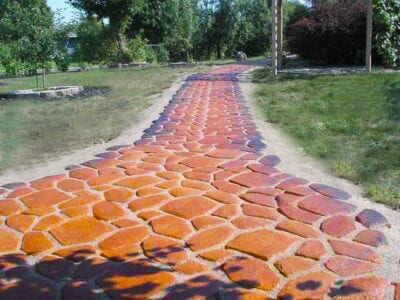 DIY garden concrete stepping stones is a an easy project for spending time together outdoors. Improve the backyard and make memories with Direct Colors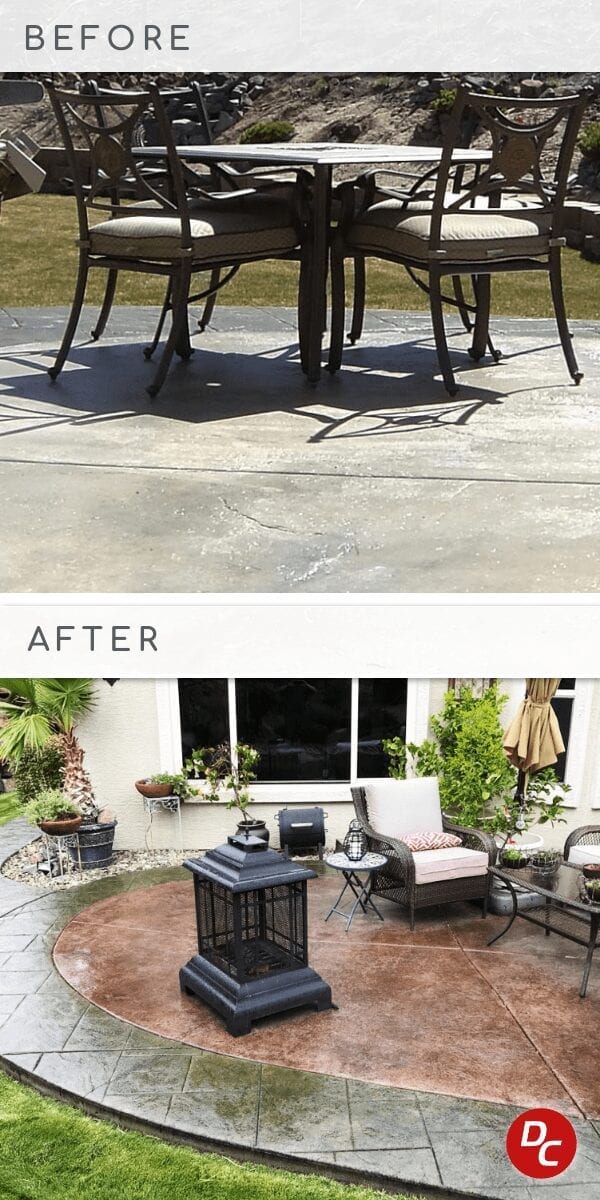 If you are looking to stain your outdoor concrete patio on a budget of both time and money, Direct Colors Antiquing Stain provides the highest return on investment with easy-to-apply color that works with a wide range of concrete surface conditions.