What to Know About Integral Pigments and Concrete
Learn about integral color concrete to add depth, meaning and beauty to your next concrete project. Find how-to guides, tutorials and coverage calculators for making the best looking multidimensional concrete possible.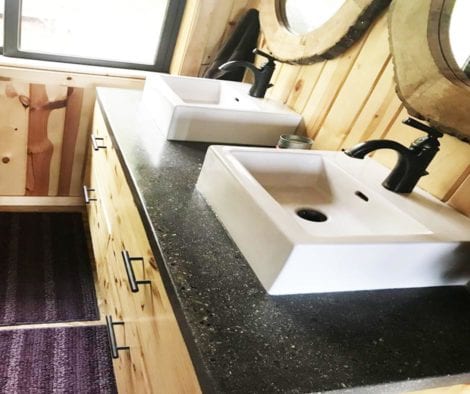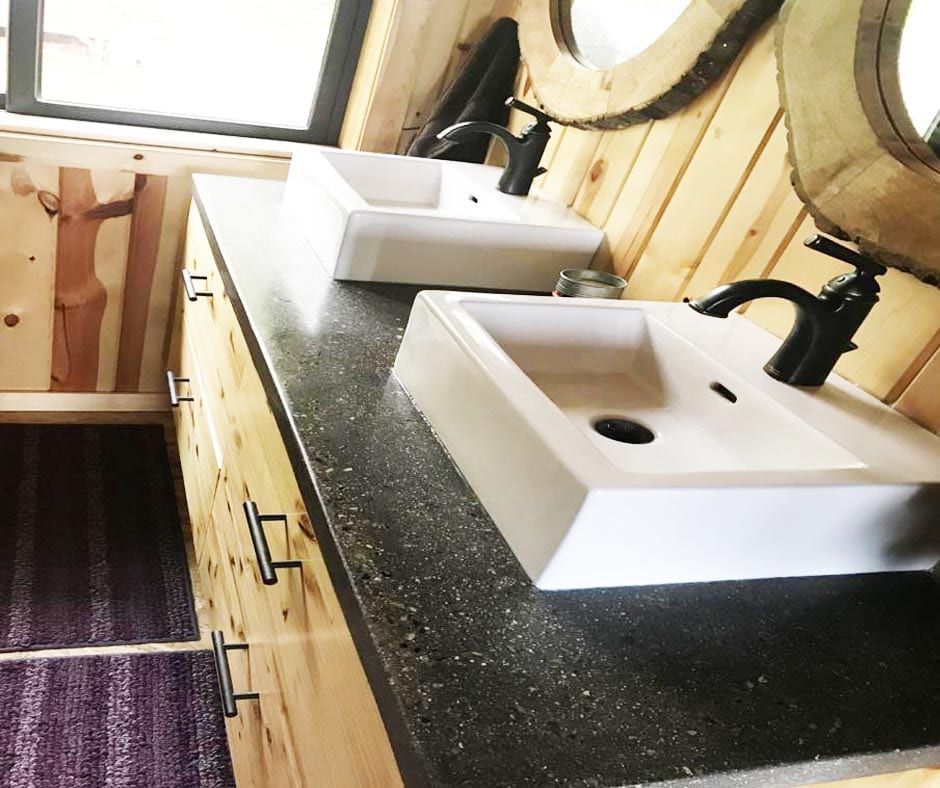 What Is Integral Color Concrete?
Integral Color Concrete is a coloring admixture also known as Concrete Pigment. Integral color pigments can be synthetic or natural iron oxide powder colorant that acts like a dye for wet cement. Simply add any color pigments a concrete mix and pour your way to stunning colored concrete floors or countertops. The pigment integrally colors the concrete completely, from the inside out, offering consistent, even tones across the slab. 
Does Integral Concrete Pigment Work With Ready-Mix Cement?
Integral pigment works with Ready-mix cement. However, as with all custom mixes, like mortar, grout or plaster, varieties of ready-mix may contain varying amounts of Portland cement and may also have hydrated lime added. As only the cement and lime will take color, it is important to have the exact weight of each before adding pigment to the mix. Most pre-mixed products have this information on the package. Use the Direct Colors Coverage Calculator, found under "Resources" on our homepage, to determine your exact pigment requirements.
How Much Does it Cost to Add Color Concrete?
For integrally colored concrete, the added cost for an iron oxide color pigment to the concrete mix ranges from $0.60 to $0.82 per cubic feet depending on the color. 
FIVE THINGS YOU SHOULD KNOW BEFORE YOU START YOUR CONCRETE COUNTERTOP PROJECT
Decide on the brand of ready-mix cement you intend to use for your admixture

Avoid using a ready-mix with an unidentifiable brand or aggregate source, as the colorant may be adversely affected 

Verify the compatibility for integral pigment

There should be no calcium chloride used at all

Ensure even mixing and hydration of the concrete from batch to batch, as slight changes in water content will yield off-color results

Prior to pouring your entire concrete slab, a sample is always recommended to test whether the color matches expectations

Once poured, take care to protect your concrete from any other construction activity while the concrete is curing.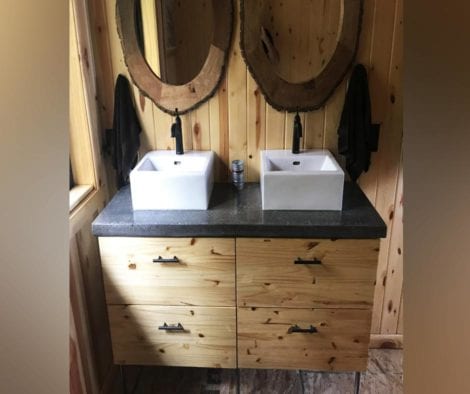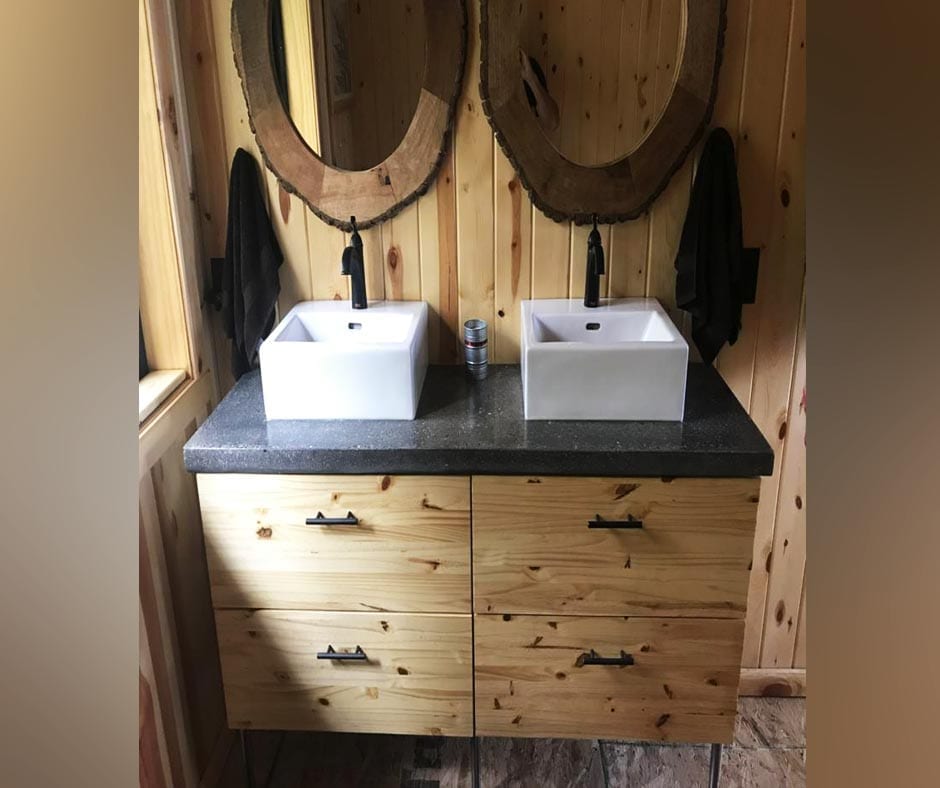 DIY SPOTLIGHT: THE BOTTELBERGHE'S MASTER CONCRETE VANITY
Time needed: 2 days and 6 hours.
HOW TO MAKE A CONCRETE BATHROOM VANITY

First, build a form for your concrete vanity design. We used melamine sheets to build the mold for an extra smooth surface.

Calculate the amount of pigment you will need. We used the Direct Colors Coverage Calculators to figure out how much concrete mix and pigment we would need for our project. For our 1.5″ D x 26″ W x 72″ L size vanity, the calculator showed us that we would need 260 lbs of countertop mix and 1.72 lbs of Smokestack colored concrete pigment.

After measuring the amount of colorant to be used, we added the pigment to the dry concrete and stirred until the mix color looked consistent throughout.

Then, we slowly added water to the colored concrete mix. We made some extra so we ended up using six 50 pound bags of countertop mix so we added 6 gallons of water and mixed with a hand mixer.

For our 1 ½ inch vanity, we poured 1 ¼ inch of countertop mix into the form

"For sure, never underestimate that the volume of the pour brings a lot more complications. The larger the piece, the more unforgiving. Always remember time spent working out the bubbles is time saved and higher quality results"

For the look we wanted, we added the stone aggregate to the top layer of the concrete mix

After letting the concrete cure, remove the concrete vanity carefully from the mold

Finally, seal and polish. We used  Penetrating Concrete Sealer

After polishing we applied a thin coat of a polyurethane water-based matte finish sealer for added protection

 

 
FINISHING YOUR COUNTERTOP: POLISHING OR NOT POLISHING?
If you are polishing your countertop, apply the Penetrating Concrete Sealer and allow to dry for 24 hours. Continue polishing with a 400-grit pad and beyond until the desired finish is achieved. For maximum protection and durability, polish the concrete to at least the 1500-3000 grit level.
If you are not polishing your concrete countertop, seal the surface with one of our high quality polyurethane or epoxy countertop sealers.
How To Apply Penetrating Concrete Sealer
• Apply the Penetrating Concrete Sealer, with a pump up sprayer. Spray enough to create/maintain a uniformly damp surface for 20 minutes. Apply more sealer only to areas that appear more dry or absorptive than others. No membrane should be forming on the surface.
• Squeegee away any excess sealer remaining on surface. Do not allow sealer to pool anywhere on the concrete.
• Allow to dry for 24 hours and begin polishing from 400-grit up to 3000-grit. consider repeating this step to be absolutely certain all concrete acid stain has been neutralized before cleaning.
What Does Integral Color Mean?
Concrete integral color simply means coloring the concrete with a cement pigment the same way you would add food coloring to batter.
The principal benefit of using integral color in concrete is the fade-resistant color throughout the concrete, so even if damaged or worn at the surface, the color remains unchanged.
Due to its longevity and ease of use, integrally colored concrete remains one of the most popular concrete colorants among DIY'ers and professional contractors alike. 
One characteristic that makes integral color pigment so easy to use is the fact that in its powdered form, it is simply tossed in with the cement during mixing. Once calculated for the required volume of cement, you simply let the motion of the mixing do the coloring work for you.
Does Cement Come in Different Colors?
Cement is the basic ingredient of concrete. Portland cement basic colors are gray and white. However, cement (the main ingredient of concrete) can be mixed with integral color pigment to create over 100 cement colors.