STAINING OLD OR ROUGH CONCRETE FLOORS
Every project hits a rough patch—don't let rough concrete stop you from creating a beautiful and durable concrete stain and seal. Follow Direct Colors tips and tricks of the trade to work around old, rough concrete with exposed stone and aggregate.
Can You Acid Stain Rough Concrete?
Yes. However, staining rough concrete can be challenging as bumpy areas typically take less of the overall acid stain, causing it to appear lighter than where it is absorbed by smoother parts of the concrete floor.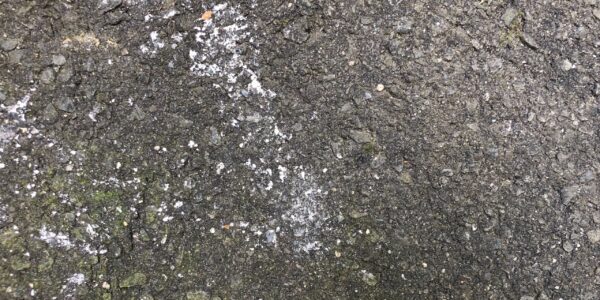 Can You Acid Stain Natural Stone or Stone Aggregate?
No. The unique and striking color of acid stains are produced directly as a result of the chemical reaction between the acid stain and the lime found in concrete. Stone may be used to compliment your concrete work but will not take up the color of the acid stain.
HITTING A BUMP IN THE ROAD
If intensive surface preparation is required for your acid stain project, stone aggregate may be exposed after heavy grinding or brushing machines are used to remove surface contaminants. Depending on the quality of the concrete floor, sand and/or small stones can be unintentionally revealed leading to a rough or highly textured surface. It's not the end of the world when this happens, but acid stain cannot chemically react with stones or sand so the color will be less apparent in those areas.
If you are working with very old concrete, the likelihood of stone aggregate being a part of the mix is greater and users should be prepared with a backup plan if they start to see some bumps! See Ken's backup plan.
In order to steer clear of intense surface preparation, Ken used  concrete overlay on this highly exposed concrete floor project before applying the acid stain.  The concrete overlay allowed Ken to obtain the desired look using one acid stain color. See full project.
HOW TO STAIN PREVIOUSLY COLORED OLD CONCRETE
When the concrete floor is very old, porous or rough acid stain may not be the ideal solution. Do not be discouraged if you fell acid stain is not going to work on your current discolored floor;  it is still possible to find a coloring matching solution that does not clash with the previous concrete color. There are other concrete stains available such as Direct Colors antiquing stains that can be applied over previously stained concrete and with over 30 colors to choose from it should be fairly easy to match your existing concrete color.
Antiquing Stain is specifically engineered to restore color to previously colored stamped, stenciled, textured or broomed outdoor concrete, and therefore makes an excellent choice for rough and porous concrete floors where darker colors might need to be blended.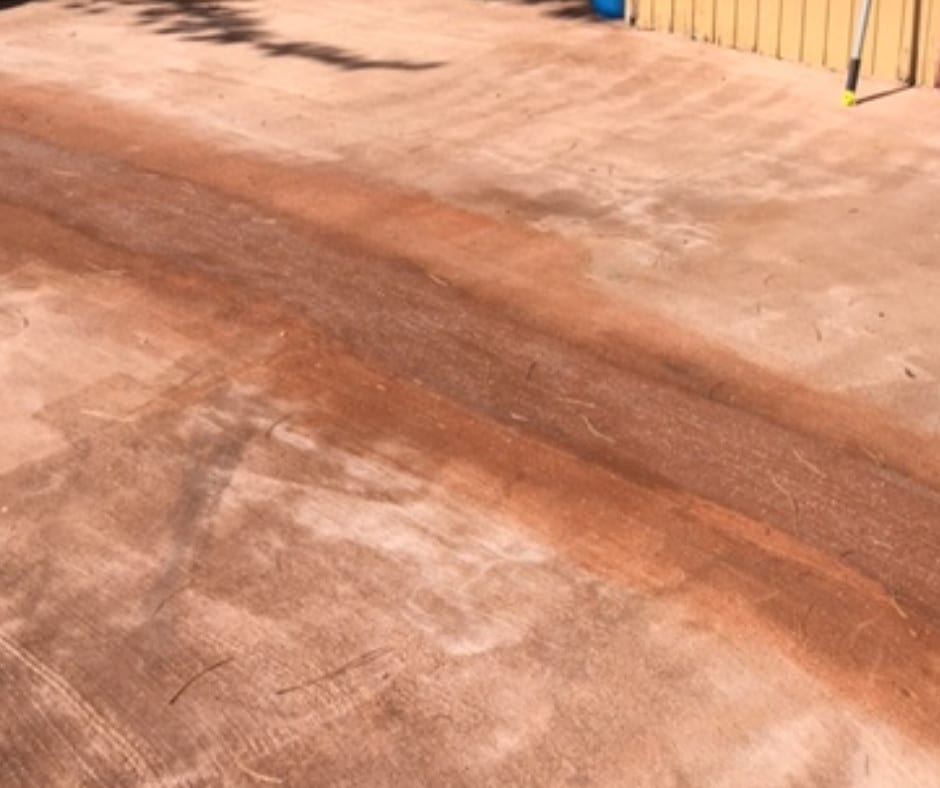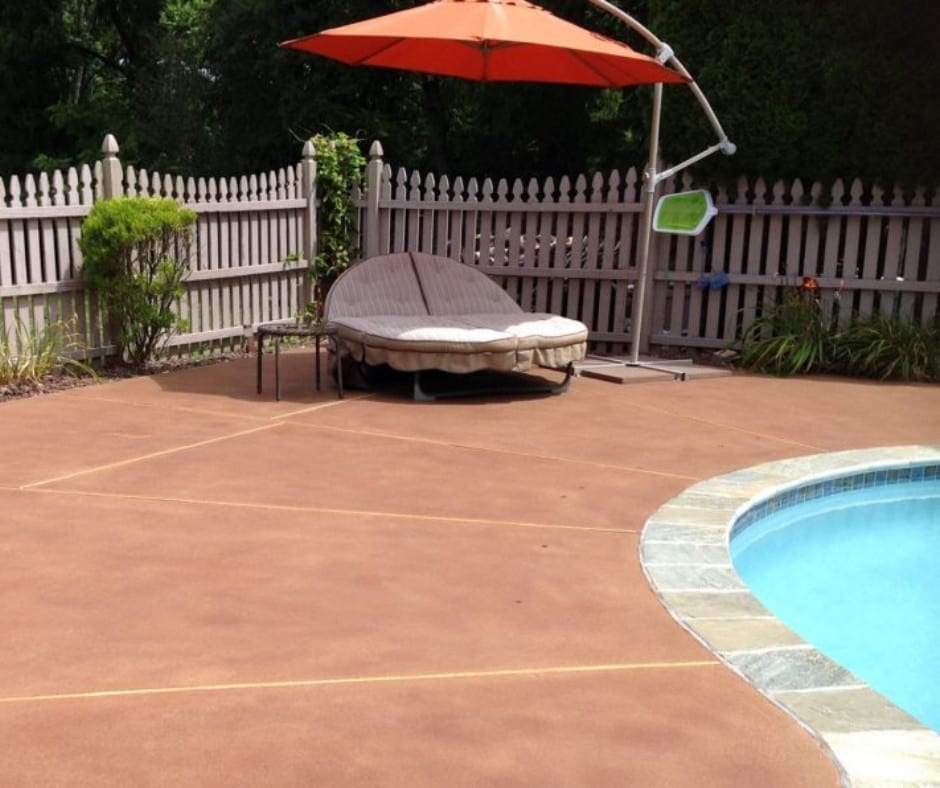 Similarly, Direct Colors Tinted Sealer works best when trying to match a single acid stain color on the rough concrete floor as we have over 40 colors available. This is the best one-step color and seal concrete colorant solution.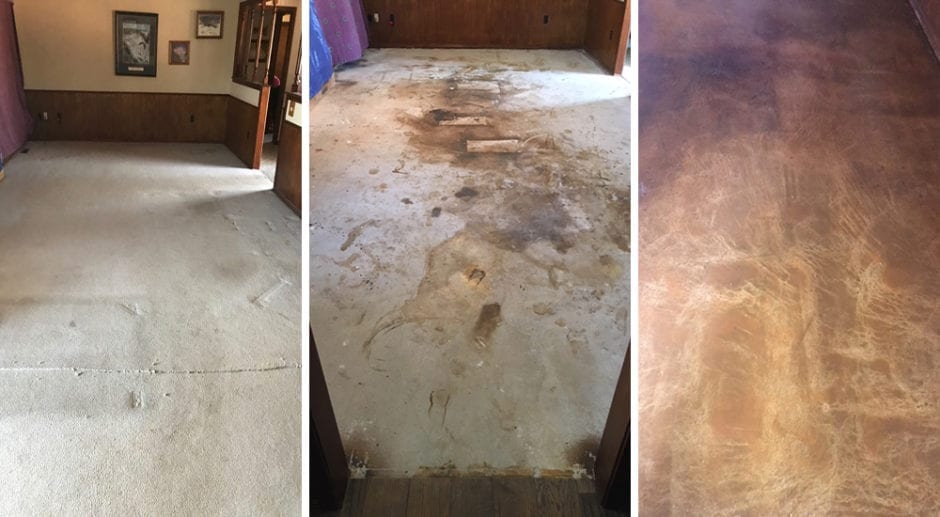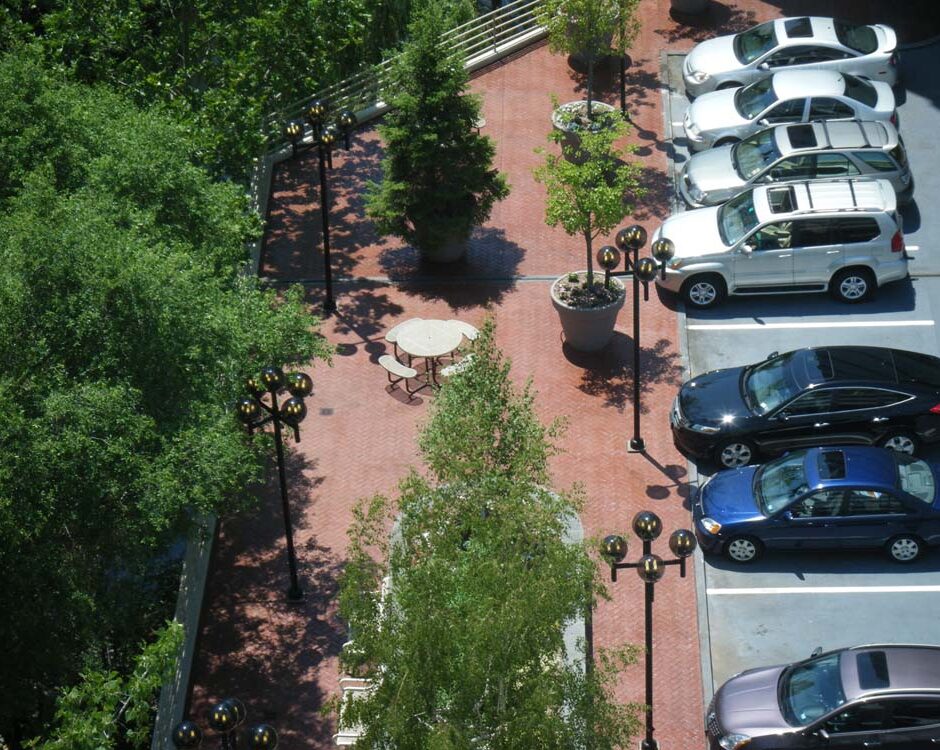 WHIRL MARKS AND OTHER CONCRETE SURFACE TEXTURES
Sometimes we experience unique and unexpected surface conditions while working with rough concrete. As in the images below, "whirl" marks may develop on the concrete surface after profiling. If not dealt with directly, this texture pattern will become more pronounced once the concrete is sealed. To minimize the appearance of these markings, we recommend sanding the floor prior to acid staining with successive grit pads beginning with 80 grit and finishing with 200 grit.