HOW TO CREATE A FAUX BRICK DESIGN ON A CONCRETE WALL USING STENCILS
Create faux brick stenciled concrete wall pattern using Concrete Overlay and Pigment. DIY homeowners commonly use stencils to mimic stone or brick, and now some are applying the same technique to walls and other vertical surfaces for the most custom look possible.
How Do You Create a Faux Brick Wall On Concrete?
With the aid of a self-adhesive paper stencil or a DIY 1/4″ masking tape stencil and Direct Colors integrally colored concrete overlay sprayed  with a hopper gun, Ken is going to show us how this is done!
OKIE PEACH SALON & BOUTIQUE CONCRETE OVERLAY COMPLETE MAKEOVER – PART 1
Ken Lazenby with Ken's Custom Designs is just the type of contractor who readily takes up such a project. Not afraid to innovate solutions for whatever the jobsite throws at him, Ken recently took on just such a project and we are pleased to present his outcome here.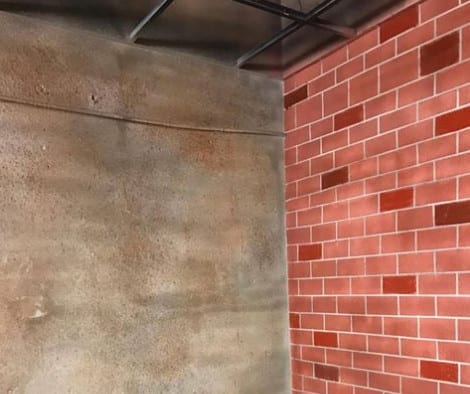 This building was constructed in 1927 and was  in a very poor condition when Ken began work. The floor and walls had both been cut and patched for wiring and plumbing at various points in the past. 
Ken decided to start from scratch on both the walls and floors by leveling the surface with concrete patching compound.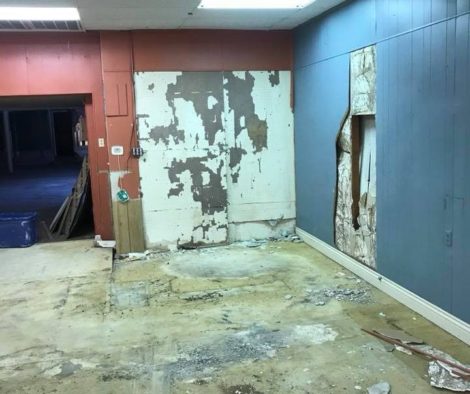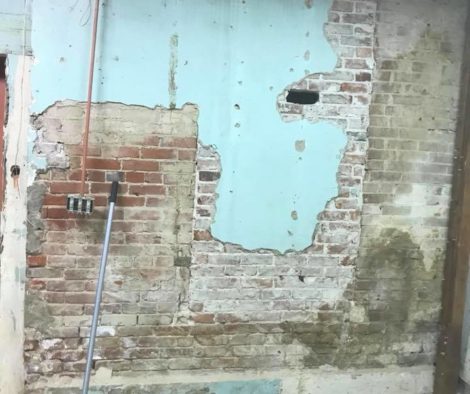 Stencils offer a variety of pattern options for  concrete surfaces. Ken used a self-adhesive stencil to create a faux brick surface on accent walls and intrusive columns.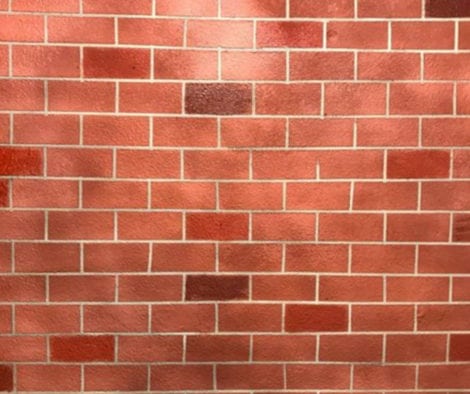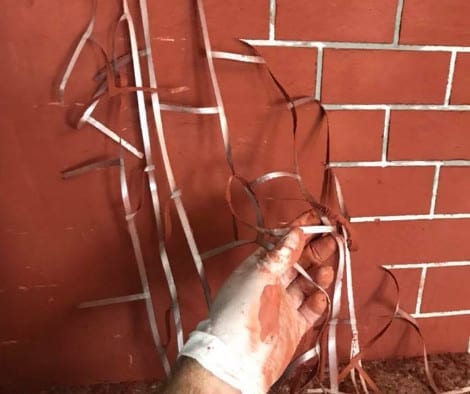 Once dry, Ken stripped the stencil and highlighted random bricks with varying shades of tinted concrete sealers for a more authentic brick wall facade.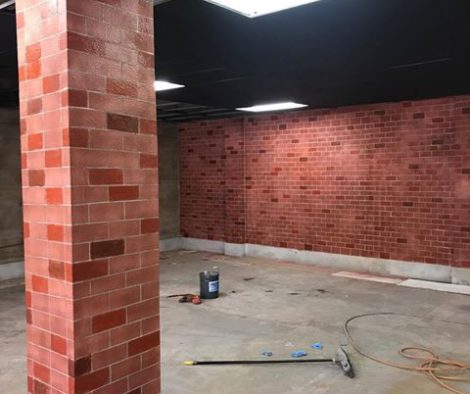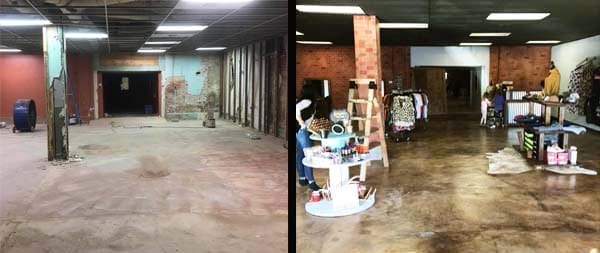 Direct Colors Concrete Overlay can be used a variety of ways, from resurfacing an old countertop to refinishing a patio floor. This material is so versatile that it can be sprayed on a vertical or horizontal surface with a hopper gun to create any faux finish.