Concrete is so simple yet so versatile, making it a super easy material to work with for all of your crafting endeavors! There are so many ways you can shape and decorate concrete to be both functional and stylish. These DIY Concrete Bookends are the perfect example! They're a great way to add dimension, color, and a modern feel to your home and decor. Thank you to Direct Colors' customer Jessica Lugo for sending us photos of her DIY Concrete Bookends for this project!
With a few affordable materials and Direct Colors' Concrete Pigment, you can create one of these amazing bookends for yourself. This fully customizable project is the perfect addition to your home library or even as a decorative piece on your countertops.
Let's get started!
To Create DIY Concrete Bookends, You Will Need:
DIY Concrete Mix
Direct Colors Concrete pigment
A mold (DIY or purchased)
Sandpaper or sanding block
Tape & ruler
Step One: Create the Mold
The first thing you'll need to do to make these bookends is create a mold. Although you can purchase one online, you can also get creative and reuse old cardboard to form any size and shape you're looking for.
There are a ton of templates you can find for different styles of bookends, and you can cut these out of your cardboard to bend and tape into a mold. These molds are single-use however, so if you plan on making a lot of bookends, it's a good idea to invest in a few reusable molds instead. For a regular rectangular shape, we recommend sizing around 4.25" in length, 2.5" in width, and 5.75" in height as shown in the model below.
Step Two: Mix the Concrete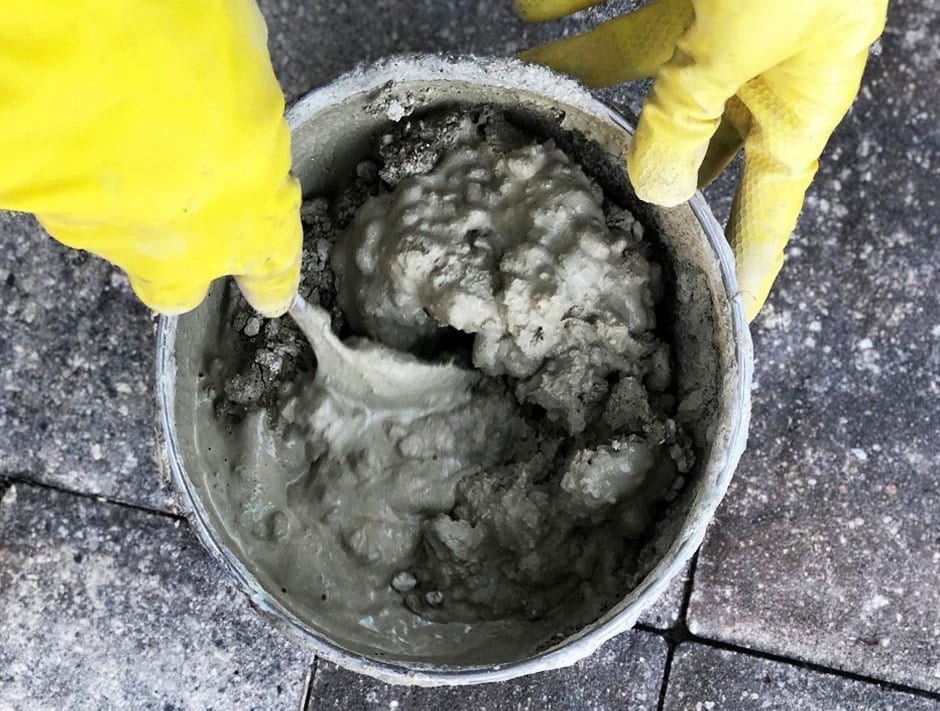 Now that your molds are ready to go, it's time to prepare your concrete. You should look for a quick-dry, smooth concrete for the fastest results. When preparing the mixture, you should ideally combine it in a well-ventilated and easy-to-clean area such as your backyard or even an open garage. Your concrete mix should come with instructions, but be sure to add a measured amount of water to the concrete when mixing. Too dry or wet, and the concrete won't set properly when poured into the molds.
Step Three: Add Concrete Pigment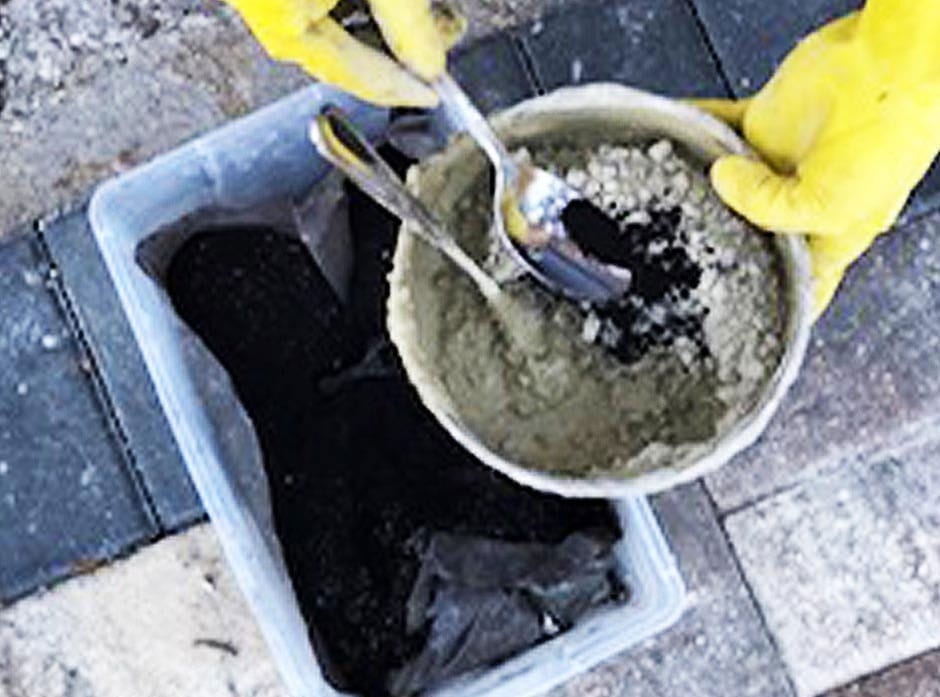 Once the concrete is mixed, you can add in any of Direct Colors' many shades of concrete pigment.
To ensure peak mixing, add the concrete pigment to the concrete mixture at least 20 minutes before pouring, and
mix for about 3-5 minutes with a spoon, spreader, or paddle.
For more details on how to use and apply Direct Colors Concrete Pigment, read our guide.
Simply separate the concrete into different containers and mix in your color of choice, or mix all in one if you only want one color of concrete. Direct Colors' wide range of hues give you lots of options for fun patterns and styles. Or, you can stick to a single color for a sleek and modern look. At the end of this article you'll see just a few of the many ways you can use Concrete Pigment to make the most out of your bookends.
Step Four: Pour the Concrete into the Molds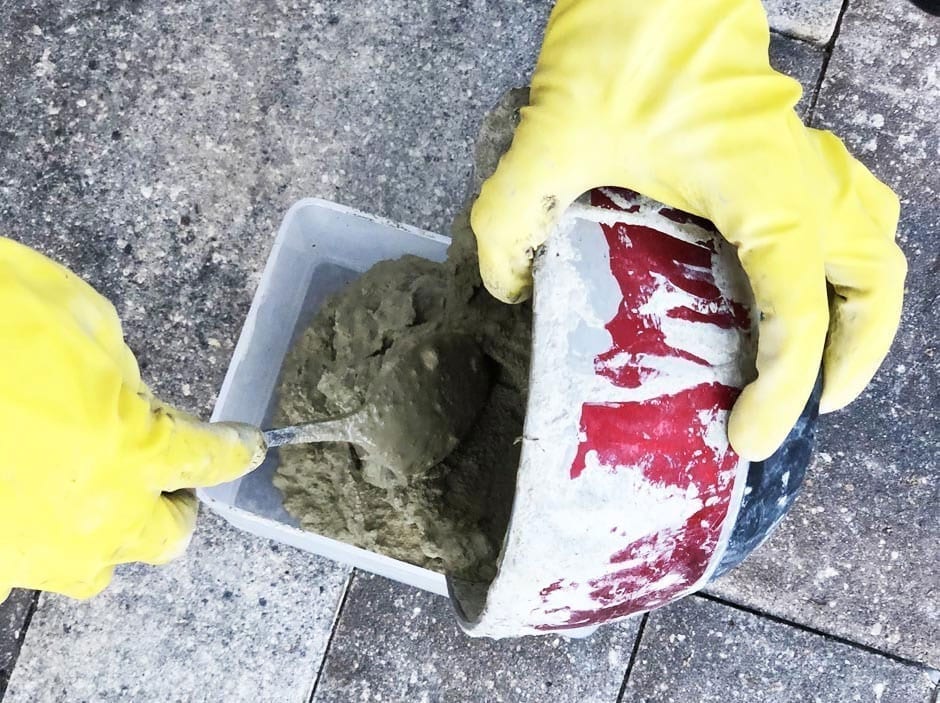 After you've mixed in your colors, you're ready to pour the concrete into your mold. Make sure to tap or scrape out all the concrete from your mixing bowl. This will ensure that it reaches and settles evenly into all the spaces of the mold.
If you choose to layer different colors, make sure that you've done this tapping-out method before each additional layer. You can also leave just a few air bubbles if you're looking to add a more funky, rustic quality to your bookends.
Step Five: Let the Concrete Dry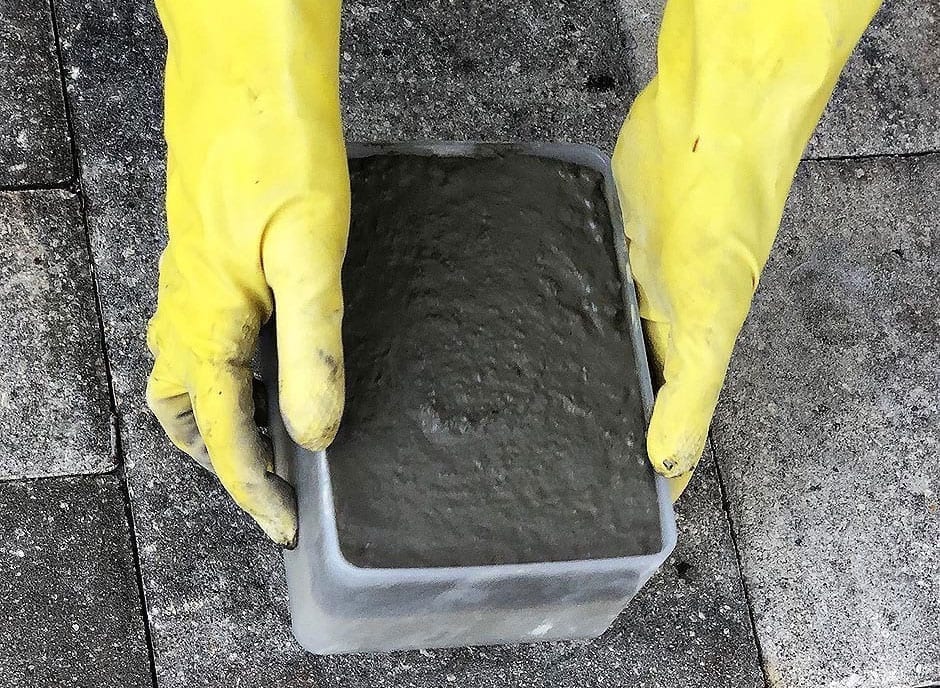 The next step might just be the hardest: wait! Let your bookends cure in the mold. You can remove the concrete from the mold when it has completely set into shape, but just before it has fully settled (look for lighter edges and a darker center) to help it dry faster. If you stuck with a cardboard mold, you can easily remove your bookend by peeling away the tape and cardboard.
Note: if your mix has drying instructions, follow those!
Step Six: Sand the Concrete
Once the bookend is completely dry and out of the mold, you can use a coarse grit sanding block or regular sandpaper to smooth down the rougher edges of the concrete.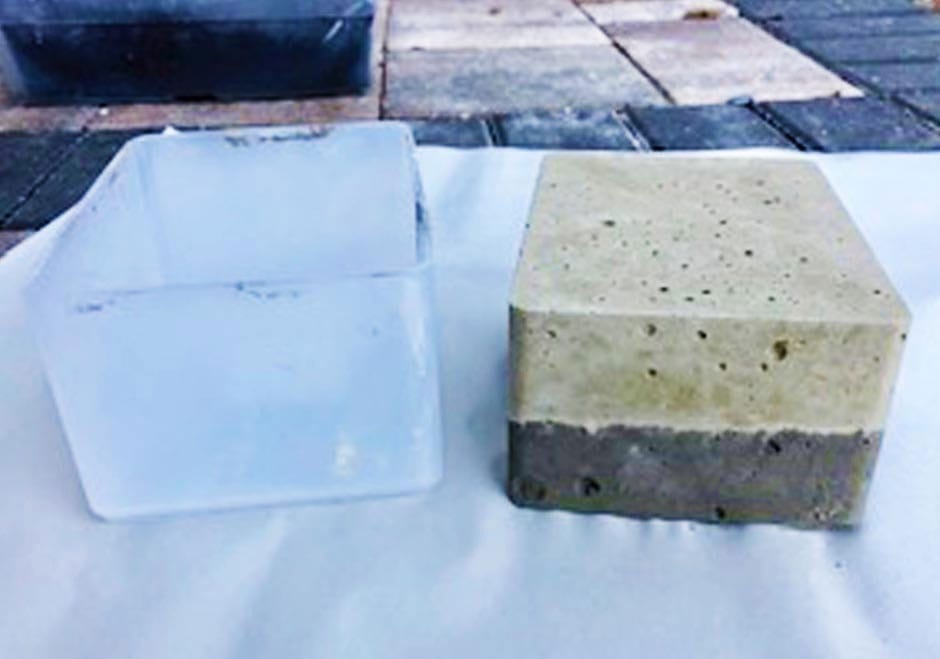 Voila! Now you have a colorful bookend that will brighten up any bookshelf or add a little dimension to your home decor. If you want to go a step further, there are many fun ways you can paint your concrete bookend to further customize it. We love these bookends which are painted to look just like vintage books, blending seamlessly in on any shelving. But, if you've used Direct Colors Concrete Pigment, the job is done!
Bonus: Styling Ideas for DIY Concrete Bookends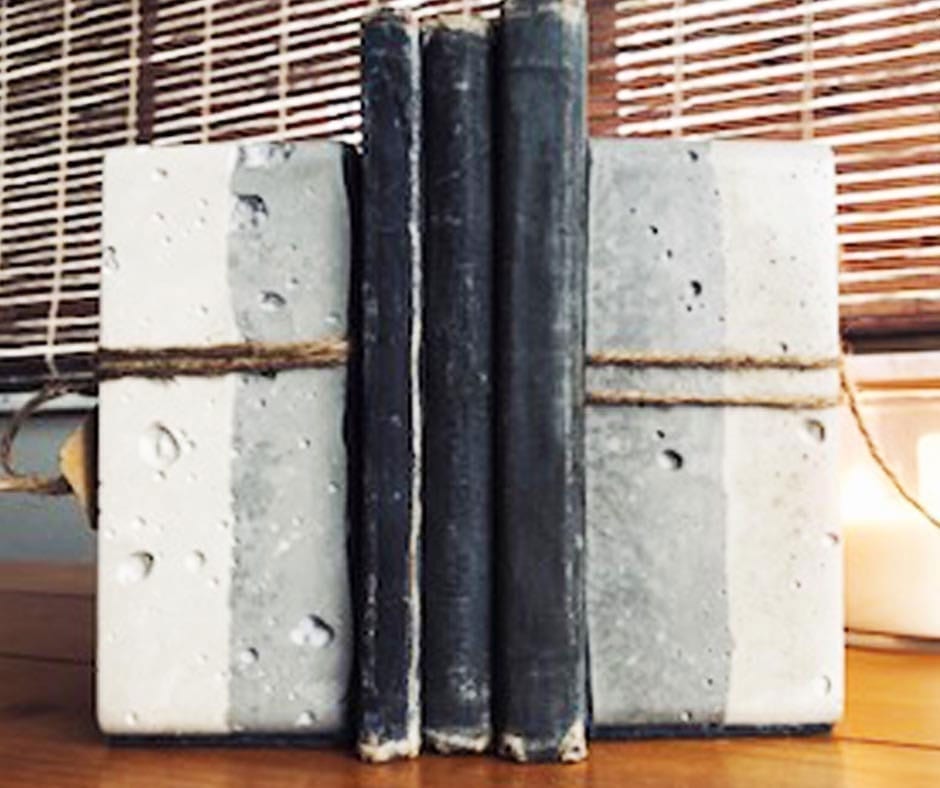 There are so many ways to make these bookends perfect for your style, your home, and your books. Some styling ideas include: geometric shapes such as triangles or octagons, bookends shaped in letters to spell out an initial or word, and even smaller stackable book ends!
You can also layer different colors of concrete on top of each other for a fun striped effect, or you can layer half plain concrete and half colored for a very modern, stylish look. Play around with the concrete pigments and see just how many different shapes and colors you can combine for your bookends!
For more DIY Guides like this one, or for information on concrete colorants, check out our resource center.