Podcast: Play in new window | Download
Bathroom Remodeling is a Snap Acid Stains
You're listening to Direct Colors podcast Episode 33:  Bathroom Remodeling is a Snap with Decorative Concrete.  If this is your first time listening, then thanks for listening.  I'm Tommy Carter, Sales Manager and Technician with Direct Colors.
Tommy:  If you're thinking of starting a home remodeling project but are overwhelmed by the idea of tackling your whole house, why not begin in the bathroom? Bathrooms are an ideal size for a first time project and our General Manager, Shawna Turner, is here to discuss why and tell us how to get started. Welcome Shawna.
ST:  Thanks, Tommy.
Tommy: So why is a bathroom remodel such a good introductory project for homeowners?
ST: As you mentioned before, it is often the smallest room in the house so refinishing the floors or bathroom vanity doesn't seem like such a daunting task. We had a customer a few years ago with a particularly challenging bathroom remodeling project. He had basically gutted the room and was starting from scratch. The floor was heavily stained and in such terrible condition that after some discussion, Mr. Thomas decided to use a concrete overlay to create a brand new floor surface.  A wise decision in this case. The floor was less than 50 square feet so he only needed one box for the project and after watching our videos and reading over the how to application guide, he felt ready to proceed. I think the results speak for themselves.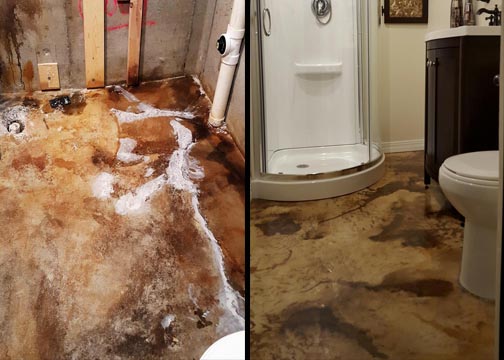 Tommy:  How would you say decorative concrete compares to other interior design options?
ST:  It's true that there are a lot of options out there. I know Mr. Thomas appreciated the ways in which he could customize his overall design outcome. For example, he chose our white DCI Concrete Overlay and followed with various dilutions of Coffee Brown Acid Stain. Though we offer white in both our overlay and countertop mix, white concrete can be difficult to find locally. Mr. Thomas selected that option because it provided the color contrast that complemented the other elements of the bathroom well. Here's the review he later posted on Direct Colors Facebook page:
"I had what I called, "a botched job" at an attempt to stain my floor. I panicked and contemplated vinyl flooring. I called your toll free number and you recommended that I start over with a concrete overlay and apply diluted acid stain in various ratios based on my intended design. I really appreciate your patience. The floor came out far better than I could have ever imagined. My wife and I owe it all to the great advice from Justin and Shawna of Direct Colors Inc."
I also think that people like to be creative and have something beautiful in their homes that they actually did themselves. Acid staining in particular offers our customers a one of a kind finish and that's very appealing.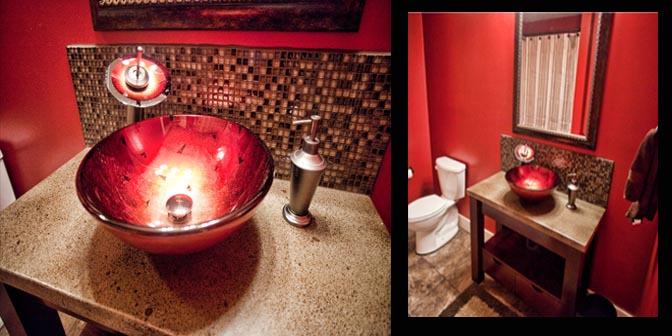 Tommy: What about countertops? Remodeling existing countertops or adding a new poured concrete top in a bathroom also seems like a manageable project for homeowners.
ST:  That's absolutely true.  We offer products for both options and concrete countertops offer endless customization options for any bathroom design. In fact, I think refinishing bathroom vanities is one of our most popular projects at the moment. Vanities are typically smaller than kitchen countertops and require less time as well as money to remodel. Our concrete overlay does a wonderful job of putting a brand new finish on a properly prepared surface that allows our customers to start over in the bathroom with any look they wish – affordably.  It's important to point out that remodeling doesn't have to break the bank and using decorative concrete products is definitely working smart for bathroom floors and countertops.
Tommy:  What's the top selling Direct Colors product for refinishing bathroom vanities?
ST:  Without question, it's the metallic epoxy. If it is a bathroom vanity project, the countertop refinishing kit is perfect because each kit covers up to 50 square feet and that's about the size of your average bathroom countertop.  If you're really thinking about using a metallic epoxy for a countertop project, I recommend watching Ken Lazenby with Ken's Custom Design on our website, directcolors.com or on YouTube. He has several excellent how-to videos that do a great job of demonstrating the process step-by-step.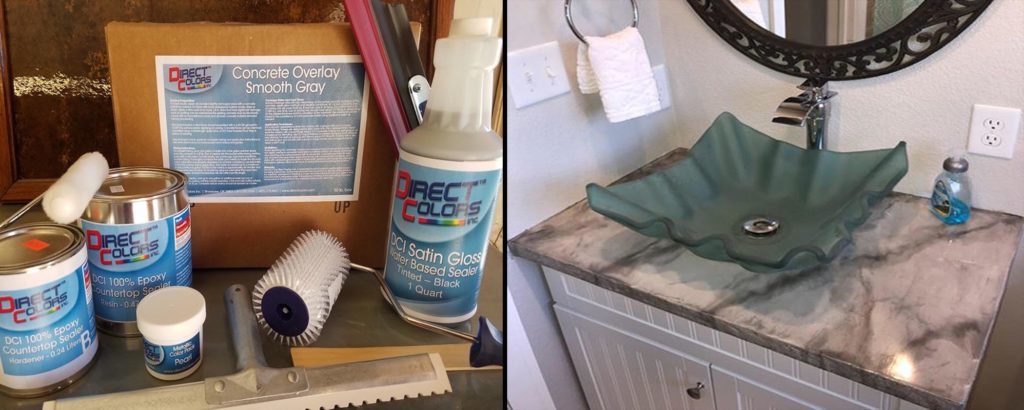 Tommy:  Any final thoughts for our listeners about taking on a bathroom remodeling project with our products?
ST:  I'd say plan everything out carefully before you begin. Direct Colors has hundreds of project photos categorized by product or project in the case of concrete countertops. Make a note of what pictures appeal to you. Use the search bar on the website. Type in bathroom, remodeling or countertop to see all the relevant blog posts, featured projects and products that might be of interest to you. All of our product how-to guides and videos are available online so read up on the application details to help decide is this is the right direction for you. Lastly, call us  to speak to a technician directly or send in a free online design consultation by email if you prefer to discuss the specifics of your project. We're here to help and are happy to do so.
Tommy: Thanks, Shawna. That's sound advice and if you're a homeowner with a remodeling project call me, Tommy, at 877-255-2656 and we'll determine the best products and technique for your needs.  If you'd prefer to send us an email, visit /resources/design-consultation/ and we'll get back to you within 24-48 hours.
Direct Colors DIY Home Improvement podcasts are produced twice monthly for your enjoyment and show notes can be found at directcolors.com/listen. Feel free to add the podcast to your favorite RSS feed.  You can also follow us on Twitter, Facebook, Google+ , YouTube and Instagram. I'm Tommy Carter and thanks again for joining us!