Acid Stained Concrete Countertops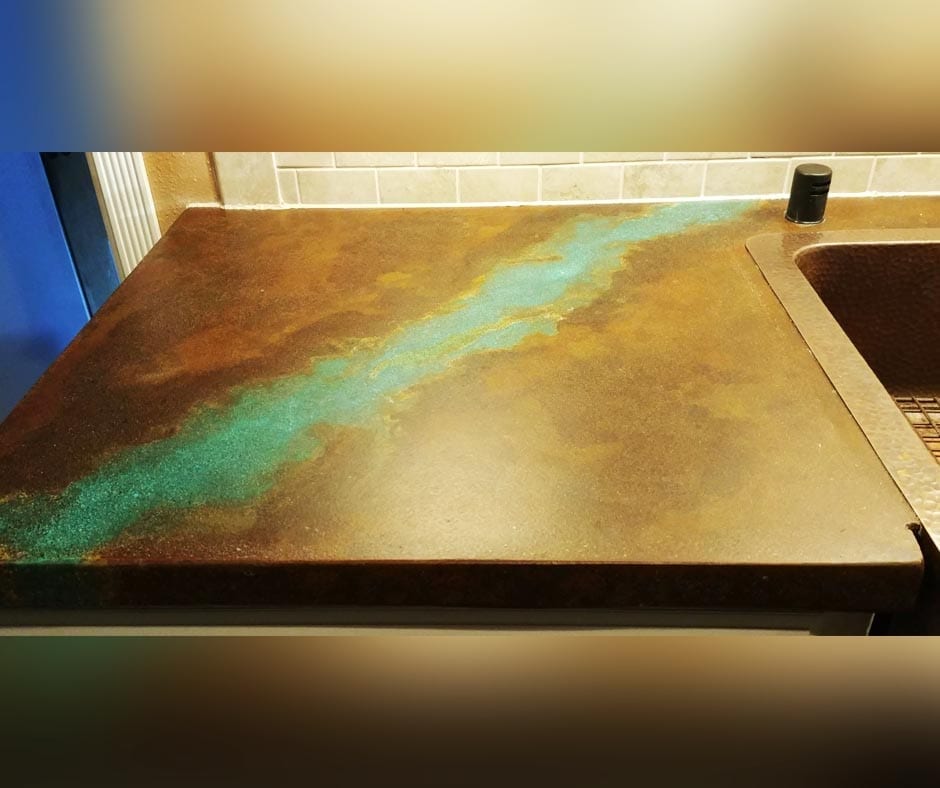 Can I Acid Stain a Concrete Countertop?
Yes, you can acid stain any concrete countertop as long as the concrete has not have been treated with any waterproofing agent, cleaned with muriatic acid or a heavy trisodium phosphate (TSP) solution. The acid stain will not take on concrete that has been treated with these products.
How To Acid Stain Concrete Countertops
Project Size:  1488 sq. ft
Products:
Total Time to Complete Project: 9 weeks
1 week for building molds and pouring the concrete
6 weeks curing outside under cover
2  weeks of applying acid staining and sealer. All work was done outside so we had to wait for temperatures to be over 60 F.
STEP 1. Clean the concrete countertop with an organic concrete cleaner and degreaser. Remove excess water. You do not need to completely dry the surface as the acid stains react better if the concrete is slightly wet.
STEP 2. Make sure you wear protective gear and carefully pour the acid stain into an all-plastic pump sprayer
STEP 3. Spray the acid stain onto the surface of the concrete countertop. If you have diluted the acid stain color for a lighter color; make sure the acid stain fizzes when in contact with the surface. If you don't see any fizzing, try adding more acid stain into the diluted solution.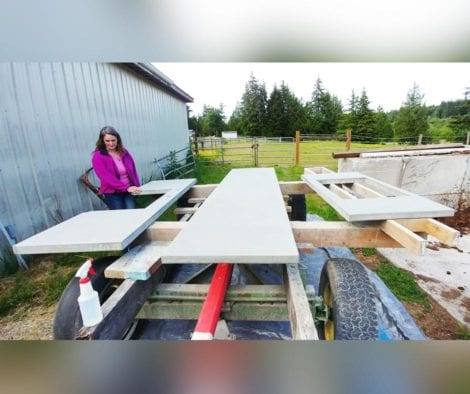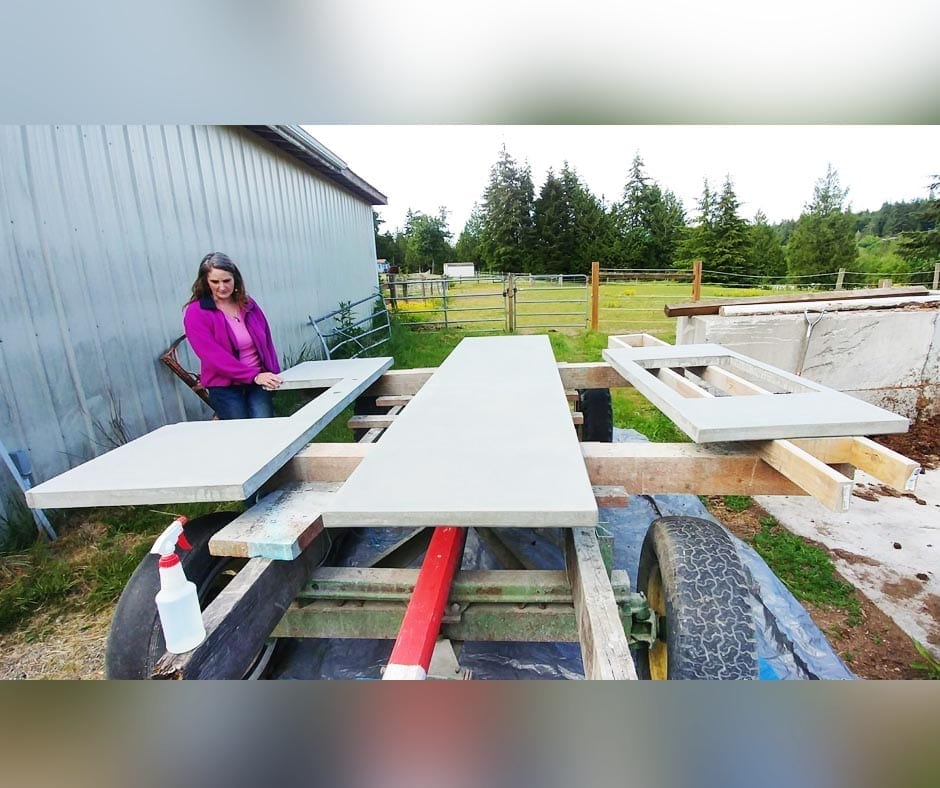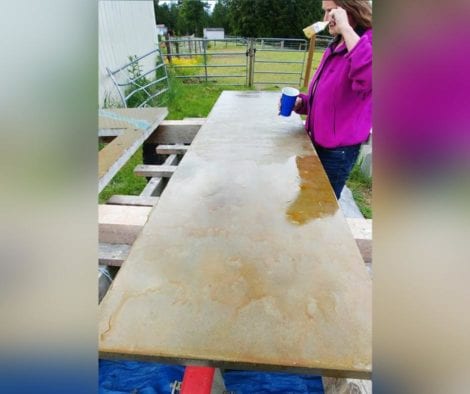 TIP: If you are working on a multiple concrete countertop project, use a timer to insure equivalent activation times for each countertop section.
STEP 4. If you would like a darker tone, brush the acid stain into the surface using consistent circular strokes. If you want a more diffuse look, spray the stain onto the surface without brushing.
STEP 5. Let acid stain react with the concrete surface.  You can leave the acid stain on the surface for longer but not less than the activation time.
STEP 6. When the residue has dried and after the stain has been on the concrete for at least the recommended minimum time to react; neutralize the acid stain and clean.
STEP 7.  Finally, seal your concrete countertops (Yvonne used a water-based polyurethane concrete sealer)
Acid Staining Tips from Ivonne
This was my first time staining concrete and I hired a professional to help me build the poured concrete countertops. Here are the things I learned:
Always apply lightest/base colors first, then move to the dark colors.
Applying several layers of one color and letting it stain for different times periods will give it a different look.
Use different application techniques and tools to create depth and modeling. We used spray bottles, brushes, sponges.
Don't be afraid to try something out. You can always hose it off and undue it.
You will use more stain than you think.
Don't be set on colors. Let the piece guide you once you work it. I hadn't planned on using blue at all, now it is the prominent feature.
Expert Tips about Poured Concrete Countertops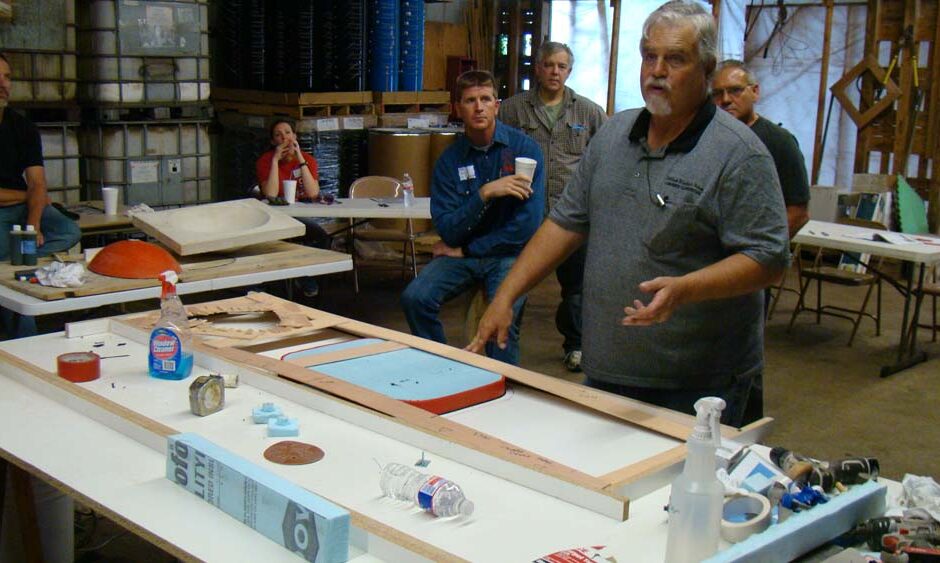 What Is The Best Concrete To Use For Countertops?
Finding the right mix can be more challenging than you might think. If you're planning to acid stain a countertop, choose a countertop mix with less than 10% fly ash.
Fly ash affects reactivity and color development when acid staining and causes color variability in integrally colored countertops. Direct Colors Concrete Countertop Mix contains no fly ash and producing optimal acid staining results.
Are All Concrete Countertop Release Form Agents the Same?
Some release agents like oils or solvents will leave a film on the surface that makes acid staining impossible. Don't use them as you will create an extra unnecessary step of sanding on your acid staining project.
Direct Colors Countertop Form Release is colorless and leaves no trace of residue on the countertop surface.
Can I Acid Stain a Pre-Cast Concrete Countertop?
Pre-cast countertops are often poured on melamine and can be too smooth to successfully acid stain.  Prior to staining, sand the surface with a 200-grit sanding pad to open the pores of the concrete.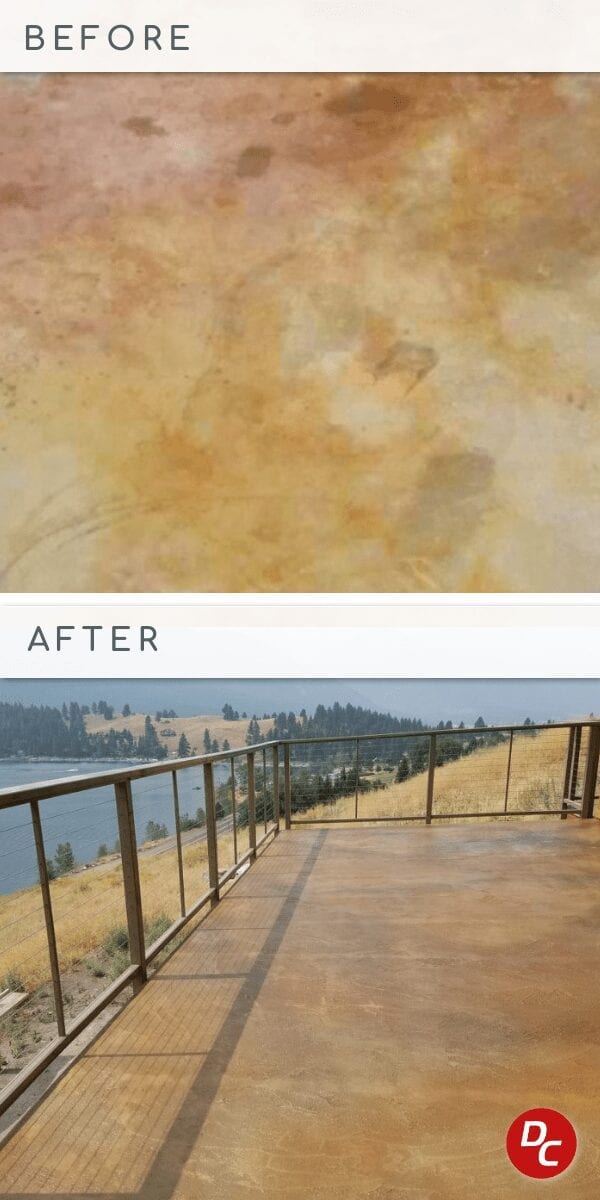 There are numerous ways to fix or "adjust" the color of concrete and other common concrete acid stain problems like fading, seal bubbling, and seal "ghosting". From large-scale transformation to minor touch-ups, this guide will give you the tools and recommendations you need to DIY your concrete repair.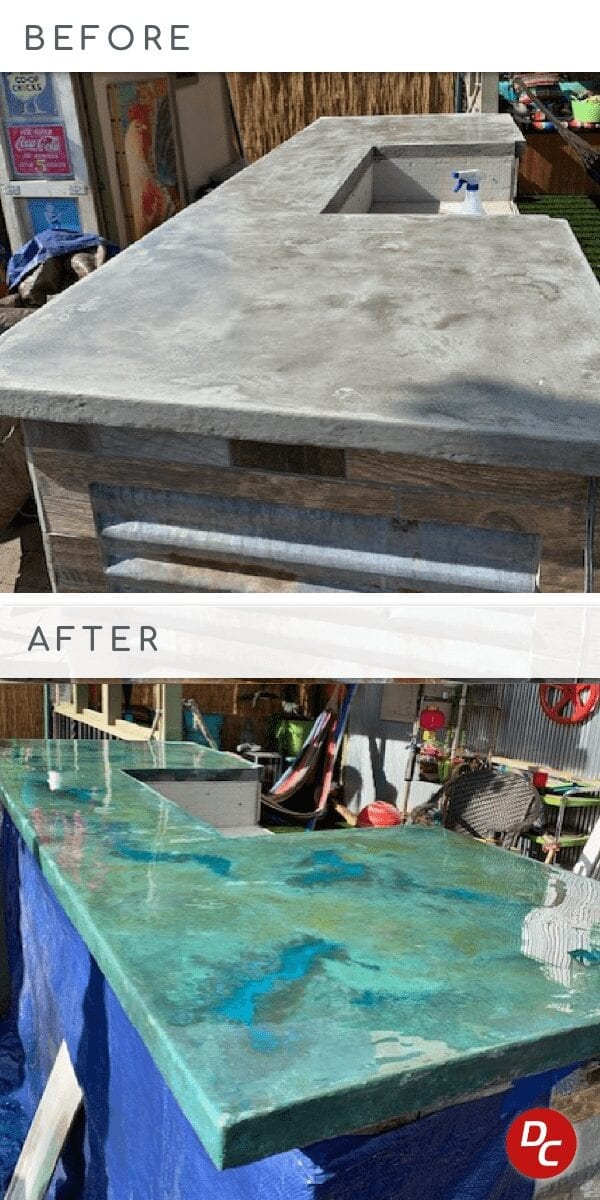 Concrete countertops make an attractive, affordable & easy-to-maintain option for new construction or kitchen and bathroom remodels