Podcast: Play in new window | Download
Podcast: Tinted Concrete Sealer for Fast, Easy Affordable Floor Renovation
You're listening to Direct Colors Podcast Episode 39 – DCI Tinted Concrete Sealer for Fast, Easy Affordable Floor Renovation. If this is your first time listening, then thanks for joining us. We're excited to be joined today by a local contractor, Cat Palmer with TCB Construction in McLoud, OK. Cat's specialty is giving second life to damaged, distressed and downright ugly concrete floors. We frequently feature her floor renovation projects on our Facebook page and website. She's here to tell us about the products she uses and the magic touch she brings to her work. Let's hear from her how she gets the job done! Welcome to the podcast, Cat.
CP: Thanks for having me on today.
ST: Tell us a bit about yourself and your company, TCB Construction.
CP: In 2003, I started my business as "Creating Concrete Designs" focused on decorative flooring; however, with much success and growth a name change was necessary to accommodate all the services TCB Construction now offers.
ST: So, Cat, you're known for taking on troubled concrete floors and turning them around. Tell us how you do your floor renovation projects.
CP: Years of practice (haha)… but I do have a special eye for turning troubled concrete floors around. I'm not afraid to turn troubled floors into a beautiful statement. I like the challenge, and with each one I grow in knowledge in the field. In this line of work, one must be willing to try new things, and not afraid to tackle any job, no matter if it's a new slab of concrete, an old dilapidated and cracked floor, or a horrible mess that needs major rehabilitation. My knowledge of the many different chemicals and materials, and how they work together, is also a key to our success.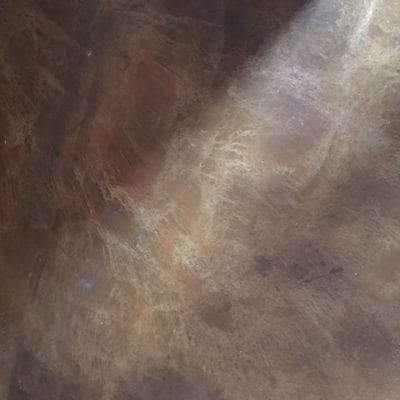 Floor Renovation Projects Featuring Tinted Sealer and DC Concrete Dye
ST: What recommendations do have for DIYers with difficult floor or patio remodeling projects to help them get the best possible results?
CP: Everyone has a dream picture they find on the web; however, you have to keep in mind no two floors will ever be exactly the same when recreating. My advice is go in simple and follow the steps "exactly to a T". Always test the concrete slab before moving forward with deciding on product to use. If a concrete slab already has product down, be sure you remove any product and clean the substrate thoroughly before adding any decorative concrete products and chemicals. Omitting critical surface prep steps can create bigger issues to overcome later. If you have ideas about the finished look, such as a picture from the Direct Colors Photo Galleries, share that with the Direct Colors staff or with your contractor to help them select the right products and give the best application advise possible for your project.
ST: What are you favorite Direct Colors products to work with?
CP: There are three different Sealers that I like working with. The water based sealer is odorless and it's an easy application. I love the shine that the AC 1315 high gloss sealer gives but I do not recommend just anyone use this sealer, especially if one is going to be staying in the home during the project.
Concrete can be mixed cheaply with additives added which can result in spackling and chipping of the concrete in due time; but, the durability and appearance of the DCI Lithium Penetrating Hardener Sealer adds great protection and strength to the concrete and brings a great natural look to the surface protecting the concrete for many years to come.
When working with different color applications, for example, Tinted Water Based Sealer and DCI Concrete Dyes. Each product comes in an array of colors and when used correctly delivers a beautiful outcome for any slab of concrete. Tinted Sealer and Concrete Dye color applications are my go-to for any concrete slab.
ST: Finally, there aren't a lot of women working professionally in the decorative concrete contracting. What words of wisdom would you offer to women considering working as a contractor for a living?
CP: Be confident in your knowledge and skill. I think woman make better Decorative Concrete Artisans because they are more in-tuned to the necessary prepping steps and how valuable these steps are to the outcome of the project.
Be prepared to take a chance. Hold your head high, hands on your hips and know that your decorative concrete artistic skill is a gift! They can always reach out to me or Direct Colors for support. Always ask first, if not sure. I love the support I get from the staff at Direct Colors. After 15-years, my knowledge has reached a level of Master Artisan; however, it is just as challenging as it was in the beginning. I Love this about this profession always creating a new floor master piece or correcting a trouble floor. Every job opportunity with Decorative Concrete is as it was in the beginning, gut wrenching until the final sealer goes on. If you follow the necessary steps, and be precise, taking a chance can only be good and you will grow in knowledge and confidence with each floor completed. Concrete Art – turning concrete into a beautiful floor!
ST: Thanks for those words of wisdom both on turning around difficult concrete floor renovation projects and to women considering decorative concrete contracting for a living. If you have questions, call one of our expert technicians at 877-255-2656 and we'll help you select the best products and technique for your needs. If you prefer email, send in a free online design consultation and we'll get back to you within 24-48 hours.
Direct Colors DIY Home Improvement podcasts are produced twice monthly for your enjoyment and show notes can be found at directcolors.com/listen. Feel free to add the podcast to your favorite RSS feed. You can also follow us on Twitter, Facebook, Google+ , YouTube and Instagram. I'm Tyler Thompson and thanks again for joining us!