FIXING ACID STAIN PROBLEMS MADE EASY
Concrete Dye is a great problem solver for fixing acid stained concrete that requires a touch up or accents to blend in flaws or discoloration left behind by poor surface preparation.
PROBLEM: ACID STAIN DIDN'T TAKE
We recently acid stained a bedroom floor in our house but had some acid staining issues. We think our acid stain did not take because we did not followed all the steps on how prepare the concrete floor prior to staining or maybe the floor was too smooth. We're not sure. At this point, we have an acid stained floor that looks kind of weird and we do not know how to fix it. What would you recommend to we do?
Thank you.
Sean
First, clean the floor with a light concrete degreaser and water solution, thoroughly rinse all residues from the surface and allow the floor to dry. The best product we have to correct acid staining imperfections is Concrete Dye. Our concrete dye can be applied where needed to hide the problem areas and accent the entire floor. For best results, I would recommend applying one coat of water-based acrylic concrete sealer prior to spraying the dye colors. Feel free to use multiple colors and apply accents  across the entire concrete floor.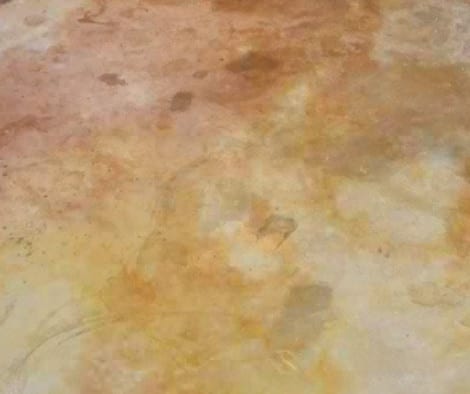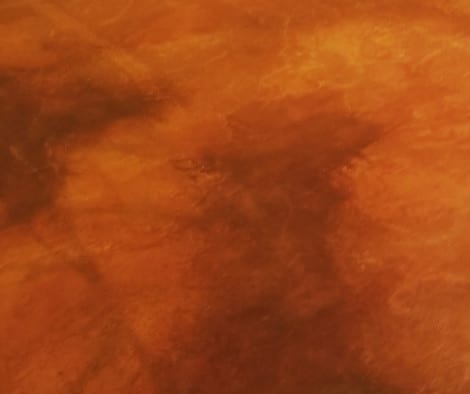 PROBLEM: ACID STAIN LOOKS DULL
A customer contacted us about her acid stained driveway. The concrete was very porous and the stain just didn't turn out the way she'd hoped. She originally applied the Desert Amber and Coffee Brown Acid Stains and liked the color but the surface looked "spotty."
The color needed to flow together better to create a more evenly distributed look but without being overly dark. The driveway and walkways had been sealed twice but due to the porosity, it still looked dull. She wanted to change the appearance but wasn't sure what to do.
We recommended applying two Concrete Dye colors – Coffee Brown and Sepia – to blend in the tones while keeping with the original color scheme. Concrete dye is mixed with acetone and applied with an acetone–rated sprayer. She just sprayed accents where needed to even out colors and used a gallon of each color on the walkways and driveway. Finally, she applied two coats of solvent-based satin finish acrylic concrete sealer. Because the concrete dye dries so quickly, the whole project took an afternoon to complete and the driveway/walkway looks great.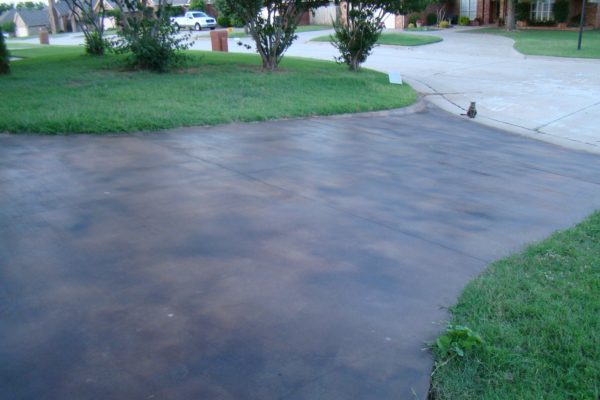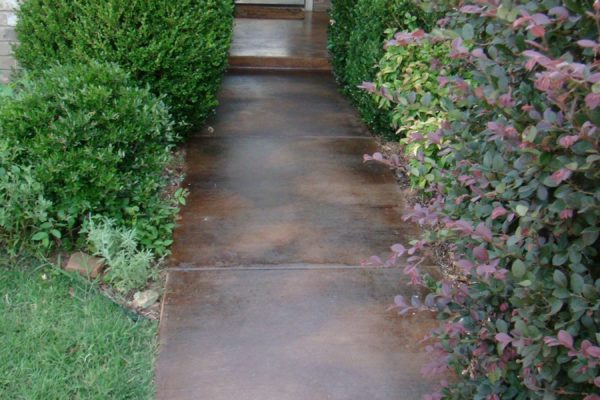 Concrete Dyes are also a great alternative for indoor floors. Here's a great example of a concrete floor project where Concrete Dye saved the day when poor surface preparation prior to acid staining ruined a DIYer's first project.