Patio pavers come in all colors, shapes, and sizes. But, sometimes they aren't the exact shade you were expecting, or you aren't as happy with it once it's installed as you were when you bought it.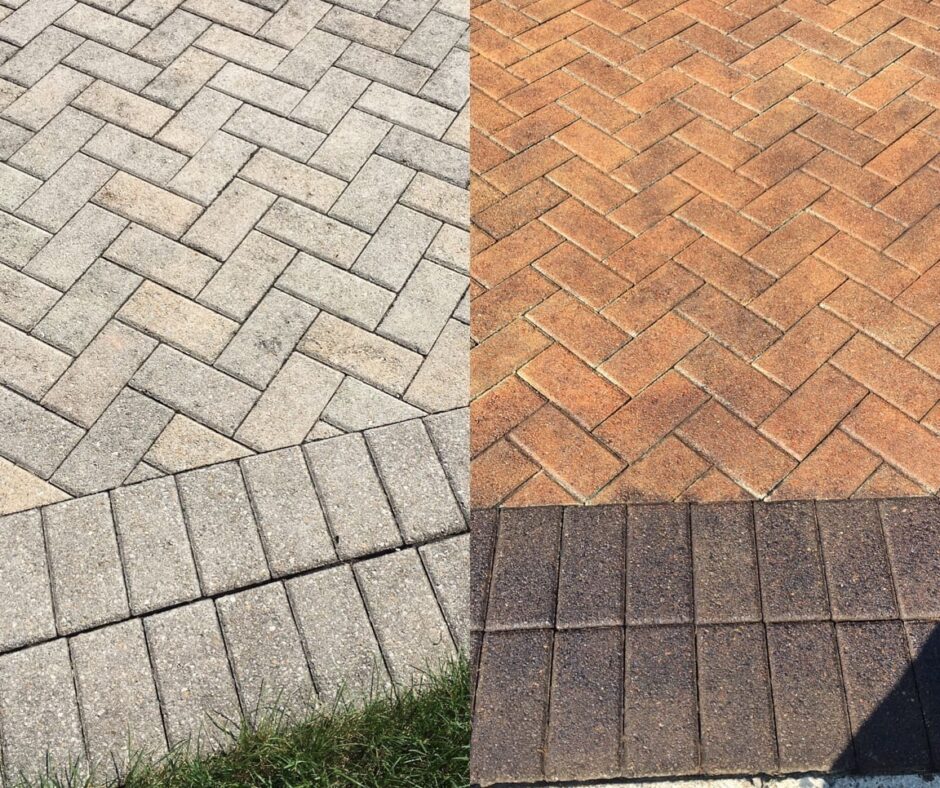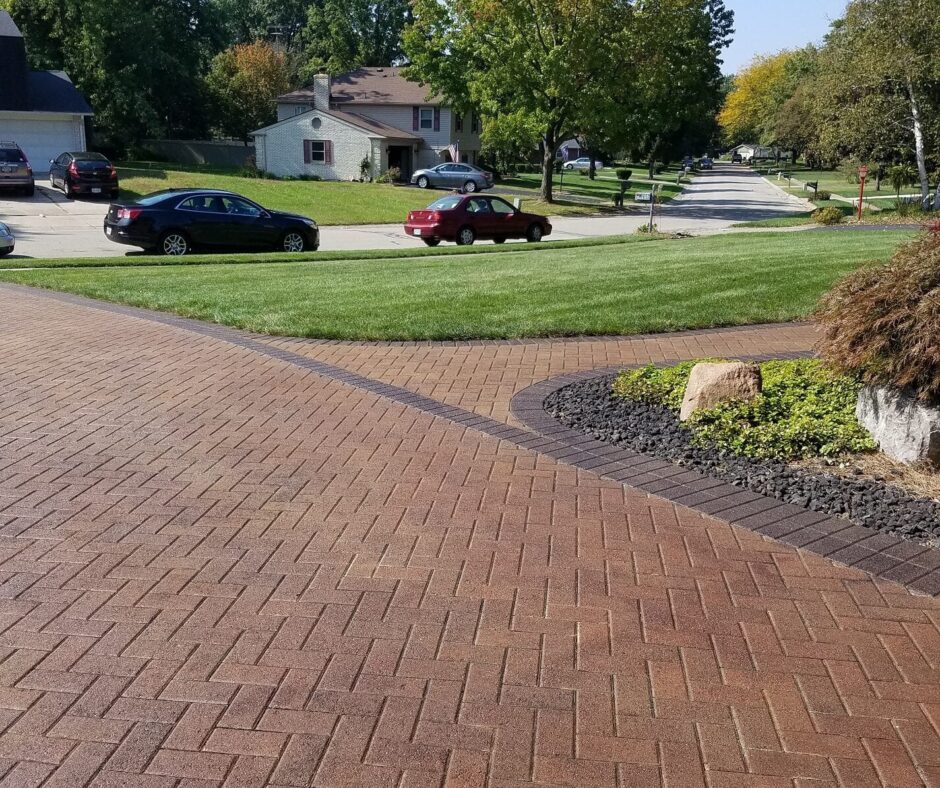 Our customer Larry ran into this same issue. So, he sent us an email:
I have an outdoor patio made of the red concrete brick pavers and 1 ft. x 1 ft. red concrete squares. Can I stain these to a darker color? If not, is there some other method of coloring these bricks? Thanks, Larry
To help out Larry and anyone else hoping to stain their brick patio pavers, our acid stain expert, Justin, has some advice on how to stain, how to check if your pavers are sealed, and more.
Here's Justin's response to Larry's question: "Yes, you have a couple of coloring options for concrete brick pavers. Although internal coloring, like the brick red pigment, will affect the outcome of the paver stain's final color, it is absolutely essential to know whether the pavers have been sealed previously to know which route to take with selecting a stain."
Justin has a bunch of great tips and tricks to prepare for and complete this project. Let's get started.
How Do I Know If My Pavers Have Been Sealed
Patio pavers are often sealed. The reasons vary, but this is generally to increase longevity. If your patio pavers are porous, they will erode faster, and experience water damage. Sealed patio pavers last much longer than their non-sealed counterparts. To find out for sure, follow these three steps:
Pour water on the paver surface

If it absorbs easily, it has not been sealed

If the water "beads" on the surface or water is slow to be absorbed,  the concrete has been sealed previously.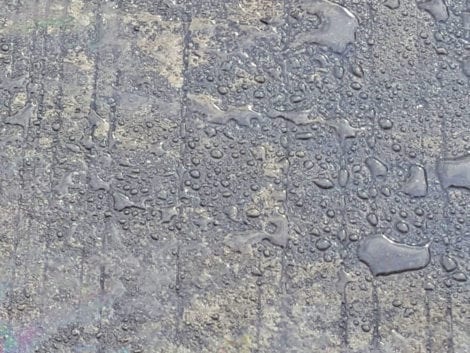 Generally, pre-sealed pavers don't take traditional concrete stain very well, as they're no longer as porous as they were before. However, specific types of concrete colorant are designed for this kind of job: to work on top of previously sealed surfaces such as patio pavers.
Can Brick Patio Pavers Be Stained?
Yes. But, you have a couple of options for staining brick pavers. 
If pavers have been previously sealed, we recommend using Direct Colors Portico Paver Stain followed by a solvent-based acrylic sealer ( Bundle and save with the Portico Stain & Seal Kit) assuming your pavers are outside. Portico Paver Stain does not need to react with the underlying concrete itself in order to work properly. This is unlike traditional concrete acid stains.
To stain your brick patio pavers, follow these 5 simple steps.
How to Stain Brick Patio Pavers
Clean the surface

: Make sure that your patio pavers are free of dust, dirt, stains, or other obstructions that may affect your final product.

Prepare the stain

: Pour the Outdoor Concrete Stain into a pump sprayer, or paint tray (depending on how you wish to apply it).

Apply the stain

: Using the pump sprayer, evenly distribute the Outdoor Concrete Stain to the brick patio pavers. If rolling the stain on, do the same in even layers.

Layer if needed

: Allow to fully dry. If the resulting color is too light, add layers until you achieve the desired result.

Seal the surface

: Allow the surface to dry fully before applying sealer. Either pour or roll the sealer onto the brick patio pavers evenly, and let fully dry.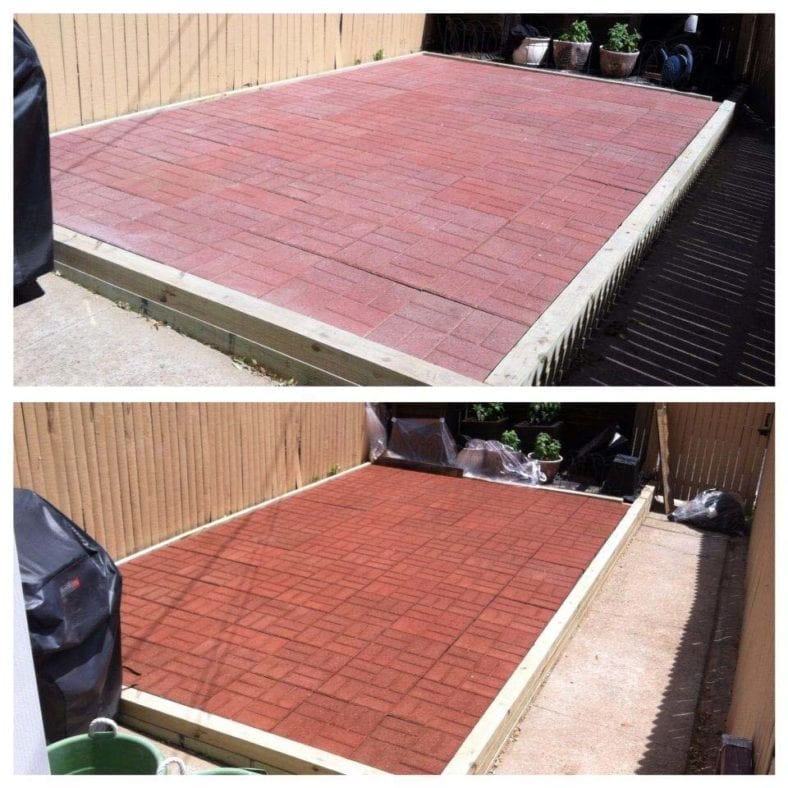 Can You Change the Color of Brick Pavers?
Yes. Direct Colors offers 40 colors of Outdoor Concrete Stain and Tinted Sealers to choose from. In order to achieve the desired shade, you may need to apply more layers if the color is being entirely changed. For more information on our colors, check out our Color Chart for Portico Paver Stain.
Note: If the paver color isn't grey, the final color will be different from the product color charts.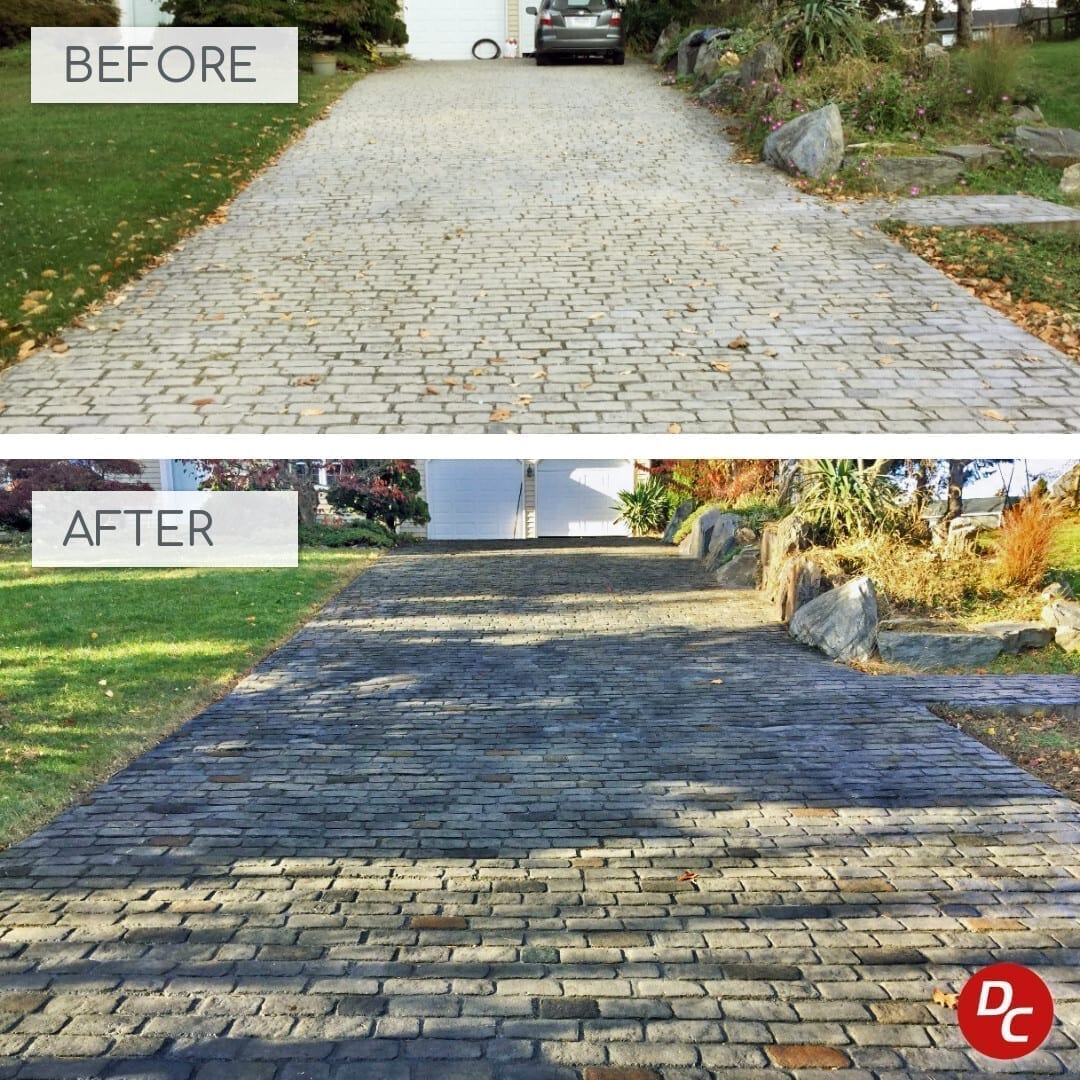 Outdoor concrete stain can be used to restore color to previously stained concrete pavers. They can even be applied directly on top of an existing sealer.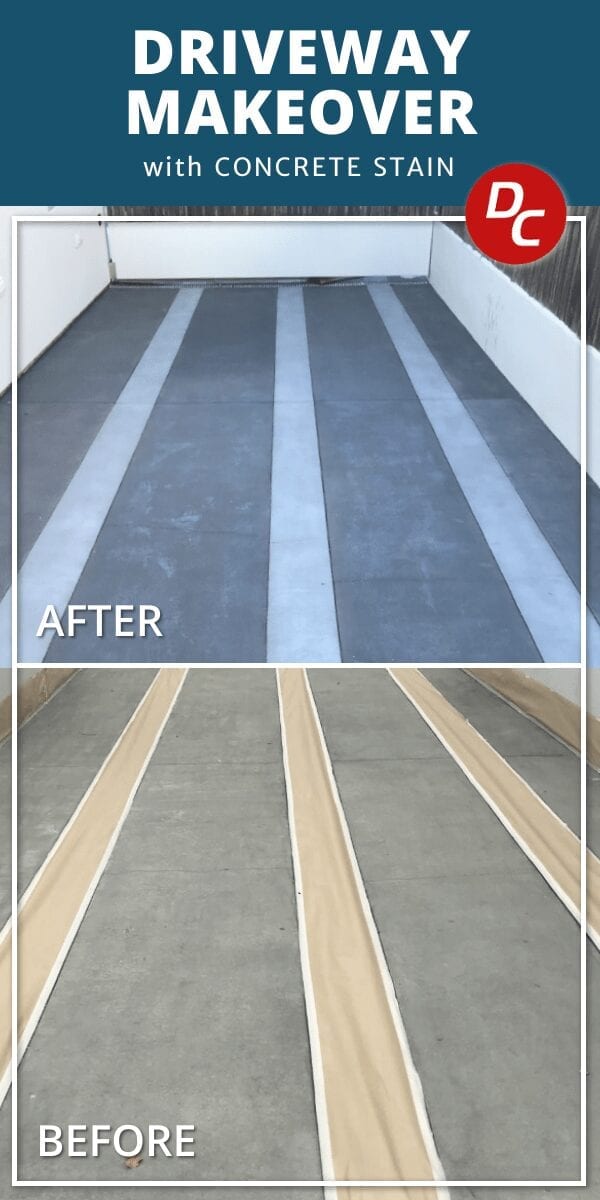 In this guide, we're going to show you how to renovate your driveway to create something beautiful and new. Whether you're a seasoned DIYer or an amateur who's just getting started, this guide is for you