Staining & Sealing Concrete Brick Pavers: Tips & Inspiration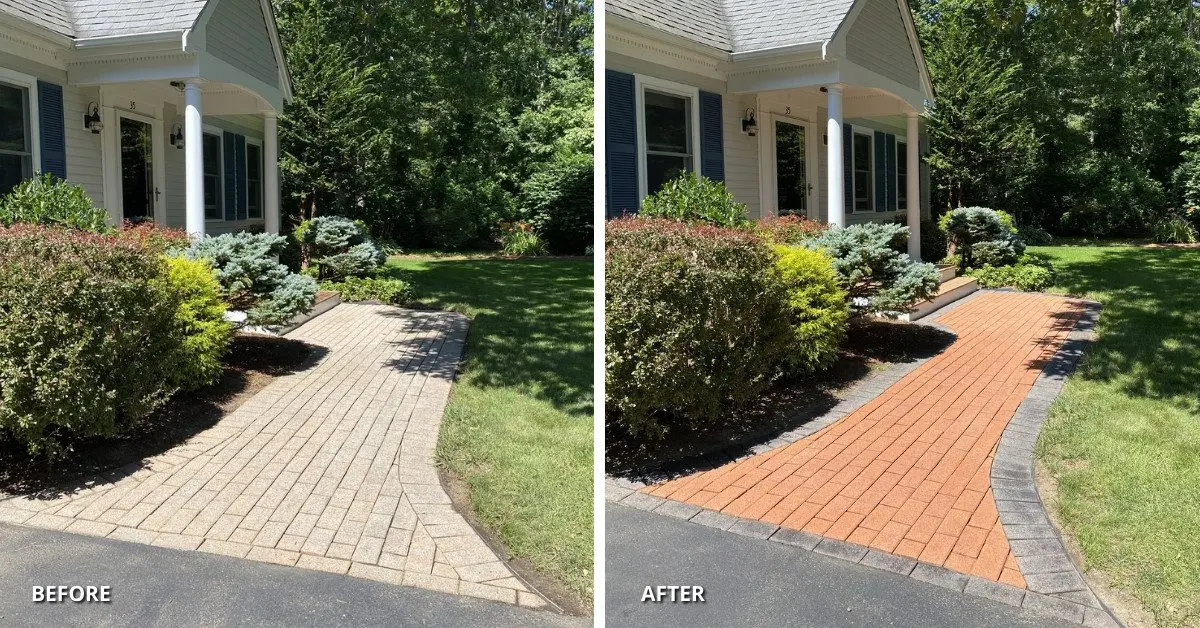 If you're looking to update the look of your patio, walkway, driveway or other outdoor surfaces, staining concrete brick pavers is a great option. Whether you want to change the color of your pavers or simply refresh their appearance, there are a variety of products and techniques available to help you achieve your desired result. In this blog, we'll provide tips and inspiration for staining and sealing your pavers, as well as real examples of successful projects. Follow our guidance and you'll be able to transform your outdoor space in no time.
How to Stain Concrete Brick Pavers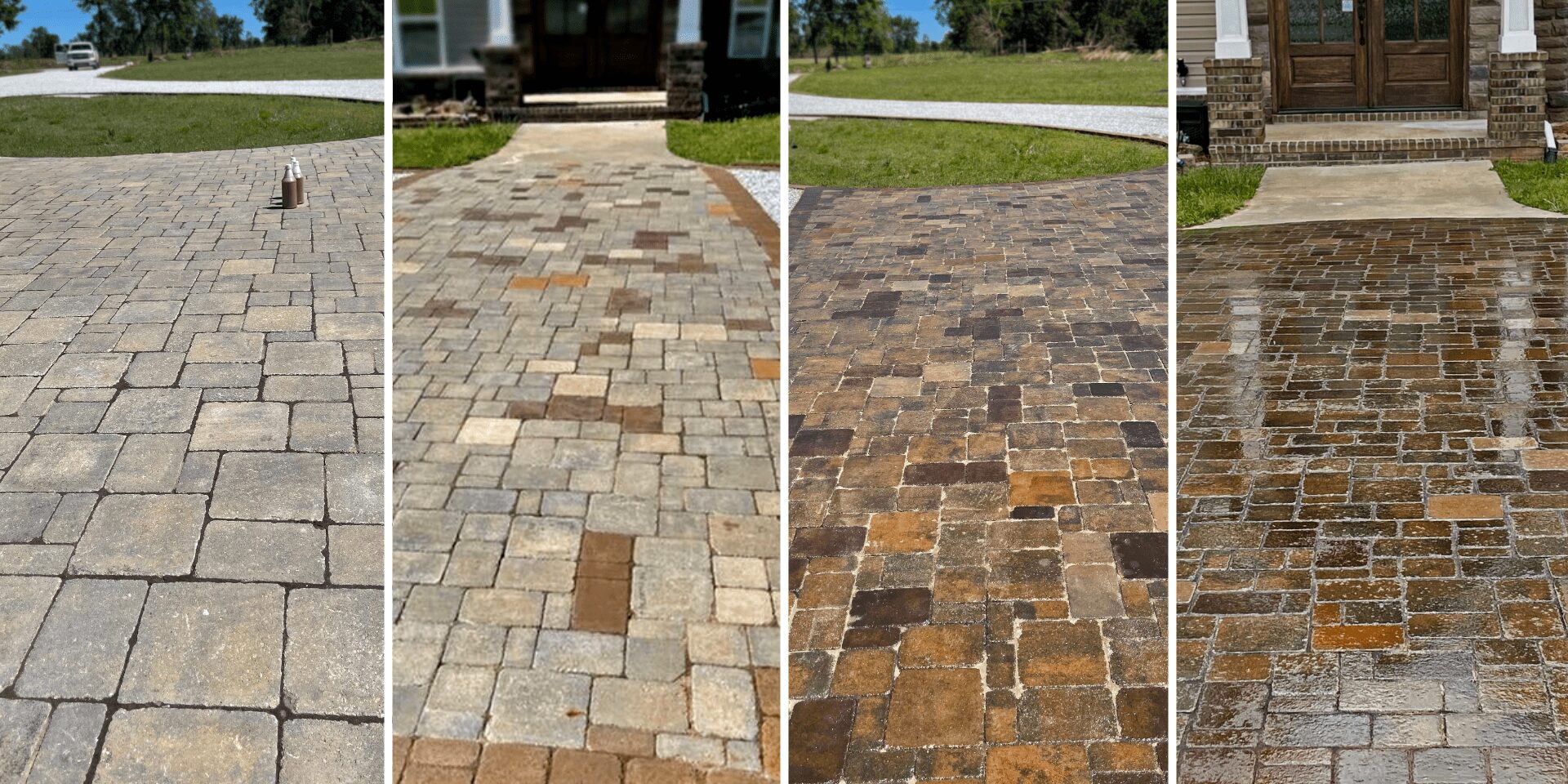 To stain your brick patio pavers and achieve a new, refreshed look, follow these five easy steps:
Clean the surface: Clean the surface of your pavers thoroughly. This includes removing any dirt, dust, stains, or other obstructions that might affect the final result of the staining process.

Prepare the stain

: Pour the stain for pavers  into a pump sprayer.

Apply the stain

: Using the pump sprayer, evenly distribute the paver stain in a circular motion on the surface of the concrete brick pavers.

Layer if needed

: Allow the stain to fully dry before deciding if you need to add additional layers to achieve your desired color.

Seal the surface

: Once the stain is fully dry, it is time to seal the surface of your brick pavers. Spray or roll the sealer evenly over the surface, and allow it to dry completely. This will help to protect the color and longevity of your stained pavers.
By following these simple steps, you can easily transform the look of your brick patio pavers with a fresh coat of stain.
Is it possible to change the color of pavers?
Yes, it is possible to change the color of pavers using concrete stains and a bit of color theory. By applying negative colors to neutralize the underlying shade, it is possible to alter the hue of the brick paver. However, it is important to keep in mind that the porosity of the concrete can affect the final result in an unpredictable way. To ensure a successful project, it is recommended to always test the stains and colors before beginning a large, costly project.
Restaining Red Pavers Gray with Portico Stain for Pavers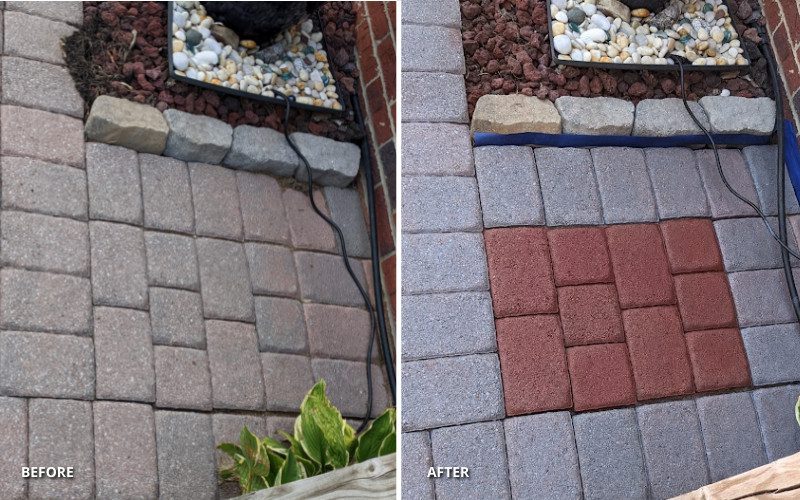 If you want to change the color of red pavers to gray, you will need to use a concrete stain or tinted sealer in a gray shade. To achieve the best results, start by cleaning the surface of the pavers thoroughly to remove any dirt, dust, or stains. Next, prepare the stain or sealer according to the manufacturer's instructions, and apply it evenly to the surface of the pavers using a circular motion. If you are using a paint roller, apply the stain in even layers. Allow the stain to fully dry before adding additional layers if necessary to achieve the desired shade of gray. Finally, seal the surface of the pavers to protect the color and increase the lifespan of the surface.
Project Description:
Duration: 5 days
Area: 315 sq. ft.
Description: Our patio was in need of an update as it was over 15 years old and had never been sealed. The mixed colored pavers had also faded significantly and weeds had started to grow. I wanted to rejuvenate the patio and make it match the landscaping that was done the previous summer. To avoid the patio becoming damaged and needing to be replaced, I researched products and application techniques. I ultimately chose Direct Colors Portico Stains and was extremely satisfied with the end result. The patio looks brand new! See a photo album of the project here: https://photos.app.goo.gl/r9FC7rFKVj7YyaKh7
Tips:
The Portico Stain is thin, so proper preparation is key. Cover or block anything that may be hit by overspray.
When staining the outside border in Eagle Gray, I had to cut in with a foam brush to avoid getting it on the previously applied Crimson Red. I then used a 4″ roller for the second coat.
Remember to shake the stain well in the sprayer to ensure an even application.
Direct Colors Products Used:
ProClean Degreaser for preparation
Crimson Portico paver stain for the majority of the patio
Eagle Gray Portico paver stain for the border
Satin EasySeal for protection
Other Products Used:
Pressure washer and outdoor cleaner for initial prep
Spectracide Weed Killer and Triazicide Insect Killer Granules to kill weeds and insects at the root
Deck brush, plastic drop cloths, painter's tape, garden sprayers, foam brushes, and 4″ roller for the Portico Stain
Tarps for unexpected rain showers
What is the best paver stain?
When it comes to staining concrete pavers, a penetrating concrete stain with a high pigment concentration is likely to give the best results. One such product is Portico Paver Stain, which is a highly saturated exterior concrete stain designed specifically for coloring concrete pavers. This semi-transparent stain can be applied over previously stained and sealed concrete pavers, adding a tint to the surface while still allowing the texture to show through. Unlike paint, Portico Paver Stain is not opaque and will not cover up the existing texture of the pavers.
Staining pavers is a great way to update the look of your outdoor space and extend the lifespan of your patio, walkway.

Project Description:
Looking to refresh my old brick patio, I decided to give Direct Colors a try. I had always wanted a clean, inviting white washed look for my backyard, but had struggled to find the right product in the past. I tried paint, store-bought solutions, and even real lime wash, but nothing seemed to work as I hoped. So, I took a chance on Direct Colors and I'm glad I did!
To get the best results, I followed the advice of the Direct Colors team and took my time with the project. I started by power washing the patio and letting it fully dry. Then, I applied several coats of Portico white, taking care to let each coat dry before moving on to the next. Finally, I sealed the patio with Easy Seal satin. In total, I applied 5 coats of white and 2 coats of sealer.
I was pleased with the final results and feel confident that this will hold up for years to come. My advice to others trying to achieve a white washed patio is to take your time, test the product, and use all the resources available to you. Also, be sure to use a high-quality polymeric sand like Techniseal Pro Series HP Next Gel to finish the job.
Direct Colors Products Used:
5 gallons Portico white
2 gallons Easy Seal satin
Other Products Used:
Techniseal Pro Series HP Next Gel jointing sand
Efflorescence Removed and Brick Patio Transformed with Portico Paver Stains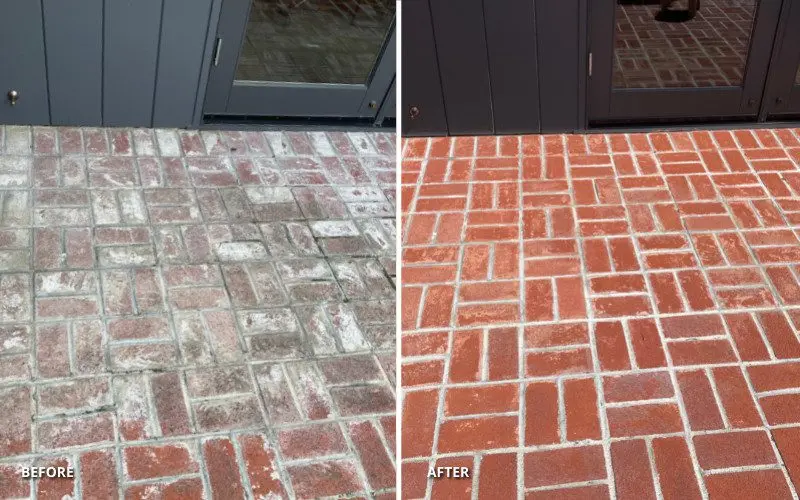 Project Description: We wanted to give our old brick patio a new look, so we decided to try staining the bricks with a combination of Portico Milano Red and Pumpkin. The patio had a large area covered in efflorescence and cement & grout that we needed to remove before we could start staining. We used high pressure spraying to get rid of the efflorescence and then applied the stain to each brick with sponge brushes. After the stain dried, we applied two coats of satin sealant to protect the new color.
Personal Tips: The key to this project was patience and strong knees! Staining each brick individually was a labor-intensive process, but the end result was worth it. We also found that using a short-nap roller for the sealant helped to ensure an even finish.
•Direct Colors Products Used: Portico Milano Red Portico Pumpkin Satin EasySeal
Reviving a Faded Brick Paver Patio with Staining and Sealing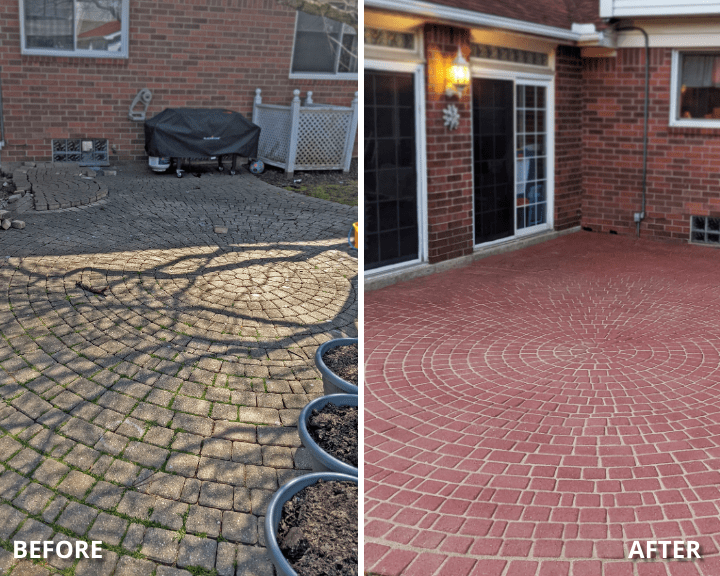 Project Info:
Project Completed In: 3 weeks
Square Footage: 200 sq. ft.
Project Description: Our brick paver patio was in poor condition, with a section that had been taken apart and never put back together, dirty bricks, and weeds growing between the pavers. After getting quotes from several companies that were too expensive, we decided to try and fix the patio ourselves. We put the pavers back in place, power washed them thoroughly, and then applied a stain and sealant. We finished off the project by adding polymeric sand. The patio looks brand new now!
Personal Tips: We found that the pavers were very porous after power washing, and ended up using 2 gallons of acrylic sealer. We recommend starting this type of project in a dry season to avoid delays due to rain. We also made sure to plan for a few dry days to apply the stain and sealant.
Direct Colors Products Used:
Portico paver stain in crimson
EasySeal
Other Products Used:
What is the best sealer for stained concrete brick pavers?
When it comes to protecting the color and longevity of stained concrete brick pavers, a high acrylic content sealer is generally the best choice. Acrylic is the component in paver sealants that helps to prevent fading and excessive wear, and the higher the acrylic content, the longer the sealer is likely to last. A very good sealer should have a minimum of 25% solids (acrylic content). Given that concrete pavers are often used in high traffic areas such as driveways, walkways, and patios, it is important to choose a sealer that can withstand regular use and exposure to the elements.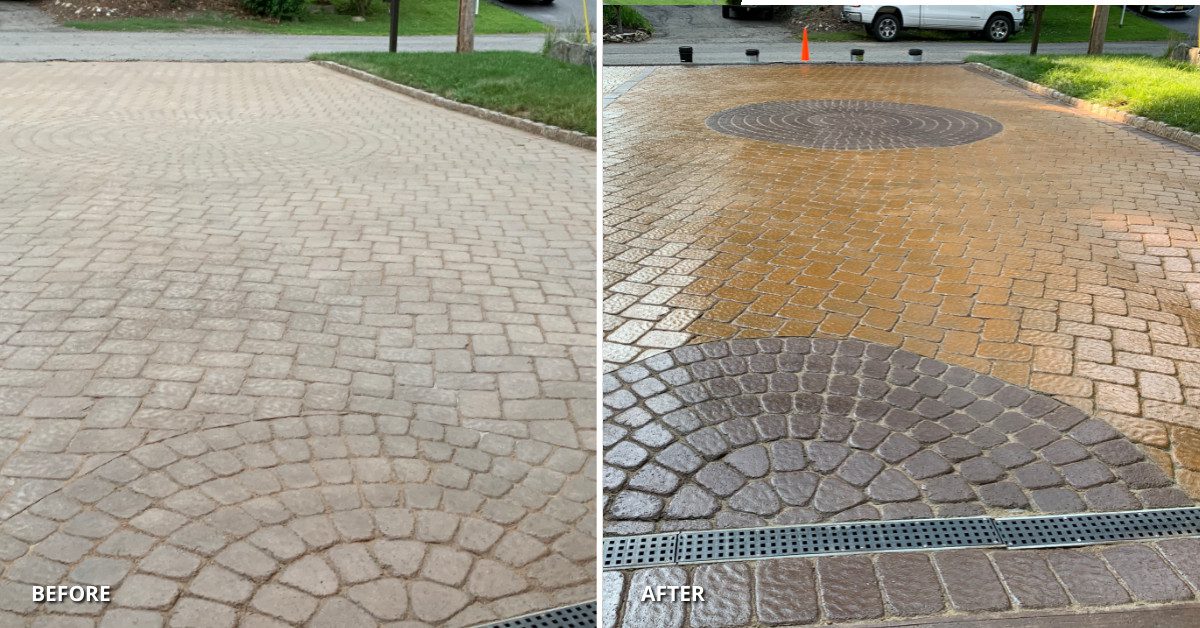 Project Completed In: 6 days
Project Size: 360 sq. ft.
Project Description: I wanted to give my 15 year old driveway a new look and used Direct Colors products to stain and seal my border, half moon, and circular circle pavers in Aztec Brown (from the Portico Paver Stain line) and finished with a coat of High Gloss Acrylic Sealer. The rest of the driveway was stained with EasyTint Goldenrod satin.
Personal Tips: Follow the tips and instructions provided by Direct Colors for the best results. They know what they're doing!
Direct Colors Products Used: Aztec Brown Portico Paver Stain, High Gloss EasySeal, and EasyTint Goldenrod satin.
Other Products Used: Beige Stabilizing Sand.
How do I know if my pavers have been sealed?
If you're not sure whether your patio pavers have been sealed, there is an easy way to find out. Follow these three steps:
Pour a small amount of water onto the surface of the pavers.

Observe how the water behaves. If it is absorbed easily into the pavers, it is likely that they have not been sealed. If the water beads on the surface or takes a while to be absorbed, it is likely that the pavers have been sealed previously.

Repeat the test in a few different areas of the patio to ensure that you are getting a consistent result.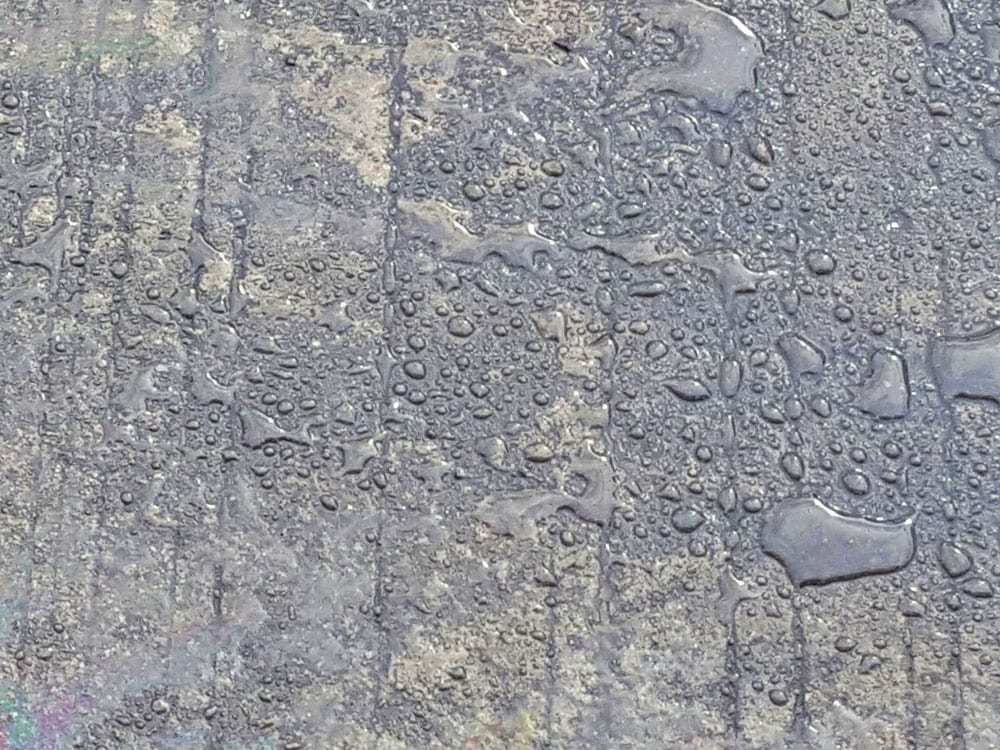 Sealing patio pavers can help to increase their lifespan and protect them from water damage and erosion. If you are unsure whether your pavers have been sealed, this simple test can give you an idea of their current state.