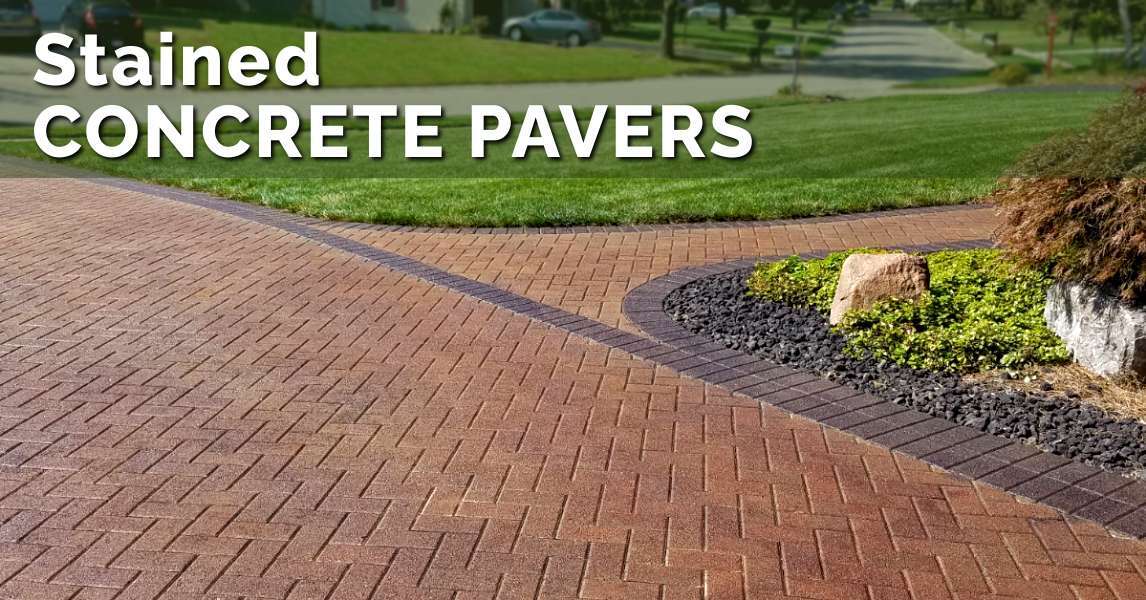 How to Stain Concrete Brick Pavers
Patio pavers come in all colors, shapes, and sizes. But, sometimes they aren't the exact shade you were expecting, or you aren't as happy with it once it's installed as you were when you bought it.
To stain your brick patio pavers, follow these 5 simple steps.
Clean the surface

: Make sure that your patio pavers are free of dust, dirt, stains, or other obstructions that may affect your final product.

Prepare the stain

: Pour the concrete paver stain or tinted sealer into a pump sprayer, or paint tray (depending on how you wish to apply it).

Apply the stain

: Using the pump sprayer, evenly distribute the stain in a circular motion on the surface of the concrete brick pavers. If rolling the stain on, do the same in even layers.

Layer if needed

: Allow to fully dry. If the resulting color is too light, add layers until you achieve the desired result.

Seal the surface

: Allow the surface to dry fully before applying sealer. Either pour or roll the sealer onto the brick patio pavers evenly, and let fully dry.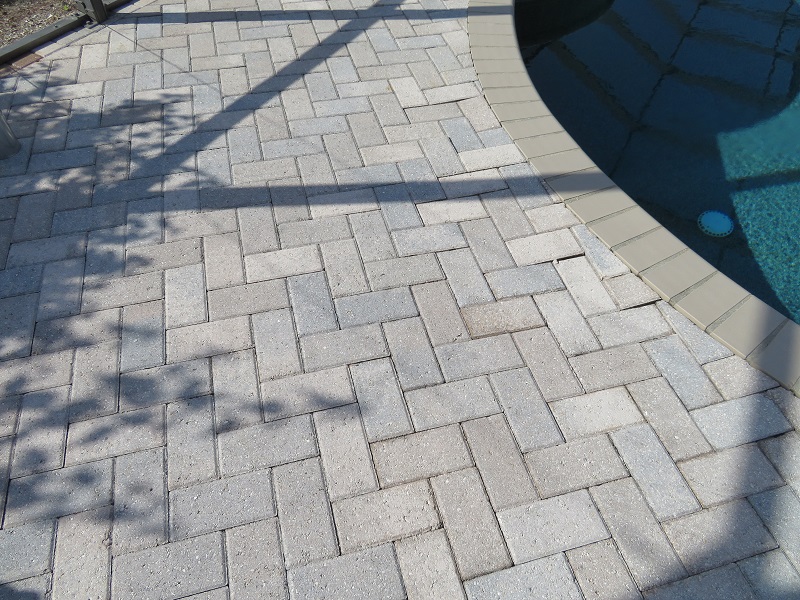 Can You Change The Color on Pavers?
You can change stained concrete color by using a little bit of Color Theory  and a lot of color stain testing. Concrete stains can change the hue of your previous masonry color by using negative colors to neutralize the unwanted underlying shade. Keep in mind that the concrete porosity will play a very unpredictable role in this process so make sure you always test your stains and colors before embarking in a large costly project.
Brick Pavers Color Change Before & After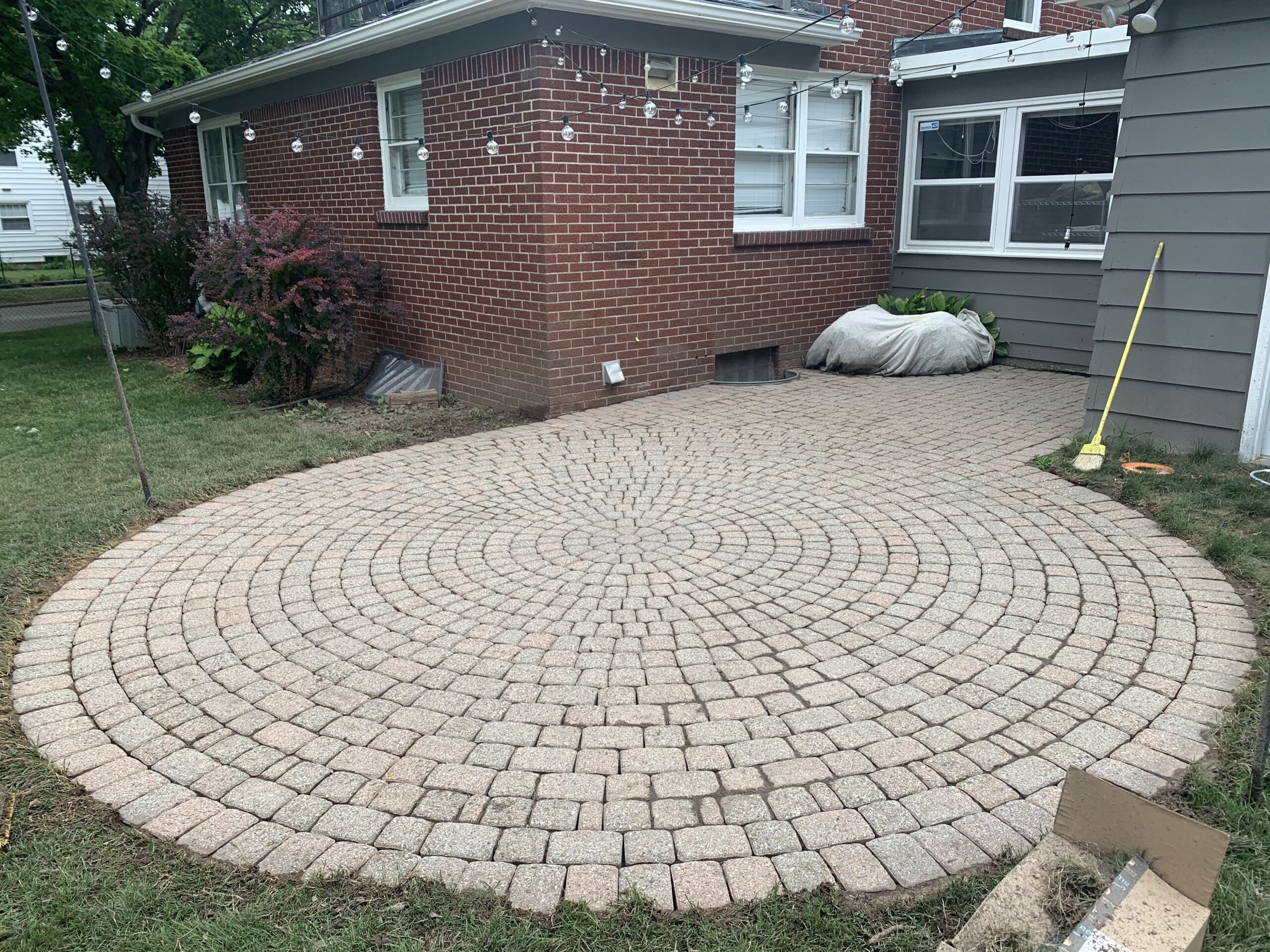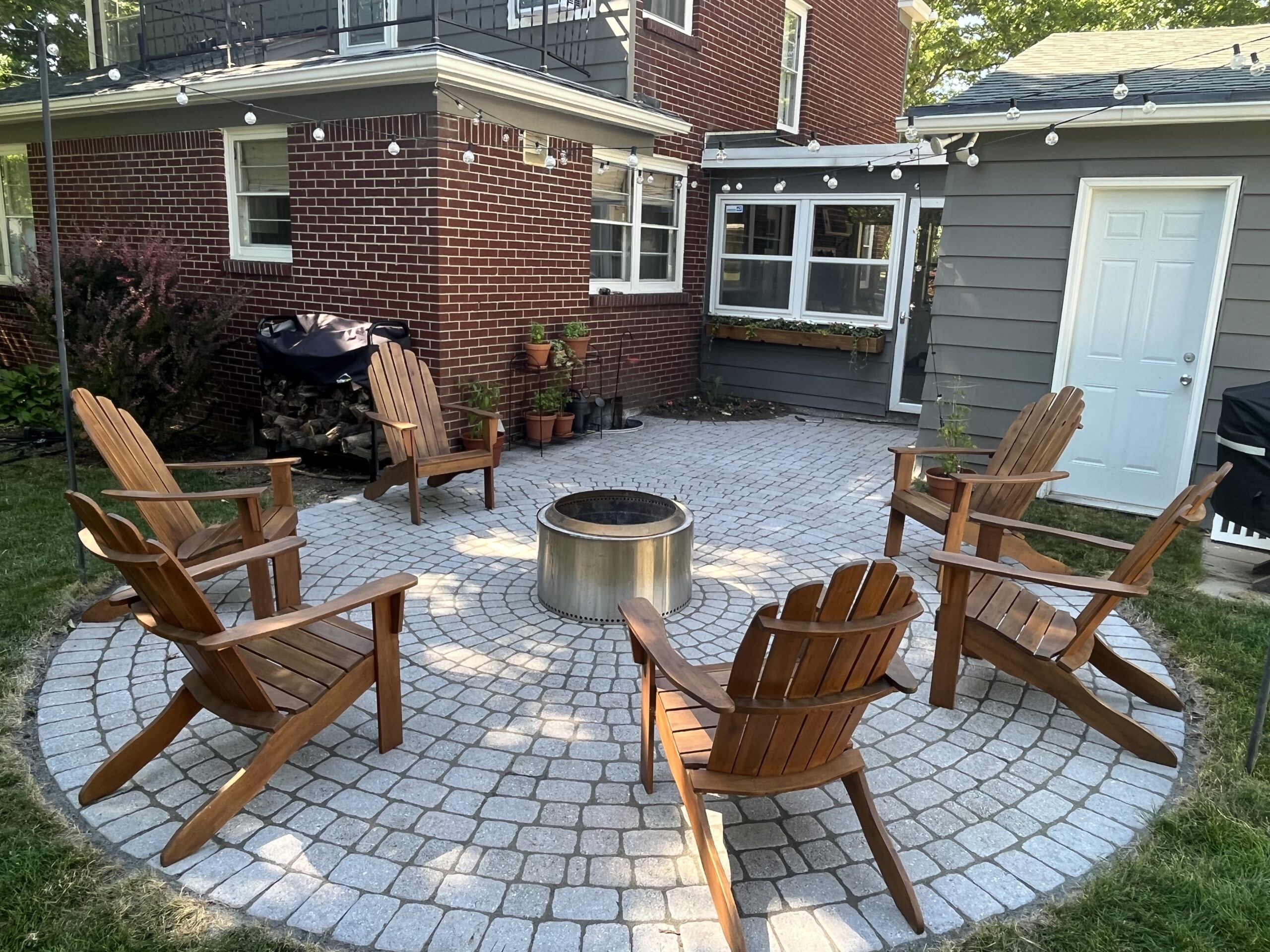 Project Info:
Project Completed In: 4 day(s)
Estimate of Square Footage: 300 sq. ft.
Project Description:
I loved everything about my back yard except my pink paver brick patio. My wife and I dreamed of a clean, inviting, white washed look. We researched paint, big box store products and even tried real lime wash which eventually failed. We decided to take a chance on direct color and we are glad we did!!
Personal Tips:
Materials are expensive, and more importantly your time is valuable. Take your time and do the work. I spent at least $70 on trial kits.Also don't be afraid to utilize the direct color team. Matt specifically was super helpful. I took several pictures to ask application questions because everyone's situation is different. Matt is an expert and was my guide through the process. He will let you know if its a good idea to do extra coats or call it quits. White specifically has to be put on several times to become opaque, and needs a light color brick in order to work.

Once I knew it was a go i calculated what i needed and ordered. I highly recommend over buying, because the last thing you want is to run out. I ended up using every last drop!

The key to good application is good prep work. Power wash, let it fully dry. And apply. Make sure those coats dry before applying sealer. I ended up doing 5 coats of white and 2 coats of sealer. Believe it or not I could complete in one day. Be careful though, I had matt on speed dial for help and he gave the blessing to apply several coats on a hot day.

I was so pleased with the results and i am confident this will hold up for YEARS.

My advice for people doing white: take your time, test it, use resources. Sealer slightly darkens white after application Also finish it off with a pro grade polymeric sand.

Direct Colors Products Used:
5 gallons portico white
2 gallons easy seal satin
Other Products Used:
Techniseal pro series hp next gel jointing sand
Granite color makes the white pop a little bit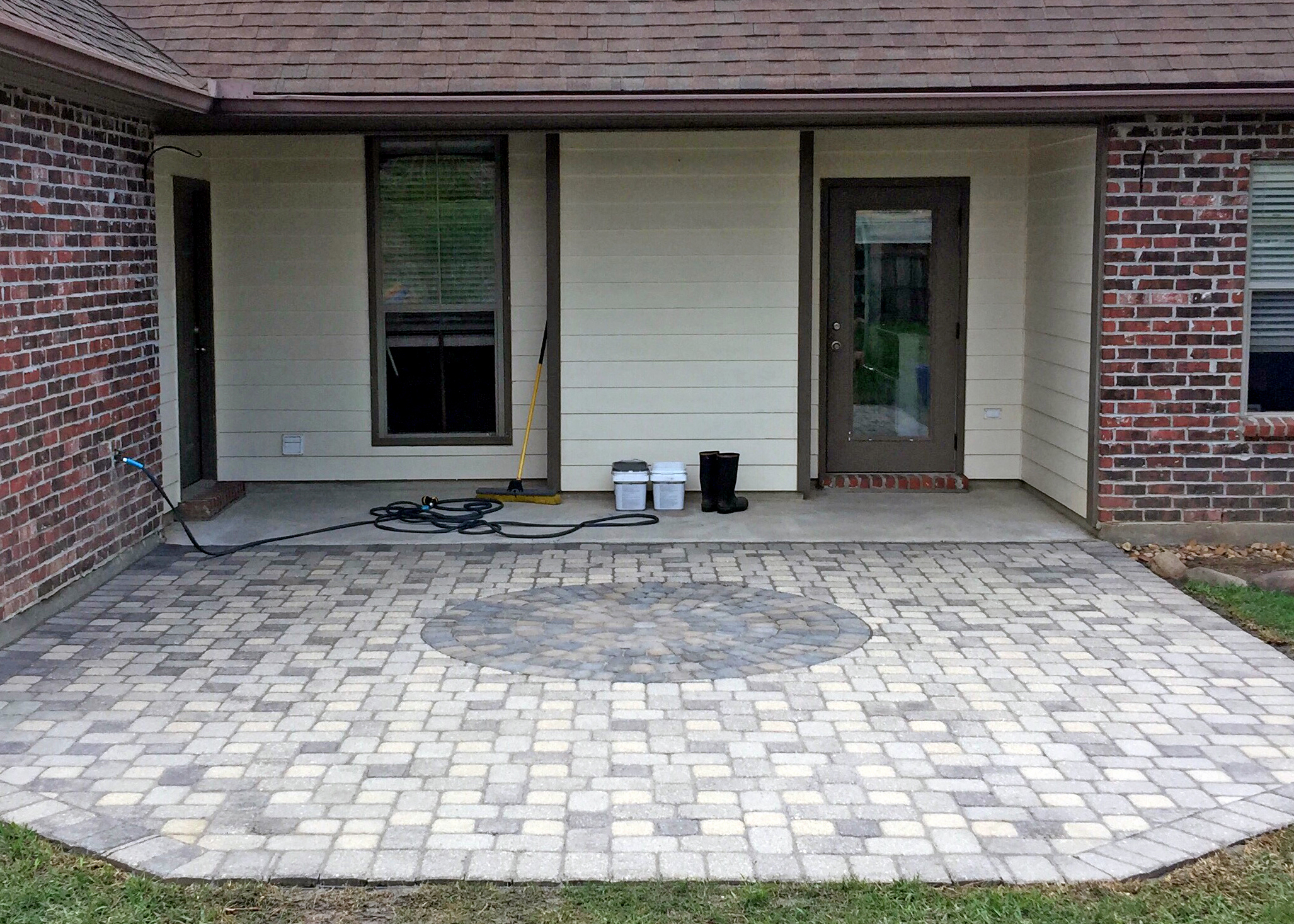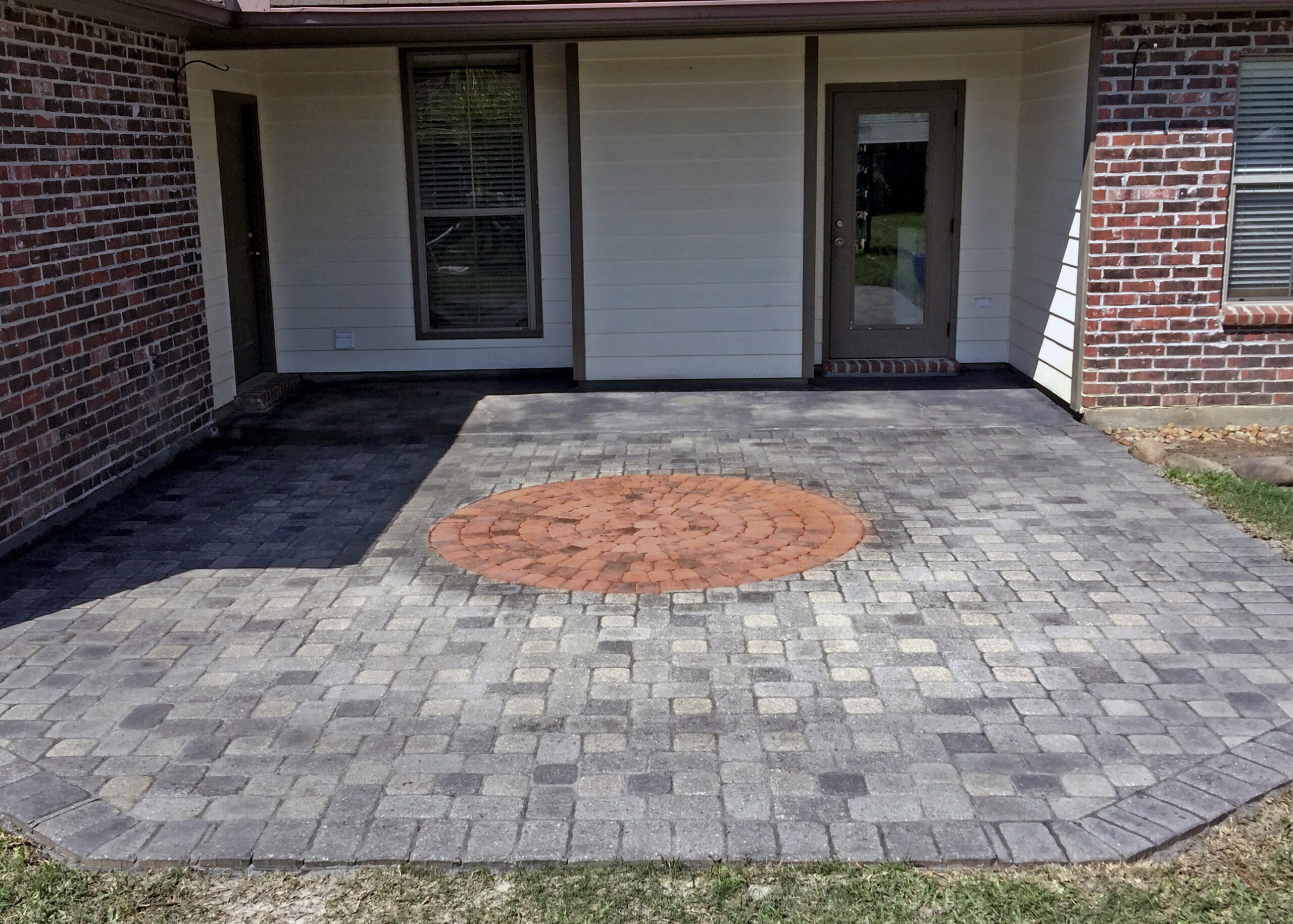 Project Info:
Project Completed In: 5 day(s)
Estimate of Square Footage: 400 sq. ft.
Project Description:
Ten years ago we had installed a paver patio on the back of our home. At the time we had installed a brick fire pit in the center, but due to the shape of the back porch it was never workable at the corner caused smoke to swirl upwards and everyone hated it. After a few years I knocked down the brick firepit but was left with a hole that I filled with river pebbles with the intention of finding a circular outdoor rug to cover it under the table. I was never able to find a rug that we liked so we were left with pebbles constantly being kicked everywhere and a place our dog used to dig in.I decided to see if I could find a circular paver kit that could fill in the hole and found one and had it installed last fall. The pavers were supposed to have a reddish tint to them, but instead came mostly gray and they did not match the current pavers at all. I then found you guys and decided to stain the circle a red tint and darken the existing gray pavers. After consulting you guys I ordered a test kit and decided on Terra Cotta and Charcoal colors. I first pressure washed the existing pavers and then adding polymeric sand. After drying I sprayed on the coat of Terra Cotta in the circle and then followed with the Charcoal for the grays. I decided to do the concrete back porch as well. I came back later and added additional coats of Charcoal by brush to the darkest existing gray pavers as well as the darkest Red pavers to give it more of a cobble stone effect. After fully drying I began adding the sealant. Ended up with approximately three coats of sealer.
Personal Tips:
With no differences in color or places that you need to protect it's an incredibly easy job. However, if the plan is to maintain an edge between two distinct colors, plan it out ahead of time. The pavers I was working with were VERY porous, so it absorbed and spread into them like alcohol would into chalk. Even when I was doing the parts by hand I needed to be careful to not get too close to the edge for fear of it bleeding. Also be aware of some overspray. Finally, even though I'd done the math I would have been happier had I ordered an additional bottle of Charcoal and Sealant. I ended up ordering a third bottle of sealer during the project because it was clear l I was not going to have enough to put down as many layers as I'd have liked. Because of that the project took a week longer because I had to wait for the order to come in.
Direct Colors Products Used:
Order# 1145372 Bottles of Charcoal
1 Bottle of Terra Cotta
3 Bottles of Sealer
Other Products Used:
Nothing for the stain job though I did need a pressure washer and polymeric sand to clean and prepare the existing gray pavers.
What is The Best Paver Stain?
Concrete pavers are highly porous so a film forming concrete stain with a high pigment concentration will most likely give you the best results
Portico Paver Stain is a highly saturated, exterior concrete stain specifically formulated to color concrete pavers.  This stain can be applied over previously stained and even sealed concrete pavers.
Portico is a semi-transparent stain, and not opaque, like paint. It will add a tint to your concrete pavers while allowing the existing texture to show through.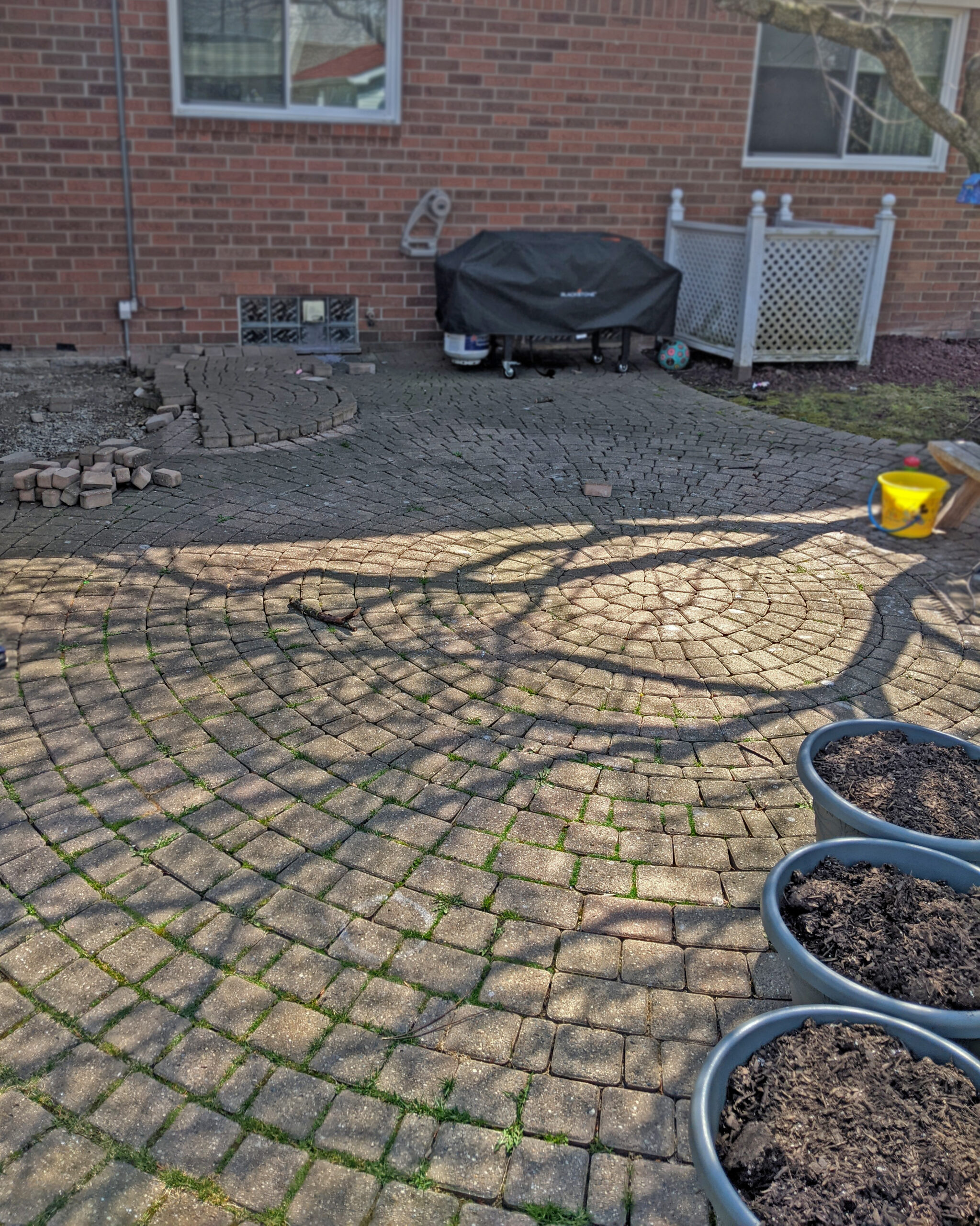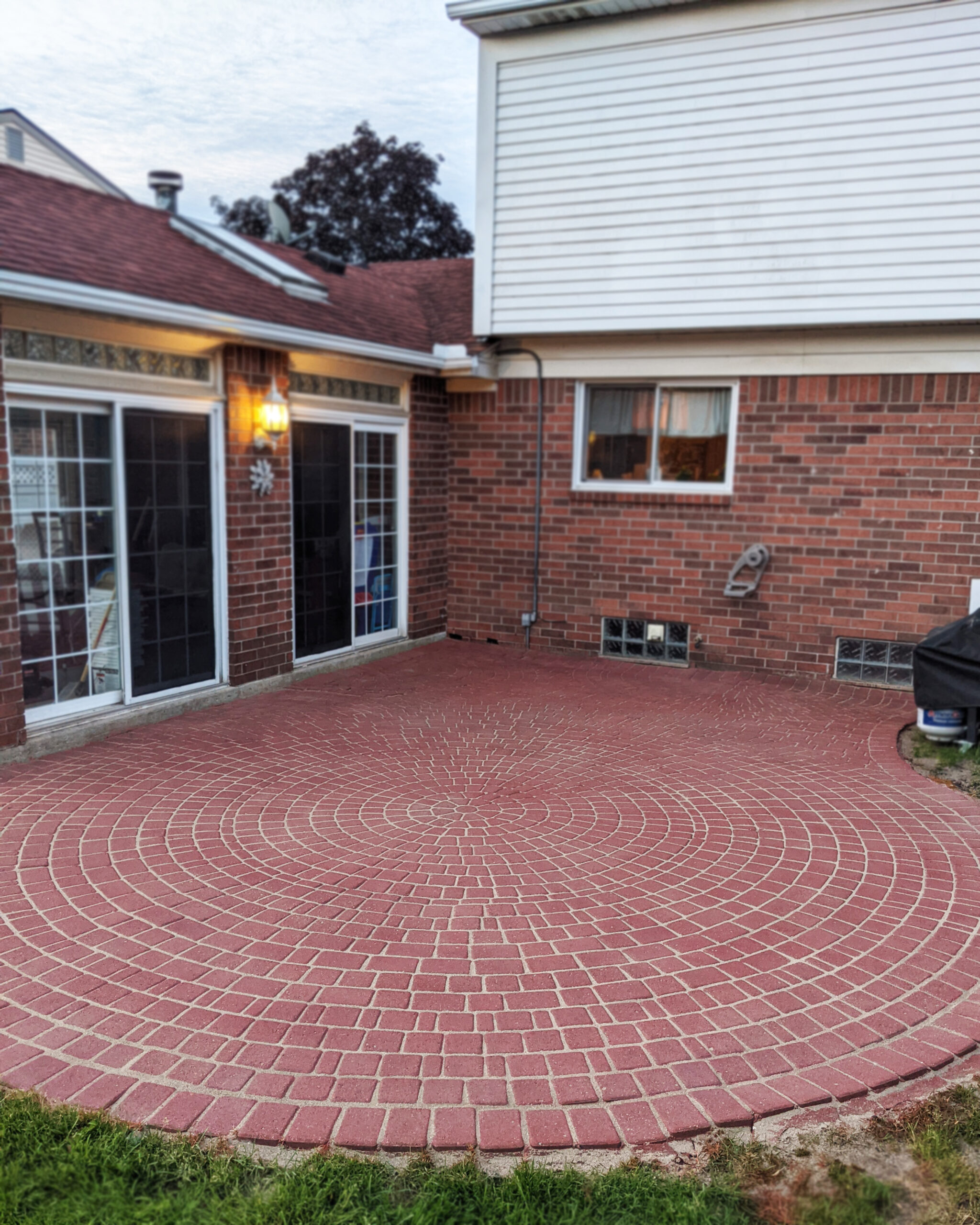 Project Info:
Project Completed In: 20 day(s)
Estimate of Square Footage: 20 sq. ft.
Project Description:
My brick pavers patio was in rough shape. We took a section apart due to sinking and it never got put back together, the bricks were dirty looking, weeds in-between the pavers. We decided to rehab the patio after getting several extremely high quotes from companies. We put the pavers back, power washed very thought then stained, sealed and polymeric sanded. The patio now looks brand new!
Personal Tips:
After we power washed the pavers seemed to be VERY porous. I used 2 gallons of acrylic sealer and I ran out. I also suggest starting a project like this in a dry season. I live in the Midwest and we had multiple days of rain which would prevent me from getting the next step finished. I did make sure we had a few dry days to stain and seal.
Direct Colors Products Used:
Portico paver stain crimson, and acrylic sealant
116857
Other Products Used:
Paver set and a power washer
What is The Best Sealer for Stained Concrete Brick Pavers
Concrete pavers are mainly used in high traffic areas such as driveways, walkways and patios so a high acrylic content sealer is recommended. Acrylic is the component on paver sealants that protect stain color from fading and excessive wear.  In simple terms, the higher the acrylic content, the longer your sealer will last.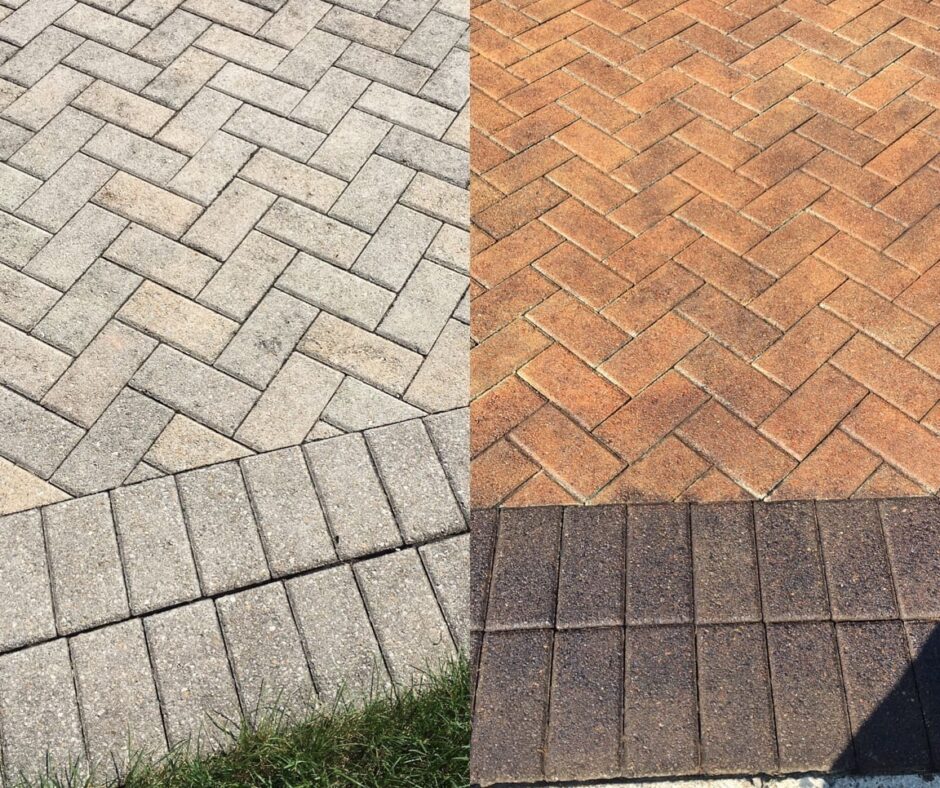 How Do I Know If My Pavers Have Been Sealed
Patio pavers are often sealed. The reasons vary, but this is generally to increase longevity. If your patio pavers are porous, they will erode faster, and experience water damage. Sealed patio pavers last much longer than their non-sealed counterparts. To find out for sure, follow these three steps:
Pour water on the paver surface

If it absorbs easily, it has not been sealed

If the water "beads" on the surface or water is slow to be absorbed,  the concrete has been sealed previously.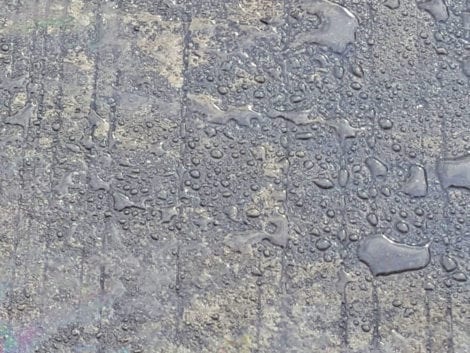 Restoring Red Brick Paver Color Before & After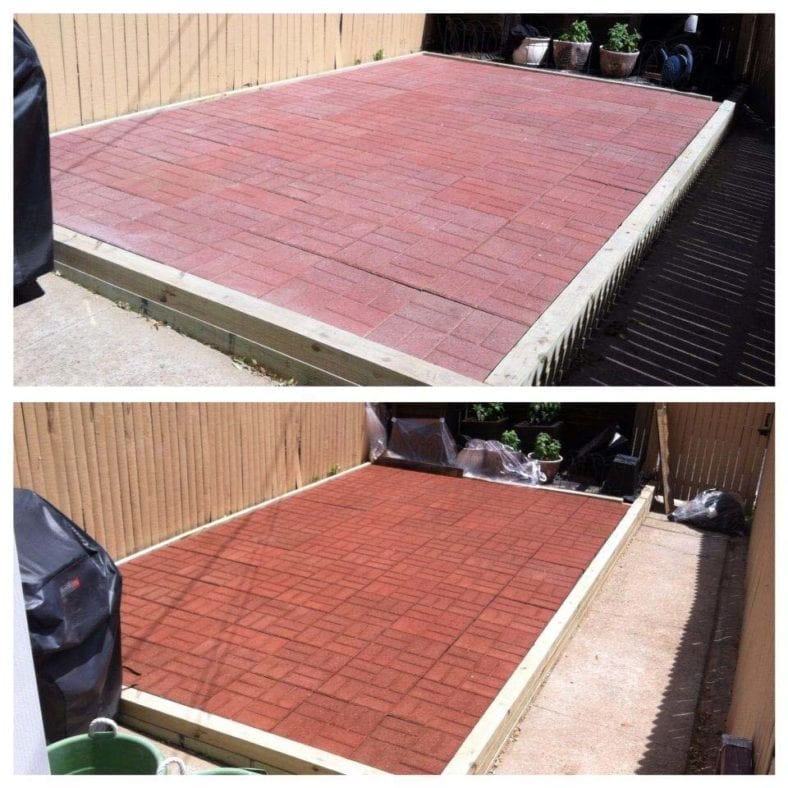 I have an outdoor patio made of the red concrete brick pavers and 1 ft. x 1 ft. red concrete squares. Can I stain these to a darker color? Thanks, Larry
To help out Larry and anyone else hoping to stain their brick patio pavers, our concrete expert, Justin, has some advice on how to stain faded concrete brick pavers.
Here's Justin's response to Larry's question:
"Yes, you have a couple of staining options for concrete brick pavers. Although internal coloring, like the brick red pigment, will affect the outcome of the paver stain's final color, it is absolutely essential to know whether the pavers have been sealed previously to know which route to take with selecting a stain."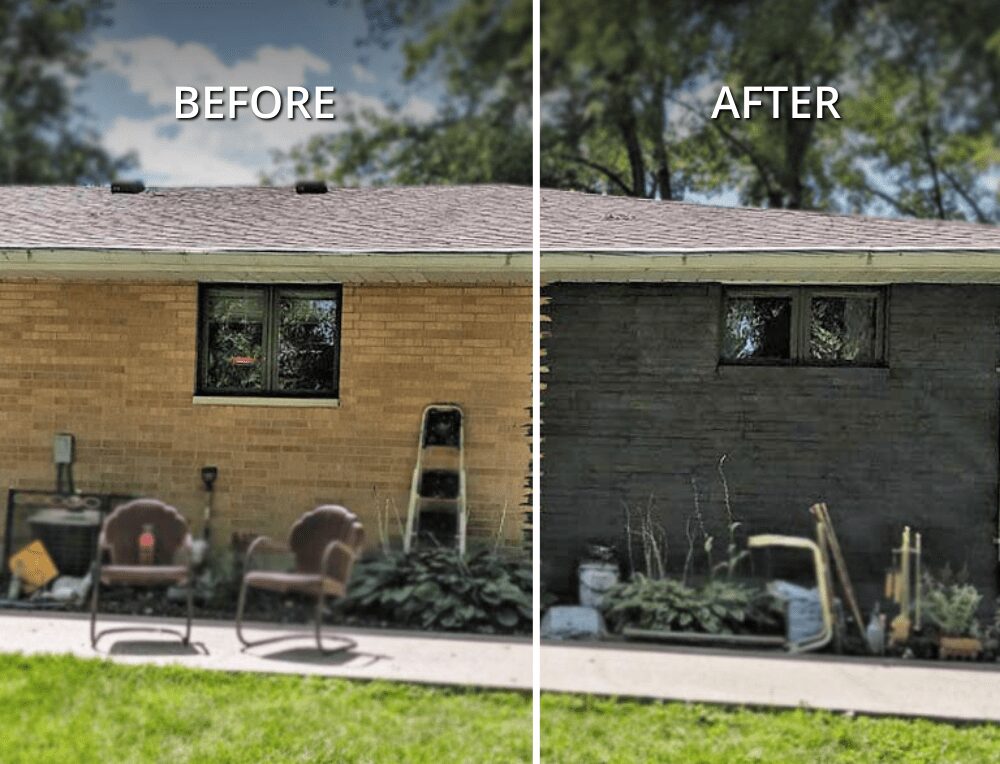 If you've never worked with whitewash, you may only know it from Tom Sawyer, where the hero famously tricks his friends into whitewashing his Aunt Polly's fence for him. You may also have assumed that whitewash is just some kind of paint and no big deal.