3 Concrete Paver Designs To Make Your Patio Pop
For most of the country, the dog days of Summer are winding down. The nights are colder, the days are shorter, and you're starting to spend less time outside. But, for those of us that live in warmer climates, or are willing to brave a bit of a chill, this could be the perfect time to make a change in your backyard.
You've probably looked out at your backyard and dreamed of what you and your friends would look like sitting on your patio. Maybe there's a fire pit, a big table, or even a gazebo. Imaginations run wild.
Concrete Pavers are a quick and easy way to create the patio of your dreams without breaking the bank. With infinite patterns, designs, and colors to choose from, you can create the perfect patio yourself without hiring a professional landscaper. But, how do you choose the design that's right for you?
In this guide, we'll explore 5 concrete paver designs that will make your patio pop. Whether you're in a warmer state, are willing to brave the cold, or just want to get an outdoor project done before the winter hits, we've got you covered.
When designing your concrete patio, a lot of people choose concrete pavers or brick pavers. These two of the most popular styles, and are generally what you'll find in backyards around the country.
Concrete pavers come in many shapes and sizes, including the brick shape you see below. But, if yours are a more equal square shape, you can place them in their "Jack on Jack," or "Running Bond" styles, also seen below.
Concrete pavers, unlike brick, can also vary in color. While concrete pavers generally come in a traditional grey shade, these pavers are porous and stainable using outdoor concrete stains.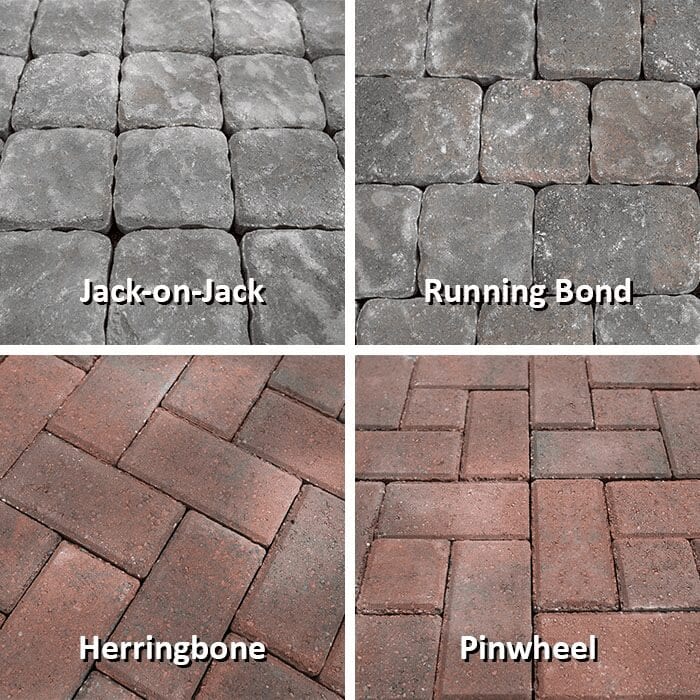 At Direct Colors, we recommend our Portico™ Concrete Paver Stain. Portico™ is a highly saturated, professional grade outdoor concrete stain specifically formulated to color concrete pavers. This concrete stain is the perfect outdoor concrete stain for your patio, driveway, and everywhere else you use concrete pavers.
While the brick pavers might seem a little plain, there are interesting patterns that can make these pavers pop in your backyard. The two main pattern styles are Herringbone and Pinwheel. The pinwheel style does require a bit of cutting though, so make sure you have the tools and knowledge necessary before you fall in love with this design.
Now that we have the better known styles out of the way, here are some unique concrete paver designs that will blow your neighbors, family and friends away.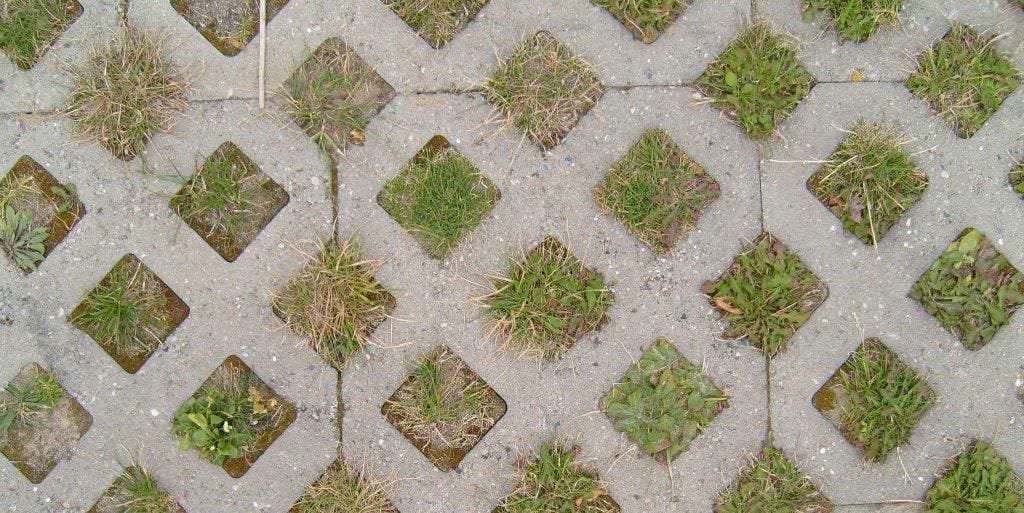 Grid concrete pavers, also known as "Grass Block" or "Turf Pavers," are an interesting and alternative style you don't see used often in backyard patios.
These pavers are used more for driveways as an alternative to asphalt. They're made of concrete but are especially porous, allowing grass to grow through and around them with ease. Grid concrete pavers are an eco-friendly option praised by many homeowners.
It's important to note that grass is the most important consideration with this type of concrete paver. When used for patios, chairs and other furniture tend to sink into the lawn if the soil is moist.
But, considering how unique and eco-friendly these concrete pavers are, you may choose to create a grassy paradise in your backyard by using them.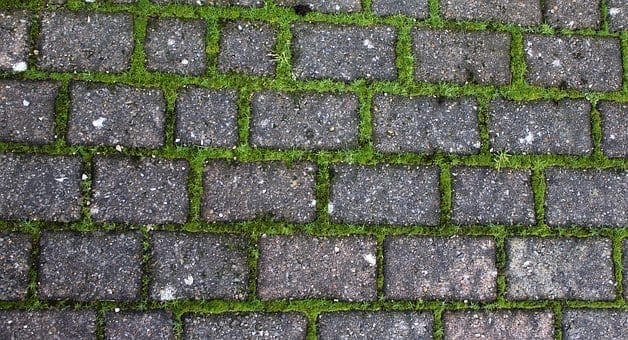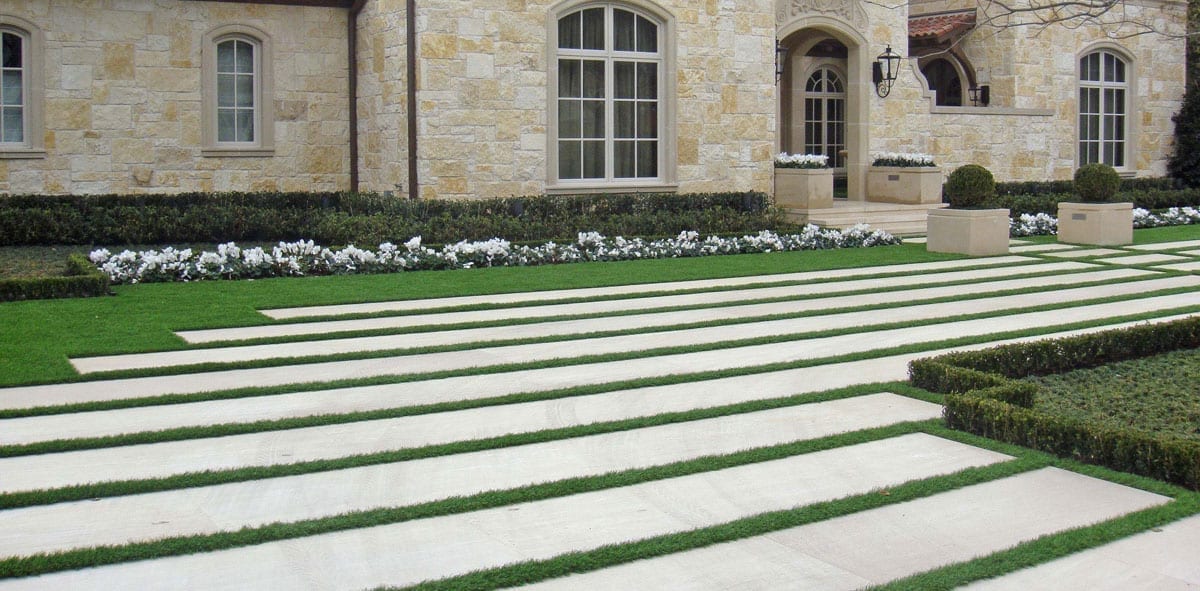 Generally created using flat pieces of limestone or other smoothstone, patio paver bands are a unique way to show off your landscaping skills, your lawn, and your taste for design.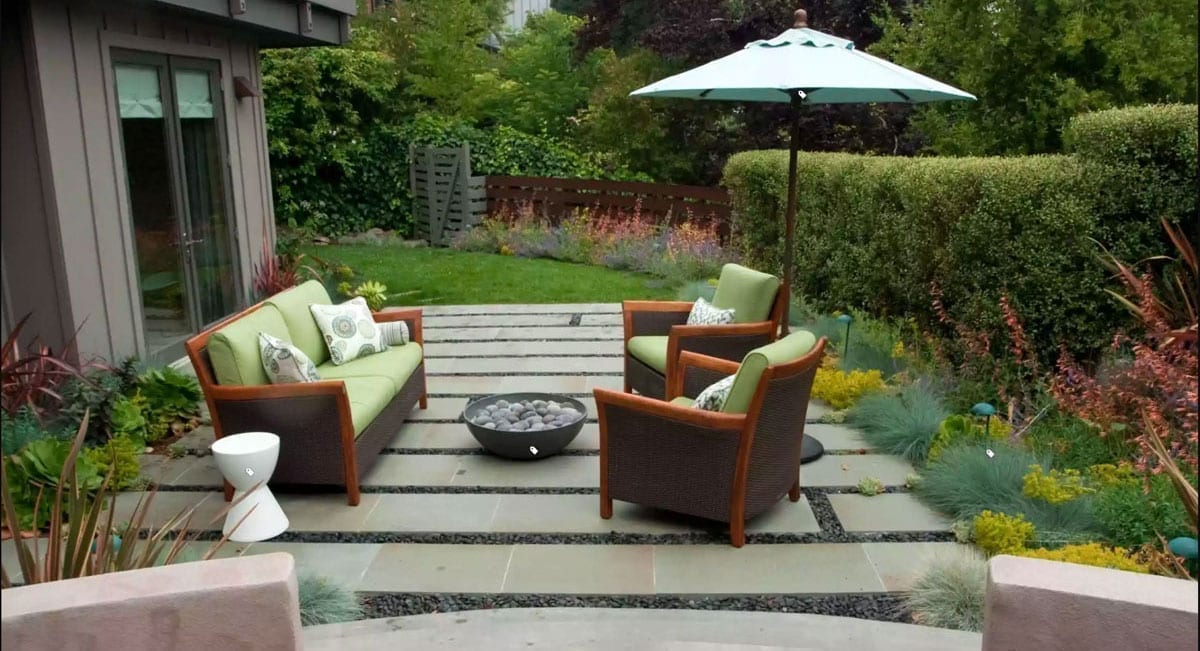 To achieve this style, DIYers don't need to do much in the way of cutting or patterns. Simply measure your space, determine how long and how far apart each strip will be, and place your stones. In between the bands, you can choose to let your lawn grow, or fill it with mulch, gravel, stones, or other materials to match your aesthetic.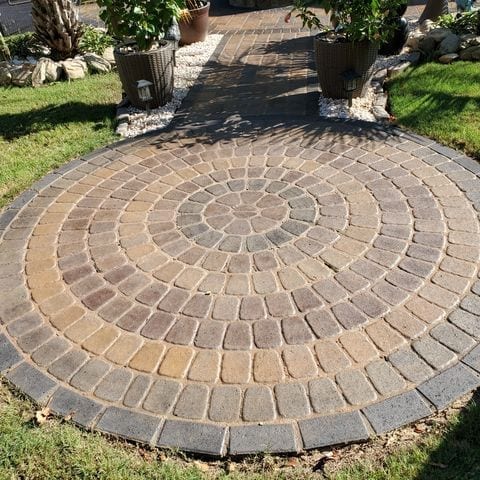 Circular patios are becoming increasingly popular, and are even sometimes chosen over the classic interlocking look we mentioned before.
Reminiscent of the interlocking style, a circular patio is a bit more difficult to design, while giving your space a unique, holistic look.
To start, you'll need to plan your layout. Establish and mark where you want your circle to be, and hammer a stake into the center of the circle.
After excavating the area where you'll place the stones, setting the base of your patio (usually insulated with a tarp or geotextile to prevent moisture from rising), you'll lay some sand over top, and start to lay your patio pavers.
Start at the center. Lay the stones loosely according to the plan you've set out, and adjust the stones after laying each layer to make sure they're set properly. The process and final product will depend on the style you've chosen