COLOR STUCCO WITH INTEGRAL PIGMENTS
Adding a pigment to the final stucco coat of your home can save you thousands on paint and labor. Although, there is no such thing as a maintenance-free home, colored stucco is low-maintenance and long-lasting. Best of all, your home color will never chip or fade like paint.
What Color is Stucco?
The basic stucco colors are gray and white because the main component of stucco is Portland cement which is available in gray and white.
Can You Add Color To Stucco?
Because stucco is a Portland cement and lime based product,  you can add color to stucco with concrete pigments. The pigment coats the cement particles with color creating an integral colored stucco mix.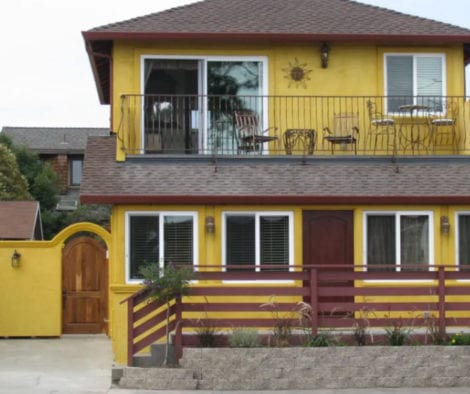 Whether you are mixing your own stucco material or using a pre-bagged product, you will need to know the weight of the Portland cement in the mix to help you determine how much pigment you need for any stucco project.
Direct Colors offers several calculators for concrete pigment-related projects. The calculator most useful for coloring portland cement-based plaster commonly known as "stucco" is called the Portland Cement Pigment Calculator.
The Portland Cement Pigment Calculator requires three pieces of information:
Base Concrete Color which in the case of white Portland cement-based stucco would be White,
Portland Cement Weight in the stucco
Pigment Color selected from our concrete pigment color charts.
For example, if you plan to use one 80 lbs. bag of stucco mix and wanted to integrally color the stucco to Cornflower. You would select "White" for the Base Concrete Color, enter 20 lbs. for the Portland Cement Weight and finally select the color desired to calculate the amount of pigment needed for the project.
For each 80 lbs. bag of stucco, you would need 0.21 lbs of Cornflower pigment
Outdoor stucco applications should be sealed with an acrylic or penetrating sealer to protect the color integrity from harsh environmental elements. Some customers prefer the light shine, extra depth of color and the ease of application of our solvent-based Acrylic Satin Finish Sealer.
We also have a matte finish penetrating sealer that is also easy to apply and produces no color change at all. This sealer also enhances durability and is a one-time application.
DIY SPOTLIGHT: RENOVATED BEACH HOUSE GETS A BRIGHT FACELIFT
Jim had a beach house that he intended to rent out, but he wanted it to be more than the standard white or gray. Here's what he did:
"For my Santa Cruz beach house project, I conceptualized and designed the house and back courtyard with the assistance of a local contractor, who totally rebuilt the home and courtyard in about 8 months' time"
"To get the ideal home exterior protection near the ocean, I chose a gray based stucco. We used one of your Tarnished Brass color pigment and added the pigment to the final stucco mix or "color coat" in a small motorized concrete mixer which is applied (sprayed from a gun) on top of the gray scratch coat and lathe. We loved the results"
"We used a 10-1 concrete stucco to concrete pigment ratio (about 9-10 lbs. concrete pigment for each 90 lb. bag), which was mixed in a portable motorized mixer and sprayed directly onto the house with a stucco gun. We used the ratio that you suggested, and we added no other coloring. It was the stock color you provided. The base color of the concrete was gray"
"The stucco guy did not charge anything extra for mixing the color in. They always do a color coat of some kind; gray and white are just more common. The house took about a week to complete (each coat of concrete had to dry) start to finish. The backyard was done later, and took about three days. A few days after the initial application we applied (with a roller) a clear waterproof sealant. That was it! We saved almost $4,000 by not having to paint the exterior. Also, if the stucco gets chipped, it is the same color underneath"
"I highly recommend your products and your service. You guys are the best!"
Jim G.
Santa Cruz, CA
Just visit him over at beachhouseforyou.com
Jim's Shopping List!
175 pounds of Tarnished Brass Concrete Pigment
10 gallons of Solvent-Based Acrylic Satin Finished Sealer