Acid Stained Concrete Retaining Walls
by Justin Richardson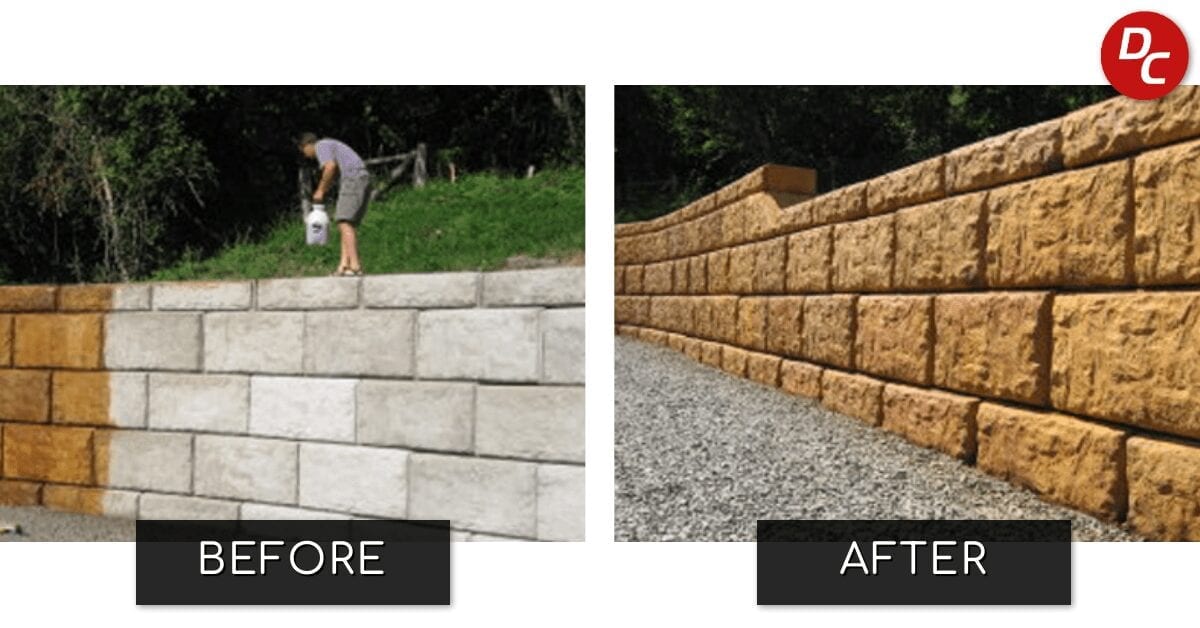 DIY SPOTLIGHT: THE GREAT WALL OF GLENOMA
"We bought a few acres of property, which is a south face and nice view, but is on a bit of a slope. We decided we needed to cut into a bank and needed a retaining wall. We found a company that made 300-lb. ecology blocks nearby, so we decided to make the retaining wall out of them.
We used about 160 blocks — 4′ x 2.5′ x 2′ — to make the wall. When it was finished, it looked good, but we decided if we could color the wall, it would not look so commercial.
We looked into different staining methods and decided on the acid stain for longevity and virtually no maintenance. We talked to different companies and had very good luck with Direct Colors. Justin was very helpful on the phone on how to apply the stains and had a very good price."
Larry and Tina had just purchased some new property, but needed to build a retaining wall. Once the wall was built, they thought it would look better if they colored it somehow. Here's their acid staining concrete retaining walls story in their own words: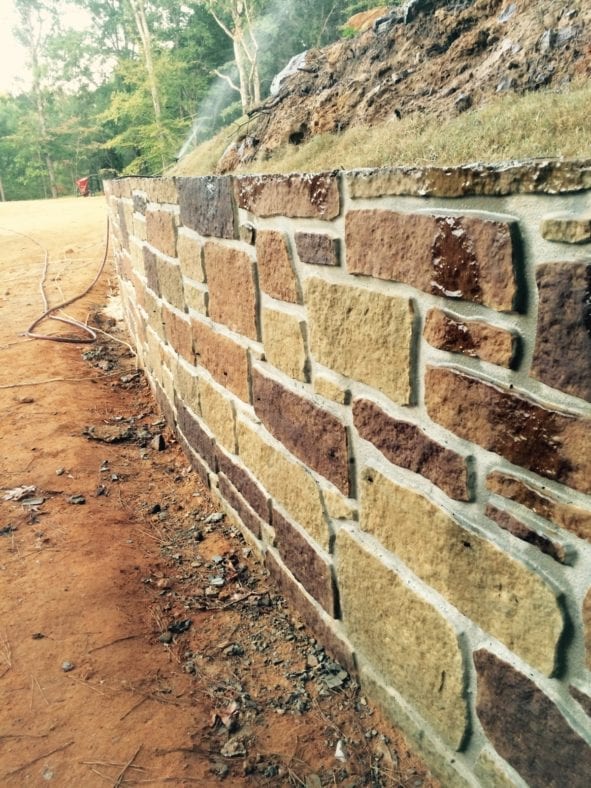 "We went with the Cola color Deco Gel Acid Stain with the solvent-based, satin finish acrylic sealer.
We let the blocks cure for three months and then pressure-washed them to make sure they were clean. Three days later, we stained the blocks with the gelled acid stain.
We used a cheap sprayer and long-handled foam roller. My wife and I were able to apply all the acid stain in two hours.  We then let it set for another two hours, and then applied baking soda water with the sprayer to neutralize the acid."
"We had a nice hot day, so the next day I sprayed the sealer, which was very easy. I did both applications in the morning when it was cool, so when the day warmed up, the drying was very fast.
We are absolutely satisfied with our acid staining concrete retaining walls result and get many compliments. We call our work the Great Wall of Glenoma for the little town it is located in. The wall now blends in with the hillside and doesn't look commercial."
Thank you.  Larry and Tina
DIY SPOTLIGHT: RETAINING WALL ACID STAINED STENCIL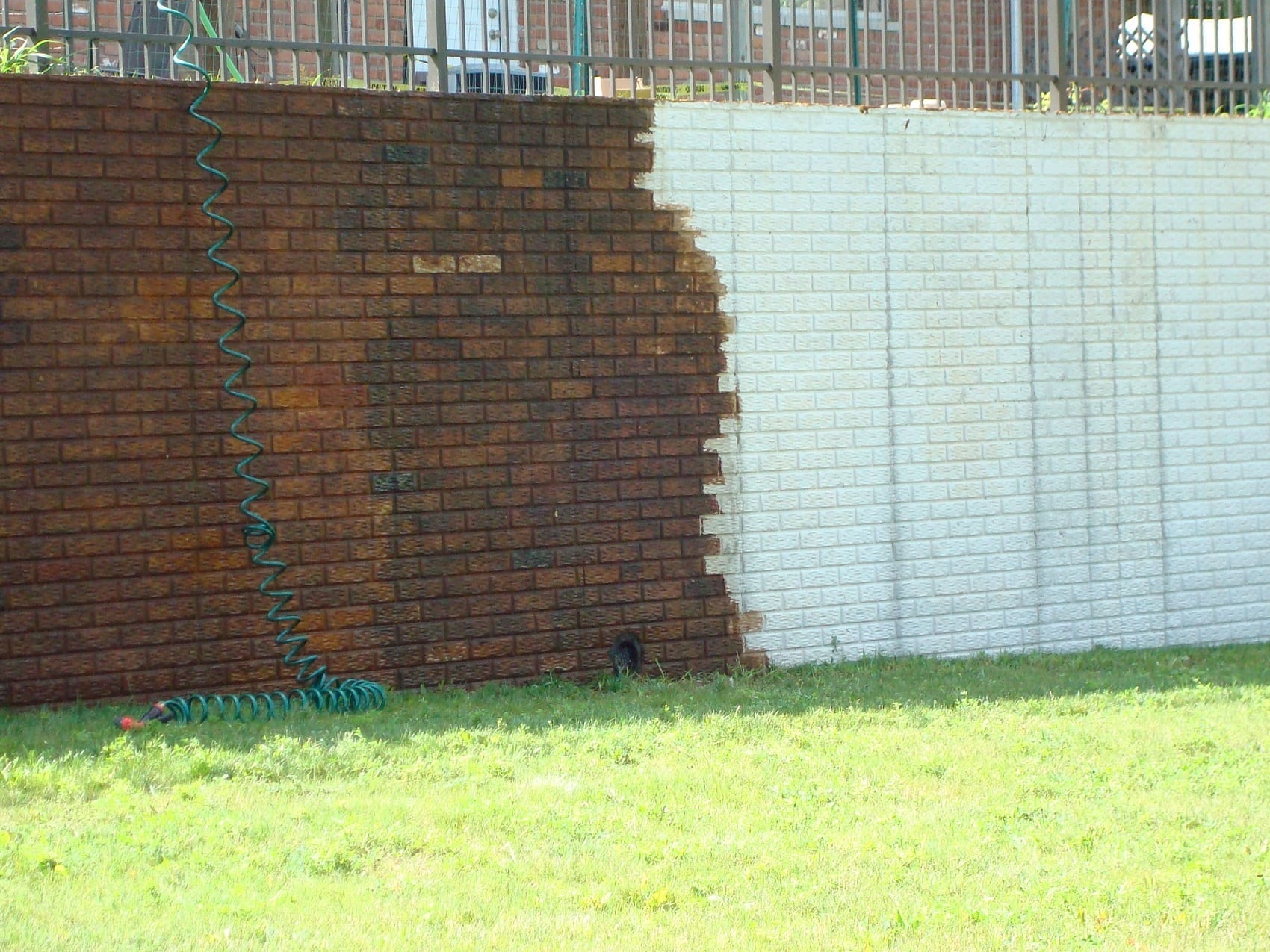 Julie had a retaining wall on her property that was a bright white eyesore. She decided that gel acid staining concrete retaining wall would be for the better. Julie used Coffee Brown, Black, English Red Deco Gel and solvent based, satin finish  acrylic concrete sealer to complete her retaining wall project.
"I used Direct Colors Deco Gel concrete acid stain two years ago to stain a 120 foot white concrete retaining wall. The wall now looks great and I get a lot of compliments."
"The wall was a regular poured concrete wall in a brick pattern form. I took a clean broom to wipe the concrete wall from any debris. I applied the Deco Gel with a paint brush. I spot stained occasional orange bricks then did the rest with coffee brown (not black). Then I used a sprayer with water and baking soda to neutralize the stain after it remained on the wall for many hours." -Julie J.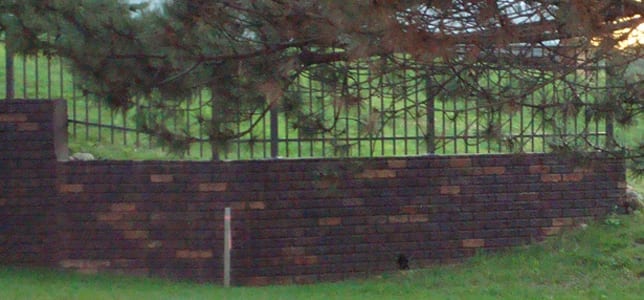 Julie was able to completely cover the white concrete with our Deco Gel Acid Stains and achieve a beautifully stained concrete retaining wall. This will not only add value to the property, but also enhance the atmosphere in her backyard.
DecoGel is the perfect choice for vertical surfaces like retaining walls. Because the stain is in gel form, there are no drips or runs allowing Julie to create individual bricks in different colors and create the realistic look she was going for.