Kitchen Remodel on A Budget
Kitchen remodeling can be a daunting and costly task indeed. Not only is your kitchen out of commission for several days or even weeks but the expense can be absolutely unbelievable. Here are some thrifty ideas on how to remodel your kitchen without breaking the bank.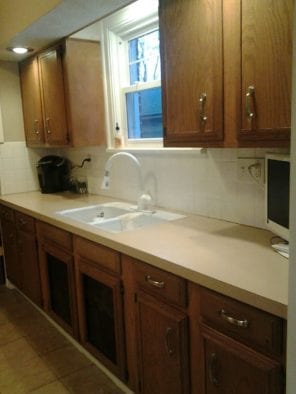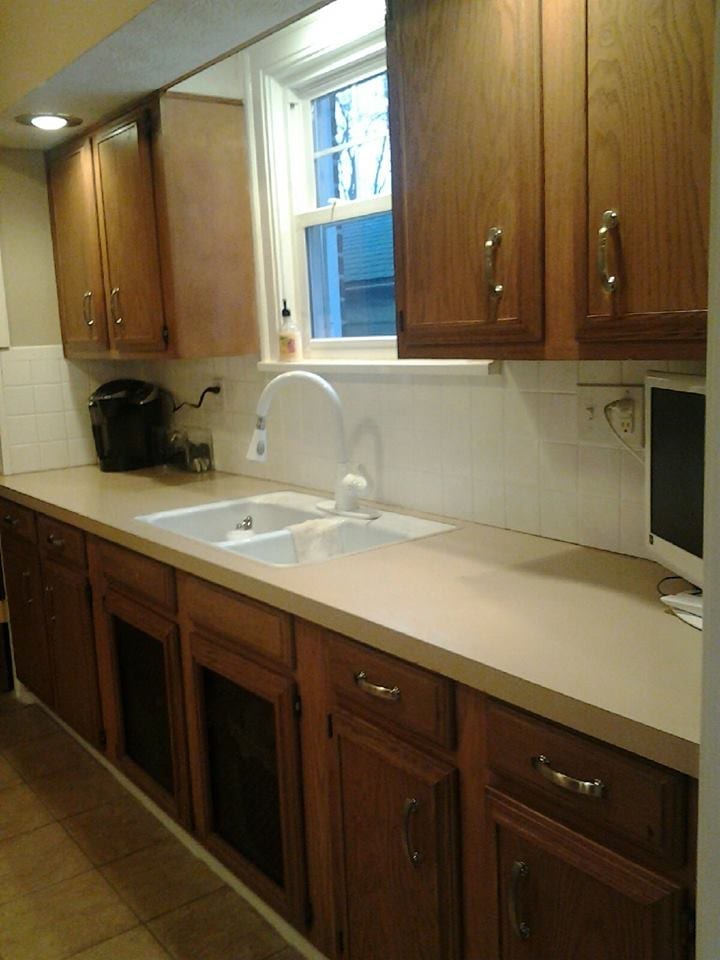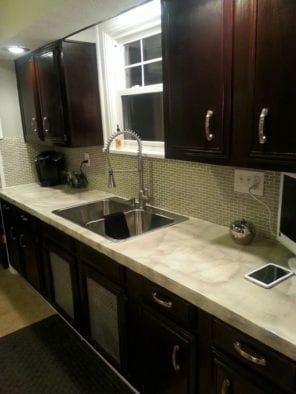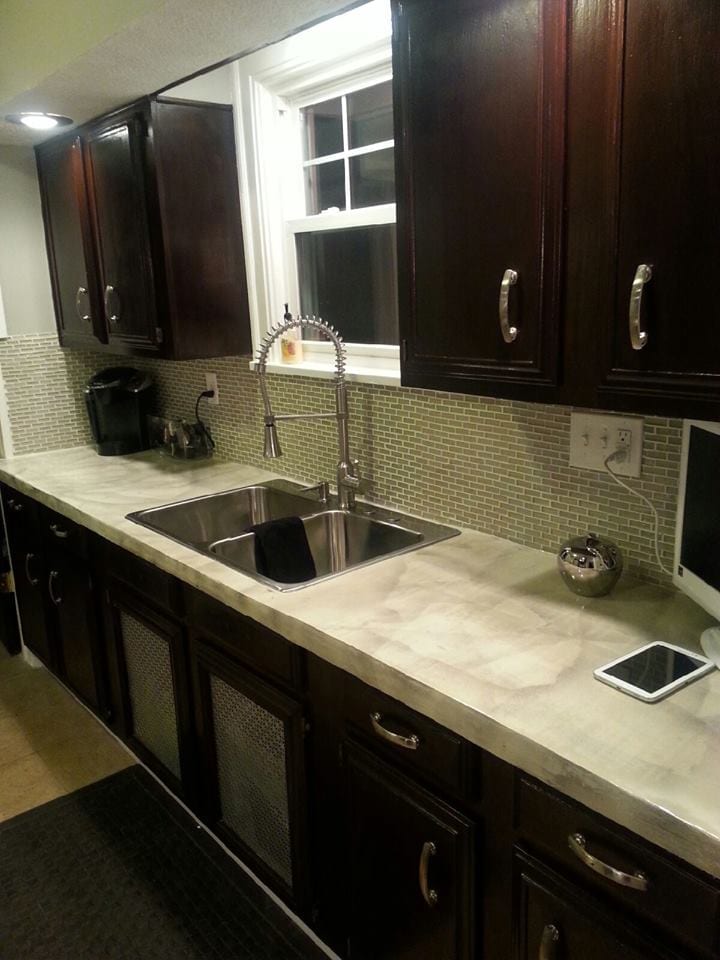 Refinish Laminate Countertops with Concrete Overlay
No need to tear out countertops and start from scratch when you can refinish old laminate with concrete overlay. With only a few necessary surface preparation steps, applying overlay, color and seal couldn't be faster, easier or less expensive to do.
"My sad tired kitchen needed a face lift but gutting it and getting all new cabinets and countertops wasn't an option so off I went to Pinterest! Low and behold I find a product called concrete overlay that can go right over my hideous painted formica countertops and I can allegedly do this myself! I figured even if I screwed it up it couldn't possible be any worse than what I currently had so why not??
After much surfing and research, I find Justin at Direct Colors who patiently answers my never ending stream of questions and puts together my order so I can tackle this mountain on my own. So let's get started my DIY kitchen countertop remodel!"
"Apply the overlay according to the instructions. I recommend mixing to a medium thick pancake batter consistency and having a spray bottle with water handy.  If the overlay started to set up before I was was ready a quick mist bought me a bit more time.
Because I wanted a really smooth surface, I went over the countertop with an orbital sander and diamond polishing pads after the overlay had dried overnight. I highly recommend this step for those who are not confident in their perfect troweling skills. I used 50, 100 and 200 grit polishing pads starting with the 50 then the 100 and so on. You only need a quick and careful pass over the surface with the 50 grit because it damage the overlay finish. If you get a little carried away with the sander just go down to the Formica, skim coat that area again and leave it to dry overnight and sand  more carefully the next time.
I'd love to say I did this perfectly the first time but sadly that's not the case. Thankfully if you are not happy with the results, you can just skim coat countertop again and start fresh which I did…twice." 🙂
"Once you are happy with the overlay application, you're ready to color! Mix your concrete dye colors well in advance as it needs to sit for about 3 hours before applying. No harm if the dye sits even longer but it will clog the sprayer if it hasn't had time to disperse. Learn from my mistakes, do NOT mix the dye in the aerosol sprayer (it will clog and you will need a new one). Dump the whole package of dye right into the can of acetone, give it a good shake every now and then and just let it sit for a few hours."
"Thoroughly wipe down the countertop surface to get rid of all the dust from sanding and make sure everything is completely dry before you start applying the dye. Mask off the cabinets and the backsplash. Dropcloth the floor if you haven't done so already. Remember the dye is mixed with acetone which can remove the finish on your cabinets as well as the paint on your walls if you're not cautious."
"I wanted some color variation as opposed to a solid uniform color so I tore large pieces of butcher paper and laid them randomly on the countertops. The acetone dries almost immediately so by the time you move to the next area the first one is dry so you can easily see if you want to spray more color. Once I was happy with the color around the paper, I took all the paper off and gave the whole countertop a quick pass with the sprayer to give the lines made by the paper a softer edge. I found there was a bit of residual dye left on the surface and A quick buff with a soft cloth removed the residual dye on the surface and did a great job of blending the lines a bit more."
"All that's left to do is apply the Polyurethane Countertop Sealer.  First things first – open the window, this stuff smells! Roll it on just as the instructions say using a 3/16″nap roller. De-lint with strong packing tape first for best results."
Paint kitchen cabinets instead of replacing them
No need to tear out countertops and start from scratch when you can refinish old laminate with concrete overlay. With only a few necessary surface preparation steps, applying overlay, color and seal couldn't be faster, easier or less expensive to do.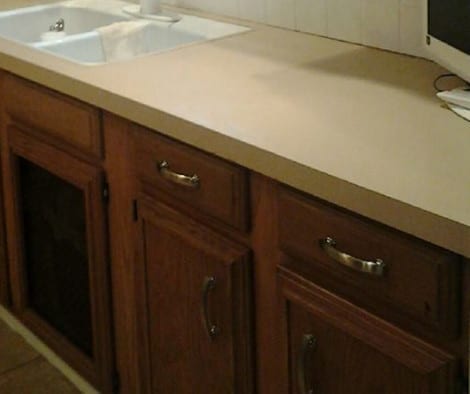 Bonnie was lucky to have builder-grade cabinets in great condition so  she lightly sanded the surface of the wood and painted them with a low VOC high quality urethane based paint that would withstand wear and tear. "Remember to remove all the hardware before painting. I tried going around it the first time and it did not look very good!" Cabinet paint cost $56
Install "peel and stick backsplash" over old existing tile
There are plenty of choices of durable peel and stick backsplash options that you can apply right over existing tile. Bonnie's old tile backsplash happened to be smooth so she was able to easily install this backsplash herself. Backsplash cost $80
How to Install Peel and Stick Backsplash
Make sure the wall is clean and dry before installation.
Measure the walls and tiles.
Cut the tiles into a suitable size for your project.
Peel the back sheet and stick the stone tiles on the wall, overlap, and interlocking connecting the tiles.
Lastly, stand back and marvel at your amazing handiwork. 🙂
Thank you Justin for all of your help and patience!!
Cost $194.75 Including Shipping
Now that's a deal or even a steal!