How to Recolor Faded Stamped Concrete
Faded concrete color results either from environmental exposure, or from failure to test and accurately assess existing surface conditions. Luckily, not all concrete color is permanent—learn how to recolor faded stamped concrete in 7 easy step with Direct Colors.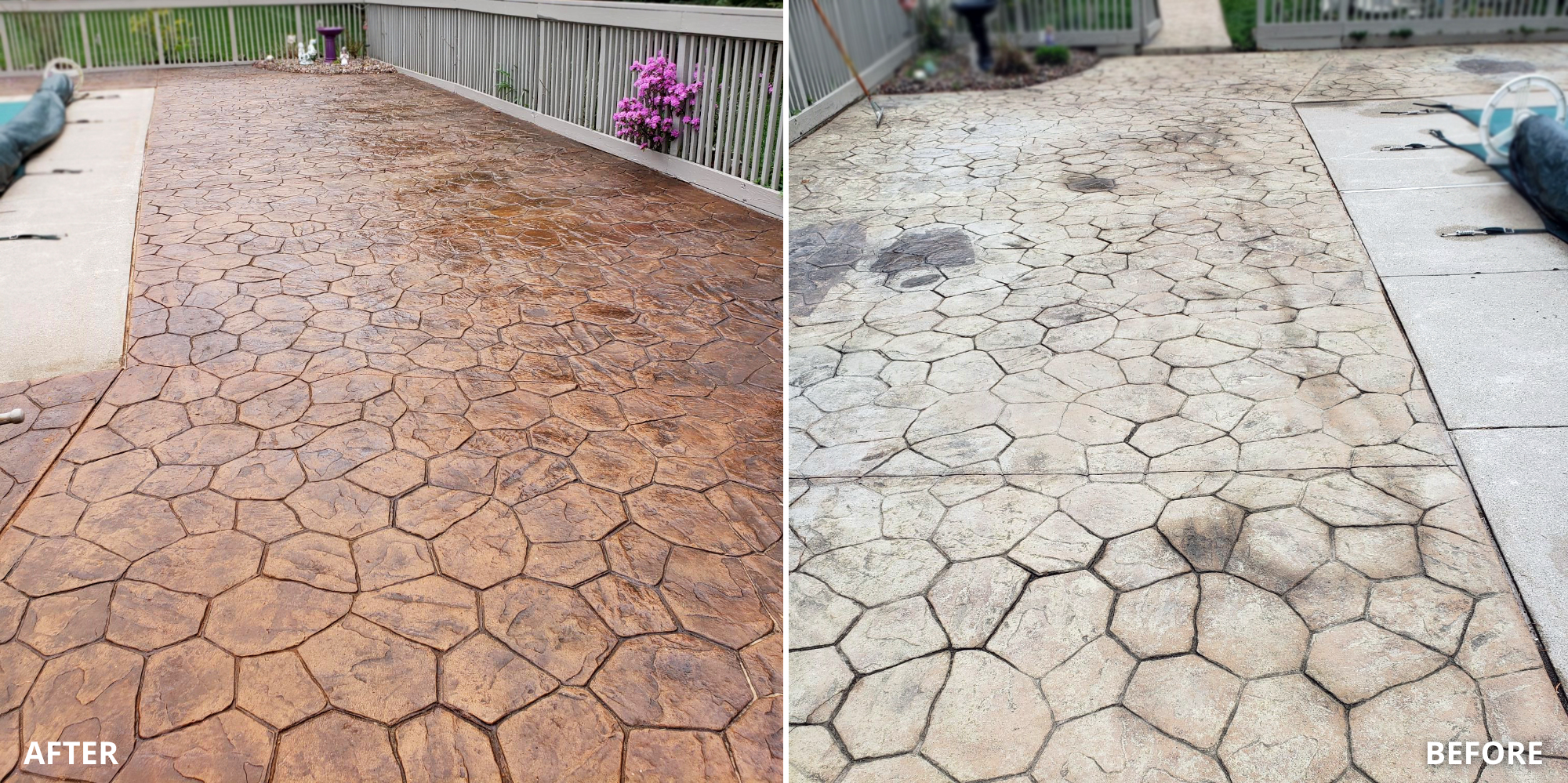 Time needed: 1 day
First, clean stamped concrete  thoroughly. Antiquing stains can be applied over existing sealer.

Pour antiquing stain into a pump-up sprayer.

Shake antiquing stain before applying to stamped concrete

Apply the stain evenly onto the concrete, the fluid will flow into the crevices and indentations of the surface.

Let the first coat of stain dry completely before applying the second coats

Allow the final coat of antiquing stain to dry for a minimum 5-6 hours
Finally, apply a Solvent Based Acrylic Concrete Sealer (best choice of outdoor sealer)
Can You Restore Faded Concrete Color?
Yes, you can. Antiquing Stain is the most affordable solution for restoring faded concrete color. While there are several options for restoring your faded concrete color, these often require you to first determine what state the concrete sealer is in, and depending on the answer, there may be additional preparation or limitations.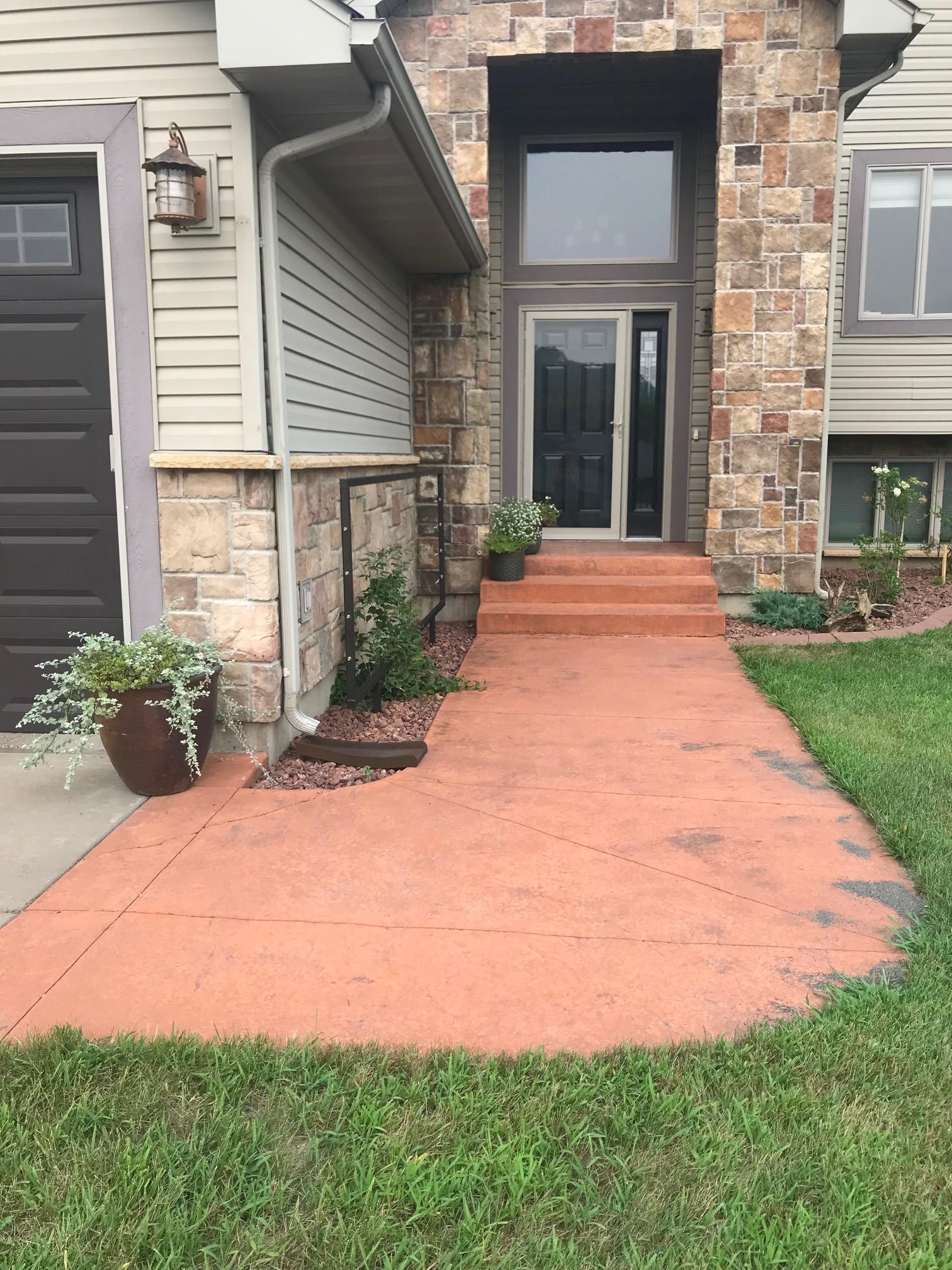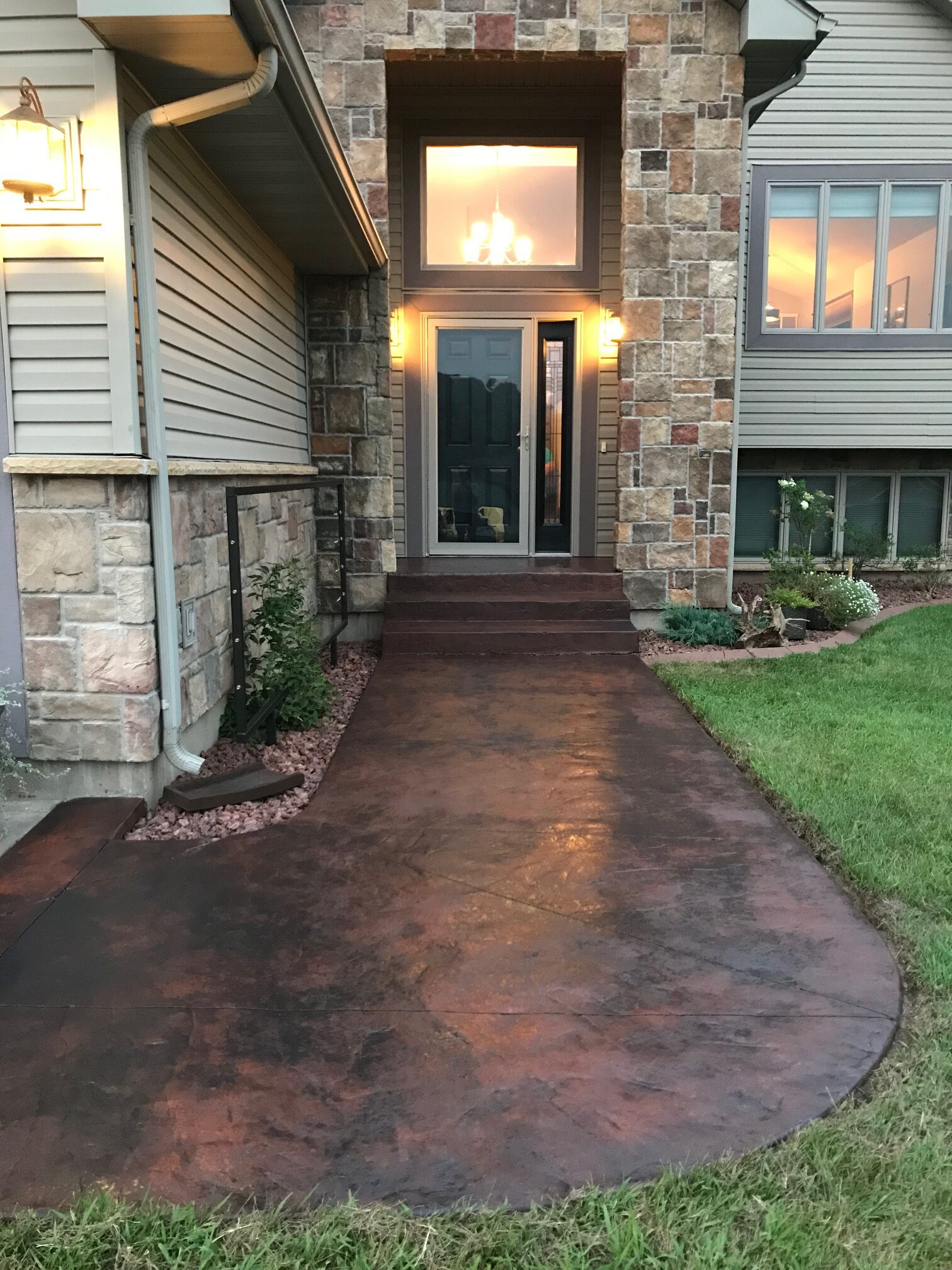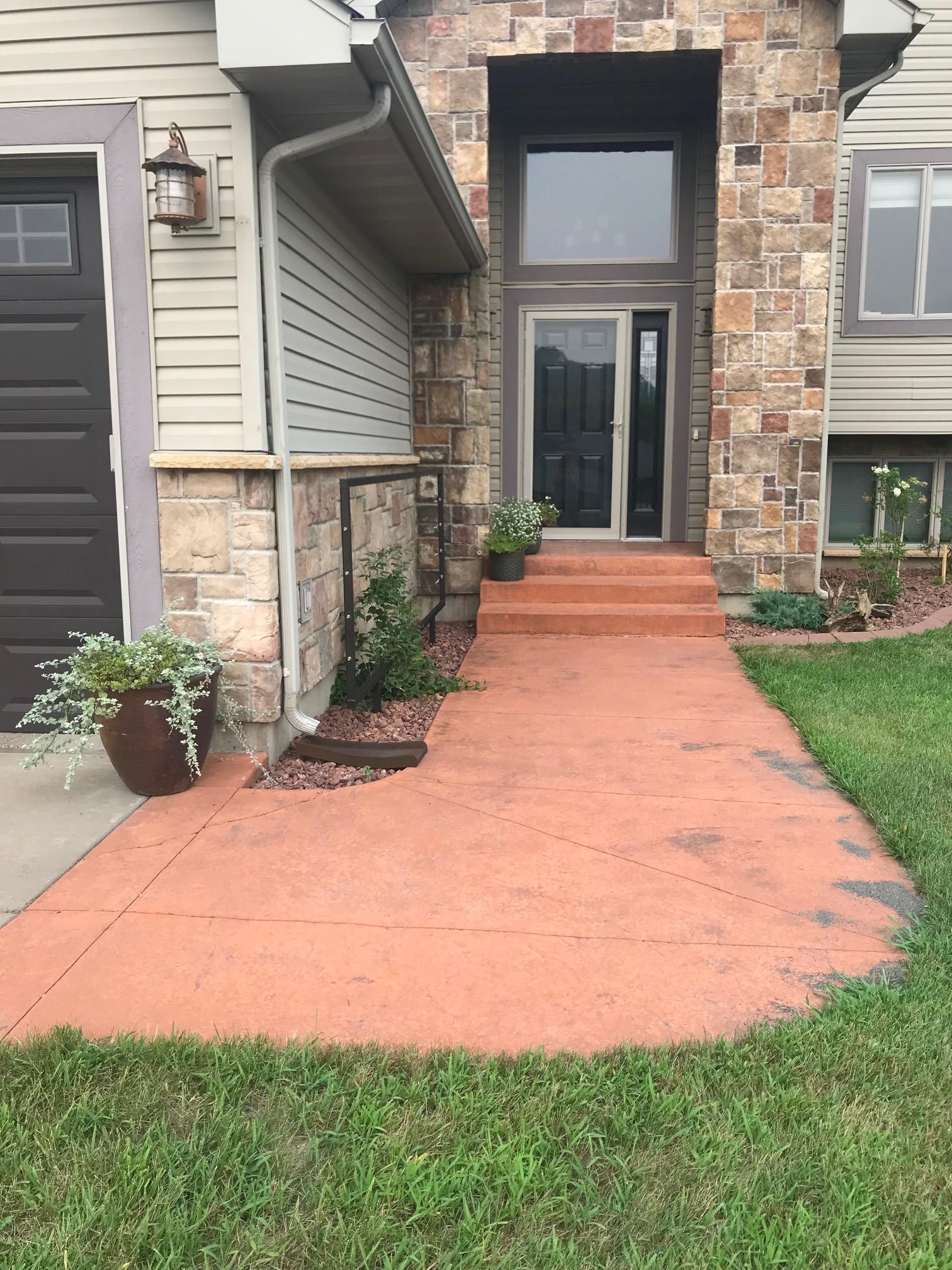 Can You Change The Color of Stamped Concrete?
Yes, depending on the desired final result, you may choose from various staining products. The product with which you choose to color your concrete should be based on an assessment of the concrete's surface conditions and the degree to which you wish to change the color.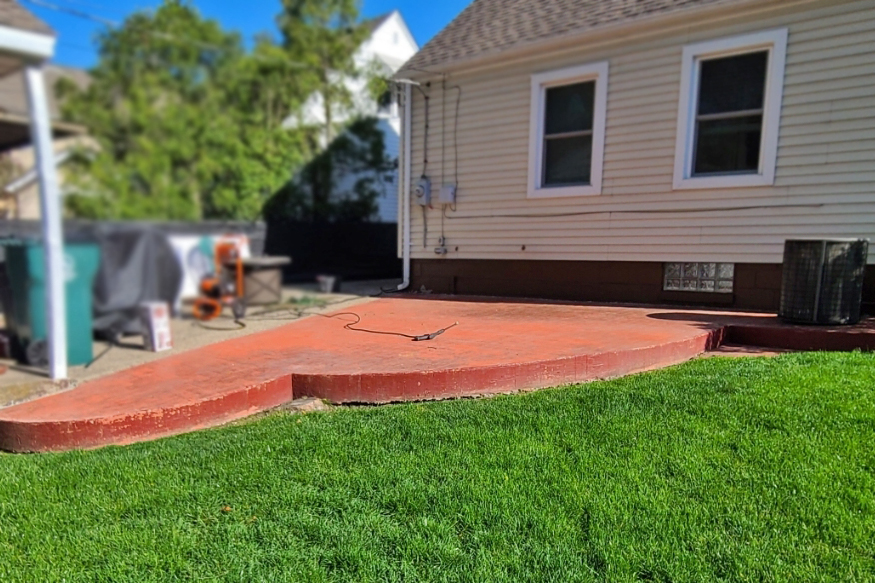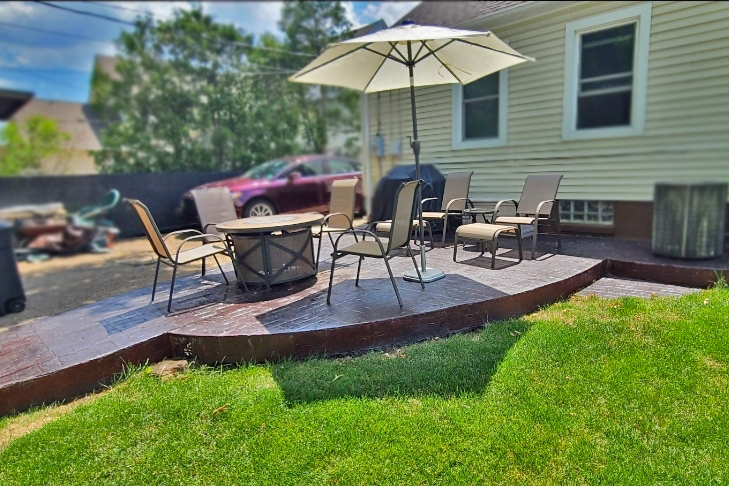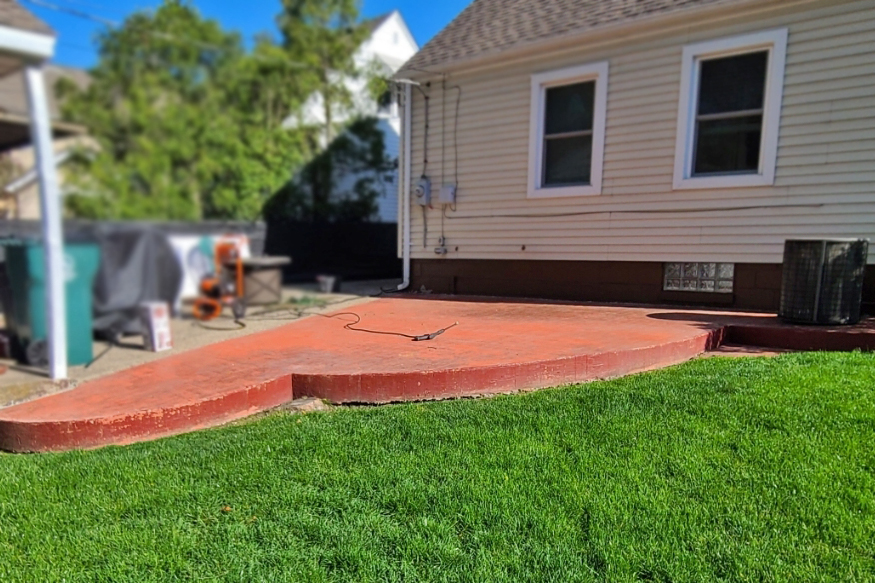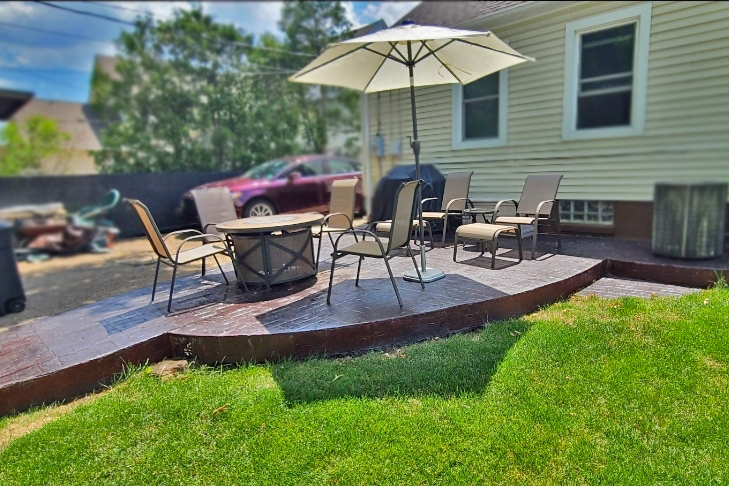 Neglected Stamped Concrete Patio Fix on a Budget
"Got an estimate to fix cracks, stain and seal my neglected concrete patio for $2,300. With help from Direct Colors, I saved well over $1,300 and very happy with the outcome" Frank Grande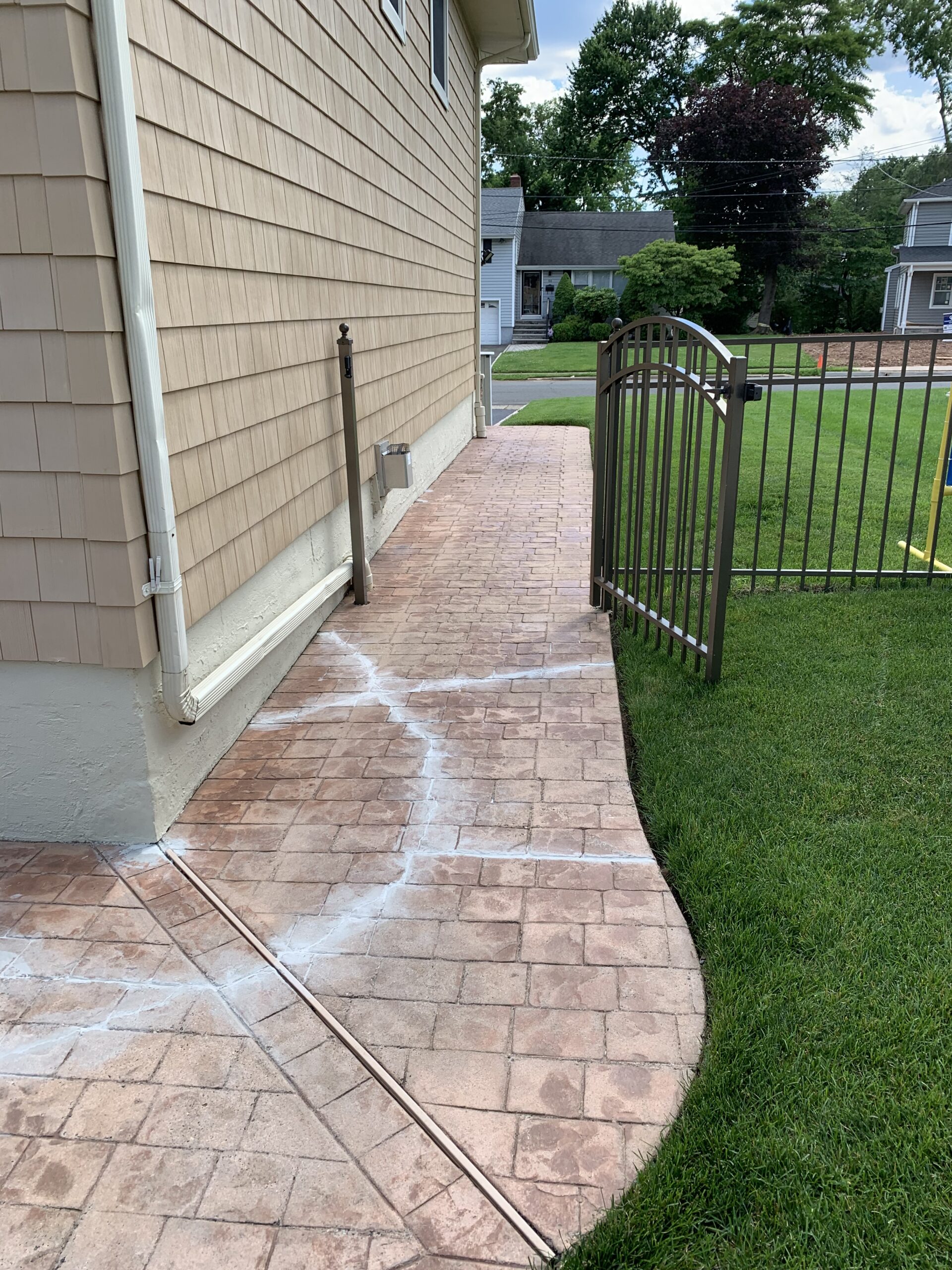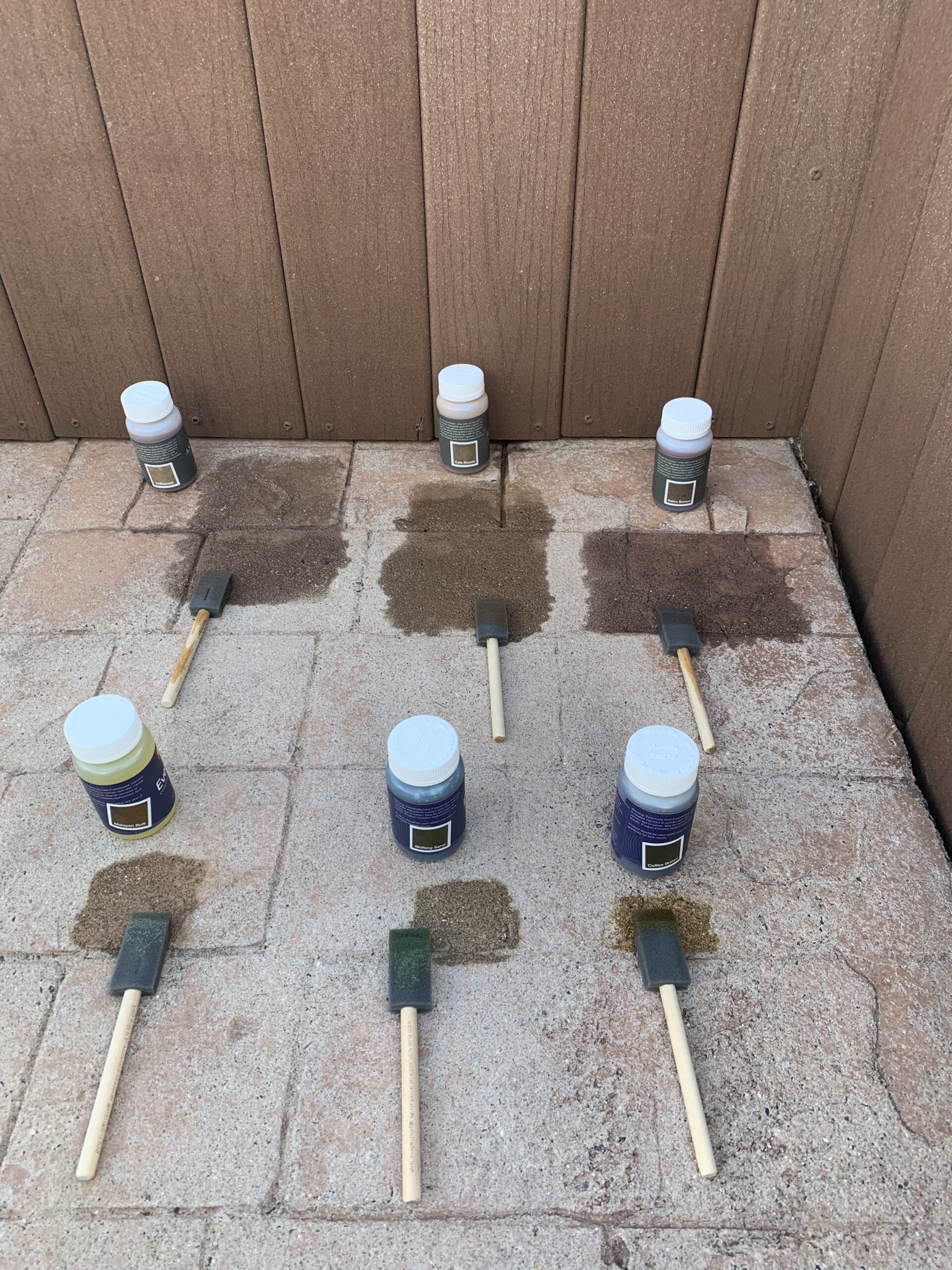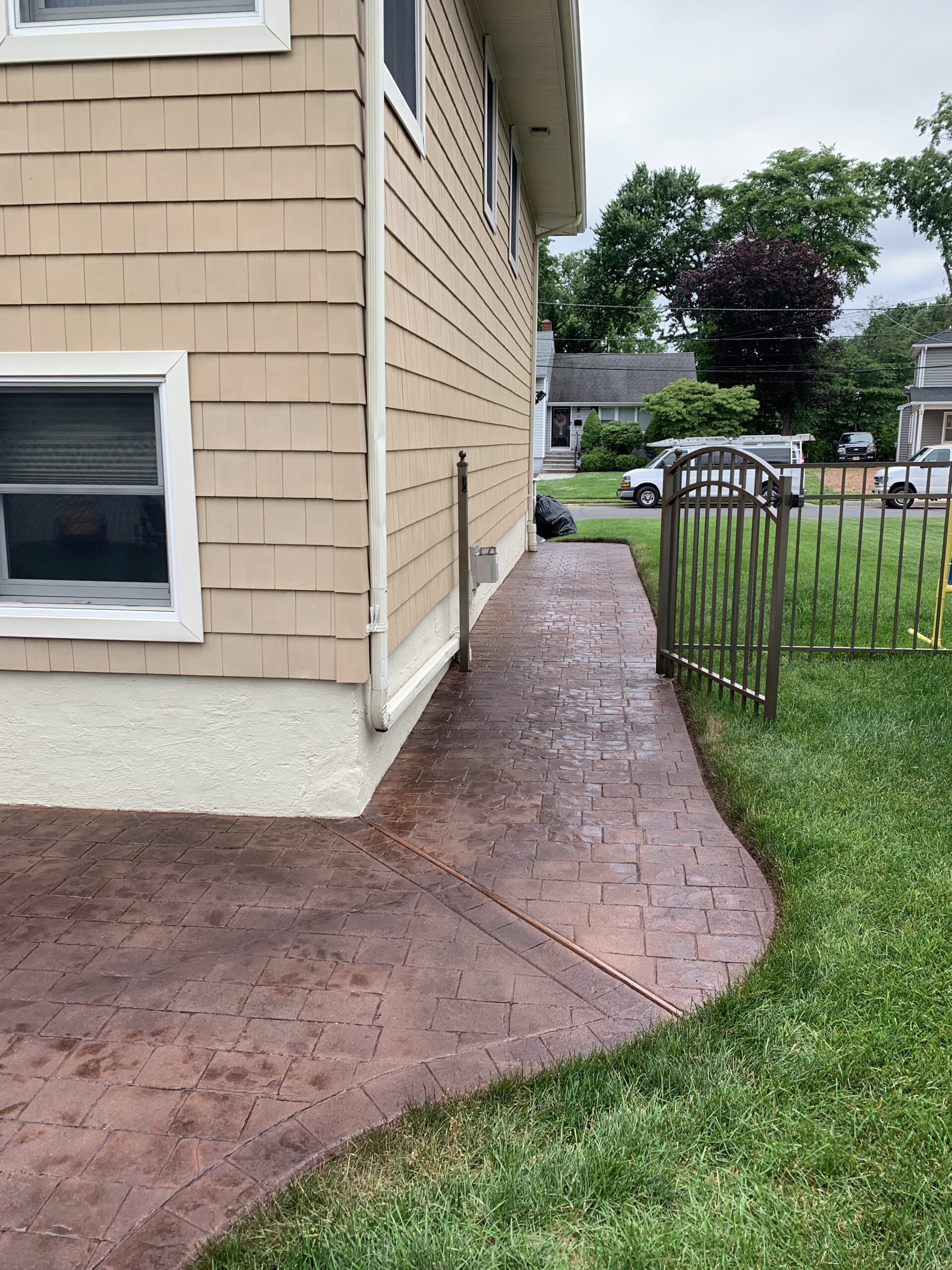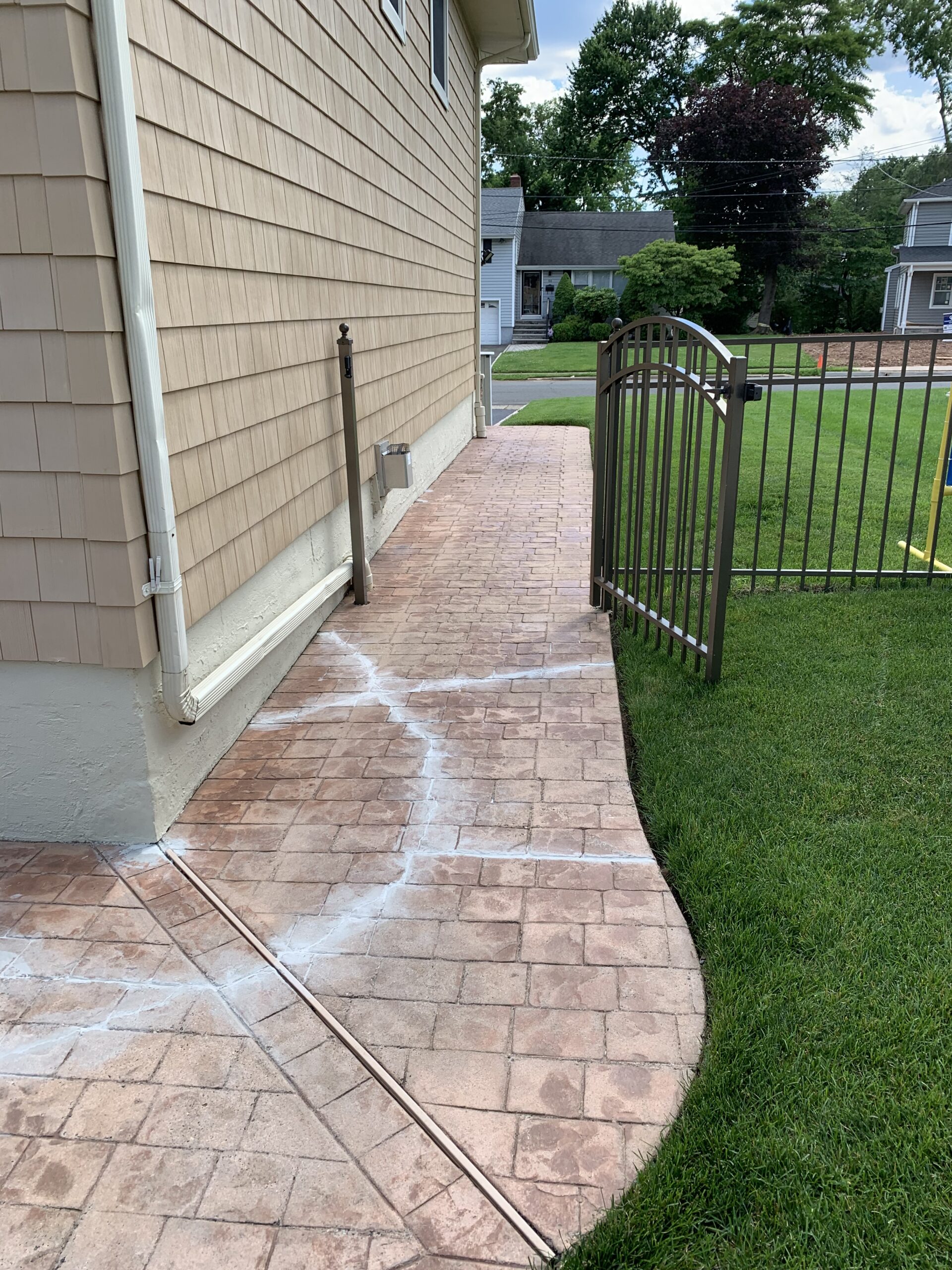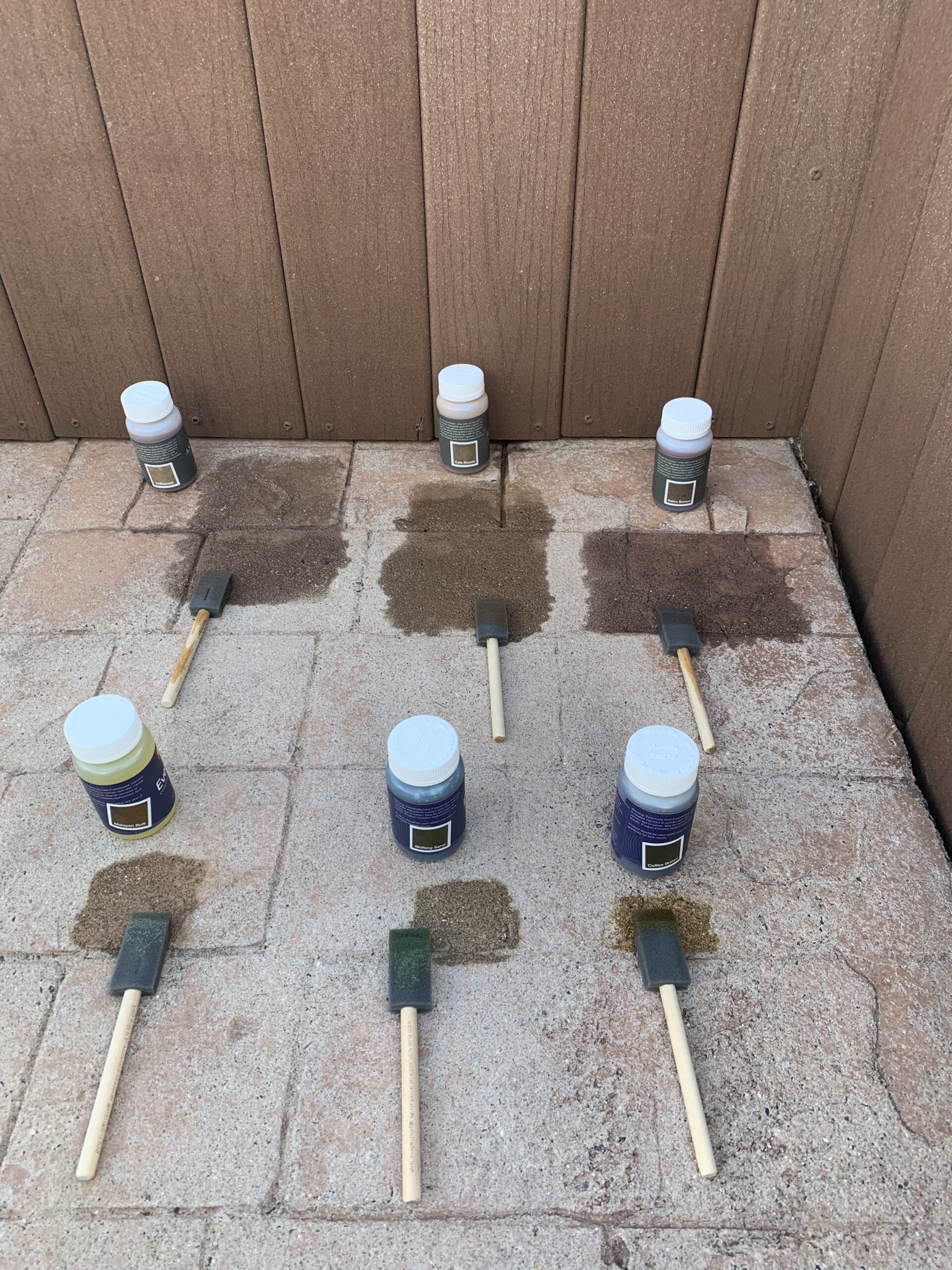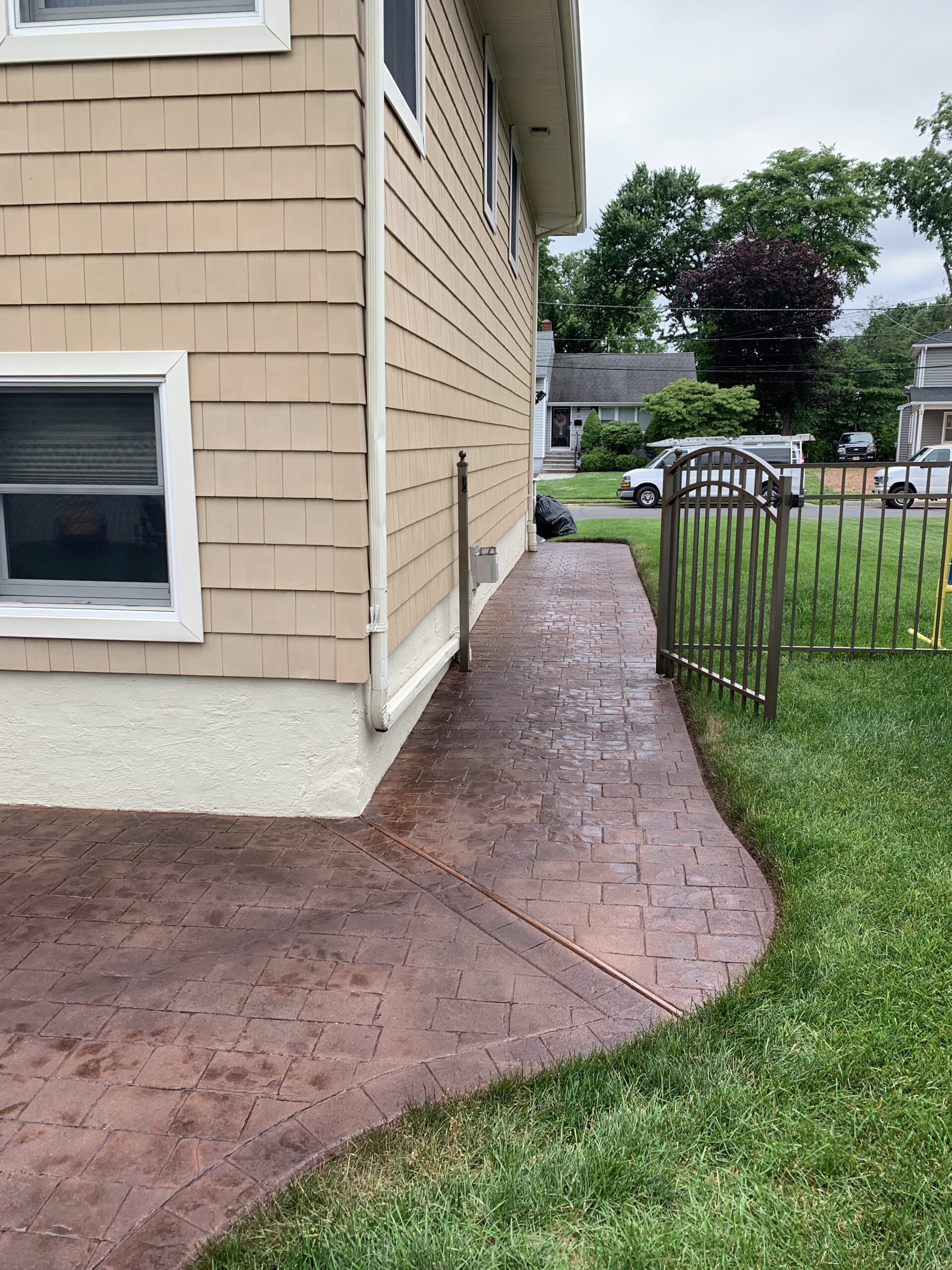 ANTIQUING STAIN DIY SPOTLIGHT:  LEARNED HOW TO FIX STAMPED CONCRETE COLOR
"I wanted to send you some photos of what my husband and I accomplished over weekend with Direct Colors help. We have a stamped concrete border that was installed about 4 years ago. A previous contractor dyed the concrete a reddish-pink color instead of the khaki color we asked for. I was very upset after seeing the result. He assured us that the color would "tone down" over time. Well, after years, it finally faded to the hideous pink you see in the pictures!"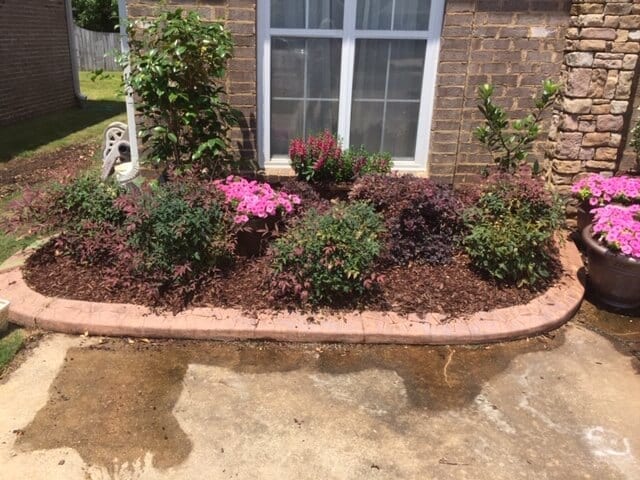 "I felt like I might as well have had pink plastic flamingos in my yard. A complete eyesore!! I sent pictures to your design team and explained my situation. Justin responded that the Antiquing Stain was the product we should use and assured us it would help us resolve our dilemma. After ordering several samples and conducting various "experiments", we saw that your Olive Antiquing Stain was going to do the best job of getting rid of the pink. Did it ever!!"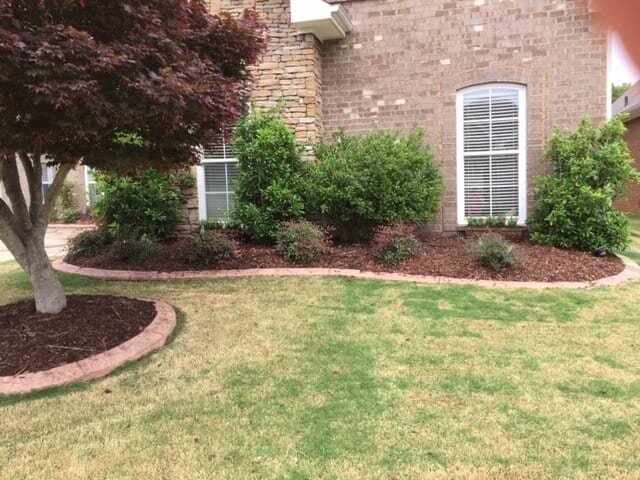 THE RESULTS SPEAK FOR THEMSELVES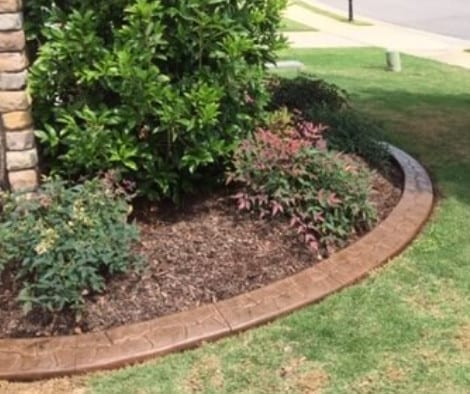 "We are so pleased with the Antiquing Stain and acrylic concrete sealer (Solvent-Based, Satin Finish!!!!). Our border looks absolutely gorgeous and we were able to fix the eyesore without having to pay someone an exorbitant price (if we could have even found someone to fix it…we certainly weren't going to call the original contractor even though he did a great job on the structure/stamping. His idea of color was way, way off)."
"I cannot thank you enough for all the guidance Justin provided and the helpful information on your website. We are going to attempt to do our back patio now that we see that we can do it ourselves with professional results! Excellent products, customer service and support!!!"
What is the Cost to Stain Stamped Concrete?
The cost for a DIY recolor and seal stamped concrete project is  about $0.32 per sq. ft.  The easiest product to use to change stamped concrete color is our Antiquing Stain. The stain cost about $0.15 sq. ft. and a quality outdoor acrylic concrete sealer cost about  $0.17 sq. ft. If you are hiring a contractor, prices will vary depending on where you live  from $1.73 to $3.15 per sq. ft.
Why Does Concrete Color Fade?
If an adequate exterior seal is not properly maintained, all colored stamped concrete will fade over time due to direct exposure to the elements. Faded color is the #1 issue homeowners face with stamped concrete patios, and in Deborah's case, when the selected color turns out differently than expected. Most concrete found outside is stamped or textured concrete that was Integrally Colored, Acid Stained on its surface, and sealed to prevent damage.