Old Concrete Basement Remodel
by Kiley Tate-Potts
Feb 2021 – $250 Cash Winner
My husband and I had a goal to make our basement a livable space! After getting pricey quotes on having professionals stain our basement floor, we decided this was a project we would tackle ourselves for a fraction of the cost.
We are so thrilled with how our basement floors turned out. After getting a ridiculously high quote, we were encouraged by the team at Direct Colors that we could tackle this on our own, and they were right! We would 100% do this again. We cannot recommend the products and team at Direct Colors enough. They walked us through this project start to finish, making us feel confident that we could do this.
For basement staining ideas click here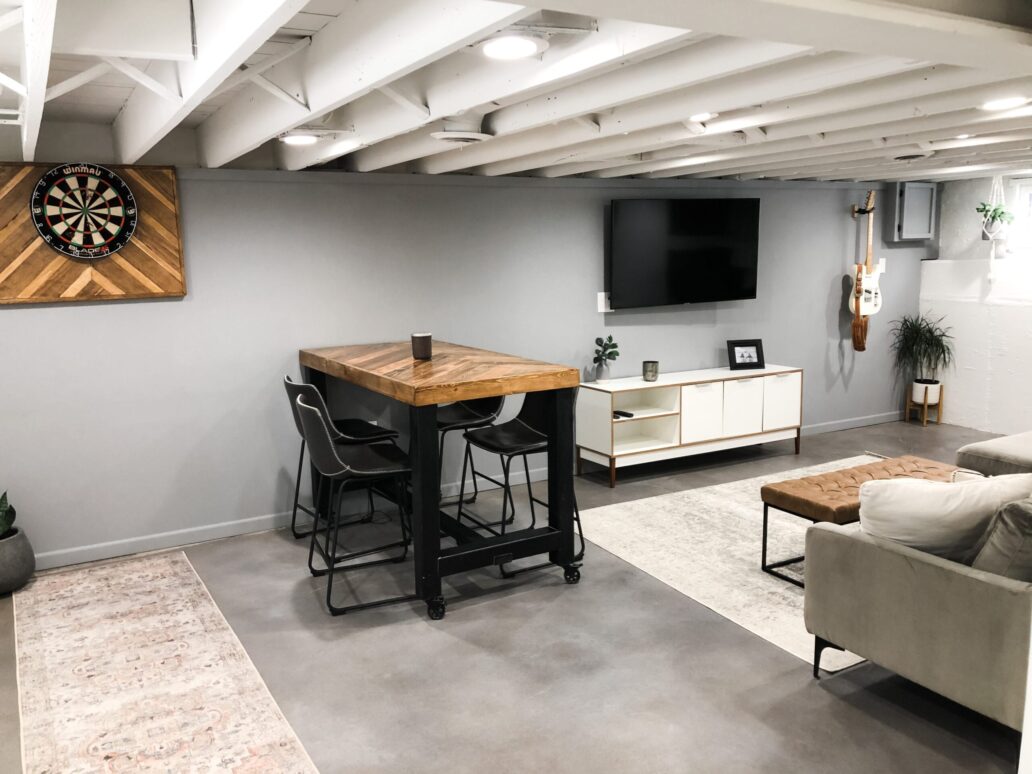 Some personal tips that might help others:
Test your sprayer before you begin to make sure it is going to spray properly.
Do not skimp out on the prep work! This is so important to get a really great end result.
Have a bucket and rag with you when spraying the dye. Our sprayer dripped a few times. Having a rag and bucket next to us allowed us to fix the dye on the floor and drab off the end of the sprayer.
Wait about 1 hour and half for the dye to be ready before spraying. One coat we waited only about 1 hour, and the dye was not ready to go and clogged the sprayer.
The biggest issue we had was sprayer malfunctions, but do not let that deter you! You can do this and it will be worth it!
How to Dye Interior Concrete Floors
Our home is 100 years old and our floor had a variety of old stains, spray paint and overspray on it. In order to get all of the old material off we decided to rent a concrete grinder for the day. This allowed us to remove all of the old paint from the floor so we had a really clean slate to work with.
There were a few sections that the larger grinder could not get to, for these trouble areas we used a handheld angle grinder with a surface grinding tool. We has a few small hairline cracks in our floor. We decided to patch these before dying the floor with a basic cement mix from your local hardware store.
Step 1. Prep the Surface
Surface preparation is the most important step of the dyeing process. The concrete must be free of debris, dirt and oils, sealers, adhesives or anything that might prevent the color from bonding with your surface. Just because your project is indoors, doesn't mean the surface is clean enough to work on.
"We cleaned up all of the dust (and in full transparency, there was a ton of dust). Next we moped the floor 3 times. Once with soapy water, and twice through with clean water."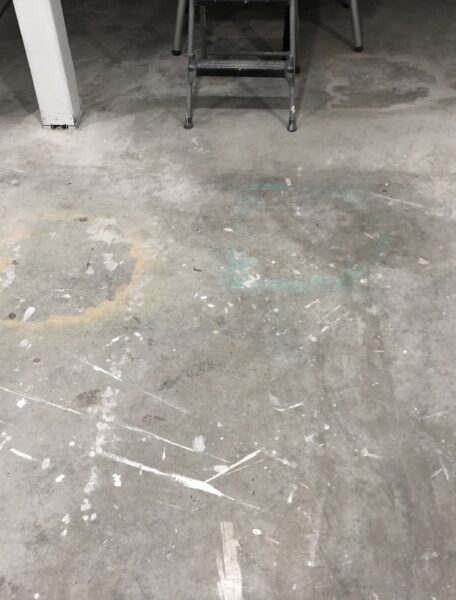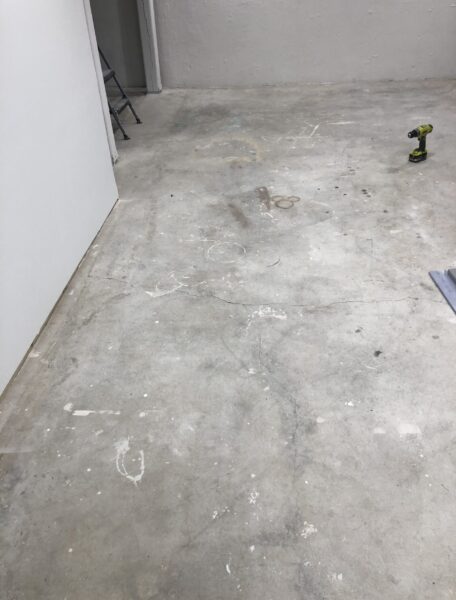 Soap and water or an Orange Degreaser can be used to remove stubborn dirt or similar stains from your floor or countertop.

Use

an organic degreaser at a medium concentration

, scrub the surface thoroughly with a nylon brush and rinse with clear water.

For

a project where water run-off is not possible

, use a shop vacuum, mop and/or squeegee to contain the water and speed up the drying process. 
Concrete Dye will cover up some minor imperfections, but to ensure a consistent color, you will want to fill any cracks and make sure your concrete is as clean as possible.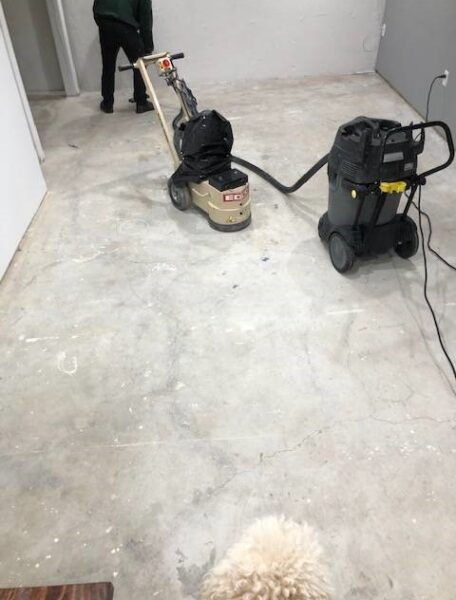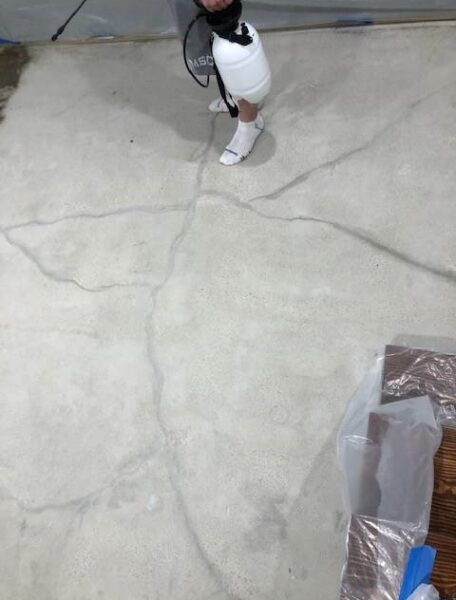 TIP:  For slabs with old stains, spray paint and overspray on it, rent a concrete grinder for the day.   I will help remove old paint from the floor for a really clean slate to work with (It will get very dusty but worth it!)
"After it was fully dry, we taped off our walls with plastic. Now it was time to spray!"
3. Apply a Primer Base Sealer Coat
Apply a thin layer of

Acrylic Concrete Sealer

to the surface as a primer coat (use the same sealer you will use as top coat).

Allow to dry for 2 – 4 hours (or until sealer is not tacky or sticky to the touch)
If the concrete floor has been ground or has a rough texture, a second coat of base coat sealer may be necessary before applying dye.
"We sprayed one coat of solvent based satin sealer. We waited for the sealer to dry for approx. 12 hours."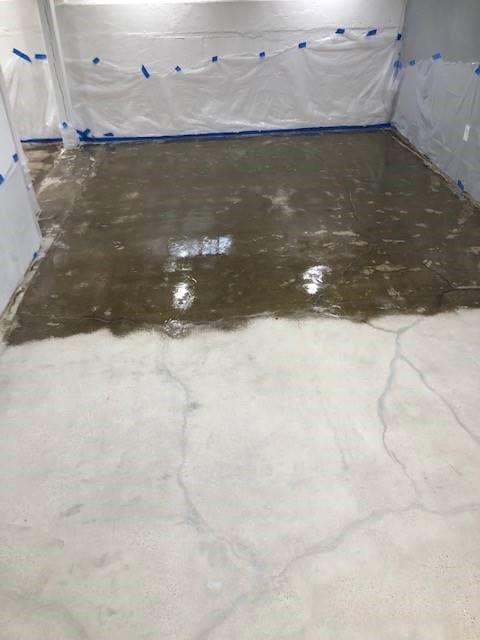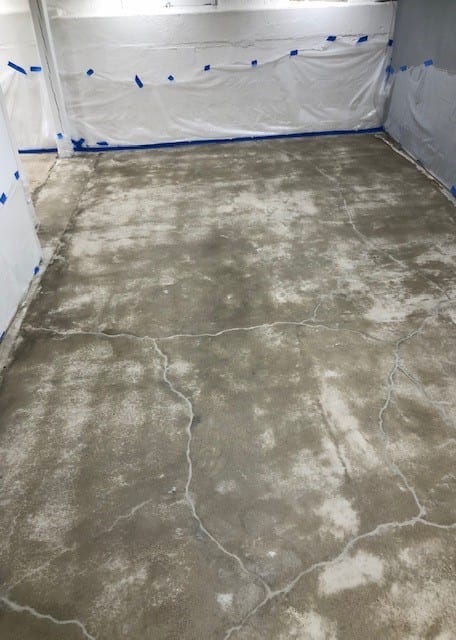 Step 3. Prepare Acetone Dye
For every gallon of Concrete Dye, you will need one gallon of acetone. Acetone is easily found at your local hardware store. 
Empty the dye packet into the acetone, tightly seal the lid and vigorously shake for at least one (1) minute, turning the container side to side and upside down until the mixture is thoroughly combined.

Do not mix the Concrete Dye and acetone in the sprayer with any type of electrical mixer

.

Allow the acetone dye solution to dissolve

 for a minimum of 1 hour before applying

. 
Important: Applying the acetone dye too soon can result in stain color inconsistency, lumping, and other significant mixture or spraying problems. After at least one hour, pour the solution into the acetone sprayer and apply. Shake the remaining solution each time before refilling the sprayer. Periodically shake the solution in the sprayer while applying.
While applying the Concrete Dye, your safety should be your number one concern. Remember to extinguish all pilot lights before use and do not smoke during the application. Use goggles and gloves while working Concrete Dye.
Air pressure is essential to a successful concrete dye application.

Pump up the sprayer to the highest point possible.

The concrete dye should spray as a mist and not in the form of droplets.

If the sprayer begins to drip and dye droplets form, stop and pump up the sprayer again.

Frequently pumping the sprayer to maintain consistently high pressure will produce the best stain application results.

Clean the pump sprayer with acetone and store for reuse.
DIYer Tip: Have a bucket and rag with you when spraying the dye. Our sprayer dripped a few times. Having a rag and bucket next to us allowed us to fix the dye on the floor and drab off the end of the sprayer.
"Next we sprayer 2 coats of White Vibrance Dye (waiting the recommended dry time between coats). After leaving this to dry we sprayed 2 coats of Stormy Grey Vibrance Dye (waiting the recommended wait time between coats).
Our last coat of dye was to add some dimension to the floor, this was achieved with the Charcoal Grey Vibrance Dye."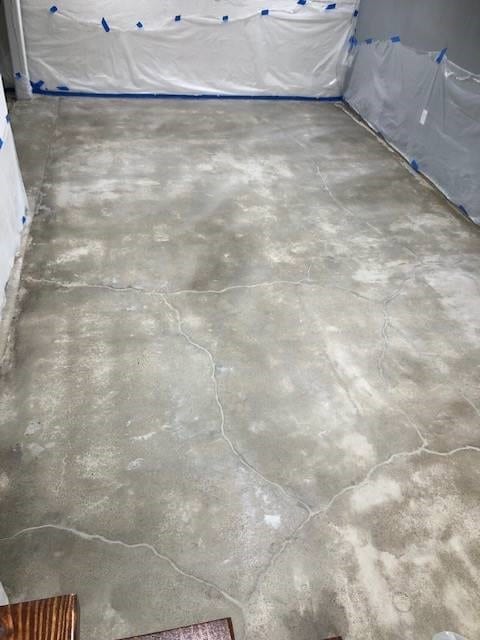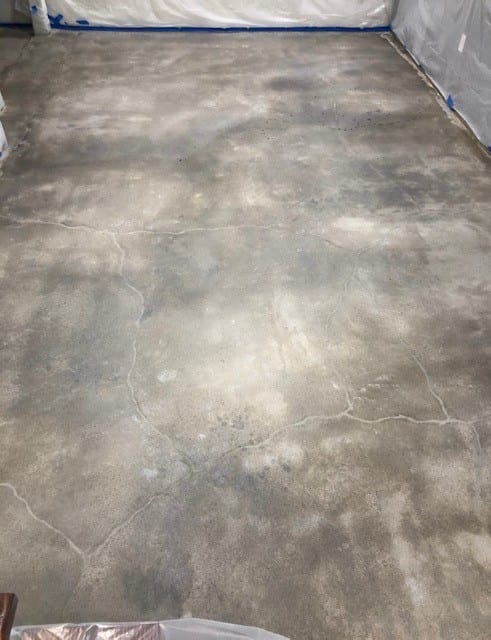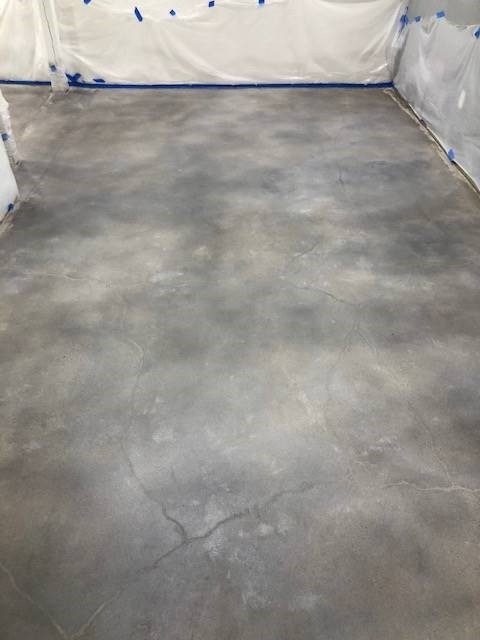 IMPORTANT:
An acetone sprayer must be used for application of this product (a standard pump-up deck and fence sprayers cannot be used to spray acetone dye).

3-gallon or similar large acetone sprayers should never be carried by the pump handle while spraying. The sprayer should be carried by the strap at a 30 to 45 degree angle.
The more layers you apply, the darker the color.

Apply as thin a coat as possible to ensure color quality and appearance.

Three or more coats of dye should be sufficient for most applications.

Additional dye layers can be applied to make the color darker. 

Do not let the acetone dye pool up in any area.

Mop up these spots with a disposable rag.

Allow the acetone dye to dry thoroughly.

Carefully use a soft cloth or clean dust mop to remove any clumps or surface residue from the application before sealing.
Step 5. Seal the Surface
For best results, seal the concrete immediately after cleaning. Remove shoes and work in sock feet when stepping on dyed surfaces. Direct Colors Water-Based Sealers are preferred for use for indoor applications.  Water-based sealers give off zero odor, unlike their Solvent-Based counterparts.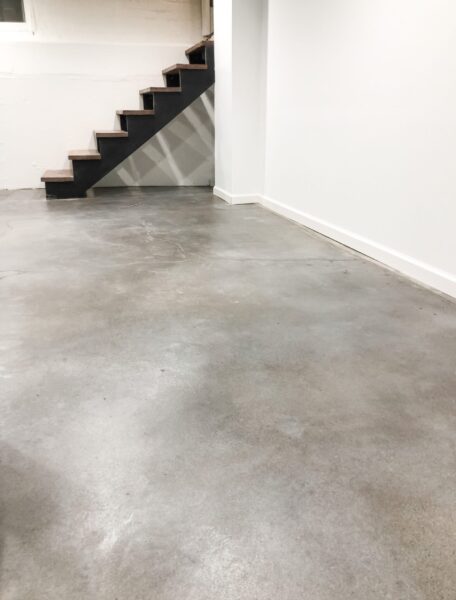 Both Water-Based Satin Finish and High Gloss Sealers can be sprayed from a pump-up deck sprayer or HVLP (High-Volume, Low-Pressure) sprayer. Water-based acrylic concrete sealer can also be applied using a ⅜ inch nap roller, a floor trim pad, or a floor coater. If you're applying the sealer with a pump-up sprayer, back-roll with a nap roller sized ⅜ inches or less to make sure the coats are as even as possible.
"After waiting for the final coat to dry, we finished up with 2 coats of the solvent based satin sealer.  Leaving 12 hours wait time between each coat."
Cold Temperature Warning:
DO NOT apply water-based concrete sealers or floor waxes when surface temperatures are below 65°F.
Turn on the central heat and air etc. to 75°F before applying to raise the floor temperature.
Lay a flat thermometer covered with a towel on the floor for 5-10 mins or use an infrared thermometer to confirm floor temperature.
All heating sources and overhead fans must be turned off during application.
In-floor heating should be set at 60-65 degrees before and turned off during the application process.
Fans and heat can be turned on after application to aid with drying.
Step 6. Apply Concrete Floor Wax
To extend the life of the sealed interior concrete floors, we recommend using a non buffing required Concrete Floor Wax
If properly waxed and maintained, you'll never need to seal again!
*Allow for 48-72 hours dry time for floors sealed with solvent based sealers before applying Residential or Commercial Wax.
For the first application, apply 2 thin coats of floor polish allowing each coat to dry completely before applying the next.
To limit the possibility of streaking, apply the first coat East to West and the second coat North to South.
Before allowing traffic on the floor, test the wax by applying pressure to the surface with your fingernail.
If the surface dents the wax will require more time to dry.
Select commercial wax over residential wax if large dogs will routinely be on the floors.
Depending traffic conditions, the floor should be waxed approximately every 3-8 months.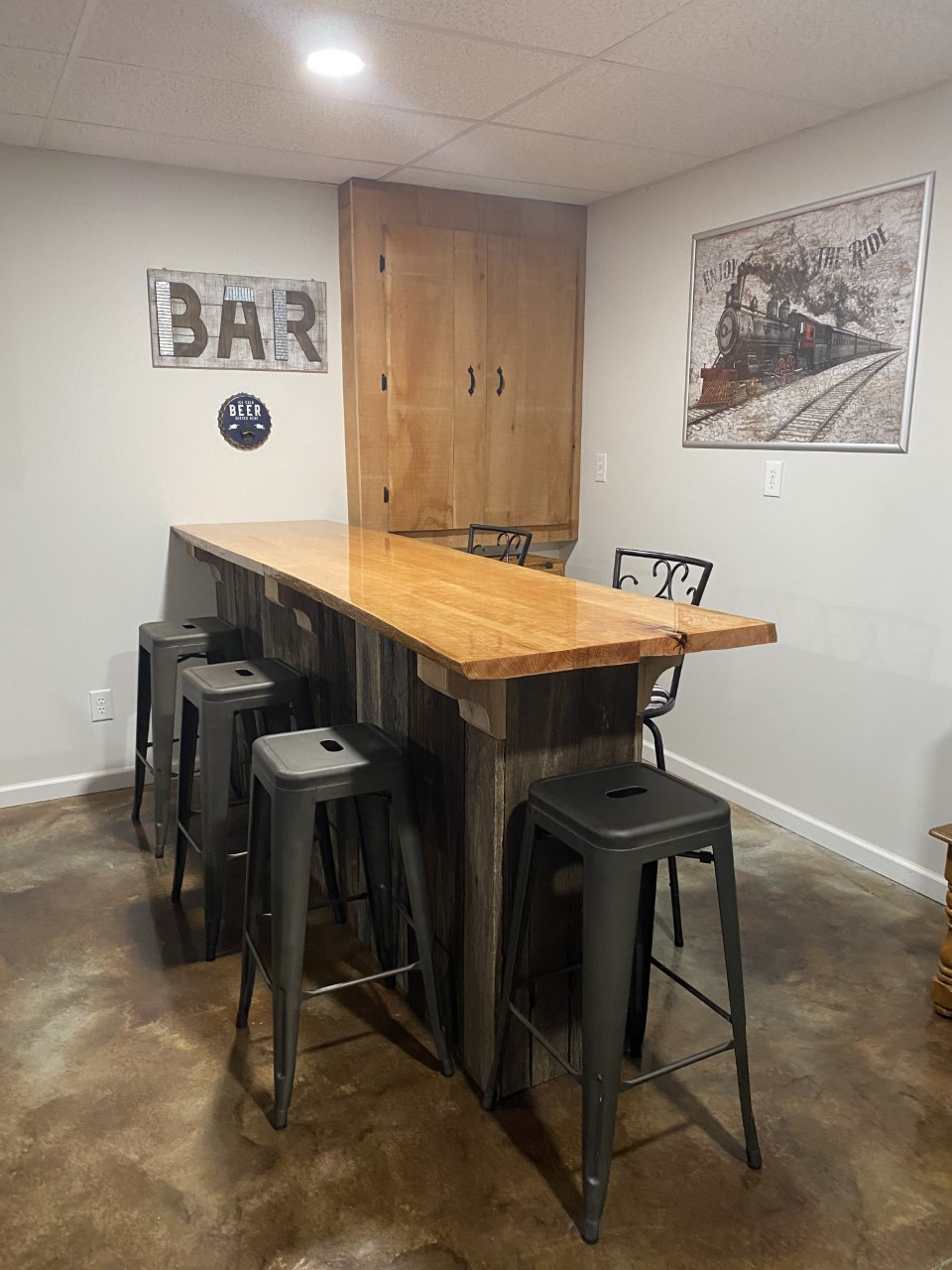 We are very amateur DIYers, so if we can do this anyone can! We chose to use Desert Amber and Coffee Brown as our two color acid stain process. Our home is mostly "French Country farmhouse", but this space will be a little more casual incorporating industrial farmhouse and rustic elements, including a reclaimed wood feature wall, live edge bar area and sliding barn door.