Home Gym Concrete Floor Ideas
By Mark Scott
Nov 2021 – $250 Cash Winner
Give your home gym concrete floor a makeover with acid stain. Permanent and low maintenance, acid stain features earthy, weathered, and warm colors.
If you're thinking of adding some flair to your concrete surfaces, you've come to the right place!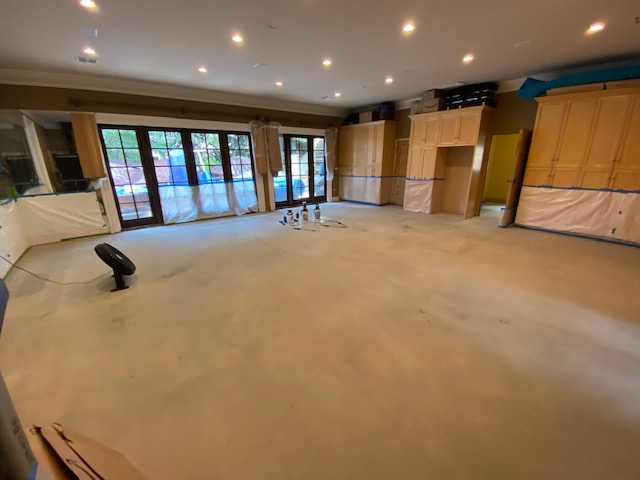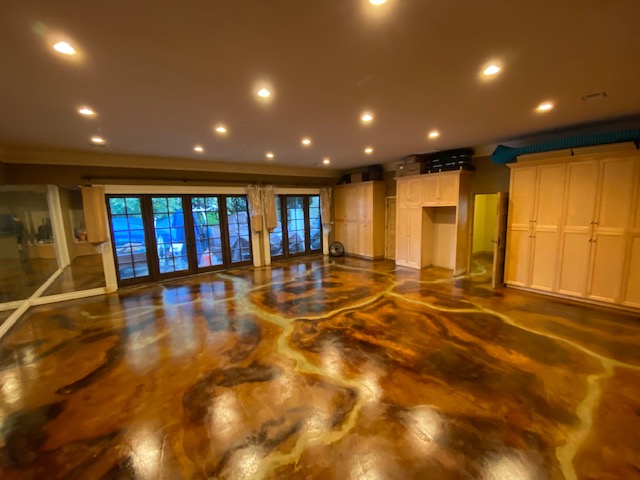 In this how-to, we'll show you the steps for coloring your own concrete surface using the concrete veining technique.
All you'll need is some concrete acid stain, a few cleaning supplies, concrete sealer, and some patience.
Step 1: Prepare Concrete Surface
Cleaning the concrete slab before staining is the most important step of any concrete stain project. Any spot of paint, oil, or mastic (glue) left on the concrete surface will affect your stain finish.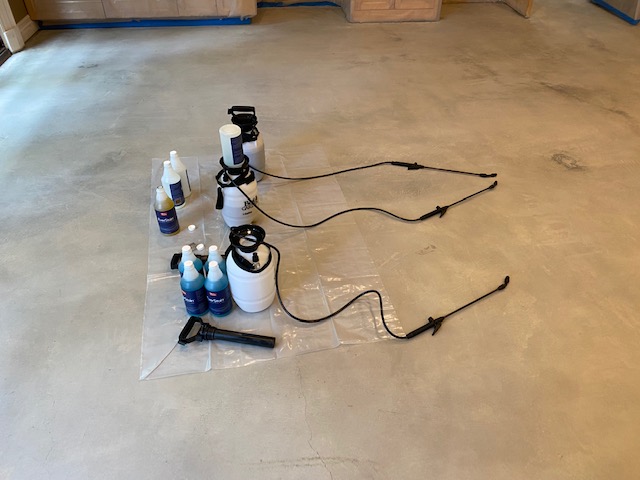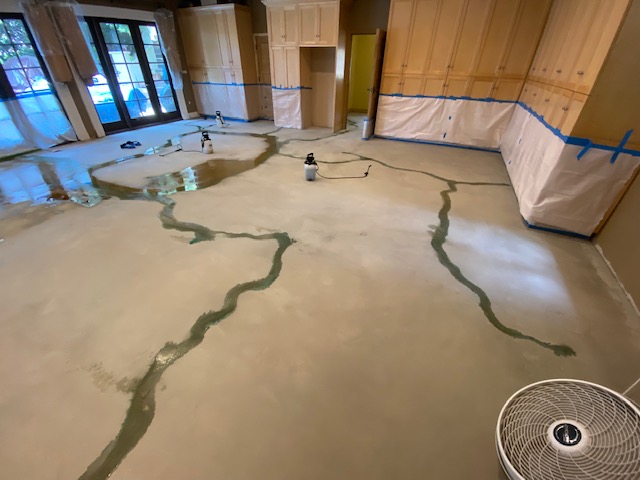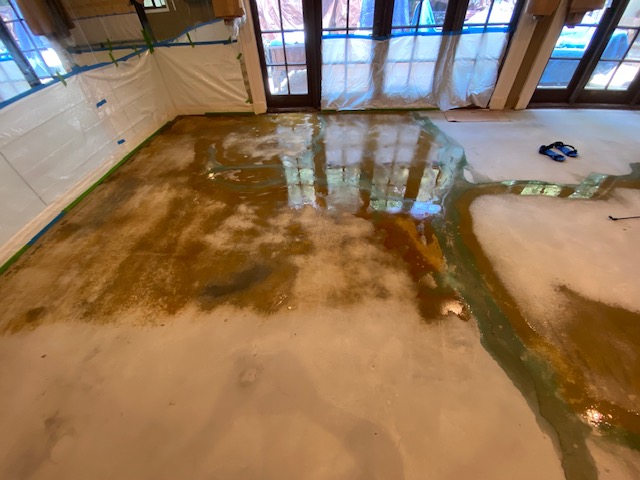 Base coat colors can either be a light acid stain color such as Desert Amber and Malayan Buff or a darker stain cut with water. Neutralize and rinse completely.
Step 4: Apply Accent Color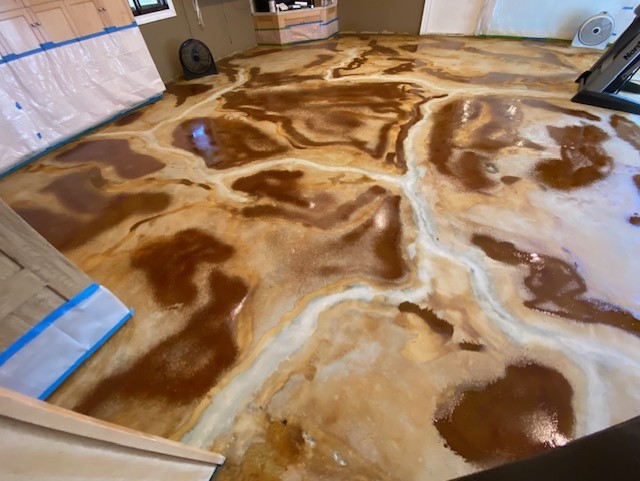 Step 5: Let Acid Stain Base Color React
Allow your concrete acid stain color of choice to fully react with the concrete surface. Read our article on Acid Stain Color Activation Times to know when your surface is ready for this step.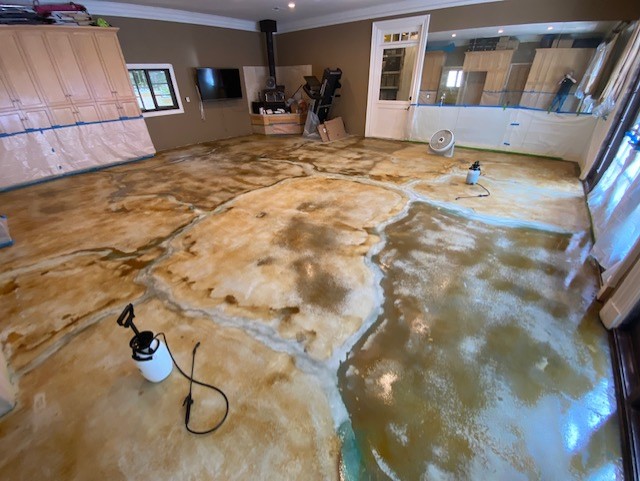 Tip: Always have a spray bottle of water or a pinch of baking soda to water down or neutralize any stray drips from your applicator/spray bottle.
Step 6: Neutralize Acid Stain 
Once the residue dries and the stain has been given at least the recommended minimum time to react, the surface should be neutralized and all debris or excess stain removed in the following manner:
Prepare a solution using baking soda at a ratio of 1-2 tablespoons of soda per gallon of water. Thoroughly spread the solution across the slab, scrubbing with a nylon scrub brush where needed to remove residue. A shop vacuum can also be used for indoor projects.
Wash the surface carefully using clean water until nothing but clear water is visible.
Allow it to dry before proceeding.
Step 8: Apply Sealer
Once you've allowed both layers of the concrete acid stain to dry, you're ready to seal. Sealing a floor using the concrete veining technique is the same as any other floor. Once you've chosen your sealer, simply roll or spray it on in thin, even coats.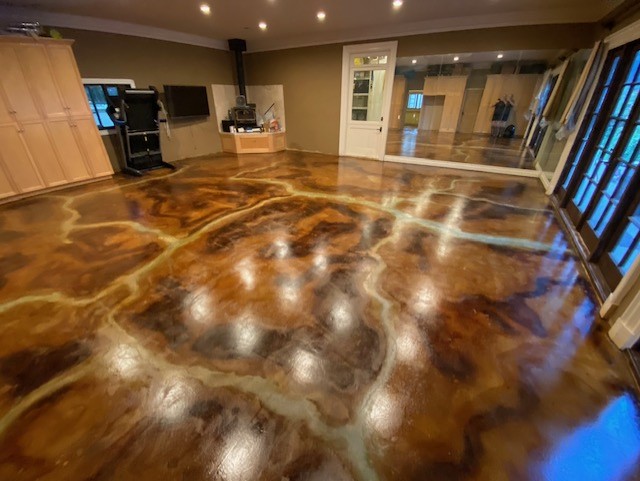 "Take your time and blend colors slowly. If your Coffee Brown is too heavy, come back and blend second color choice on edges with the sprayer close to the ground. Never over pump too much pressure and always keep it close to the ground to prevent splatters" – Mark Scott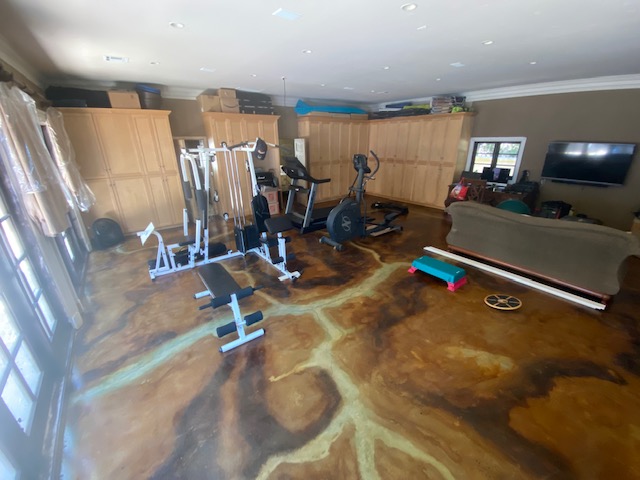 Allow the sealer to dry completely, and enjoy your newly stained concrete surface.
More Projects Using Acid Stain Veining Techniques