How To Apply Antiquing Concrete Stain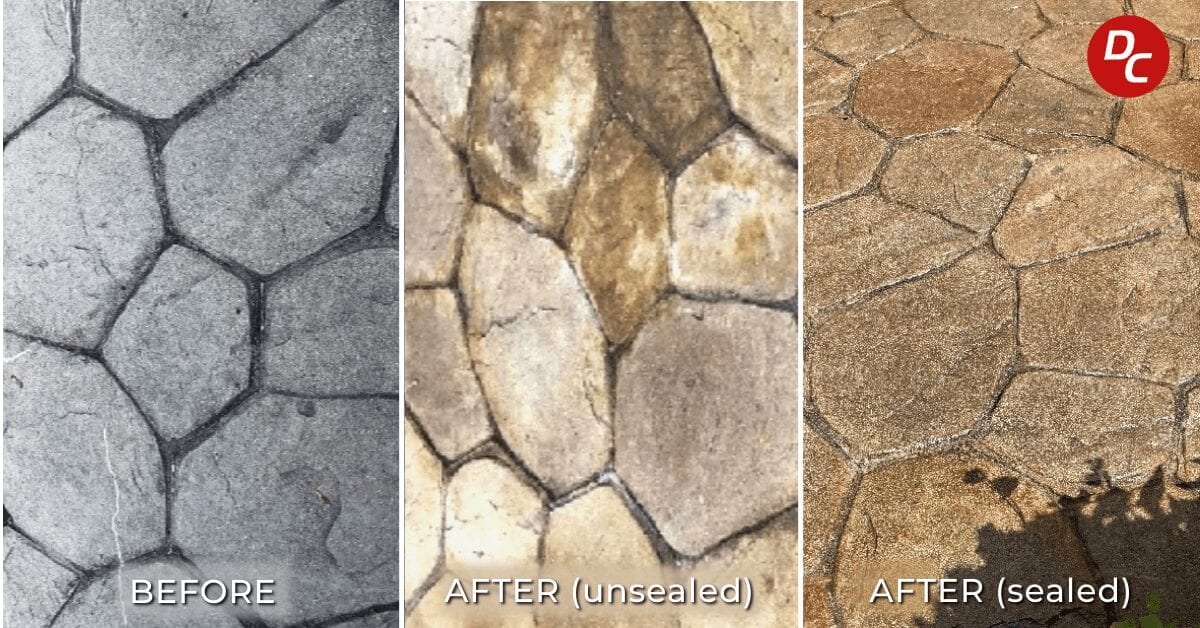 Outdoor concrete stain can be used to restore color to previously stained, integrally-colored, stamped, or smooth concrete surfaces. They can even be applied directly on top of an existing sealer.
On smooth surfaces, the color will collect where you spray it most heavily. On textured surfaces, the pigment will flow to the lowest part of the impression, adding natural looking highlights.
Outdoor concrete stain is easy to work with and an excellent product to help bring back the original color, or add new life to any outdoor decorative concrete surface.
Direct Colors Outdoor Concrete Stain is available in over 30 colors. The color shading control is fully in the hands of the applicator, as is the possibility for mixing or creating a variegated or marbling effect on your outdoor concrete. The more an area is saturated with the coloring liquid, the more pigment will be dispersed, allowing the contractor or  homeowner to fully control his color project and provide virtually an infinite range of color depth.
We here at Direct Colors want to give DIYers some advice on how to apply outdoor concrete stain to their driveways, patios, pool decks, and other outside surfaces. Now that you've chosen your product and color, we can get started.
Surface Preparation For Outdoor Concrete Stain
Outdoor concrete stains can be applied with a pump-up fence and deck sprayer, spray bottle, foam brushes or sponges. Generally, the recommended application tool depends on the size of your project. If the project area is small, a roller or handheld spray bottle will work. If you're using outdoor concrete stain to color a patio or pool deck, however, a pump-up sprayer is the way to go.
If using a pump sprayer, add the outdoor concrete stain to the bottle. Be sure to test your color out on a corner or section of your project area before fully applying. If the color is too dark, add water to the mixture to dilute the concrete stain. If too light, adding multiple layers of the stain will darken the appearance, as will the sealer to be applied later.
Applying Outdoor Concrete Stain with a Pump Sprayer
Outdoor concrete stains generally contain a dispersant to reduce clumping, but settling will occur. Stir or shake the pump sprayer vigorously before application to activate the pigment, and do so regularly throughout the process to prevent the color from settling to the bottom of the sprayer, and clumping around the nozzle.
Depending on the desired finish, apply the outdoor concrete stain evenly onto the surface. On stamped or textured concrete, the fluid will flow into the crevices and indentations of the surface.
For smooth concrete, spray more in the areas where additional accents or shadowing is desired.
Two or more colors can be used to build color on the surface or to produce a varied coloring affect. Allow the first coat to dry completely before proceeding with additional coats and/or colors.
Allow the final coat of antiquing solution to dry for a minimum 5-6 hours depending on weather conditions before proceeding with a concrete sealer.
How to Apply Outdoor Concrete Stain for Small Projects
Sponges, spray bottles, and foam brushes are great applicators, but aren't ideal for large scale projects. It can be done, but you won't achieve the desired effect, and you'll definitely get a wicked hand cramp.
For smaller outdoor concrete staining projects, these applicators are an affordable and simple way to get the coloring effect you're looking for. Popular small project applications include garden slabs, concrete decor, footpaths, and even fixes to older concrete staining projects.
For a visual aid, check out Direct Colors' very own Justin Richardson's guide to applying outdoor concrete stain using a spray bottle.
Sealing Outdoor Concrete Stain
All decorative concrete surfaces must be sealed with a quality concrete sealer to maintain their color and general appearance over time. However, outdoor concrete stain is especially important to seal. A non-penetrating stain, the pigment in outdoor concrete stain sits on top of your outdoor concrete and can easily be washed away if exposed to enough rainwater or other moisture. For that reason, sealing outdoor concrete surfaces is a must to maintain and protect the underlying coloring. 
For best results with outdoor concrete stain, sealers should be either sprayed on or carefully applied with a short-napped roller. Depending on exposure to sun, temperature and general weather conditions, the average acrylic top coat sealer will last 2-3 years.
For outdoor surfaces, we recommend an acrylic, solvent-based sealer. Using solvent-based sealers will pop the underlying color in ways that other sealers can't. On top of that, acrylics are a very economical sealer, costing less per square foot than most other concrete sealers. Outdoor concrete staining projects are generally large ones, too. This makes acrylic sealers the best choice for your wallet, too.
Outdoor concrete stain is a simple, affordable, and easy-to-use product for coloring your concrete surfaces. To purchase Direct Colors' premium Outdoor Concrete Stain, click here.
Not ready for a whole project? Check out our DIY Trial Kits and try it before you buy it.