How to Create a Marble Effect on Concrete Floors
How to create a marble effect on concrete flooring is the most common inquiry that our design team receives. Here at Direct Colors, you can find every product and step-by-step, How-To guide necessary to enhance your home or office concrete with a stunning marble look.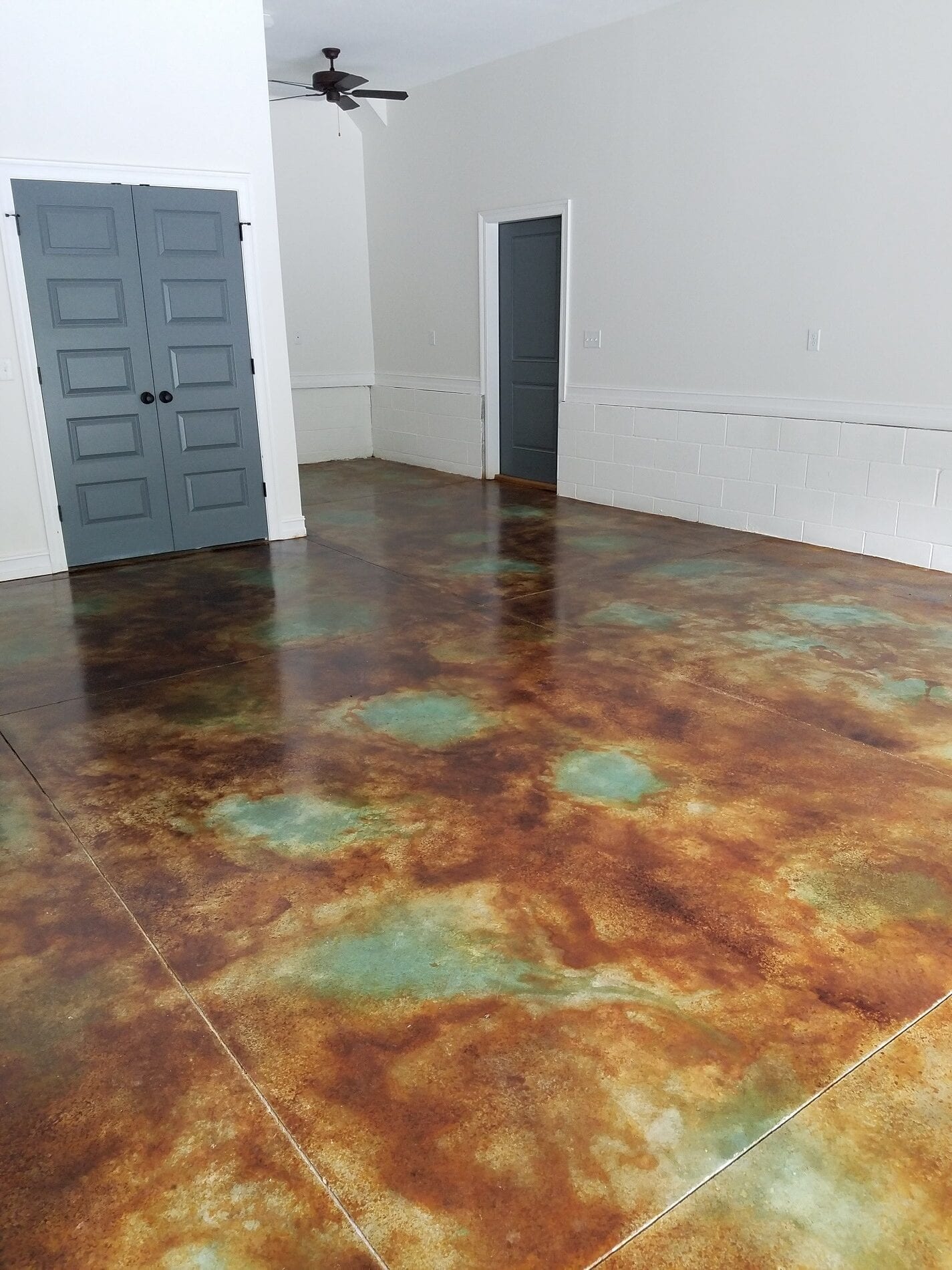 What is the cost to make concrete look like marble?
The cost of acid-stained interior flooring begins at $0.51 per square foot, significantly less than marble or common decorative flooring options, but can rise as high as $10.00 per square foot with highly intricate design work. Unlike wood, tile and carpet, which require professional installation, homeowners can manage costs by acid-staining concrete flooring themselves! Use Direct Colors Cost Calculator to estimate your project cost.
4 BASIC CONSIDERATIONS FOR CONCRETE STAINED LIKE MARBLE
1. Selecting Acid Stain Colors
Whether you are inspired to replicate the natural color of marble, or matching concrete color with your existing home decor, it is essential to test your intended slab before committing to a fully-scaled project. Concrete stains are highly versatile but depend upon consistent surface conditions to fully mimic the look of natural marble. It is a good idea to use an Acid Stain Trial Kit to test different techniques and colors in order to achieve the exact look and finish you have in mind. Remember to follow all steps for surface preparation prior to testing.
Surface preparation is the most important step in any acid staining project. Dilute Concrete Cleaner & Degreaser with water to a medium concentration and scrub the surface with a soft nylon bristle brush (or power wash using a low setting). Thoroughly rinse the surface with clear water to remove any remaining cleanser. Use a shop vacuum, mop and/or squeegee to contain the water and aid in drying.
Sometimes a simple scrub is all you need to reveal a fresh canvas, however, fully removing surface adhesives can be more problematic. That's why we rely on Mastic Remover for a clean removal of any lingering industrial glues. Similarly, if you are working with excessively smooth concrete, such as a garage floor, we recommend Hard Troweled Floor Pre-Treatment to enhance concrete porosity and penetration of the acid stain. In extreme circumstances, when concrete that does not otherwise respond to basic surface preparation, a quick Concrete Overlay will provide you with a ready-to-stain layer of concrete.
The process of acid staining will always yield one-of-a-kind permanent coloring and variation that is greatly influenced by the composition of the concrete and how the stain is applied. 
For subtle marbling effects the most common approach is to cover the entire floor with one color and spot staining with a diluted version of the same color or introducing a second color. This technique is called wet on wet layering.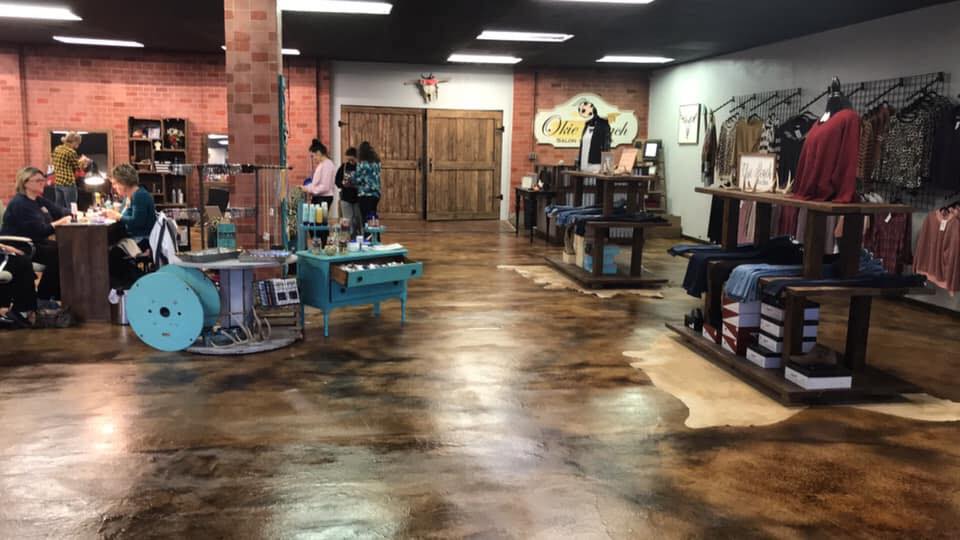 Applying your acid stain with a pump-up applicator is the most popular option, although mixing and pouring it from a bucket is also a popular and effective approach.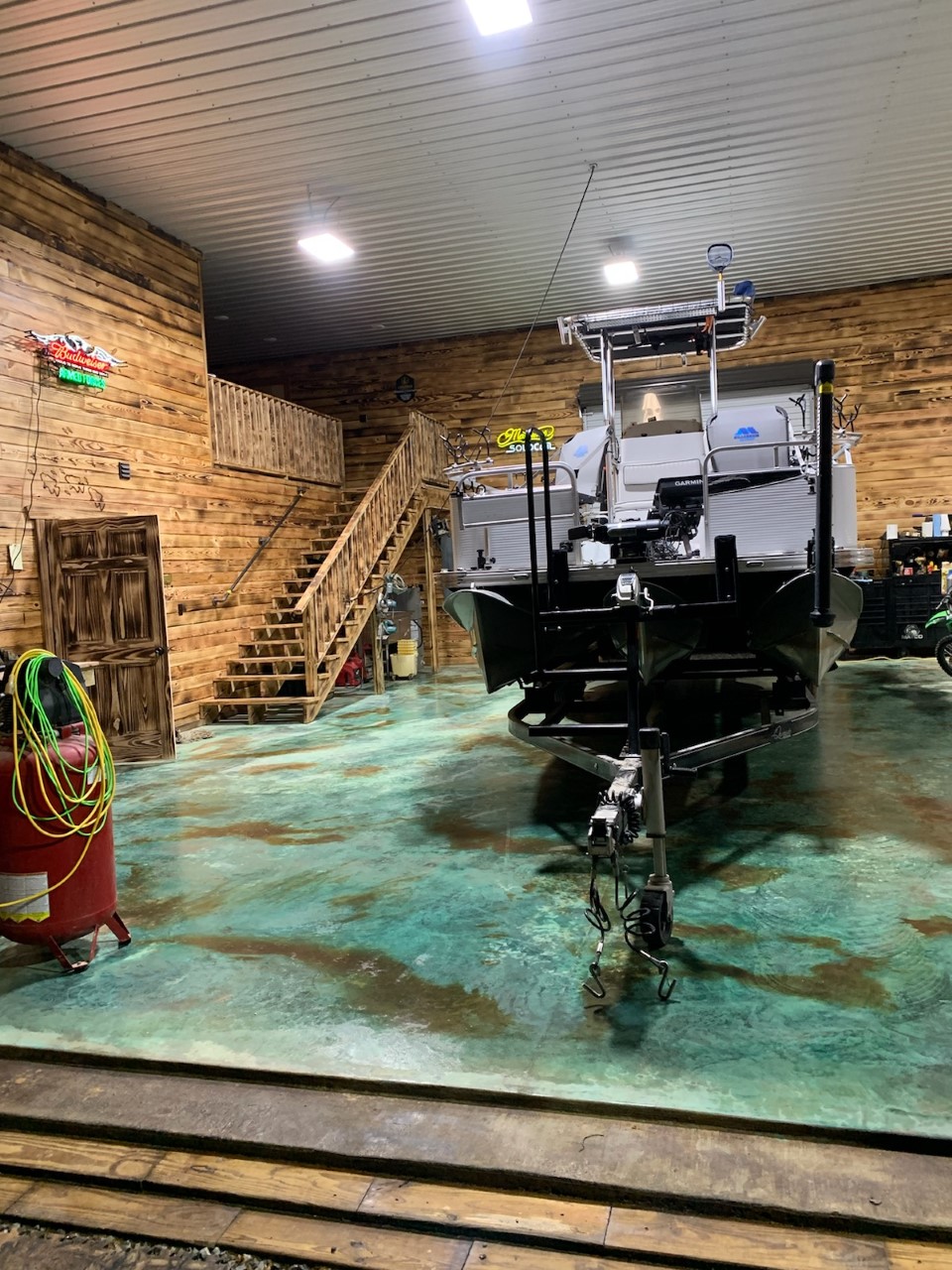 Combining various techniques allows users more control and creativity. As in the case of a "washed" surface look, pooling in various areas allows the strength of the stain to be intentionally enhanced or diluted, resulting in a water-swept look.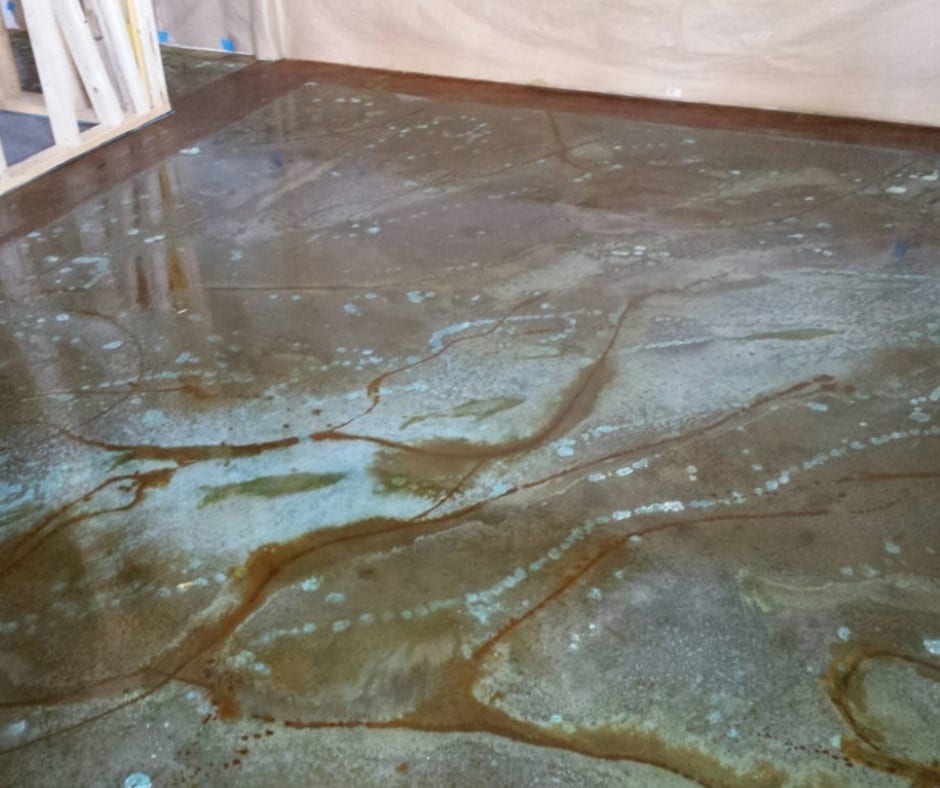 In the image below, the pitch of the concrete was used to create beautiful, natural looking veining areas on the patio. Water was introduced using a spray bottle to "spray out" the acid stain after application, giving it a more interesting shape across the concrete.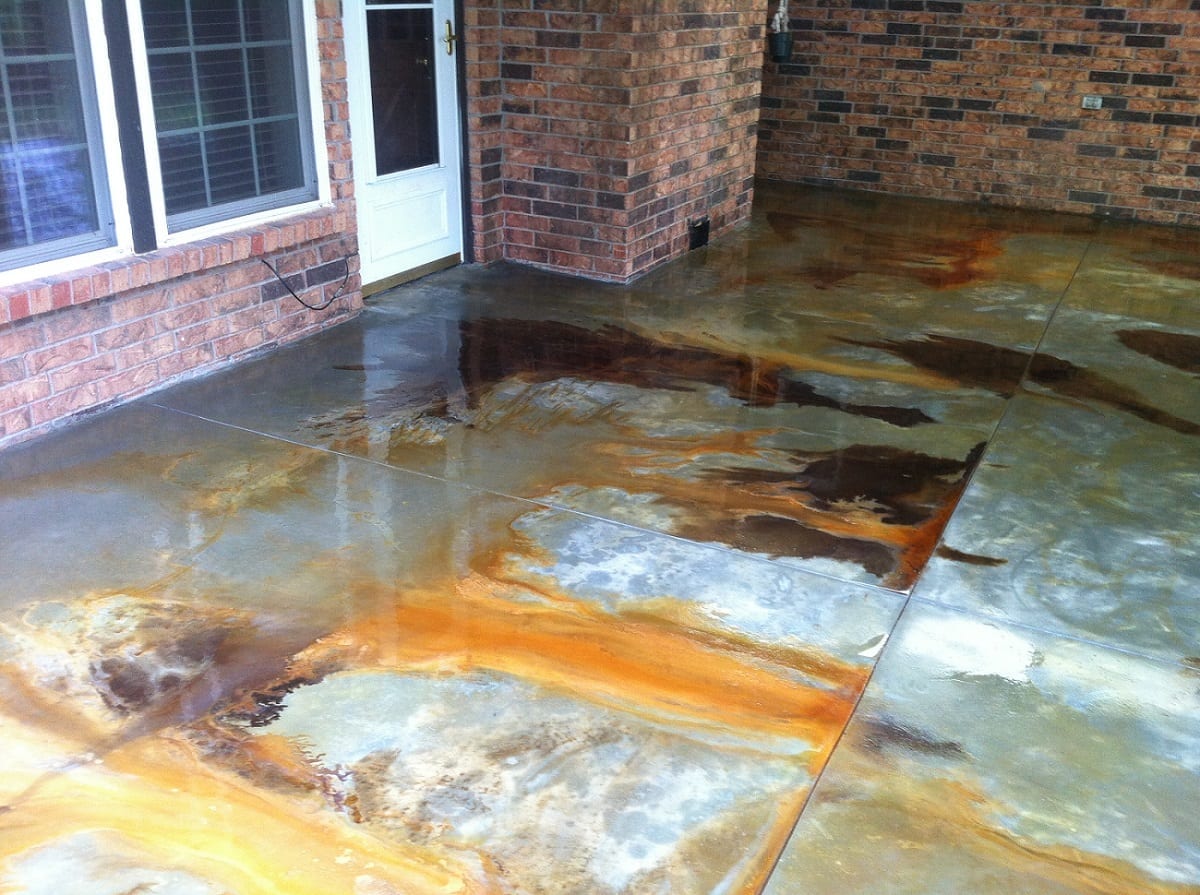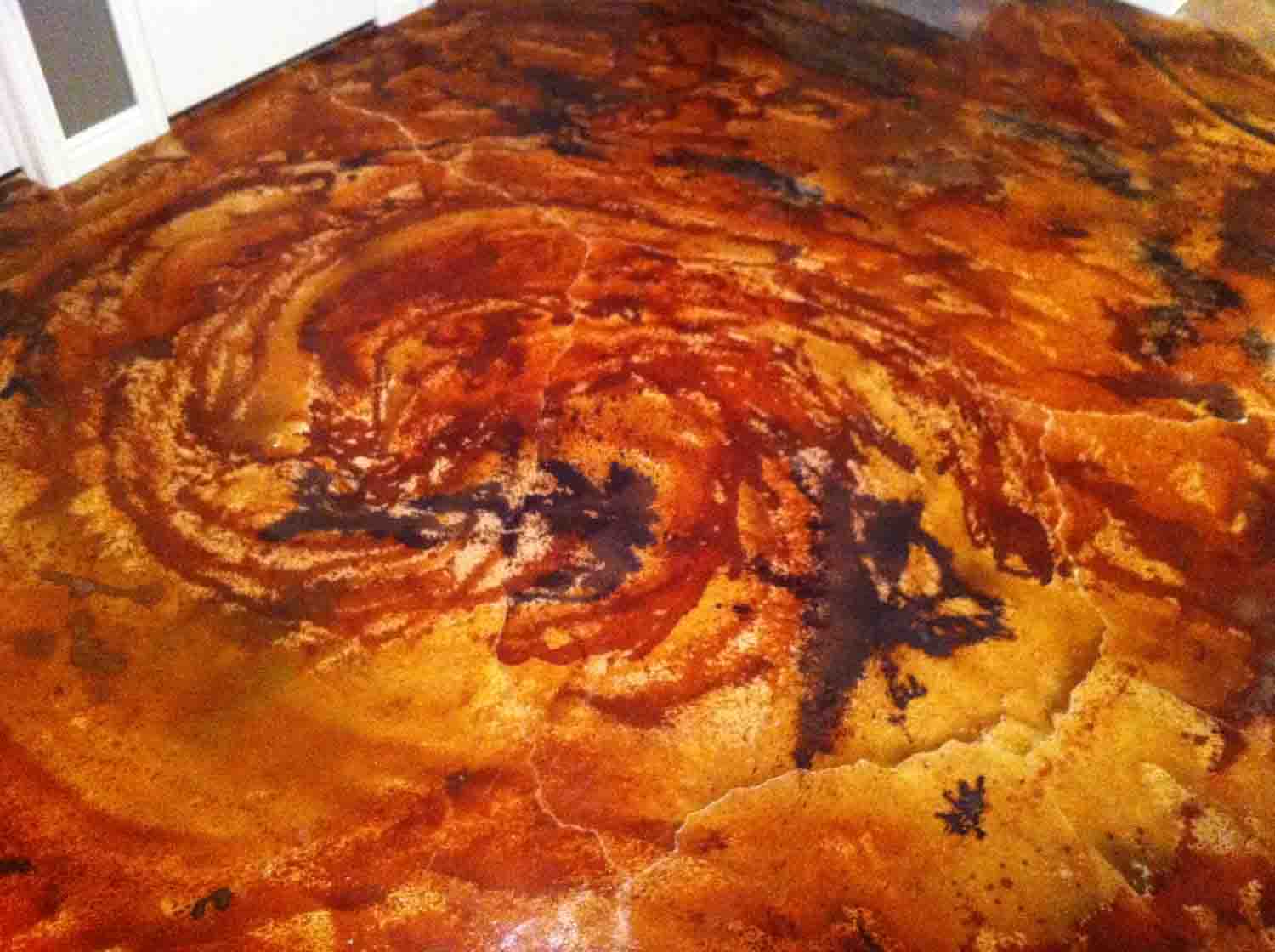 When choosing a sealer, the most important consideration is whether or not the concrete will present a slip hazard when wet. Interior surfaces that do not see heavy foot traffic may be sealed with our Water Based Acrylic Sealer in either a "High Gloss" or "Satin Finish." All outdoor concrete will eventually get wet and should therefore be sealed with a Satin Finish Solvent Based Acrylic Sealer, which is not as slippery when wet. If a high-gloss finish is essential to your intended look, consider using Non-Slip Additive in the second coat to prevent dangerous surface conditions in the presence of water.
How Do I Make Concrete Look Like Marble?
Other than having a true marble slab, the most natural-looking and durable marble-like option is to use concrete Acid Stain. Unlike paint, concrete stains penetrate deeply into the concrete surface, producing fade-resistant, permanent color that won't flake off or peel away. Whether you want a smooth or textured finish, staining concrete to look like marble gives you the appearance of expensive marble without the added cost of caring and maintaining actual marble surfaces.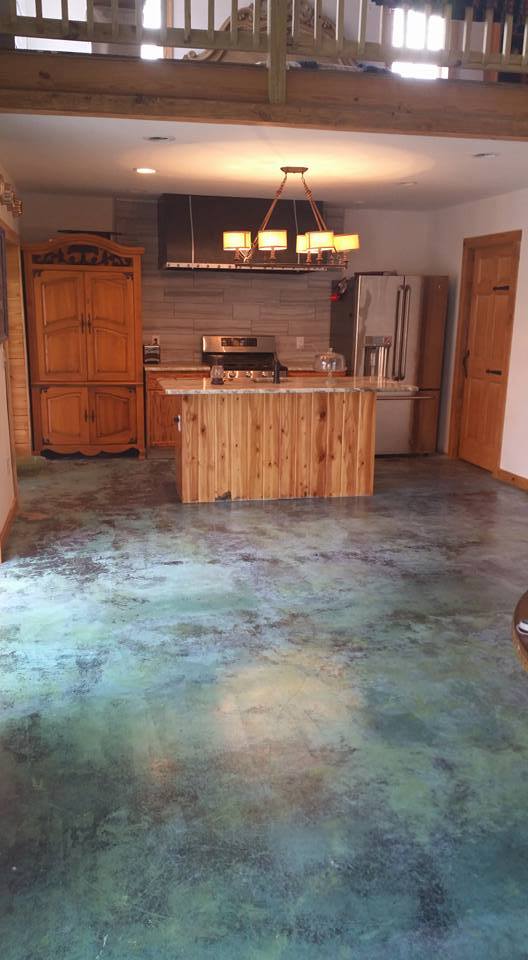 Acid Stain easily transforms your concrete floor into a stunning faux-marble masterpiece that costs thousands less than real marble or stone. This affordable flooring option is low-maintenance and more durable than normal flooring options, like vinyl, but with Direct Colors Azure Blue coloring, the results will be anything but "normal!"