CONCRETE ACID STAINED FLOOR DESIGN IDEAS
DIY acid stain concrete floor design ideas. Learn how everyday homeowners use Direct Colors premium acid stain products to customize beautiful concrete floors using our Direct Colors guides, cost calculators & how-to videos
How Much Does it Cost to Design and Stain Concrete Yourself?
The cost of stained interior flooring as a diy projects begins at $0.43 per square foot. The design options are endless and you can be as creative or conservative as you want. Each slab reacts differently to the chemical process leaving you with one-of-a-kind finish. There are numerous concrete staining options that enhance the overall project. Learn more about using dyes, pigments, antiquing stains and deco gel with Direct Colors Project Designs by Colorant.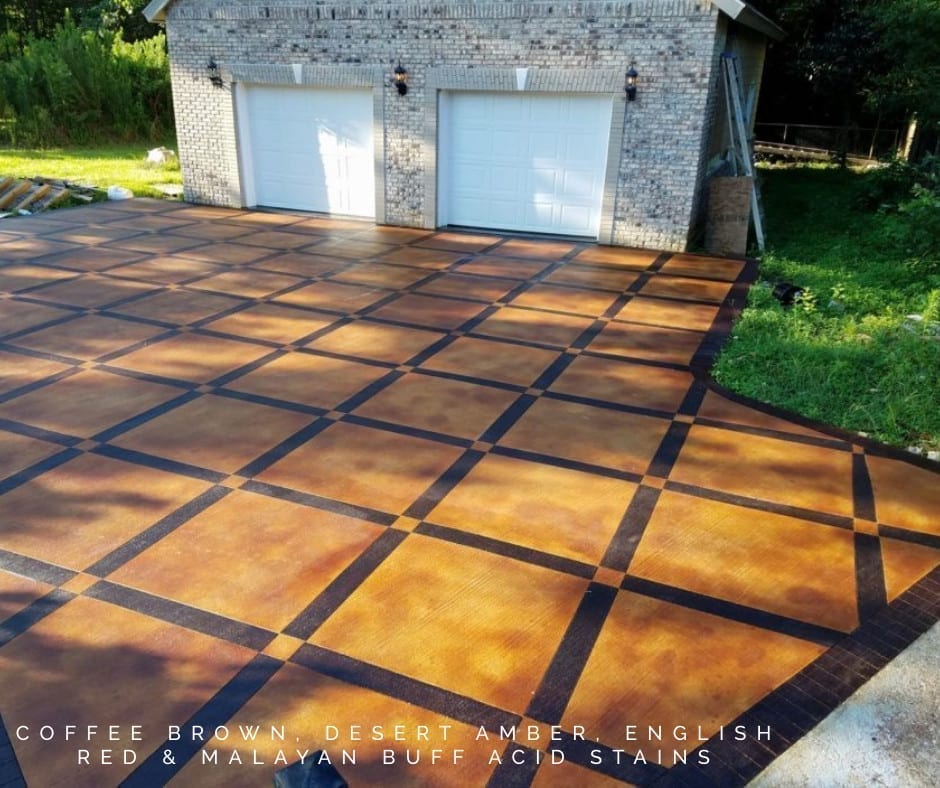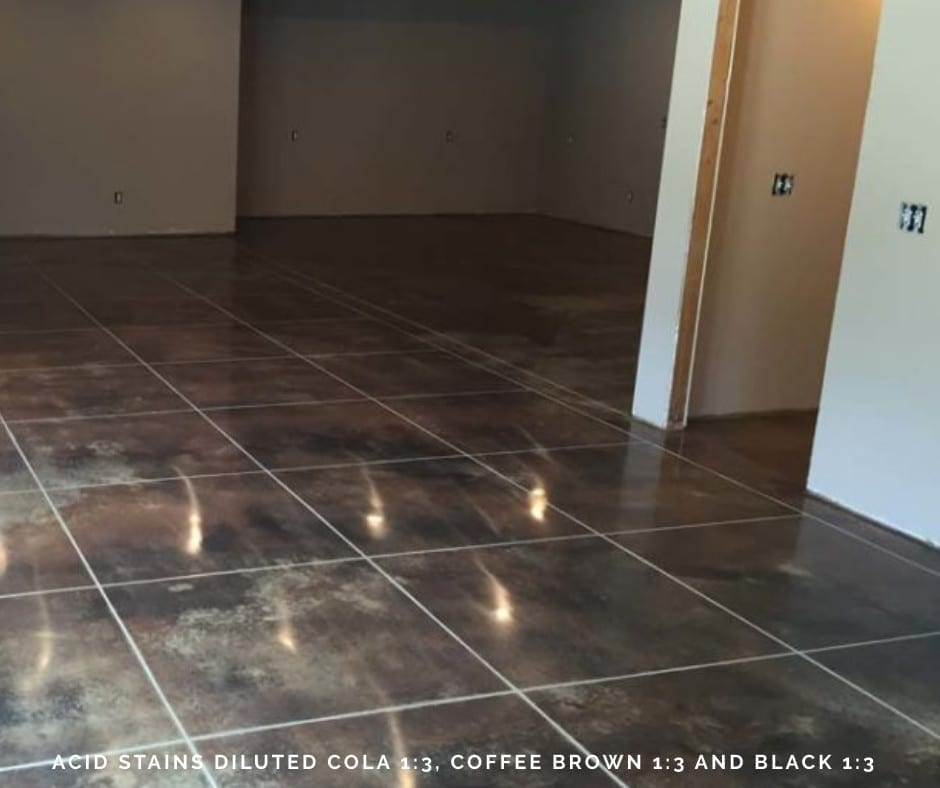 DIY SPOTLIGHT: CREATIVE STAMPING CONCRETE DESIGN
Mary B. of Trinidad, CO  has turn her concrete floors into artistry through creatively "stamping" and staining the concrete. Each room as a different yet complementary theme creating a warm and inviting space. No doubt the floors are quite the conversation piece! We hope you'll enjoy Mary's project as much as we have.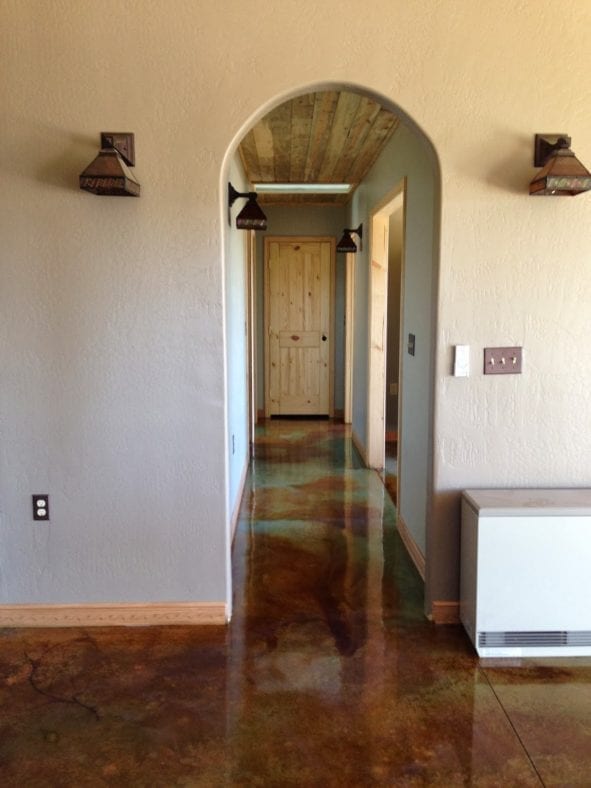 "I was fortunate enough to be here when the slab was poured. After it was finished, but still wet, I pressed some grasses and some sunflowers into the wet cement. I even had my dogs run around on the wet cement, leaving shallow paw prints. It all looks so great on my floor!"
"But for the staining, I had 3 garden sprayers, one with Azure Blue, one with Cola and one with Malayan Buff. I first intended to cover most of the floor with the Malayan Buff and highlight with the other colors. I started with the master bath, master bedroom and kitchen. But once I neutralized the acid stain, I saw how, when a lot of stain was applied it puddled and created a watercolor effect. So I started using more of the Azure Blue in larger spots on its own for the rest of the house. There was no plan — I just sprayed away, alternating colors. I even took the leftover colors from my samples I purchased, and literally threw them here and there in a room."
"I am a watercolor artist. I really love the watercolor effect this gave me."
"Then, once the acid was dry, I took a turkey feather and painted some grasses onto my floor. Neutralized everything, then went with the high gloss acrylic sealer. It is beautiful!"
Direct Colors Products Used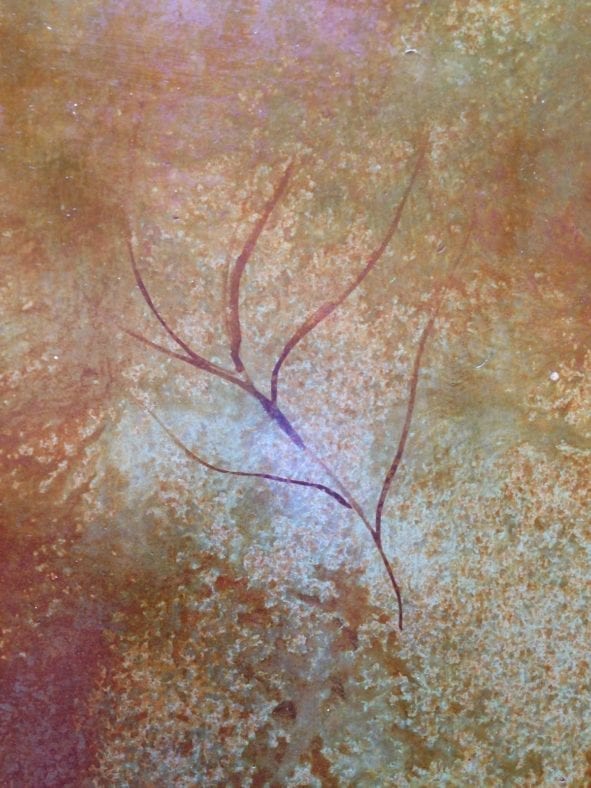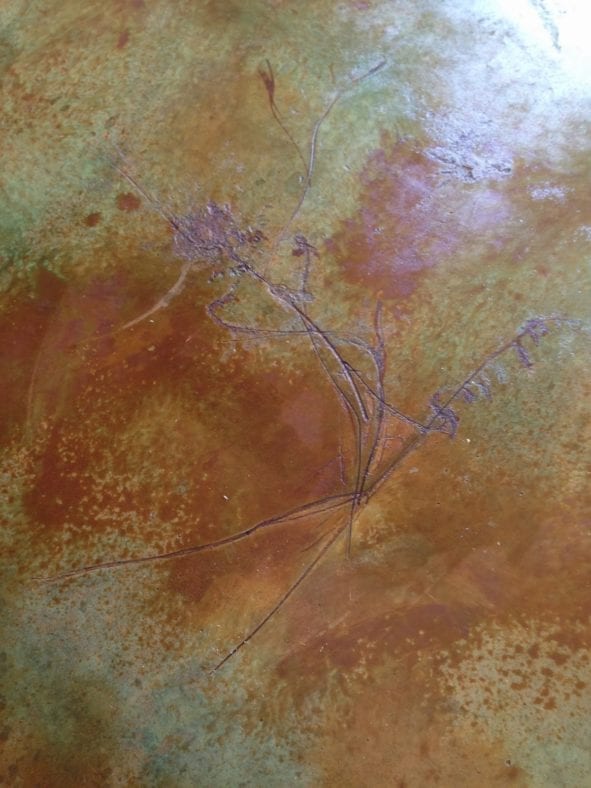 DIY SPOTLIGHT: ACID STAINED CHECKERBOARD CONCRETE FLOOR DESIGN
With his day job on hiatus due to inclement weather, Jamie O. of Maylene, Ala. recently became interested in DIY acid staining and decided to give staining a try on his own Basement Floor. The results were so impressive that he is now thinking of starting his own floor staining business.
Most first-time stainers go for a simple, one-color design, but not Jamie. He decided to cut a checkerboard pattern into the concrete and use three different colors of acid stain: Cola, Malayan Buff and Coffee Brown.
Jamie used a skillsaw with 2 diamond blades to cut the pattern into the floor. Since each square was rather small, Jamie concluded that the typical method of spraying the stains onto the concrete would not work. Instead, he opted for a hand staining technique using brushes.
"At first I used a normal paint brush, but ended up with streaks in the finish, so I switched to a sponge brush," he explains.
Luckily, Direct Colors' acid stains are easy-to-use and fairly forgiving, so he was able to stain over his first application and hide the streaks.
For the finishing touch, Jamie added grout to the saw cuts and sealed the floor. At first he sealed the concrete with Water-Based Acrylic Sealer that was going to require occasional waxing.
Upon second thought, he decided that he would rather have something that requires less maintenance. Jamie called Direct Colors and they recommended top coating the water based sealer with their Water-based Polyurethane Sealer, which provides a protective, glossy, no-wax finish.
Project Time Completion
4 days including surface preparation
Direct Colors Products Used
DIY SPOTLIGHT: CONCRETE FLOOR LOGO DESIGN
Randy Woods of Pinion Ridge Construction used concrete acid stain to etch a company's logo onto the new concrete floor of their building, much to their excitement. Here's how he did it.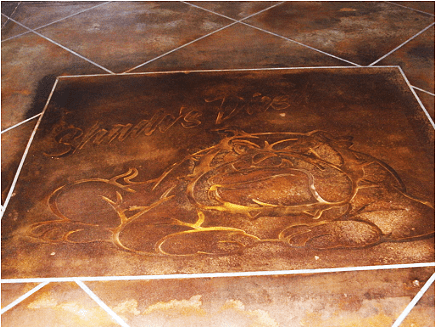 Though Woods considers himself a rookie, this was his seventh job dealing with concrete acid stain.
"Acid stain is the only way to go," he said. "It's cost effective, durable, and lasts longer than linoleum or carpet. I wouldn't go any other route. I recommend it on every job we do now."
And he also recommends Direct Colors, who has provided him with concrete acid stain for all the jobs he's done. "I think Direct Colors has a quality product," Woods said. "Everything I've bought comes from Direct Colors. I don't think I'd go anywhere else."
"Acid stained floor design was brand-new," Woods said. "We do commercial buildings, and it was just new concrete"
Woods used a Coffee Brown Acid Stain, which they cut 50-50 with water. The company wanted their bulldog logo on the floor, and that's what Woods gave them.
"They love it," Woods said of the company's reaction to the logo. "They're ecstatic with it. They did not think I could do it like that." He does wish that he'd diluted the acid more around the dog, but overall, "It actually turned out really good. Everything went together good on it."
Direct Colors Products Used
Project Time Completion
2 days including surface preparation