Turning a Drab Basement into a Stunning Work of Art
By Renee O.
Mar 2021 – $250 Cash Winner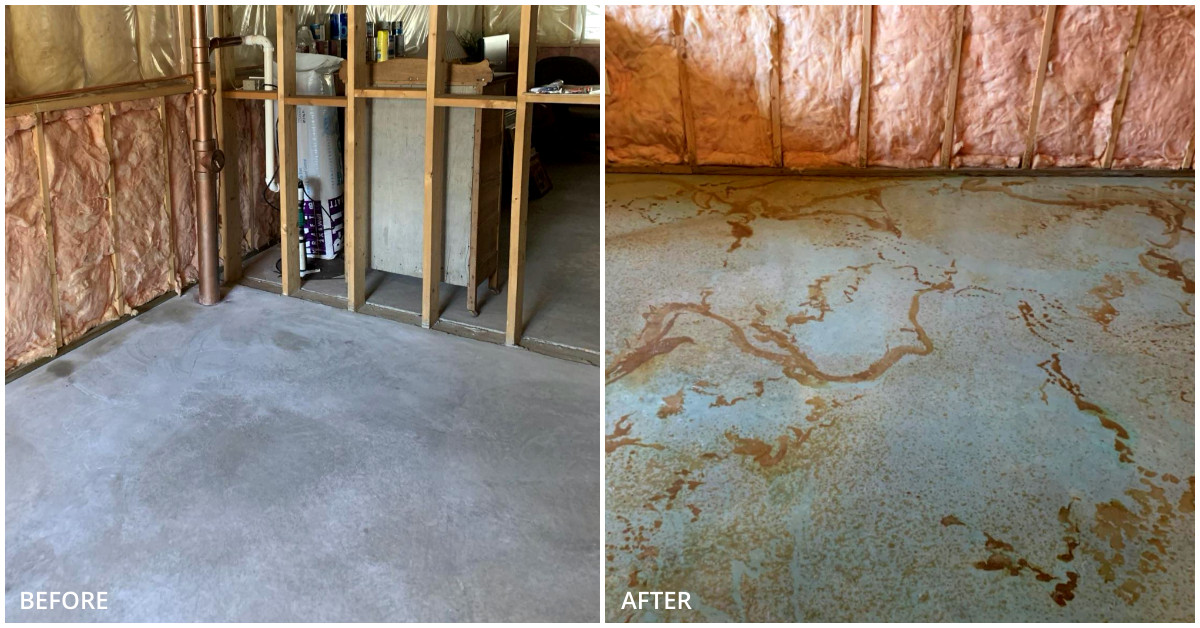 Basement floor remodels are becoming our number one DIY project here at Direct Colors. We talk to customers every day about the peculiarities of basement applications and recommend products based on each individual project's circumstances.
Renee decided to beautify her basement to use as an art room, opting for our EverStain acid stains. She told us, "The floor was my canvas," adding, "I acid stained approximately 300 square feet of my basement floor for an art studio space. I wanted a floor that would be easy to maintain and clean up, one that makes a statement and is eye-catching, and a work of art in itself."
"This was my first experience with acid staining a concrete floor, so I did several online searches and finally decided to use Direct Colors' products. I was impressed with the online pictures of completed projects, the How-to videos, color options, and personal service given by Direct Colors' employees."
How to Acid Stain a Hard-Troweled Concrete Floor
Hard-troweled concrete is worked with a steel tool in order to make it denser and give it a very smooth surface. Because of this, acid stains will not penetrate, and so will not add any color.
Before their use, you need to etch the floor in order to make it porous enough for the stain to soak in and bond. The hand-troweled technique is very common for basement floors.
Step 1: Clean the Surface
Use a shop vacuum or sweep and mop floors with a concrete cleaner and degreaser. Remove any debris, dirt, oils, sealers, and adhesives from carpet or drywall.
Step 2: Cover the Walls
Use plastic sheeting and painters tape to cover the walls and protect them from getting stained.
Step 3: Etch Concrete Floor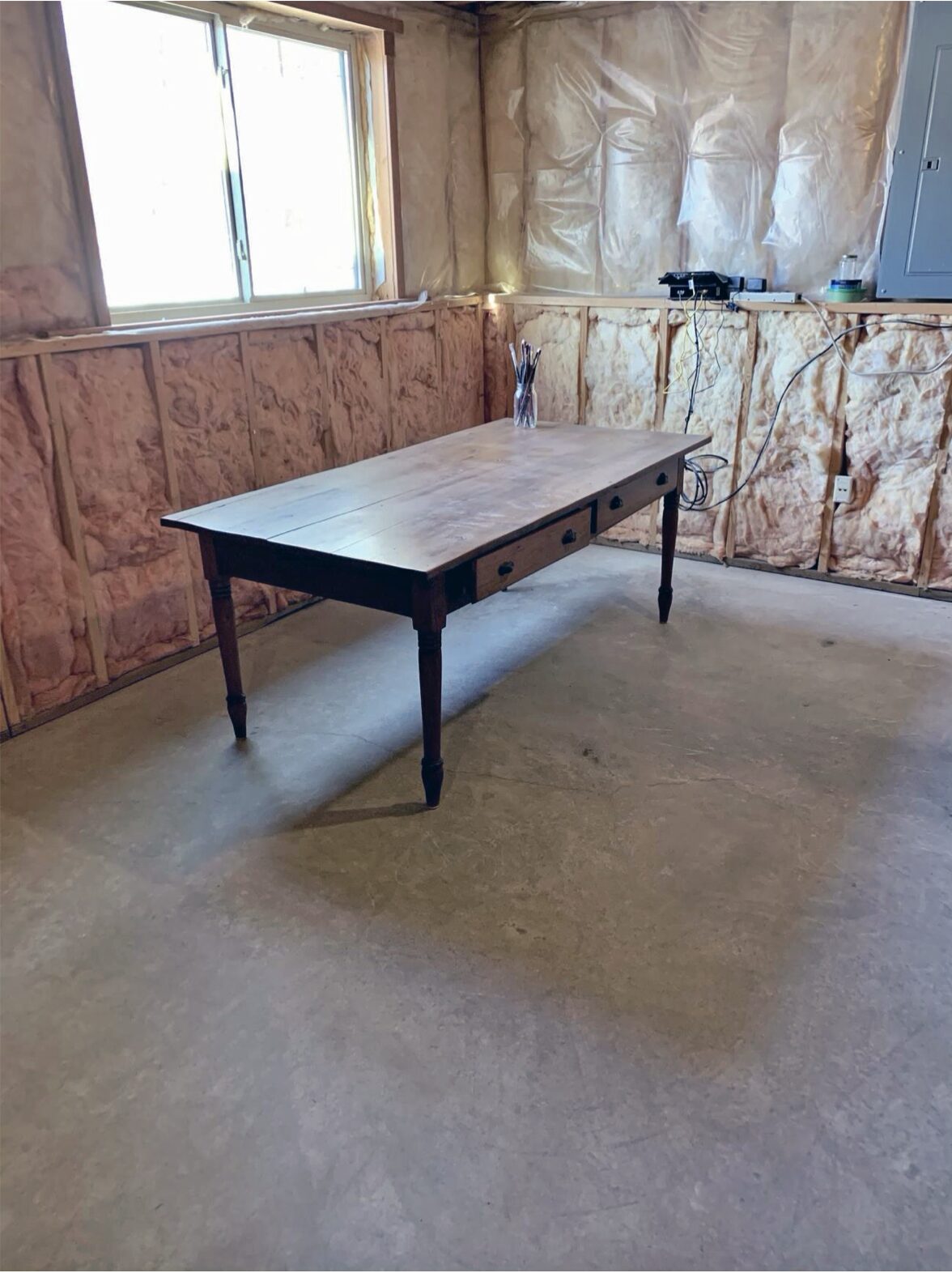 Most slabs will be ready for staining after an application of CitrusEtch™ concrete etcher. Simply cut the product with water 1:1, spray from a garden sprayer and wash off with clear water after 15-20 minutes.
For excessively smooth concrete, apply the floor prep full strength for optimal results.
Renee did need some help in proceeding with her project, but our customer service team was there every step of the way. "I needed to rely on the expertise of Direct Colors' employees' several times," she said, "From knowing how to prep the concrete surface to get it ready to accept the stain, to knowing whether to apply the stain wet-on-wet or wet-on-dry. I also learned that I could allow the stain to react longer with the concrete than the recommended reaction time if I liked what I saw."
"It was exciting to see how one stain color evolved into many different subtle colors."
Apply Acid Stain Colors
Apply acid stain using a Pump-up Sprayer. Always wear long sleeves, pants, goggles and gloves while working with the acid stain for your safety and protection. You should also wear at least a dust mask when applying, or a respirator if the area has poor ventilation.
We recommend spraying the stain on the surface using an all-plastic pump sprayer. If you're layering stains, start with the lightest color first. To achieve a "feathered" effect, apply the next layer of color while the first is still wet. Be sure to not overwhelm the lighter color with the darker one.
Renee explained, "For my project, I sprayed on two coats of Azure Blue, and added Malayan Buff as an accent color, spraying over the Azure Blue wet-on-wet, and being certain to leave more Azure Blue than Malayan Buff showing through."
Renee allowed the two colors to react with the concrete and dry for thirty hours. Although she reports using ammonia and water to neutralize the stain, we recommend a mixture of one to two tablespoons of baking soda per gallon of water. Highly diluted ammonia is okay, as it is also a base that will neutralize acid, but baking soda is safer.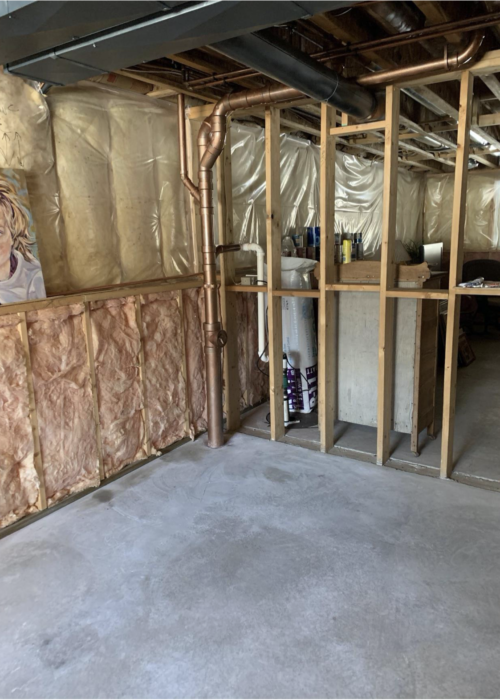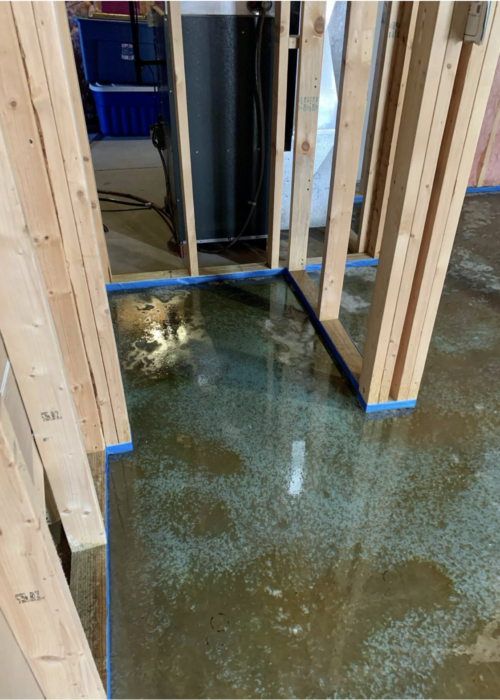 Spray the solution to cover every square inch of the floor, then use a squeegee to make sure that it has gotten everywhere. Scrub with a soft nylon-bristled brush as needed to remove residue, then wash the entire surface thoroughly with water until nothing but clean water is visible.
Remove all residue and excess color. For stubborn residue or porous surfaces, use an organic degreaser. Once the surface is clean, leave it until it is dried completely.
NOTE: The neutralization step is very important to your final results. If you do not neutralize the acid stain, it will maintain a very low pH value, and this will damage any sealer you put on top of it by corroding it from underneath. The sealer will turn opaque and milky and lose its bond with the floor.
If this happens, you'll have to strip the floor, properly clean it, and reseal it.
Renee continued by adding more colors before she got to the sealing process. "I added color veins using Azure Blue, which resulted in an etched look of lighter blue, and then veins of Malayan Buff and English Red, which created strong color accents."
When she was happy with the results, she neutralized the stain again. After it was completely dry, she spread on the acrylic, solvent-based gloss sealer, commenting that it "definitely brought the floor to life. I absolutely love my finished floor. I have to admit, it's more gorgeous in person!"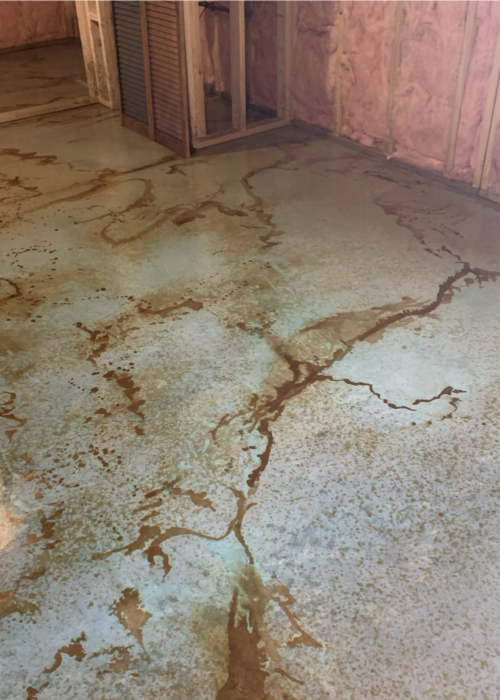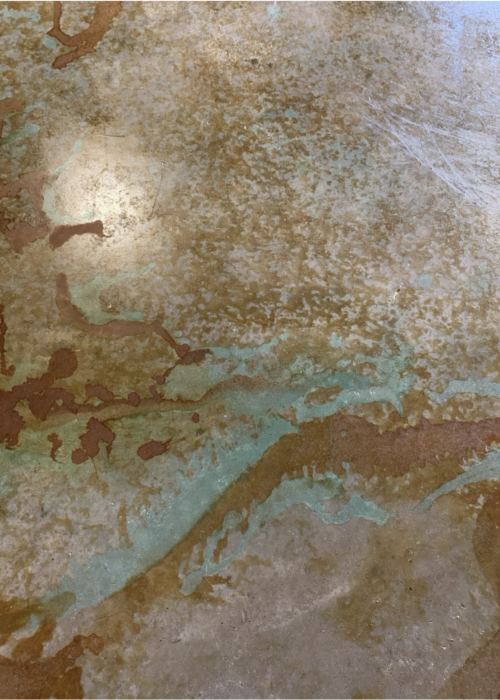 Renee's DIY Acid Stain Tips
Rely on Direct Colors personnel to answer your questions.

If using the hard troweled floor pre-treatment, mix it well with water so that all of the chemicals dissolve.

Wet-on-wet applications give you a beautiful result.

Have some extra paint sprayers on hand, like small plant water sprayers, if you are adding veins to your floor. The acid stain will clog and your paint sprayers will stop working.

Clean off the chalky residue left from the floor pre-treatment with a small soft bristle brush.

Take your time. Let the acid concrete stain react with the concrete. Mine took 30+ hours. Pour water over the dry stain to see what the true colors will look like, and make decisions as you go.

I like the gloss, solvent-based acrylic sealer. It makes the colors come to life!

Small-tipped plastic tubes, which I purchased from Michaels Crafts, are great for doing veining.
Apply Sealant
For staining basement projects were smell and ventilation are going to be your biggest concerns, we generally recommend water-based sealers. They're nearly odorless, and will be safe to apply if your family or animals are in the home.
Apply Concrete Floor Wax & Polish
Soak the Trim Pad applicator in warm water.
Wring out excess water from applicator.
Pour Residential Concrete Floor Wax into a paint tray.
Saturate trim pad with concrete wax solution.
Press out excess wax.
Apply a thin milky coat across the floor surface. The product will appear milky in application but clear as it dries.
Smooth out any foaming from the concrete surface.
Additional Products Used for This Project
2-gallon deck stain sprayer

1 3/8" nap paint roller and a long handle attachment to spread on the sealer

3 small-tipped pour bottles purchased from Michaels Crafts

My golf shoes with paper booties over them when working wet-on-wet with the stain

Additional small bottle water sprayers

1 small soft bristle brush

Safety goggles and face mask

Large mop and bucket
Creative Stamped Concrete Design
Mary B. of Trinidad, CO  has turn her concrete floors into artistry through creatively "stamping" and staining the concrete. Each room as a different yet complementary theme creating a warm and inviting space. No doubt the floors are quite the conversation piece! We hope you'll enjoy Mary's project as much as we have.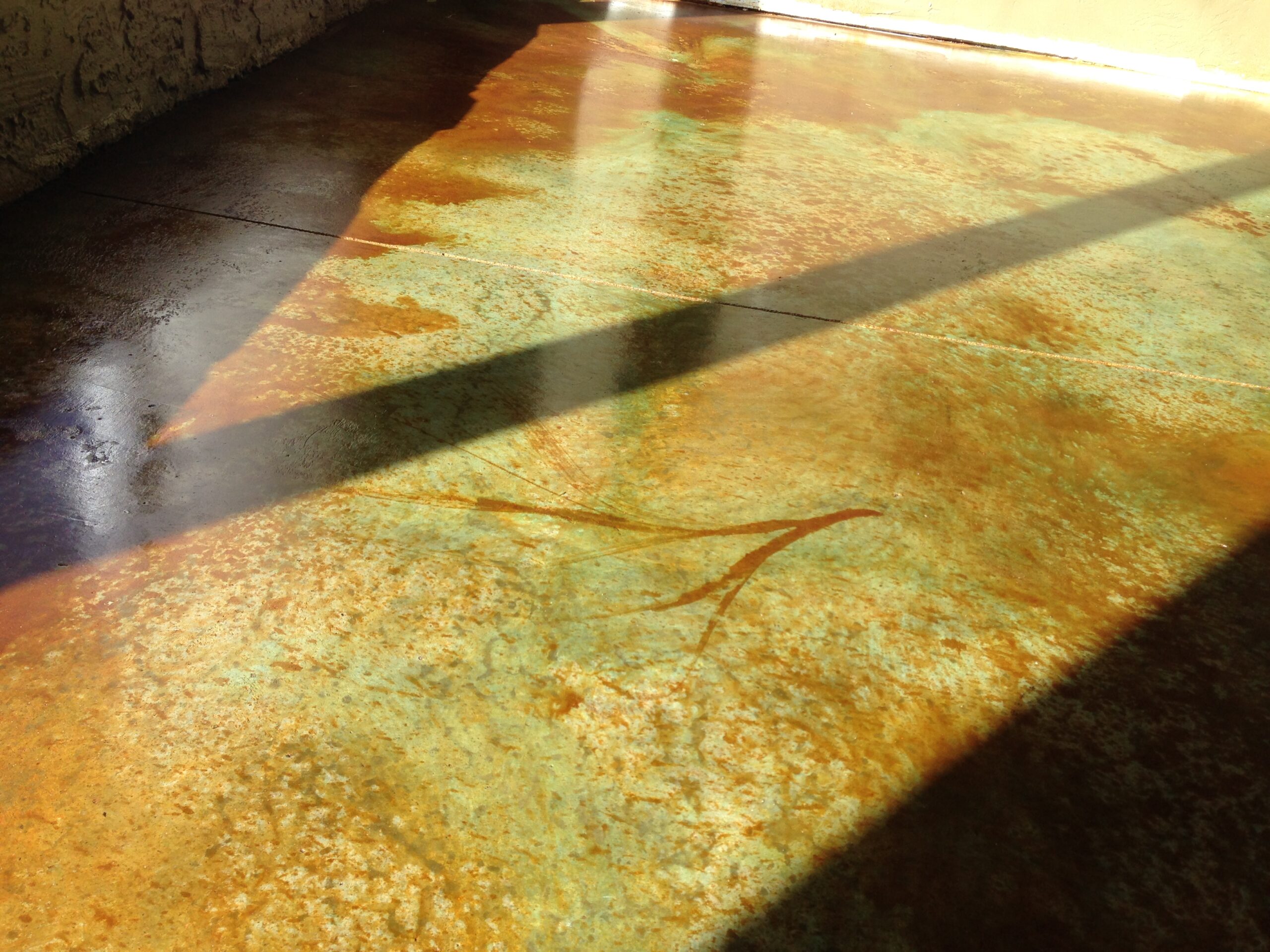 I was fortunate enough to be here when the slab was poured. After it was finished, but still wet, I pressed some grasses and some sunflowers into the wet cement. I even had my dogs run around on the wet cement, leaving shallow paw prints. It all looks so great on my floor.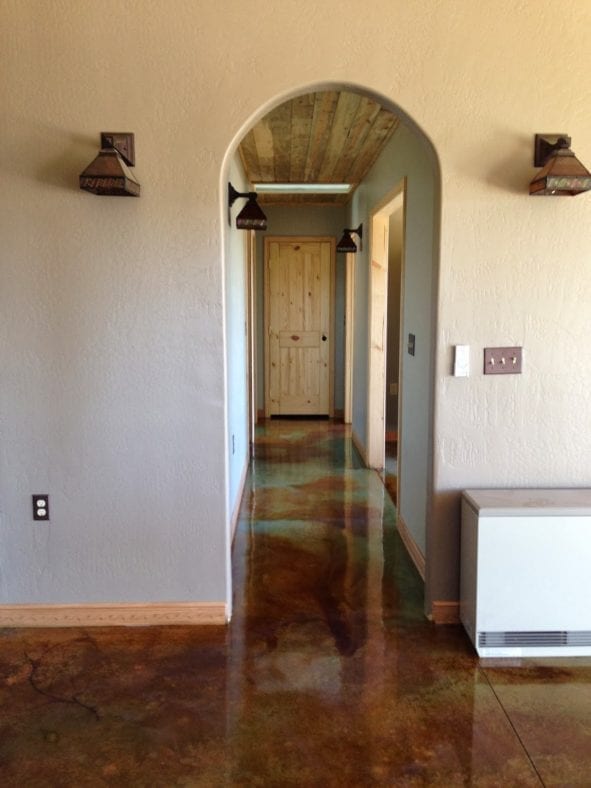 But for the staining, I had 3 garden sprayers, one with Azure Blue, one with Cola, and one with Malayan Buff. I first intended to cover most of the floor with the Malayan Buff and highlight with the other colors. I started with the master bath, master bedroom and kitchen.
But once I neutralized the acid stain, I saw how, when a lot of stain was applied it puddled and created a watercolor effect. So I started using more of the Azure Blue in larger spots on its own for the rest of the house.
There was no plan — I just sprayed away, alternating colors. I even took the leftover colors from my samples I purchased, and literally threw them here and there in a room.
I am a watercolor artist. I really love the watercolor effect this gave me.
Then, once the acid was dry, I took a turkey feather and painted some grasses onto my floor. Neutralized everything, then went with the high gloss acrylic sealer. It is beautiful.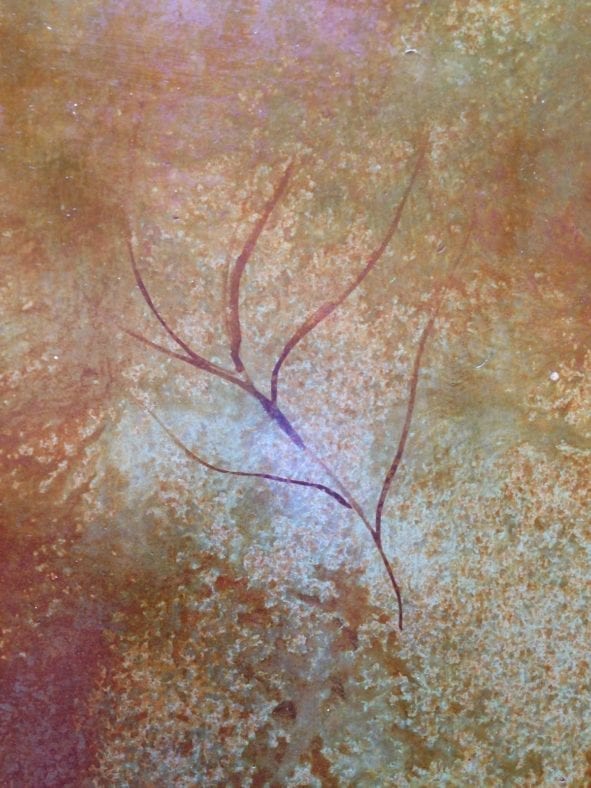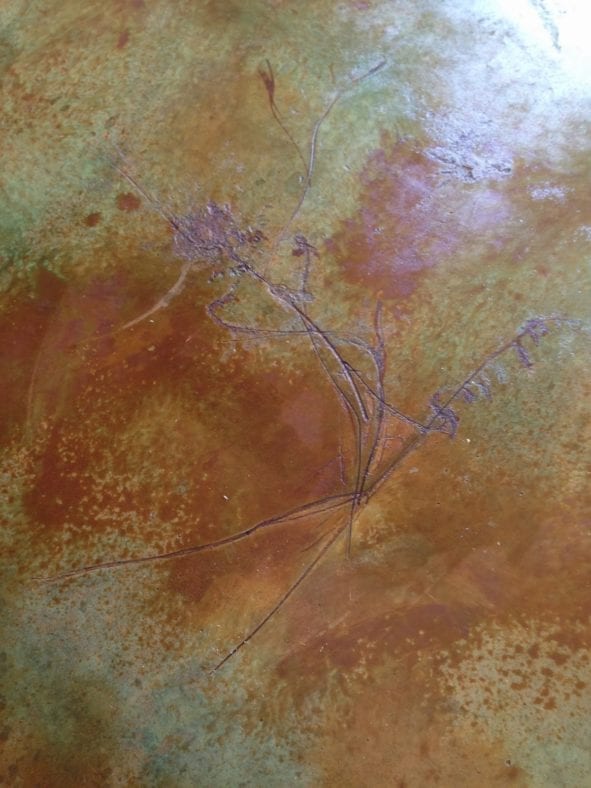 Laundry Room Concrete Design