Recoloring Stamped Concrete on a Budget
by Jim Kurtz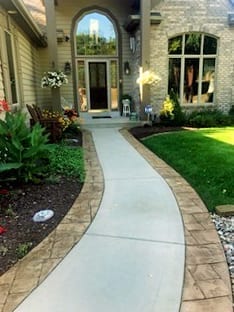 My wife and I had this house built 18 years ago in 2002 in New Berlin, Wisconsin, a suburb of Milwaukee.
We had the concrete driveway poured a year later with an 18 inch stamped colored border (brown) on both sides of the driveway, in front of the 3 car garage and the borders are also on the walkway to front door.
Although I sealed everything a few times over the years, the brown color on the colored concrete borders faded a lot to a light tan/beige, the border looked bad. Overall the concrete itself in the driveway and walkway is in very good shape.
I got a contractor quote of $4,800 to do this project. I then decided I could do it myself and found Direct Colors online. I spent about $250 on your products, what great savings! And I have some product left.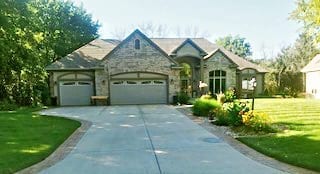 I bought your Test Kit with 5 colors, that worked great in selecting a color. The kit was a big reason I picked Direct Colors. Other companies online did not offer a test to help select a color.
I selected Café Royale. I put on 3 coats on my hands and knees with a small foam brush. I could control the brush and amount of stain very well and decided not to use a sprayer for the borders. I needed to put on 3 coats to get the darker brown color I wanted.
And then I put on 2 thin coats of satin sealer on the borders with a foam brush (for crevices) and a 3/8 inch nap roller. I used your non-slip additive in the second sealer coat, that worked great!
The borders used to be slippery when wet, not now.
These 5 coats took me 49 hours (including power washing up front), over 8 days, allowing for proper drying times and good weather.
Avoided staining and sealing in very hot sunny weather. I then sprayed on two thin coats of satin sealer on the rest of the driveway and walkway -looks great with a nice sheen.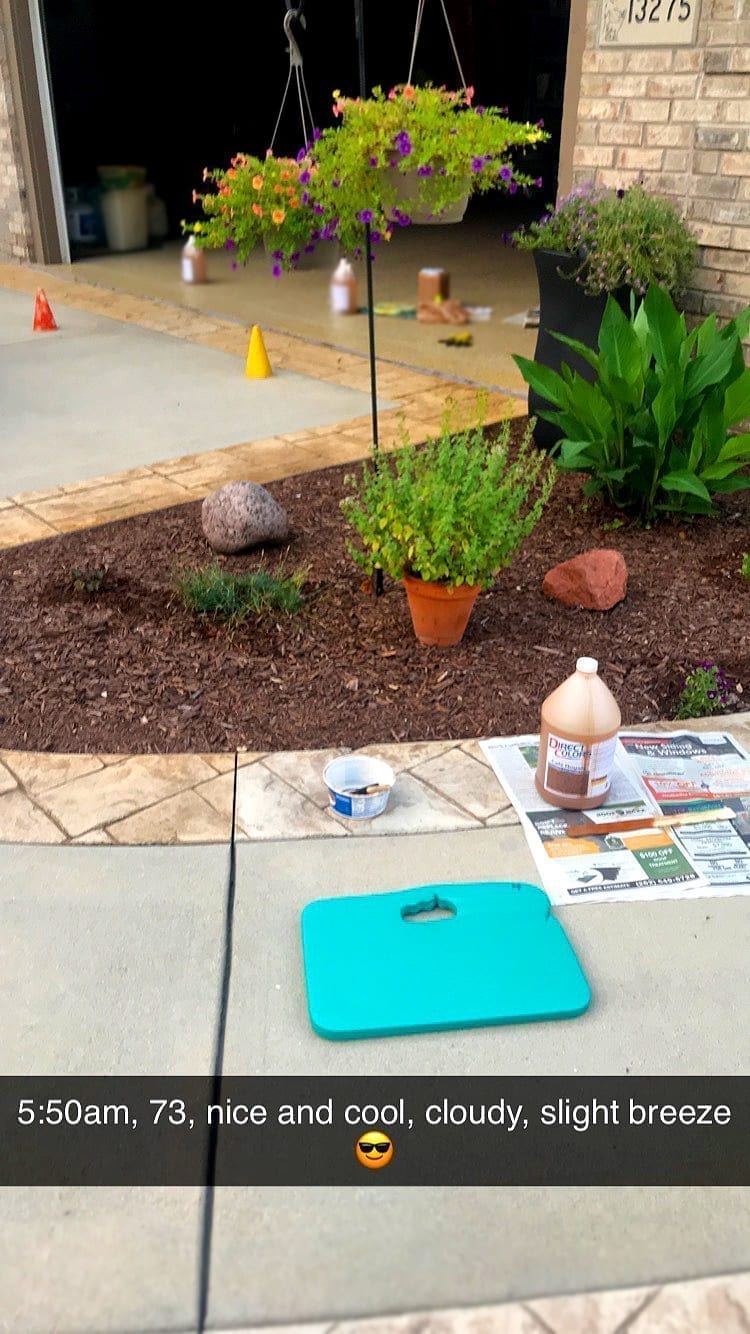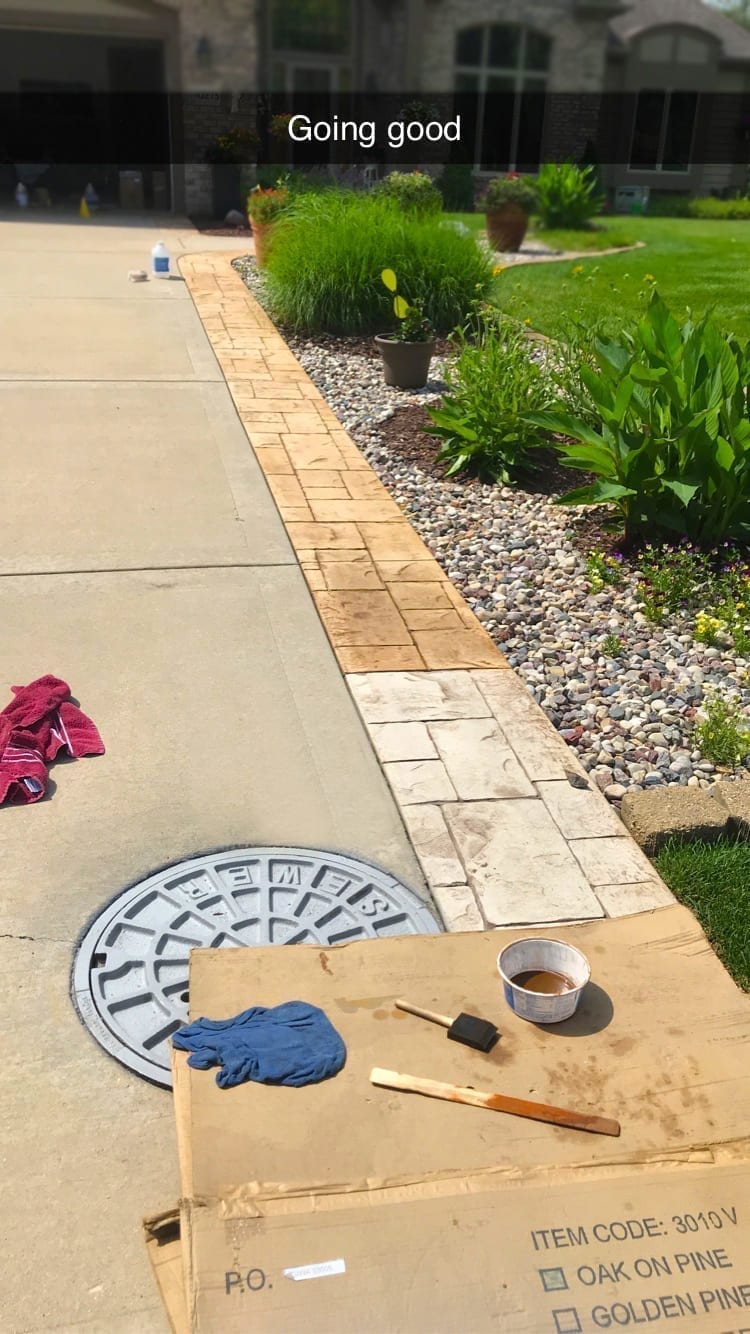 I am 70 years old, retired and a meticulous guy and I get satisfaction from accomplishing a project like this.
I am very happy and pleased with the products and final result! It's the first time I have used Direct Colors and first time I have stained concrete. I think the stamped colored borders look better and have a deeper richer looking brown color than the original concrete job.
I plan to reseal everything every 2 to 3 years. I have told several people about your company and products.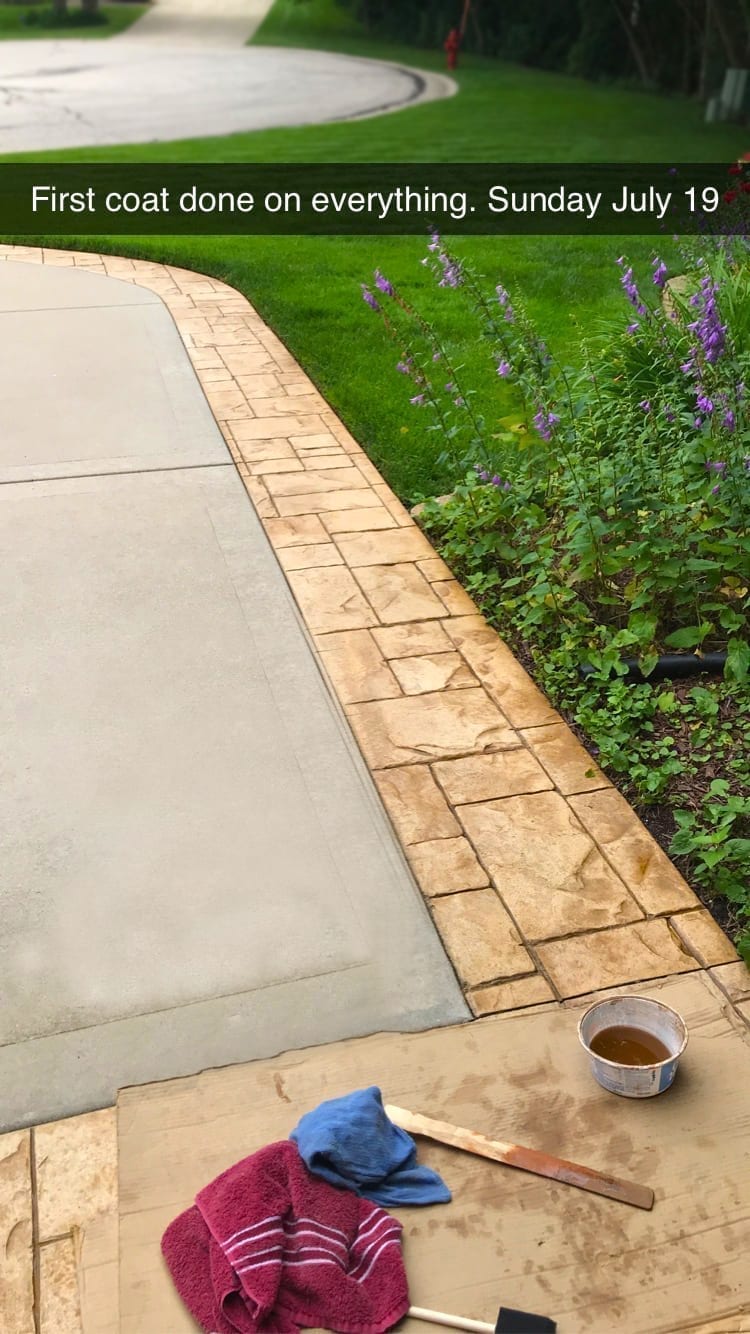 I specifically want to thank customer service reps Samantha and Justin who gave me great guidance and tips on the phone before and
during my project!!