Sealing Concrete Pool Decks
Sealing your resurfaced or freshly poured concrete pool deck with the proper sealer will provide incredible looking colored concrete that will stand up to direct weather exposure and not fade over time. 
It's easy to see why concrete pool decks and patios are a favorite among homeowners and designers around the world. With an inviting and well-maintained exterior living space, you can add big value by doubling the livable square footage of your home. 
Concrete pool decks further prove their value as all-season, low maintenance workhorses. As with any element of your home, seasonal checks help ensure proper upkeep. Yet, if a good quality sealer is properly applied, you can go years without ever worrying about maintenance. 
How Often Should I Seal My Concrete Pool Deck?
Depending on weather exposure, most professional grade concrete sealers last between 2-3 years before re-application is needed.
What Is The Best Concrete Sealer For Concrete Pool Decks?
The Solvent-Based Acrylic Sealer in Satin Finish is Direct Colors recommended choice for outdoor concrete. It works great in conjunction with concrete stain and it is a safe, non-slip choice for most outdoor concrete pool decks. For added safety, add an anti-slip additive to the top coat sealer.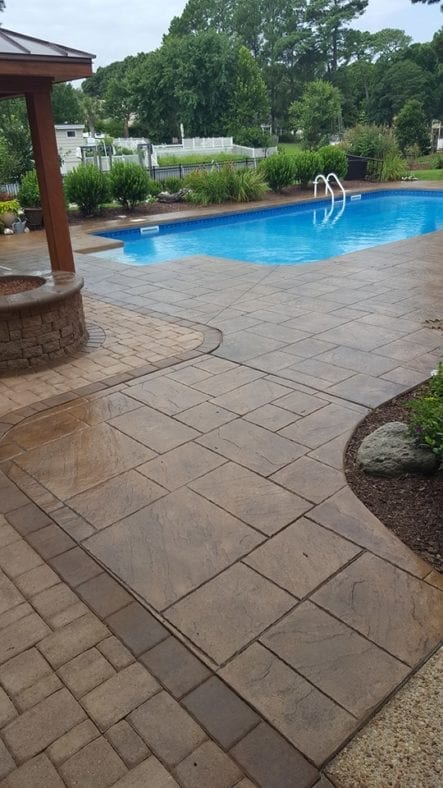 Fading concrete color is the #1 issue homeowners run into with a stamped concrete pool deck. When properly installed, even the best-looking colored concrete will fade over years of direct weather exposure if not properly maintained.
Most concrete found around the pool area is stamped or textured concrete that has been Integrally Colored, then topically Acid Stained on its surface, or sealed directly.
Over time, especially if the concrete goes without maintenance in extreme weather conditions, the sealer may begin to break down and the concrete will lose some of its topical color. However, with proper initial sealing and adequate scheduled maintenance, your integral color and topical acid stain will not fade or peel.
To establish the condition of your concrete pool deck or patio, simply pour a large glass of water on it. This is the first step a professional concrete designer will take in order to evaluate the state of the concrete sealer.
In effect, if the concrete color looks good wet, your issue is only at the surface level and may be remedied with an easy application of High Quality Concrete Sealer. 
Keep in mind that it is important to know what kind of sealer was originally used if possible. To avoid an undesirable chemical reaction, solvent based sealers should be resealed using a solvent based sealer, and the same goes for water-based sealers.
If your concrete was sealed with polyurethane, the entire surface must be scuffed or abraded before another coat of polyurethane can be applied. If you attempt to re-coat without sanding first, the new sealer will peel right off the concrete. No fun!
WHAT IS THE EASIEST WAY TO STAIN A STAMPED CONCRETE POOL DECK
The easiest way to renew outdoor concrete color is using Direct Colors Antiquing Stain.
 The color flows into low parts of the stamp impression and adds natural looking highlights that produce popular results among our users. Antiquing Stain is easy to maintain and also works fabulously on smooth or broomed concrete, resulting in a rich, solid color appearance.
Our Antiquing Stain is always sprayed from a Pump Sprayer. The key to success with this product is to shake it well before pouring from the container, and continue to shake it periodically during application, thus ensuring the product remains in solution at all times. The application hereafter is very straight forward. Spray even coats that saturate the concrete until the desired color is achieved.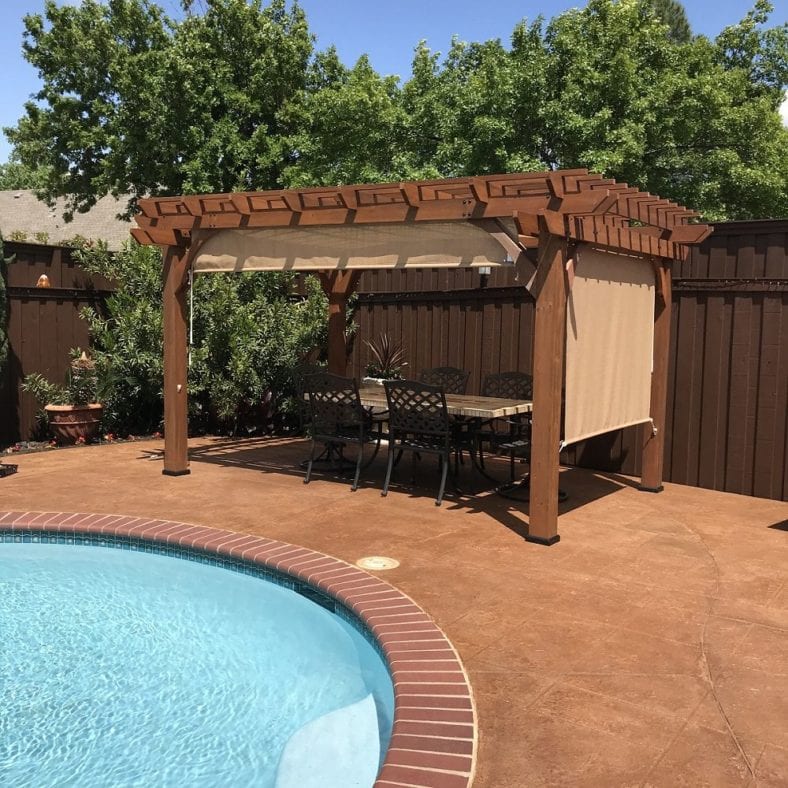 HOW LONG DOES CONCRETE COLOR LAST?
Maintenance will determine the longevity of your concrete pool deck's color. From Direct Colors perspective, we want to make this step as easy as possible for homeowners, which is why we formulate our fast-acting and easy to use, Colored Antiquing Stain. Once the concrete is clean and dry, you simply spray down the product and allow 6-8 hours of dry time before sealing. There's no additional cleaning or rinsing in between.
With homeownership, it's rare to get something completed so quickly—using Antiquing Stain ends up being more like basic yard maintenance than concrete work. We love all the color options too.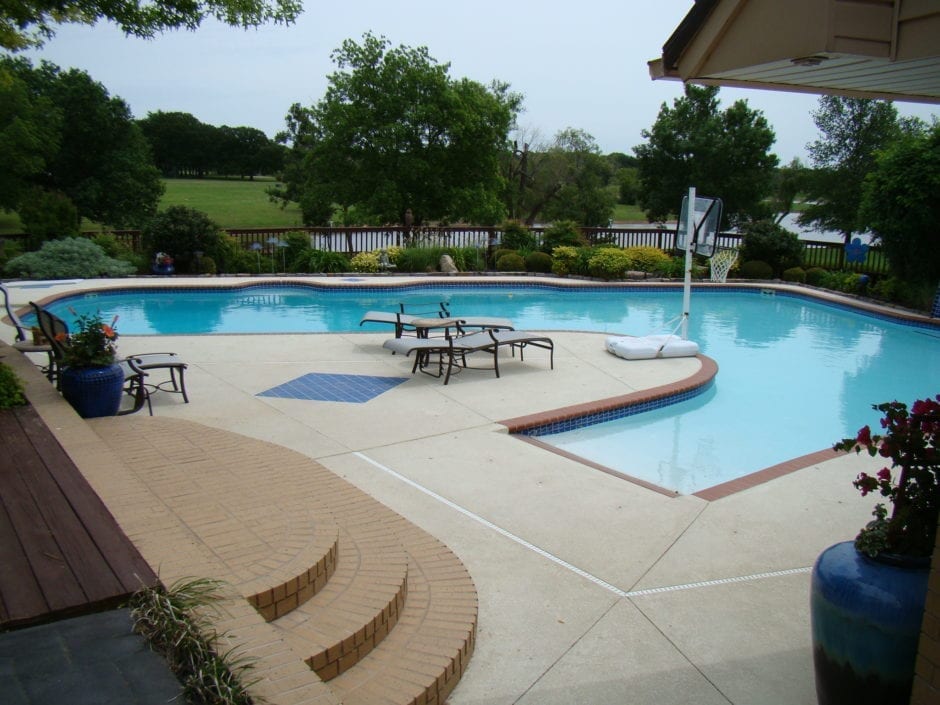 WHAT HAPPENS IF I DON'T SEAL STAMPED CONCRETE?
If you do not seal stamped concrete, your concrete color will fade over time and the color will need to be refreshed. Doing so will likely be more expensive than the cost of sealing.
Sometimes we meet folks who never liked their concrete color in the first place, and seem to let their concrete fall into disrepair as a result.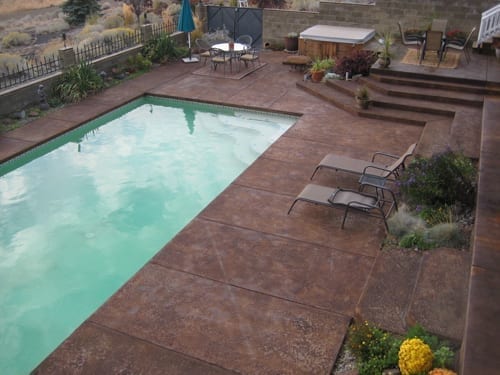 ARE THERE ANY EXCEPTIONS TO APPLYING ANTIQUING STAIN?
Yes, concrete stamped and accented with powdered release at the time of installation can sometimes become a problem a few years down the line, especially if left unsealed for a while. The powdered release, usually darker than the concrete itself, flakes away leaving an unsightly speckled pattern behind. Unfortunately, repairing the damage using an antique stain is sometimes only a temporary fix and the problem often continues.
So what can be done? First, power wash the concrete to remove as much of the loose colorant as possible. Sand those areas where significant color loss has occurred to prevent more damage and apply the Antiquing Stain to the dry, clean concrete. Properly preparing the concrete prior to application and sealing with a high quality concrete sealer will reduce the chance of future damage.
Good Luck!