Revamping Porous Driveways: A Pro's Guide to Creating Modern Concrete Surfaces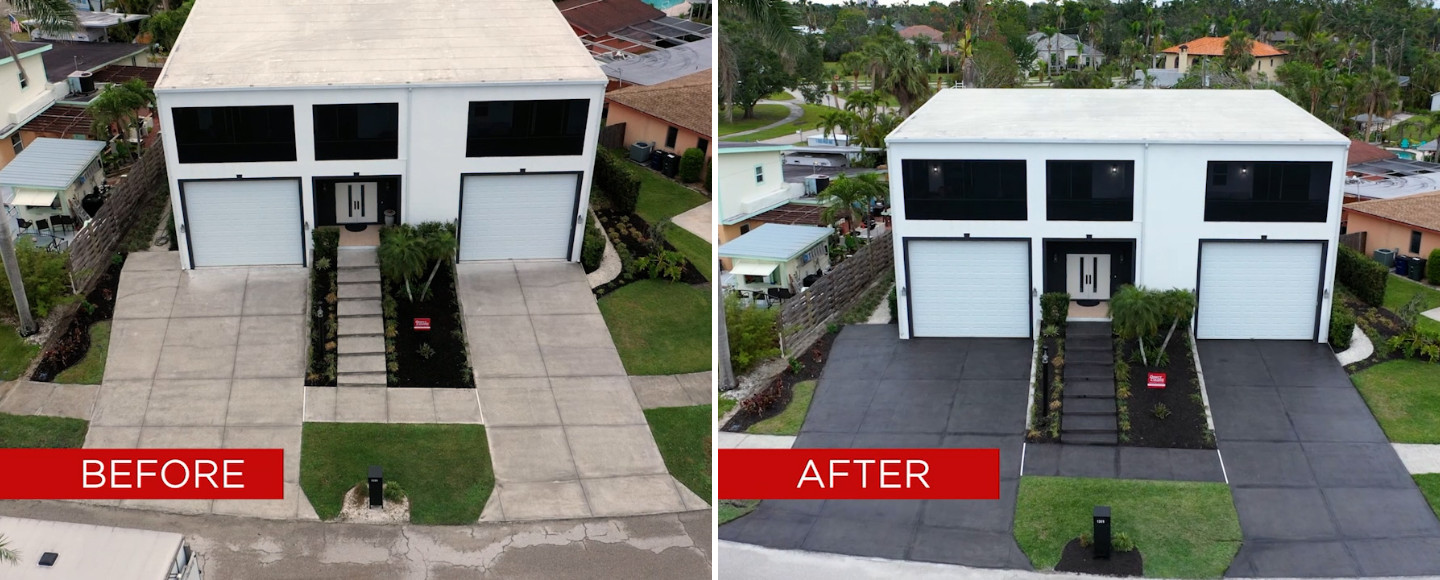 As a professional contractor, you know that transforming a rough, porous concrete driveway into a sleek, modern surface can elevate the curb appeal of any property. In this blog, we'll detail the step-by-step process used by Concrete Solutions & Innovations to achieve a stunning transformation using ColorWave water-based concrete stain in Steel Gray color.
Step 1: Fill in cracks
To conceal and repair any cracks in the driveway, the contractor filled them with
Patch RX™
concrete patching compound, using bucks on either side to ensure a clean, even fill. This would later be hidden when the surface was ground to create a seamless appearance.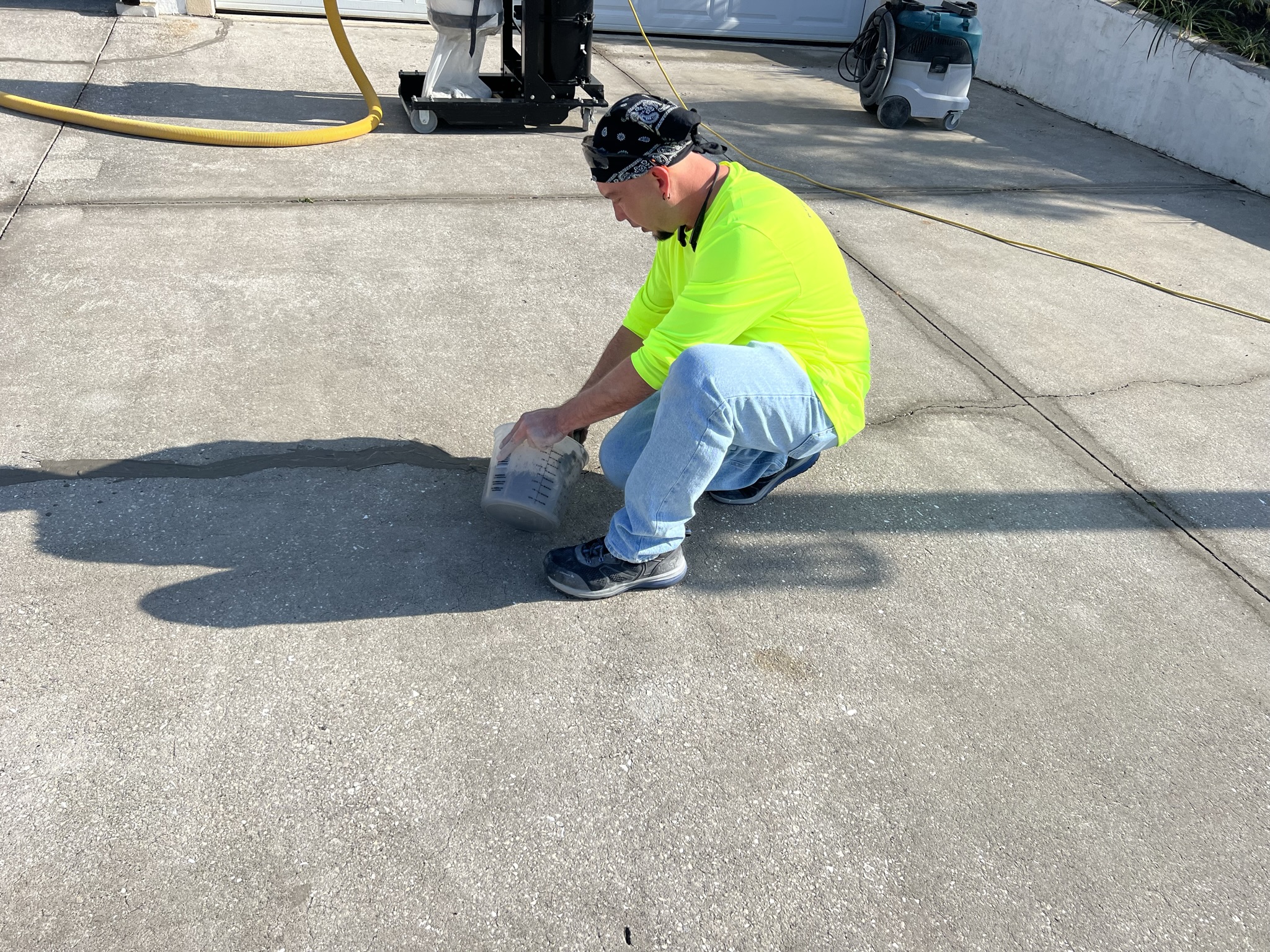 Tyler from CSI diligently patching concrete cracks to ensure a smooth, durable driveway surface
Step 2: Smooth out the surface
Using a professional-grade grinder with an 80-grit attachment, the contractor smoothed out the concrete surface to create a uniform appearance. This step is crucial to achieve a sleek, modern look for the driveway. Remember, it's essential to wear eye and hearing protection during this process to ensure your safety while operating the grinder.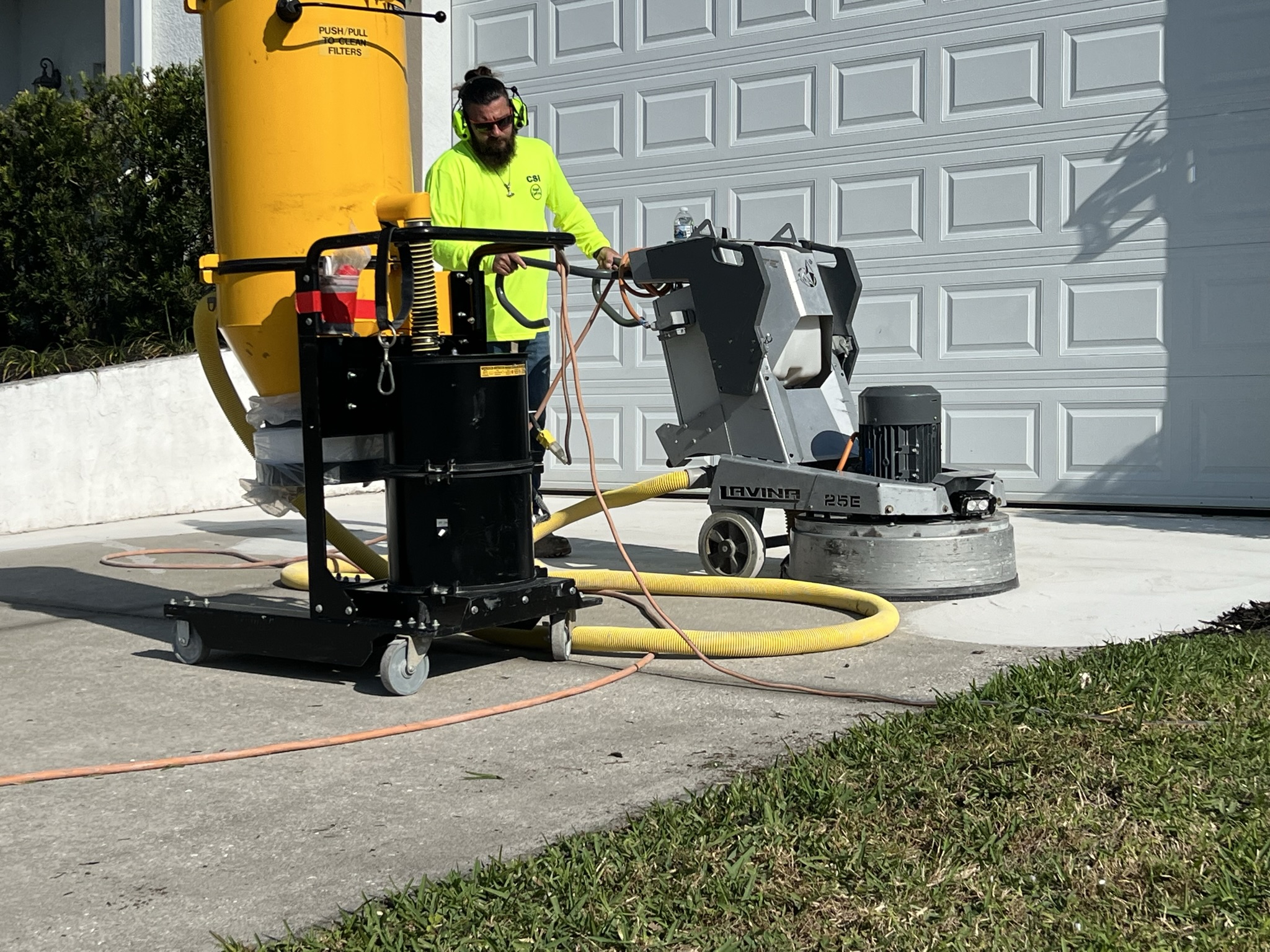 Contractor wearing protective gear expertly uses a grinder to smooth out the concrete driveway surface for a flawless finish
Step 3: Power wash and dry
After grinding the surface, the contractor power washed the driveway to remove any debris and allowed it to dry completely. This is essential for the stain to adhere properly and achieve a long-lasting finish.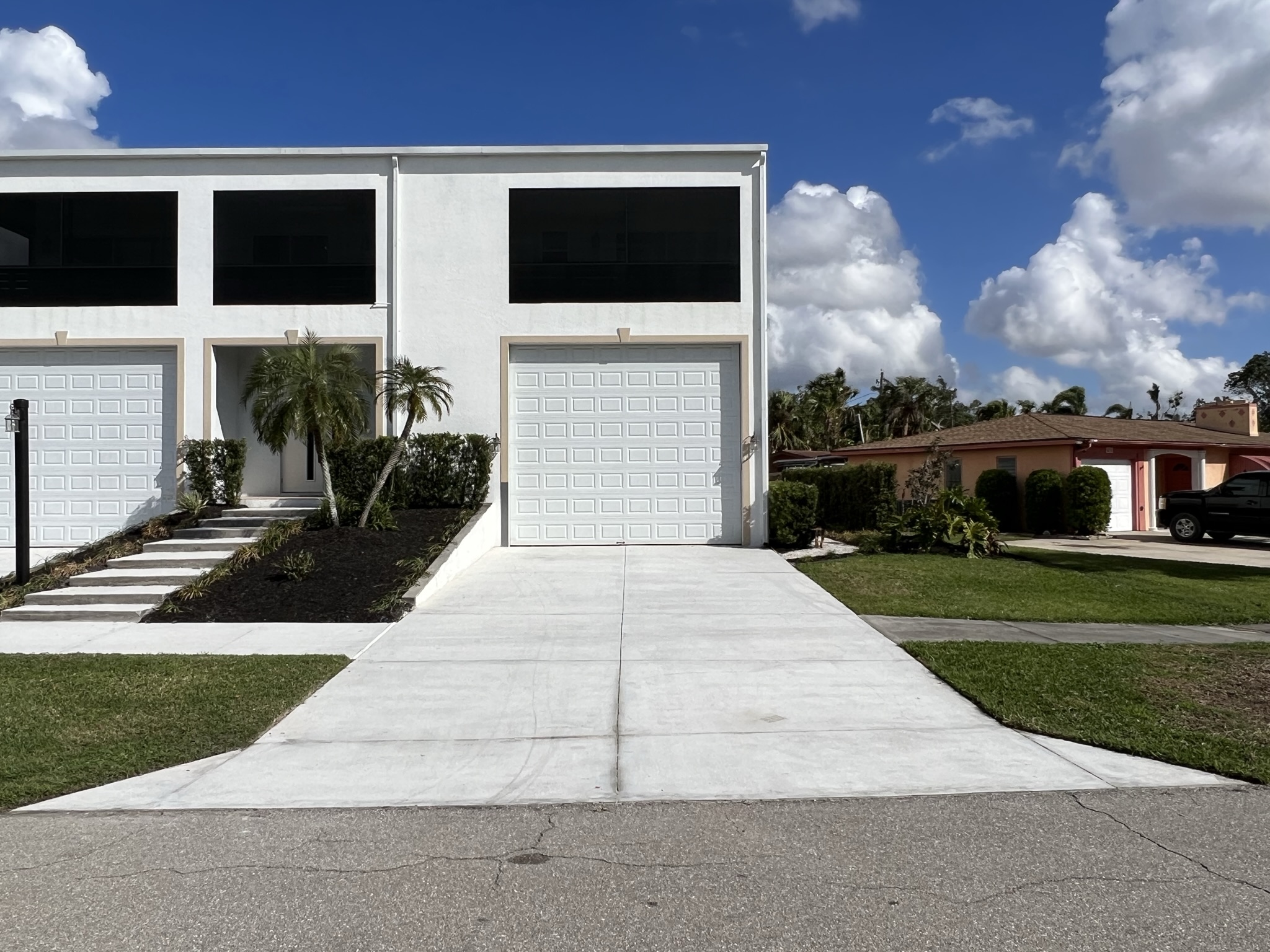 Post-grinding perfection: A smooth and even concrete driveway surface, ready for the transformative Steel Gray ColorWave stain application
Step 4: Apply ColorWave Steel Gray Stain
Once the surface was clean and dry, the contractor shook the ColorWave stain and poured it into a the sprayer tank.
Tyler, the contractor
, prefers using a sprayer to apply the ColorWave stain, as it allows for a consistent, even application.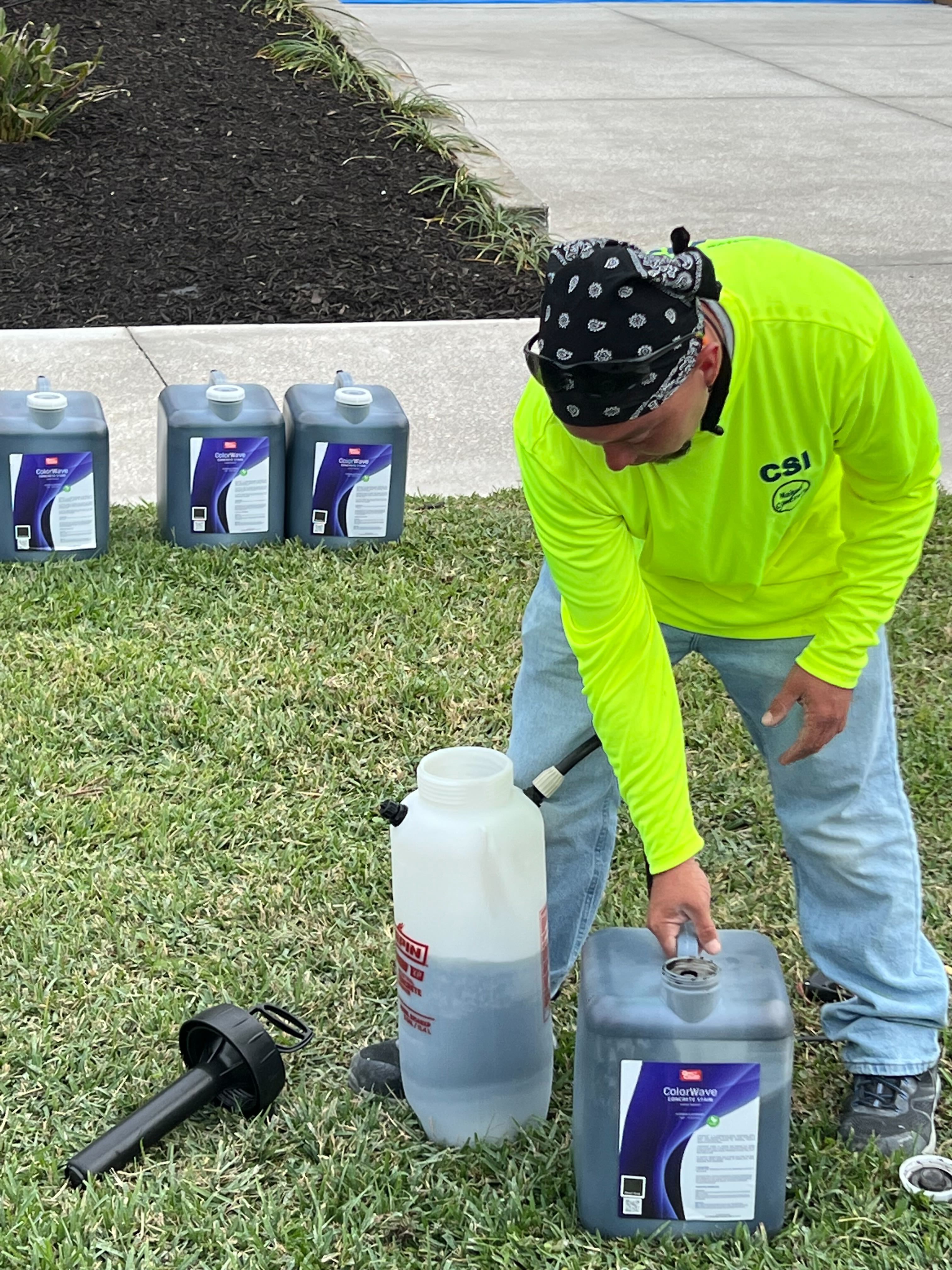 Tyler, the expert contractor, confidently preparing the ColorWave stain in the sprayer for a flawless application on the concrete driveway
Tip:

To achieve a uniform color intensity, use a figure-8 pattern while applying the stain, allowing the overspray to blend seamlessly between layers. Apply two thin layers of stain for the desired color depth and even coverage.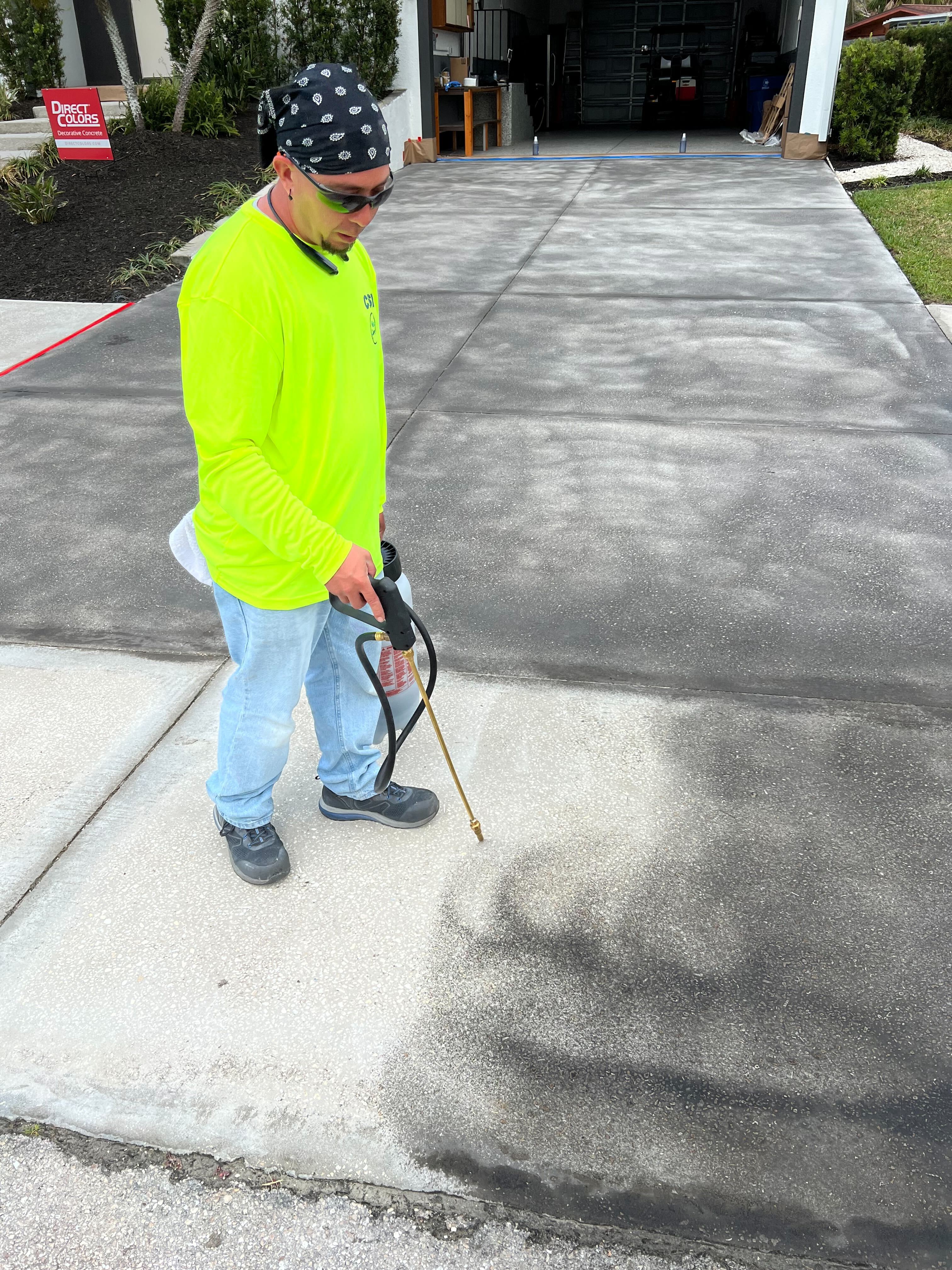 Applying ColorWave stain using a figure-8 pattern for seamless overlap and even color intensity on the driveway
Step 5: Seal the surface
To protect the newly stained surface and ensure its longevity, the contractor applied two coats of sealer. This final step not only safeguards the driveway from the elements but also gives it a polished, modern appearance.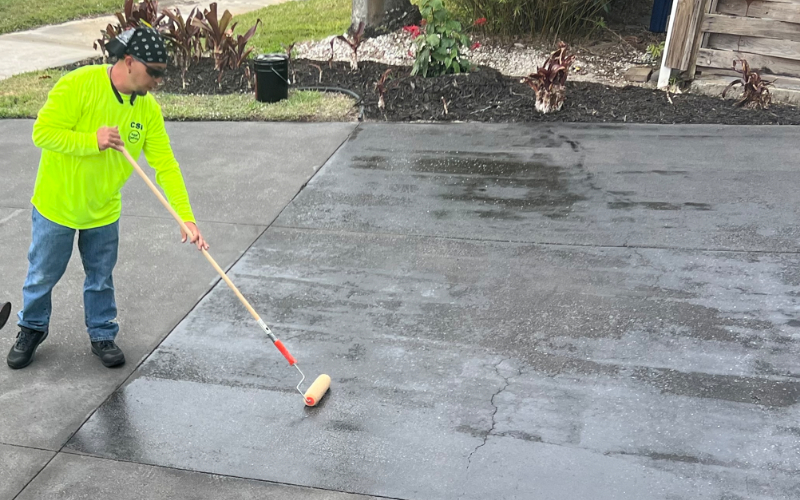 Contractor applying first coat of EasySeal satin with a roller over the Steel Gray ColorWave, ensuring a durable and protective finish for the modern concrete driveway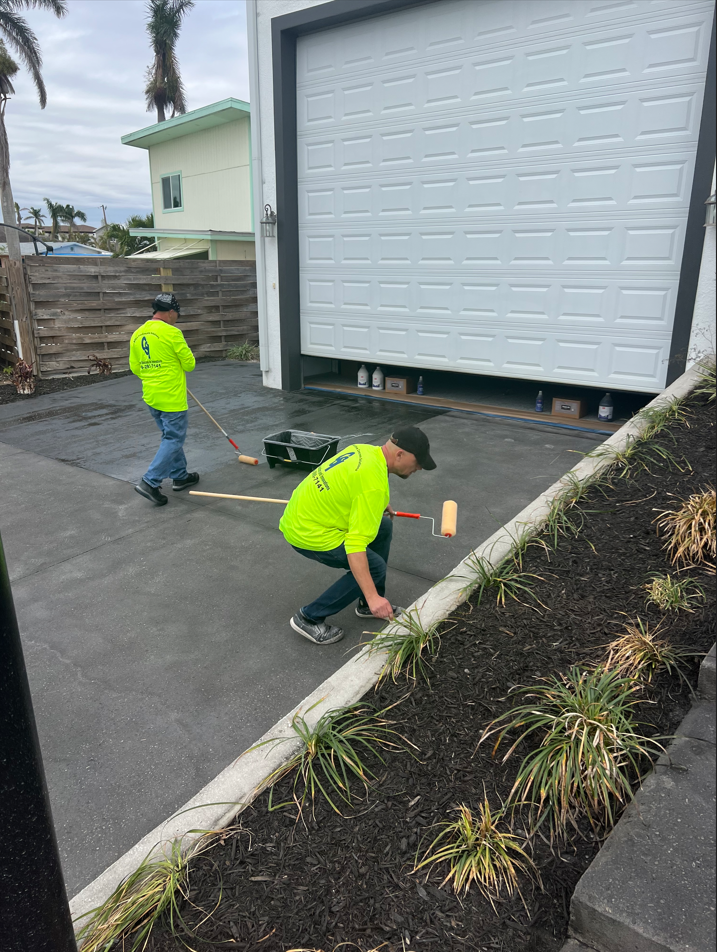 Contractors meticulously applying the second coat of EasySeal satin with a roller, enhancing the durability and protection of the Steel Gray ColorWave on the concrete driveway
By following these steps and using ColorWave water-based concrete stain, professional contractors like you can transform even the roughest, most porous concrete driveways into modern, eye-catching surfaces that boost curb appeal and property value.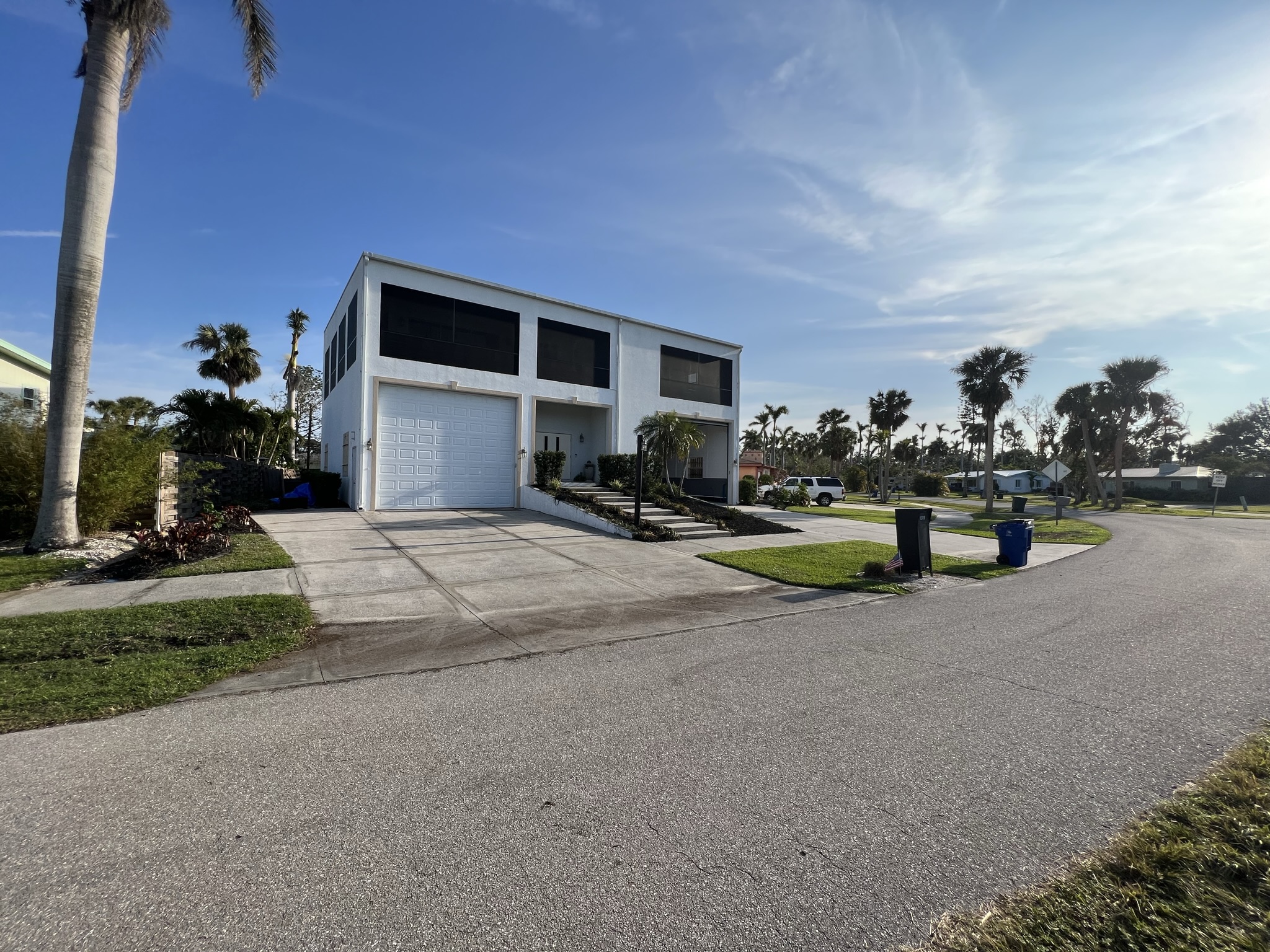 Unfinished concrete driveway awaiting transformation with Steel Gray ColorWave stain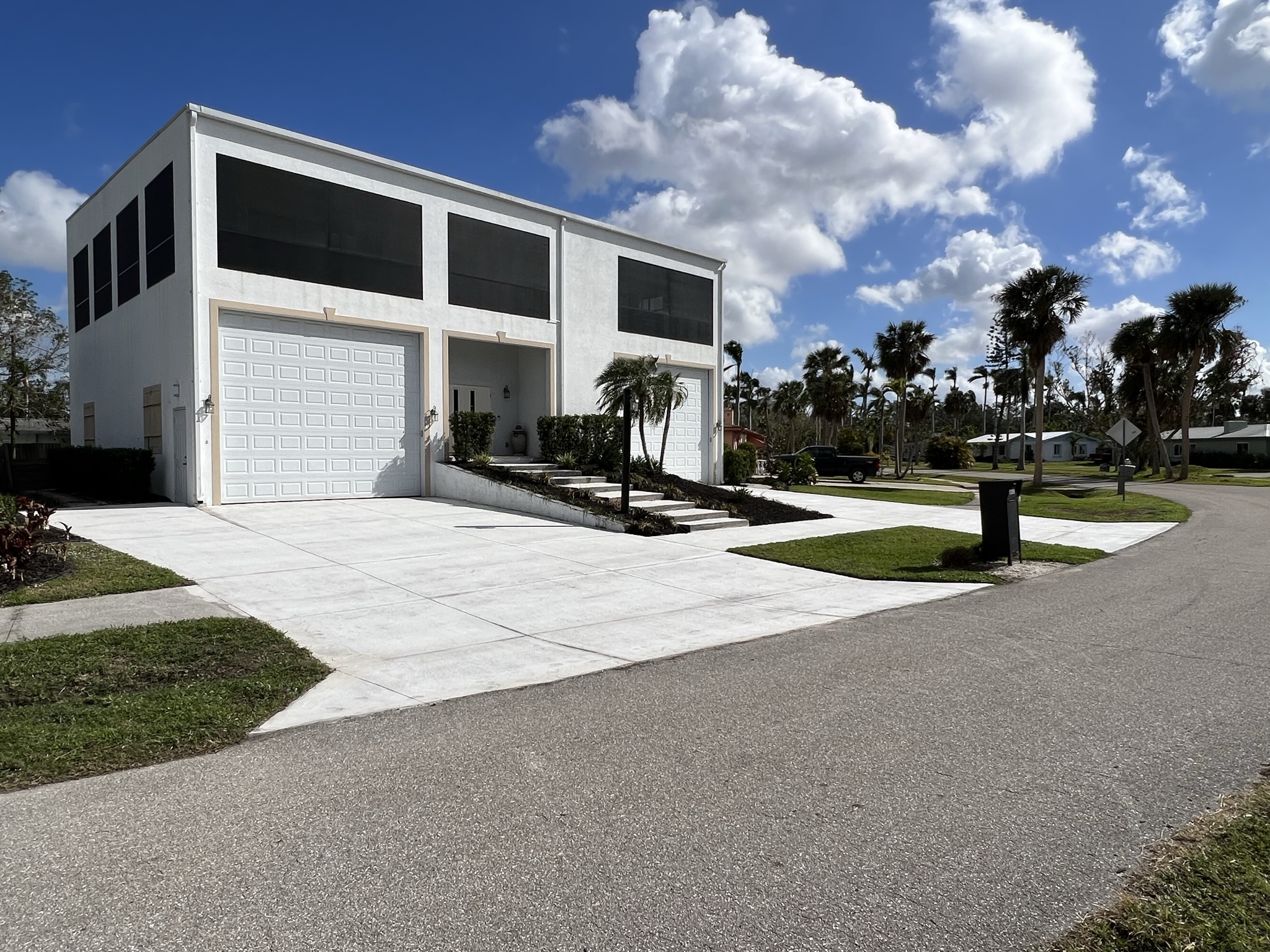 Post-patching and grinding: Concrete Solutions & Innovations readies the driveway for a modern transformation with a smooth, even surface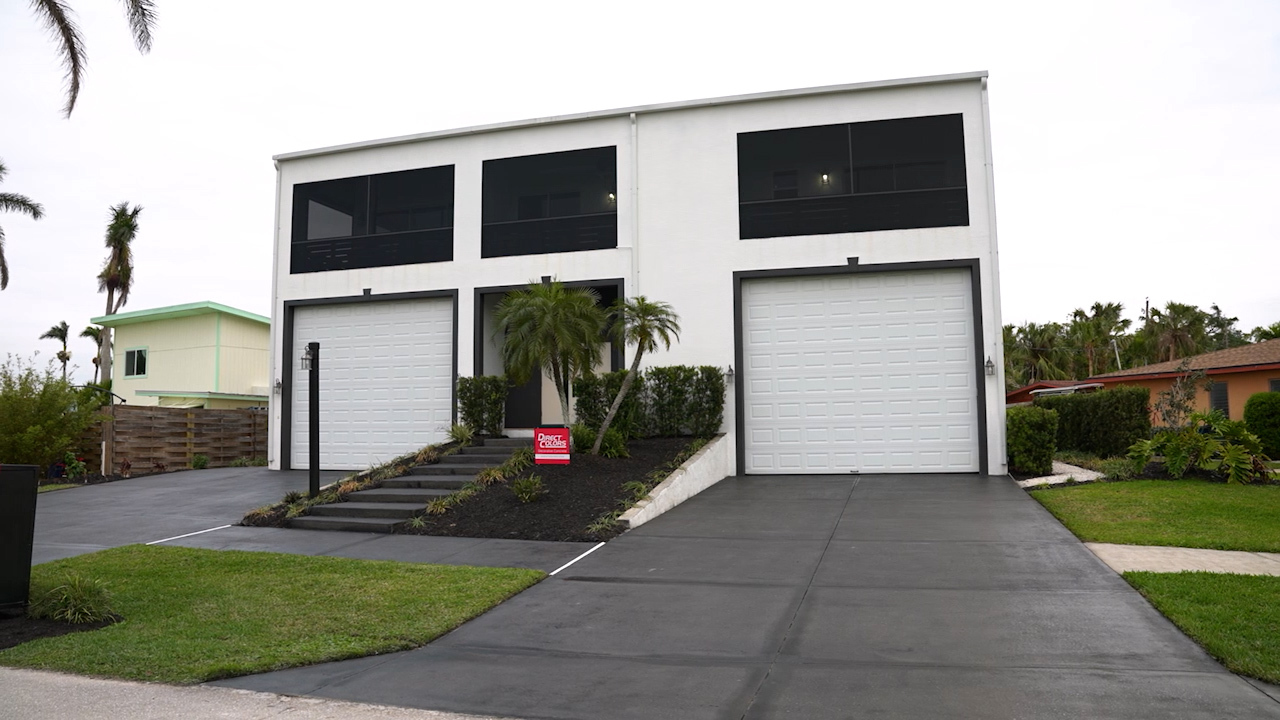 Concrete Solutions & Innovations' masterpiece: The finished modern concrete driveway with ColorWave Steel Gray stain, a testament to their exceptional craftsmanship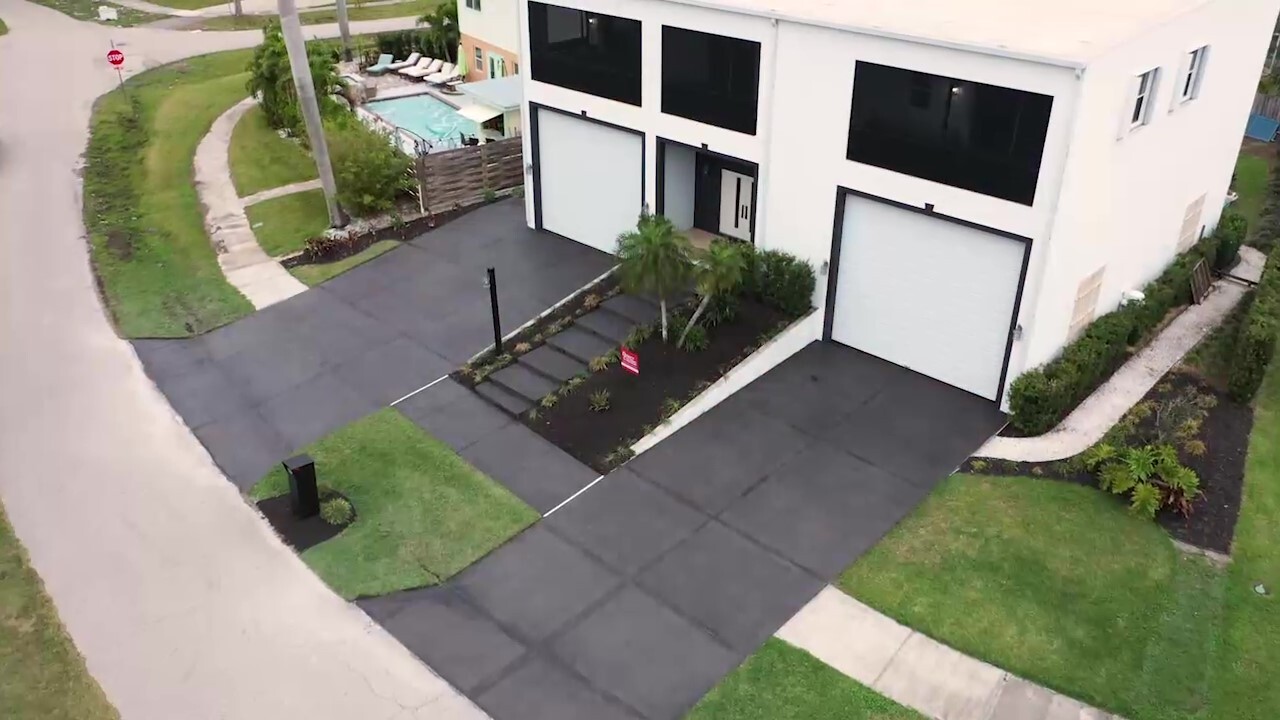 Aerial view excellence: Concrete Solutions & Innovations' striking modern concrete driveway, featuring ColorWave Steel Gray stain, enhances curb appeal from every angle
In our curb appeal makeover contest winner project, we'd like to extend our immense gratitude to Concrete Solutions and Innovations for their exceptional work and generous contribution. Serving the Bonita, Florida area, you can reach them at 239-293-7141 or email [email protected] for all your concrete needs.
Featured Products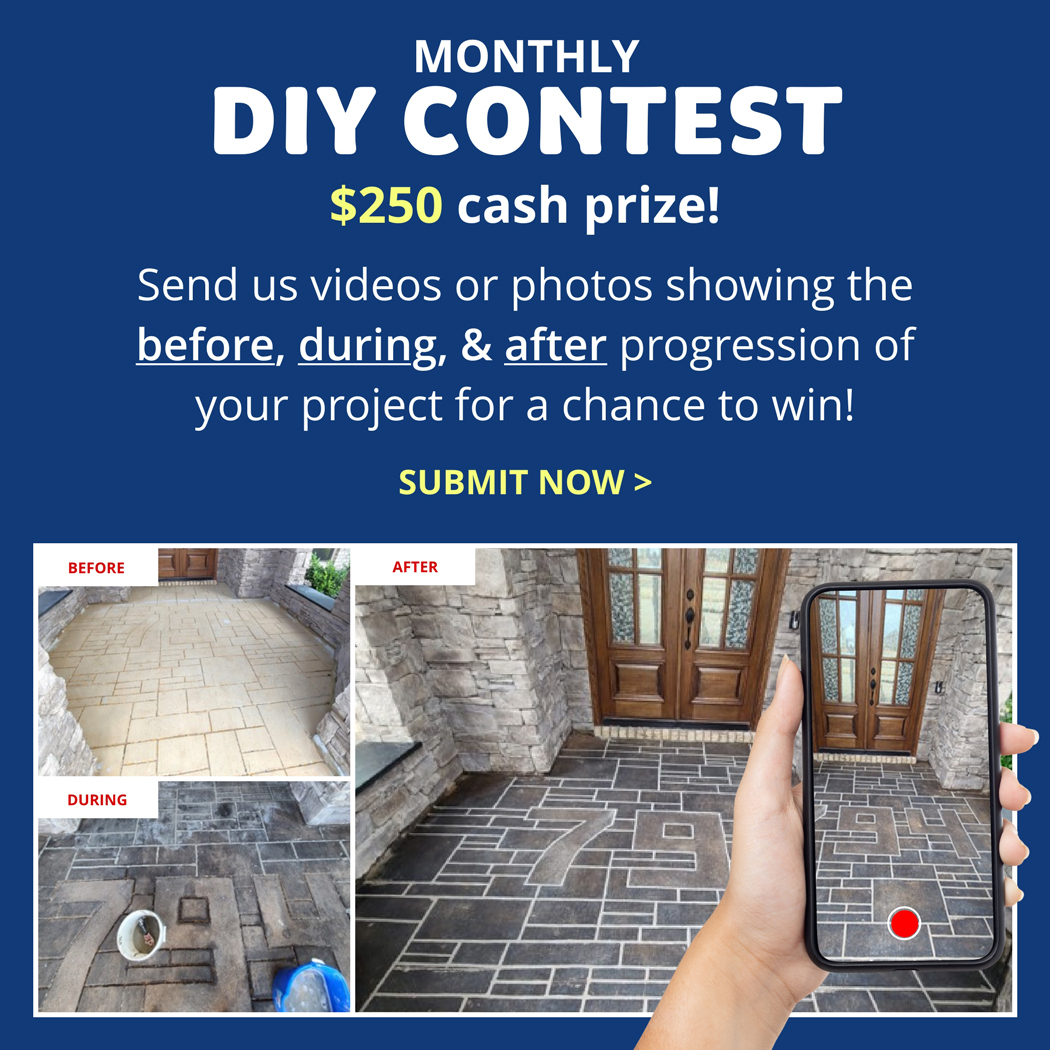 Monthly DIY Contest
Join our contest to win $250 and gift cards! Send pictures and videos of your project from start to finish. You can send as many as you want. If you send good ones (no writing or watermarks), you'll get a $50 gift card! Sharing your project story and tips is nice too. You just need a concrete project, Direct Colors stuff, and a phone!
Learn More