Stained Concrete Porch Ideas
Think of your front porch as the face of your home. Improve your curb appeal or simply update your house with a quick concrete makeover!
Our brilliant DIYers spruced up the front of their homes with the help of acid stain, Antiquing Stain™, and more.  We hope you can soak up this inspiration to perform your very own concrete porch facelift!
This DC customer dressed up their back patio and concrete front porch with acid stain. Since the home was a new construction less than two years old, they made it a point to seal their concrete afterward. Amazing things can happen when you trust the DIY process!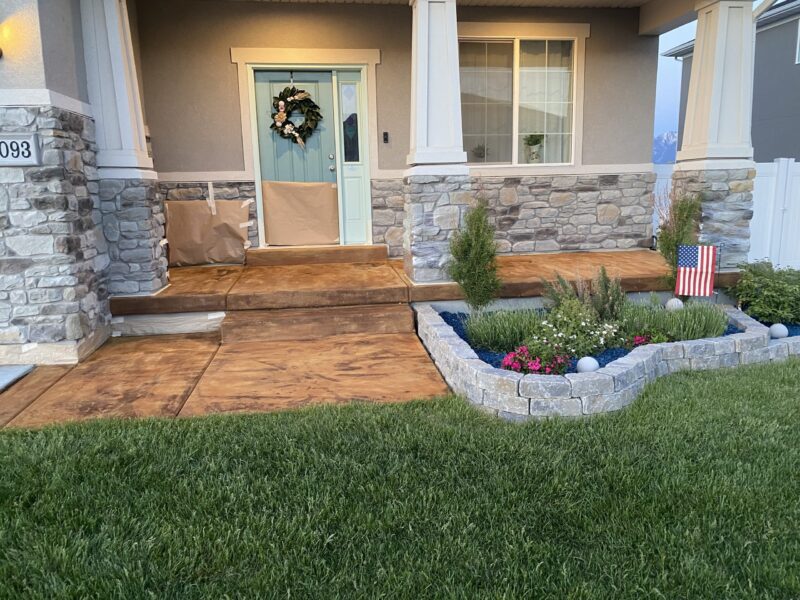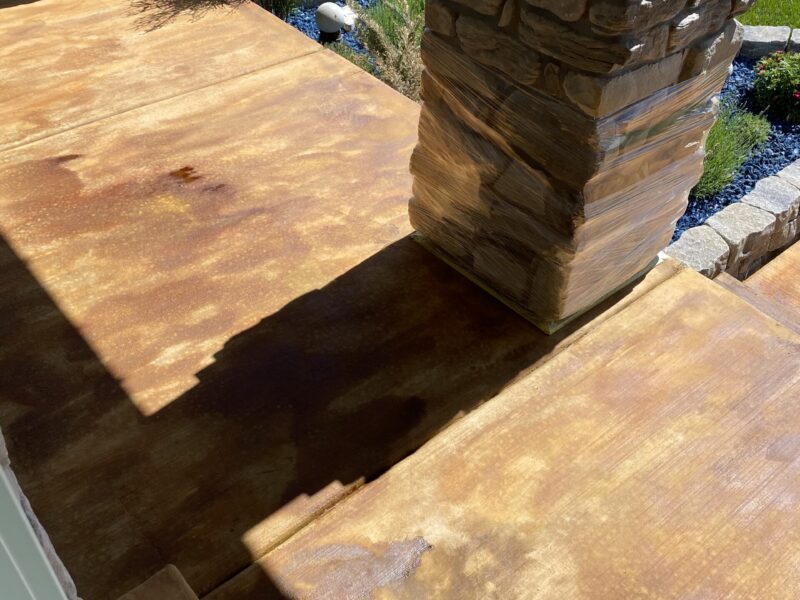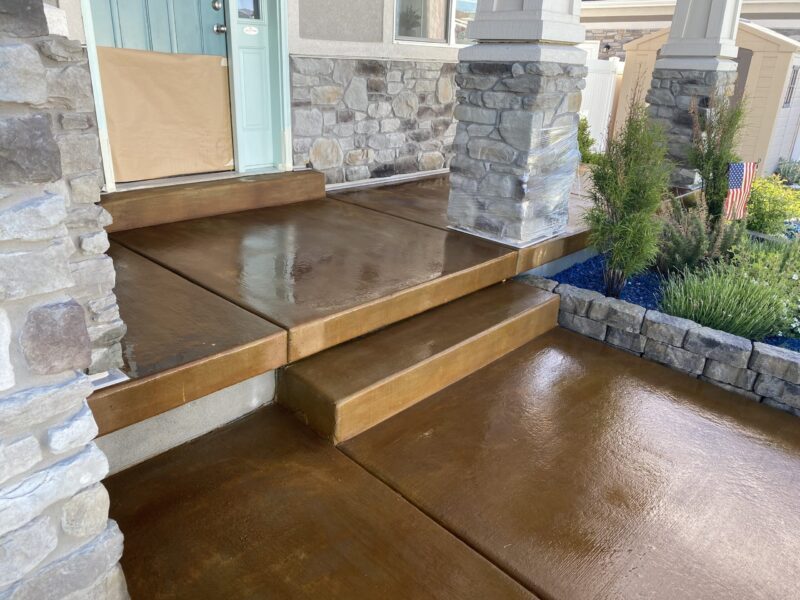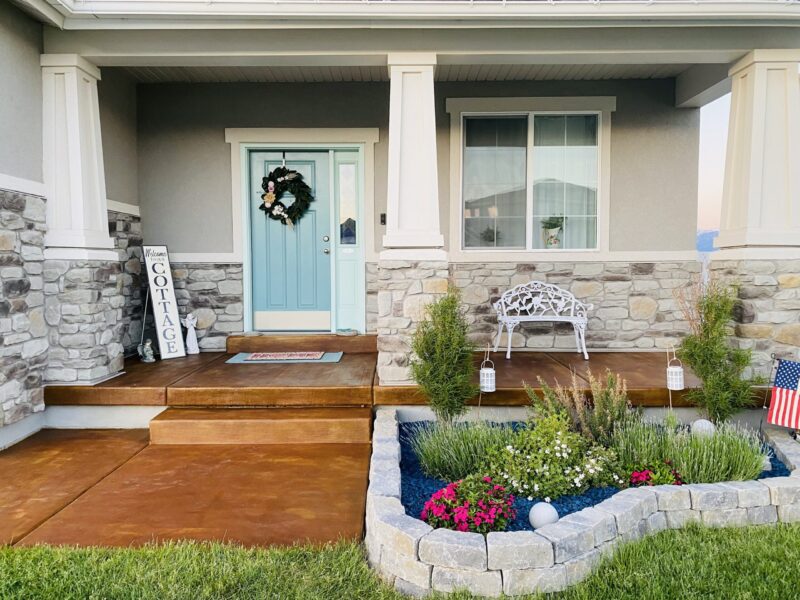 Project Info:
Project Completed In: 3 day(s)
Estimate of Square Footage: 300 sq. ft.
Project Description:
We stained our back patio plus front porch in one project. Our house was a new construction built less than 2 years ago and concrete was not sealed. Concrete blankets were used during curing process which left some marks on concrete that we didn't like but they took stain nicely.
Personal Tips:
Make sure you use sprayer with plastic nozzle, acid reacts with metal.
Cover rocks in your landscape as they may have lime in them and can get stained.
Plastic will not stain but wipe it off right away so it is easier to clean up.
Have a bucket close to you sprayer so you can put a nozzle in it as those things tend yo drip or spray after you stopped the trigger.
Trust the process, concrete will look dull and patchy until washing step.
You can still scrub some finish with the broom and baking soda water at that point.
Then let it dry f or a day before sealing.
Direct Colors Products Used:
Malayan buff and Azure, wet on wet on the patio. Then Cola wet on dry, slightly diluted with water and 'broomed' over.
Porch was done with Malayan buff and then diluted Cola, wet on dry, Cola was also spread out with a broom for a mottled look. Both neutralized after about 22 hours, washed and left to dry for a day before sealer.
Other Products Used:
Foundation Armor ax25 pool deck and patio sealer (high gloss, with wet look).
Creative Address Approach
We love the creativity of this DIY permanent address! Several colors of acid stain were used to makeover this picturesque concrete porch.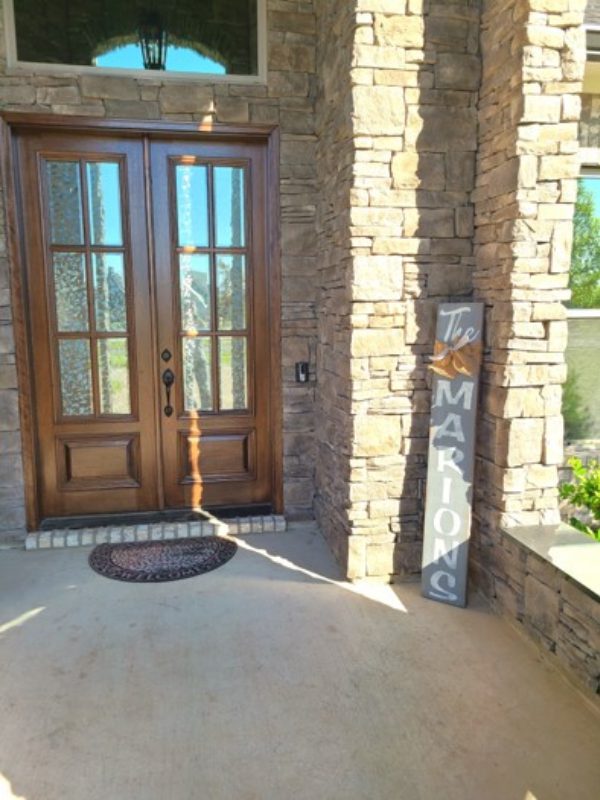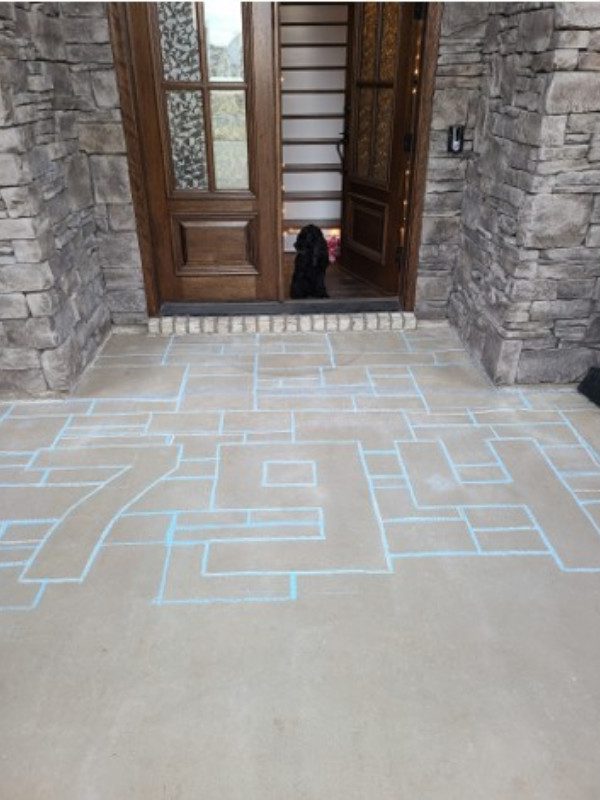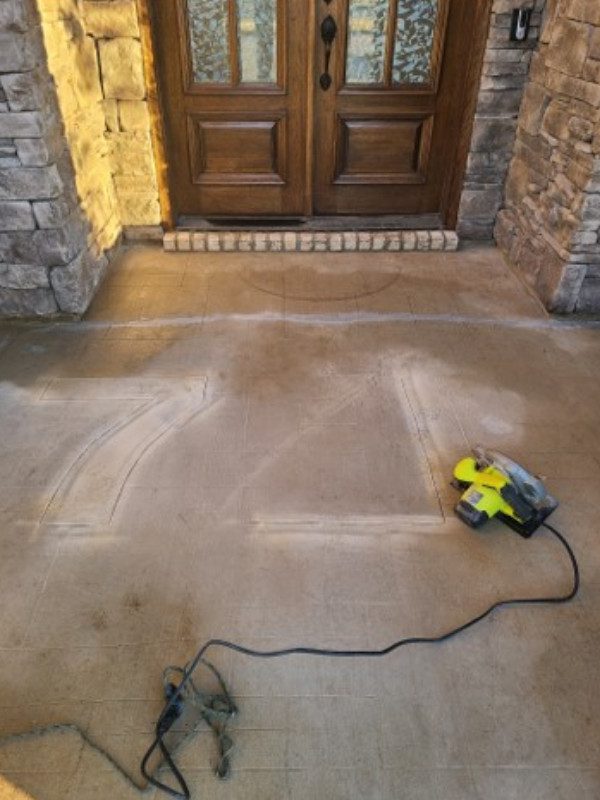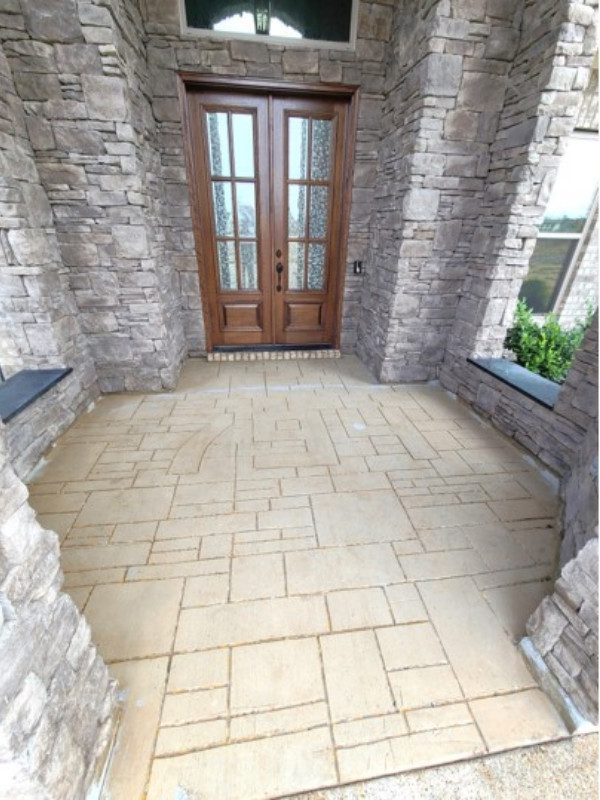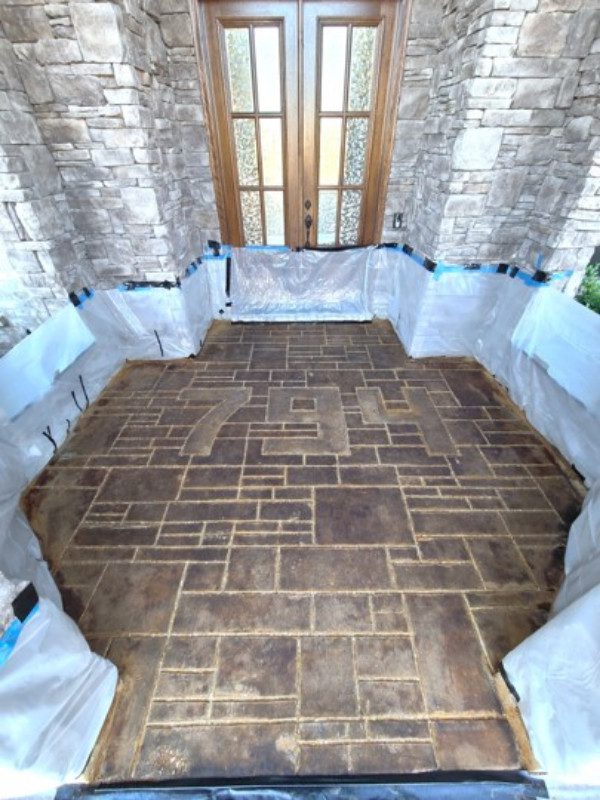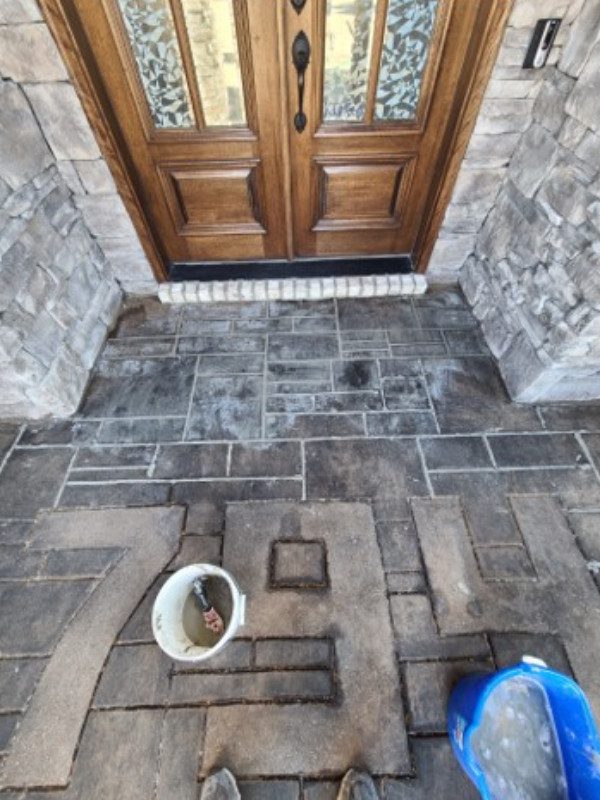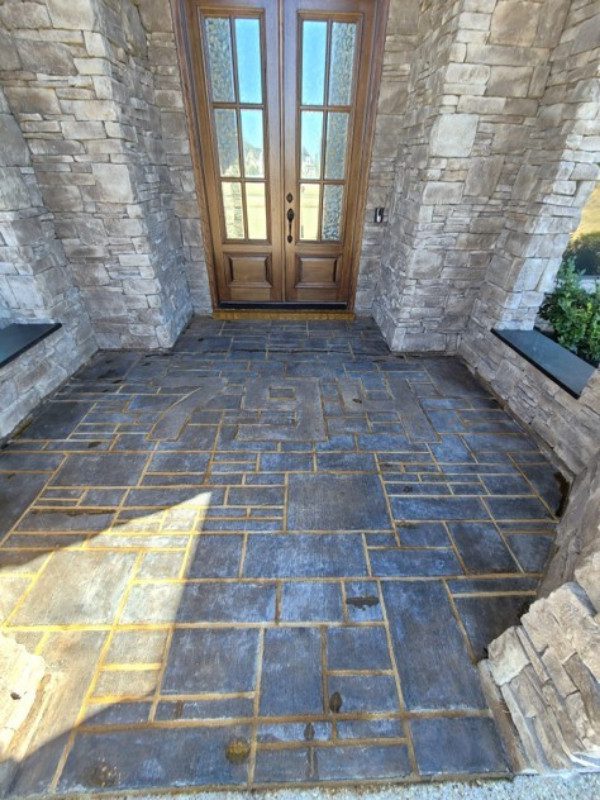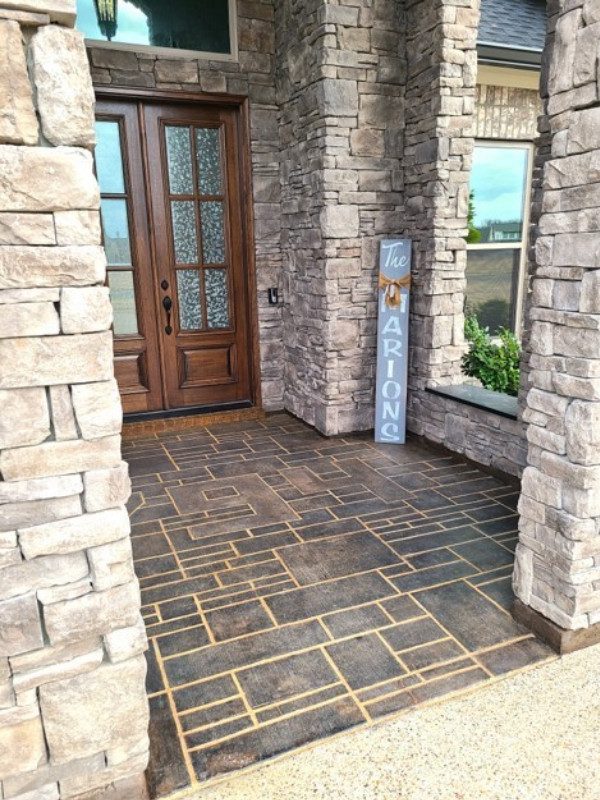 Making a House Look Like a Home
You can give the front of your home a cohesive look with concrete stain! The concrete front porch, steps, and accompanying front border were all tied together by cola concrete stain. What a warm, homey look!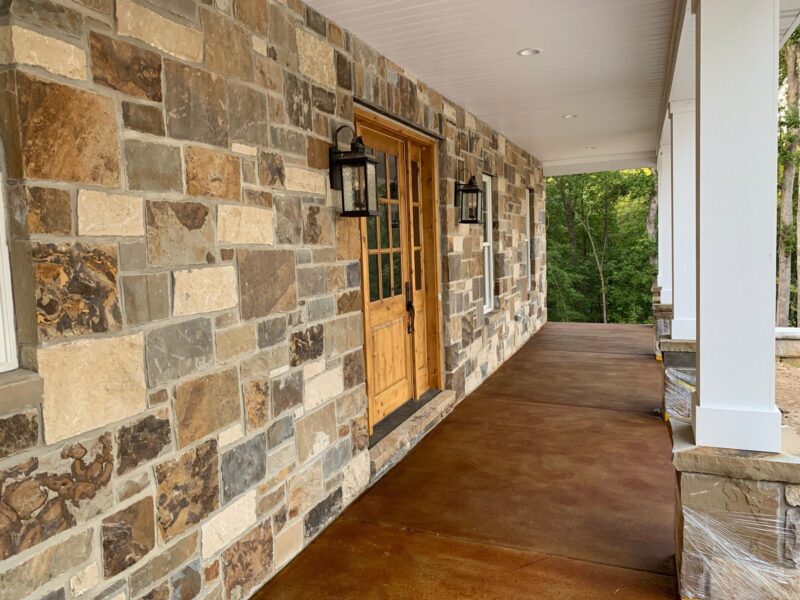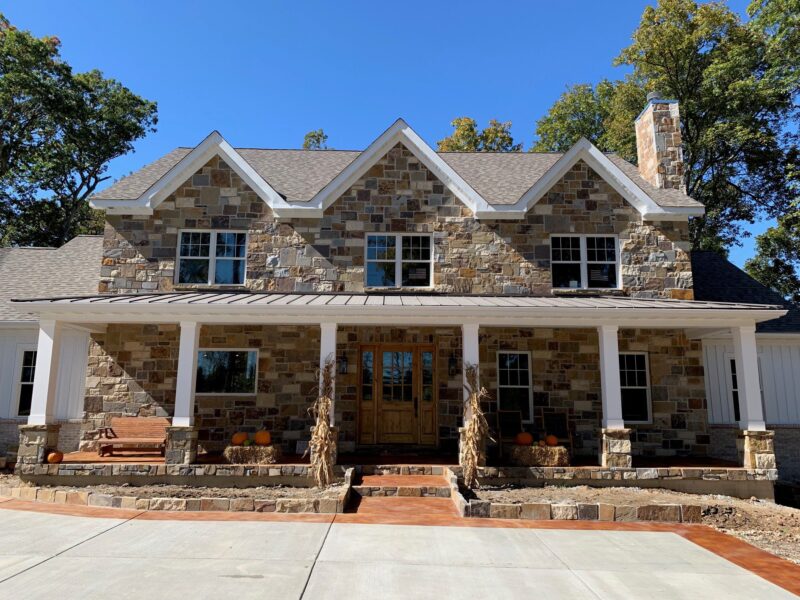 No need to do something drastic to your front porch. As you can see here, even subtle, neutral colors such as beige concrete stain can make a big impact!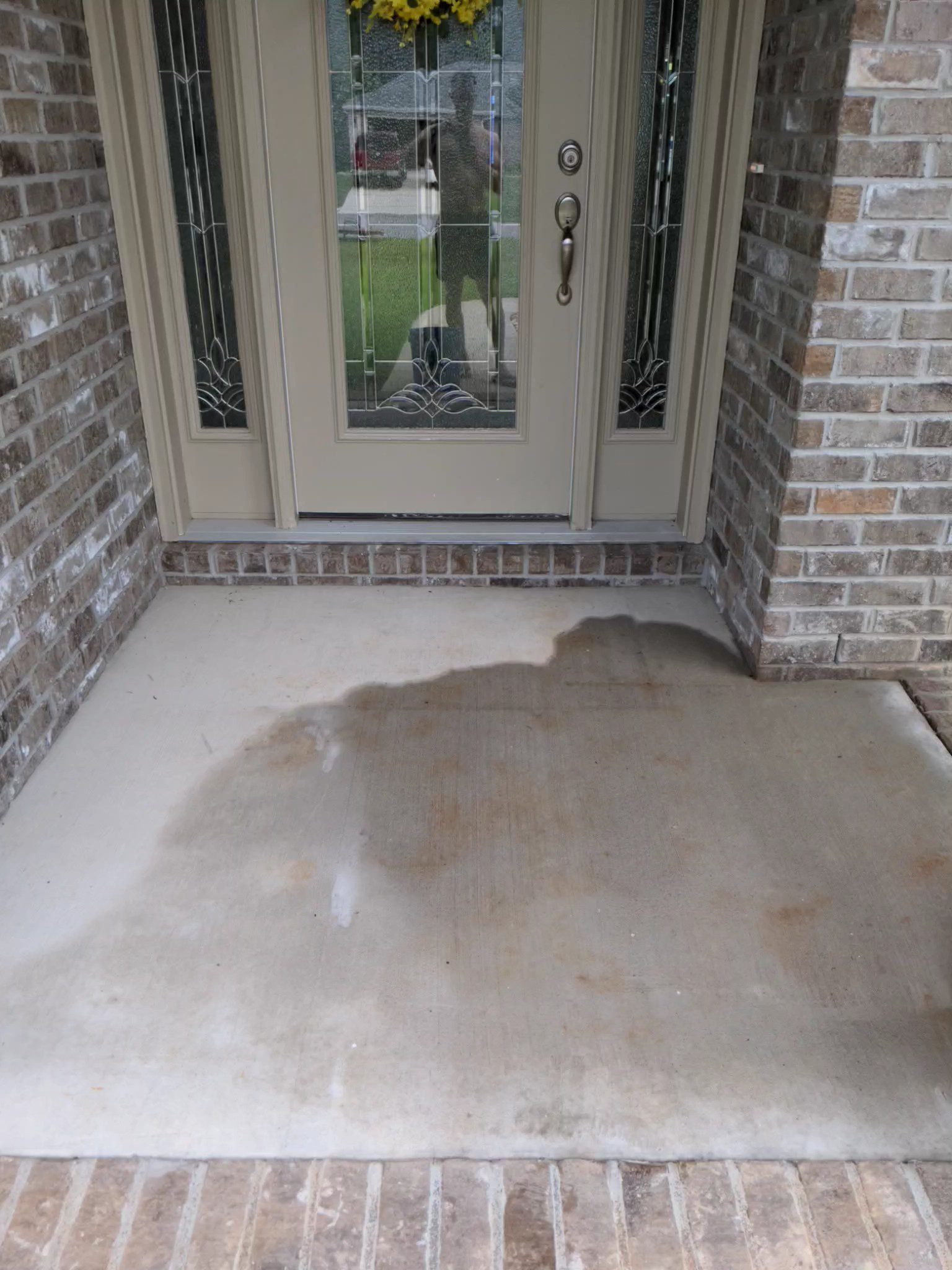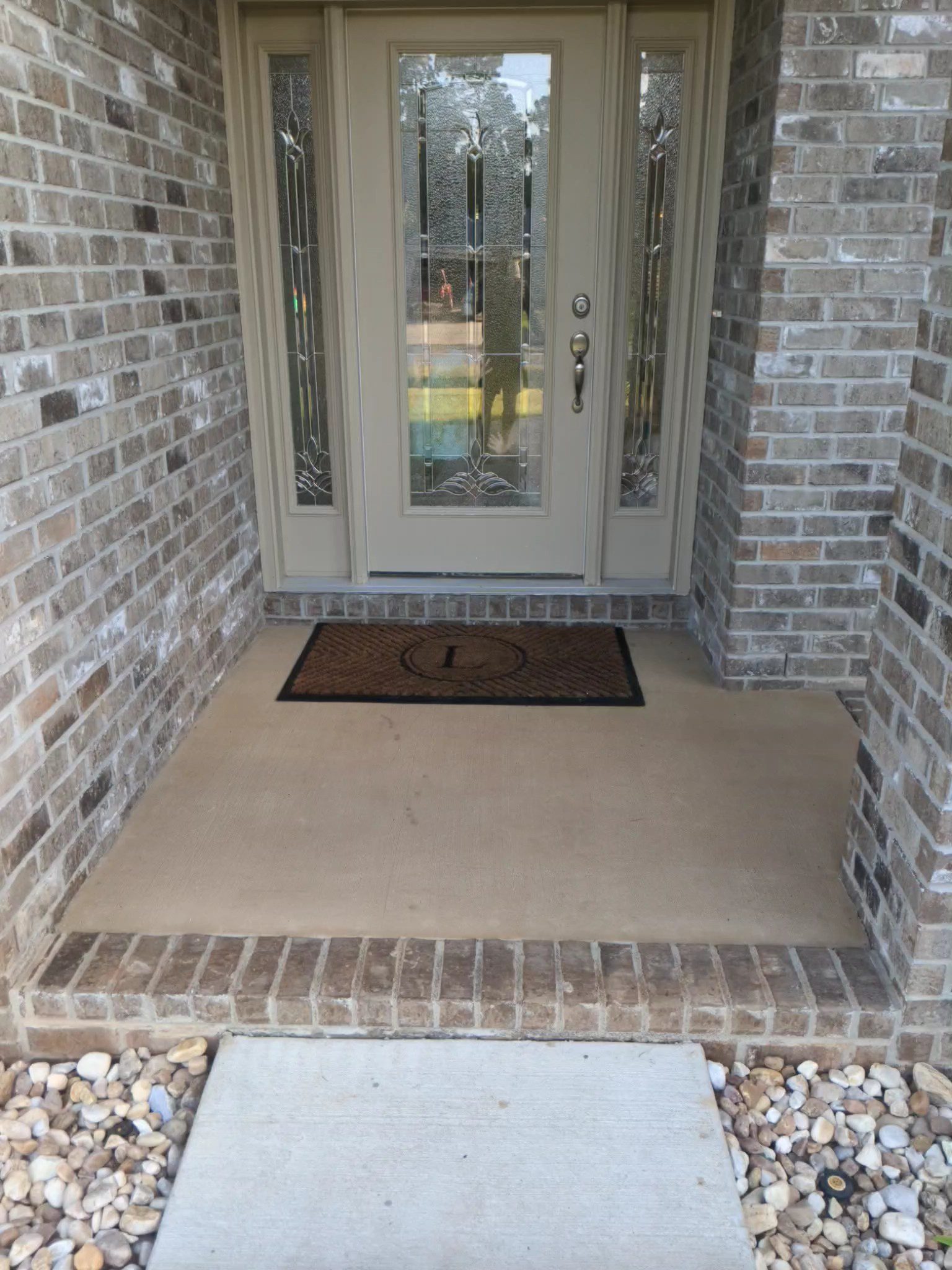 Project Info:
Project Completed In: 3 day(s)
Estimate of Square Footage: 550 sq. ft.
Project Description:
Sealed with colored sealer our lanai at the back of the house and a slab we had poured that connected to the lanai and our front porch. All with two coats of the Khaki easy coat tinted sealer and a third/top coat of clear easy coat sealer on top.
Personal Tips:
If using a pump sprayer have someone else use a roller for a fast and even application. Our sprayer stopped working well and we simply rolled wich worked fine. We went up and down and back and forth. Multiple very light coats seemed to be the best way to apply.It was our first time using a sealer and we are used to paints and or epoxy so it seemed to us very uneven and it highlighted imperfections in the concrete but as it dried it evened out and looked good. The surface is much better now than before and it's a very usable and enjoyable patio now.
Direct Colors Products Used:
Khaki Satin Easy coat tinted sealer and, Easy Seal Satin.
Correct That Concrete Color
When purchasing a new home, you may not be able to live with the stain color that the former owner chose! This DC customer strongly disliked the pink-orange hue of their porch, steps, and walkway. They performed a color stain correction with charcoal tinted concrete sealer, and we think it came out great!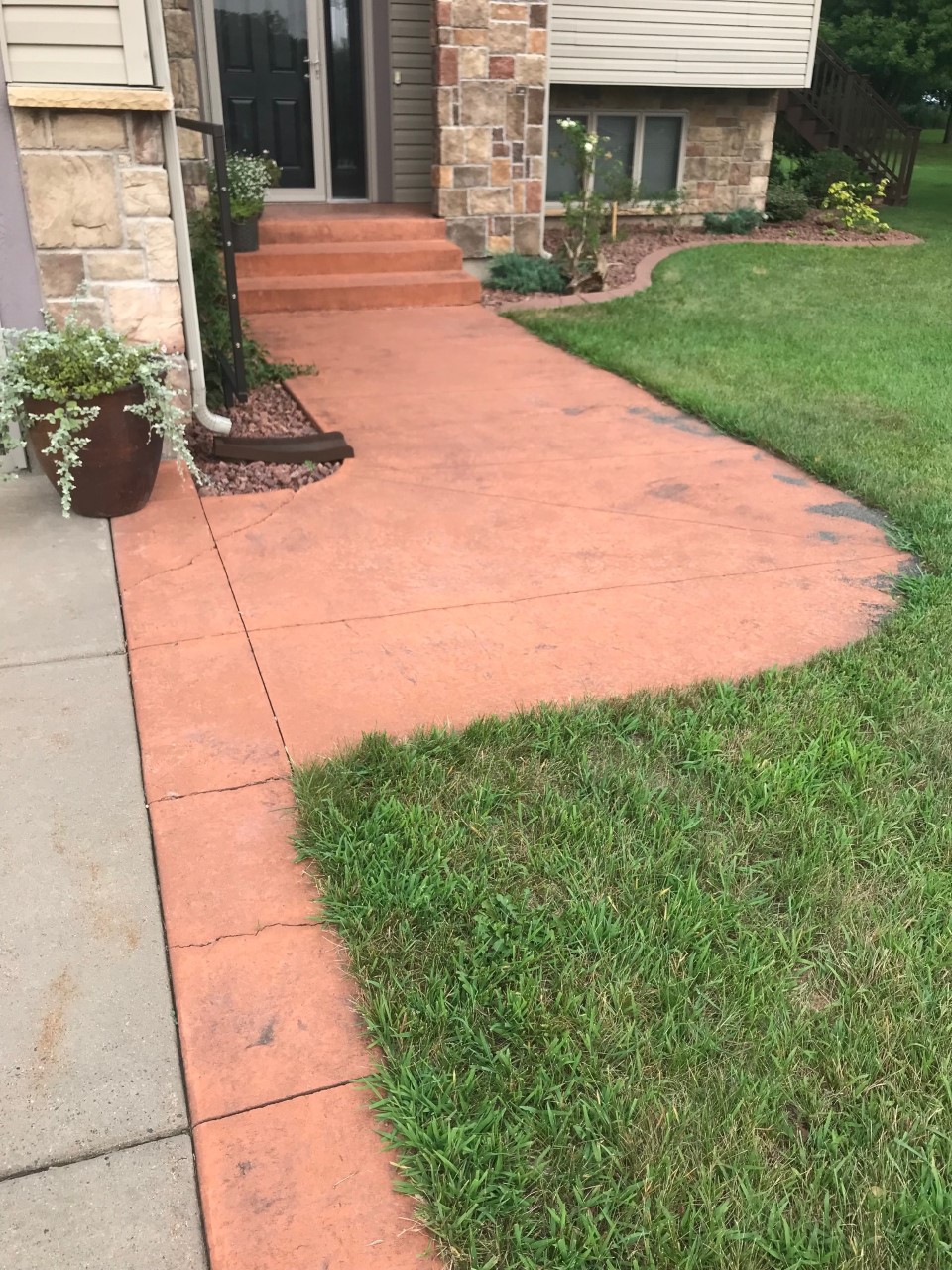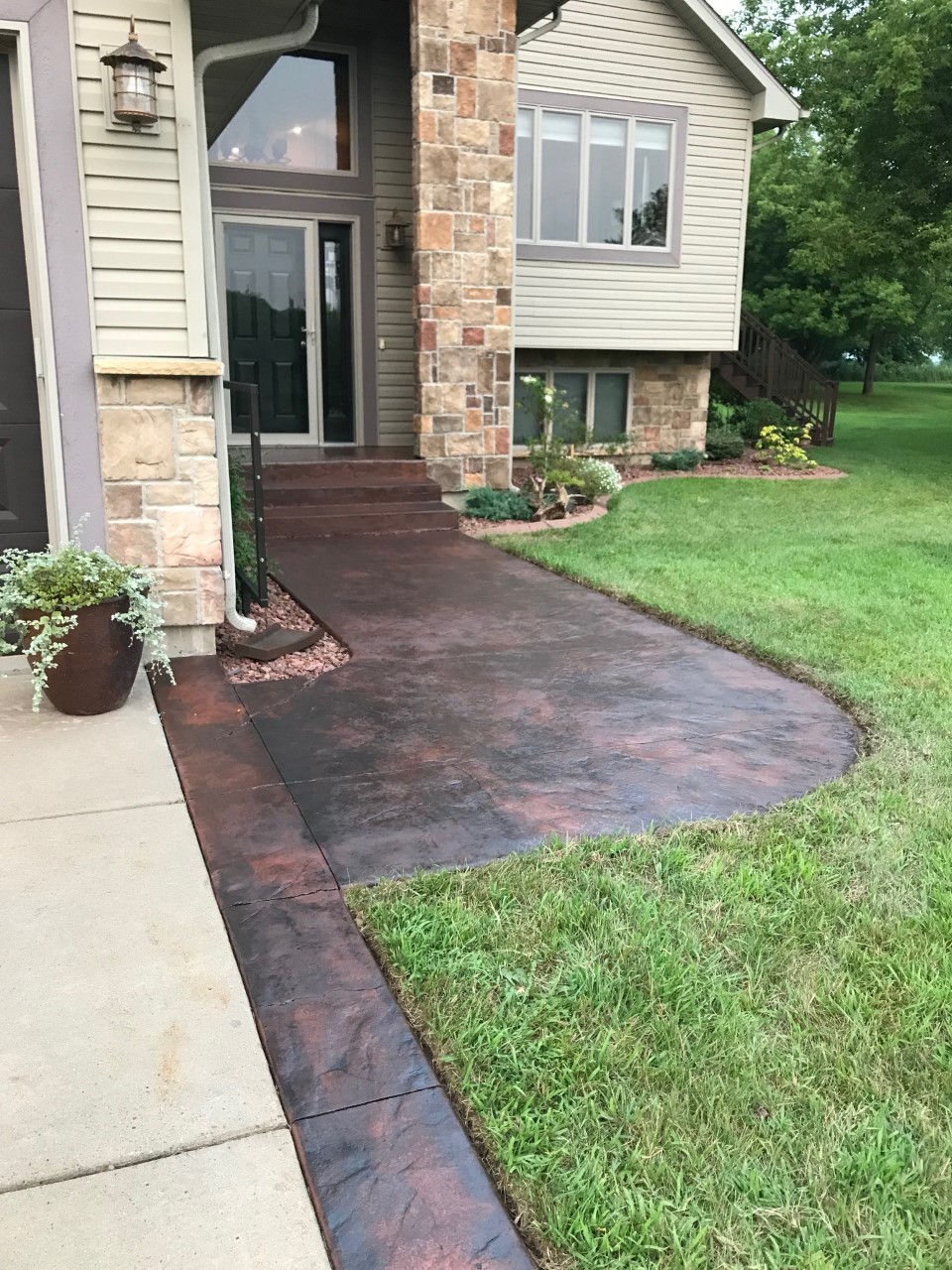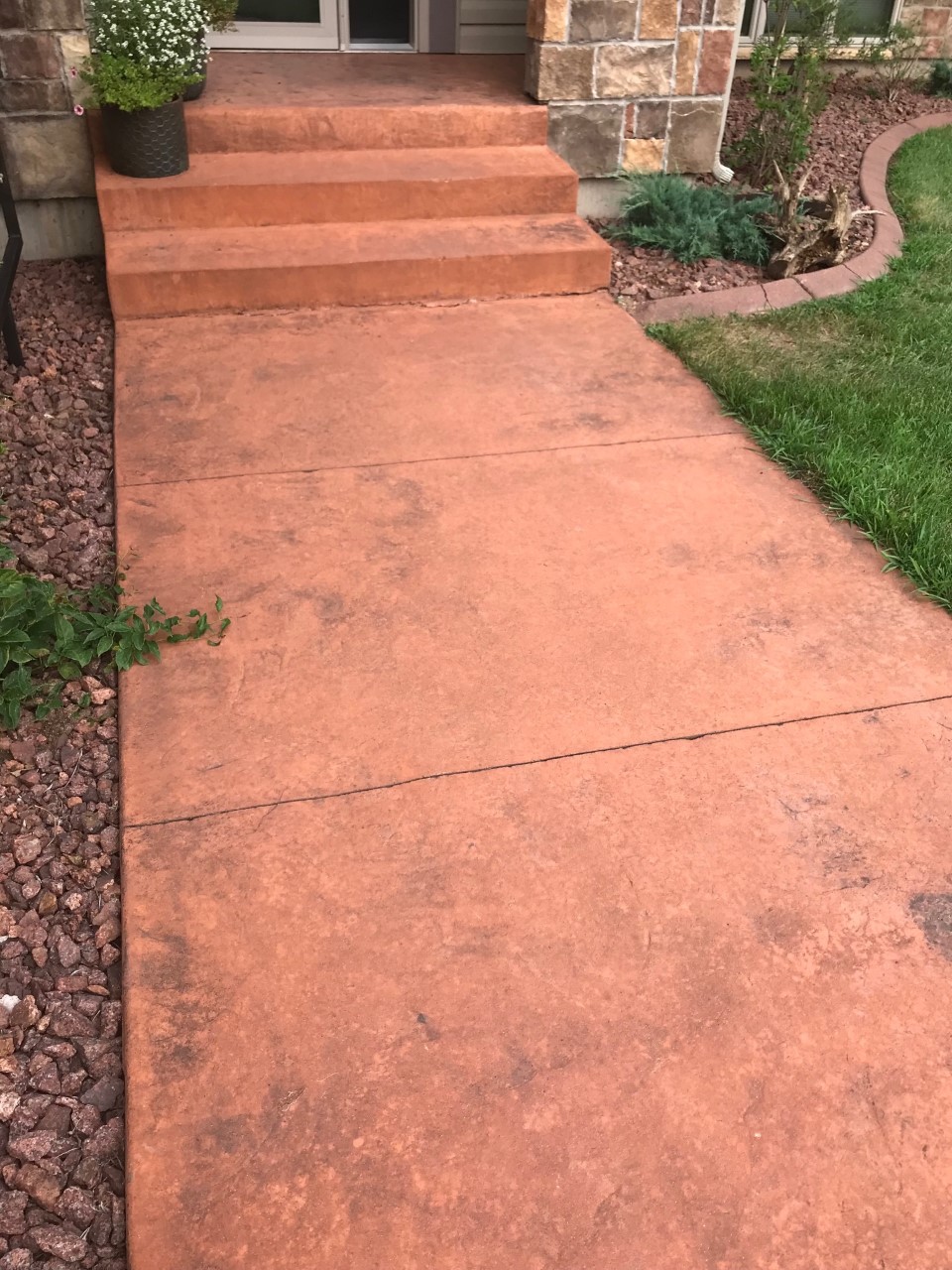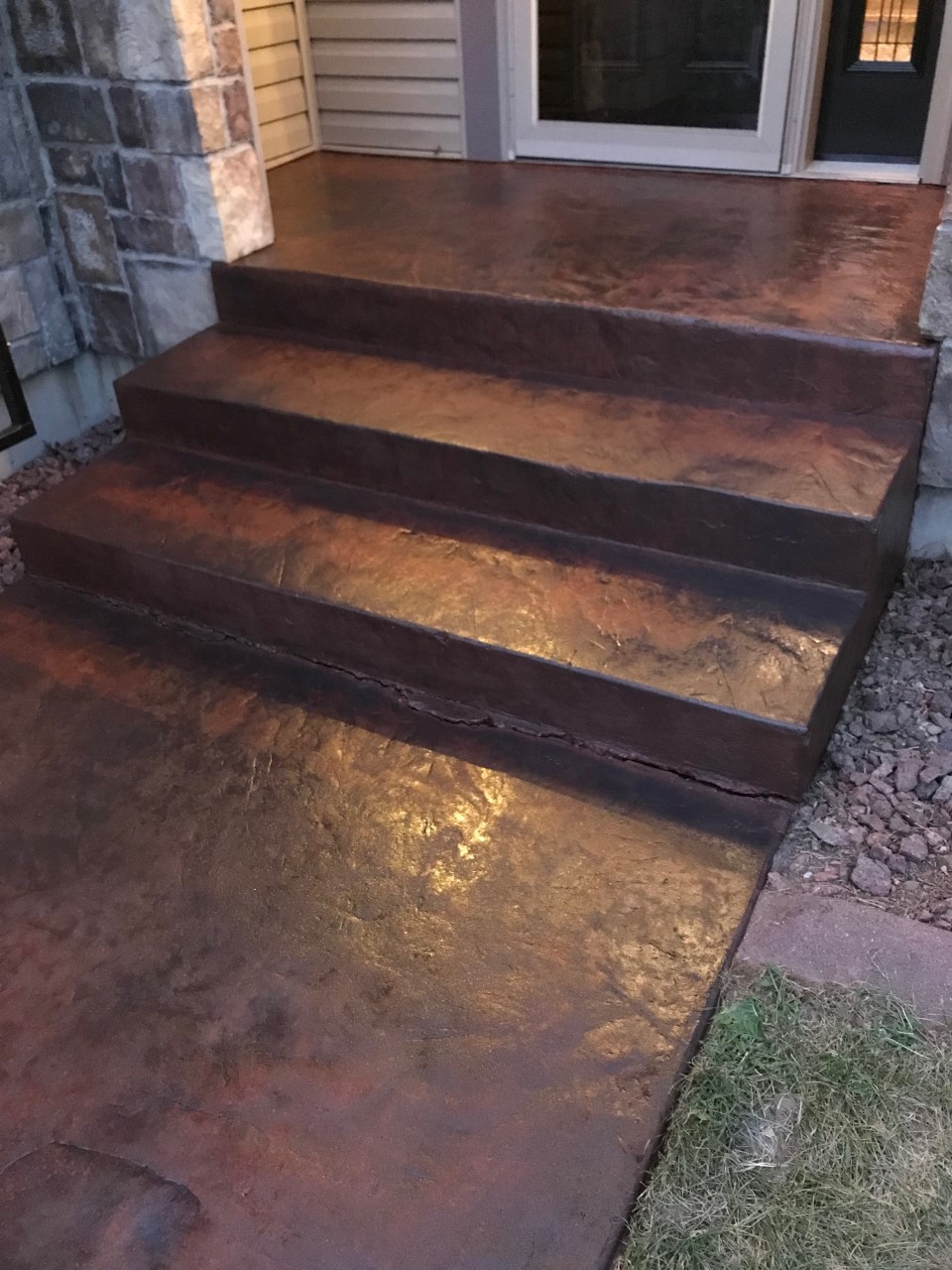 Cafe Royale was the perfect choice for this entryway. It almost makes the walkway glow, and it seems like this color couldn't complement the house any better! Add in the beauty of the broom finish texture, and you've got a home run.
Multicolor Stained Concrete Pavers
Since the concrete paver driveway is directly in front of this front porch, it only made sense to tie them together! This DIYer chose a multicolored design to make the driveway pavers and porch a better match. What a nice earthy blend of paver stain colors!