STENCIL CONCRETE DESIGN IDEAS
To stencil concrete with acid stain can appear more daunting than a traditional concrete floor coating but the added dimension of a stenciled design make it well worth the extra effort.
How Much Does it Cost To Stencil Concrete
Depending on the porosity of your concrete, the cost ranges from $1.37 to $1.83 per square foot if using a product like Direct Colors Deco Gel.
How Long Does Stenciled Concrete Last?
Stenciled concrete is as durable and long-lasting as any regular acid stain; the color will not fade, chip, or peel away. Make sure to use a good quality Deco Gel, or gelled acid stain, to ensure your etching penetrates the concrete surface. Using a Deco Gel allows you to permanently alter the concrete's color while attaining a striking amount of design precision and control. 
DIY SPOTLIGHT: FAUX FLAGSTONE STENCIL PATIO DESIGN
Stenciling concrete with deco gel acid stain is just like using paint and a paintbrush. Get the precision and flexibility of painting with the durable color of concrete acid stain and incorporate multiple colors and textures in just one day's work. 
Renee P. of Studio, CA resurfaced her patio removing layers of epoxy paint before Overlaying the surface and acid staining with Deco Gel. She completed the project herself and has provided an account below:
"I resurfaced my back patio, then added the faux flagstone overlay topping. I searched numerous websites to find the right acid stain for the "faux" flagstones. I chose Direct Colors because I liked the Deco Gel Stain Trial Kit and the color selection. Orders were delivered promptly and the website was easy to navigate. I enjoyed acid staining the most. It was so much fun creating unique yet realistic-looking flagstones. Also fun seeing friends fooled by my handiwork. Direct Colors Deco Gel Stains gave me the look I envisioned. Great products and great service. I couldn't ask for more. My old patio caused me to cringe. My new patio makes me smile, especially because I did it myself."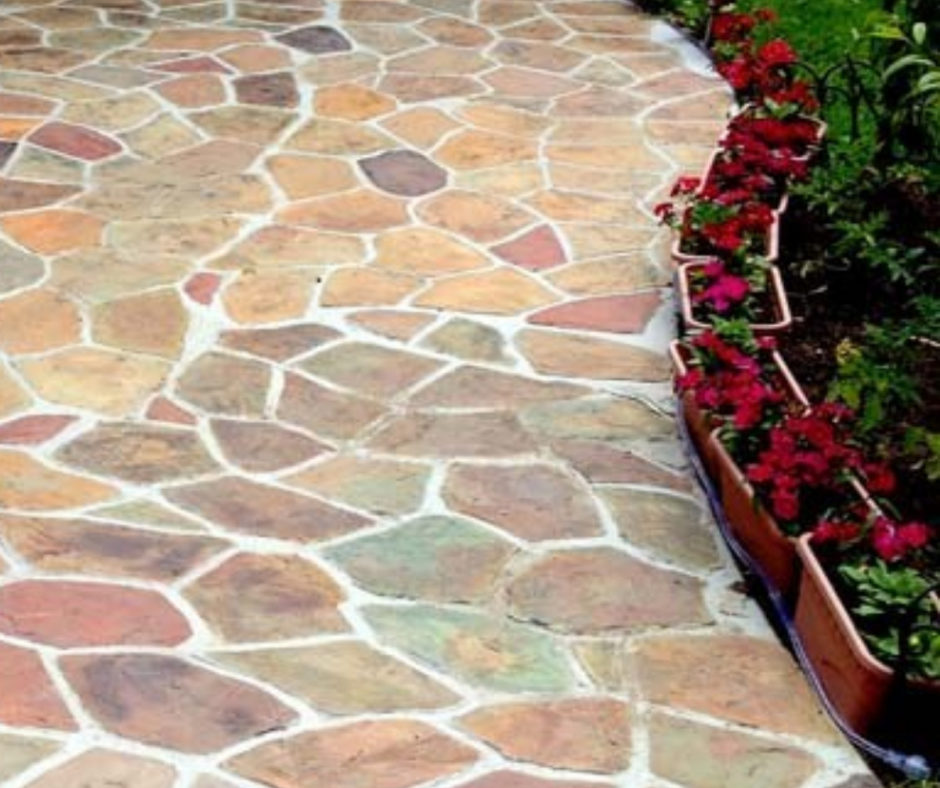 Renee's Shopping List:
1 Quart Malayan Buff Deco Gel  Stain
1 Quart Cola Deco Gel  Stain
1 Quart English Deco Gel  Stain
1 Deco Gel Trial Kit
1 Gallon Solvent-based, Satin Finish Acrylic Sealer
Stenciling with Acid Stain
Step by Step Instructions for Acid Stain Patio Design
" We had a 400 sq. ft. patio to stain. Started off the patio project by searching for a good stencil template but  couldn't find one locally so I drew one up and enlarged it to the size I needed. I placed the stencil in the center of the slab and unfortunately the expansion joint was right in the middle of my design but it was just a small weekend project so that was o.k." Glenn used an angle grinder on a 3-wheel saw trolley with a 4 in. diamond saw blade. You could also use a cup point diamond wheel as well. Carefully clean the area after scoring to remove any debris left behind in the cuts.
"After cutting out the design, we prepped the patio and started acid staining. I chose Cola and Coffee Brown with the Solvent-based, Satin Finish Sealer for the patio. The process with very easy with the sprayer. We applied the Coffee Brown to fleur de lis design first allowing for a little extra processing time and then sprayed down the Cola over the entire patio. We let the stain set for the recommended time, neutralized and washed and washed again. The two coats of sealer was sprayed on once the concrete was dry the next day."
"Just wanted to extend my gratitude to you. Through my acid staining process you were very helpful and very honest. I spoke with Frank about my acid stain project and he advised me on some design elements and boy, did my patio come out good for my first time doing this. Next I will be doing my master bed and bath so I am sure you will be hearing from me again."
Glenn's Shopping List
• 2 Quarts of Concrete Degreaser and Cleaner
• 2 Gallons of Cola Acid Stain
• 1 Quart of Coffee Brown Acid Stain
• 2 Gallons of Solvent-based Satin Finish Acrylic Sealer