Give Your Old and Faded Concrete Patio a Makeover
You've probably looked out at your old faded outdoor concrete and dreamed of what you and your friends would look like sitting on your patio. Maybe there's a fire pit, a big table, or even a gazebo. Imaginations run wild.
Problem:
This old concrete patio was aged 10+ years. The slabs were not poured at the same time and the texture was also different. One slab was significantly more porous than the other.
Solution:
When concrete slabs are very rough or porous due to concrete age,  a topical stain needs to be used.
Antiquing Stain is an excellent stain choice to stain old concrete floors. This stain is quick and easy to apply requiring no after-application cleaning. The homeowner wanted a more solid but not opaque color so she decided to go with Olive.
The patio was power-washed first to remove loose debris and paint but some rust staining and paint residue remained.
The customer applied two coats of Antiquing Stain letting the product dry for 3 hours between coats.
Chuck let the second coat dry for 8 hours before applying the sealer with a pump up fence and deck sprayer.
Project Size: Approx. 800 sq. ft
Direct Colors' Product Used:
Antiquing Stain Trial Kit
Antiquing Stain in Driftwood 3 gallon
Antiquing Stain in Cumin 3 gallon
Acrylic Solvent Based Satin Sealer 11 gallons (very porous concrete with 3 layers)
"Make sure you have proper measurements, and buy extra sealer for extremely porous concrete. It is better to have extra to have in the future to reseal than to run out and have to tarp off the project until you can get more. If you do not have to strip your old sealer, don't!"
Staci Van Beveren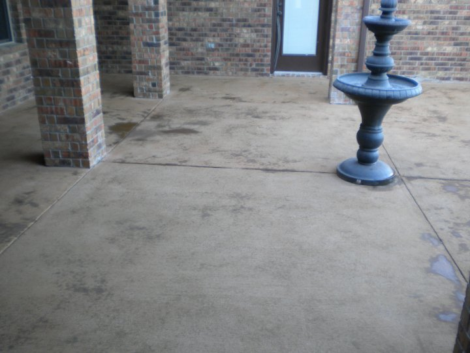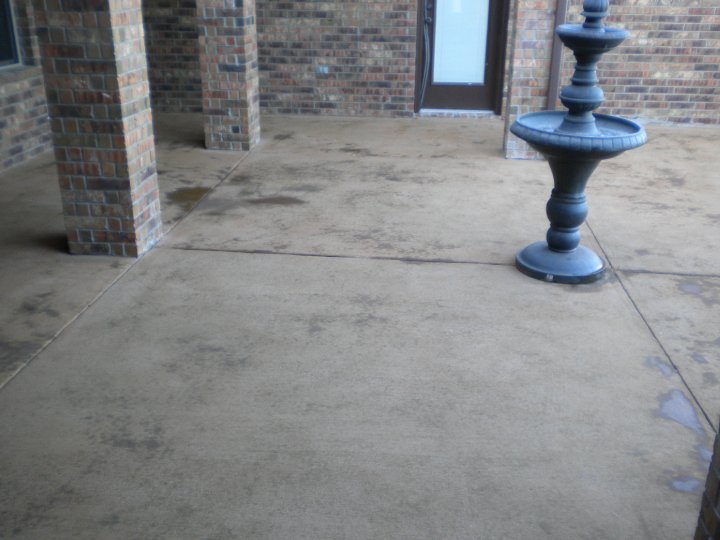 Direct Colors' Product Used:
Non Slip Concrete Sealer Additive
Tinted Concrete Sealer -charcoal & khaki
Concrete Cleaner & Degreaser Concentrate
2 Gallon Decorative Concrete Sprayer
"Don't over think it! You are capable of achieving professional results with these easy to use quality products from Direct Colors, especially with their highly qualified product support team only a phone call away!"
Dustin Boose