How to Acid Stain Concrete Patio Floors
By Ted Ruler
October 2021 – $250 Cash Winner
If you want a concrete patio that you, your friends, and your family can enjoy, we've got you covered. In this guide, we'll give you all the materials, steps, and tips you need to create the concrete patio of your dreams. Let's get started.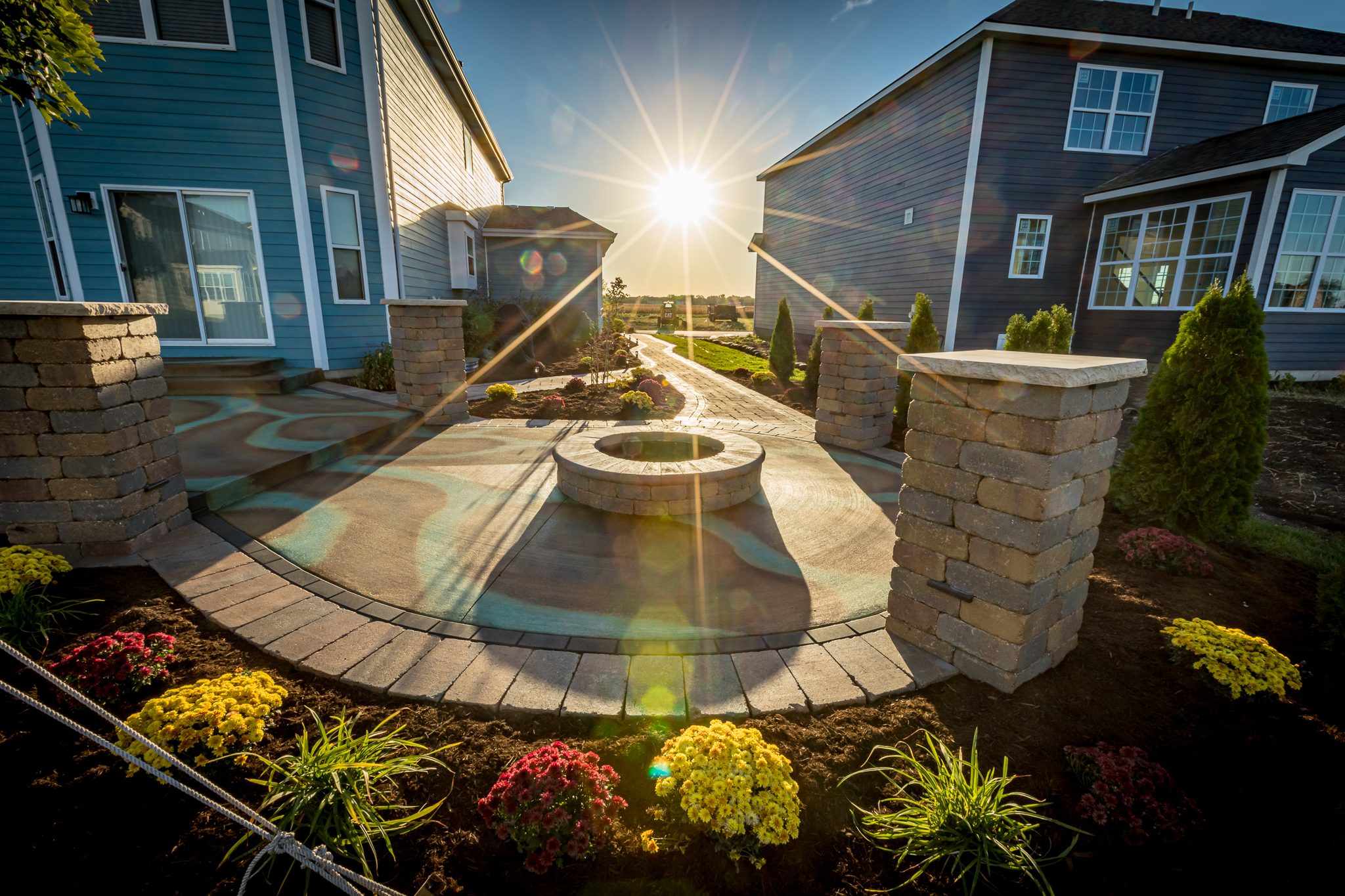 I had several ideas in my head of how I wanted my patio to look when completed. I was going for light brown to brown gradients with flowing teal "streams" throughout.
I ordered three sample kits (nine colors total) to test to see how the colors would react with my concrete. I tested in a small area around the fire pit that would later be covered with brick. I was able to complete the staining and sealing process in 3 days.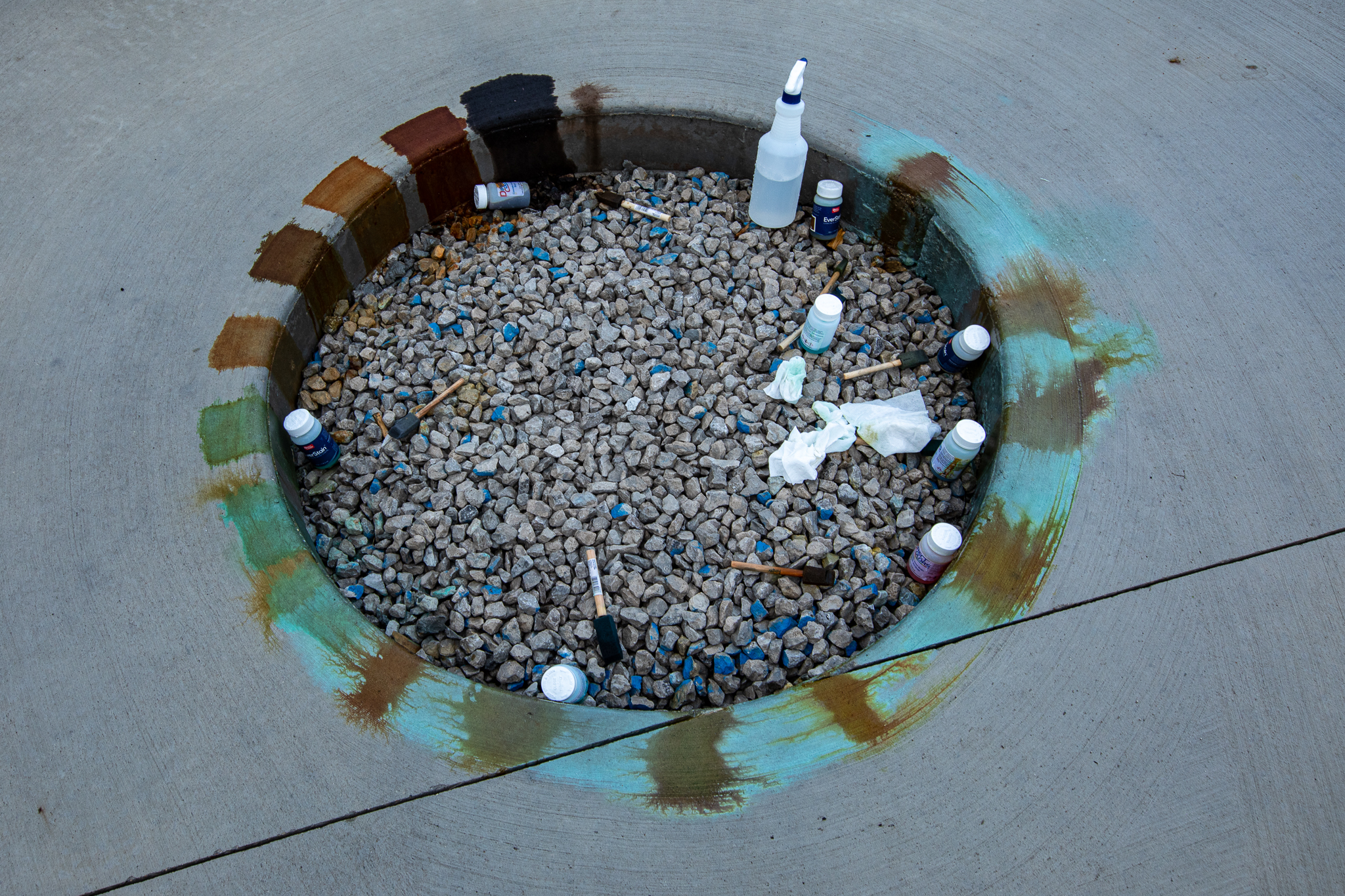 I spent the rest of the summer completing the brick-work myself and then completing the landscaping myself, too. When I finally completed the whole patio project, I was quite pleased with the result.
Many friends, family and neighbors have given me positive feedback on the appearance of my patio project. I definitely would (and will continue)  recommending Direct Colors products to friends, family and neighbors.
Step 1. Inspect Concrete Floor
Concrete acid stain does not stain rocks, sand or aggregate.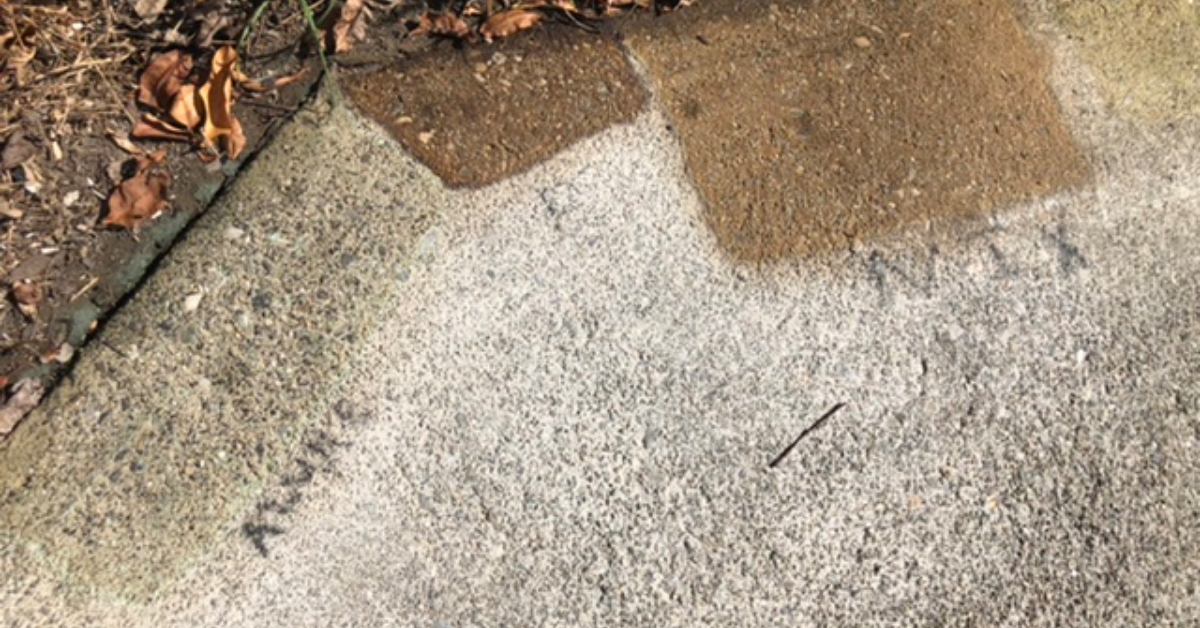 Exposed aggregate or otherwise depleted concrete may cause the acid stain to take irregularly, react weakly, or produce an unexpected color
For excessively worn (exposed aggregate) or old concrete surfaces were the acid stains cannot  react, we recommend using Direct Colors' Portico Stains
Cracks and other deformities may cause pooling or unwanted color variations. If the concrete surface is cracked, fixing the surface will avoid any issues
If the concrete surface is uneven, consider sanding or resurfacing to avoid pooling and dark spots.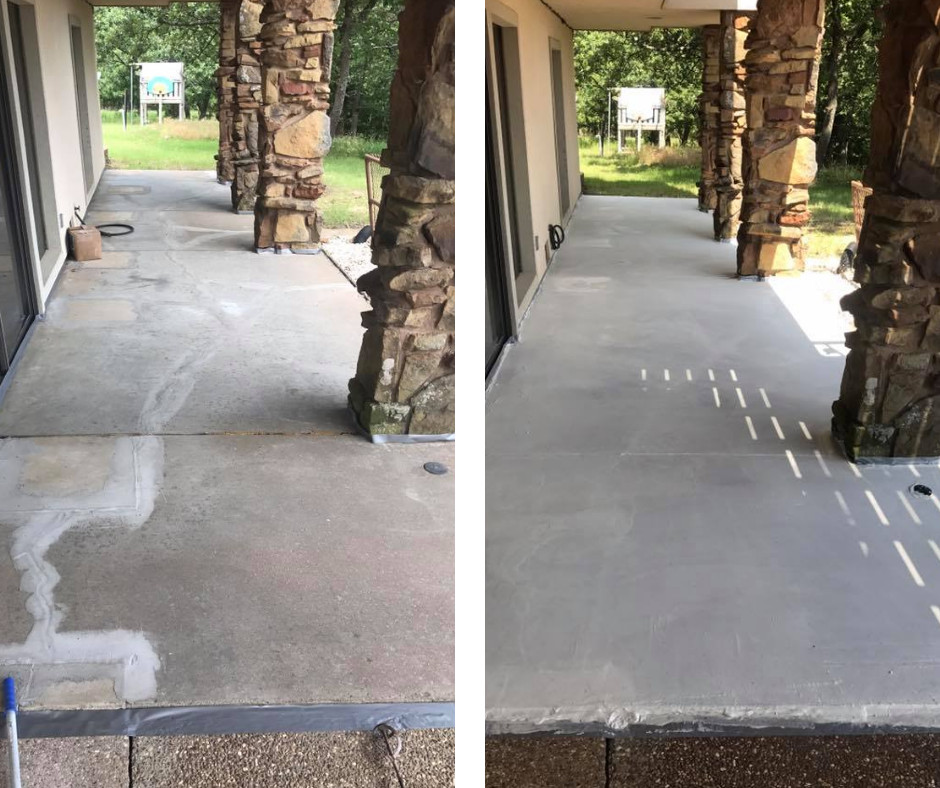 New concrete must cure for at least 30 days before staining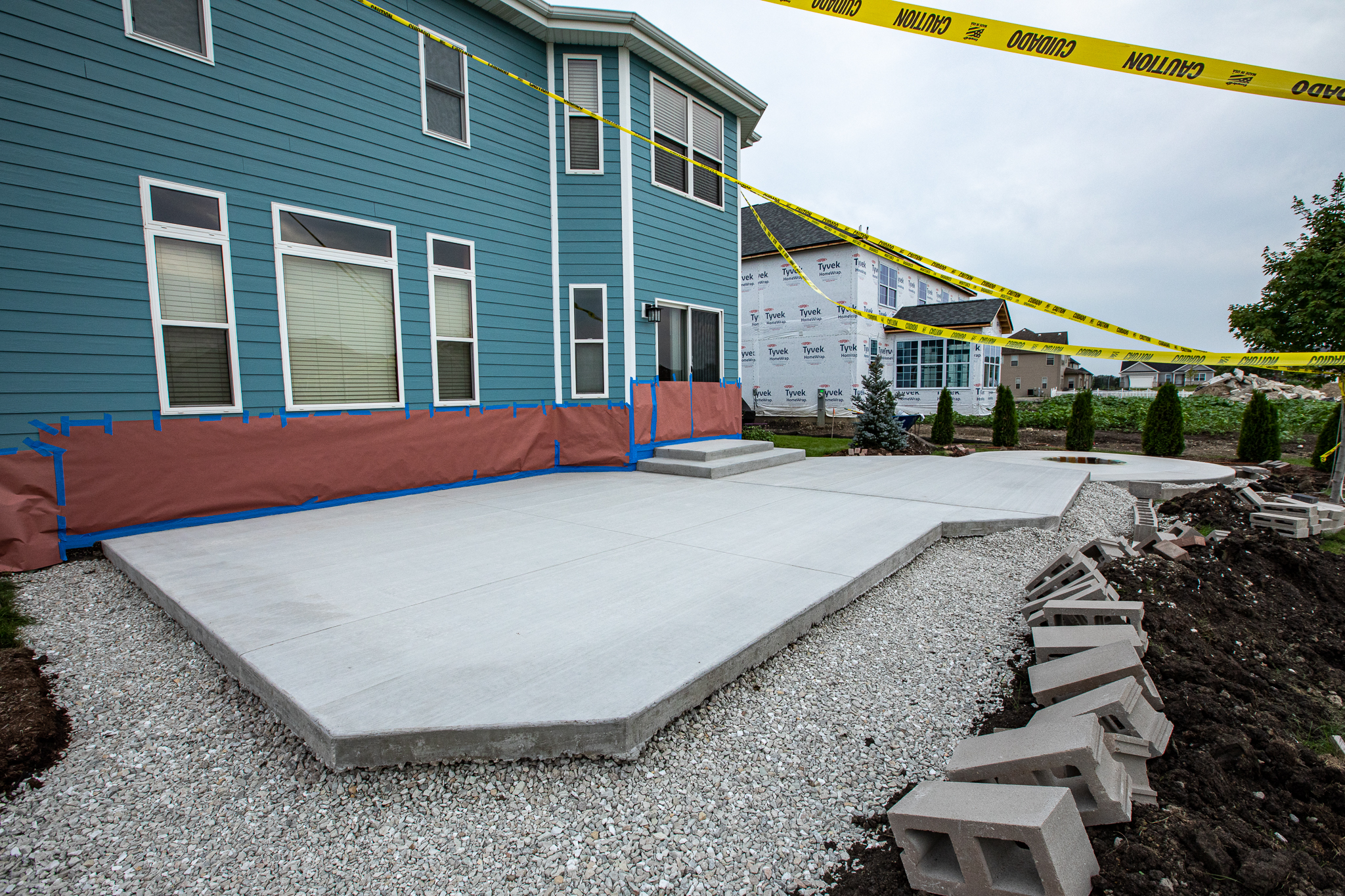 Step 2. Clean & Prepare Surface
Clean your concrete patio floors with an organic concrete cleaner and degreaser. The concrete must be free of debris, dirt and oils. Generally, a generous sweeping, scrubbing, and rinsing should do the job.
Protect surrounding areas from acid stain overspray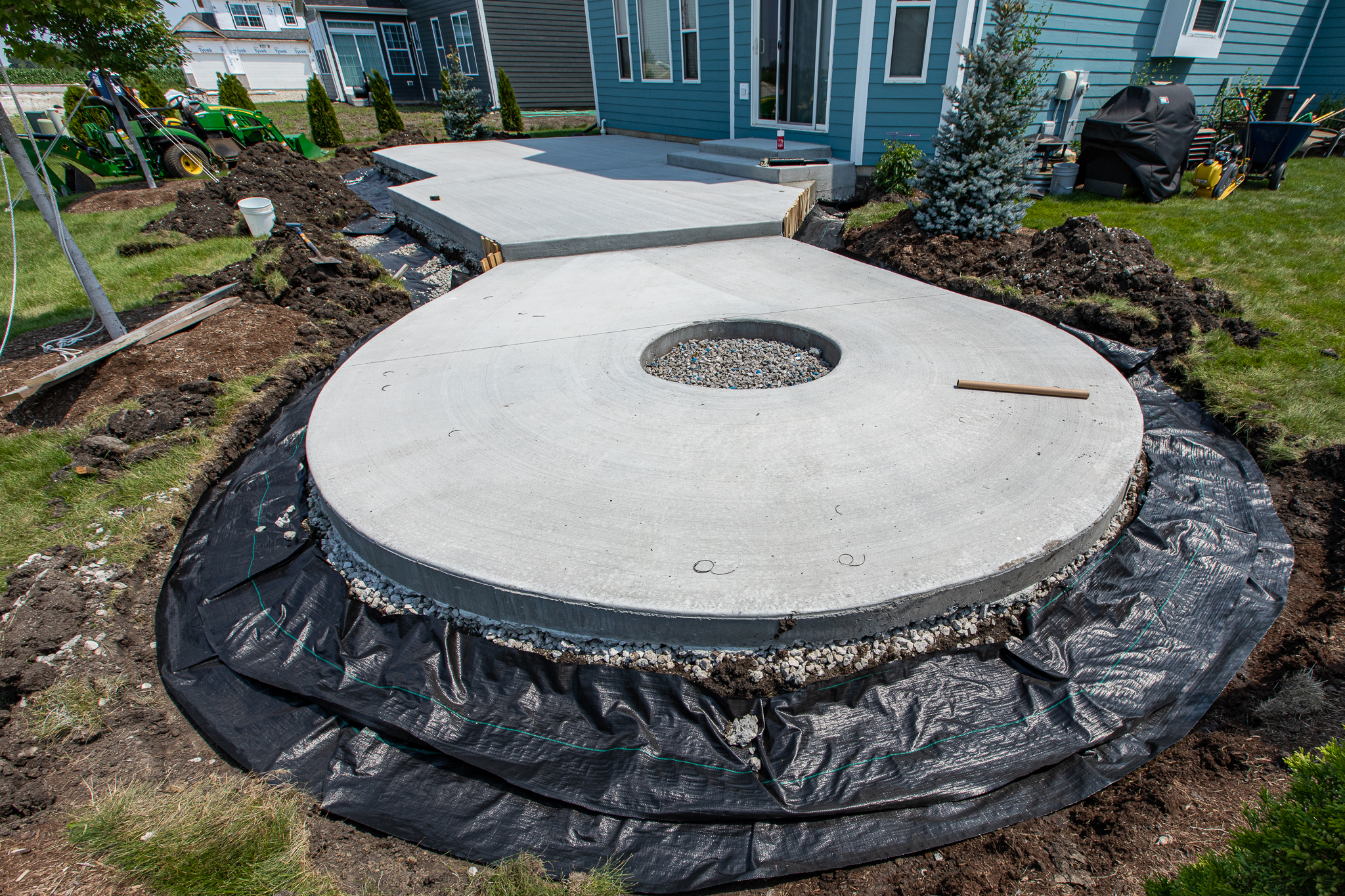 Tip: I used caution tape stretching from the trees to the house to try to keep the birds away during the project. This seemed to work pretty well, as the birds normally hang out on behind my house and make a mess.
Step 3. Apply Acid Stain Colors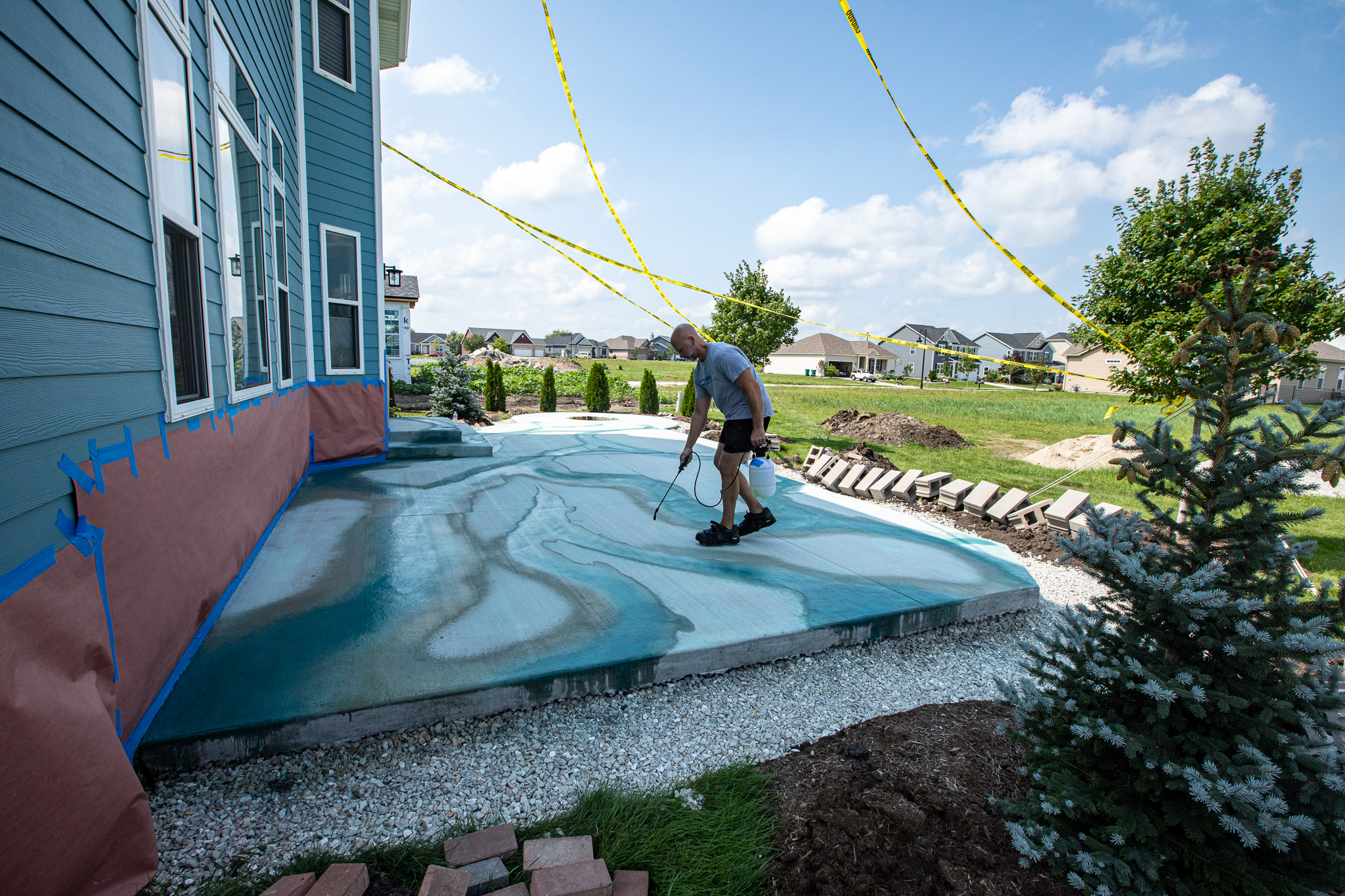 Apply acid stain using a Pump-up Sprayer. Safety while applying colorant is important. Remember to use long sleeves, pants, goggles and gloves while working with the acid stain.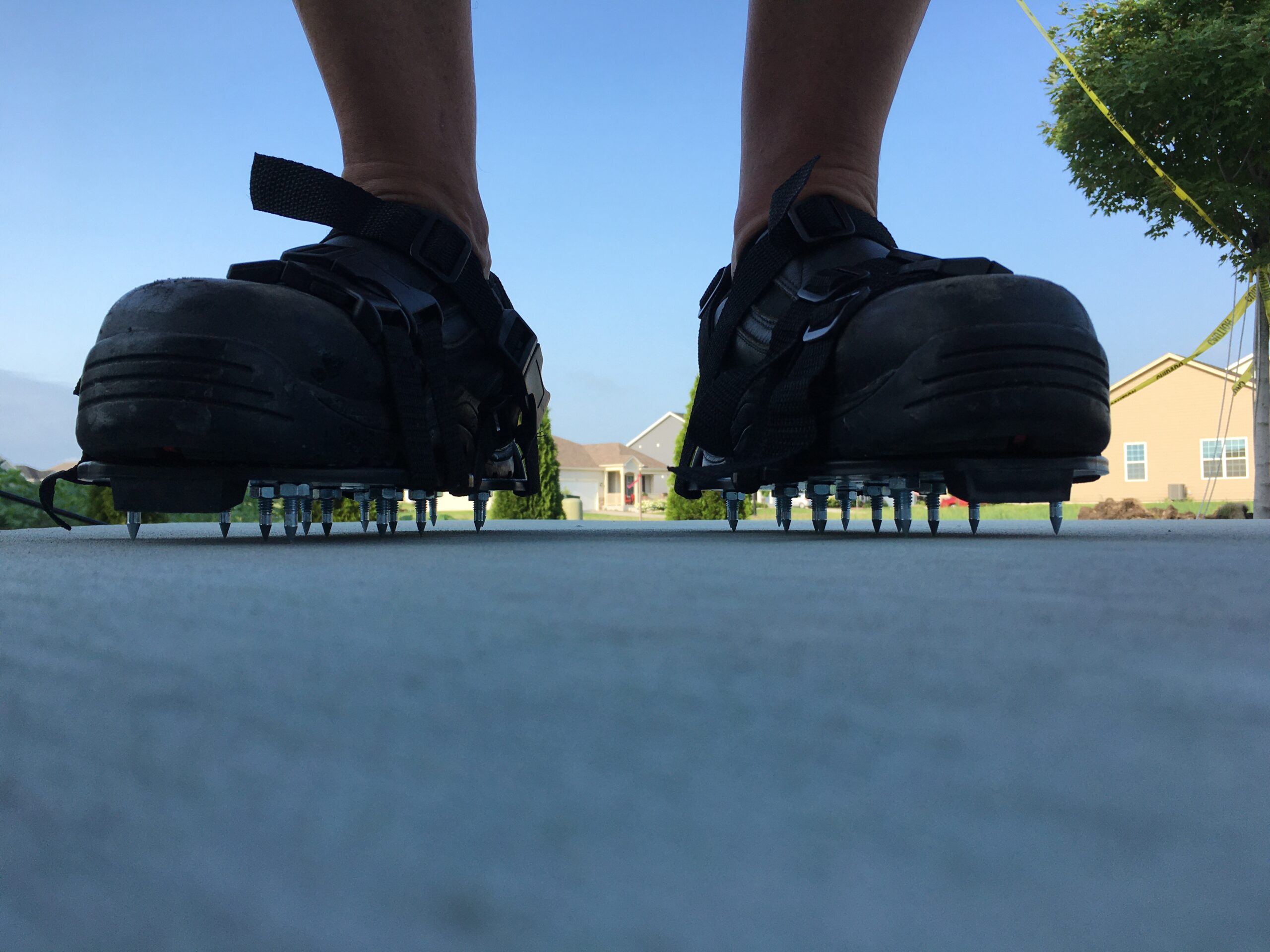 Tip: I definitely recommend using the spiked shoes to prevent leaving footprints or tracking the stain where it is not wanted.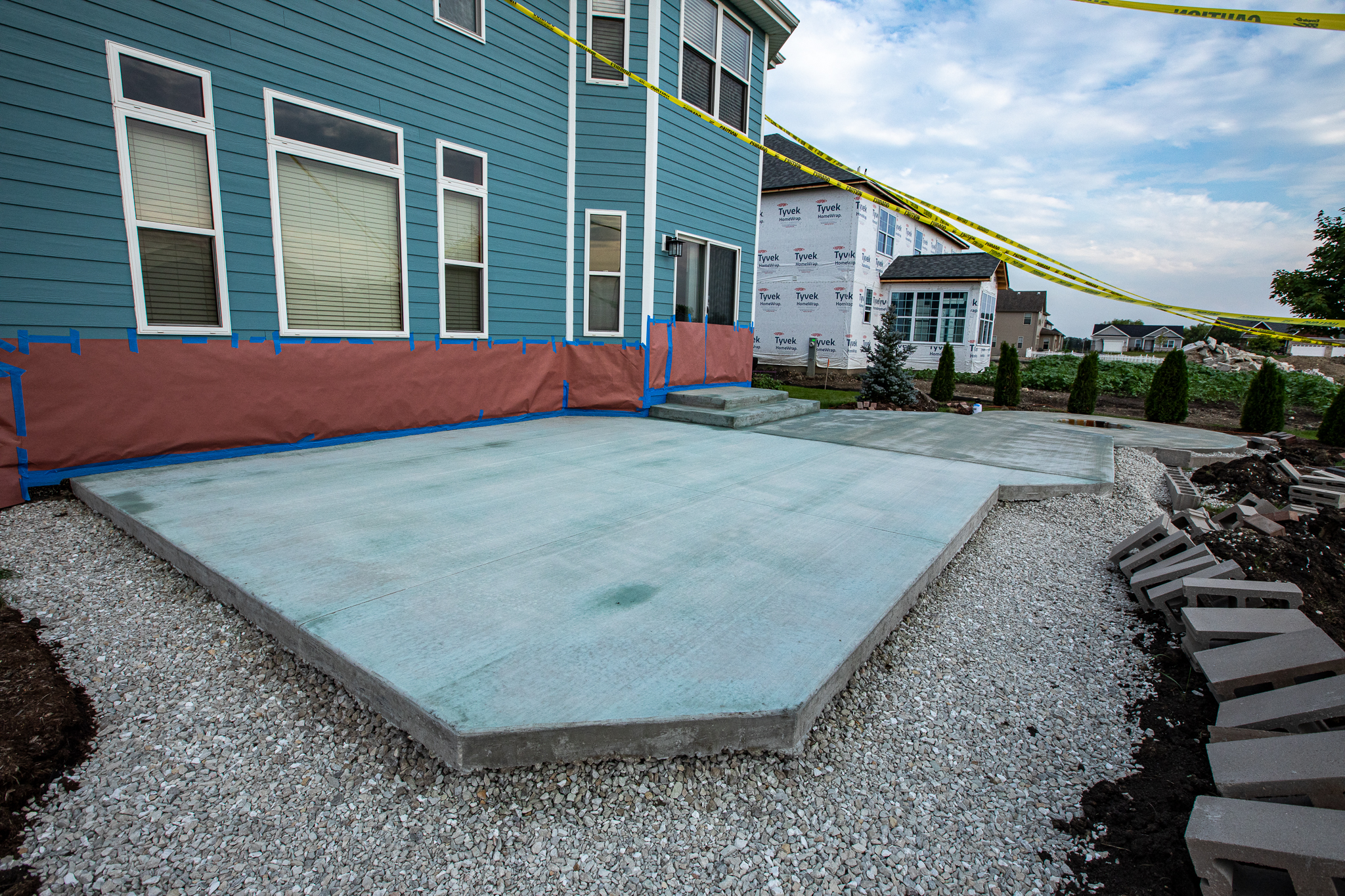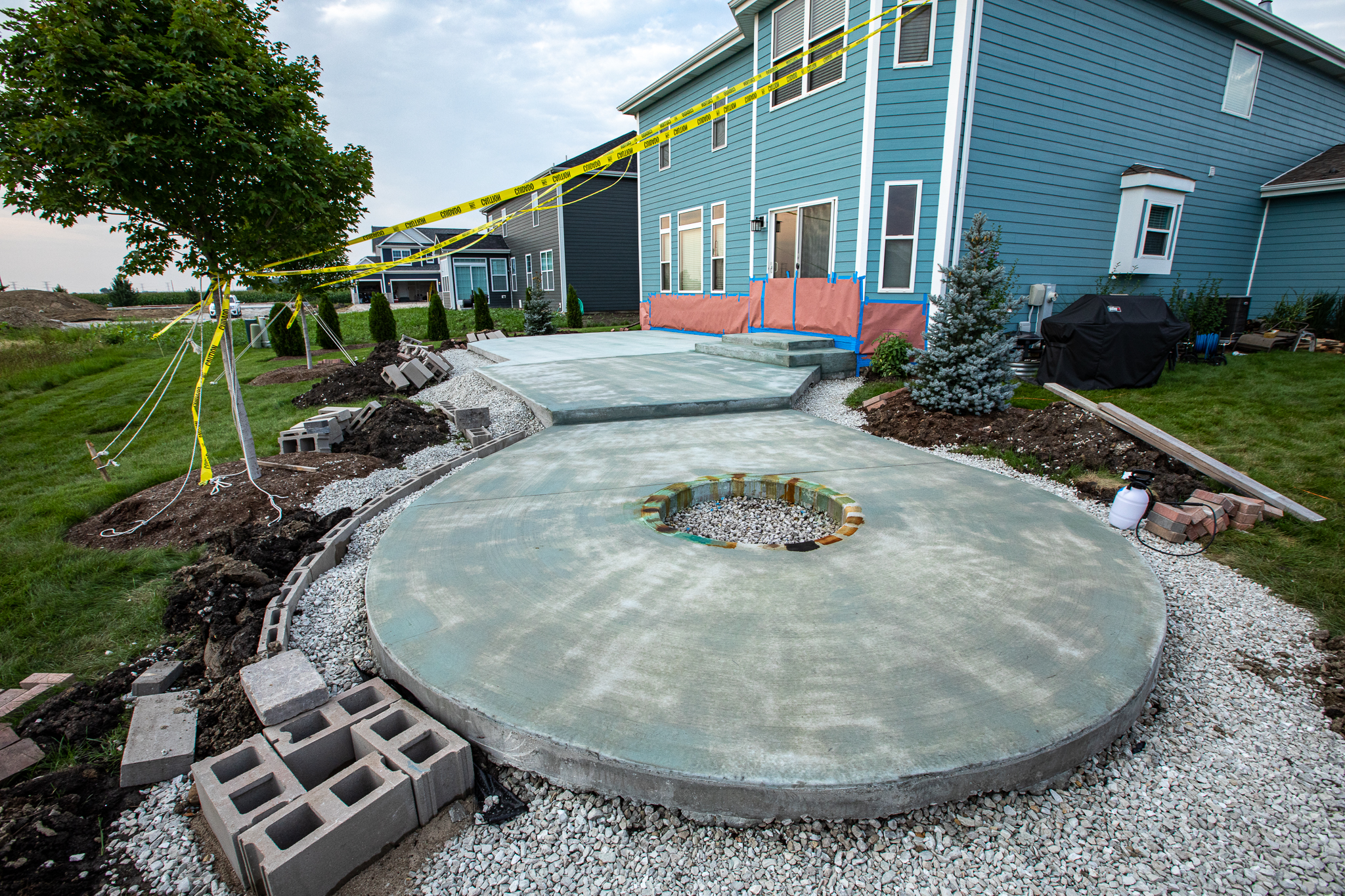 Tip: I used Miracle-Gro Plant Food  to help create the teal/blue/green streams that I was trying to achieve.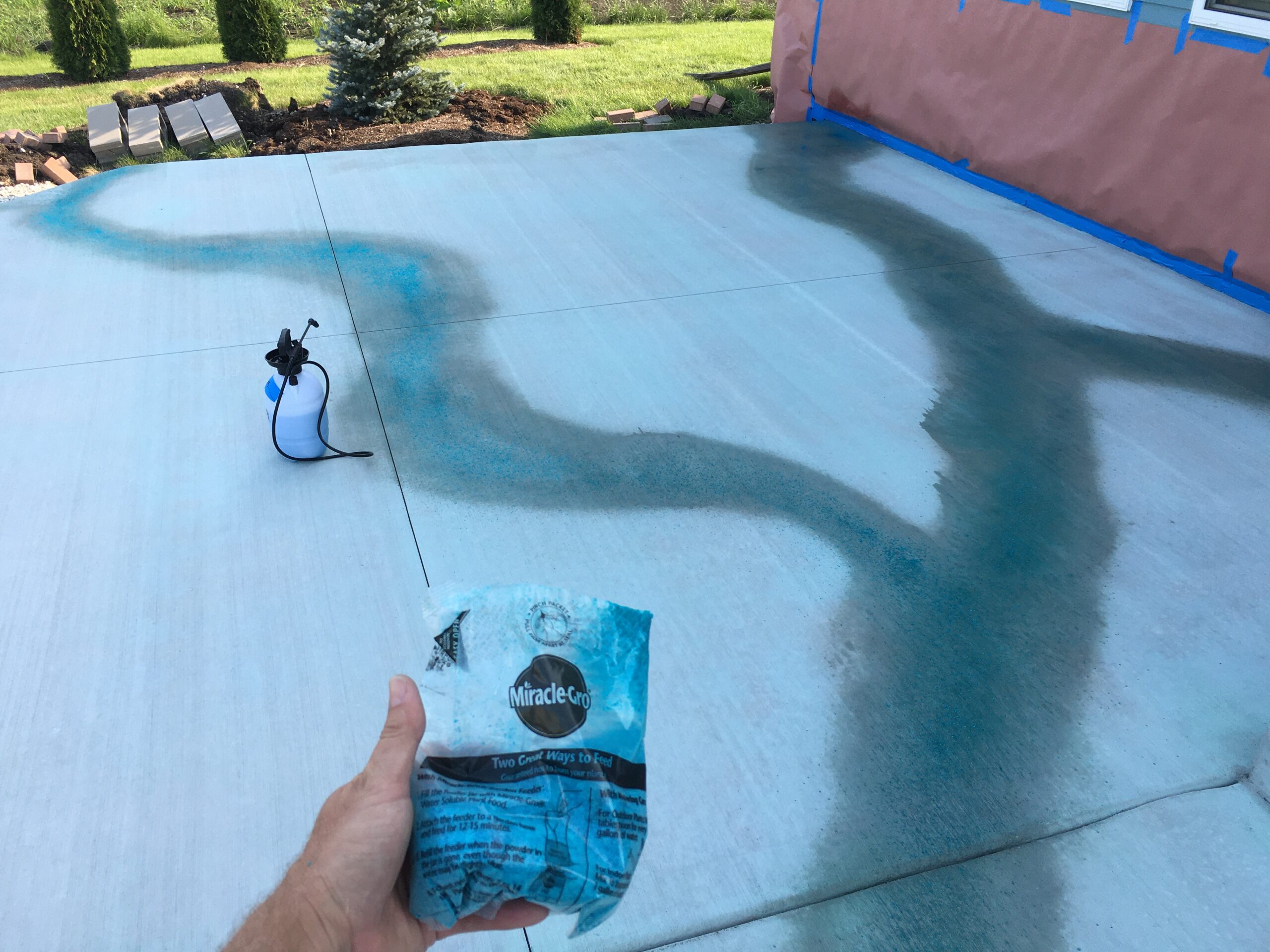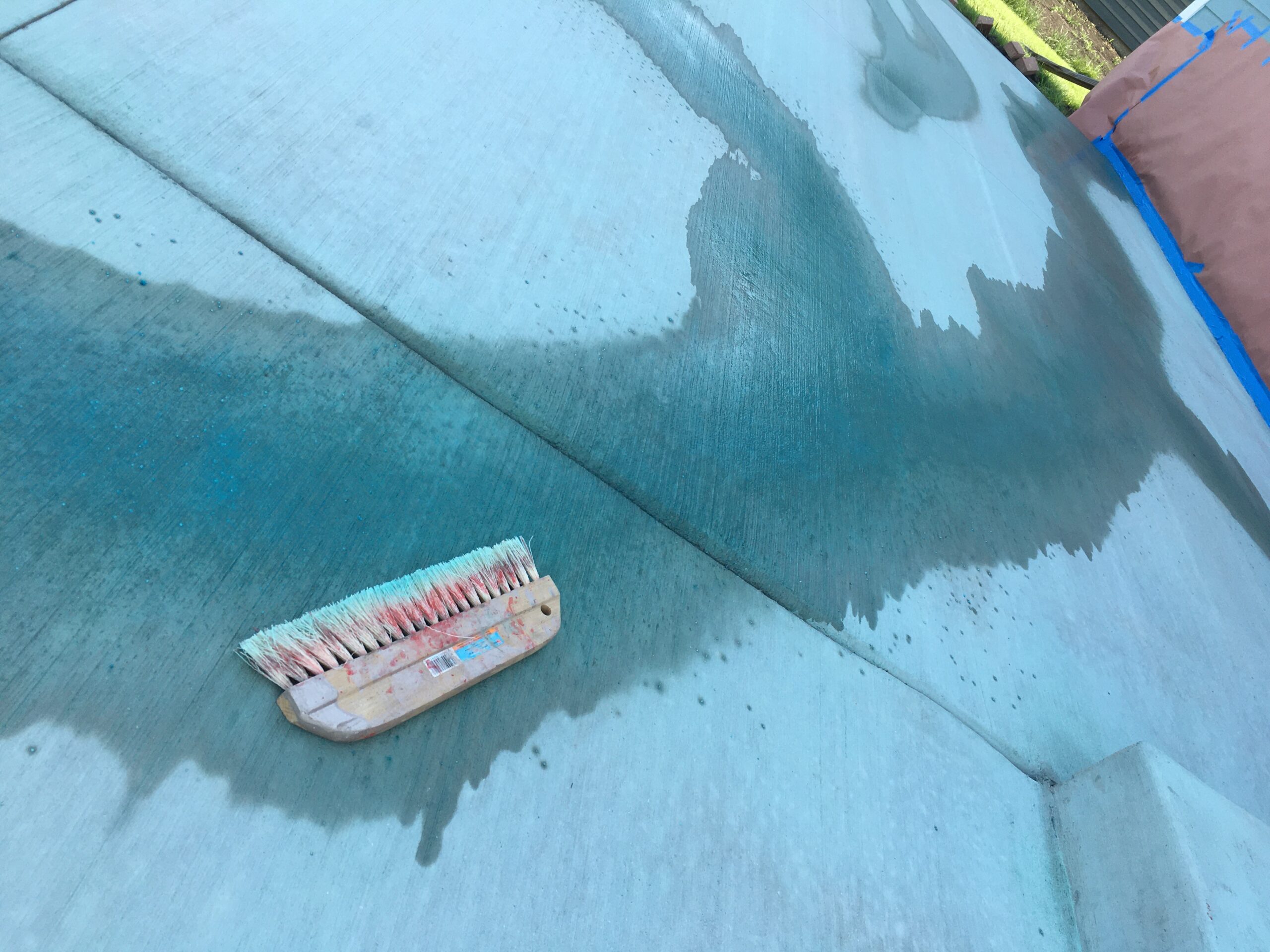 Spray Seagrass EverStain acid stain "streams" on concrete surface
Add the Miracle Grow over the wet stain
Spray more Seagrass EverStain acid stain to fully saturate the Miracle Grow granules
Use a brush to spread the EverStain acid stain and Miracle Grow mixture to make it look more like streams instead of just sprinkling the material and have a speckled look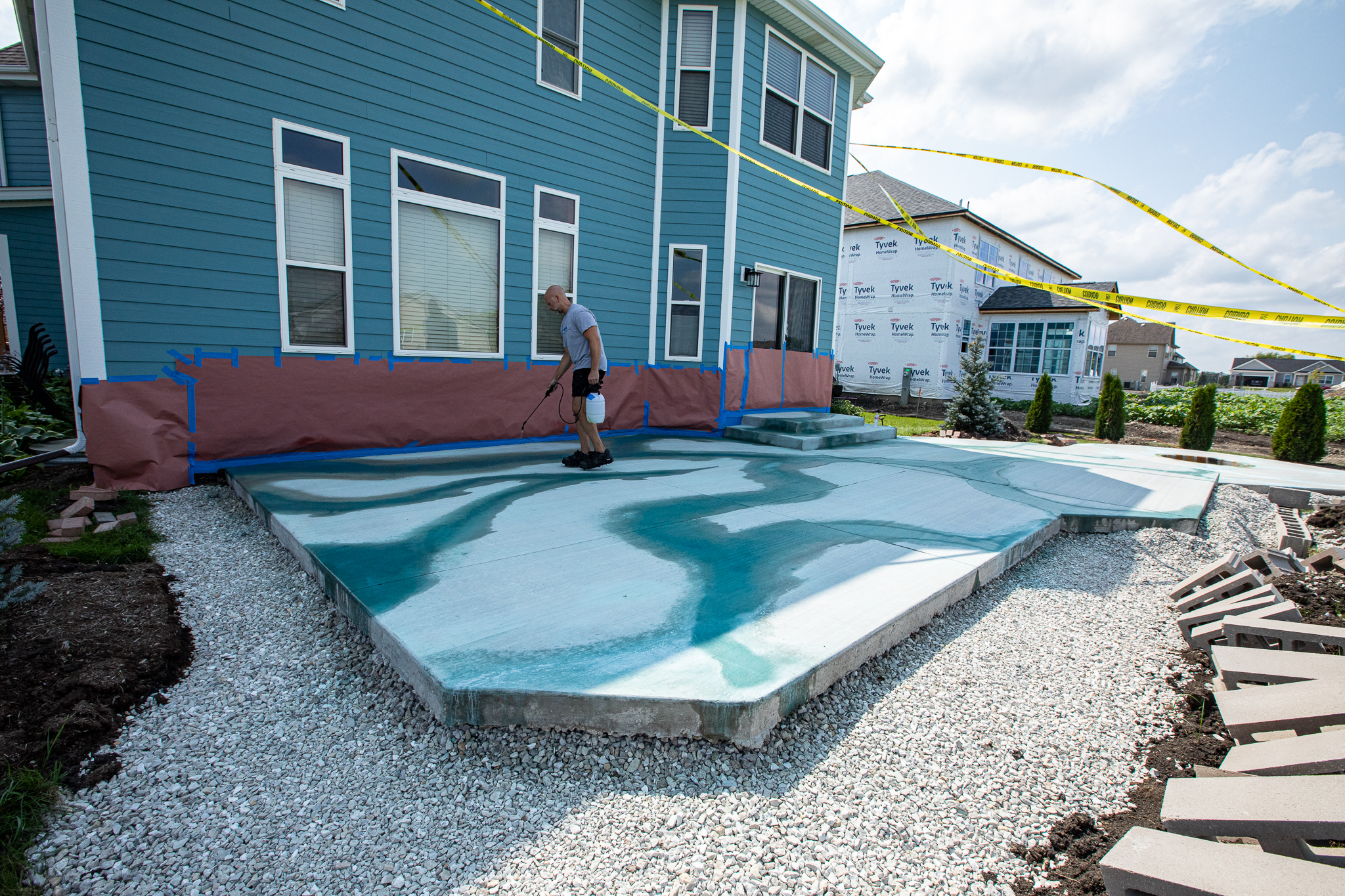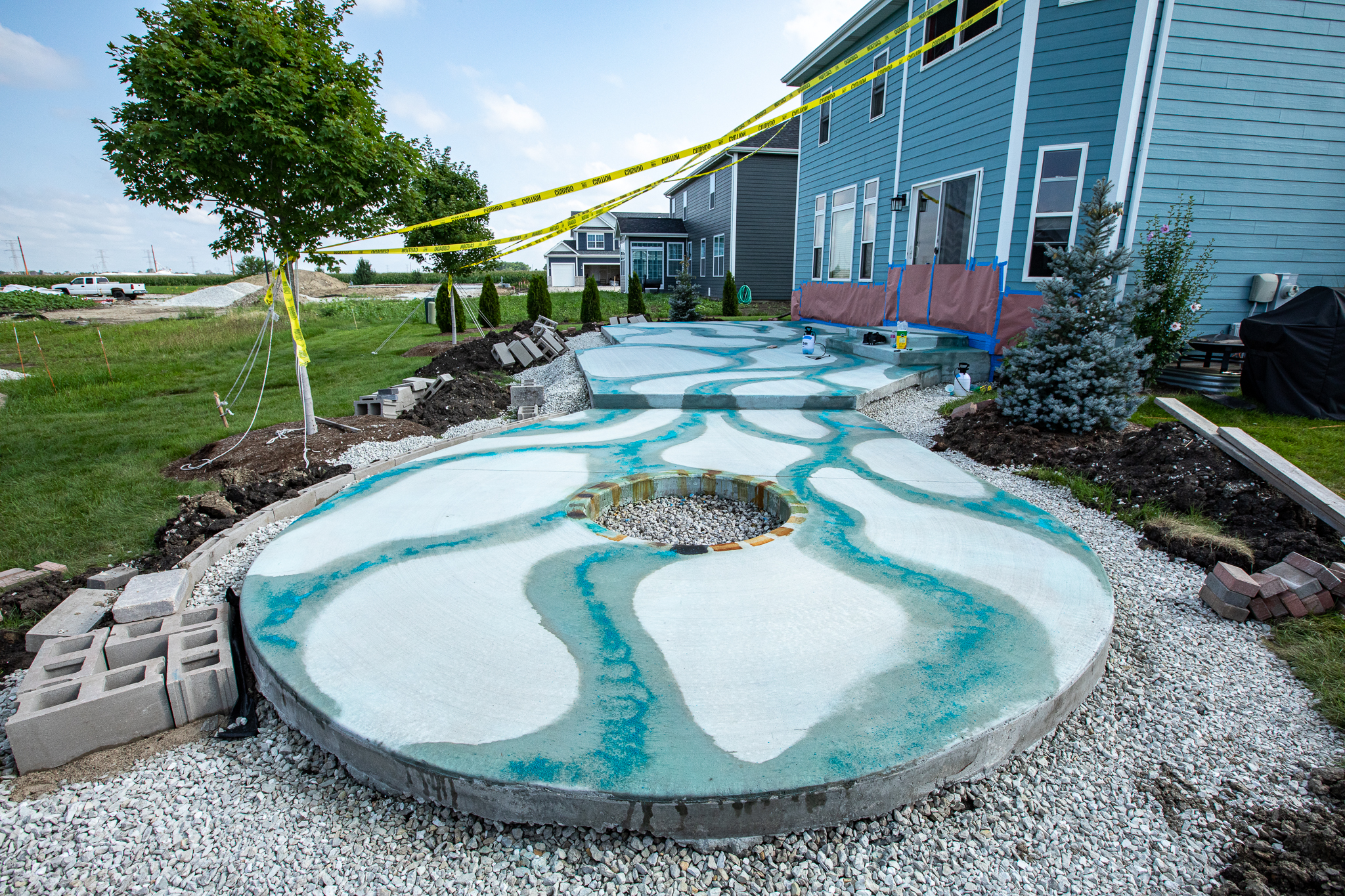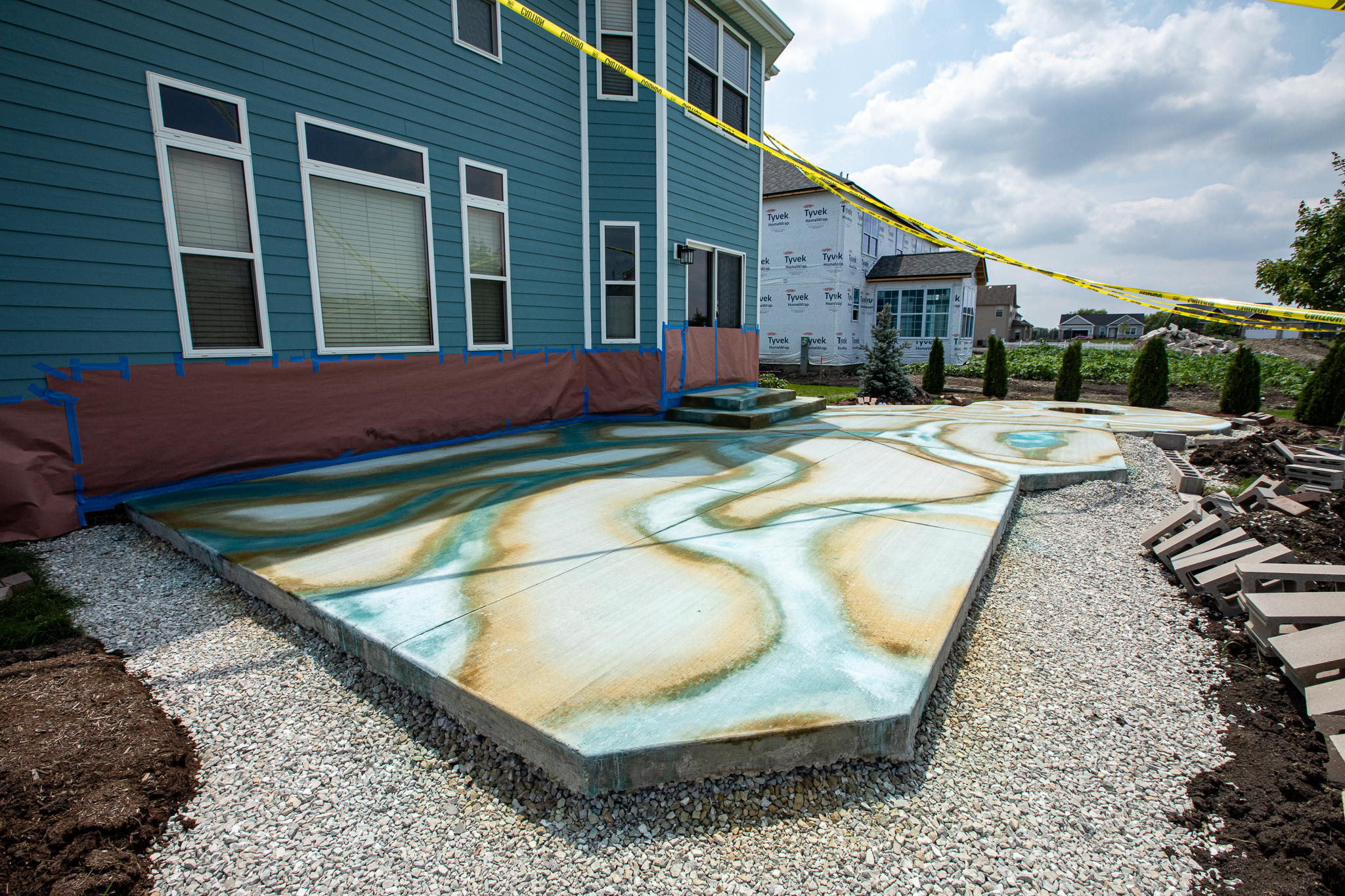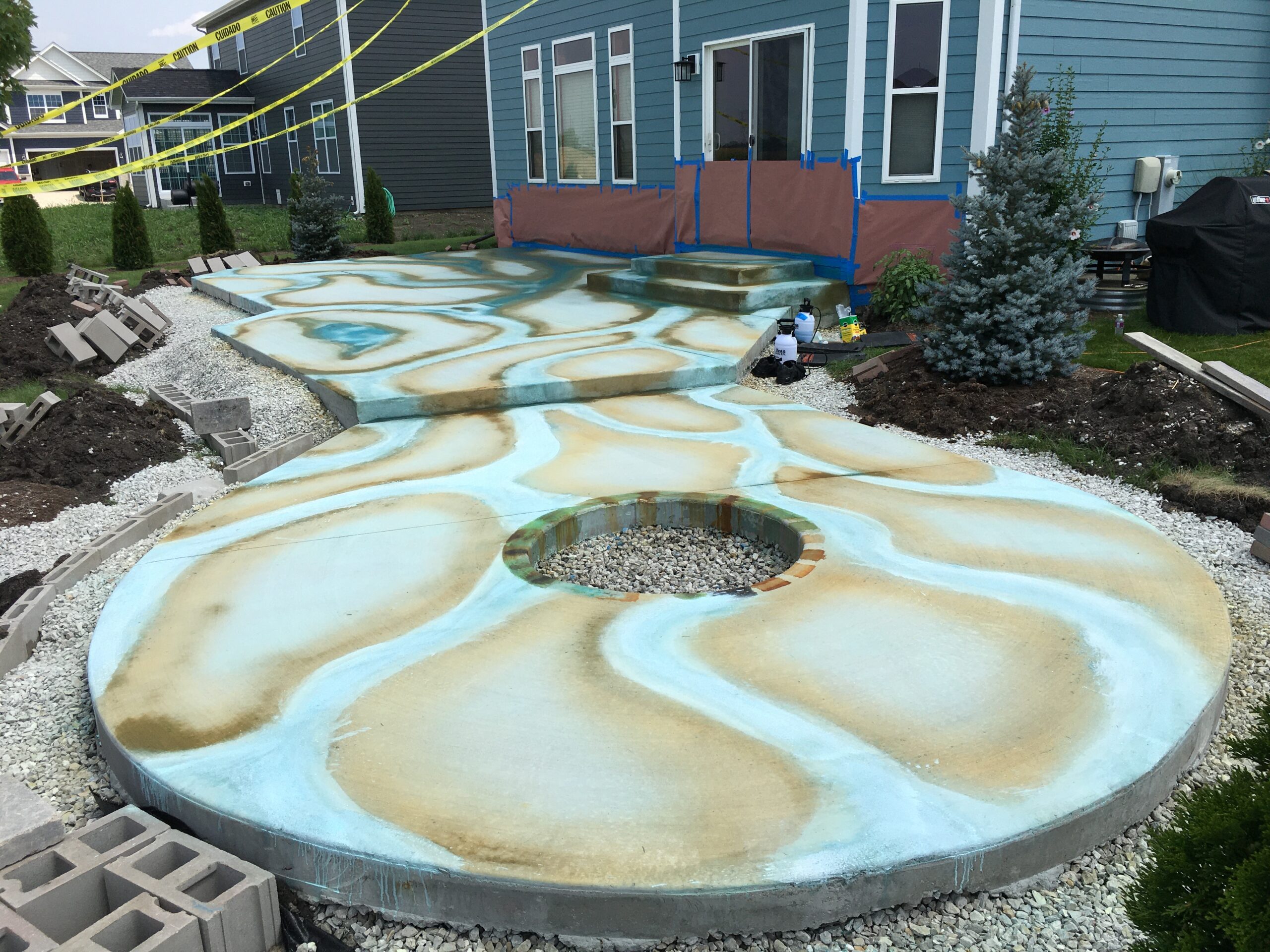 Neutralize & Clean Residue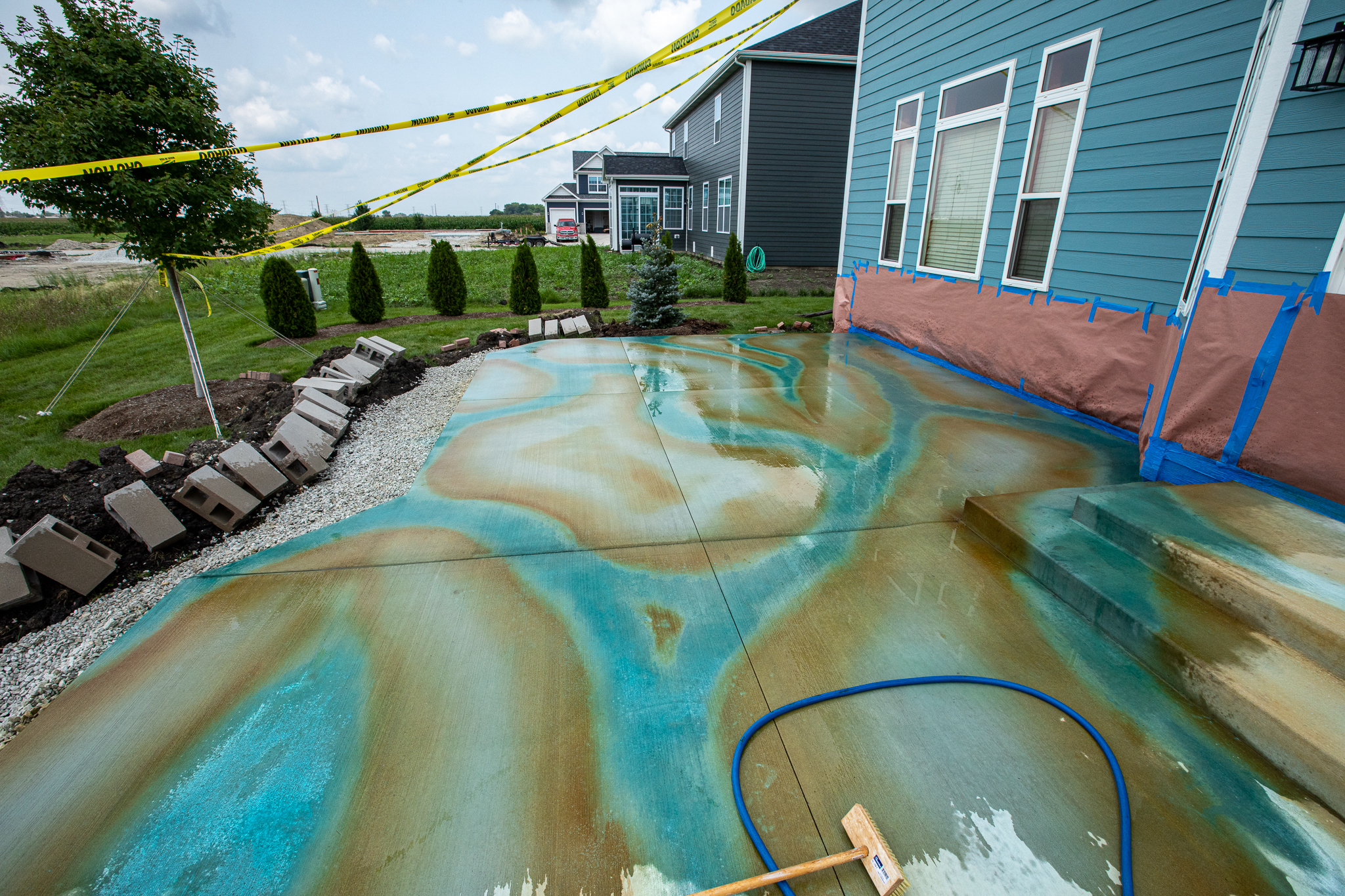 Scrub with a soft nylon bristle scrub brush where needed to remove residue.
Wash the surface carefully using clean water until nothing but clear water is visible.
Remove all residue and excess color from concrete before leaving to dry.
For stubborn residue or porous surfaces, use an organic degreaser to aid in the removal. The clean, wet surface will be the approximate color of the final sealed surface.
Leave to dry.
After the surface has completely dried, the floor should be ready to seal.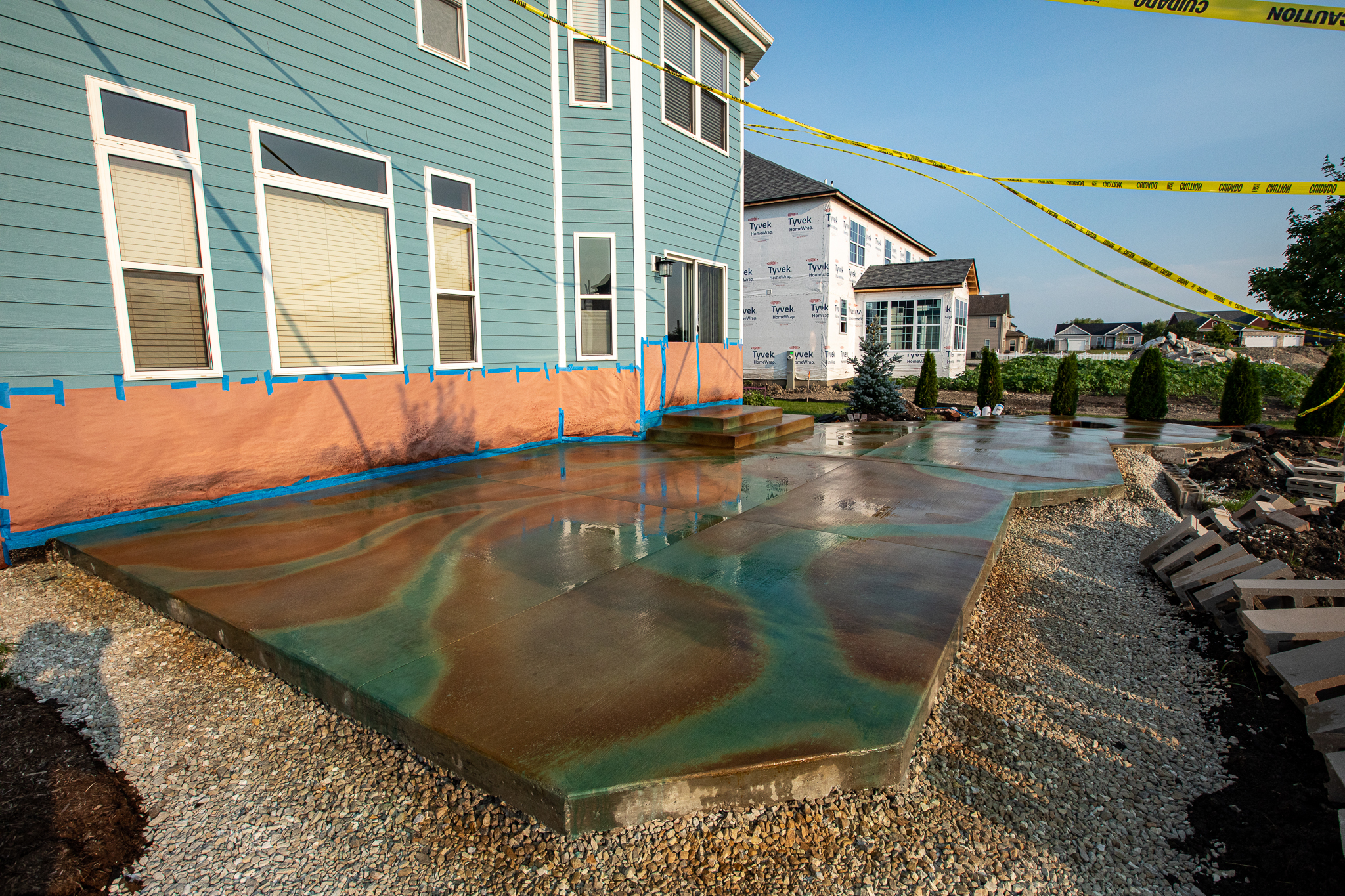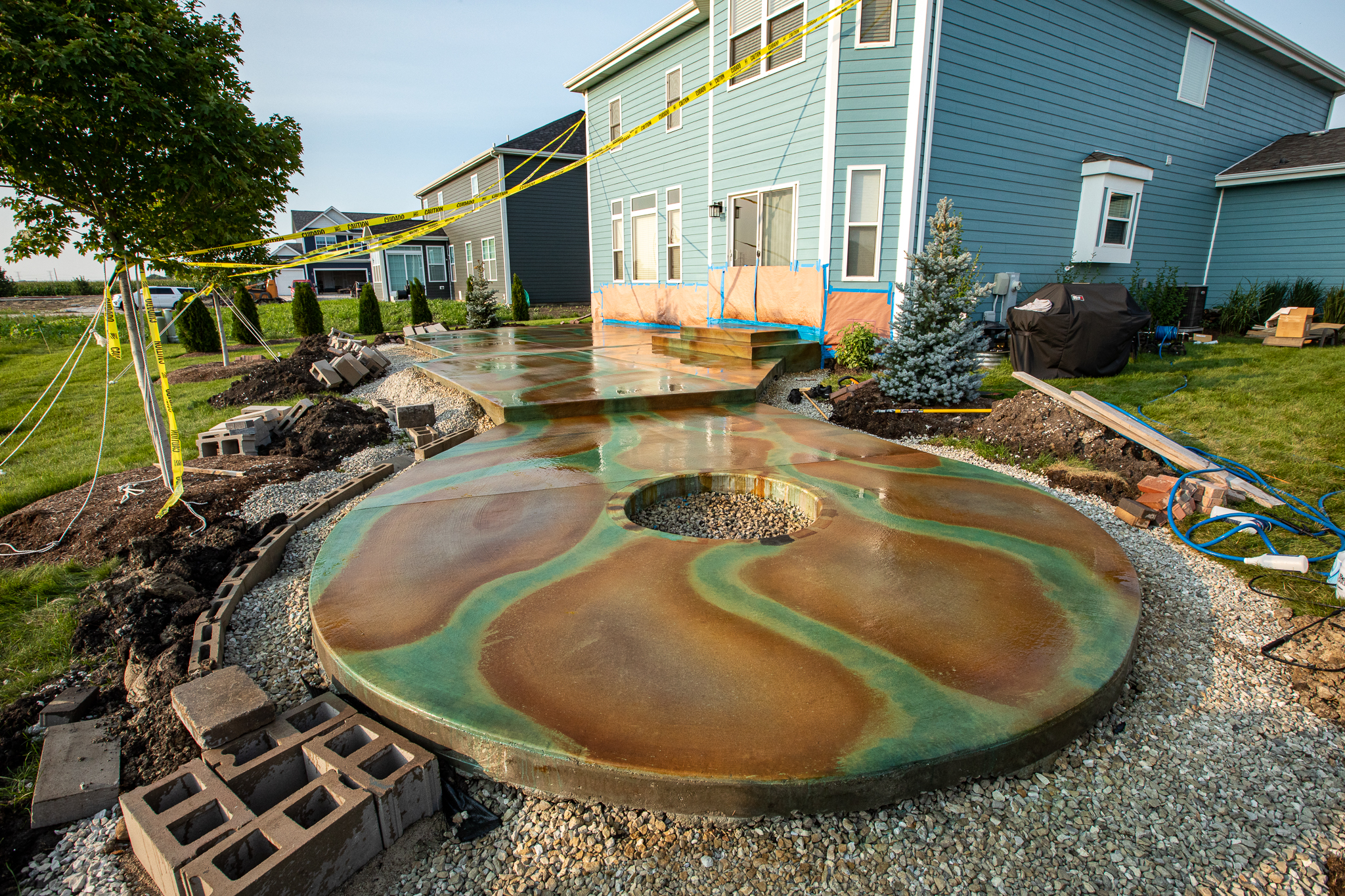 DCPro TIP:   Using a Shop-Vac to wash out and clean acid residue decreases the process time and effort dramatically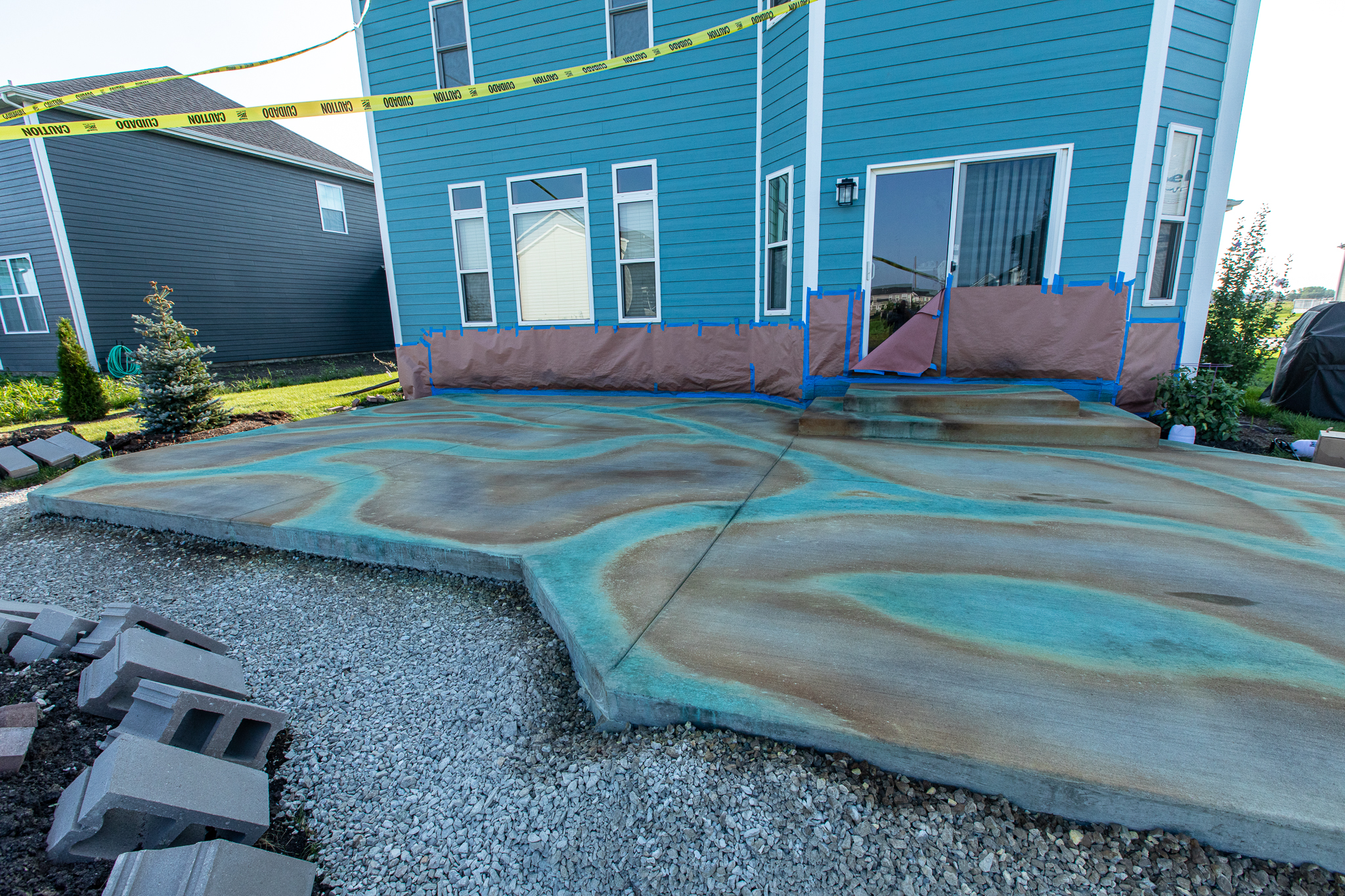 Step 4. Apply Concrete Sealant
Select a Sealer Carefully. Patios can get wet and no one wants to slip and fall. For outdoor concrete patio floors,we recommend a Solvent-Based,  Satin Finish Acrylic Sealer. If you're concerned about slip hazards, add an anti-slip concrete sealer additive to the second coat of sealer for maximum safety. This will create a textured, moisture-friendly surface for any outdoor concrete coloring project.
Apply First Coat of Sealer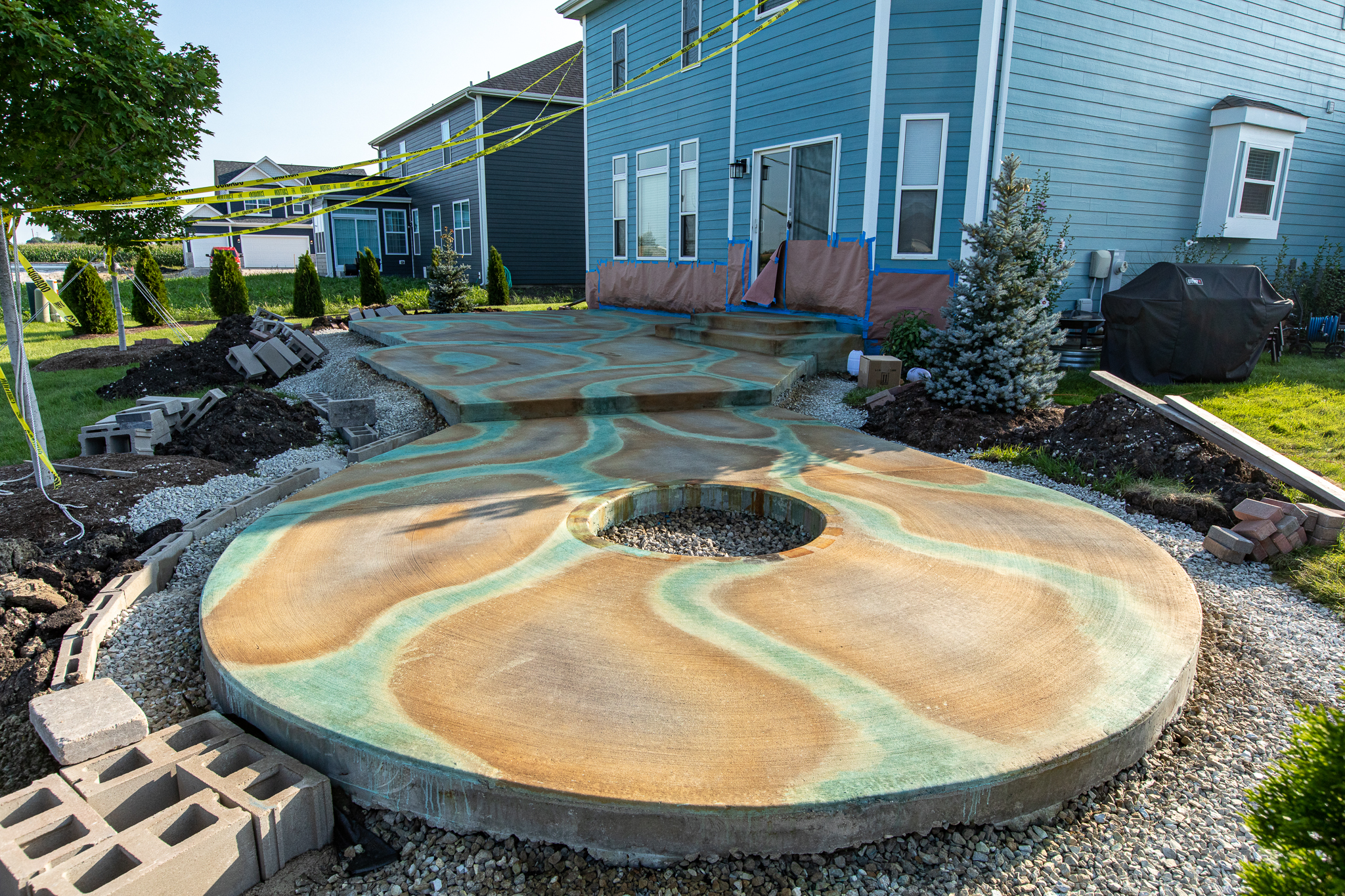 Allow to Dry (2 – 6 Hours)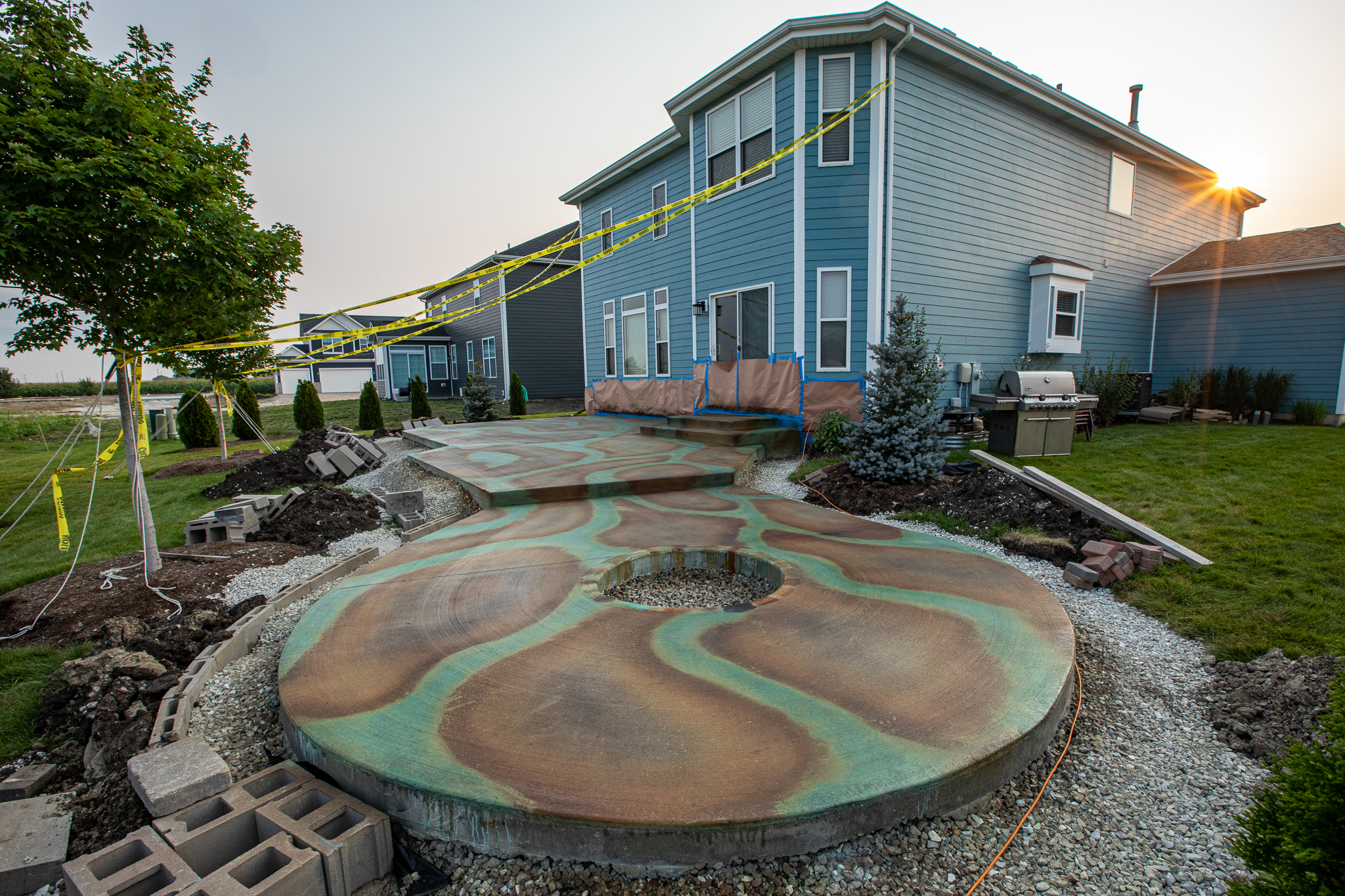 And you're done! Now, you can enjoy your newly concrete acid stained patio for years to come. To make sure you get the most out of your coloring job, there's some easy maintenance you can do.
Direct Colors Products Used
EverStain Acid Stain Trial Kit with Azure Blue, Black, and Malayan Buff
EverStain Acid Stain (in 4oz size) in Avocado, Cola, Desert Amber, and Seagrass
EverStain Acid Stain & Sealer Kit in Malayan Buff, Sea Grass, and Black
Scrub Brush
One-Gallon Acid Stain Sprayer
Spiked Shoes
Acrylic Sealer, Solvent-Based Satin
Other Products Used
Miracle-Gro Plant Food granules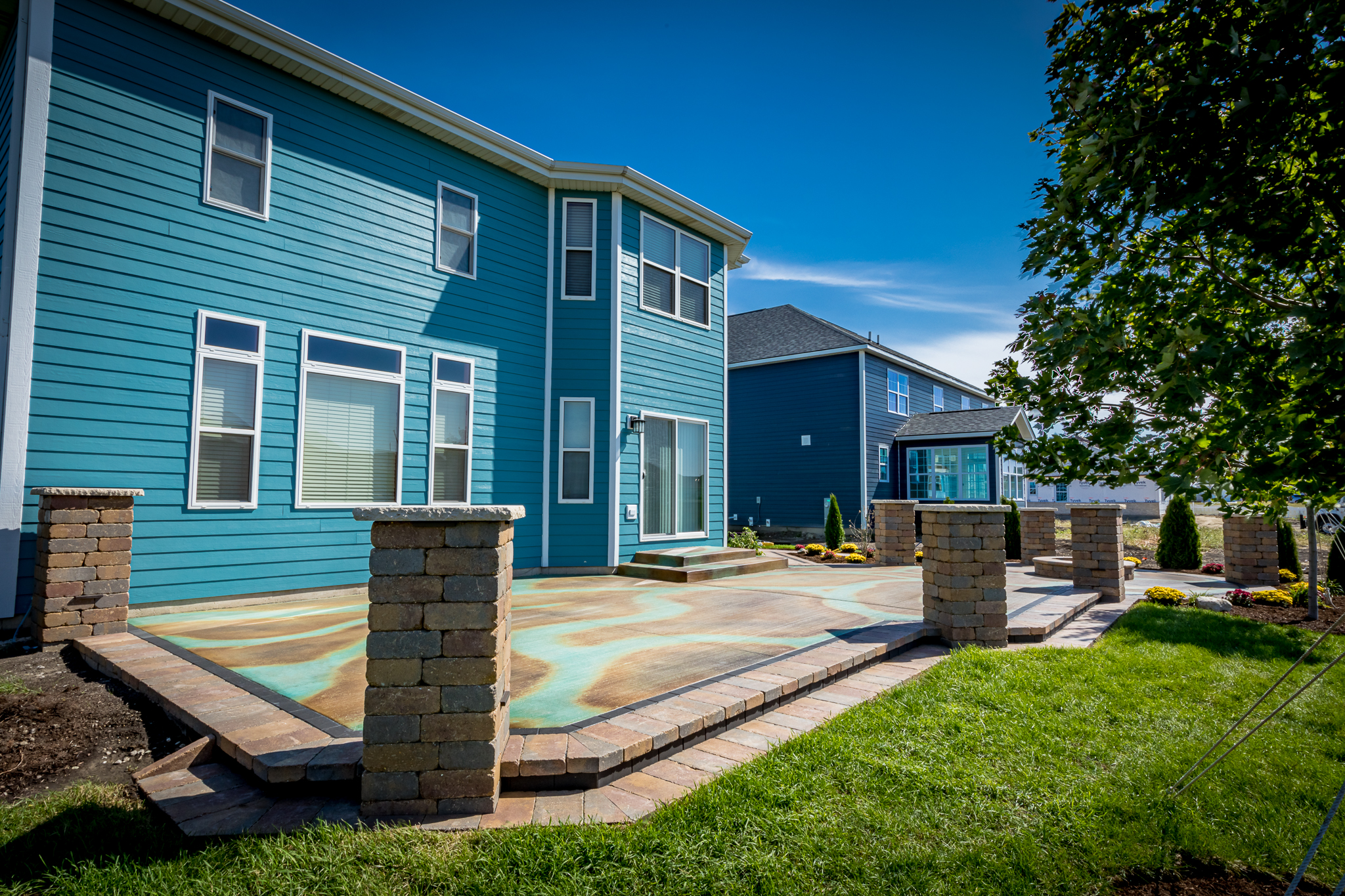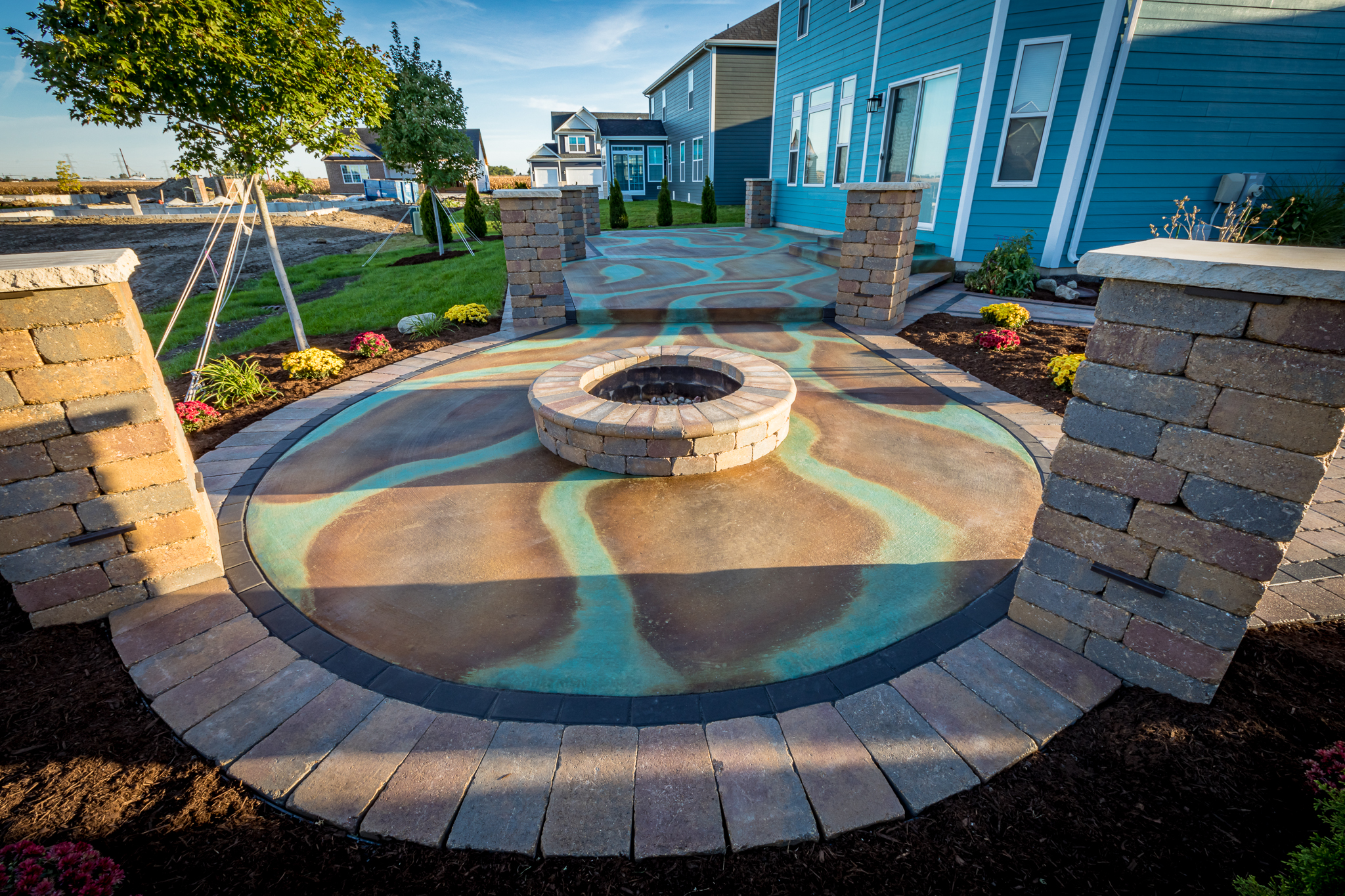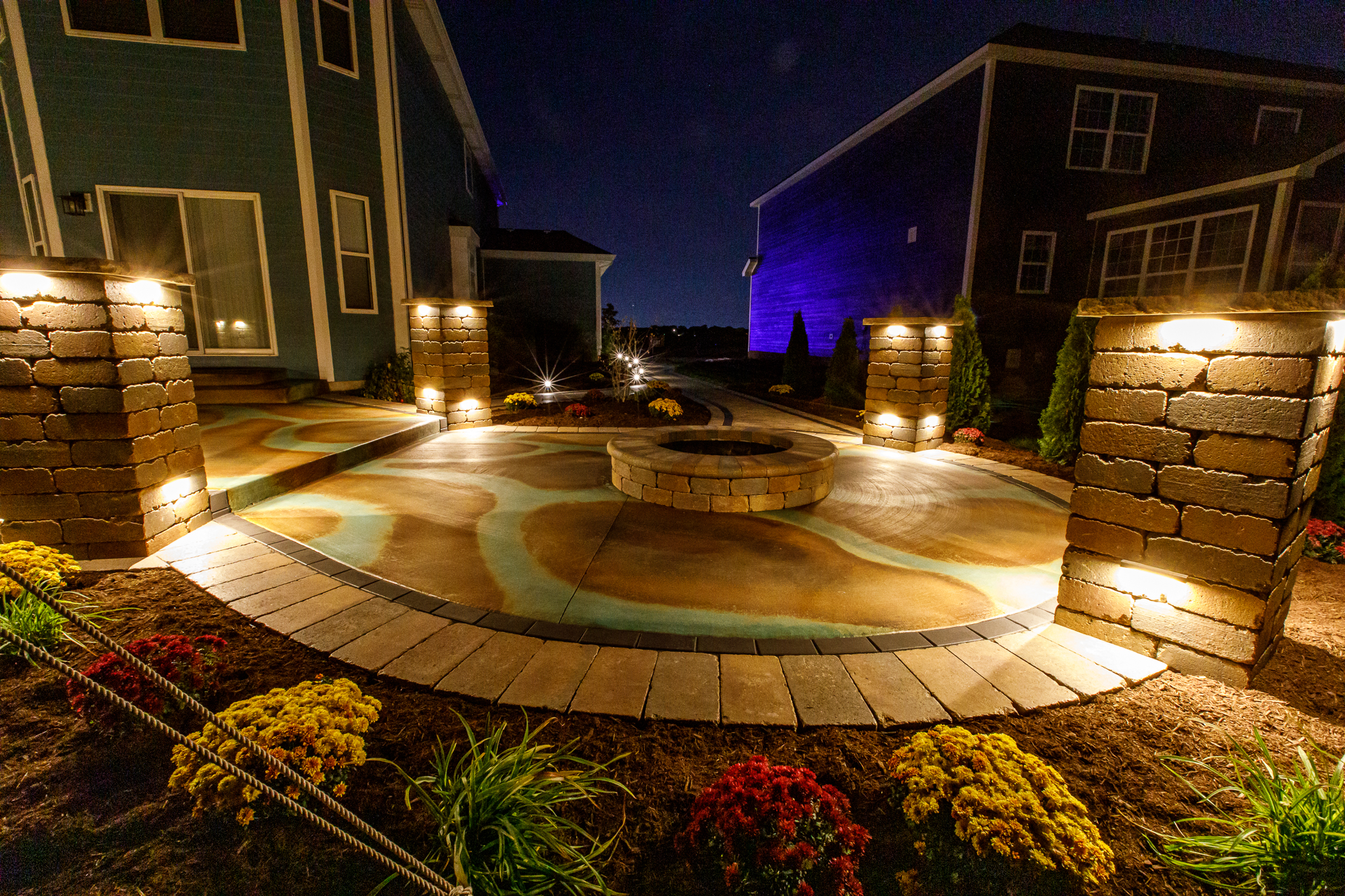 Concrete patios in direct sunlight that are sealed with Acrylic Concrete Sealers should be reapplied every 2-3 years. Covered patios would need to be sealed less frequently. 

Clean the concrete thoroughly prior to application. 

Solvent Based Sealers that are flaking, peeling or damaged in a similar manner should be repaired with xylene vigorously rolled from a paint try before spraying or otherwise applying another coat. 

Keep in mind that not all sealers are compatible or will adhere properly without profiling. Know what sealer has been previously used on the concrete before attempting to apply more. 

Solvent based sealer should be applied over solvent based sealer.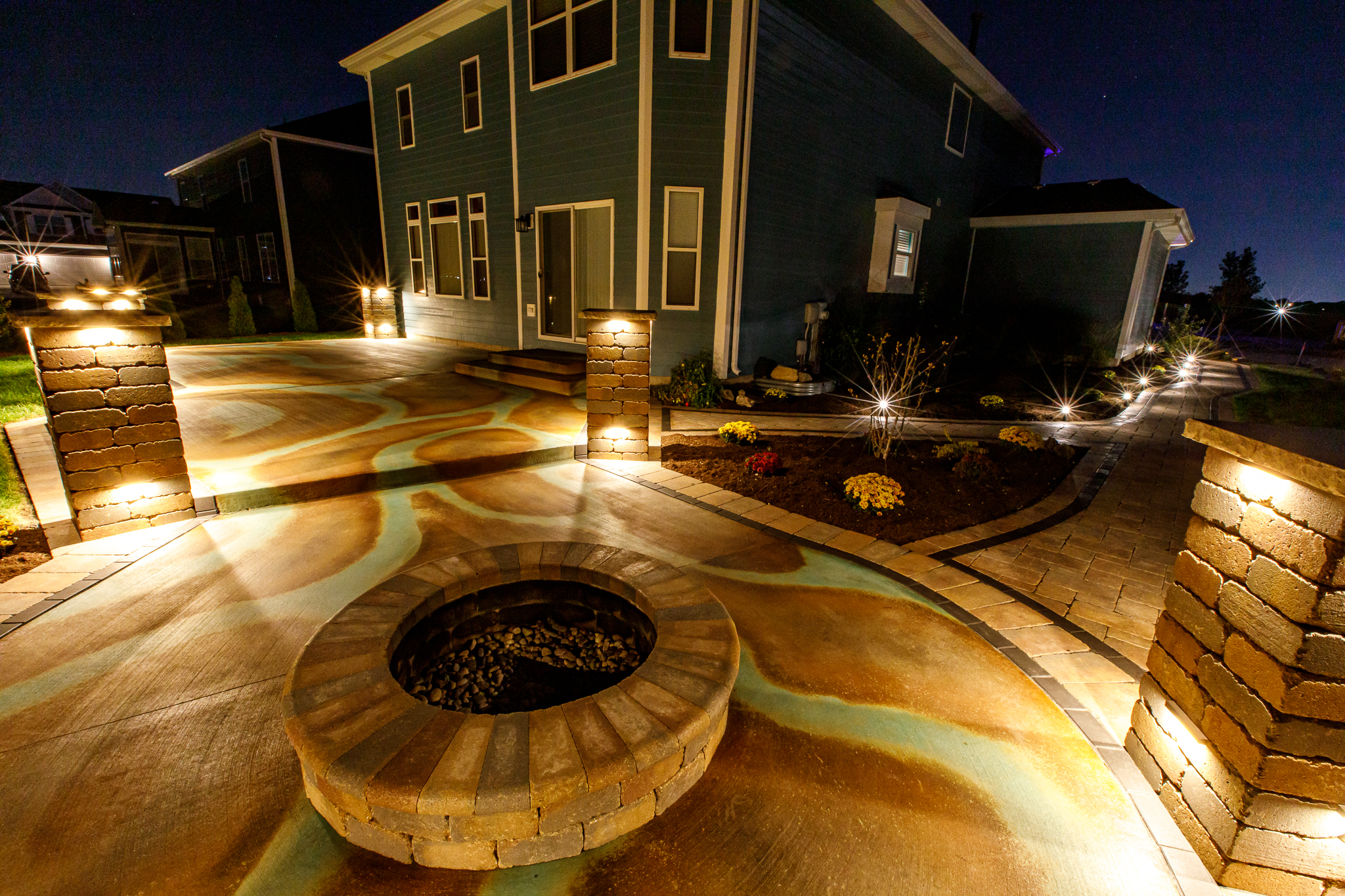 Here are more examples of what your concrete patio could look like by using the different types of outdoor stains: