ACID STAINING CONCRETE PATIO FLOORS
Acid staining patio floors are by far our most popular first-time DIY acid staining project. Our backyards are a place to gather with our friends and family. Learn how acid stained patios create unique, colorful and welcoming value for your home.
Is It Better to Paint or Stain a Concrete Patio?
Acid staining a concrete patio adds striking color within the existing concrete by penetrating the surface and reacting chemically with the hydrated lime in the concrete, whereas paint stays right on top of the concrete providing a uniformly opaque layer of color.
Acid staining creates permanent color that actually becomes part of the concrete floor itself, so color will not chip or peel off.  On the other hand, paint on outdoor patios is exposed to weather conditions that may cause it to chip or peel off easily if not properly applied.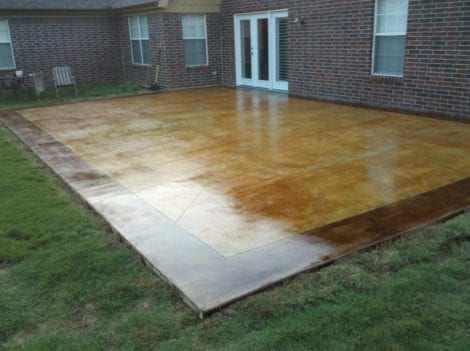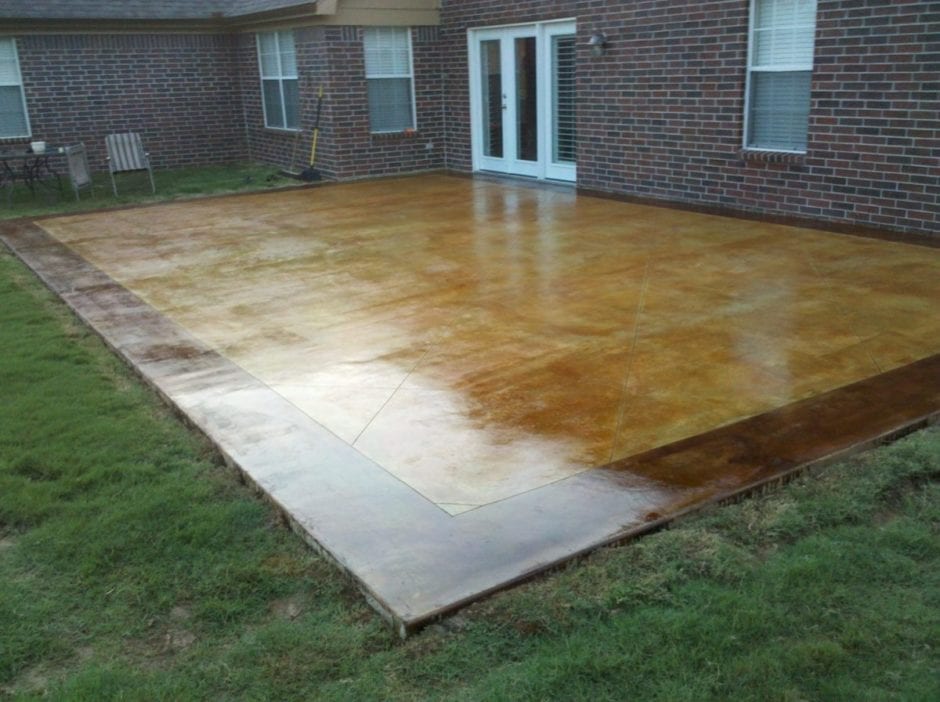 How Much Does it Cost to Stain a Concrete Patio?
The cost of traditional acid stained concrete flooring begins at $0.24 per square foot (before sealer). Typically, acid staining a concrete patio would require an Acid Stain, a solvent-based acrylic concrete sealer and non-slip additive for the top coat for safety which brings the cost to about $0.38 per square foot. TIP: If working on complex stencil floor designs, the Deco Gel Acid Stain is an easy to use non-drip stain option.
Direct Colors Tinted Concrete Sealer is a one-step color and seal option that is available in solvent-based form for outdoor concrete, and at $0.19 per square foot, is the most cost effective outdoor concrete staining option available.
If you have a stamped concrete patio,  Antiquing Stain is a preferred choice. The cost of staining outdoor stamped concrete begins at $0.15 per square floor. This technique requires a solvent-based acrylic concrete sealer top coat and non-slip additive for the sealer which brings the cost to about $0.27 per square foot.
Use our Coverage Calculator to determine how much stain and sealer you need to stain your concrete patio.
OUTDOOR  CONCRETE STAIN CHOICES
HOW TO ACID STAIN CONCRETE PATIO FLOORS
Step 1: Inspect Concrete Floor
Inspect you concrete. Knowing your concrete surface conditions and age are very important factors for successful staining. Keep the following conditions in mind when determining whether or not your slab is a good candidate for acid staining:
• The slab should not have been poured with a waterproofing agent, cleaned with muriatic acid or a heavy tri-sodium phosphate (TSP) solution. The acid stain reaction cannot occur on surfaces treated with these products.
• For older, excessively power-washed or mechanically-profiled concrete, the surface must be completely intact with no exposed aggregate or sand particles.
• Concrete acid stain does not stain rocks, sand or aggregate. Exposed aggregate or otherwise depleted concrete may cause the acid stain to take irregularly, react weakly or produce a color inconsistent with the acid stain color chart.
• Newly poured concrete should include less than 10% fly ash to insure a good chemical reaction with the acid stain.
• Concrete poured with excessive water in the mix can create a thin, unstable layer of concrete on the slab surface. To test for instability, press the tip of nail into the concrete. If breaking or damage of any kind occurs, the slab must be profiled with a sander or buffer using a 60-80 grit sanding disc before staining.
Step 3: Apply Acid Stain
Apply acid stain to concrete floors. When choosing acid stain colors, take into account that if your patio gets direct sunlight for much of the day, avoid selecting black as a main acid stain color. Use the darker colors as an accent or the concrete will become too hot to walk on in the heat of the day.
Choose a stain(s) complementary to your brick or siding color. Exact color matches are difficult to achieve with acid stain. Most customers select at least two acid stain colors for patio applications. For ideas on acid stain color combination read How to Stain Concrete Like Marble
STEP 5: Seal
Select a Sealer Carefully. Patios can get wet and no one wants to slip and fall. For outdoor concrete patio floors, the sealer of choice is the solvent-based,  satin finish acrylic sealer. If you are concerned about slip hazards, add an anti-slip concrete sealer additive to the second coat of sealer for maximum safety.
Solvent based sealers offer deeper, richer Color but do have a strong odor during application.
Maintenance:
Acrylic sealers on patios in direct sunlight should be reapplied every 2-3 years. Covered patios would need to be sealed less frequently. Clean the concrete thoroughly prior to application. Solvent Based Sealers that are flaking, peeling or damaged in a similar manner should be repaired with xylene vigorously rolled from a paint try before spraying or otherwise applying another coat. Keep in mind that not all sealers are compatible or will adhere properly without profiling. Know what sealer has been previously used on the concrete before attempting to apply more. Solvent based sealer should be applied over solvent based sealer.