Concrete Paver Stain Driveway Renovation
Affordable and Easy Way to Boost Your Home's Curb Appeal
Improving the curb appeal of your house, especially if you intend to sell in the spring, is essential to bring the highest price in today's real estate market. Driveway renovation can be a costly and time consuming project but nothing says "no thank you" like a damaged or discolored driveway. Direct Colors offers several excellent alternatives to expensive removal or replacement that will make your home look like a million bucks!
Concrete pavers are a common building material for driveways but those pavers become dull and discolored over time which definitely does not contribute to curb appeal. Our customer, Dr. Miles, contacted us about just such a driveway and we recommended using Paver Concrete Stain and Satin Finish Sealer. Both products are easy to apply, fast to complete and can be used on concrete that's above freezing so less sensitive to temperature than other alternatives.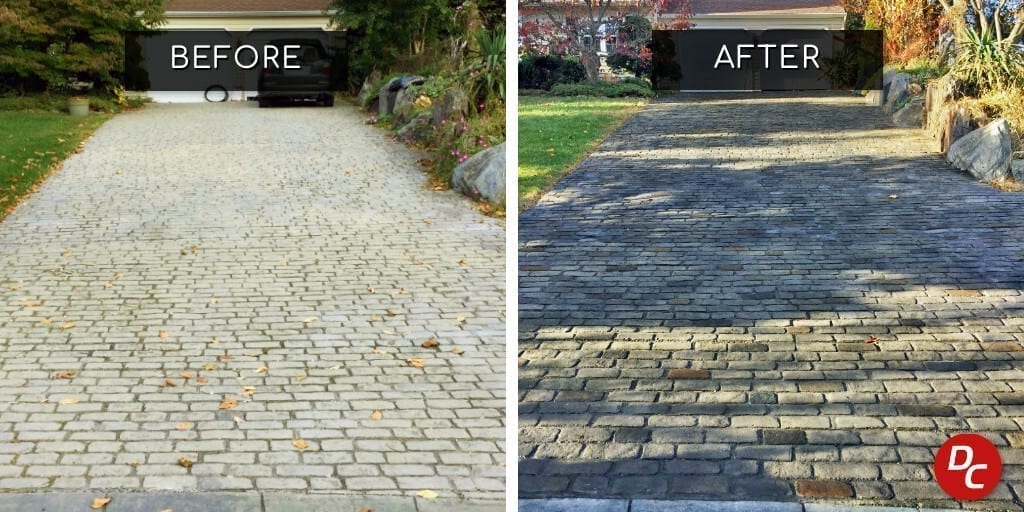 Dr. Miles Contacted us to About His Recent Driveway Renovation Project:
Dear Direct Colors:
I couldn't feel better about the results I got on the driveway.  I promised I would send the after pictures to show my gratitude.  The results were in a large part due to the professional consultants and affordable products offered by Direct Colors.
My driveway renovation project was essential a start over with regard to color and sealant.   I had cracks and surface damage, and the color was virtually the plain gray of the concrete.  I explained to  how I wanted an old cobblestone street of various grays with sporadic accent stones of natural stone colors in earth tones.  Whereas, it is hard to even find the phone number of many internet sales companies, the technical staff at Direct Colors answered dozens of questions and gave me the direction I needed to pull this off — from repair, to acid staining of accent stones, to over-spraying with the Gray Antiquing Stain for various dilutions of gray.  Sealing was a key part of the help I received.  They were able to explain how to protect the blue and green acid stains I used at the bottom of my driveway to reproduce slate.  The trick was just a quart of their magic Penetrating Sealer.  One more thing, I absolutely love the ease of use and the strength of protection of their  Satin Finish Sealer. I will never leave my driveway unprotected again
Happy Customer,
Dr. Miles