How to Stain a Concrete Driveway
Concrete driveways come in all sizes, shapes, colors, and materials. But, whether your driveway is flat asphalt, solid concrete, or made of concrete pavers, all homeowners have one thing in common: they're stuck with it. 
In this guide, we're going to show you how to renovate your driveway to create something beautiful and new. Whether you're a seasoned DIYer or an amateur who's just getting started, this guide is for you.
Concrete Stain for Driveways: A DIY Guide
Step 1: Prepare the Surface for Concrete Stain
Depending on the state of your driveway, here are a few things you'll need to do before applying concrete stain:
Sweep or

remove all debris

from the surface including sand, dirt, leaves, grass, etc.

Sand down hills and valleys of poured concrete

if pooling of colorant (where colors will take longer to dry and become darker) is not desired.

Remove oil stains or other discoloring agents that may hinder desired effect of staining.
Preparing the concrete driveway for stain is crucial to achieving the ideal finished product. Don't skip or skimp on this important step. If your project area is surrounded by grass, consider covering the edges with paper or plastic covering to avoid any lawn damage or discolor.
Step 2: Applying Concrete Stain for Driveways
To apply the concrete stain, you'll need a pump sprayer or roll-on applicator, and the colorant. Add the stain to the pump sprayer. You may choose to dilute the colorant with water if the stain starts off too dark. However, note that the stain will dry lighter than initial application would have you believe.
Applying Concrete Dye
Concrete dye also requires a mixture with acetone for the pigments to properly dissipate. This also means that you'll need an acetone grade pump sprayer. Be sure to shake the mixture occasionally while applying to avoid clumping.
Concrete dye generally offers a more solid, complete color transformation to the surface. In the above project, a Direct Colors customer has created a striped pattern by using our Charcoal Concrete Dye Powder, while leaving the remaining concrete its natural color.
Here are some tips for applying concrete dye to driveways:
Spray mixture

from North to South

on the driveway surface.

Thin layers

are recommended.

Add

more layers to darken the color

. Concrete Dye will dry almost instantly.

Applying

3 coats of dye

is recommended to achieve desired color.
Here's an example of a driveway project using concrete dye: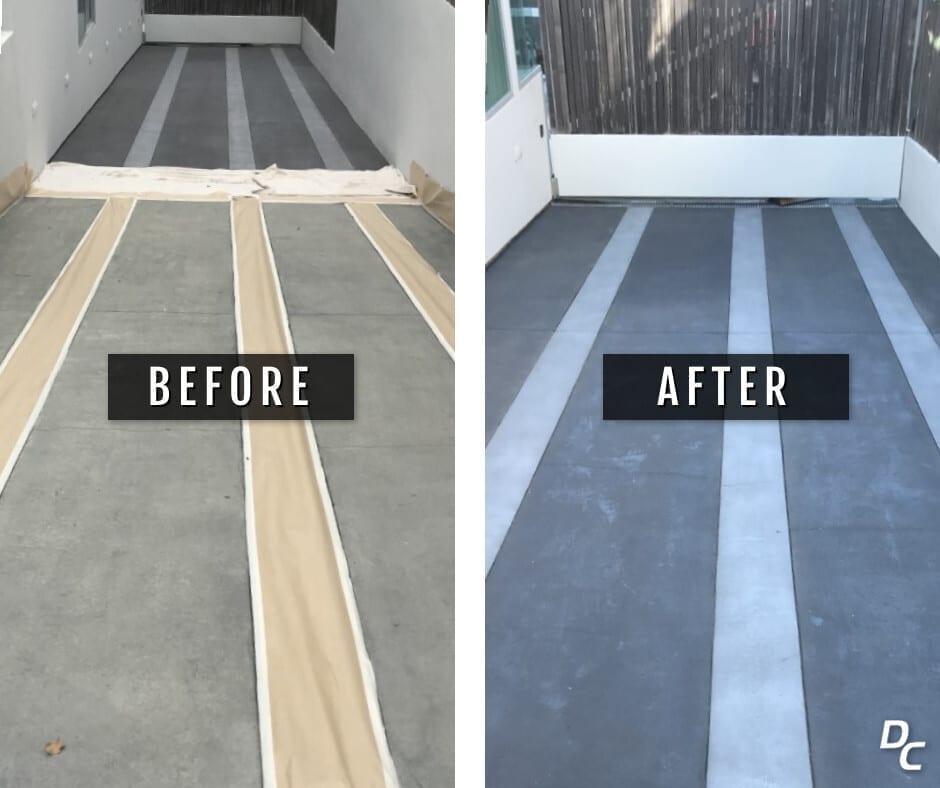 Applying Paver Stain
Outdoor Concrete Stain, Direct Colors' Portico™ products allow DIYers to create patterns, shades, and layering effects much more easily than with Concrete Dye. Outdoor Concrete Stain does not require acetone for use. Simply add the mixture to a pump sprayer, add water to dilute, and get to work.
Here are the steps to apply Outdoor Concrete Stain:
Add mixture to the pump sprayer.

Spray mixture onto surface, allowing pooling to take place. The surface should appear wet.

For marbling effect, add even more stain to the surface to amplify the pooling effect. This will create a natural marbled appearance in your concrete driveway.

Apply 2 coats of outdoor concrete stain to achieve desired color.
Here's an example of a driveway project using outdoor concrete stain: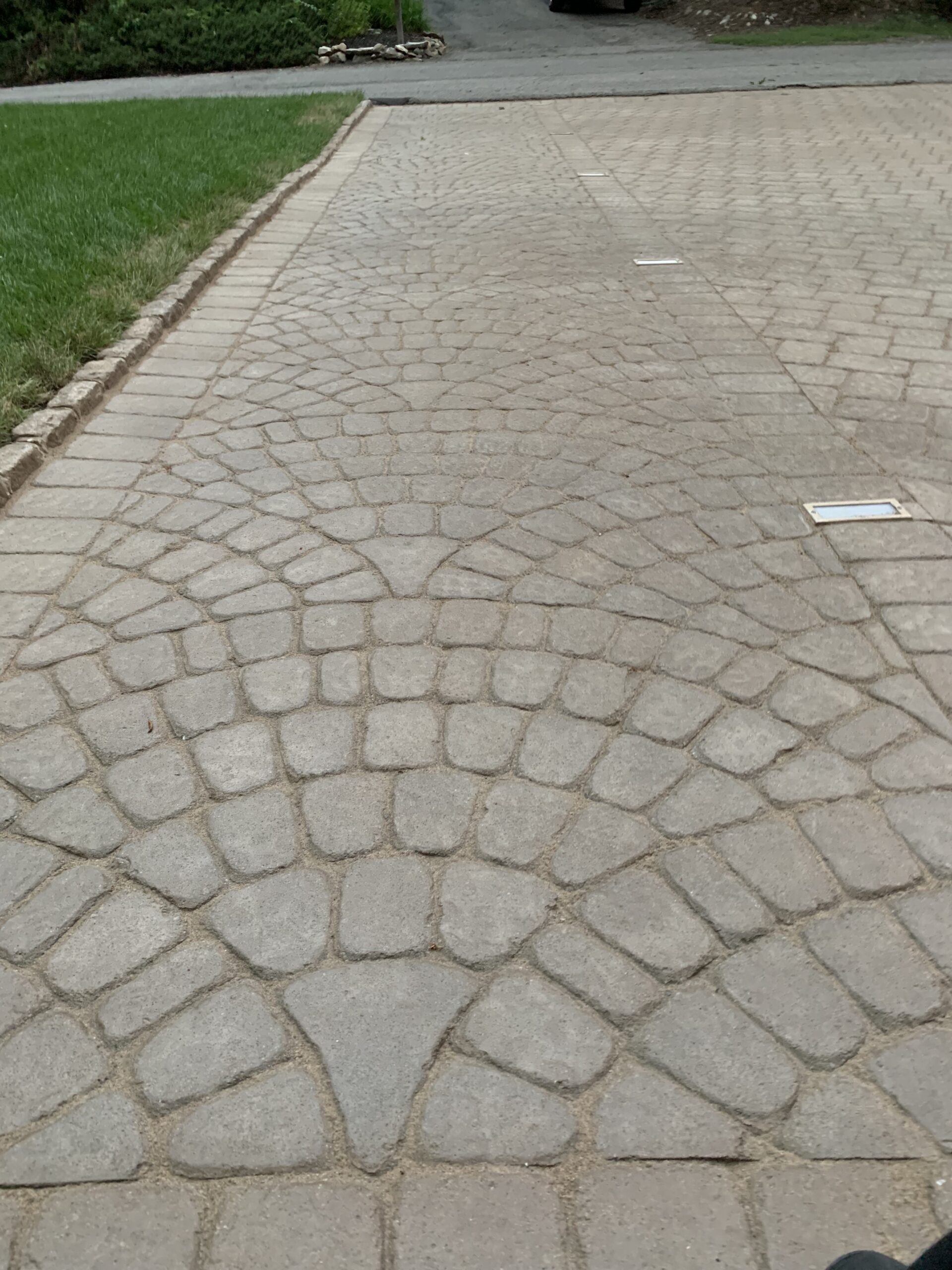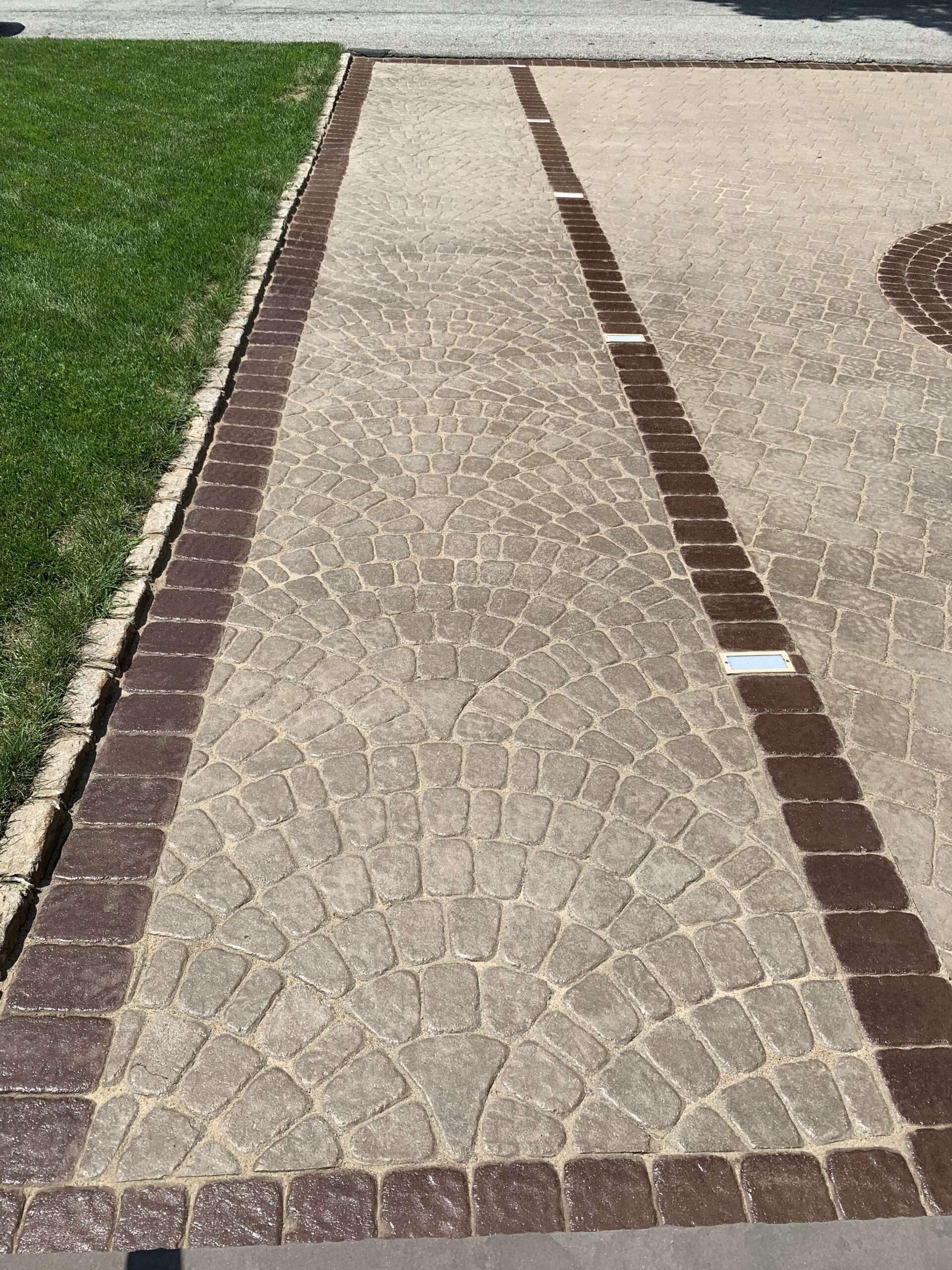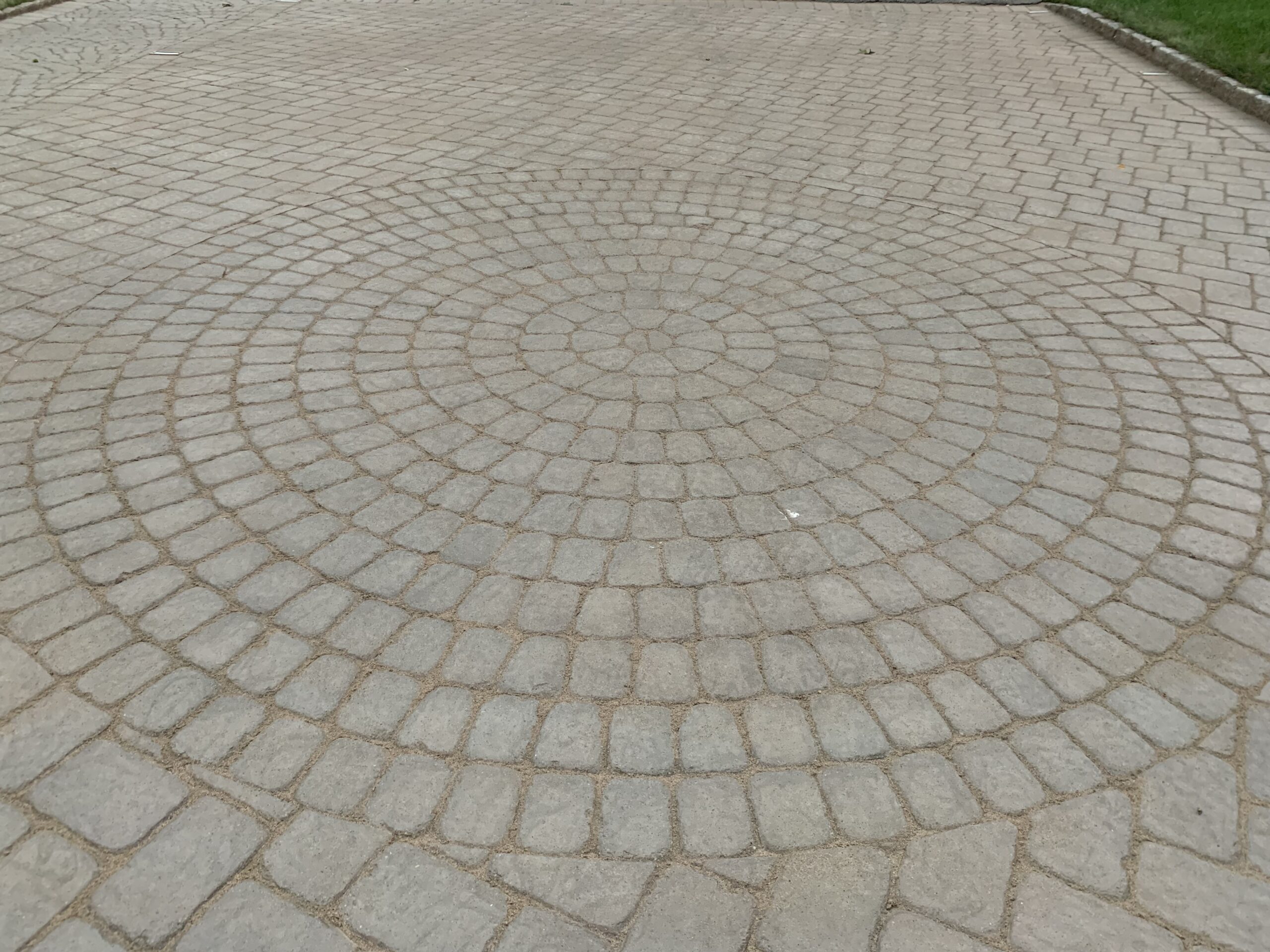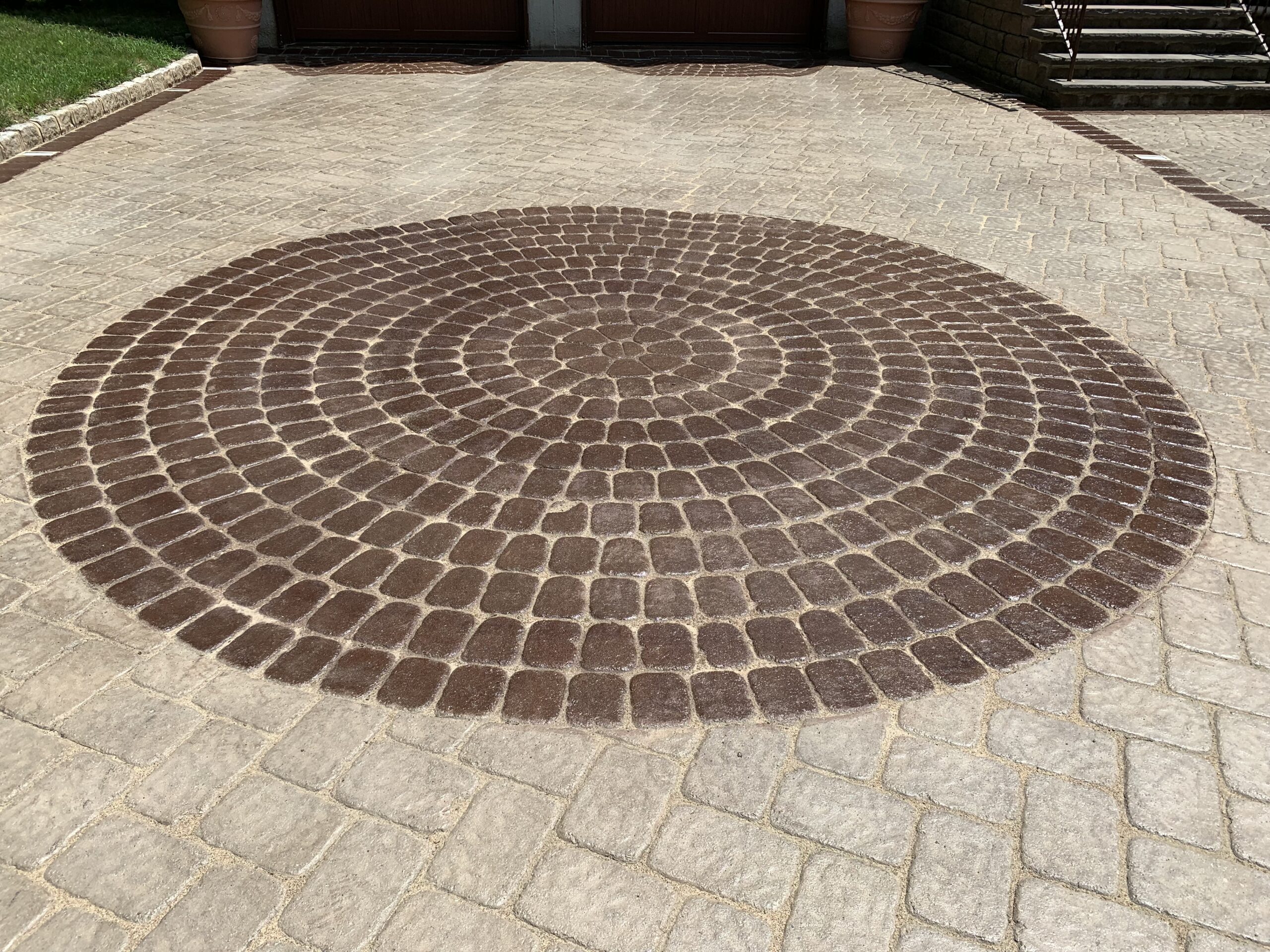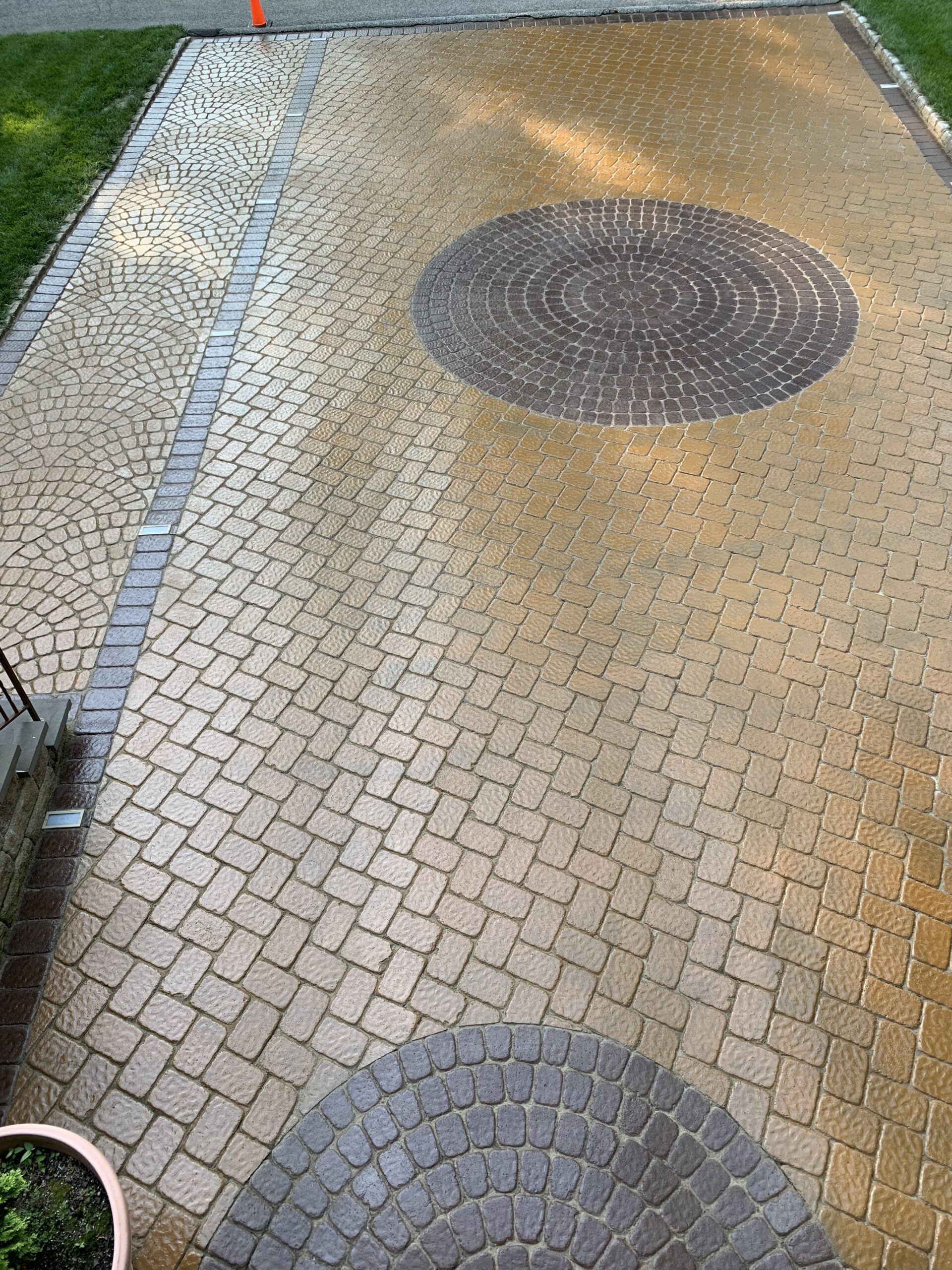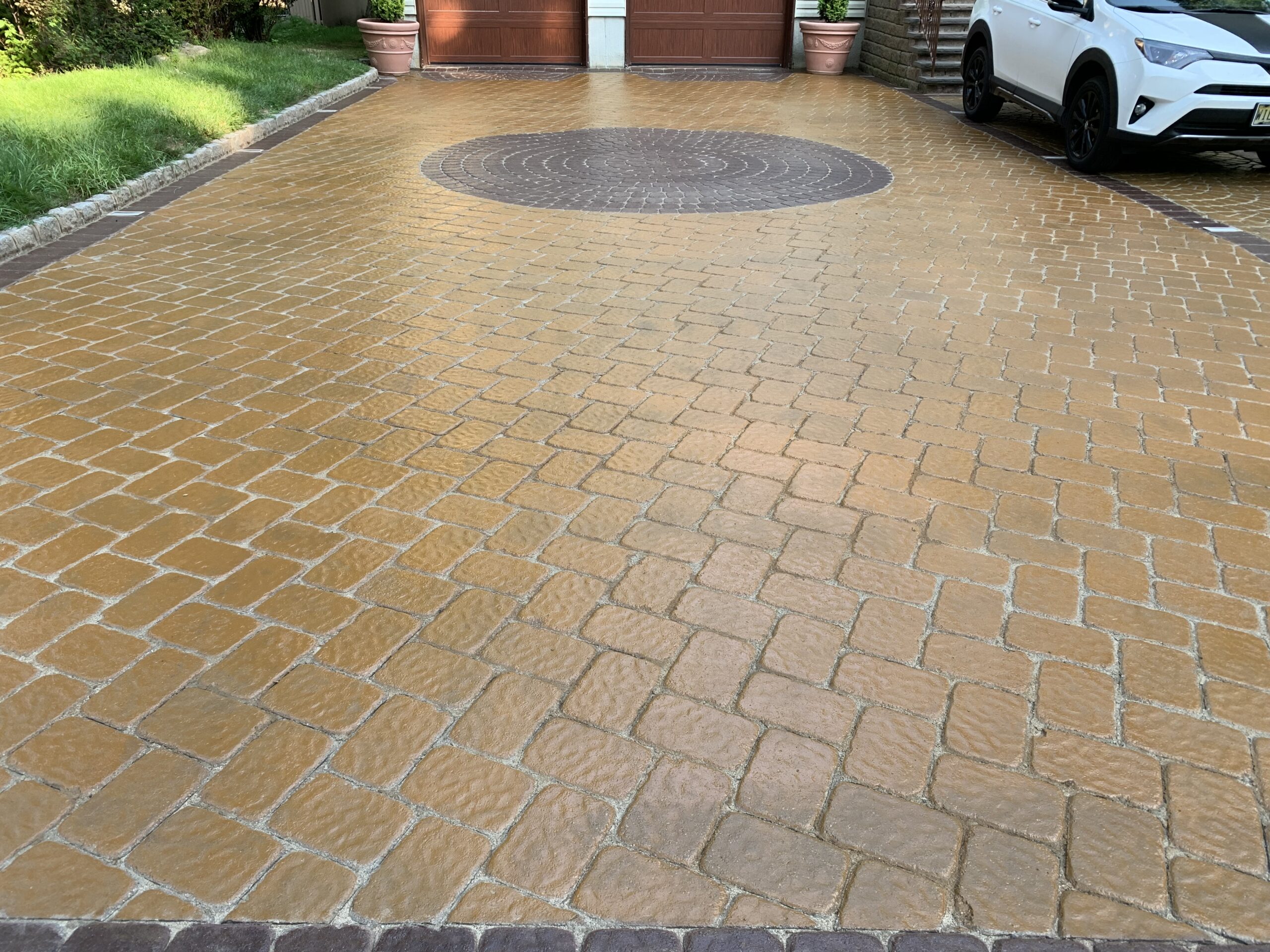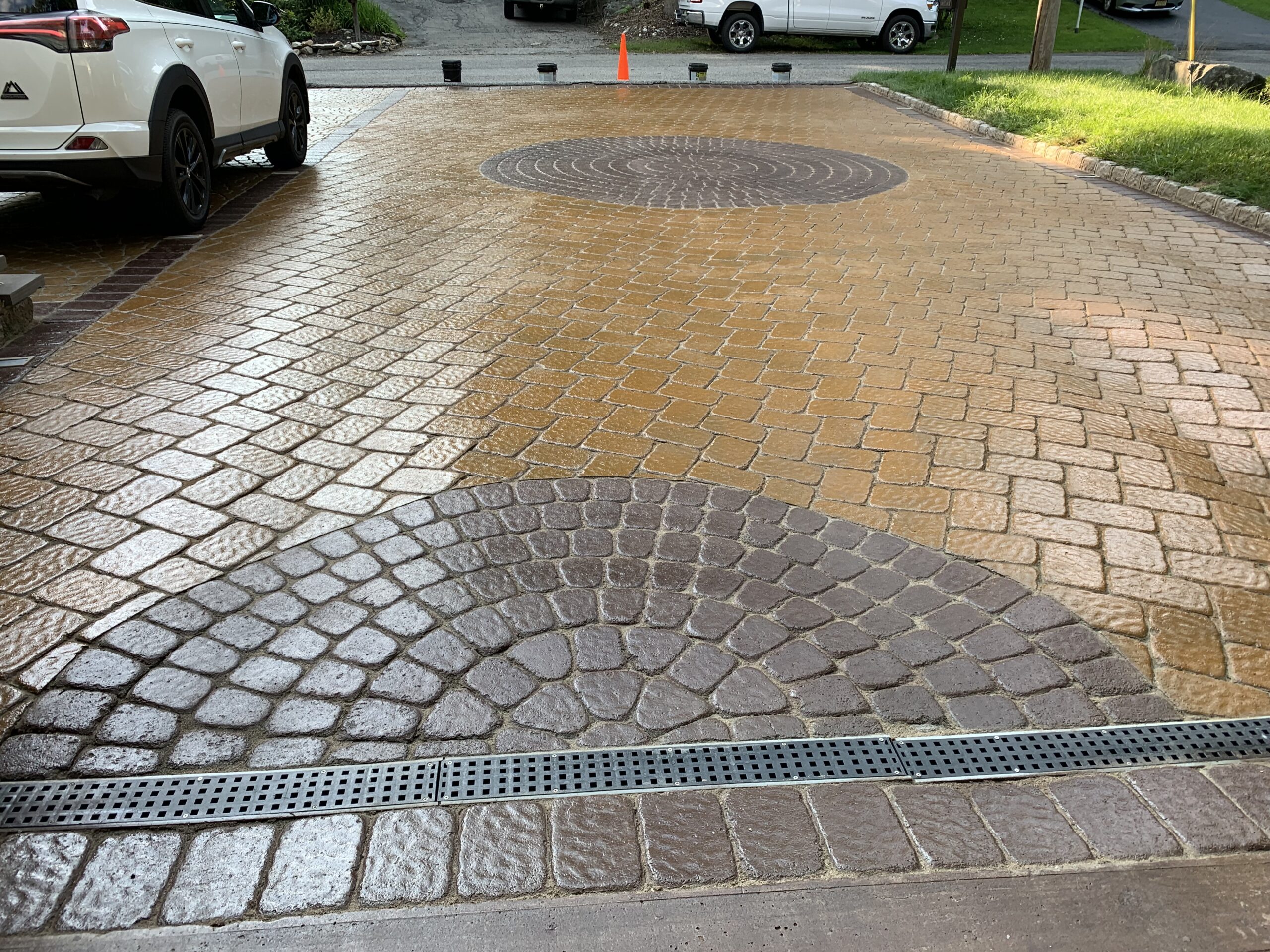 Step 3: Let Dry
After applying the last coat of either concrete dye or outdoor concrete stain to your driveway, allow the surface to dry for up to 8 hours. The driveway concrete must be fully dry before applying sealer, which is step 4
Step 4: Seal the Concrete Driveway
See? Told you. 
For sealing concrete driveways, Direct Colors recommends our Solvent-Based Acrylic Sealer with Satin finish. This particular sealer is super easy to apply, dries fast, and makes the color of outdoor concrete projects really pop.
Applying Concrete Sealer to Driveways
You can choose to either spray your sealer with a pump sprayer, or roll it on. Personal preference is all that really matters here, but the spray method does cover a wider area in less time.
Here's how to apply the concrete sealer:
Spray or roll the sealer onto the surface

in thin coats

.

Allow the surface to dry for 4-8 hours.

Apply a second coat.

Allow the final coat to dry between 24-48 hours depending on foot and vehicle traffic.
For most driveways, we recommend at least two coats of sealer on top of your concrete coloring project. Layering will add extra protection for your underlying colored concrete.
Step 5: Enjoy!
You're done! Now all that's left to do is clean and care for your newly concrete stained driveway. But, we won't bore you with that. If you'd like to learn more about maintaining your project, check out our guide to Clean, Repair, and Maintain Concrete Stained Driveways.
Direct Colors Contest Winner Adan Jimenez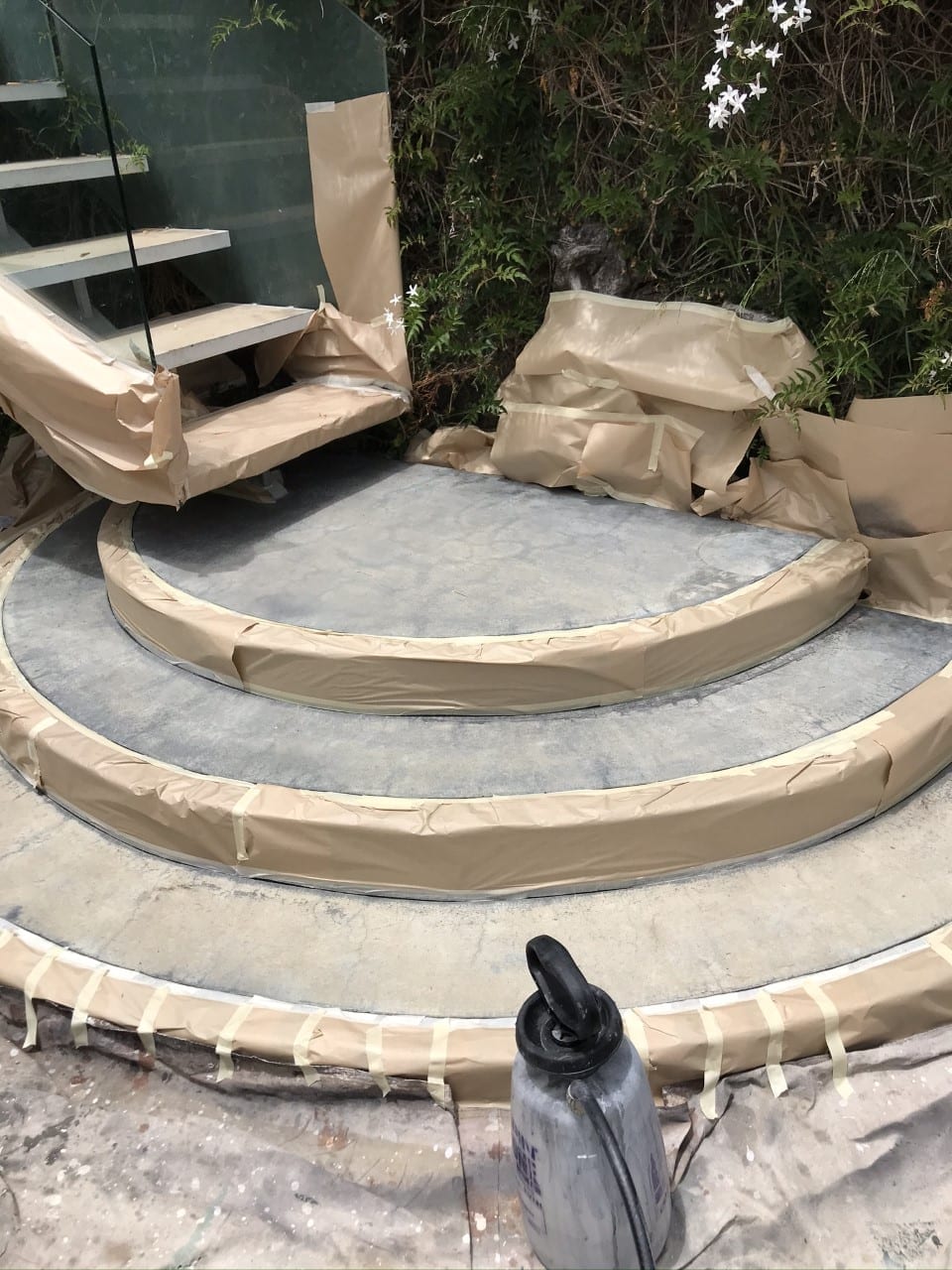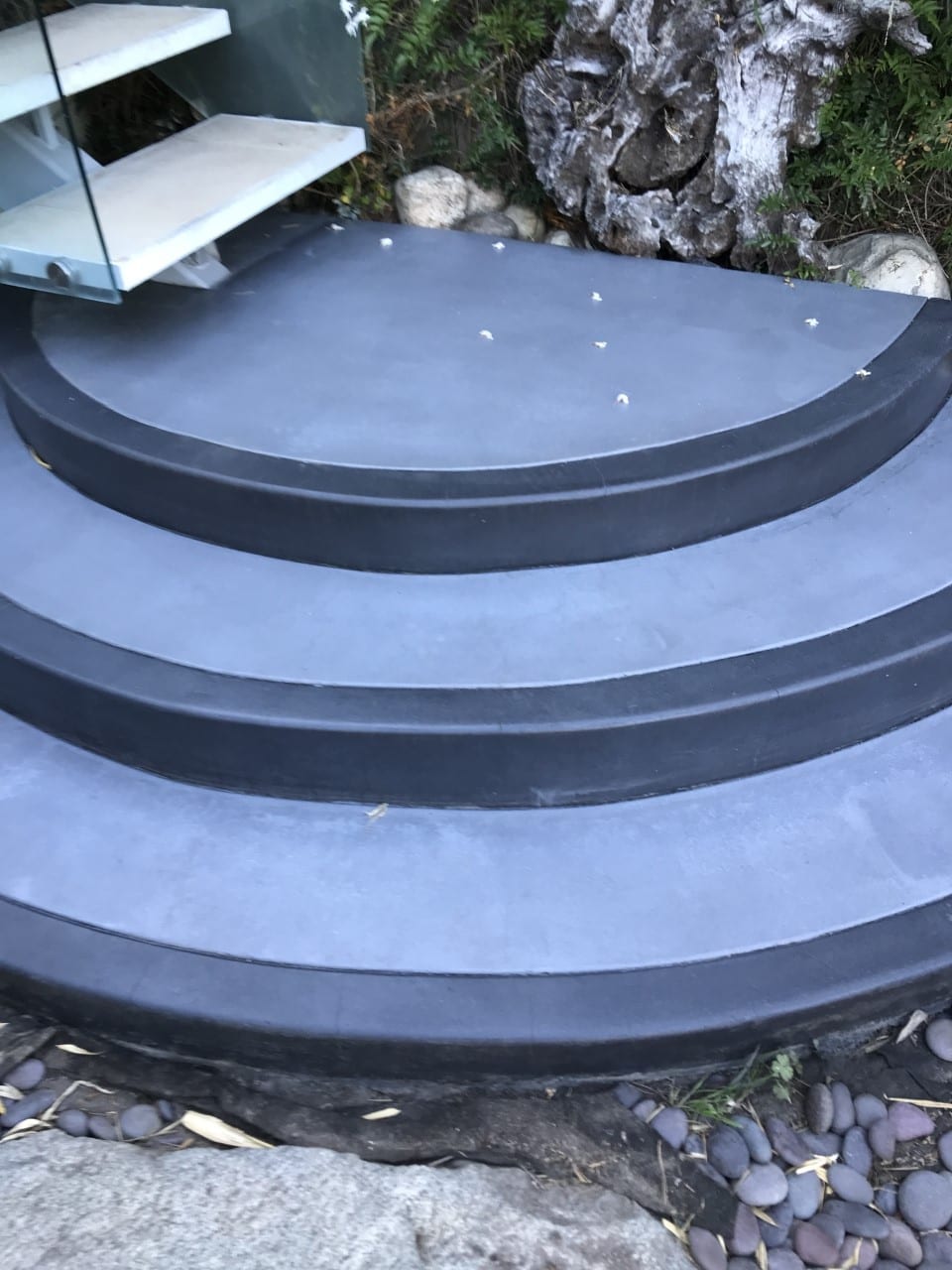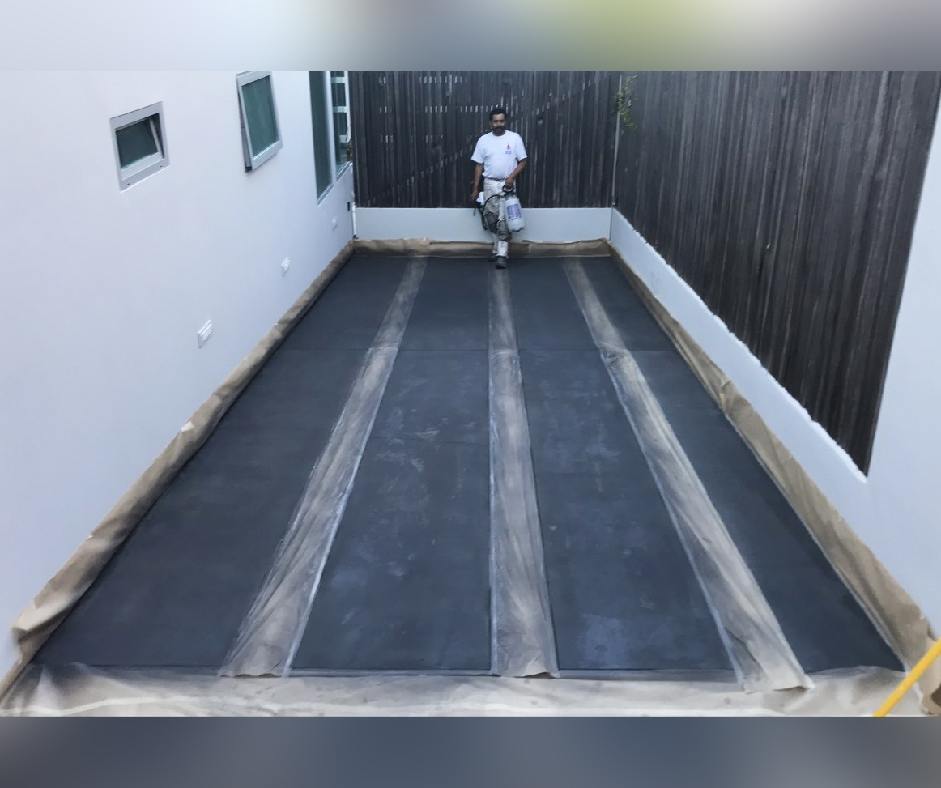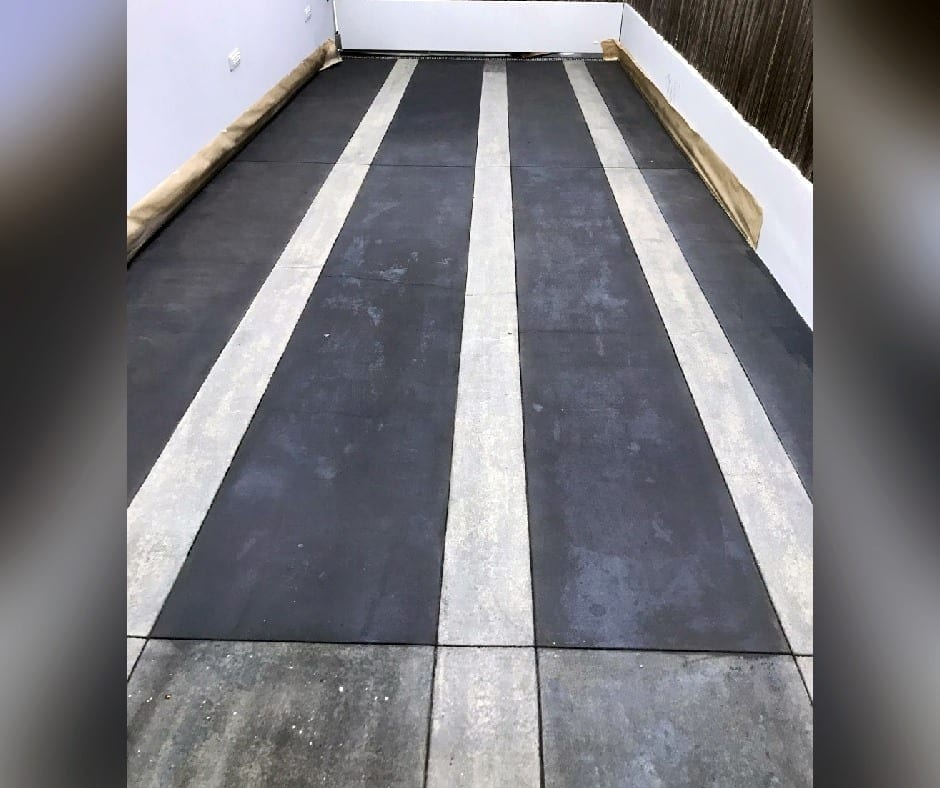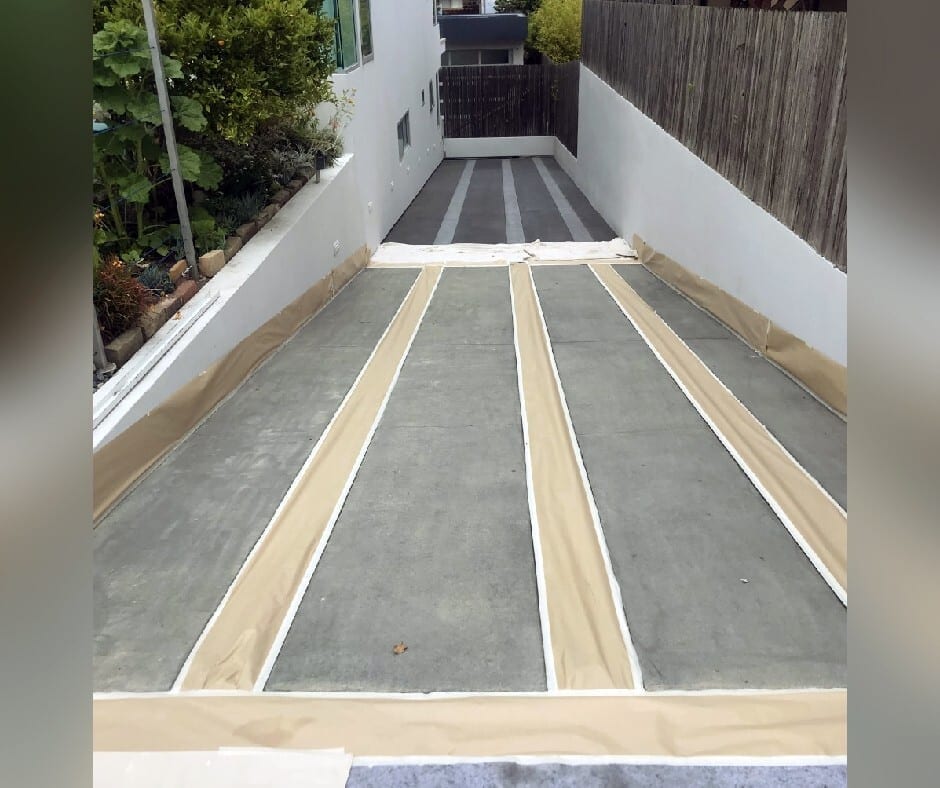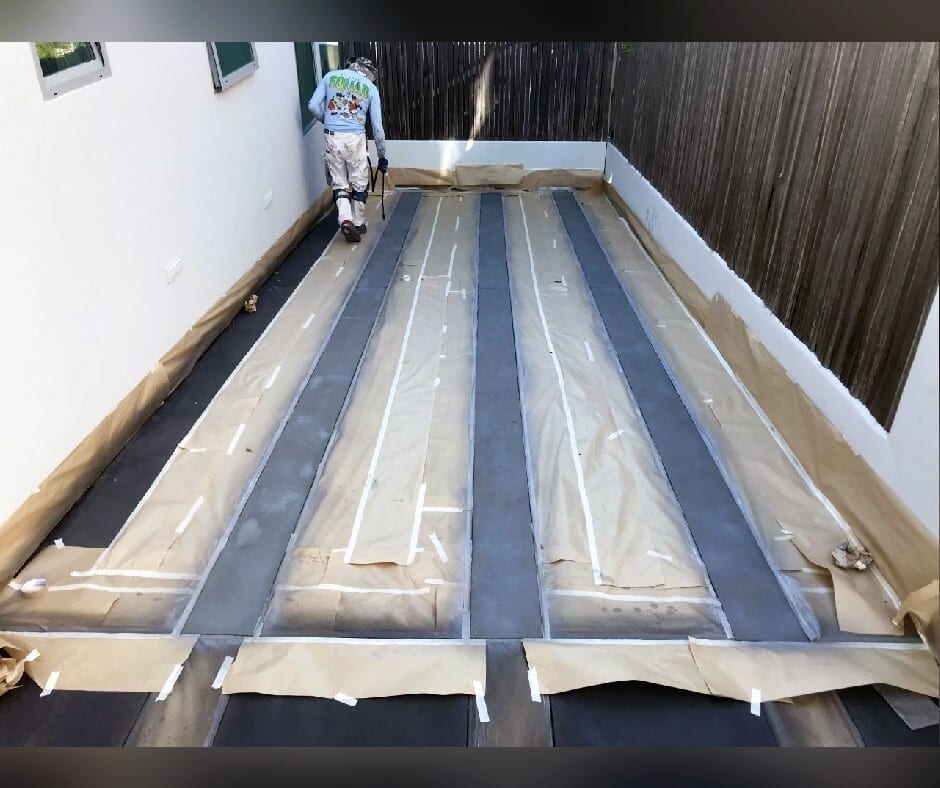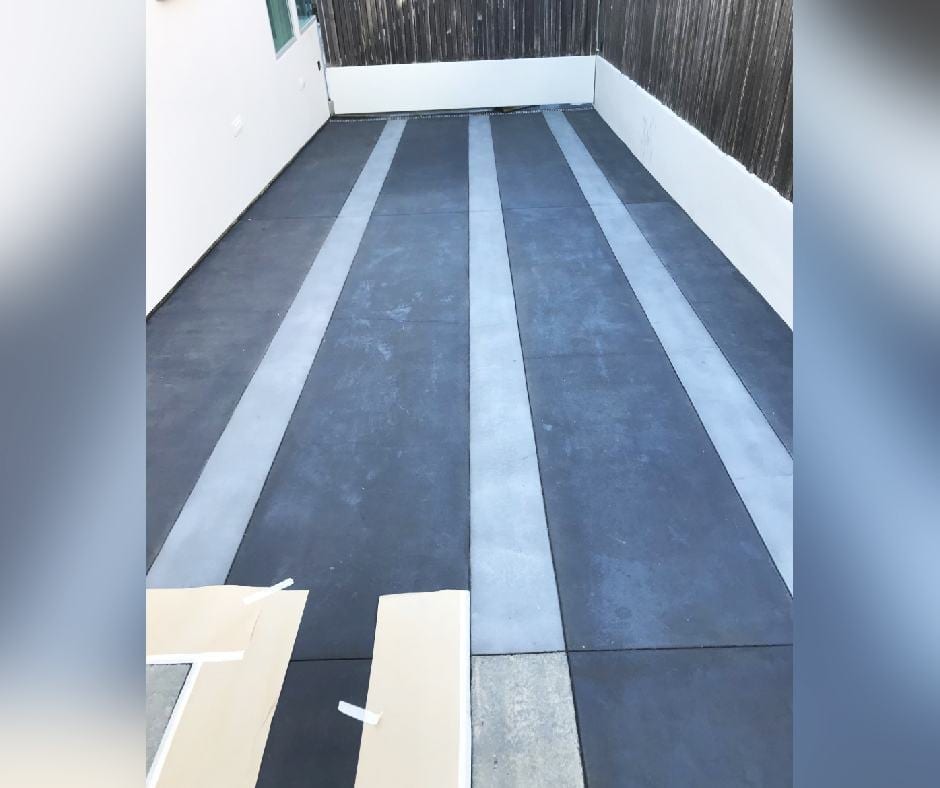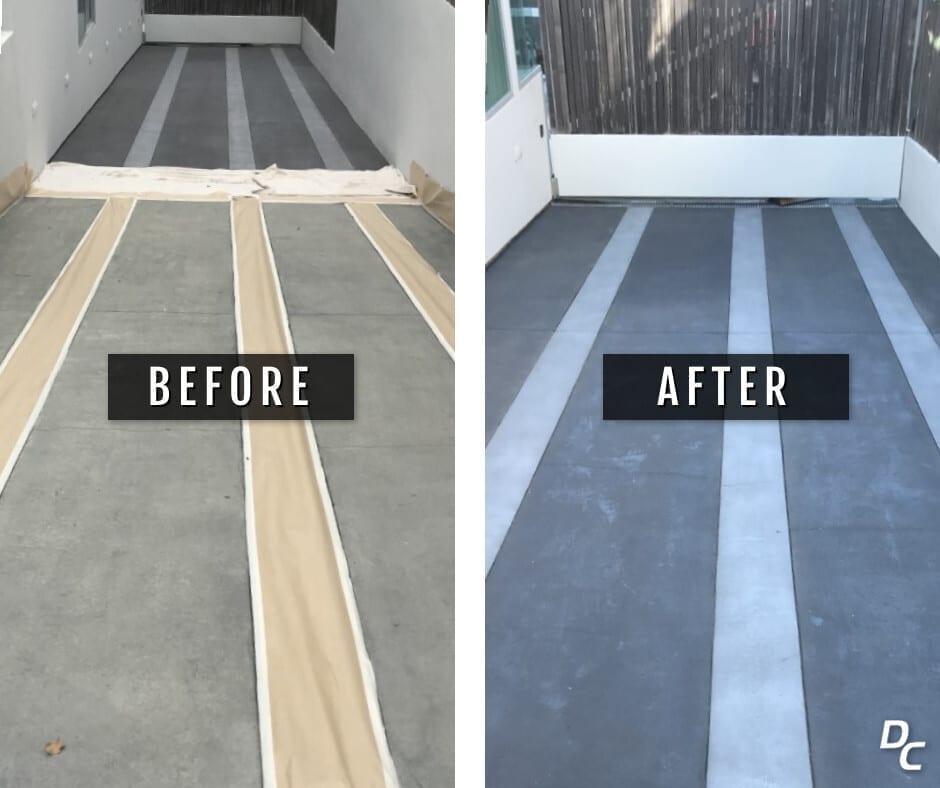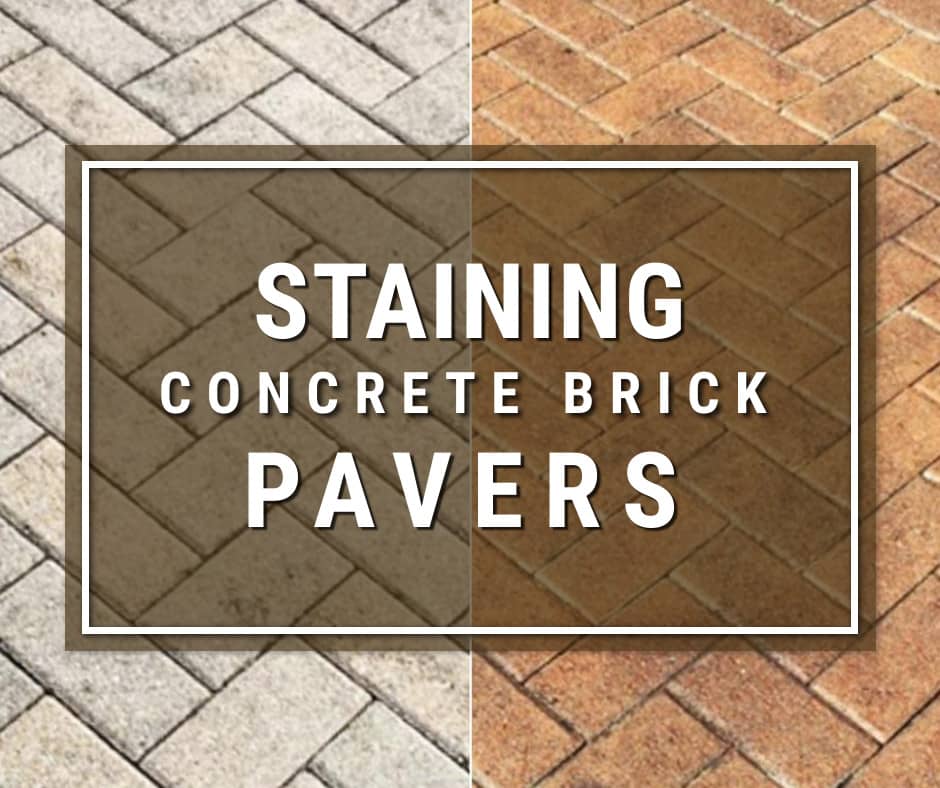 Patio pavers come in all colors, shapes, and sizes. But, sometimes they aren't the exact shade you were expecting, or you aren't as happy with it once it's installed as you were when you bought it.