Easy to Clean, Repair and maintain Stained Concrete driveways.
Make your driveway look like a million bucks with Direct Colors Concrete Stains and Sealers. Because driveways take a beating in both the summer and winter, selecting the right color and sealer options is critical. Here are a few recommendations to ensure your next staining driveways project goes off without a hitch!
Step 1: What About Concrete Damage like Spalling?
Spalling or round-shaped sections of concrete crumbling and breaking away from the surface is a serious structural problem that must be addressed before beginning a staining project. Once the broken concrete has been completely removed from the exposed substrate and properly cleaned, the driveway can be successfully patched. However, the job must be done correctly and thoroughly or failure will result.
Using a rubber mallet, knock on the concrete listening for a hollow sound. Break away any and all loose concrete until what remains is firmly attached. Vacuum or use leaf blower to completely remove the rubble. Wash the concrete using a organic degreaser and water solution and rinse thoroughly.
Once dry, the concrete is ready for patching. Using Patching Compound according to the instruction, patch and allow to dry. Sand flush with the concrete using an 80 grit pad. Sweep off debris, vacuum the surface to remove the fine particles and wipe down with a damp cloth.
Step 2: Clean the Concrete Thoroughly
Driveways can have many types of contaminants that would make staining difficult. Dirt, paint, and especially oil should be removed from the surface. If you do have oil or other automotive fluids in your concrete, listen to our podcast, Removing Oil Stains from Concrete, for the step-by-step instructions. Otherwise, power washing on the lowest setting to avoid damage the surface is a good option or scrub with an organic degreaser and water solution and rinse well with a garden hose.
Step 3: Which Product is Best for Staining Driveways
If you've patched your driveway and would like to acid stain, keep in mind that the patch is likely to be darker or richer in color than the rest of the concrete. If that's a undesirable, I'd recommend staining driveways with Antiquing Concrete Stain. It's topical, solvent-based stain that penetrates into the concrete but is not chemically reactive so you can blend patched areas in with the rest of the concrete. Antiquing Stain is available in 40 colors, is also a good option if you prefer a more solid color appearance or need to finish a project quickly. It's easy and fast to apply for a rich, long-lasting color.
Antiquing Stain is our most popular product for staining driveways. The process is straightforward and most commonly undertaken by homeowners as a DIY project. As long the concrete is clean and has met the other requirements in our How-to Guide, this concrete stain is an stunning and durable option for any driveway.
How to Stain an Old Concrete Driveway Cheap and Easy
Step 4: Selecting the Right Sealer for a Driveway
Because driveways are generally use areas, we recommend only two concrete sealers for this purpose. If you are looking for a satin finish to accentuate the stained appearance of the concrete, our Solvent-based satin finish acrylic sealer is your best bet. It's very easy to apply using a Fence and Deck Sprayer and will not create a slip-hazard when wet on most concrete surfaces. Smooth finished may still require an anti-slip additive in the final coat of sealer. Solvent-based satin finish sealer is our most popular outdoor concrete sealer and is the best choice for either an acid or antiquing stained driveway.
We also offer a penetrating sealer for use on smoother finished concrete driveways called Penetrating Concrete Sealer. This sealer should not be applied rough, heavily textured or antique stained concrete. If you are looking for a no gloss finish on an acid stained driveway, our Penetrating Sealer is a good option. It's a one-time application sealer and is a great salt proofer for those living in very cold climates. Keep in mind this sealer will not enhance the color of the acid stain after application.
Step 5:  Seal your Driveway and Enjoy
Solvent-based acrylic sealers are easy repair and maintain. If damage to the sealer occur, touch up the concrete with a small amount of the acrylic sealer repair and a foam brush. It will be good as new in a matter of moments! Also, avoid using chemical de-icers or snow removal equipment with sharp blades. Both will damage the sealer finish. Reseal once every two to three years for best performance. Remember to clean thoroughly and allow to dry well before attempting to reseal.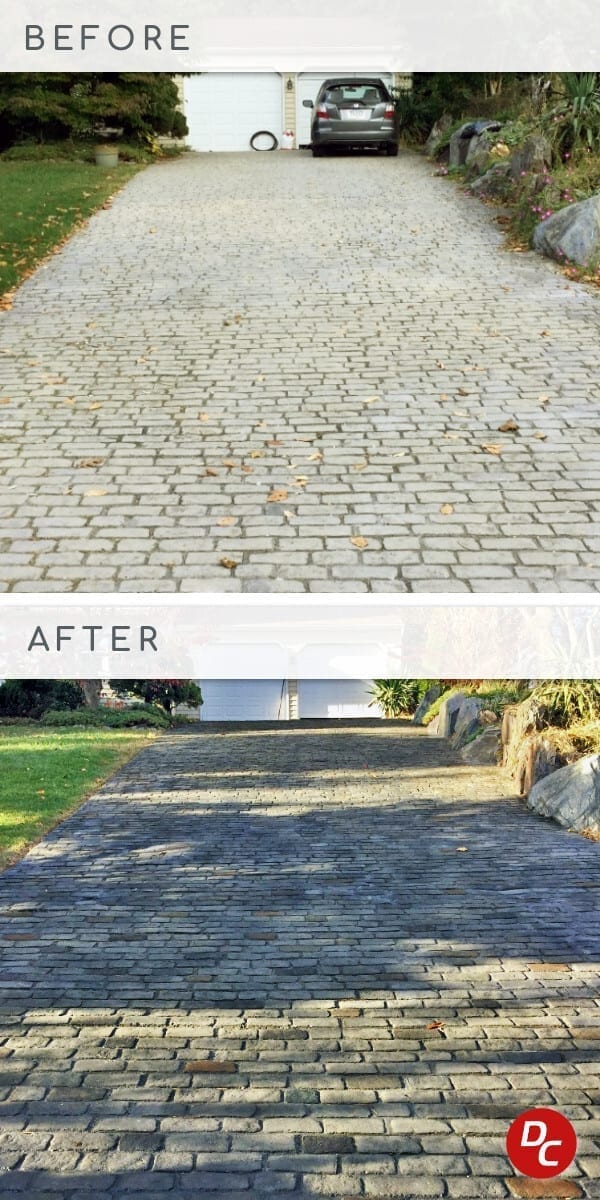 In this guide, we're going to show you how to renovate your driveway to create something beautiful and new. Whether you're a seasoned DIYer or an amateur who's just getting started, this guide is for you.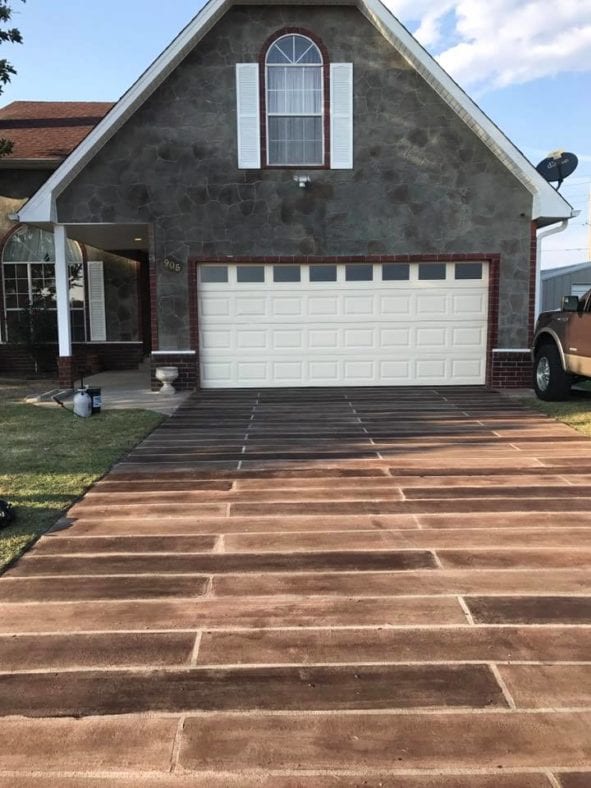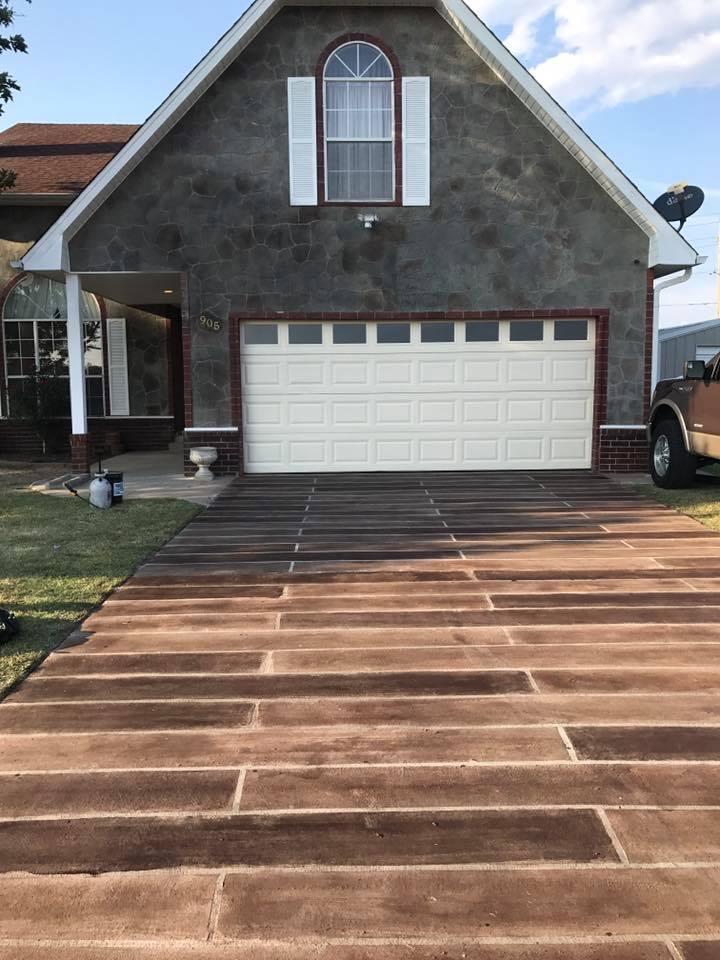 Creating a faux wood grain concrete finish for floors is becoming more and more popular with our customers. While this technique does take some skill to pull off, it can be done with the right products, tools and how to info!