Concrete That Looks Like Wood Floors
Creating a faux wood grain concrete finish for floors is becoming more and more popular with our customers. While this technique does take some skill to pull off, it can be done with the right products, tools and how to info!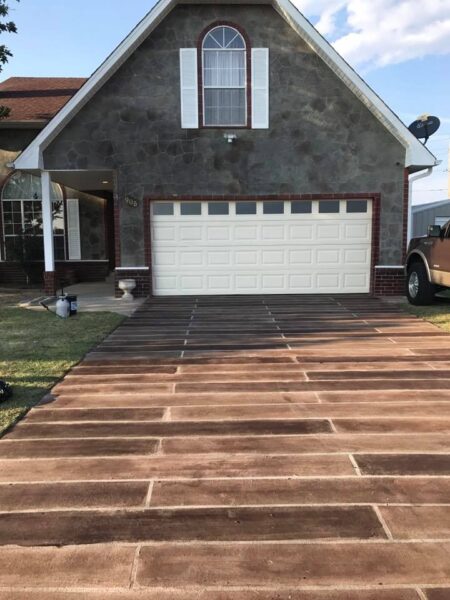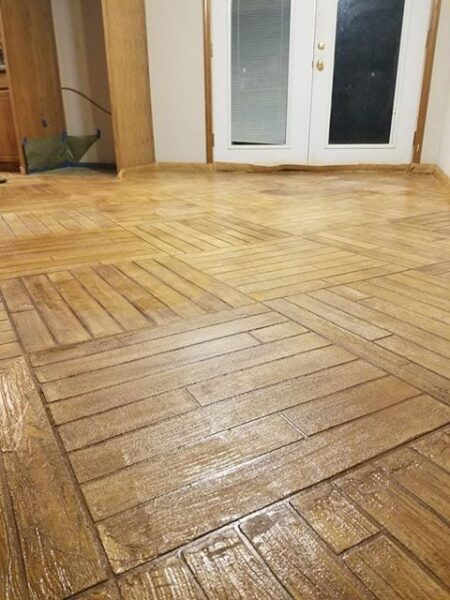 Can You Make Concrete Look Like Wood Floors?
Yes! With some patience, basic technique and Concrete Overlay you can create a "wood-like" finish to any concrete surface.
How Much Do Faux Wood Finished Concrete Floors Cost?
The cost for a DIY faux wood concrete floor design is about $2 – $4 per square foot. If you were to hire a professional contractor, you can expect the cost to be about $8 – $10 per square foot.
How to Make Concrete Look Like Wood Floors
---
STEP 1: Clean the Concrete Surface
First, clean the floor with a light Concrete Cleaner & Degreaser solution. Thoroughly scrub & rinse all residues from the surface and allow the floor to dry.
STEP 2: Mix Concrete Overlay
Pour one gallon of water into a five gallon pail first.
Slowly pour the contents of a 50 lb. box of overlay into the bucket while mixing continuously with a drill mixer.
For best results, use a birdcage, high-shear paddle for bucket mixing.
Thoroughly combine the water and overlay to insure the dry polymer is saturated and properly dispersed.
For a thicker consistency, use less water.
To thin the overlay during application, add water as needed up to a maximum of one additional gallon.
If using colored concrete pigment, water should be kept uniform for every box of overlay to avoid color discrepancies.
Pot life for the overlay is approximately 45 minutes and can be extended by 15 minutes by using ice cold rather than room temperature water.
Ambient temperature will also affect pot life length with cooler temperatures marginally extending and hotter shortening the expected pot life.
 Add up to one gallon of additional water per box of smooth concrete overlay until the mixture resembles a thin pancake batter suitable for spraying at 25 psi.
STEP 3: Apply Concrete Overlay
Select Textured Concrete Overlay  as a base-coat for stenciling.
Follow the mixing instructions for spraying overlay.
Spray from a flat-work texture gun at 25 psi.
Hold the sprayer at least 6 inches from the surface during application to minimize rebound.
Mix one box at a time as needed.
Allow to dry for 6 hours before applying the stencil.
Affix the stencil and then carefully spray the top or color smooth texture overlay coat in the same manner.
Pull the stencil after 10 minutes drying time.
Select Textured Concrete Overlay  for stamping and apply at ¼ in. depth.
Choose stamps or texture mats intended for use with overlay.
Add 1 gallon of water per 50 lb. box, ice water if stamping in hotter temperatures.
Use a gauge rake set to the desired depth on surface.
Follow with a squeegee trowel to smooth out any rake marks or other imperfections.
Allow to dry until the surface can be depressed without sticking.
Apply  Concrete Liquid Release Agent to the stamps, tools and overlay to prevent sticking.
Depending on size of the job and the mats, use at least three stamps or texture mats along with one floppy for any project up to 100 square feet.
For 100-1500 sq. ft. projects, use a set of five stamps or mats and floppy.
Time is limited so make the choice according to crew size and ability.
Assuming 75F and a 100 sq. ft. project, allow for twenty minutes stamping time – slightly more time if colder, less time in hotter temperatures.
If stamping a larger area, one person should be mixing overlay continually while others are applying and stamping.
If the work cannot be completed at one time, do not stop applying in the middle of a section or floor.
End at logical separation, such as an expansion joint, for the best overall finished appearance.
STEP 4: Create "Wood Like" Veins
Create "wood like" texture by brushing the wet overlay in a continuous manner with a broom.
Approximate working time for overlay once applied is about 10 – 12 minutes so make sure you work in sections.
Ambient and surface temperature will affect working time with cooler temperatures marginally extending and hotter shortening the expected working time.
Do not attempt to apply Concrete Overlay to surfaces below 40F or above 85F. Hot temperatures can be controlled by moistening the surface with water prior to application
STEP 5: Apply Concrete Stain
Apply the Concrete Stain colors of choice or mix various brown tone stains and spray the colors onto the wet overlay.
Darken random sections with a Tinted Concrete Sealer to provide greater color contrast across floor.
Watch this video for even more detailed instructions on applying the stain.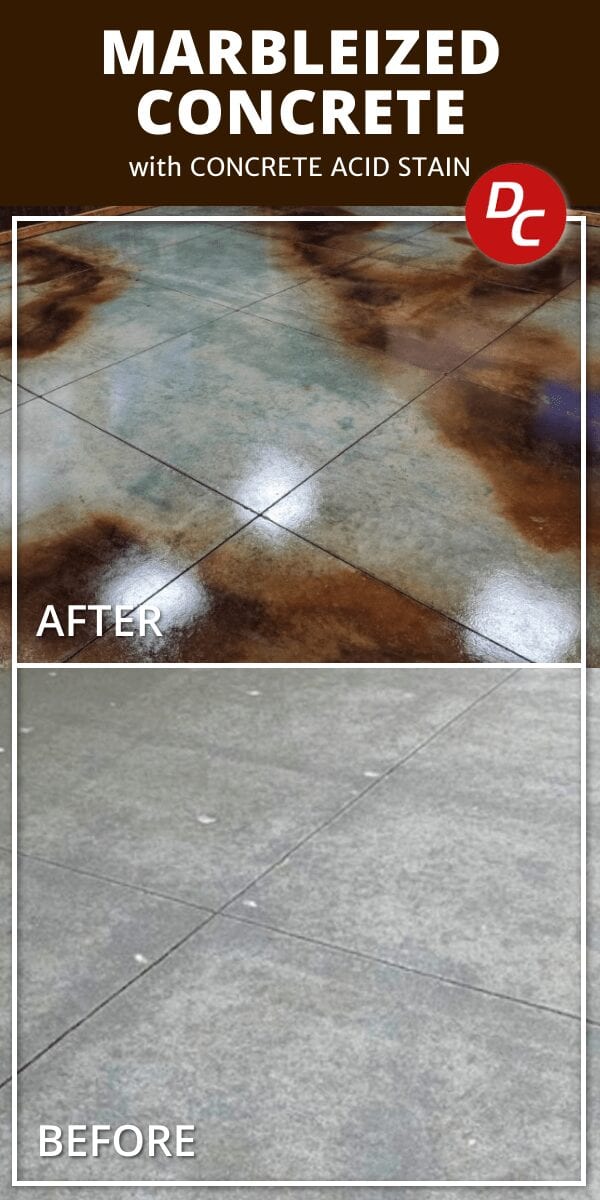 How to create a marble effect on concrete flooring is the most common inquiry that our design team receives. Here at Direct Colors, you can find every product and step-by-step, How-To guide necessary to enhance your home or office concrete with a stunning marble look.