Staining a Brushed Concrete Driveway
by Tom Kettler
October 2020 –  $250 Cash Winner

How to Acid Stain Brushed Concrete Driveways
Step 1: Clean Concrete Driveway
Clean your concrete driveway floors with an organic concrete cleaner and degreaser. The driveway must be free of debris, dirt and oils. Generally, a generous sweeping, scrubbing, and rinsing should do the job.
For excessively dirty concrete driveways read Surface Preparation For Acid Staining.
To apply acid stain, we recommend using a pump sprayer. This will allow the stain to spread evenly across the driveway, and allows you to be creative with your application to achieve a unique design.
Start by adding the concrete acid stain to your pump sprayer. Before applying the stain to your patio, test the solution on a corner of your project area. If the color is too dark, dilute the mixture by adding some water to your pump sprayer. Once your desired color has been achieved, you can start applying the concrete acid stain.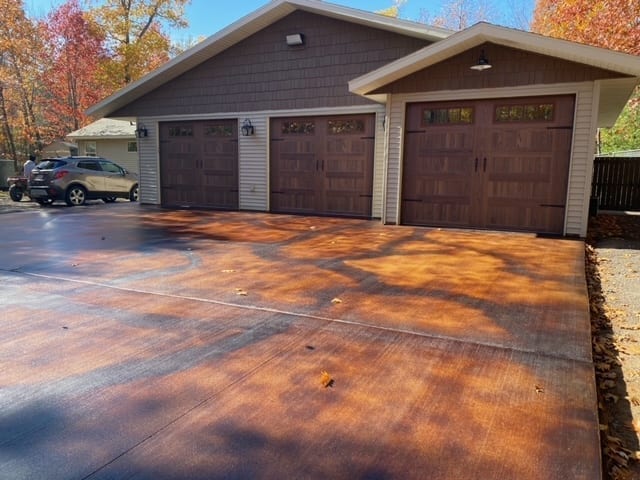 TIP: Choose a stain that complements your brick or siding color. Exact color matches are difficult to achieve with acid stain. Most customers select at least two acid stain colors for patio applications. For ideas on acid stain color combination read How to Stain Concrete Like Marble.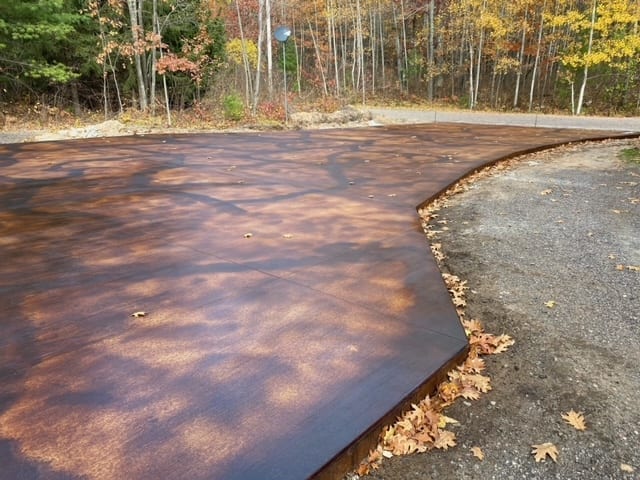 When your desired look has been achieved  and the acid stain has been given time to activate, it's time to neutralize the surface. Concrete acid stain must be neutralized before sealing. As it is an acid stain, the compounds can damage the sealer, and, therefore, your hard-earned coloring job. Each concrete acid stain color has a different activation time. To find out the activation time for your newly concrete acid stained patio, check out our guide.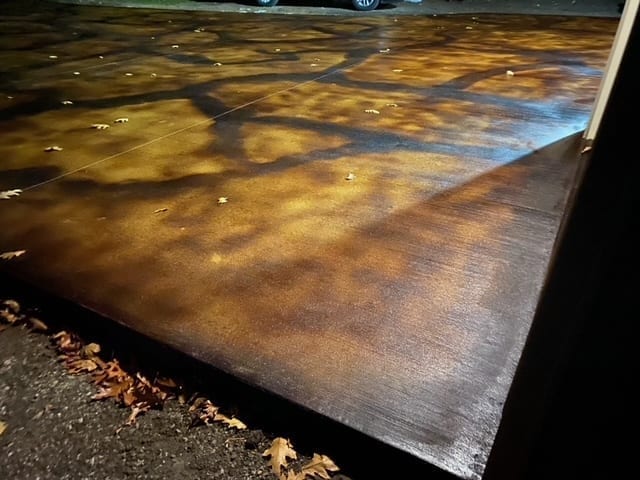 Select a sealer carefully. Driveways can get wet and no one wants to slip and fall. For outdoor floors, we recommend a EasySeal Satin Finish Acrylic Sealer. If you're concerned about slip hazards, add an anti-slip concrete sealer additive to the second coat of sealer for maximum safety. This will create a textured, moisture-friendly surface for any outdoor concrete coloring project.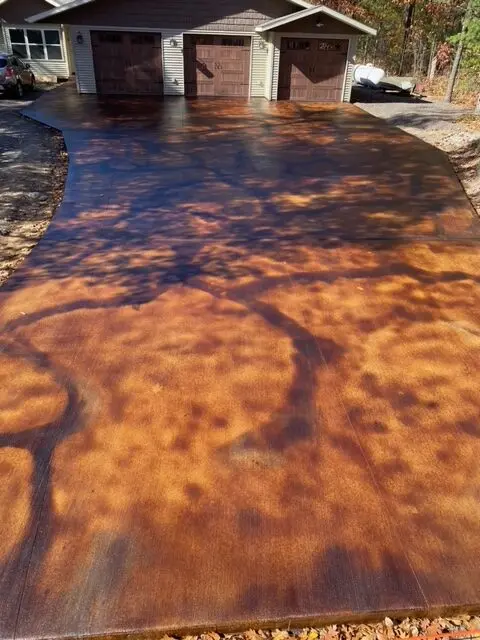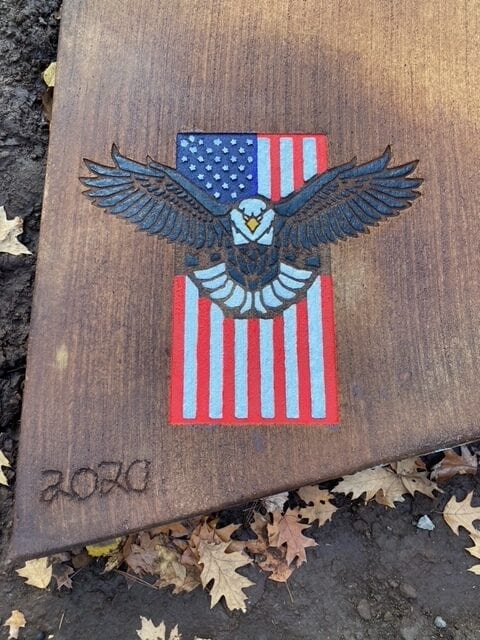 How to Fix Concrete Sealer Turned White
If your sealer has turned white in certain spots, you can fix it by following these steps:
Use a paintbrush to apply a small amount of xylene to the affected area.
Gently work the xylene into the sealer using circular motions.
Allow the surface to dry completely.
Reapply a new coat of sealer to the surface.
By following these steps, you should be able to remove the white spots from your sealer and restore its original appearance.
What was the approximate size of your project?
How long did your project take to complete?
6 days total
Day 1  – Power wash
Day 2 – Stain application
Day 3 – More stains and touch ups
Day 4 – Neutralized
Day 5 – First coat of sealer application
Day 6 – Second coat of sealer application
We would love to hear any personal tips about your project that may help another Direct Colors customer do one of their own
Tip #1 – Use 1/2″ nap roller instead of 3/8″ on driveways with brush finish.
Tip #2 – I had a couple of very little areas that the sealer turned white, just used a little xylene and a paint brush to work in a circular motion then let dry and applied sealer again.
Tip #3 – Look at videos and do your research.
Tip #4 – Take your time and don't seal until you are 100% happy.
Tip #5 – There are no rules you need to abide when acid staining. BE CREATIVE!
What products did you use to complete your project?
5 gal. Malayan Buff EverStain acid stain
5 gal. Coffee Brown EverStain acid stain
5 gal. Solvent-based, glossy acrylic sealer
Spiked shoes
Two 1  gal. pump sprayers
1/2 " nap 18″ roller for sealer
Plastic for siding
4 gal. of ammonia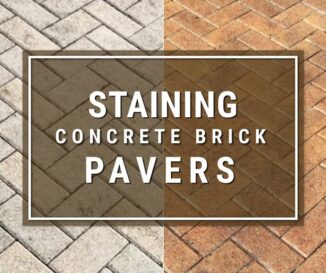 Patio pavers come in all colors, shapes, and sizes. But, sometimes they aren't the exact shade you were expecting, or you aren't as happy with it once it's installed as you were when you bought it.