Stained Concrete Patio in 3 Easy Steps
If you are looking to stain your outdoor concrete patio on a budget of both time and money, Direct Colors Antiquing Stain provides the highest return on investment with easy-to-apply color that works with a wide range of concrete surface conditions.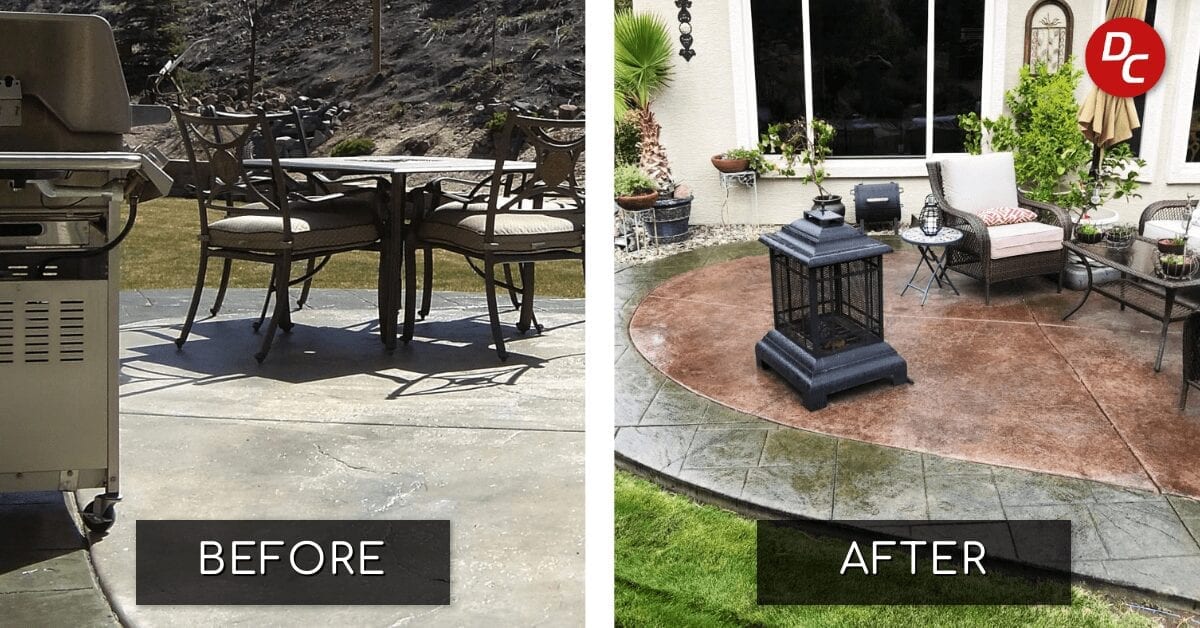 What is The Best Stain For Outdoor Concrete Patios?
Antiquing Stain is by far the preferred stain for outdoor concrete patio projects. This specially formulated stain is ideal for repairing and amending color with minimal surface preparation, especially  if you prefer a more solid color appearance or need to finish a project quickly.  Antiquing Stain  is a topical concrete stain that penetrates into concrete but is not chemically reactive so you can blend patchy areas in with the rest of the concrete. These stains are available in 40 colors giving you a wide range of possibilities.
DIY SPOTLIGHT: 2019 END OF SUMMER $1000 CONTEST WINNER, WILLIAM L.
Project Completion Time
Total Time For Project Completion: 2 Days inclusive of surface preparation and drying time
Actual Work Time: 14 hours
Project Cost
Materials Cost: $583.69
Tools Cost:
Deck Sprayer 2 gal. (1008176) $34.99
Contractors Broom – 24″, Medium Bristles $28
Pressure Washer – Prices Vary
Concrete Patio Size
Sidewalk and Ribbon: 250 sq. ft.
Patio: 200 sq. ft.
Total Project Size: 450 sq. ft.
Project Materials
Concrete Cleaner and Degreaser
1 Quart Xylene
Deck Sprayer
Medium Bristle Brush
Step 1. Clean Concrete Patio
My first step was to spray a modest amount of degreaser and a mist of water and brush the concrete with a medium bristle brush.
I then rinsed with a thorough high pressure power wash, making sure to hit the total surface area and let it dry overnight.
Step 2. Apply Concrete Stain
Using a pump up

deck sprayer

, I applied Black Antiquing Stain in sweeping intermittent motions on the deck ribbon and walkway.
I alternated the Black and Charcoal Antiquing Stain  in the same sweeping intermittent sections on the patio area and let dry for four hours.
Once dry, I began applying the Olive Antiquing Stain on the ribbon and walkway then let dry four hours, then repeated for effect.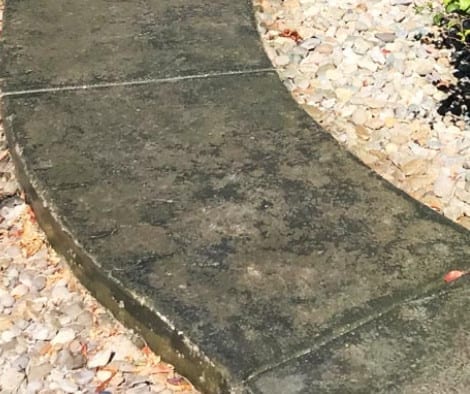 Tip: Remember to shake the stain periodically as you spray.
I then layered in the Aztec Brown Antiquing Stain on the main patio and let it dry for four hours and repeated to create the desired effect.
Again using the Black Antiquing Stain, I applied a light intermittent pattern across all of the concrete, followed by a light intermittent pattern of the Olive Antiquing Stain across the patio.
Tip: Apply light layers and allow the stain to naturally pool in the texture for dark accents.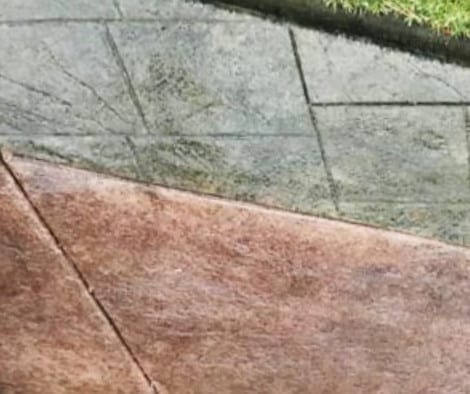 Keep in mind the color will EXPLODE to life when the sealer is applied. Let everything dry overnight.
Step 3. Seal Stained Patio Floors
I used Solvent Based, Stain Finish Acrylic Concrete Sealer on all of the concrete for a real pop of color. Rinse out the pump sprayer using Xylene* and then fill with sealer. Using the "yellow tip" of the spray applicator, apply a light coat of sealer using a fast motion; swirl the solution in the sprayer often and keep the pressure up high.
Let the sealer dry at least six hours, then apply another coat in the same manner. Don't apply second coat while the first is still wet. 
*Tip: after each use of the spray applicator I would flush with a quart of Xylene. I recycled the Xylene and only used one quart for the whole project.
The Concrete Sealer has more of a glossy finish for the first few days and then becomes a prefect satin. For areas where overspray is an issue, like next to my house, I placed a piece of cardboard between the ribbon and the patio to keep the overspray under control. These products are very easy to use and and great results!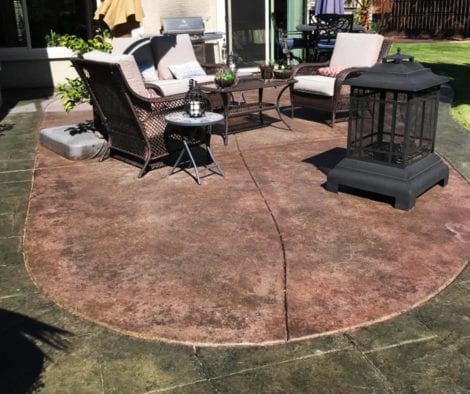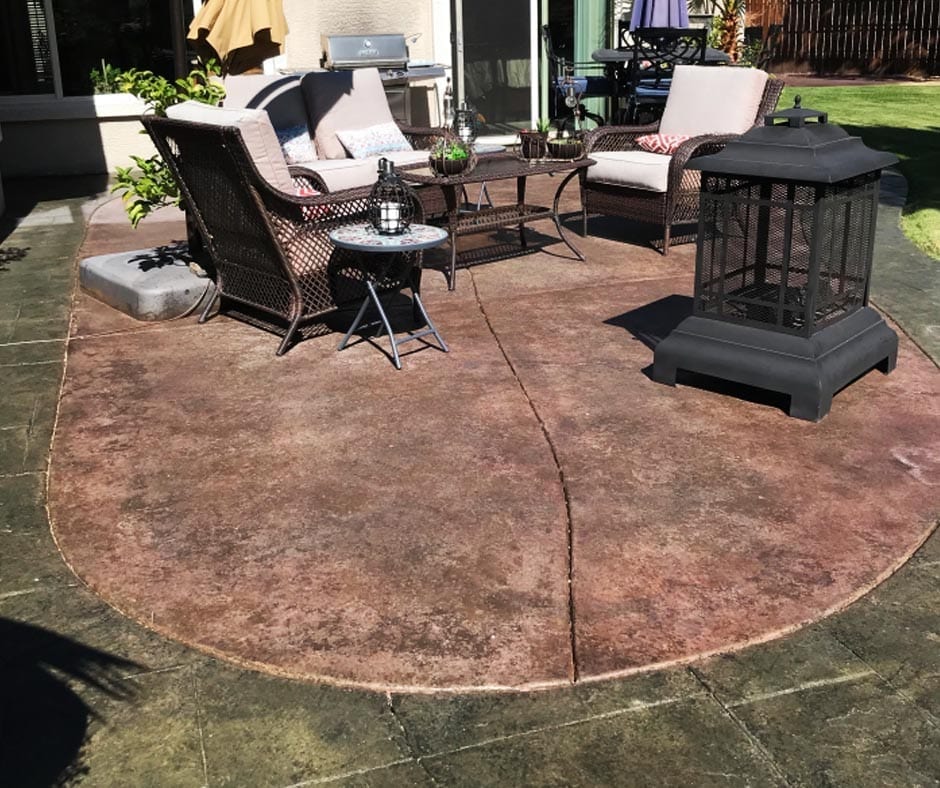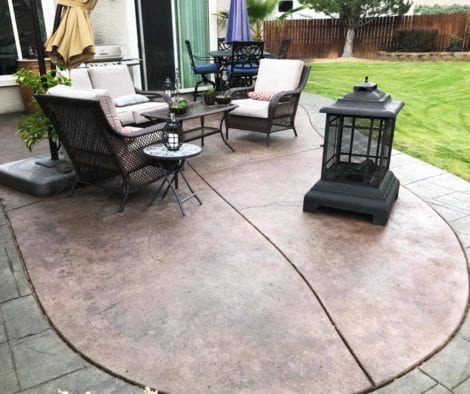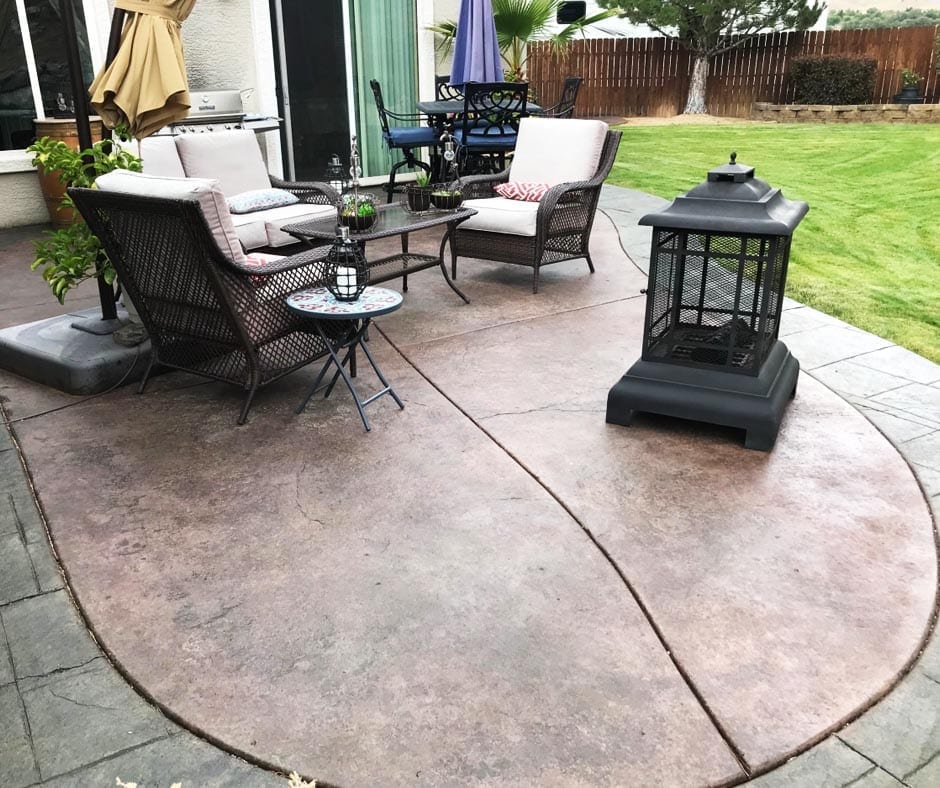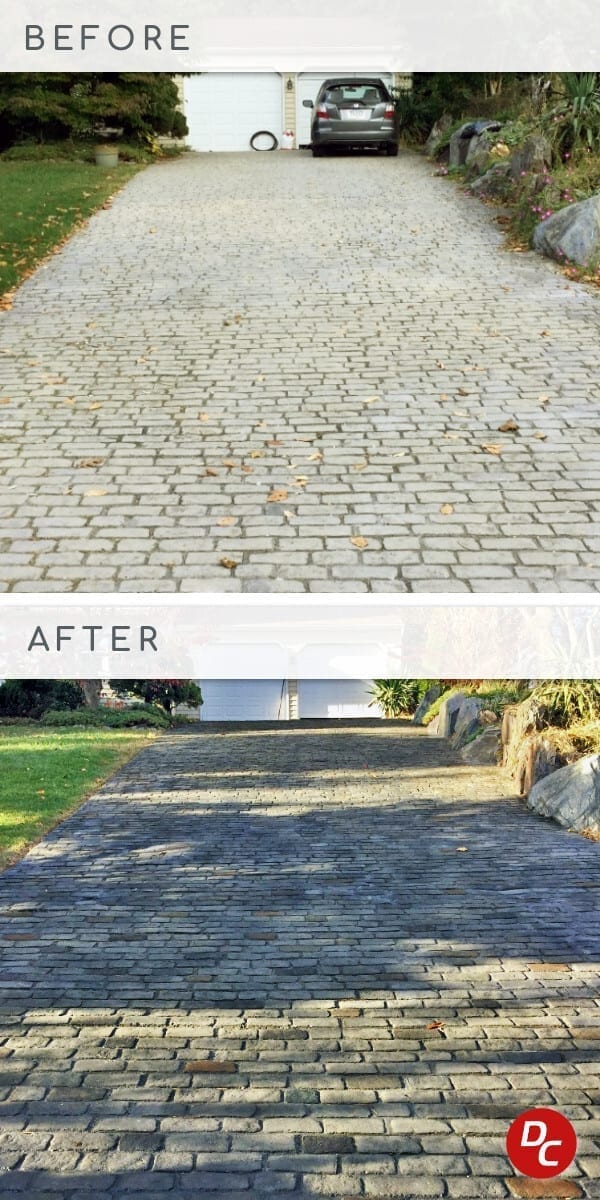 In this guide, we're going to show you how to renovate your driveway to create something beautiful and new. Whether you're a seasoned DIYer or an amateur who's just getting started, this guide is for you.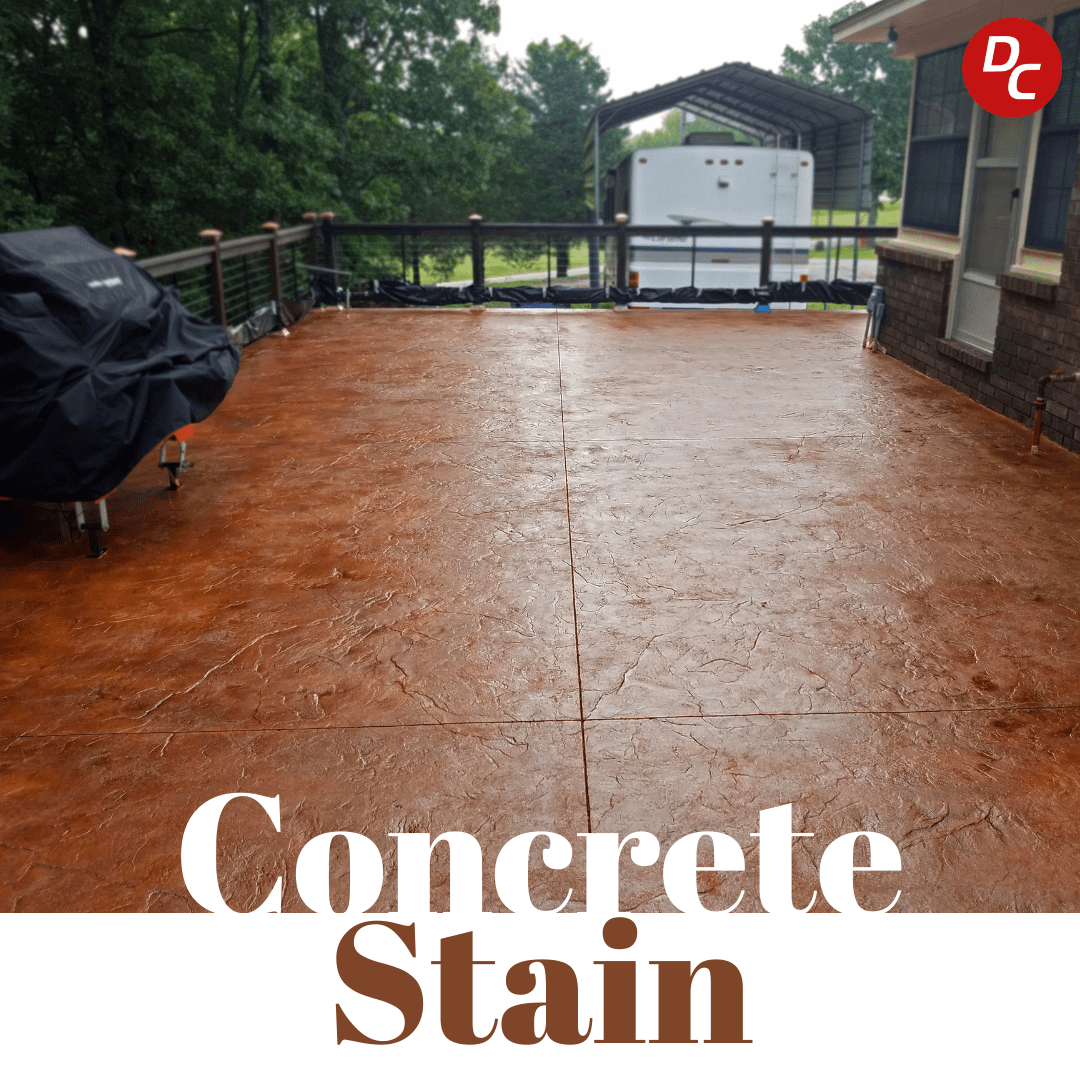 Acid stained patio floors are by far our most popular first-time DIY concrete coloring project. Ventilation and easy cleanup are part of what makes patio projects are what make these projects so approachable, easy, and exciting to work on.