How to Acid Stain Concrete Basement Floors
We are very amateur DIYers, so if we can do this anyone can!
By Kimberly Raley
January 2021 – $250 Cash Winner
Our home is mostly "French Country farmhouse", but this space will be a little more casual incorporating industrial farmhouse and rustic elements, including a reclaimed wood feature wall, live edge bar area and sliding barn door. We chose to stain our interior concrete floors with Desert Amber and Coffee Brown as our two color acid stain process.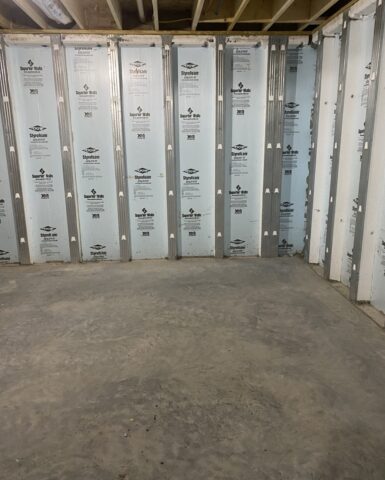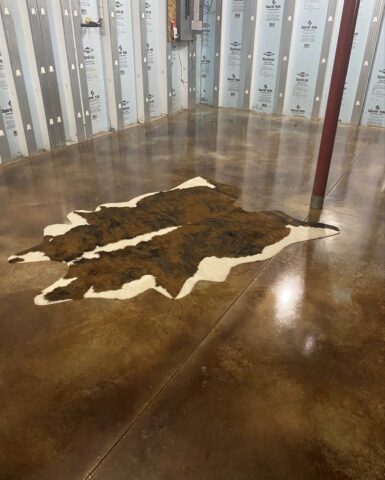 We've been wanting to try this since the basement floors were poured in November 2019. This 400 sq. ft. area will be a family/rec room. We decided to do the floors ourselves before the drywall, etc. goes up. For that, we have pros coming to complete very soon.
Our basement is framed in and divided into three spaces; two will be completed and the third is a large storage area. We are so pleased with how this turned out we are going to do it during "phase two" of our basement remodel, applying it on the second living space which will include a laundry room, workout area a half bath.
How To Acid Stain Machine Troweled Concrete Floors
To ensure that you have the best acid stain absorption possible, some prep work is required specific to acid staining. This DIYer guide is specific to a concrete floors that have been machine troweled and do not have carpet glue or paint stains on it.
1. Prepare Concrete Before Staining
Step 1: Clean the Surface
Use a shop vacuum or sweep and mop floors with a concrete cleaner and degreaser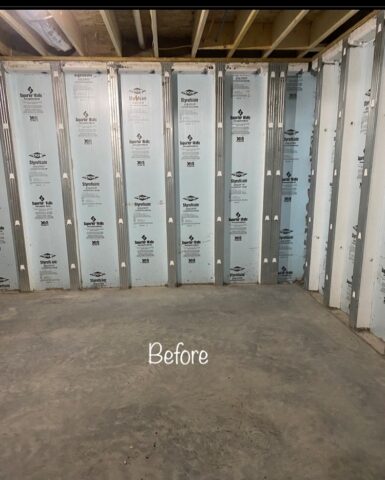 Step 2: Cover the Walls
Use plastic sheeting and painters tape to cover the walls and protect them from getting stained.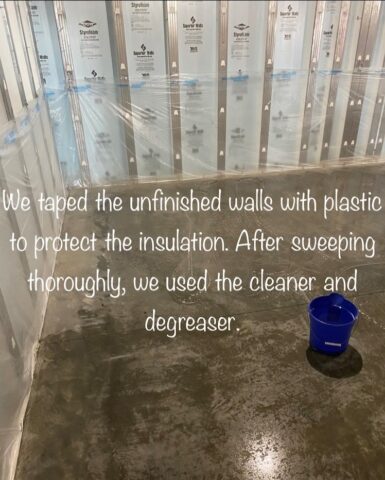 Step 3: Etch Concrete Floor
Basements are often the smoothest rooms in a house. So smooth in fact that they cannot be successfully stained without pre-application of chemical or mechanical profiling that will help the acid stain penetrate the concrete and  take effect.
Most slabs will be ready for staining after an application of Hard Troweled Floor Prep. Simply cut the product with water 1:1, spray from a garden sprayer and wash off with clear water after 15-20 minutes.
For excessively smooth concrete, apply the floor prep full strength for optimal results.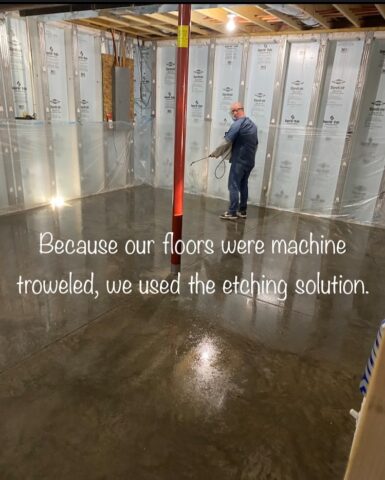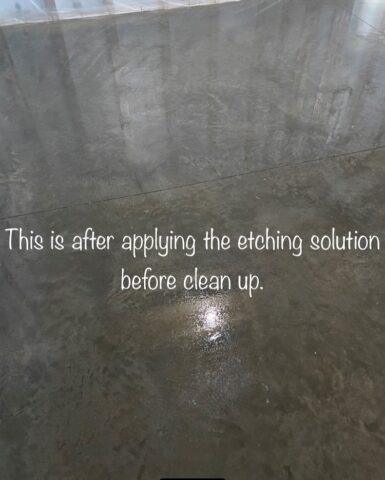 DIYerTIP:   If your surface requires etching, be sure to clean it thoroughly before it dries (hence the photo with white shoe prints). Wear your spikes when doing this. It took about 12 scrubbings and a hand sander to clean that up!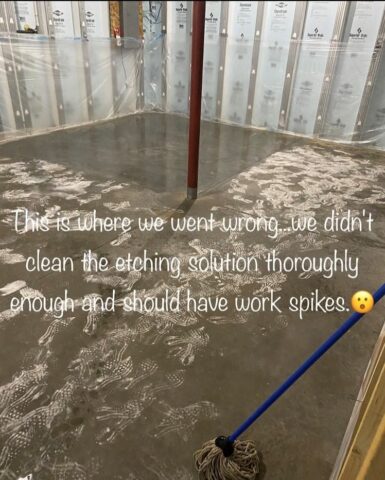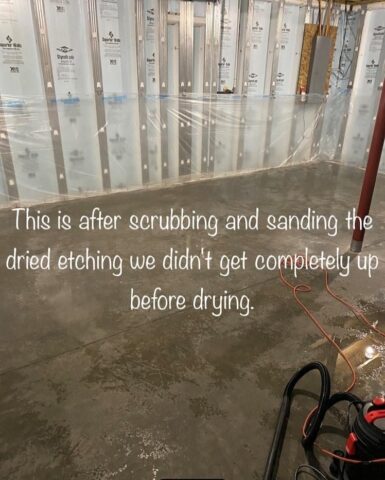 2. Apply Acid Stain Colors
Apply acid stain using a Pump-up Sprayer. Safety while applying colorant is important. Remember to use long sleeves, pants, goggles and gloves while working with the acid stain.
DIYer Tip: Be patient! Watch the "how to" videos featured on this website. If you have a question don't be afraid to call or email customer service. They respond quickly, professionally and are very helpful and friendly.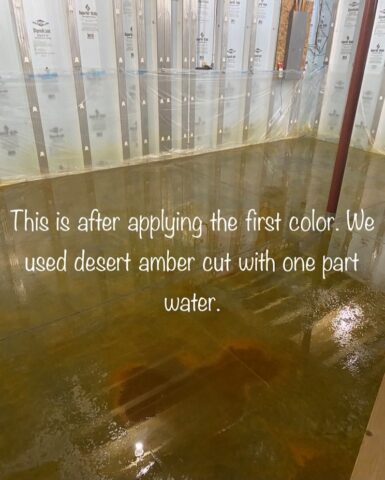 Step 2: Spray Accent Color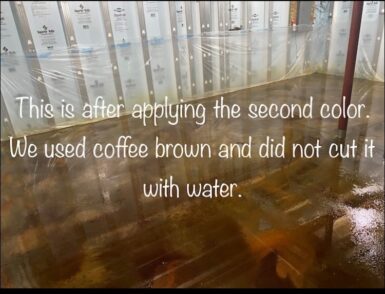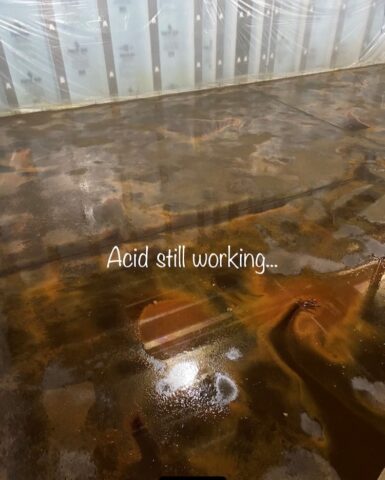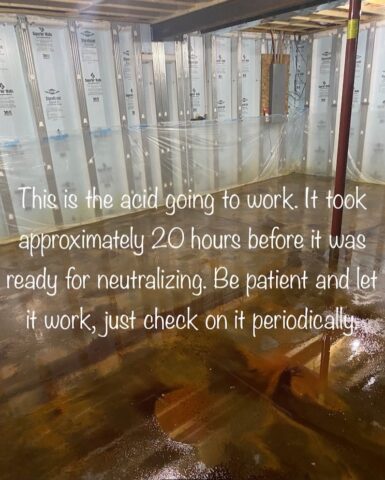 Prepare baking soda and water solution using 1-2 tablespoons of baking soda per gallon of water.
Spray or pour the soda and water solution on every inch of the floor.
Move the solution around the floor using a squeegee.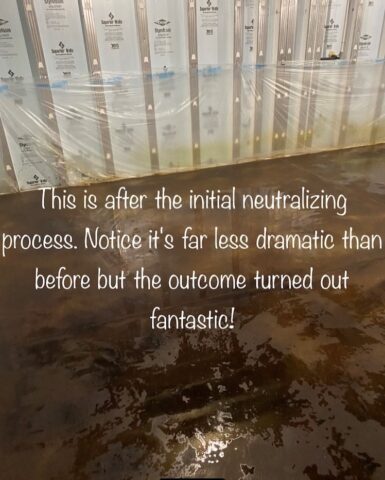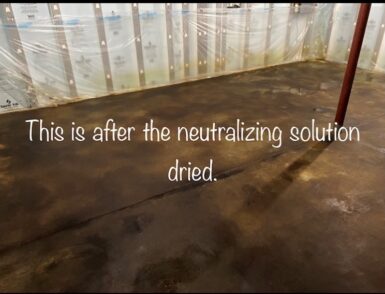 Scrub with a soft nylon bristle scrub brush where needed to remove residue.
Wash the surface carefully using clean water until nothing but clear water is visible.
Remove all residue and excess color from concrete before leaving to dry.
For Stubborn residue or porous surfaces, use an organic degreaser to aid in the removal. The clean, wet surface will be the approximate color of the final sealed surface.
Leave to dry.
After the surface has completely dried, the floor should be ready to seal.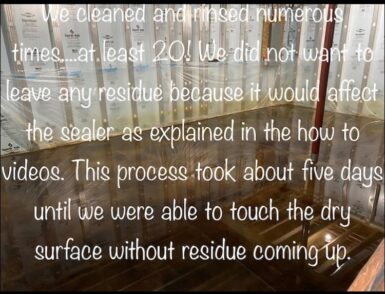 DCPro TIP:   Using a Shop-Vac to wash out and clean acid residue decreases the process time and effort dramatically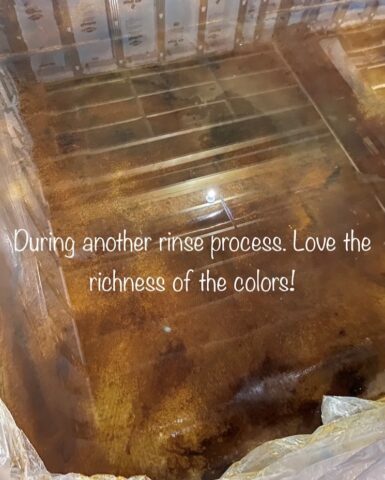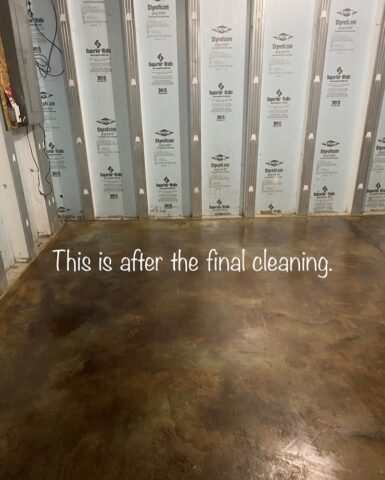 3. Apply Concrete Sealant
For staining basement projects were smell and ventilation are going to be your biggest concerns, we generally recommend water-based sealers. They're nearly odorless, and will be safe to apply if your family or animals are in the home.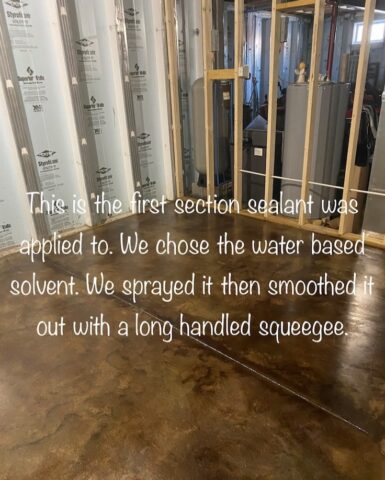 Step 2: Allow to Dry (2 – 6 Hours)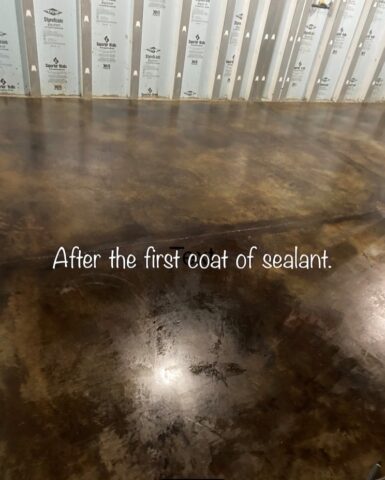 Step 2: Allow to Dry (2 – 6 Hours)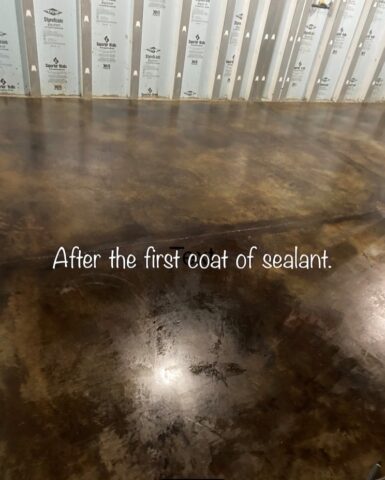 Step 3: Apply Second Coat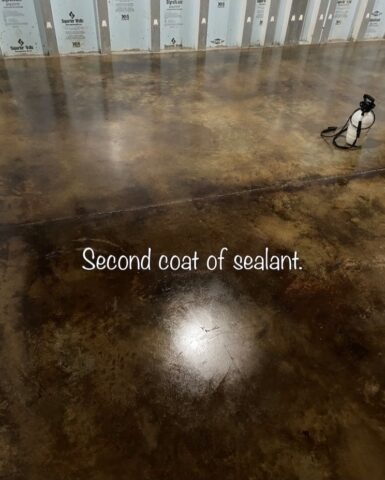 Step 4: Allow to Dry (12-24 Hours)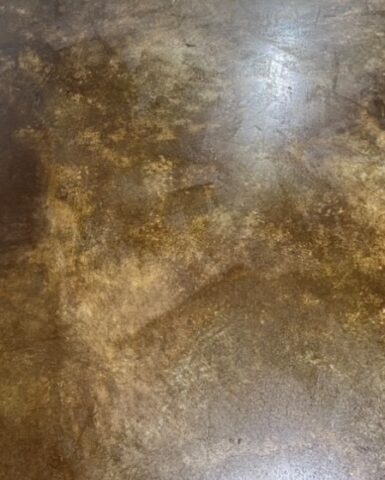 DCPro Tip: A fully cured water based sealer will be clear and non milky. The sealer should be completely dry to the touch without leaving any fingerprints.
5. Apply Liquid Wax
Soak Trim Pad applicator in warm water
Wring out excess water from applicator
Pour Residential Concrete Floor Wax into a paint tray
Saturate trim pad with concrete wax solution
Press out excess wax
Apply a thin milky coat across the floor surface. The product will appear milky in application but clear as it dries
Smooth out any foaming from the concrete surface
Step 2: Allow to Dry (12 Hours)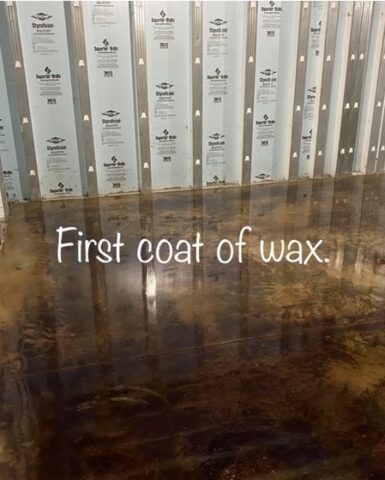 Step 3: Apply Second Coat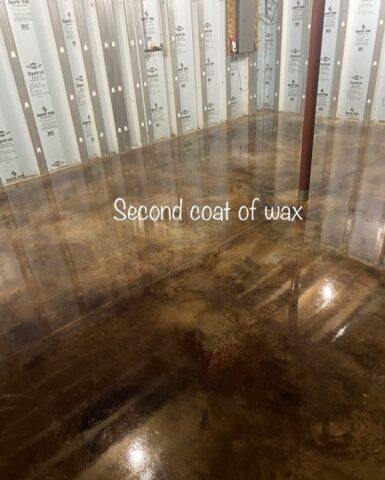 Step 4: Allow to Dry (24 Hours)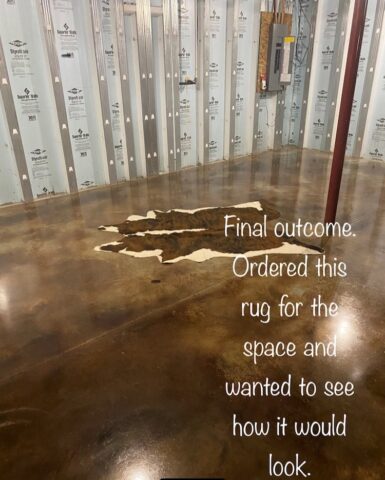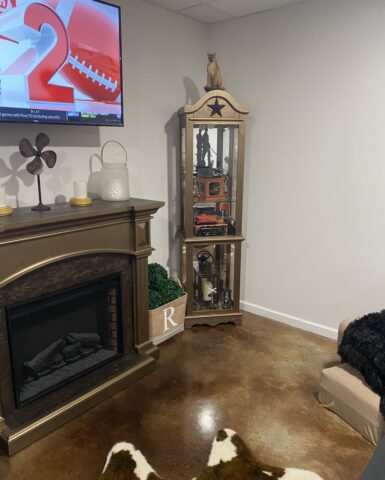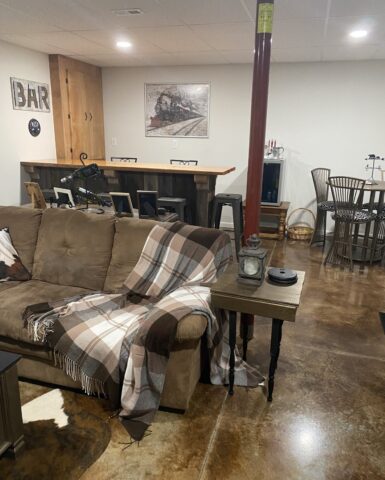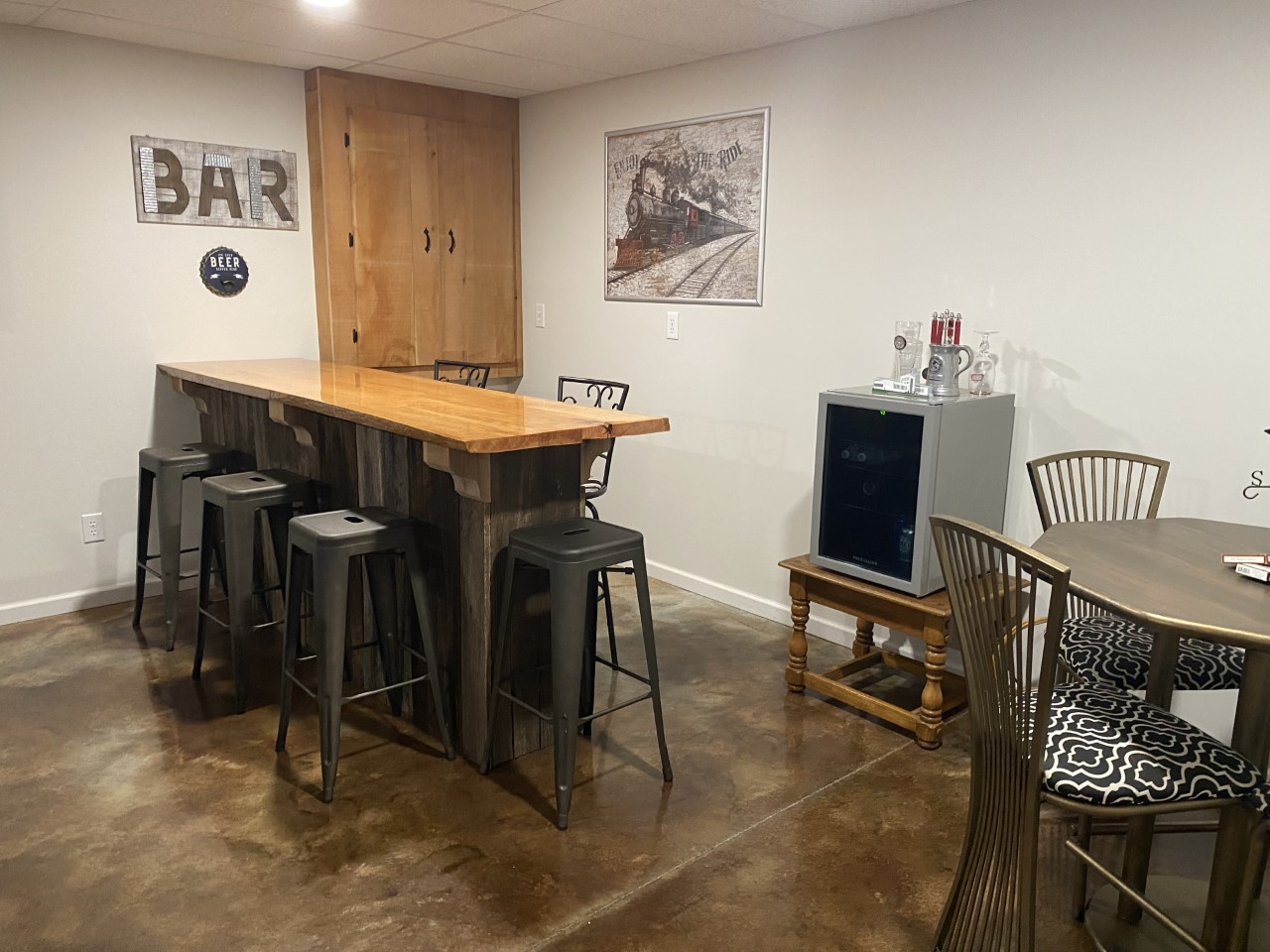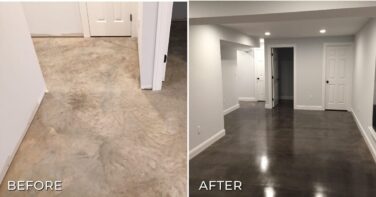 If your are looking to add value to your home with a finished basement floor, at about $0.61 per sq. ft.; concrete stain offers the lowest-cost and highest-return of any basement flooring option.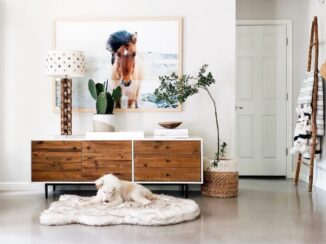 This 500 sq.ft. project began as a basement floor that had previously been covered with carpet.