Yukon Gold Project Gallery: Outdoor Concrete Staining Masterpieces
From patios to driveways, witness the golden touch of Yukon Gold stain revitalizing spaces. Discover inspiration for your next outdoor makeover.
By Justin Richardson
Golden Renewal: Michigan Pool Deck Transformation
From harsh winters to scorching summers, this Michigan pool deck got a luminous makeover with Yukon Gold EasyTint™. With dedicated sealing and a splash of color, the backyard gleams anew! 🌟🍂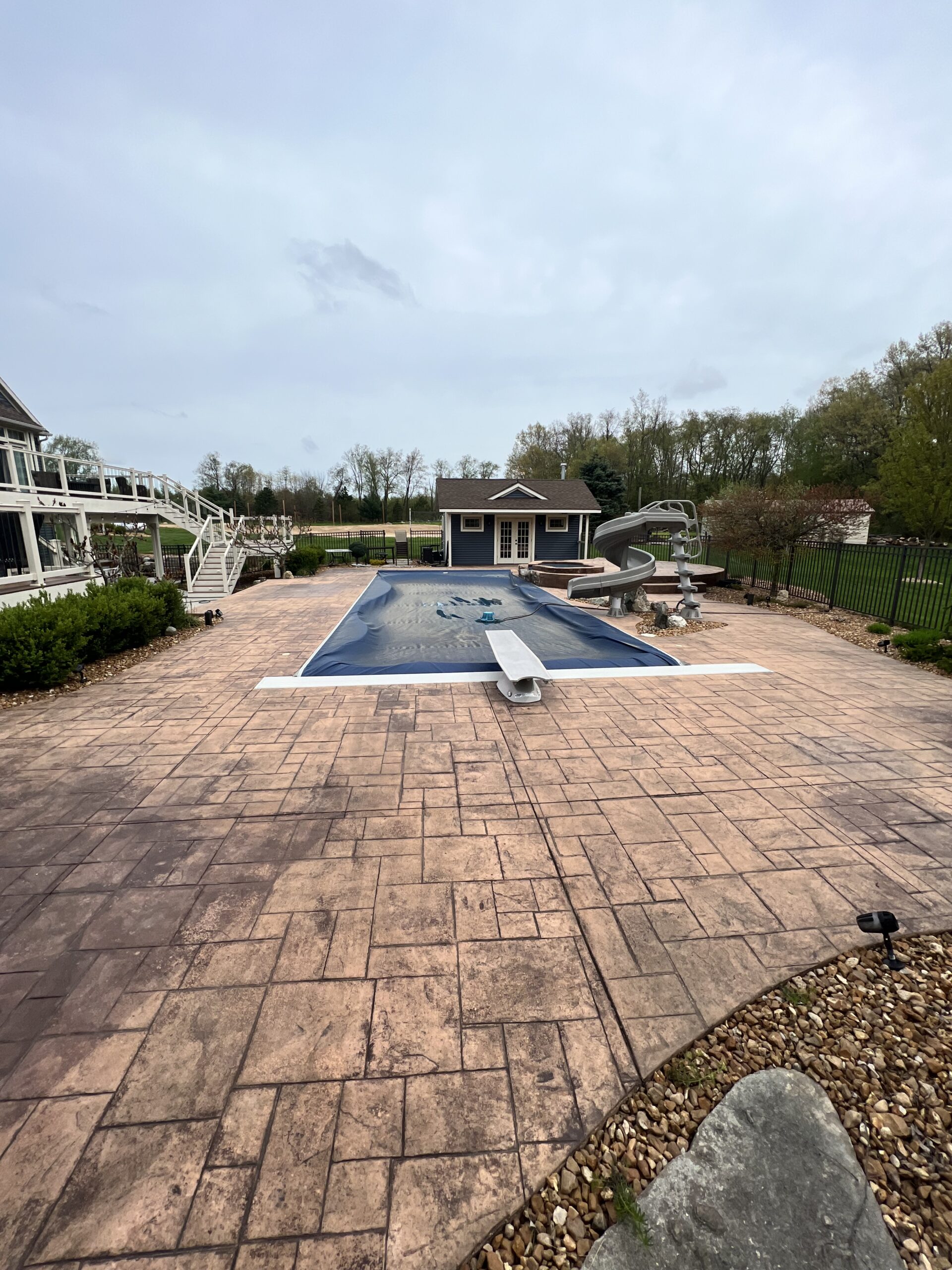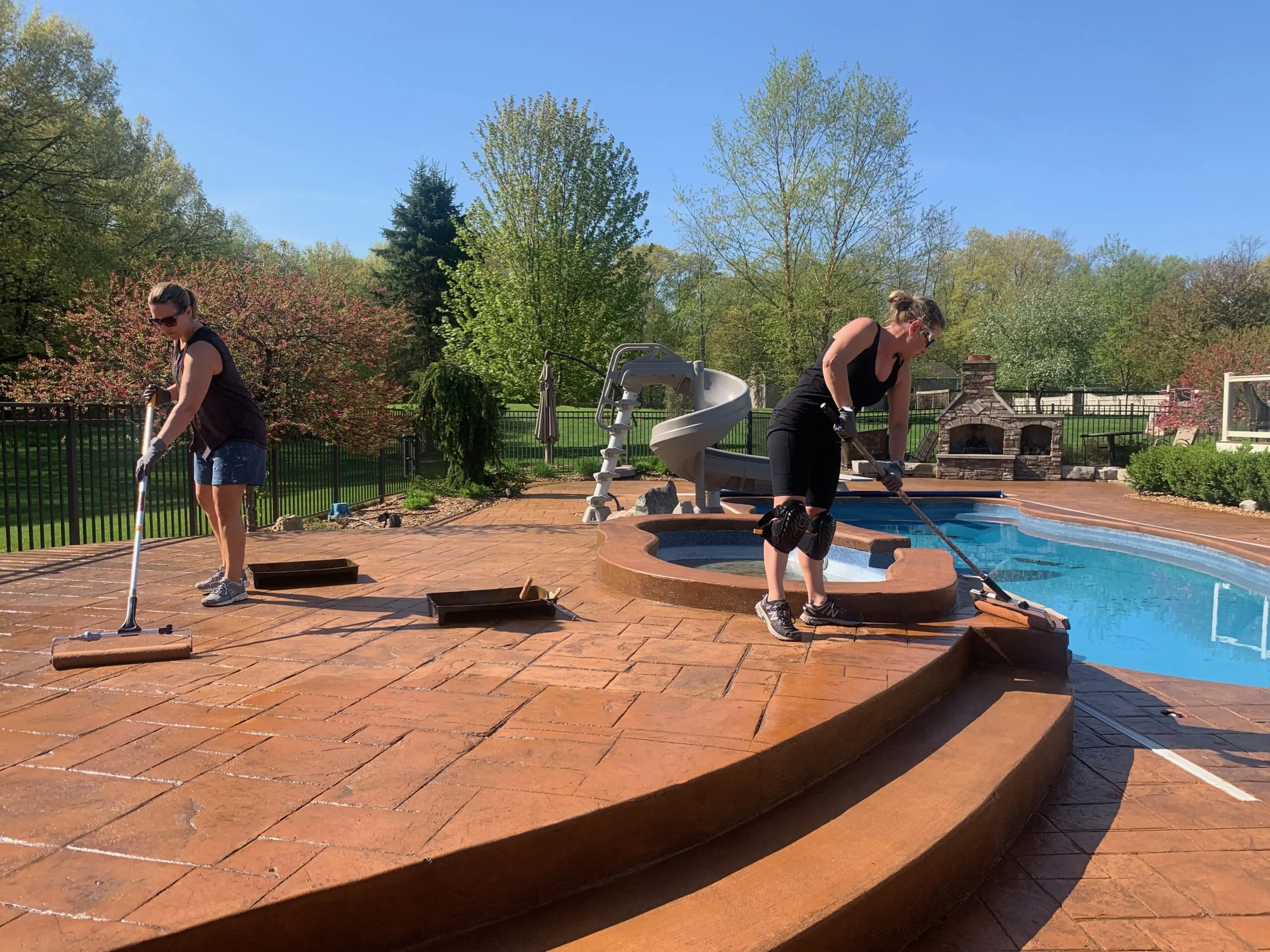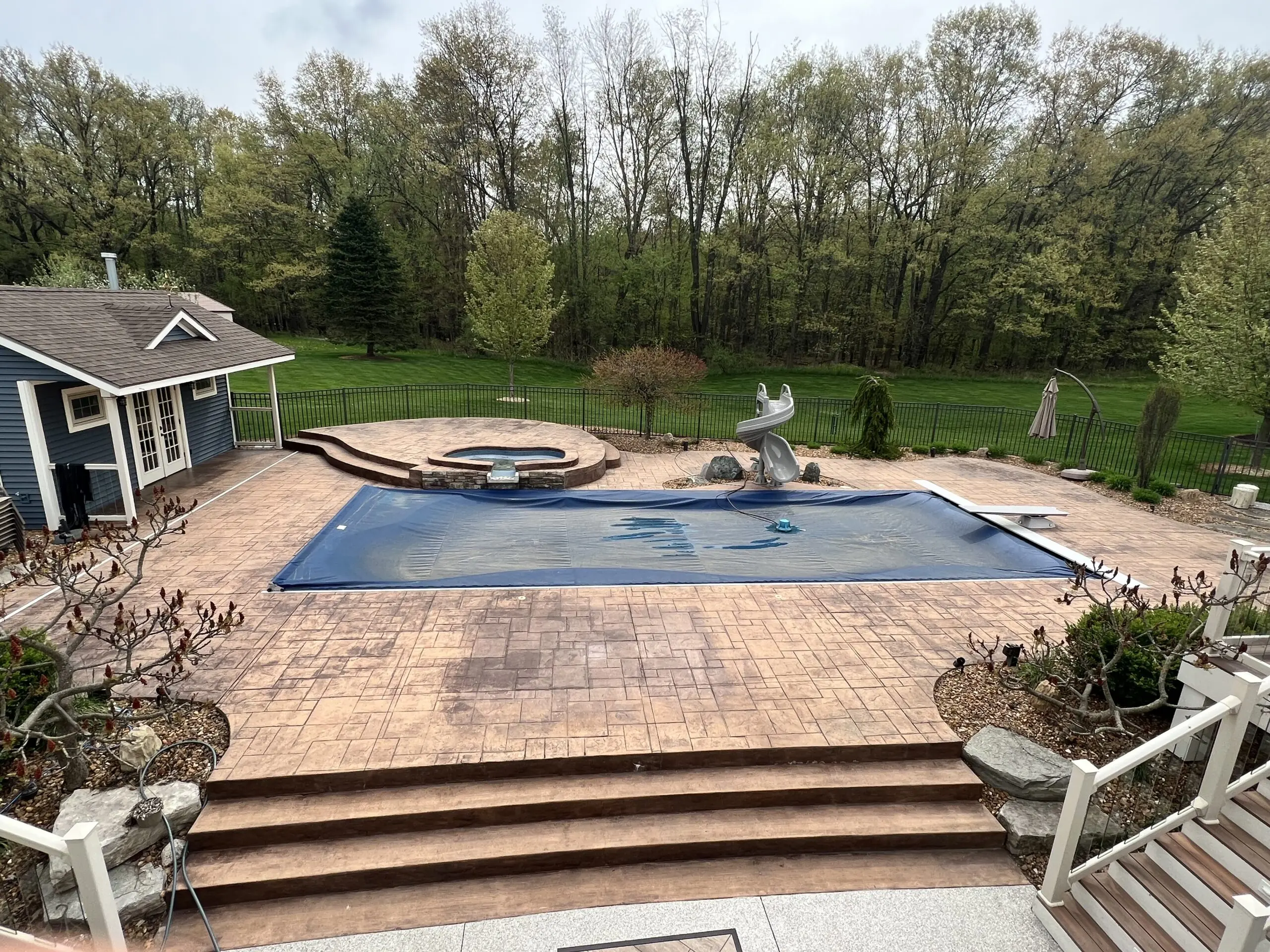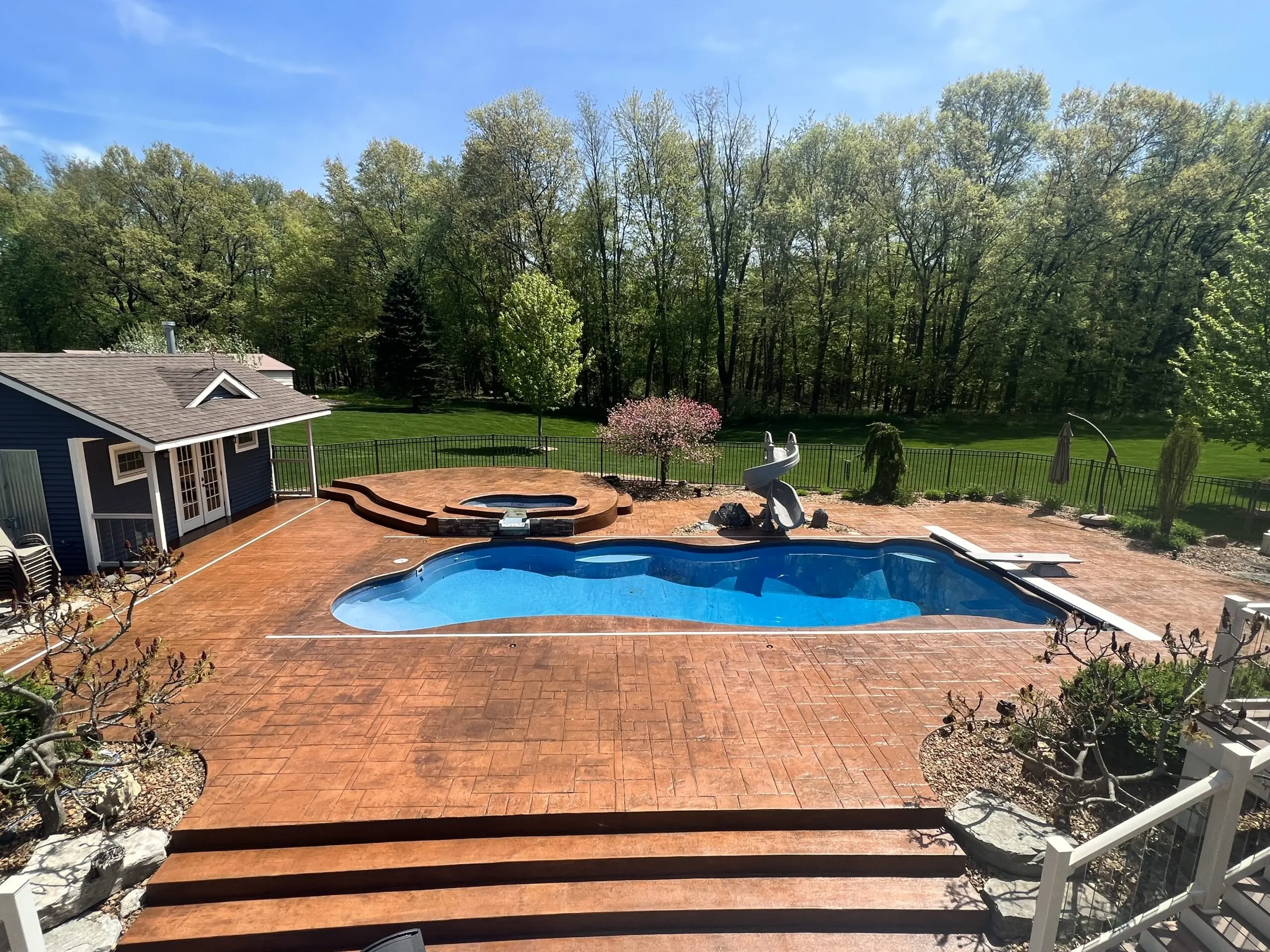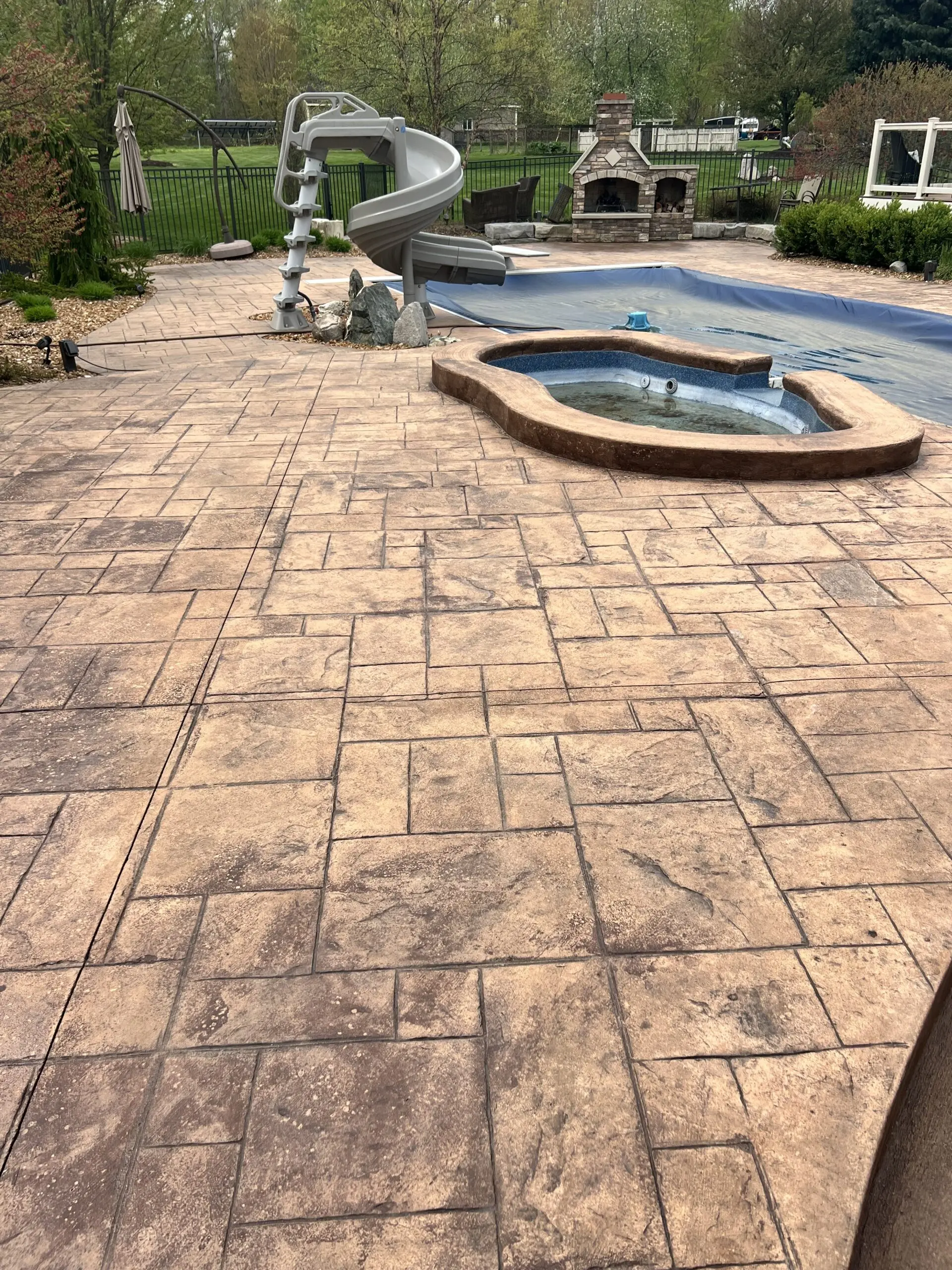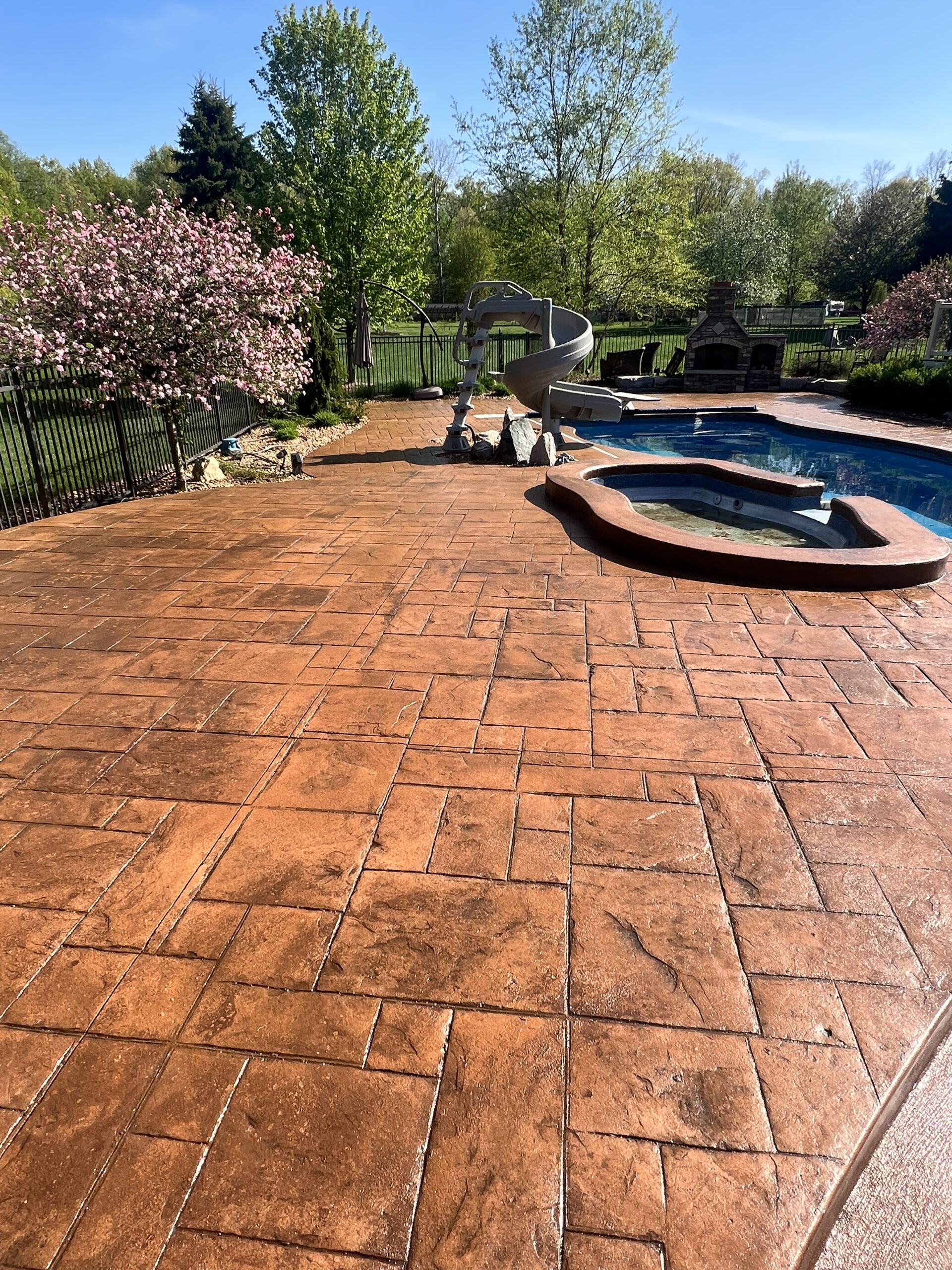 Project Info:
Project Completed In: 3 day(s)
Estimate of Square Footage: 1400 sq. ft.
Project Description:
Our Michigan pool patio takes a beating with winters, wind, rain and salt pool water. We used direct color 5 years ago using tinted sealer with a clear coat top and it held up, more so under rugs and furniture as you can see in the darker spots on the before pic. We had done a darker stain then but the patio gets to be around 130 degrees in peak summer days, so we picked Yukon Gold this time for a warmer still brown, less dark option. We applied 2 coats of EasyTint tinted sealer on separate days and the 3rd day we used the EasySeal clear satin coat. Without a sprayer, we rolled and filled in the stamped concrete with 3/8 in paint rollers and paint brush for those hard to reach spots. This application took two people a total of 20 man hours for the area we had. We used 10 gallons of tinted sealer and about 3 gallons of clear sealer to coat. I am beyond thrilled with the result and feel like I have a brand new backyard again!
Personal Tips:
If you don't have a good sprayer, we found the sealer just clogs and wasn't worth the time spent, which is why we rolled it and also didn't have to worry about over spray. 18 in rollers were great at getting more area done quickly and if your patio gets too hot and your coat gets too thick, you will have bubbling, but to me, it's always better looking than the original anyway.
Direct Colors Products Used:
EasyTint™ Colors Trial Kit (Yukon Gold, Tweed, Cafe Royale)
2 x 5 Gal. Yukon Gold EasyTint™ Satin
5 Gal. EasySeal™ Satin
2 x 16 Oz. OxiGrip™ Slip-Resistant Additive
Other Products Used:
Just paint supplies, rollers, brushes, sponges, rags, gloves, tarp
Every image in this gallery depicts projects using our concrete stains, shared by actual customers. However, due to the semi-transparent nature of the stains, the end look will be influenced by your concrete's original color and condition. Outcomes may differ. For best results, we advise a test patch on your surface before full application to ensure desired appearance.
Golden Drive with a Black-Tie Edge!
Jazz up your journey home with this refinished driveway! Boasting a smooth Resurface-It™ overlay, it's stained in cozy Yukon Gold and framed with a sleek Black EasyTint edge. A warm invitation with a modern twist.
Sun-Kissed to Sun-Faded: Woodland Hills Revival!
From Mesa Buff to a sun-bleached hue, this Woodland Hills backyard seeks a rejuvenated splash of color! Tackling the decade-old stamped concrete, a DIY enthusiast is on the hunt for the perfect shade between Tweed and Wheat. Ready to trade generic store buys for specialized expertise, they're all set to bring the golden Californian glow back to their yard!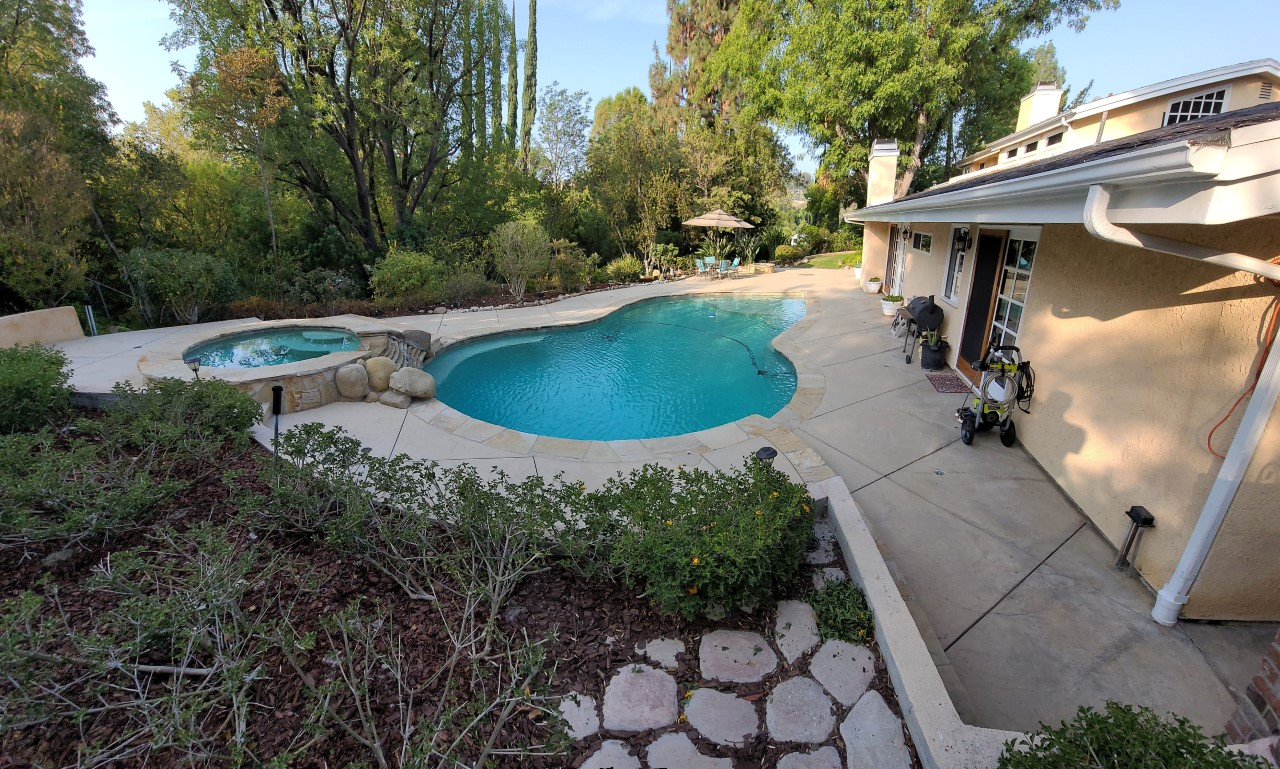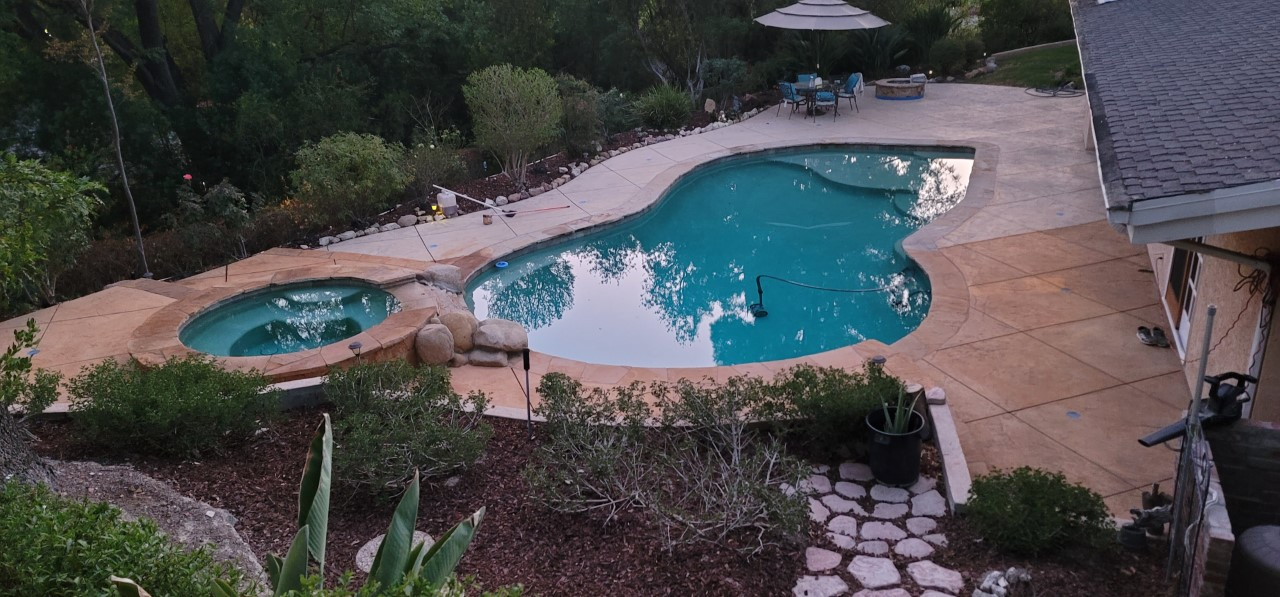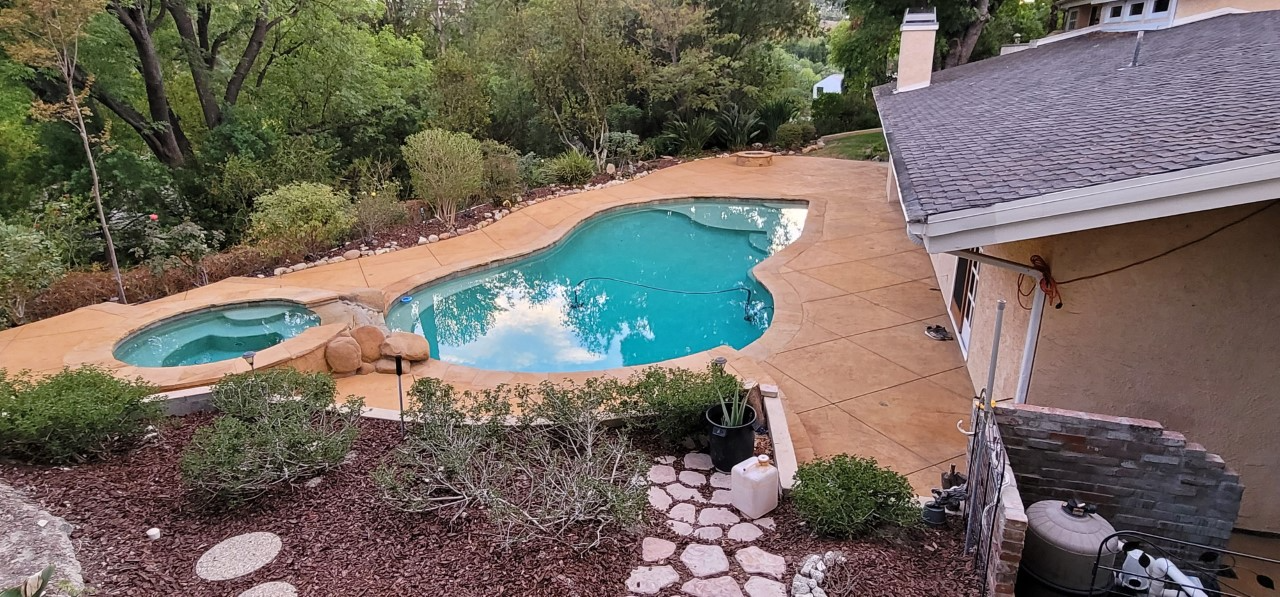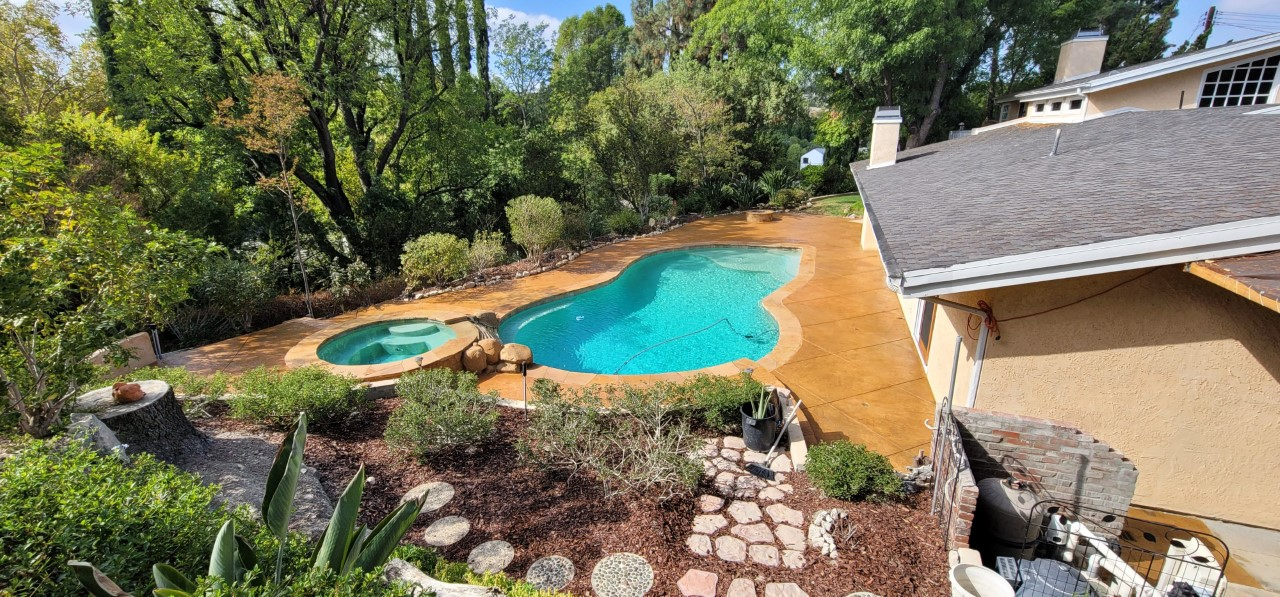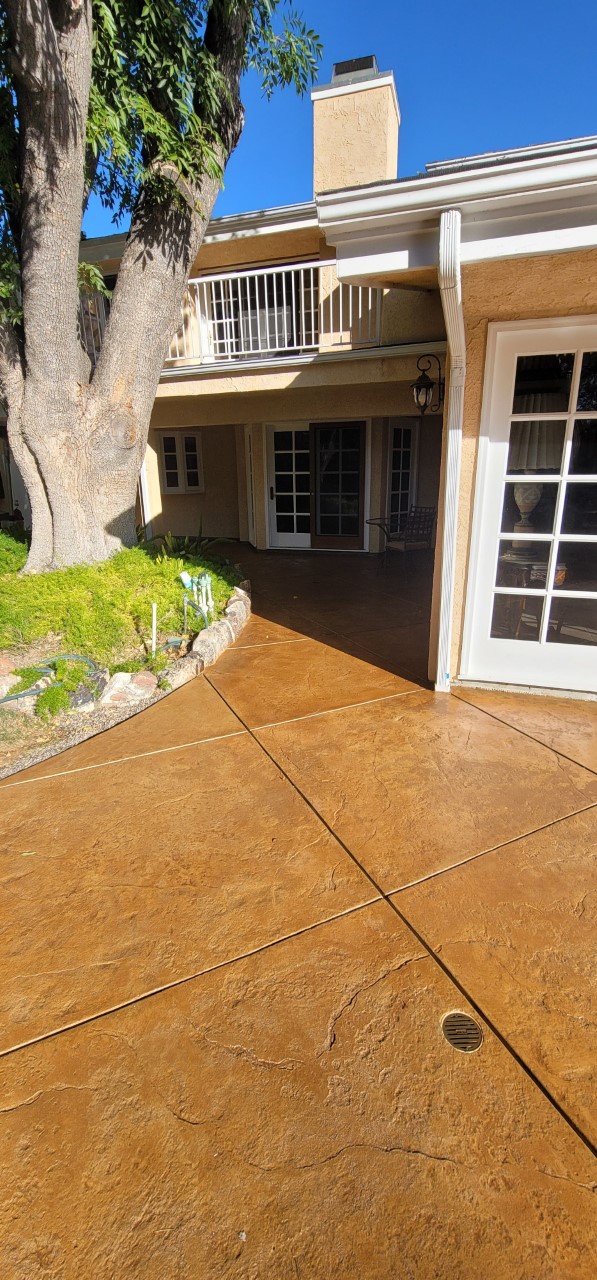 Project Info:
Project Completed In: 7 day(s)
Estimate of Square Footage: 2000 sq. ft.
Project Description:
This was my first experience staining and sealing outdoor stamped concrete. After doing a little research online, I found Direct Colors. Their website was easy to navigate with all the resources and products necessary to get the job done. I emailed them for a project consultation and received a response the very next day with the answers to all my questions, along with the links to everything I needed to get the job done. I wanted to stain and seal approximately 2,000 sq ft of stamped concrete in my backyard that had faded over a 10-year period. I immediately ordered the Direct Colors sample kit and decided to go with the Yukon Gold Antiquing Stain and the Solvent Based Acrylic Satin Concrete Sealer. Prior to staining and sealing, I power washed the concrete, making sure it was completely clean. As soon as that dried, I was ready to apply the first coat of stain. Considering this was my first time staining and sealing concrete, the project went quite smoothly and I was extremely happy with the overall results. I was a little reluctant to use the pump sprayer at first, as I thought I would end up putting too much on and wasting a lot of product, so I decided to apply the stain and sealer with a nap roller, around the pool and fire pit area. After finishing that section, I decided to use the pump sprayer to finish the rest of the concrete starting by the big tree in my pictures and ending at the gate, on the other side of the house. Glad I did, because using the pump sprayer vs. the nap roller was like night and day. The amount of area I covered using the nap roller, I did in a fraction of the time using the pump sprayer. The whole project took me about 7 days, where I probably spent 4 of those days working and the rest, allowing the stain and sealer to dry.
Personal Tips:
Buy a pump sprayer. The time it took to spray the stain and sealer vs. rolling with the nap roller was like night and day.  (Important Note: If you have acetone based dyes in your stain or sealer, buy a pump sprayer that's acetone resistant, otherwise the acetone will ruin the sprayer hose, seals and gaskets.)
 Surface preparation is extremely important when it comes to your final overall look
Direct Colors Products Used:
EasyTint™ Colors Trial Kit (Wheat, Tweed, Yukon Gold)
2 x 5 Gal. Yukon Gold EasyTint™ Satin
2 x 5 Gal. EasySeal™ Satin
2 x 16 Oz. OxiGrip™ Slip-Resistant Additive
Other Products Used:
2300 PSI power washer
Paint Stripper for concrete
Paint brush
Scrub brush
Golden Mélange: A Drive & Walk Delight!
Take a step on the sun-kissed side! This driveway and walkway are artistically mottled with a 50-50 blend of Yukon Gold and Goldenrod, creating a luminous and textured journey from curb to door.
 Multi-Colored Paver Driveway Transformation with Portico™ Paver Stains
Explore this impressive project where a customer brought their paver driveway to life with a mix of five different Portico™ paver stain colors: Driftwood, Aztec Brown, Khaki, Terracotta, and Yukon Gold. Each paver was individually stained and edged with Driftwood. The final touch? A gloss EasySeal™ to bring out the vibrant hues. The striking result? A driveway that mirrors the color palette of the porch.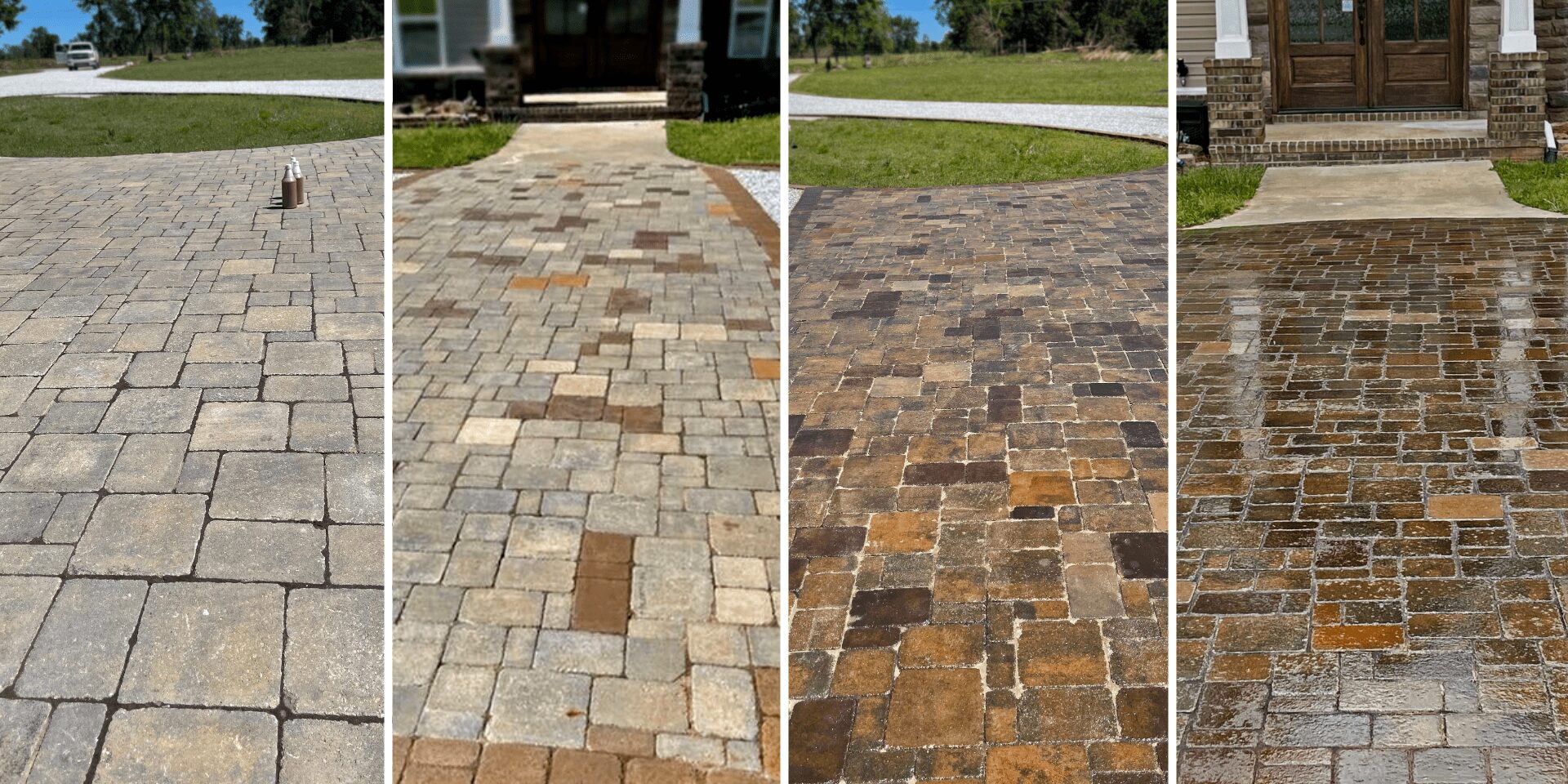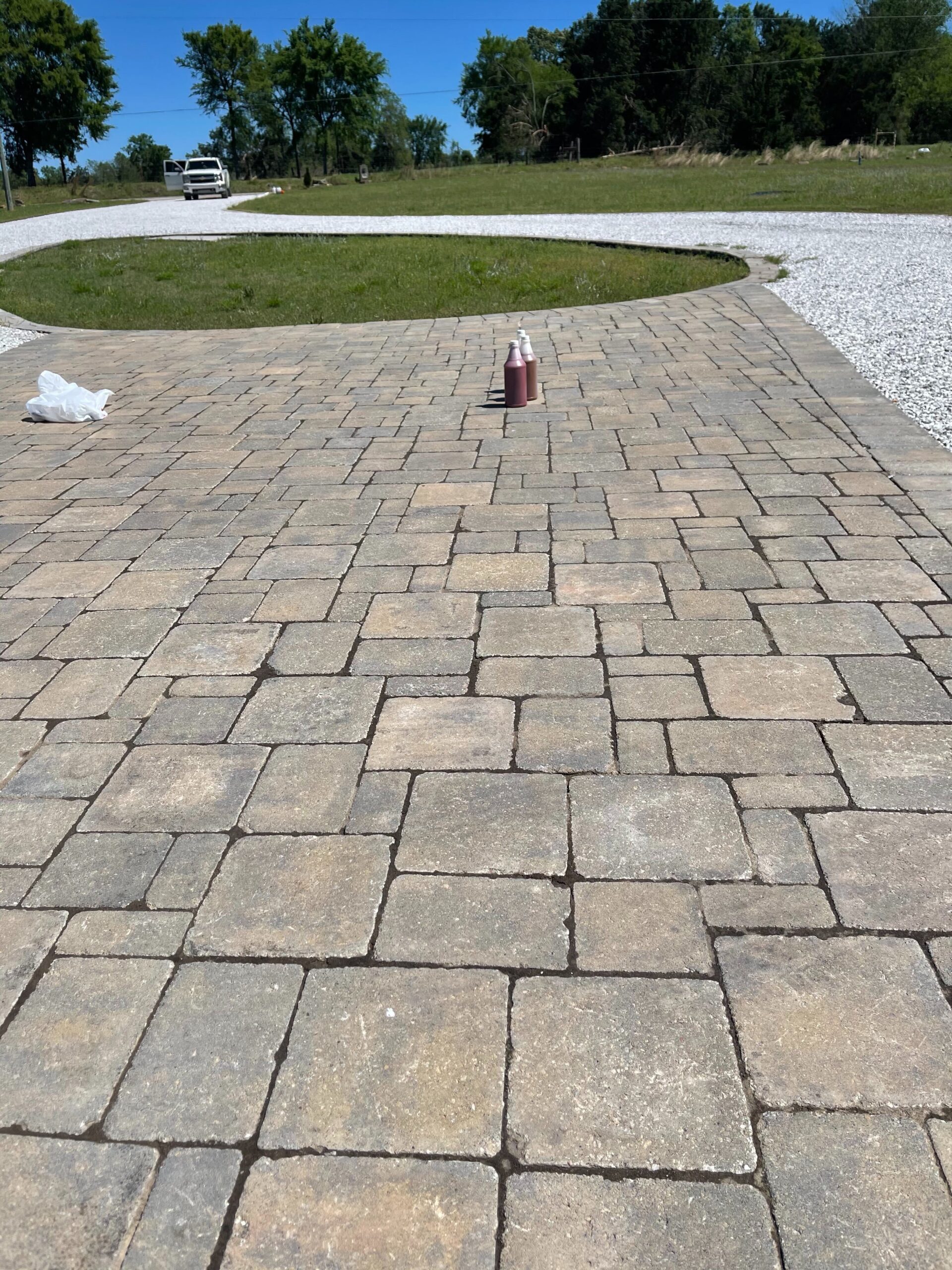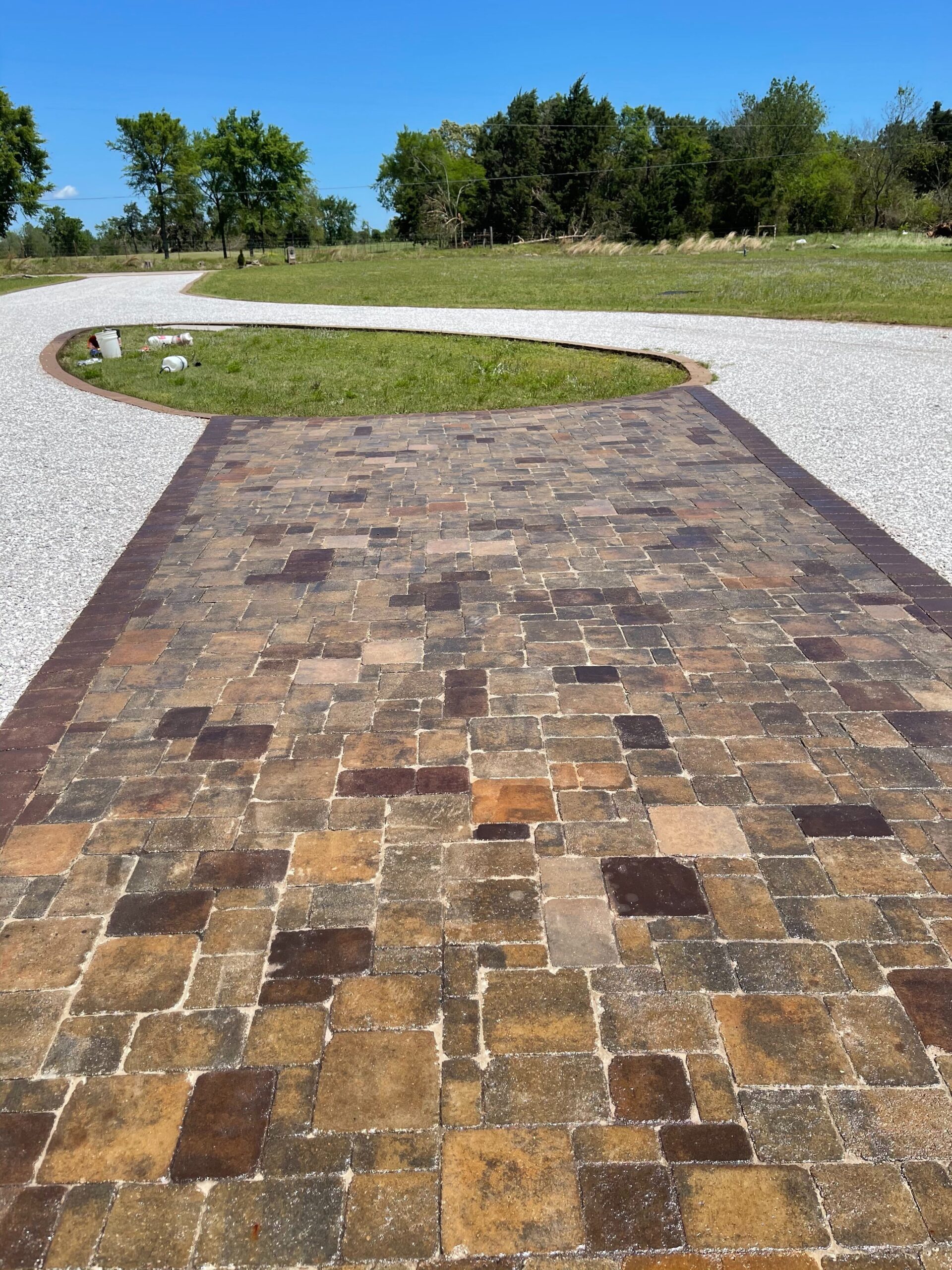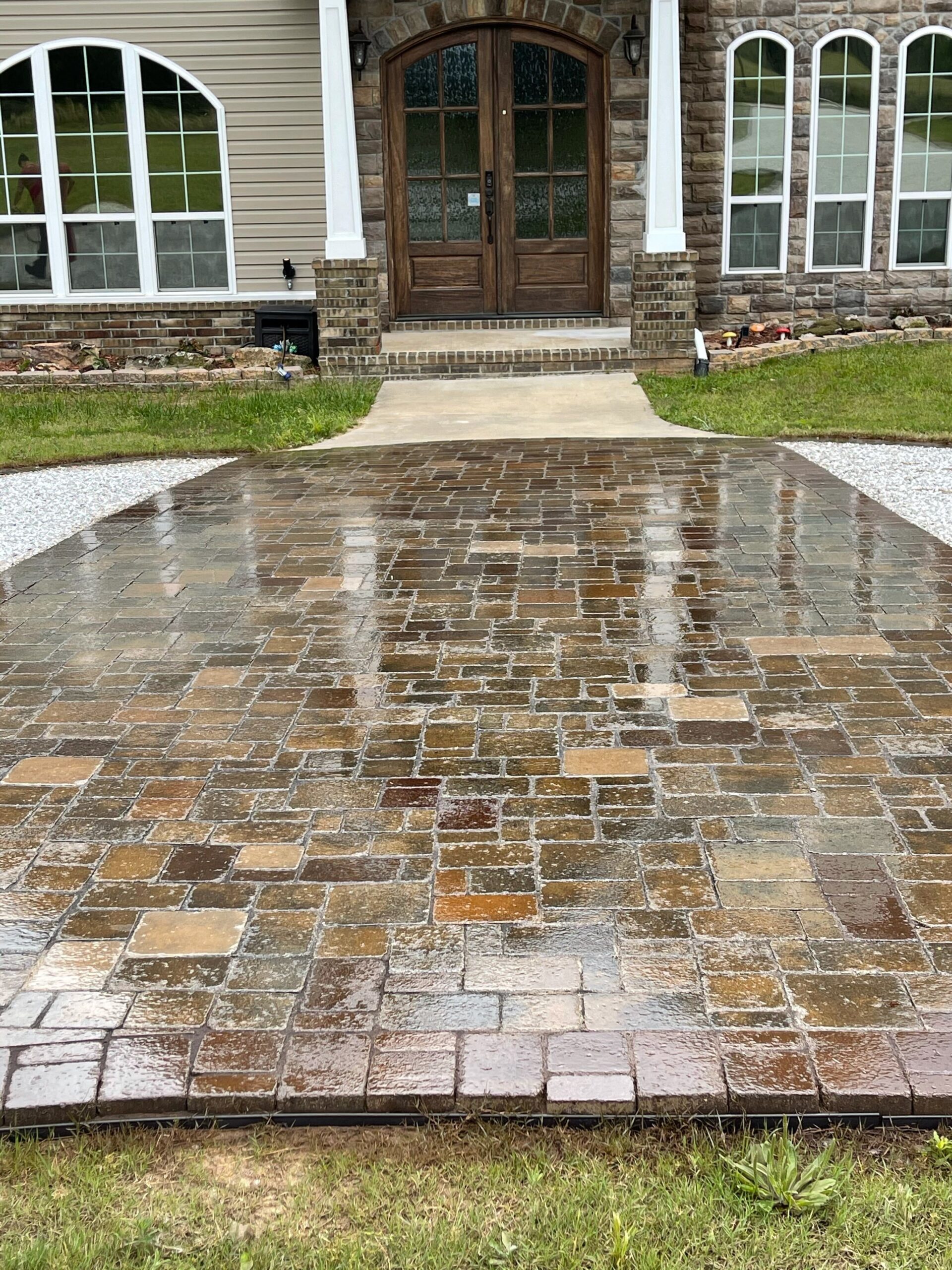 Honeycomb Pattern Concrete Pavers
If you have a concrete pavers patio, using multiple colors is certainly a way to create visual interest!
That's exactly what was done here. Tinted concrete sealer in gold and Driftwood brown added some fun aesthetics to these hexagon pavers next to the garden.