For homeowners looking to add value to their house with a finished basement floor, at about $0.61 per sq. ft.; acid stain offers the lowest-cost and highest-return of any flooring option. A Stained Concrete Basement Floor can be finished without costly contractors and are easy to maintain once sealed. Here are a few things to keep in mind when selecting products for a basement application.
HOW TO ACID STAIN BASEMENT FLOOR 101 BASICS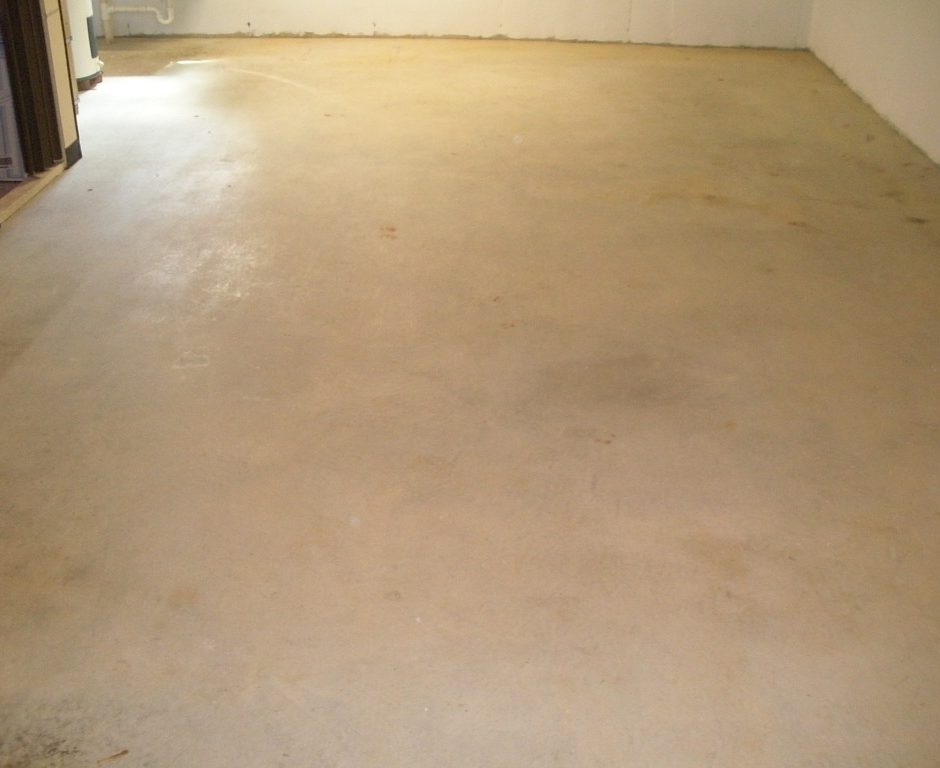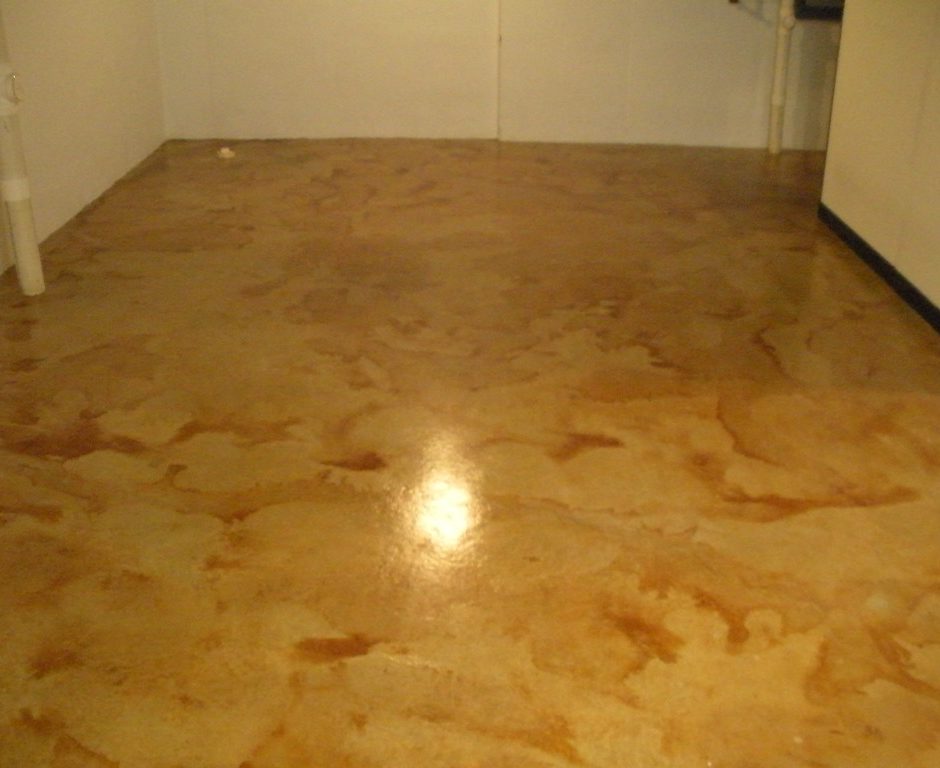 Step 1 – Evaluate Your Concrete
Basements are often the smoothest rooms in a house. So smooth in fact that they cannot be successfully acid stained without pre-application of chemical or mechanical profiling that will help the stain take effect. Pour water on the concrete to see if it beads up for several seconds or instead readily absorbs into the concrete. Beading or poor absorption suggests the surface is too smooth to stain and will need profiling. Most slabs will be ready for acid staining after an application of Hard Troweled Floor Prep. Simply cut the product with water 1:1, spray from a garden sprayer and wash off with clear water after 15-20 minutes. Test again whether water beads on the surface. For excessively smooth concrete, apply the floor prep full strength for optimal results.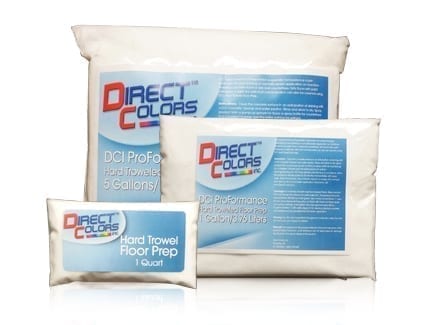 Step 2 – Check for Water Issues
Many basements experience water issues as a result of drainage changes, foundation cracks, and unexpectedly heavy rains. Moisture can seep into a basement or come up through the slab as hydrostatic pressure, and these factors ultimately dictate what sealer is best for your project. Inspect your basement thoroughly for seepage of any kind and address that before finishing the basement floor. If you believe you may have high humidity, test by affixing a small sheet of plastic directly to the floor using duct tape and leave for at least 48 hours. If condensation is present under the plastic, select a breathable sealer or cure and seal sealer that allows water vapor to pass through the coating.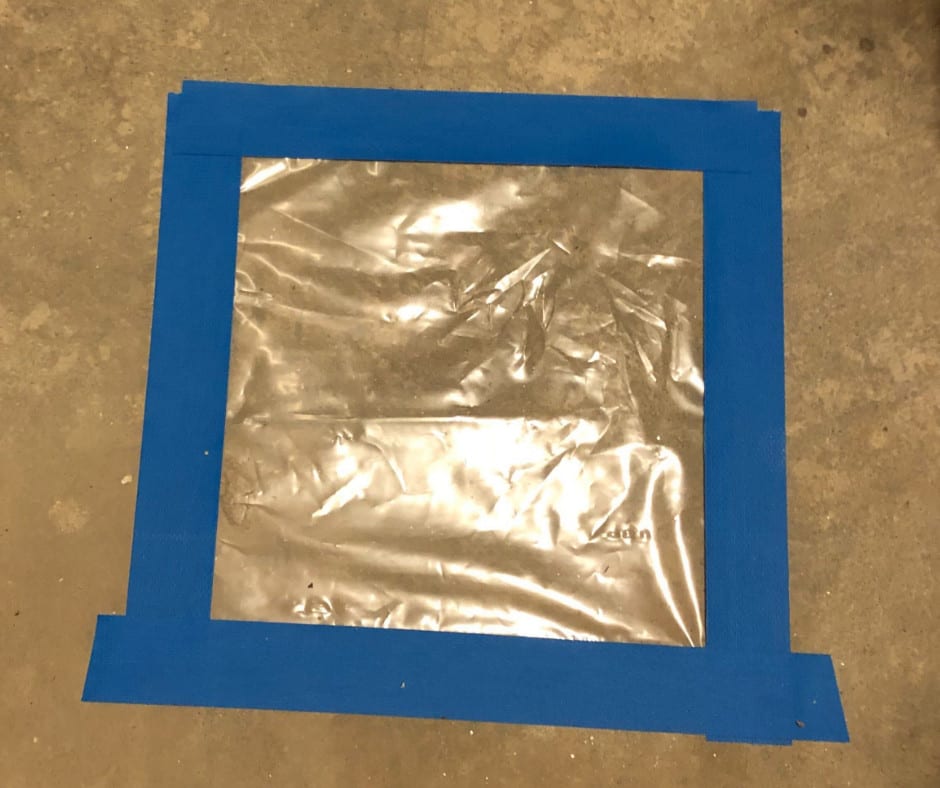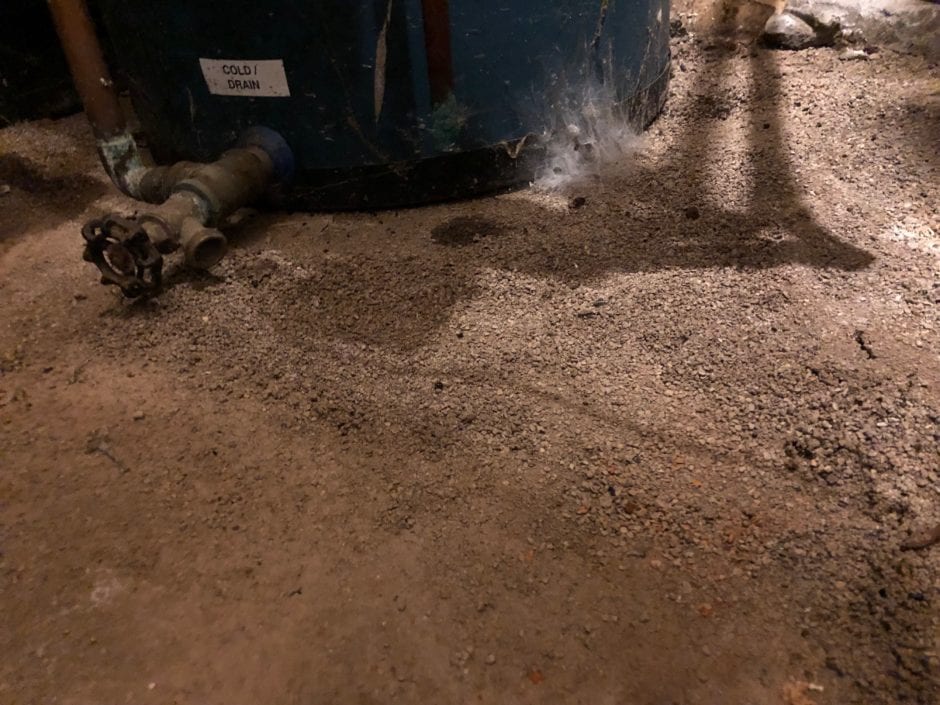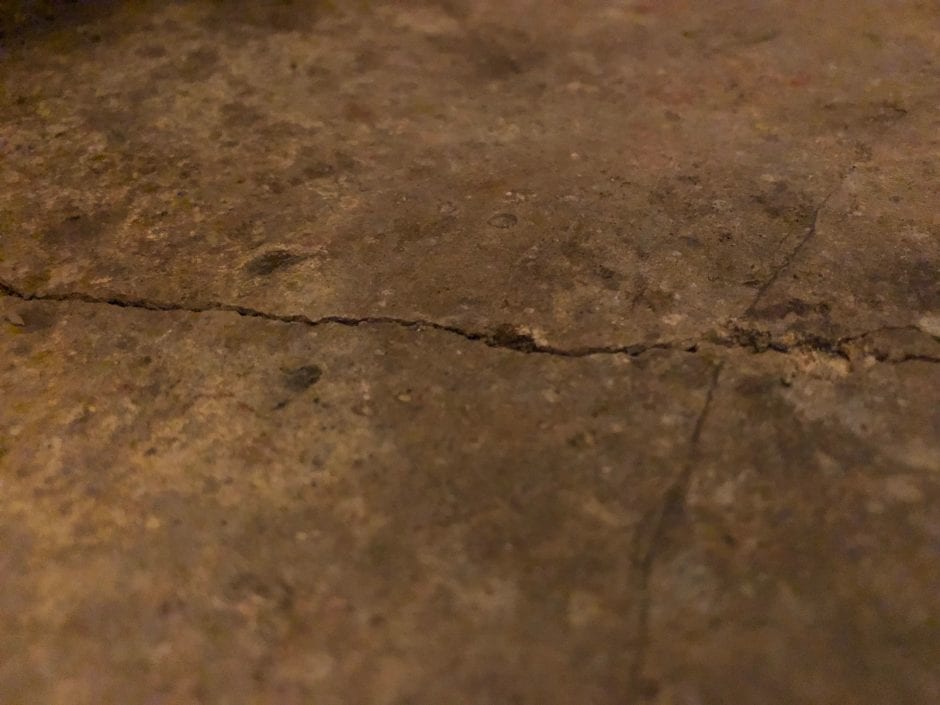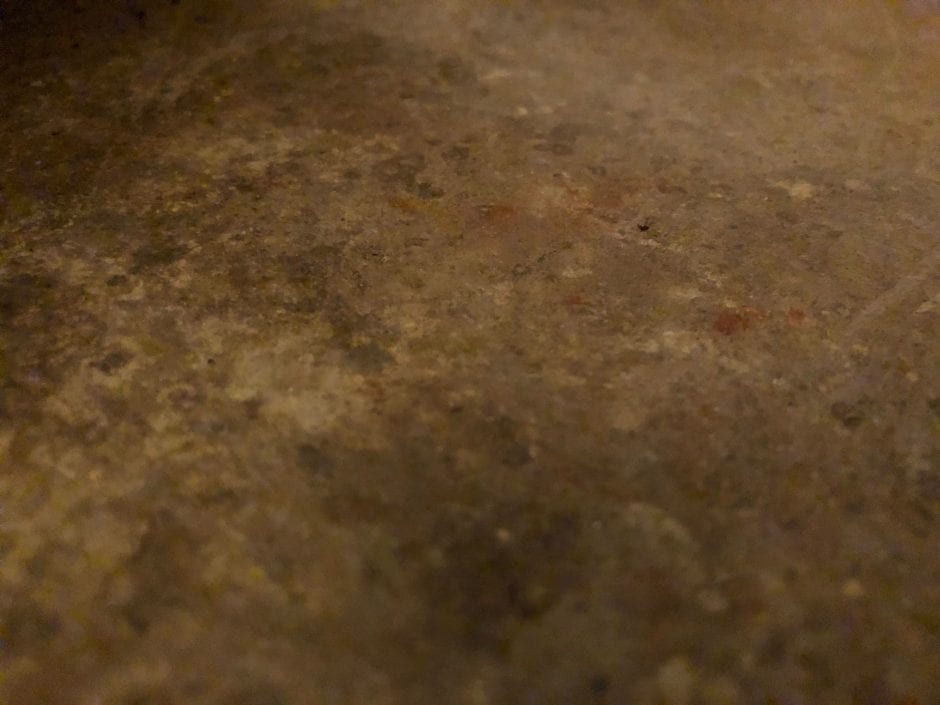 Step 3 – Clean
Many basement floors have been covered with carpet or paint. All debris including glue, sealer, paint, and drywall mud must be completely removed before acid staining. Mastic Remover and Soy Gel Paint and Sealer Stripper are great low-order products suitable for basement use. Remember to clean the floor thoroughly of all cleanser residue using Concrete Cleaner & Degreaser and then to rinse well before staining.
Step 4 – Apply Acid Stain to Concrete Floor
All 10 Direct Colors Acid Stains may be used for a basement application. 
Keeping in mind that many basements aren't well lit, we recommend selecting a lighter color and avoiding Coffee Brown and Black acid stains as they may make the room overly dark (these stains also have the strongest smell during application and require ventilation to the outside or a respirator to apply).
STAINED CONCRETE BASEMENT FLOOR COLORS
As with any acid stain application, testing to determine which colors and sealer finish combination works best in your basement is the best place to start. With our acid stain trial kit you can choose up to five colors and two sealer finishes to create you own custom stained concrete basement floor.

Step 5 – Neutralize and Remove Residue
Once the residue has dried and the stain has been given at least the recommended minimum time to react, the surface should be neutralized and all debris or excess stain removed in the following manner:
Prepare a baking soda and water solution using 1-2 tablespoons of soda per gallon of water. Thoroughly spread the solution across the slab, scrubbing with a soft nylon bristle scrub brush where needed to remove residue. A shop vacuum can also be

used for indoor projects. 

Wash the surface carefully using clean water until nothing but clear water is visible. All residue and excess color must be

removed from the floor BEFORE leaving to dry. For stubborn residue or porous surfaces, use a floor soap or

Concrete Cleaner & Degreaser

to aid in the removal. The clean, wet surface will be the approximate color of the final sealed surface.

Leave to dry. After the surface has completely dried, the floor should be ready to seal.
Step 6 – Select and Apply Concrete Sealer
Choosing the correct sealer is the most critical decision for a basement project. Basements often have poor ventilation; therefore, a water-based sealer is the safe way to go. 
Direct Colors offers several excellent low VOC, water-based sealers for basement applications such as Water-Based Polyurethane Sealers and  Water-Based Acrylic Sealers in gloss and satin finishes. 
The following are the main differences between acrylic and polyurethane sealers you should consider before selecting you floor sealer.