Stenciling Concrete Floor Vibrant Dye Colors
Quick Drying and Easy to Apply for Floor Design Elements
Jeremy F. of Brighton, MI wanted to do something special in his 500 sq. ft. basement. "I run a vinyl cutting business called "Frizzy Vinyl" and offer the compass and tile mask in kit form," Jeremy told us.
He selected  Concrete Dyes because the product is fast drying and he could easily spray it from an aerosol sprayer for more application control.
After prepping the concrete, he applied the compass stencil to the floor and tape to create the tile pattern.
He then sprayed the Aztec Brown and Sepia Concrete Dye colors from a 48oz. Acetone Sprayer and carefully applied English Red to the compass points. Because the dye's fast drying time, the stencil and tape could be removed almost immediately.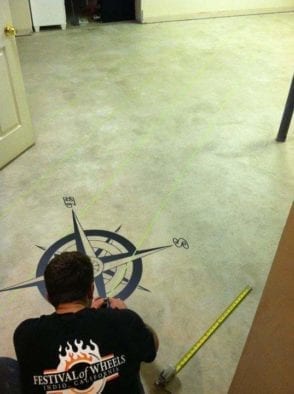 Concrete Dyes significantly reduces the time needed to complete a decorative concrete project and is an especially good choice for projects where rinsing with water may be difficult.
For the final step, the floor was sealed with two coats of  High Gloss Water Based Acrylic Sealer and waxed with Residential Floor Wax. A water based sealer is a good choice for basements with no history of water seepage, high humidity or hydrostatic pressure. Water-based sealers are the best choice for basements due to ventilation concerns. Solvent-based sealers should not be applied in confined areas with little or no ventilation to the outside.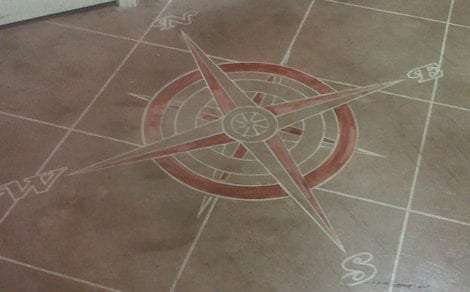 "I've had so many compliments on it, and everyone wants me to do the same thing for them!  The options are endless, and the results are impressive. Thanks to the team at Direct Colors for helping with our project." – Jeremy F., Brighton, MI