Revamp Your Outdoors with Tweed Concrete Stain: Unleashing Creativity on Patios, Pool Decks, and More
Ever thought about giving your outdoor space a bit of a spruce-up? Look no further! We're about to dive into the amazing world of tweed concrete stain. Don't worry, it's not as fancy as it sounds. We've got some cool and totally doable DIY projects that will make your outdoor concrete spaces – think pool decks, patios, courtyards, retaining walls – look like a million bucks. Whether it's stamped, salted, or slate-like concrete you're dealing with, we've got you covered. So grab your DIY hat, and let's have some fun giving your outdoor spaces a fresh, stylish look.
Three-Day Courtyard Makeover: Refreshing 400 sq. ft. with Tweed Antiquing Stain
Ever wondered how to revamp your courtyard without calling in a team of pros? We were in the same boat, so we decided to get our hands dirty and refresh our 400 sq. ft. courtyard with a little help from "Tweed" Antiquing Stain. From power washing to applying two neat coats of stain, and finally sealing the deal with a Satin EasySeal finish, we successfully managed to give our courtyard a brand-new look within just three days. Keep reading to find out more about our journey, including a few lessons learned along the way and tips on getting the most out of your staining project.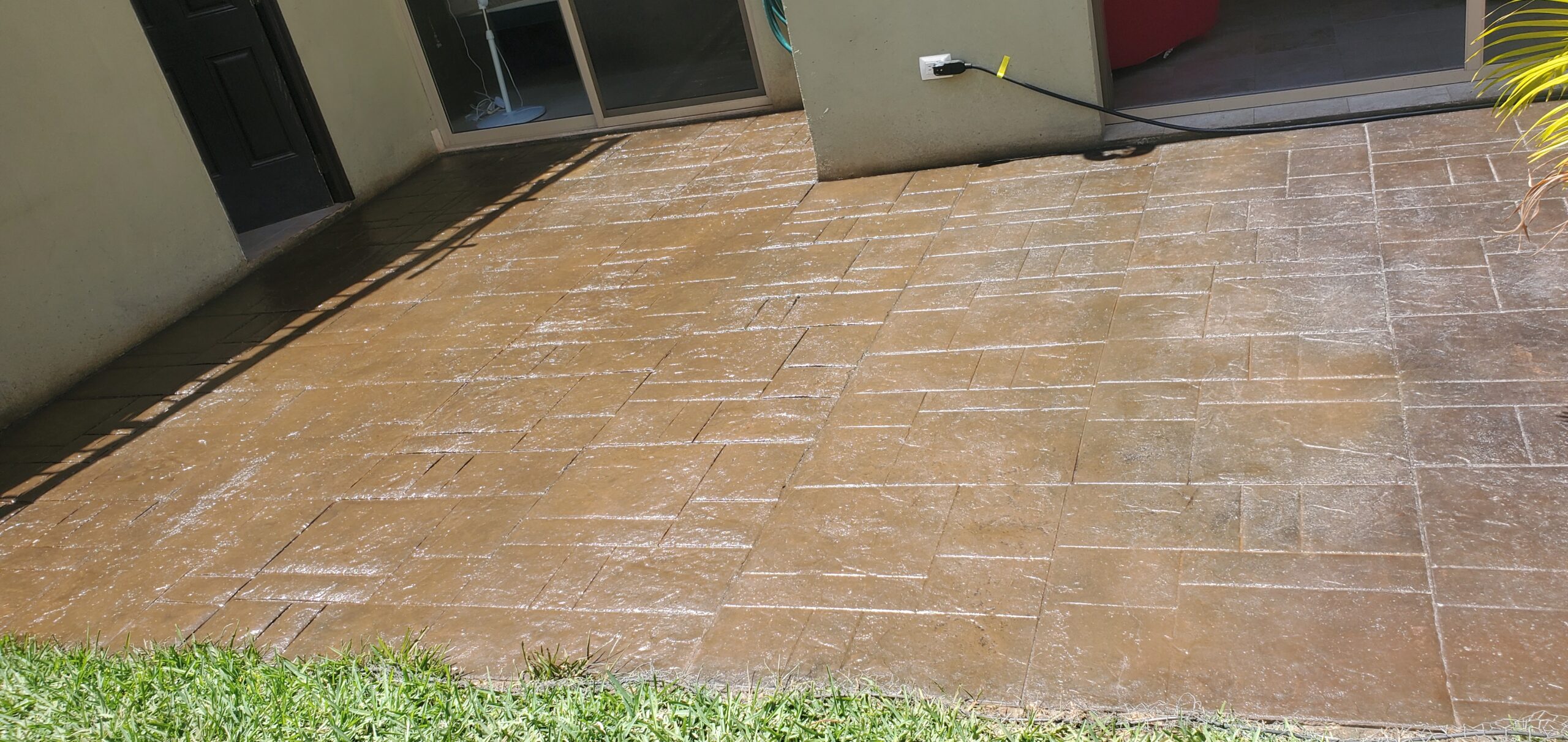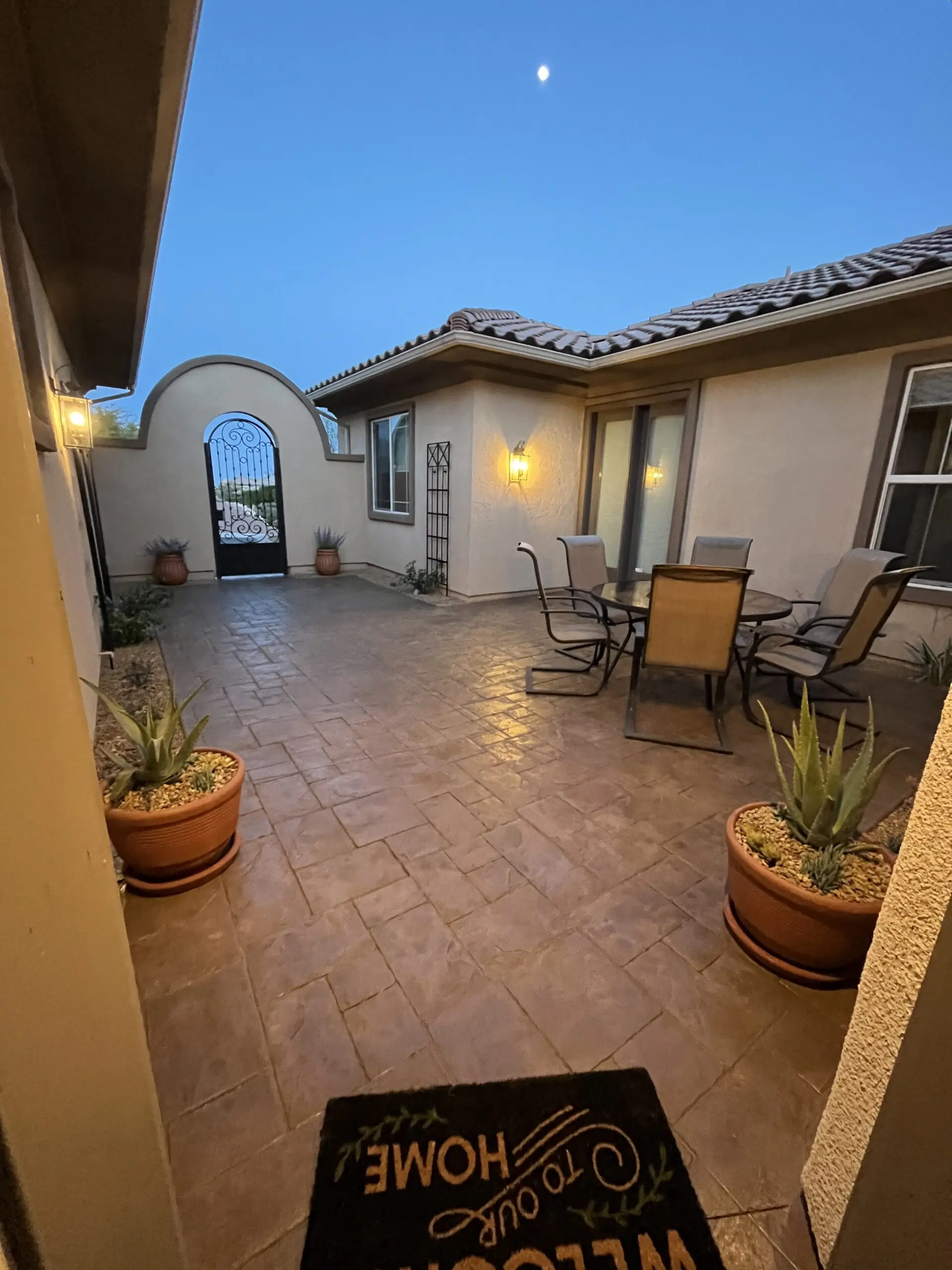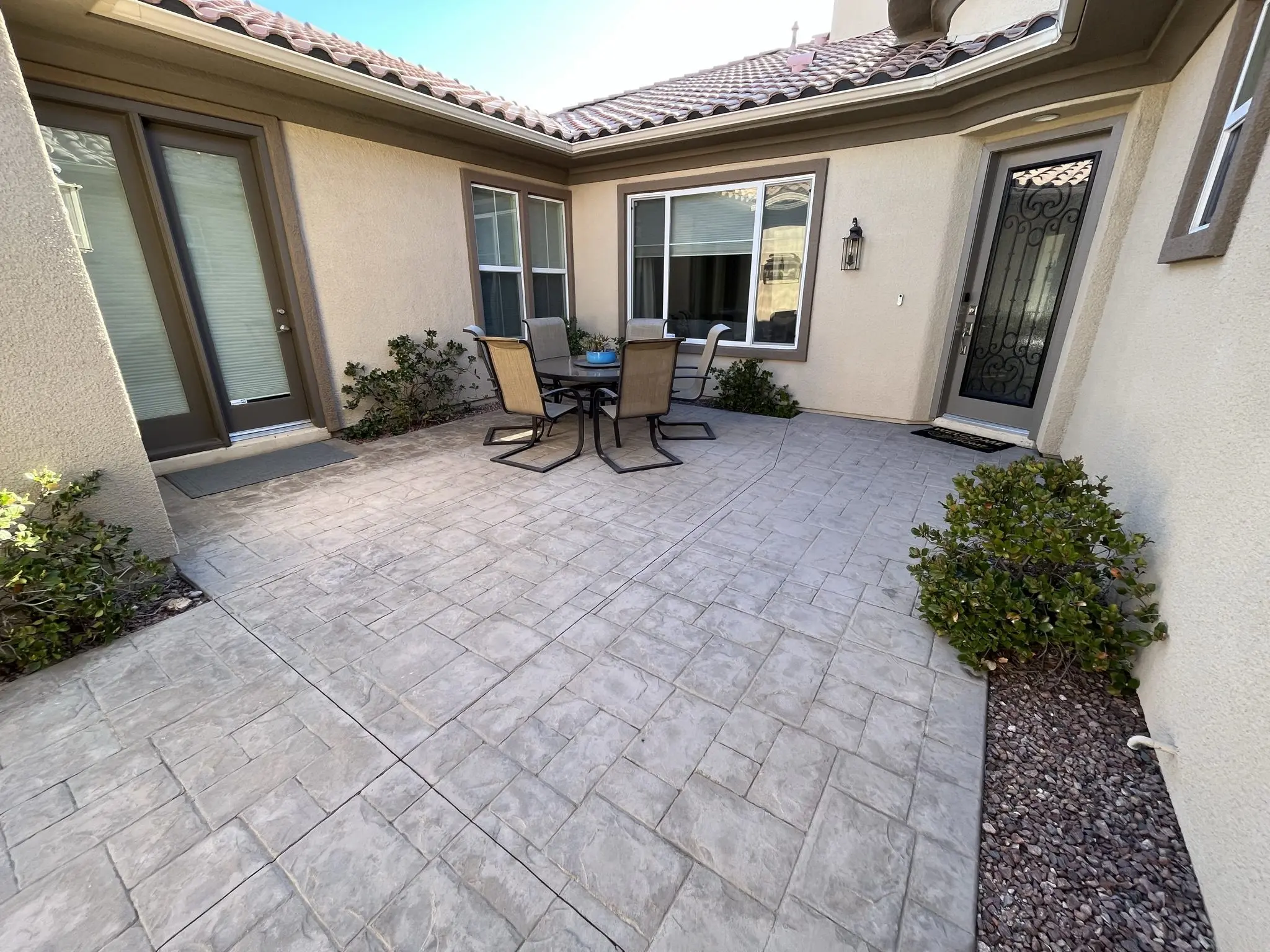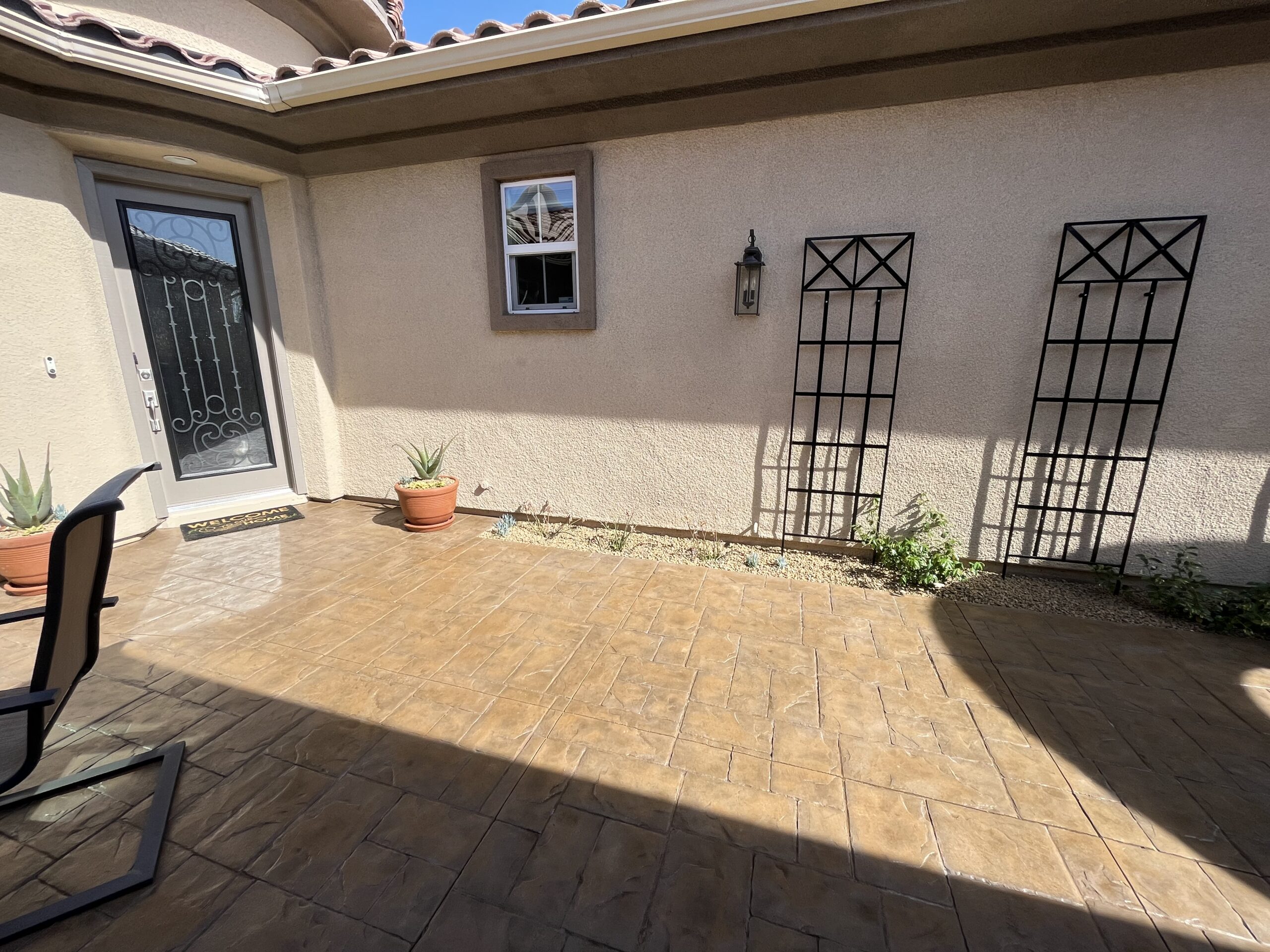 Project Info:
Project Completed In: 3 day(s)
Estimate of Square Footage: 400 sq. ft.
Project Description:
We wanted to give our courtyard a refresh with newly stained concrete and all new plants. We started out with 6 different color samples and liked several, but chose to go with "Tweed".
We stripped a few areas that needed it first, then power washed the entire surface really well. We applied two coats of the "Tweed" Antiquing Stain using a sprayer, (waited 8 hours between coats), and lastly applied two coats of Satin EasySeal (also waited at least 8 hours between coats).
Personal Tips:
We really like the ease and end results of the sprayer, but should have followed the directions regarding cleaning out the sprayer tip and leftover content in between uses.
We regret not following the instructions and ended up with a clogged spray tip and dried up sealer, but were fortunate to have enough left still in the original container.
Do-It-Yourself BBQ Patio Upgrade: How We Saved Thousands with Tweed Concrete Stain
Ever felt that cold chill when a quote for a simple home improvement project comes back way higher than you expected? We sure did when local companies quoted us a whopping 4K for a new patio for our outdoor dining area! But instead of breaking the bank, we decided to roll up our sleeves and do it ourselves. Armed with pavers and Direct Colors stain/sealant, we managed to pull off a professional-looking upgrade for less than 1k! Want to know how we did it with a bit of patience, some elbow grease, and a whole lot of tweed concrete stain? Well, keep reading because we're about to share our DIY journey and some invaluable tips.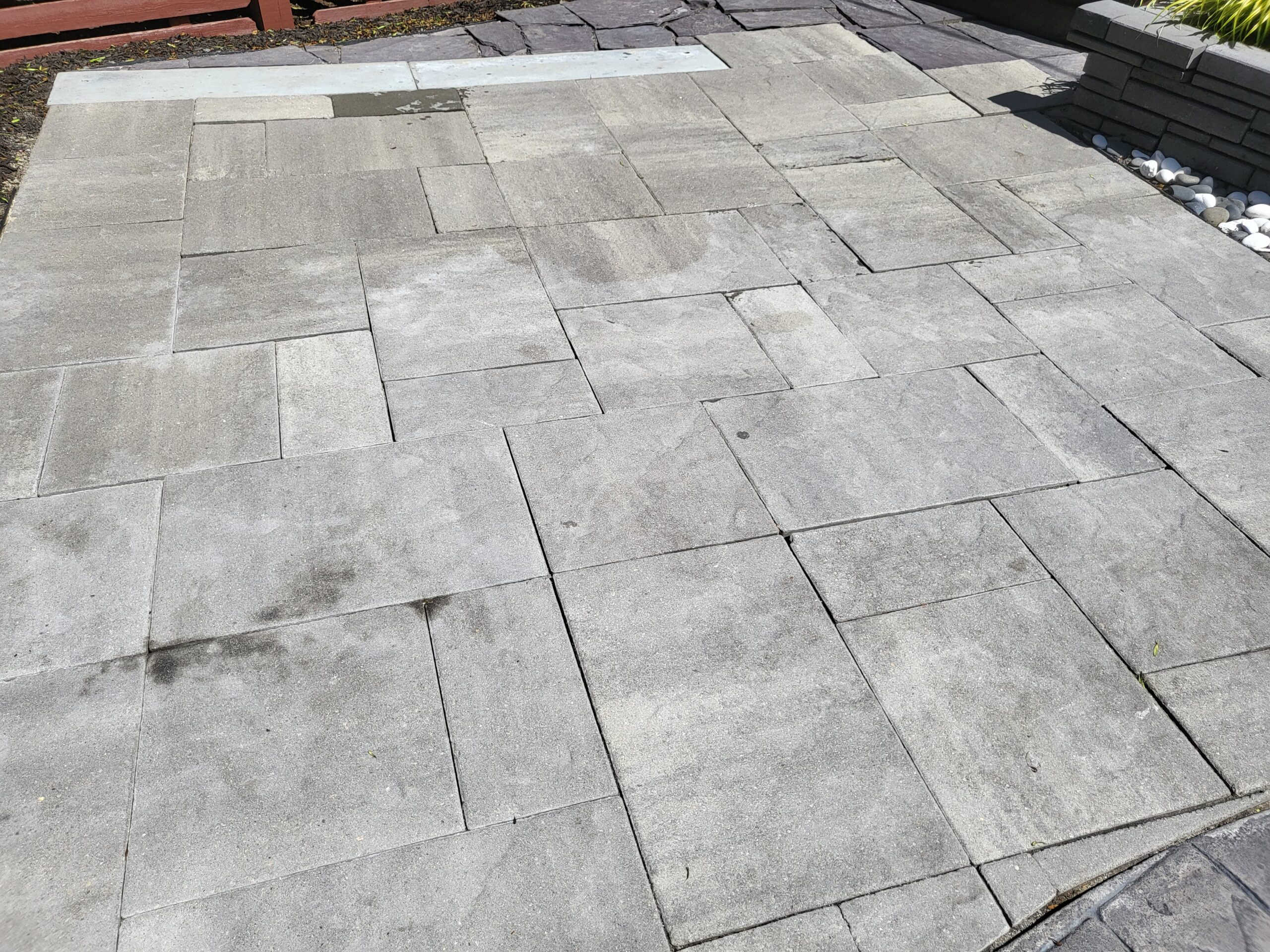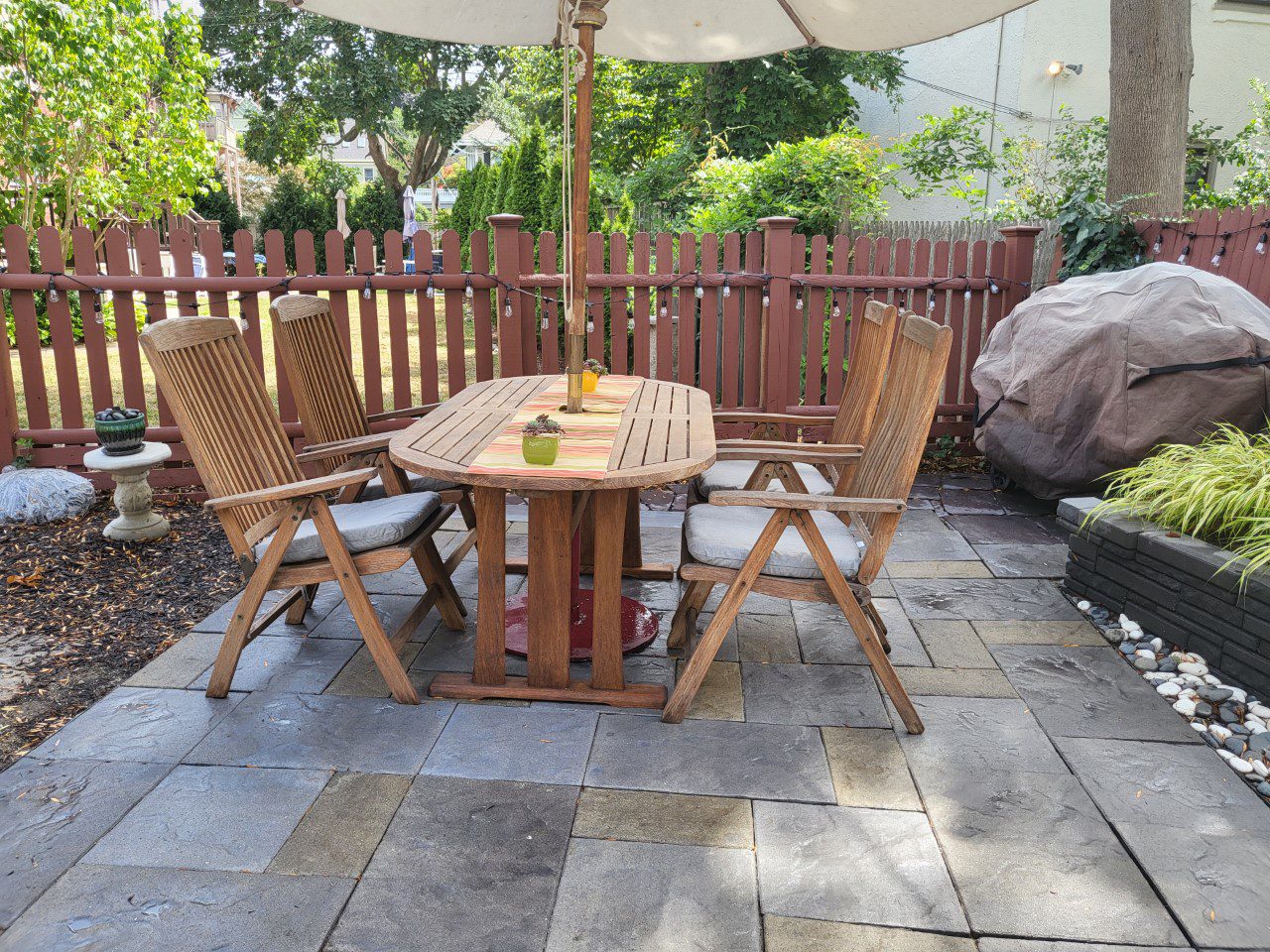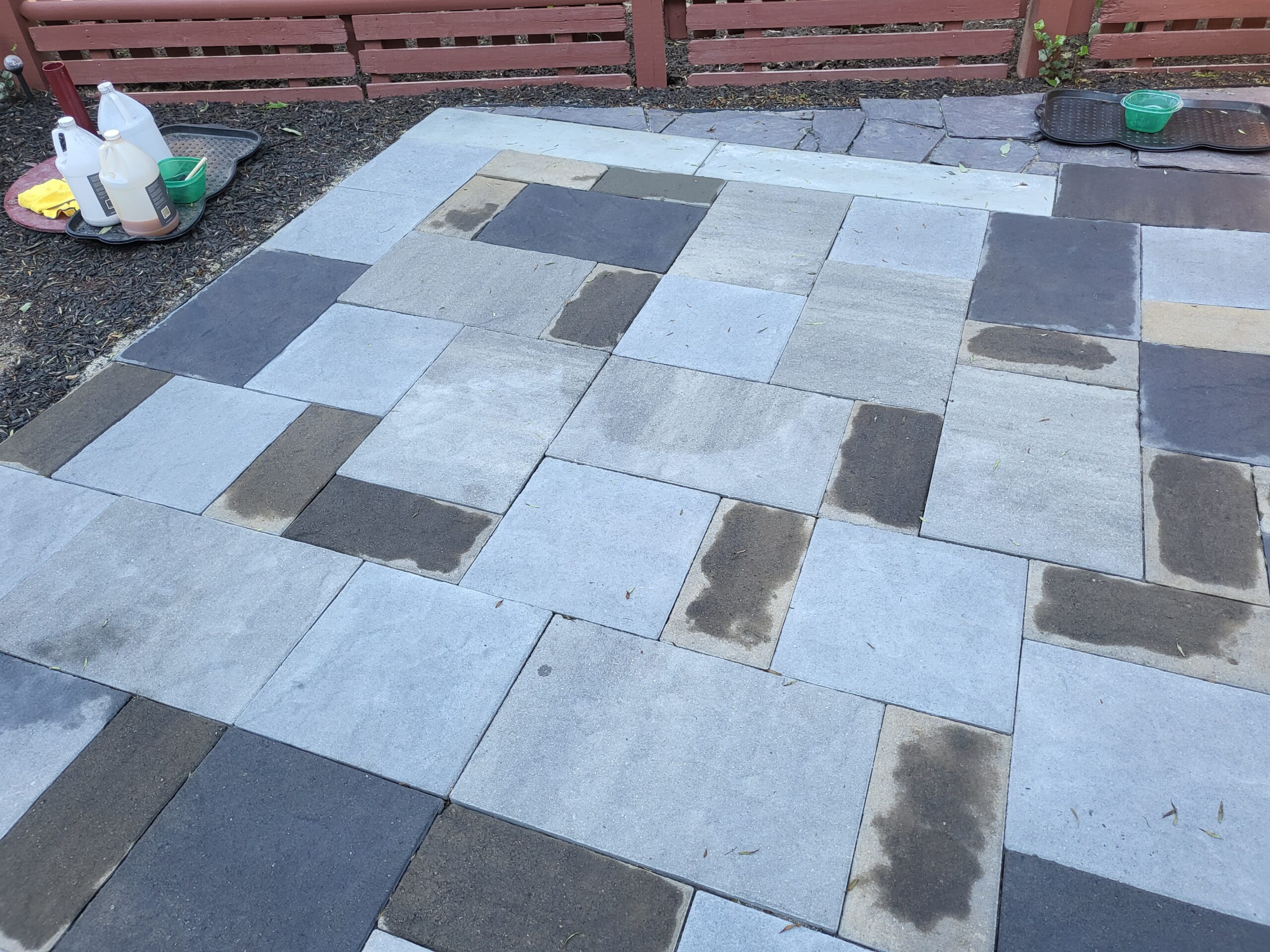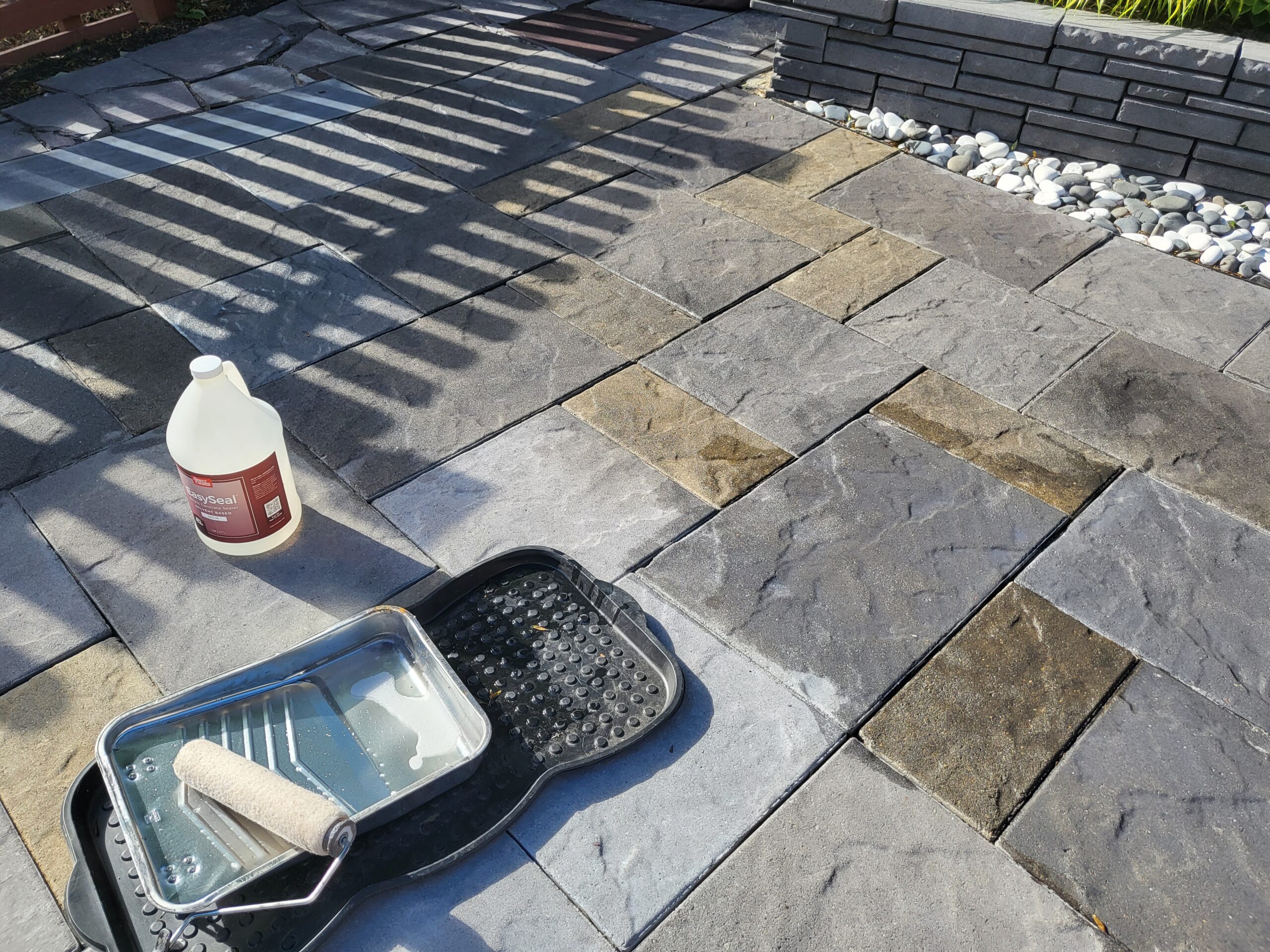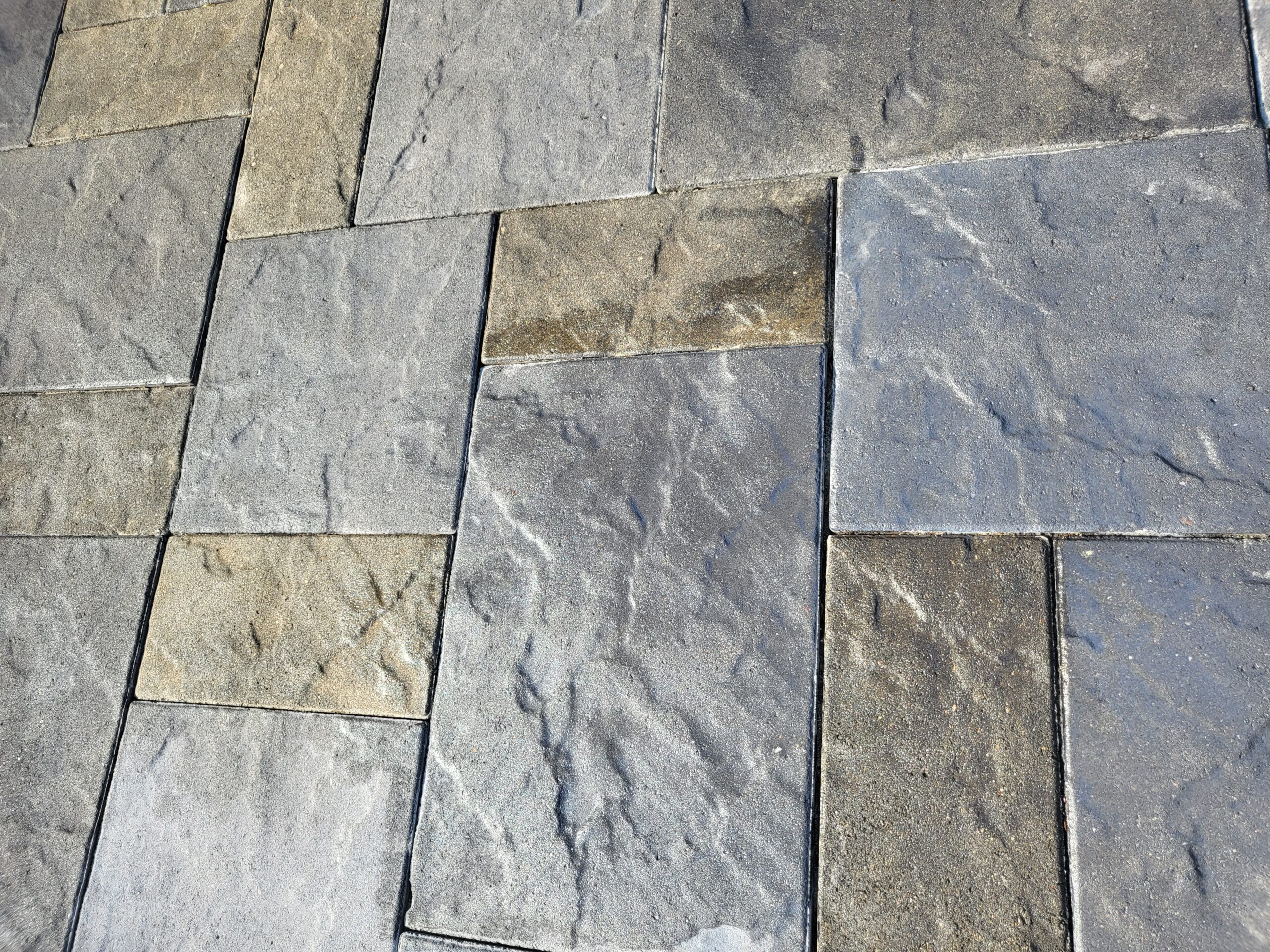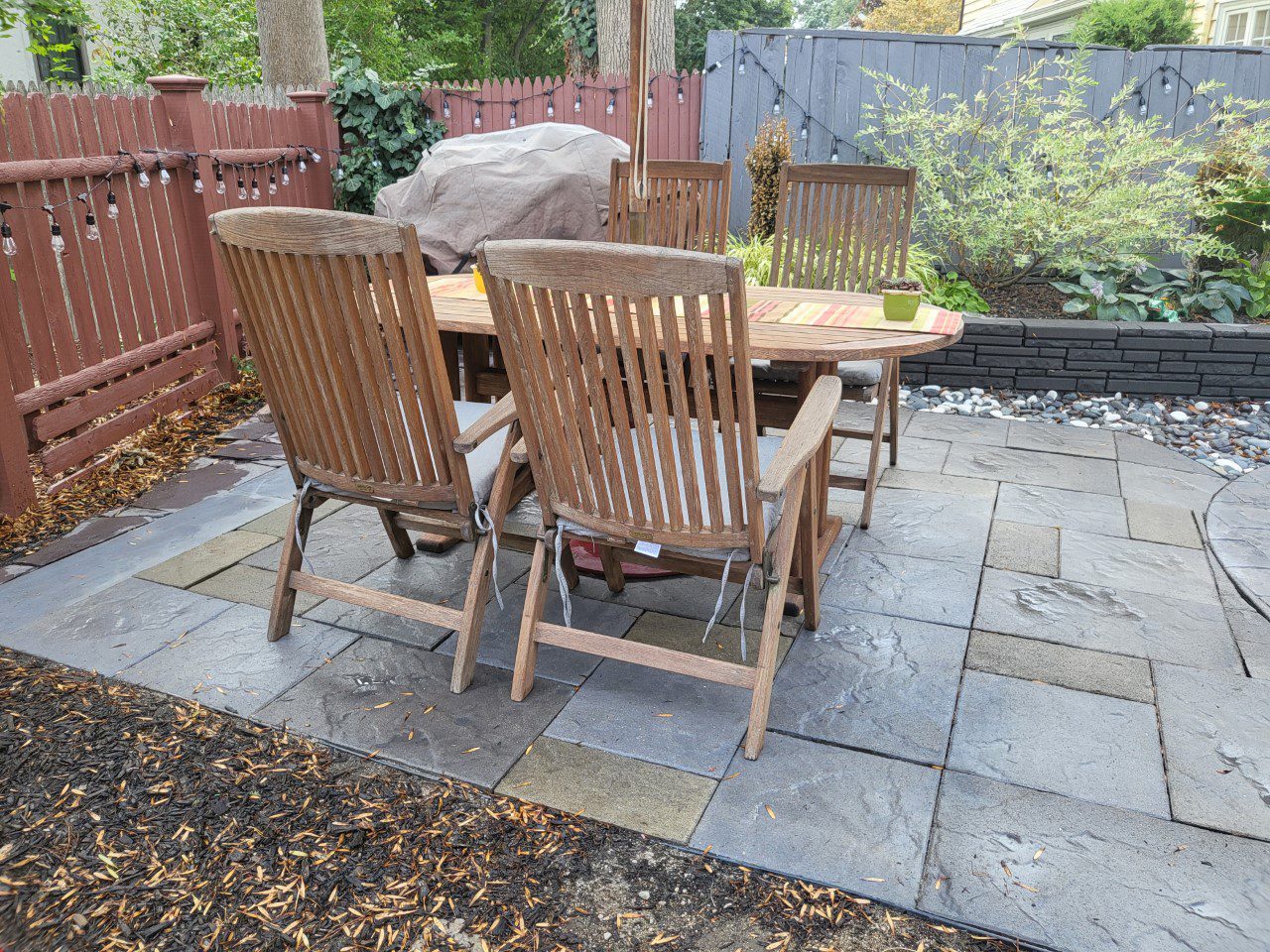 Project Info:
Project Completed In: 2 day(s)
Estimate of Square Footage: 10 sq. ft.
Project Description:
BBQ outdoor dining area. We wanted to add on an additional patio for outdoor dining.
We contacted a few local companies and was quoted 4K for labor and materials!! After recovering from sticker shock, we decided " we got this"..
We opted on pavers & Direct Colors stain / sealant.
The entire cost doing it ourselves .. less than 1k. After allowing the time in between installation of pavers and staining,/ sealant. We purchased Antiquing silver gray, tweed and charcoal gray.
I stained each paver individually using sponge brushes. I applied 2 coats allowing dry time between. I waited 24 hours before applying the satin sealant ( also allowing dry time between coats).
We couldn't be more satisfied with the end results!! We took the money we saved and spent a getaway weekend in the White Mountains of New Hampshire .. win win!.
Thank you Direct Colors for creating a professional, high quality product with expert results that 1st timer DIY's can easily master.
Personal Tips:
Read the instructions ( simple, easy to understand)
Pre prep .. we can't empathize this enough ! It's 90% the key to expert results.
Shake the stain .. Shake the stain .. did I mention not to forget to Shake the stain during application??
Check the weather forecast prior to beginning .. 3 days of partly cloudy/ no rain is ideal!
Contact Direct Colors customer care team if you have any questions .. they are friendly professional and knowledgeable
Direct Colors Products Used:
Antiquing stain Silver Gray, Tweed and Charcoal Gray
Satin Finish Sealant
From Eyesore to Artwork: Transforming a Retaining Wall with Earthy Stains
We all have that one spot in our yard that's just a bit…meh. For us, it was an unremarkable white retaining wall we kept out of sight behind ferns. Then we thought, why not turn this bland wall into something beautiful? And so, armed with earthy shades of Tweed, Mojave Dunes, Driftwood, and Wheat stains, we set off on our mission to give this retaining wall a face-lift. Spoiler alert: It turned out way better than we could have ever imagined!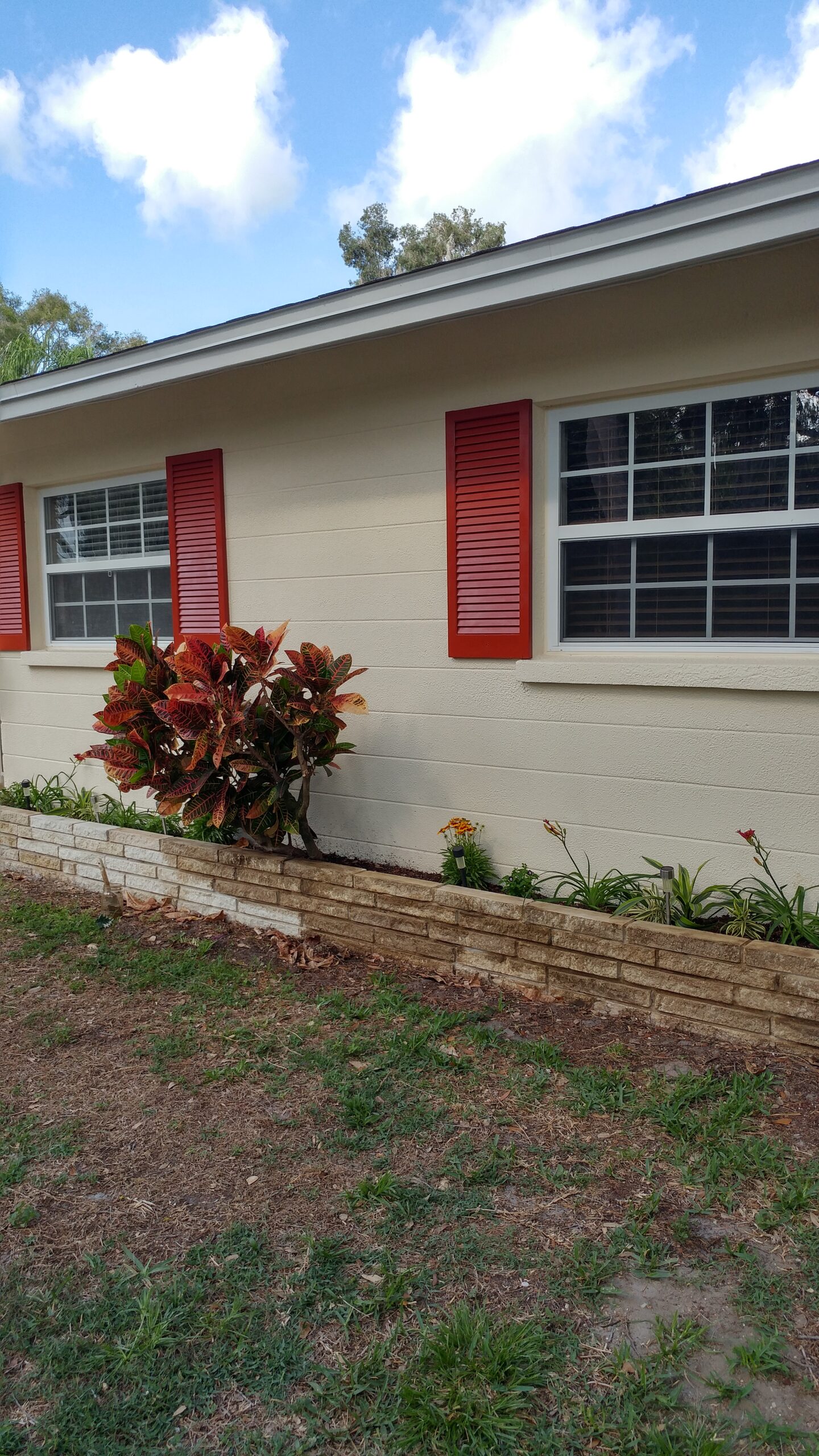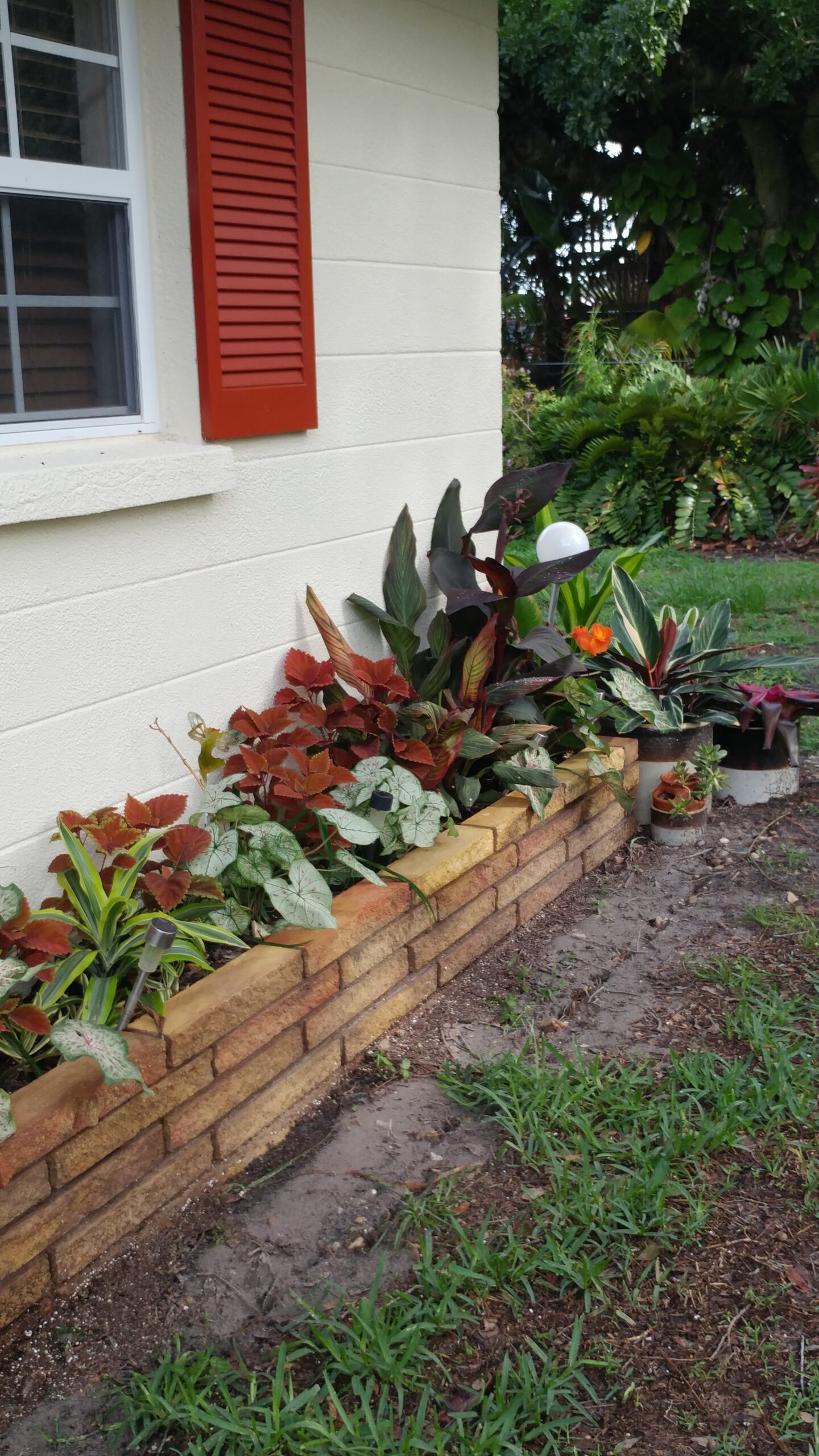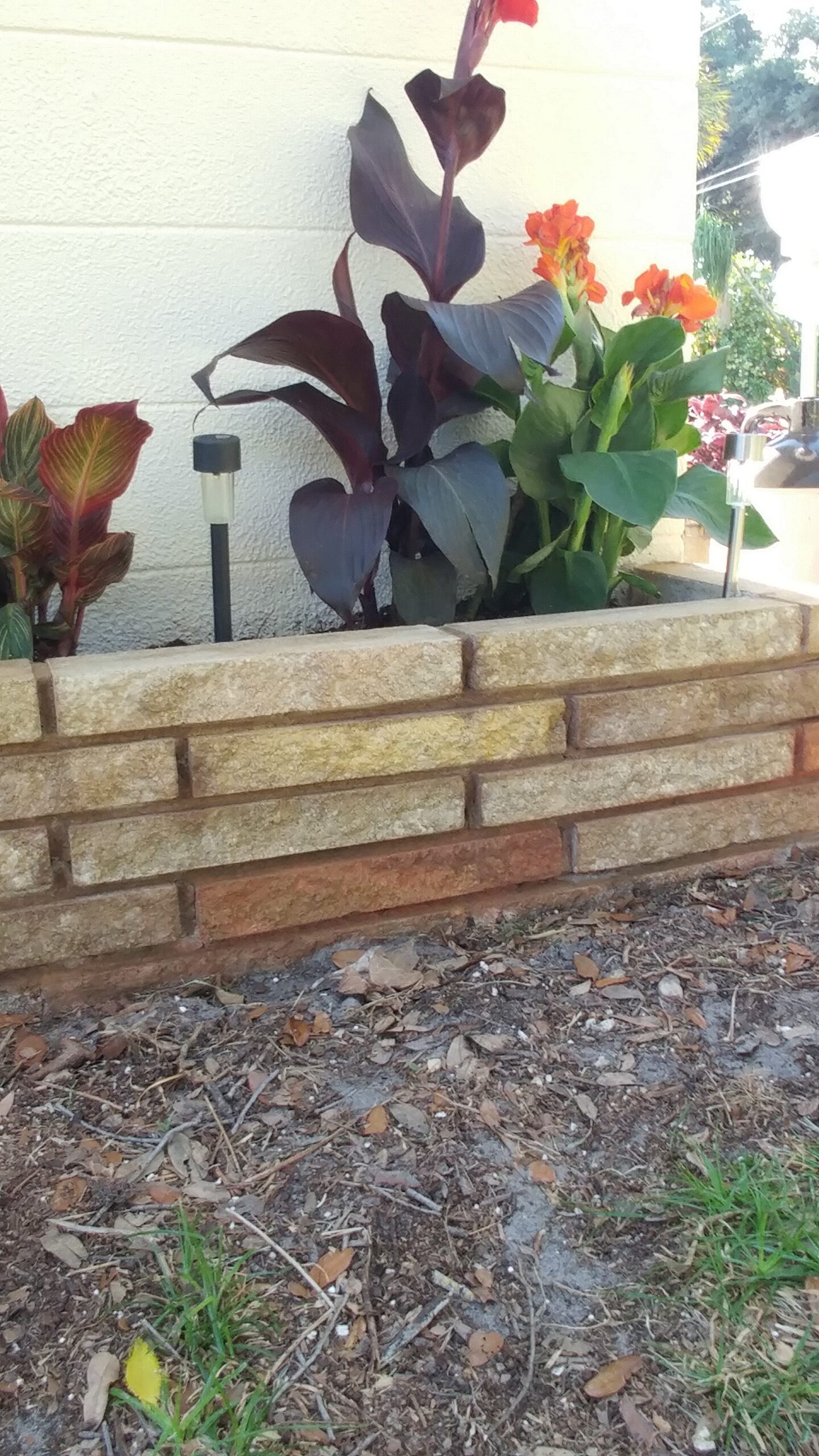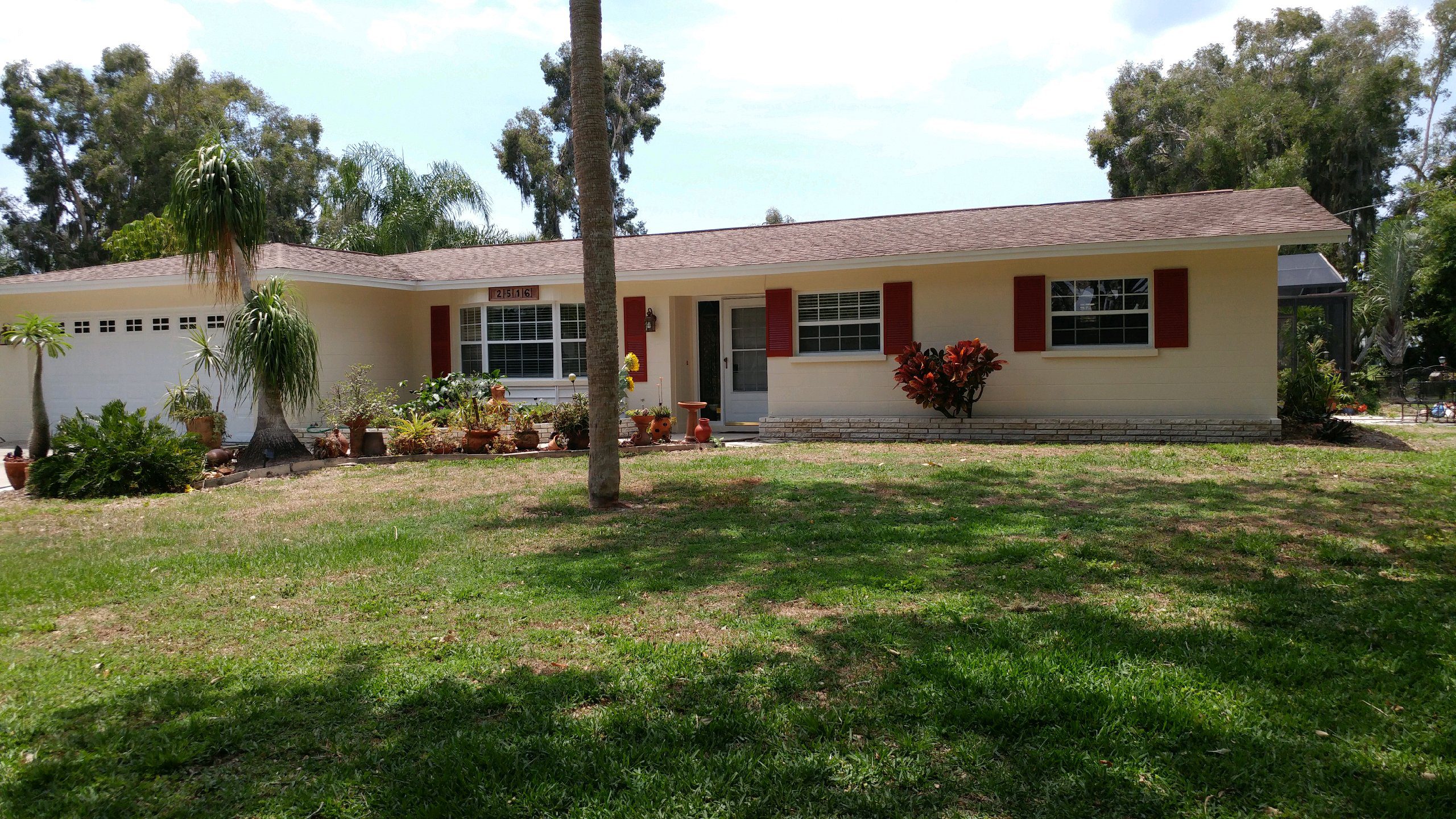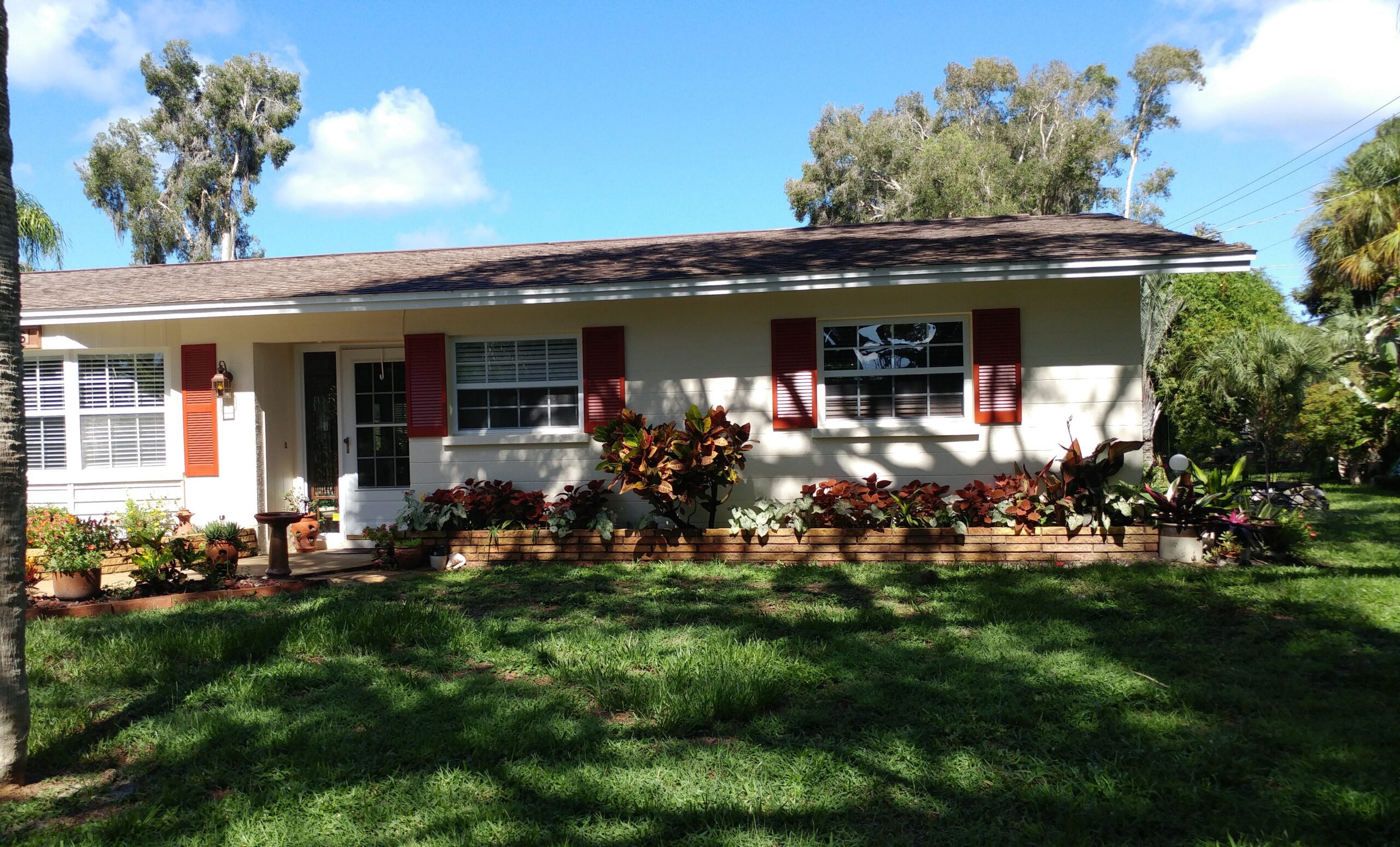 Project Info:
Project Completed In: 3 day(s)
Estimate of Square Footage: 012.00 sq. ft.
Project Description:
Had a very uglydirty white retaining wall that I hid for years with ferns. Decided to stain it earthy colors.
Personal Tips:
Start with the lighter colors and build up to the darkest shades. Don't be afraid to blend the colors.
Direct Colors Products Used:
Tweed
Mojave dunes
Driftwood
Wheat
Other Products Used:
Acetone
The only thing better than one concrete stain color is two colors of stain! After this faded stamped concrete pool lost all of its original color, this DC customer was looking to bring the color back.  Tweed concrete stain spruced up the border, while gorgeous Milano Red livened up the center.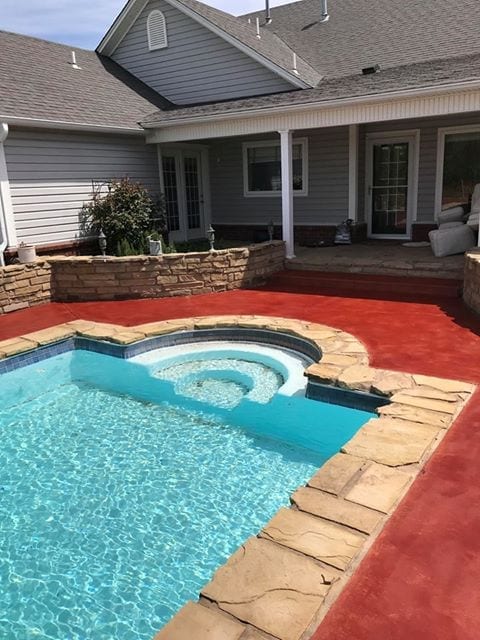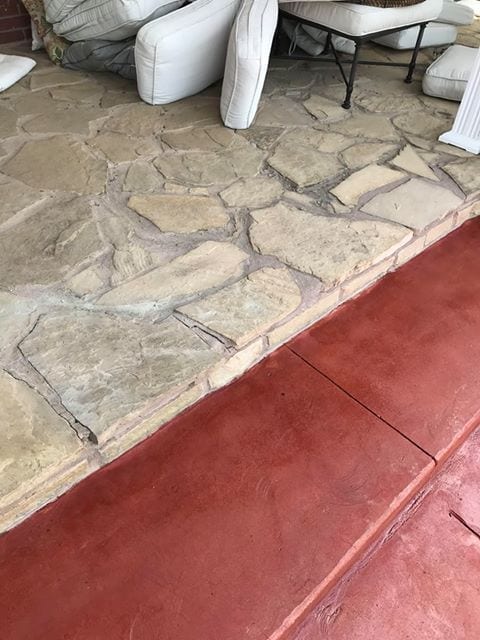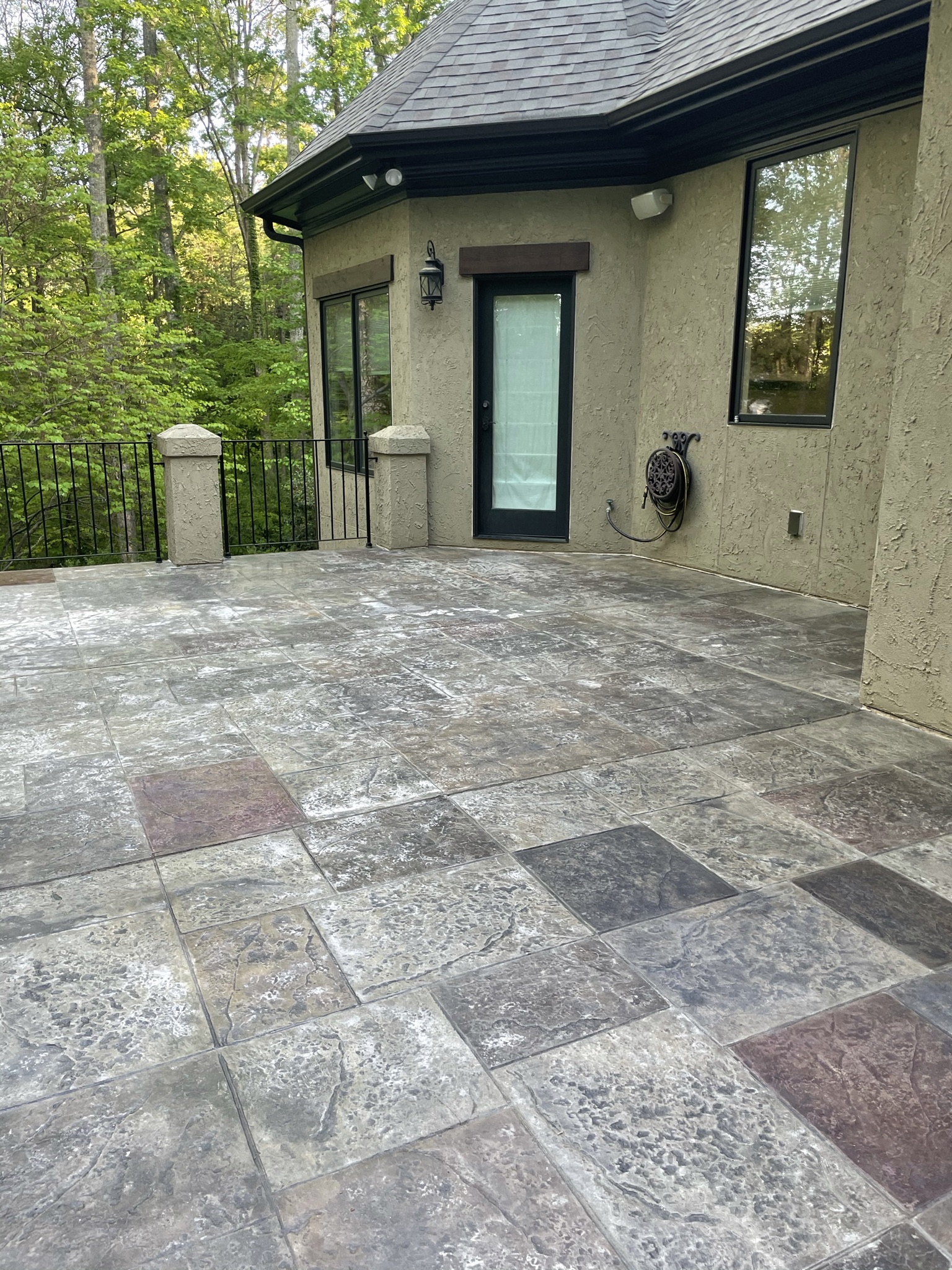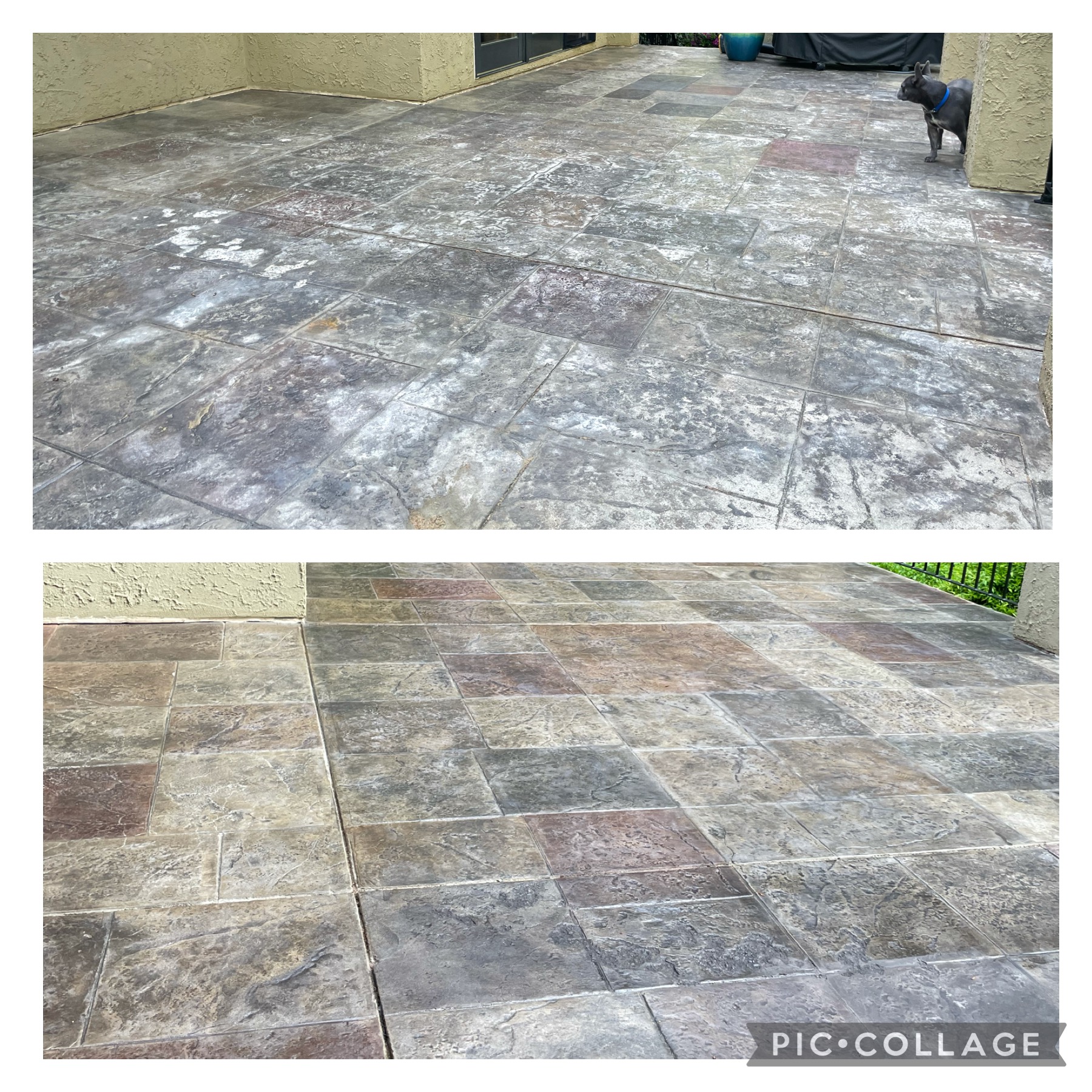 Project Info:
Project Completed In: 10 day(s)
Estimate of Square Footage: 150 sq. ft.
Project Description:
Our home is 16 years old – the patio is stamped concrete. After years of getting quotes from contractors I found direct colors and decided to give it a try. After some practice areas – I picked my colors and painted each square to keep the "stone" look. Followed with a sealer. It looks amazing!
Personal Tips:
We did extra coats to give deeper color. And never judge a finished color until the sealer is applied.
Other Products Used:
Shur line Handi Painter edge and corner paint pad from Home Depot. It was perfect for painting each square separately
Cobblestone Charm: A Stamped Concrete Transformation with Antiquing Stains
Ever looked at a plain old concrete area and imagined a beautiful cobblestone path instead? That's just what we did with our project. We turned ordinary into extraordinary, using Wheat and Silver Gray antiquing stains to recreate a cobblestone pattern on our stamped concrete. Then, we sprayed on diluted Charcoal for a weathered look and sealed it all in with EasySeal Satin Sealer. The result? A lovely 'cobblestone' path that turns heads.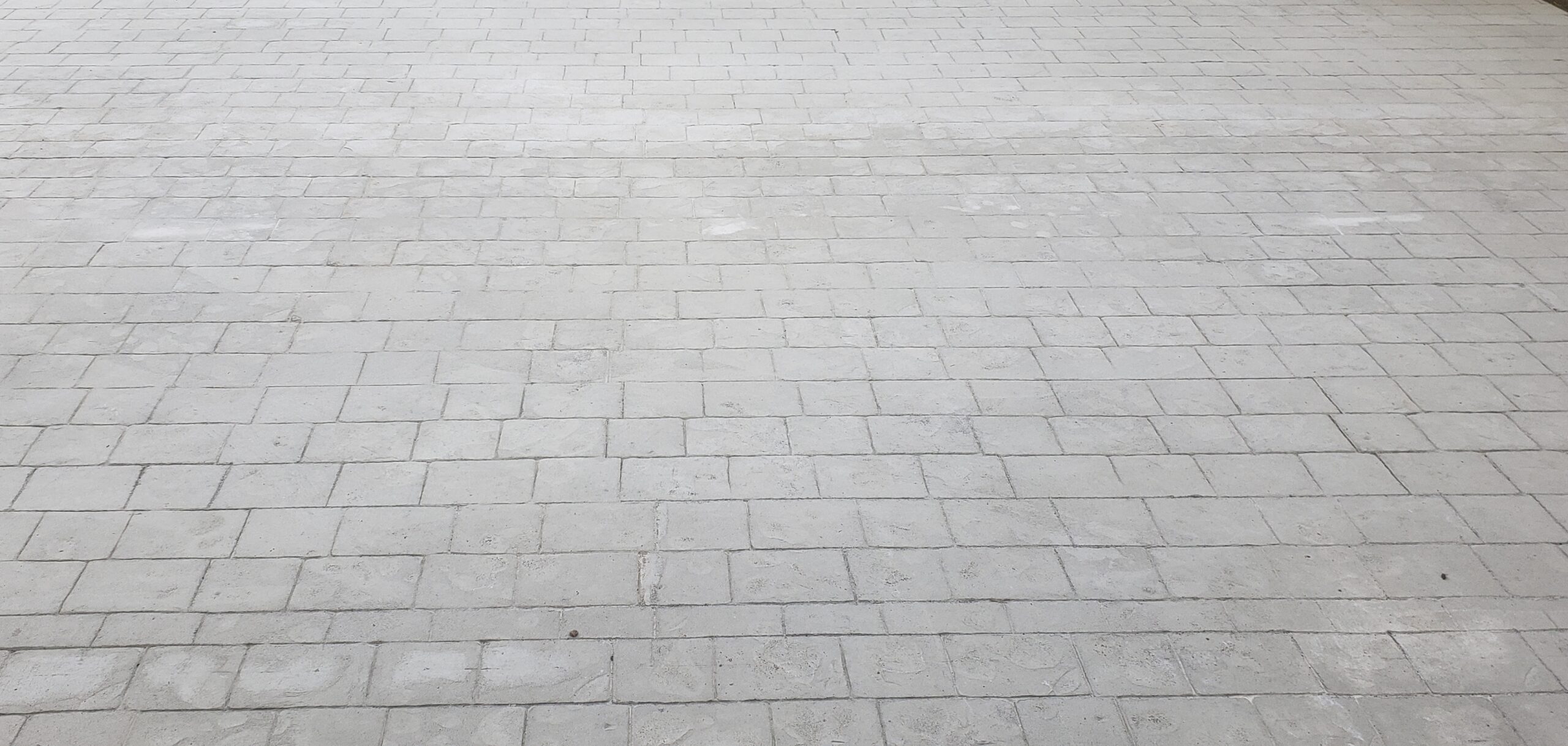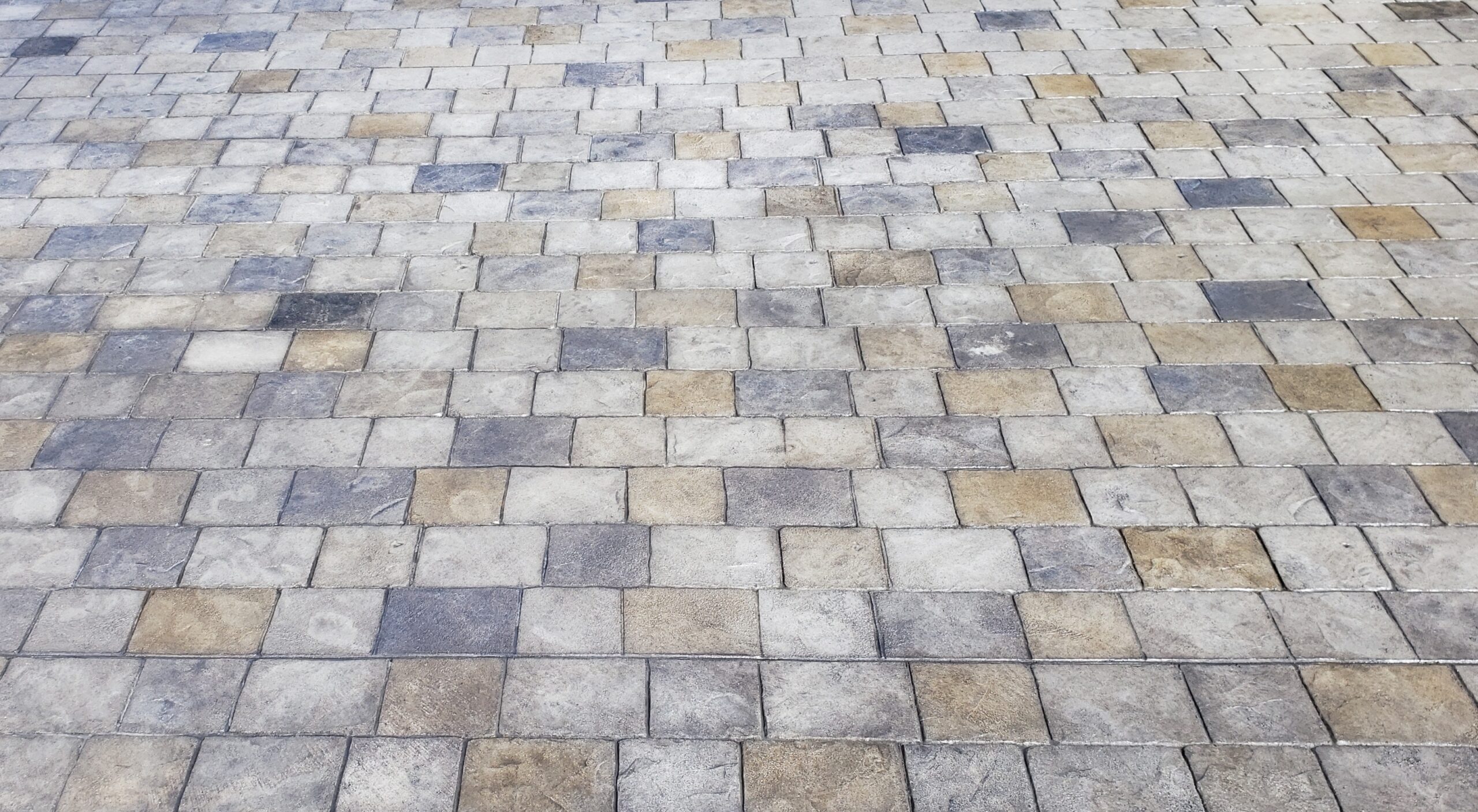 Project Completed In: 3 day(s)
Estimate of Square Footage: 380 sq. ft.
Project Description:
Stamped concrete cobblestone pattern.
Used 2 colors- Antiquing Wheat and Antique Silver Gray. Used multiple layers to darken some squares over others. Afterwards, applied Antique Charcoal diluted to order less spirits 1 to 3 and sprayed on to give a weathered look. After a day to let thoroughly dry, applied 2 coats of Satin Sealer.
Personal Tips:
Pick a day where it's not too hot ( say around 70-80°). This will give product , and yourself, more time to set into the concrete.
Antiquing Brilliance: A Three-Day Makeover with Stamped Concrete Stains
If you've ever wondered how to spice up your stamped concrete, look no further! We've got a story to share about our own DIY project that completely transformed 400 sq. ft. in just three days. We put Tweed, Cafe Royale, and Aztec Brown Antiquing stains to work with a simple pump sprayer. Yes, it was a bit smelly, but boy, was it worth it! The colors came out brilliantly, and we couldn't be happier with the results.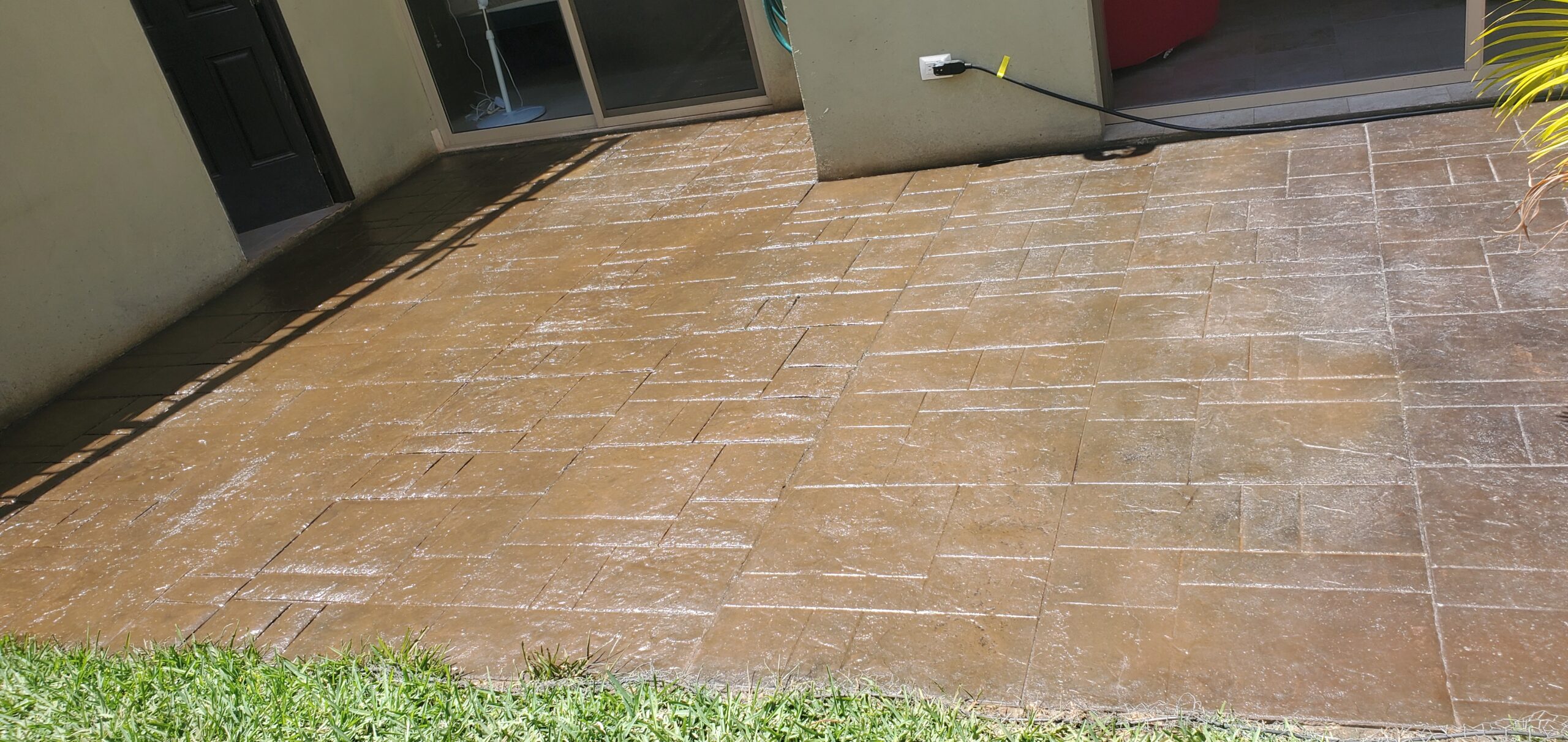 A Vibrant Makeover with Concrete Dyes
If you're bored with your ordinary concrete patio, we've got a story to inspire you. We too had a patio that just didn't wow us. It always looked a bit dull, a bit… dirty. But then we found the perfect fix on the Direct Colors website. We dove in with Khaki, Goldenrod, Tweed, and Charcoal Vibrance Dyes and, just like that, our patio came to life! Now, we're delighted with the results, and we're here to say: go ahead, take the plunge and have fun with it.