A Beginner's Guide to Colored Concrete Sealer
By Mike McLean
Colored concrete sealer, also called tinted concrete sealer, is a cost-effective treatment for adding color to interior concrete flooring. A tinted sealer offers the same protective benefits as a clear sealer with the option of adding color to match or complement existing décor.
Colored concrete sealer is a two-in-one product, allowing users to quickly and easily color and seal their concrete in one step. Used for both indoor and outdoor concrete, tinted concrete sealer is perfect for DIYers and concrete pros alike.
Direct Colors' colored concrete sealer is available in 30 unique shades. No matter your style or home, you'll find what you need at DirectColors.com.
Visit us today for more information and to check out the rest of our concrete coloring, cleaning, sealing, and staining products!
Step 1: Prepare The Floor For Tinted Concrete Sealer
The concrete floor must be cleaned and free of any previous surface contaminants such as paint, grease, or mastic (glue). Use the following formulated products for easy surface preparation:
Alternatively, you may grind the floor using concrete floor pads to remove old glue and other surface imperfections in the substrate. This method is effective during new construction but is not recommended for in-home or business remodels as it produces a lot of debris. 
For a more thorough guide on preparing your concrete surface for color, read our DIY Surface Preparation Guide.
Step 2: Repair The Concrete Surface
Concrete floor resurfacing is a crucial step when working with a pre-existing concrete slab that helps influence the outcome and achieve a stunning result.
Resurfacing is the process of repairing cracks, smoothing rough spots, and leveling out your concrete surface. Fixing one or all of these problems will ensure the best results from your concrete sealer.
Resurfacing floors is easy when you apply a smooth gray overlay. Use a hand trowel to create an artistic finish that will promote a natural color variation like that seen here.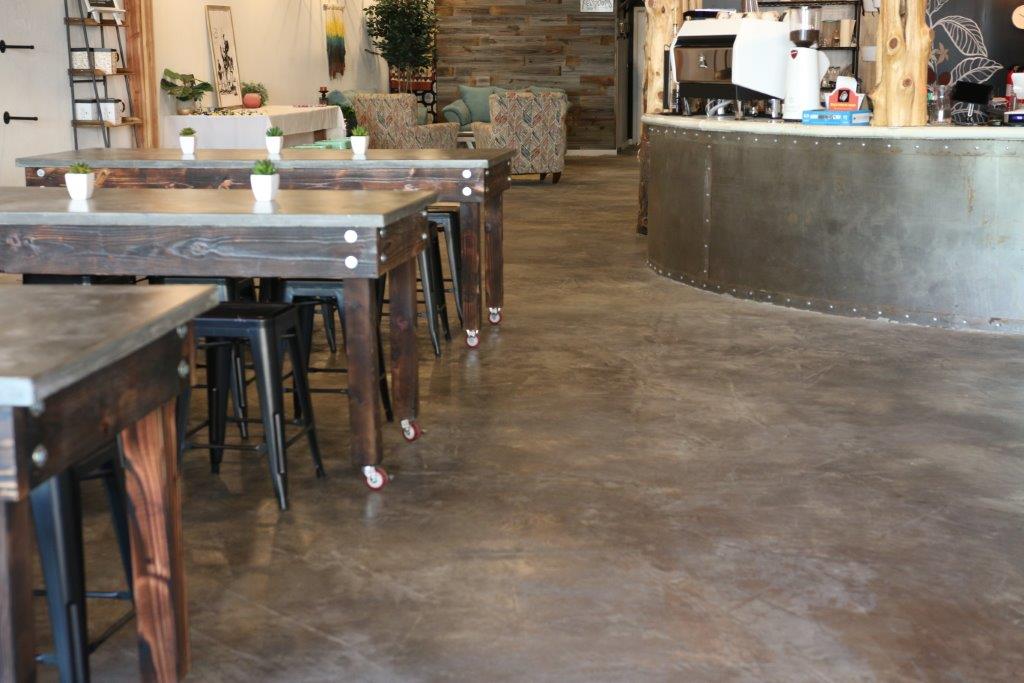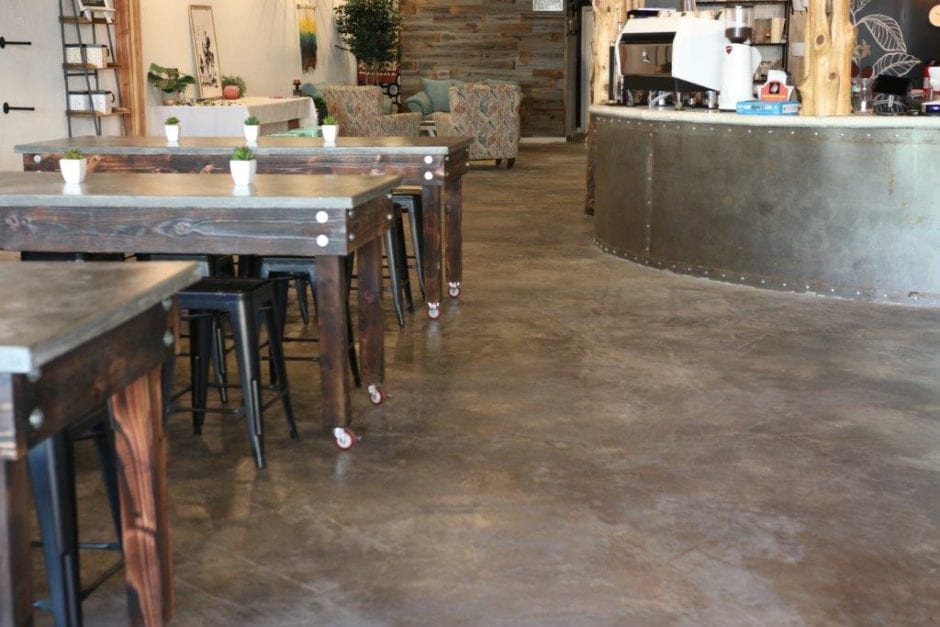 Step 3: Apply Tinted Sealer
The method used to apply colored concrete sealer depends on the look you want to achieve. For Coffee n' Crafts, a marbled, varied color was the goal.
To achieve this look, the tinted concrete sealer was sprayed on first and allowed to dry. This was followed by another layer of sealer applied using a roller.
Using these two different application methods allows for a slight artistic variation in the coloring and is a simple example of how the technique can transform simple concrete color into a work of art. The different textures worked into the concrete overlay also allow the tinted sealer to absorb at different rates, creating a gorgeous variegated finish.
If a smoother, singular color is desired, roll the colored concrete sealer onto the concrete surface in even layers until the desired color is achieved. Using a sprayer can also produce this result, but the roller is much less likely to bring out the marbled, variegated look.
Step 4: Apply Gloss Sealer
Colored concrete sealer is a one-step color product. However, the right clear sealer can pop the existing color and add an extra layer of protection for high-traffic areas on concrete surfaces.
To highlight every detail of the tinted sealer's artistic color and finish, a light coat of water-based acrylic gloss sealer is recommended.
For Coffee n' Crafts, a gloss sealer was added for their chosen finish. But, water-based acrylic sealer is also available in satin finish to enhance the look of various interior themes. Once again, it all depends on what you want your concrete surface to look like.
Once the sealer has dried completely, you're ready to enjoy your colored concrete. For Coffee n' Crafts, colored concrete sealers gave their space a much-needed facelift, without the cost of ripping up the entire floor.
Concrete coloring products are a cost-effective, simple way to give your residential or commercial concrete a new look.
But, Coffee n' Crafts took it even further by coloring their concrete countertops as well. Here are some photos: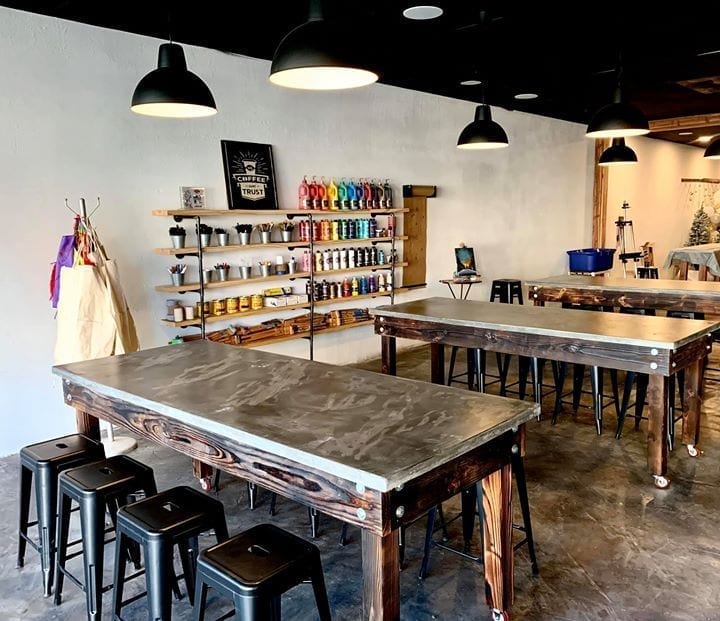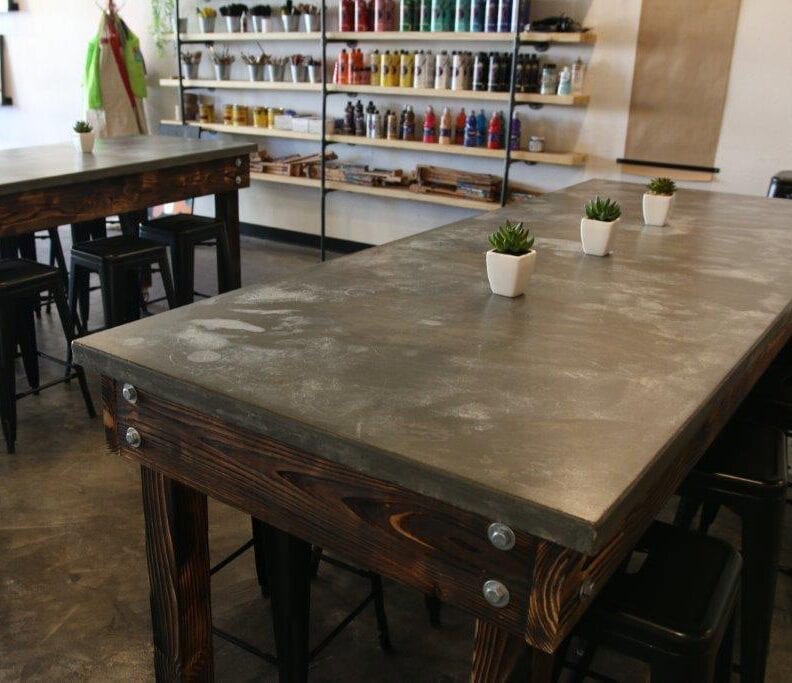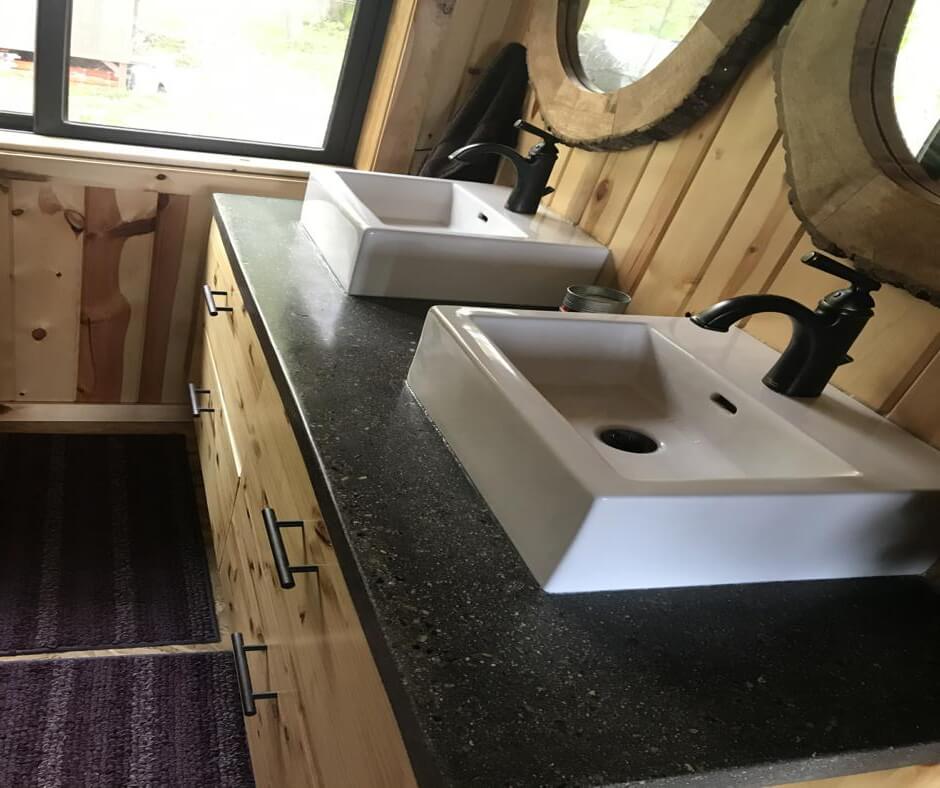 DIY Integral Concrete Color Made Easy
Learn about integral color concrete to add depth, meaning and beauty to your next concrete project. Find how-to guides, tutorials and coverage calculators for making the best looking multidimensional concrete possible.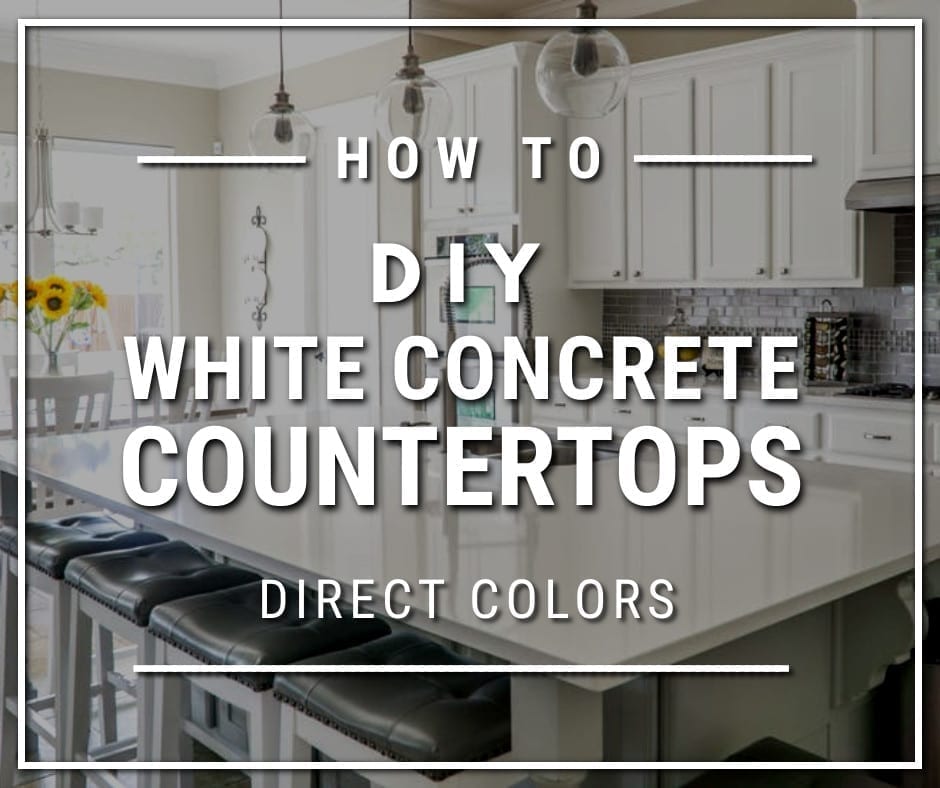 DIY All White Concrete Countertops
Learn what it takes to build gorgeous integral white pigment concrete countertops for your home or office. This DIY project delivers professional looking results at low cost with little construction skills required.