Faux Polished Concrete Floors on a Budget with Concrete Dye
With a cost of under $0.60 per square foot, concrete dye is one of the most cost-effective ways to stain concrete floors. Dyes are easy to use, dry very quickly and come in a wide variety of vivid colors. Direct Colors Vibrant Dye is a UV stable, super fine powder that is mixed with all-purpose acetone to stain smooth concrete floors.
DIY SPOTLIGHT: POLISHED CONCRETE LOOK STAIN
Before Picture: Cleaned and Prepped Concrete Floor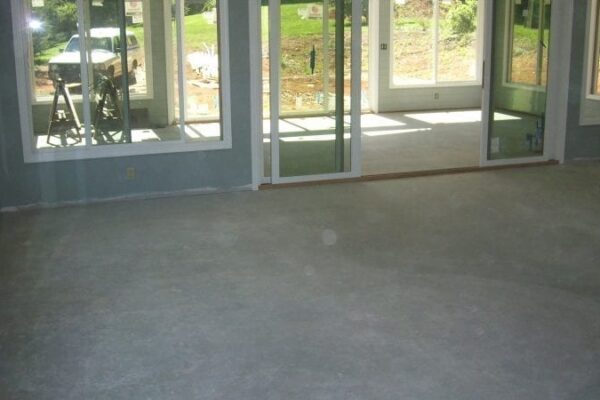 After Picture: Faux Polished Concrete Floor Finish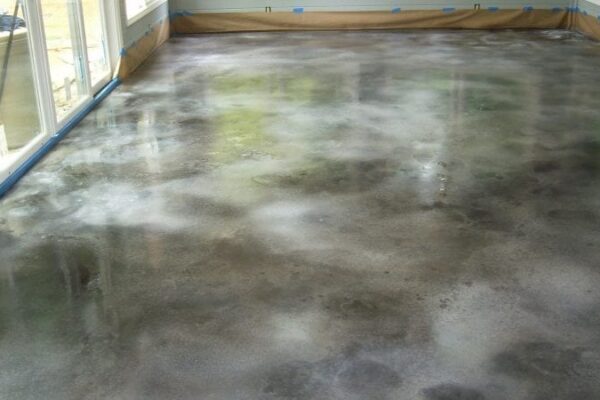 Time needed: 2 days.
First, apply a concrete sealer as a base coat. (Jim used a solvent-based sealant)
Let the base coat sealer dry from 12-24 hours or until it is no longer soft or sticky
Combine two 1 gallon packets (220g) of the Jet Black Concrete Dye powder with 2 gallons of acetone in an acetone sprayer.
In another acetone sprayer, combine a 1 gallon packets (120g) of White Concrete Dye powder with 1 gallon of acetone.
Allow the acetone concrete dye mix to sit for 30 minutes.
Apply Jet Black Concrete Dye over the concrete surface in a circular motion making sure you agitate the stain mix regularly.
Then, apply the white concrete color dye in a manner that creates the shading and lighter effect of a mottled dark gray concrete floor. Acetone dries very quickly so you will see the design right away and decide if the floor design needs more black or white dye.
Rinse acetone sprayers with acetone
Seal the concrete floor with the same sealer you used for the base coat.  If you used a solvent-based sealer as a base coat then you have to use a solvent-based sealer as a top coat.
Let top coat sealer dry for 24-48 hours
Finally, apply a concrete floor wax coat to protect floors from foot traffic.
Jim said the application went great and sent us these pictures. The customer was happy and Jim continues to receive many job referrals from his customer.
Thanks for sharing, Jim!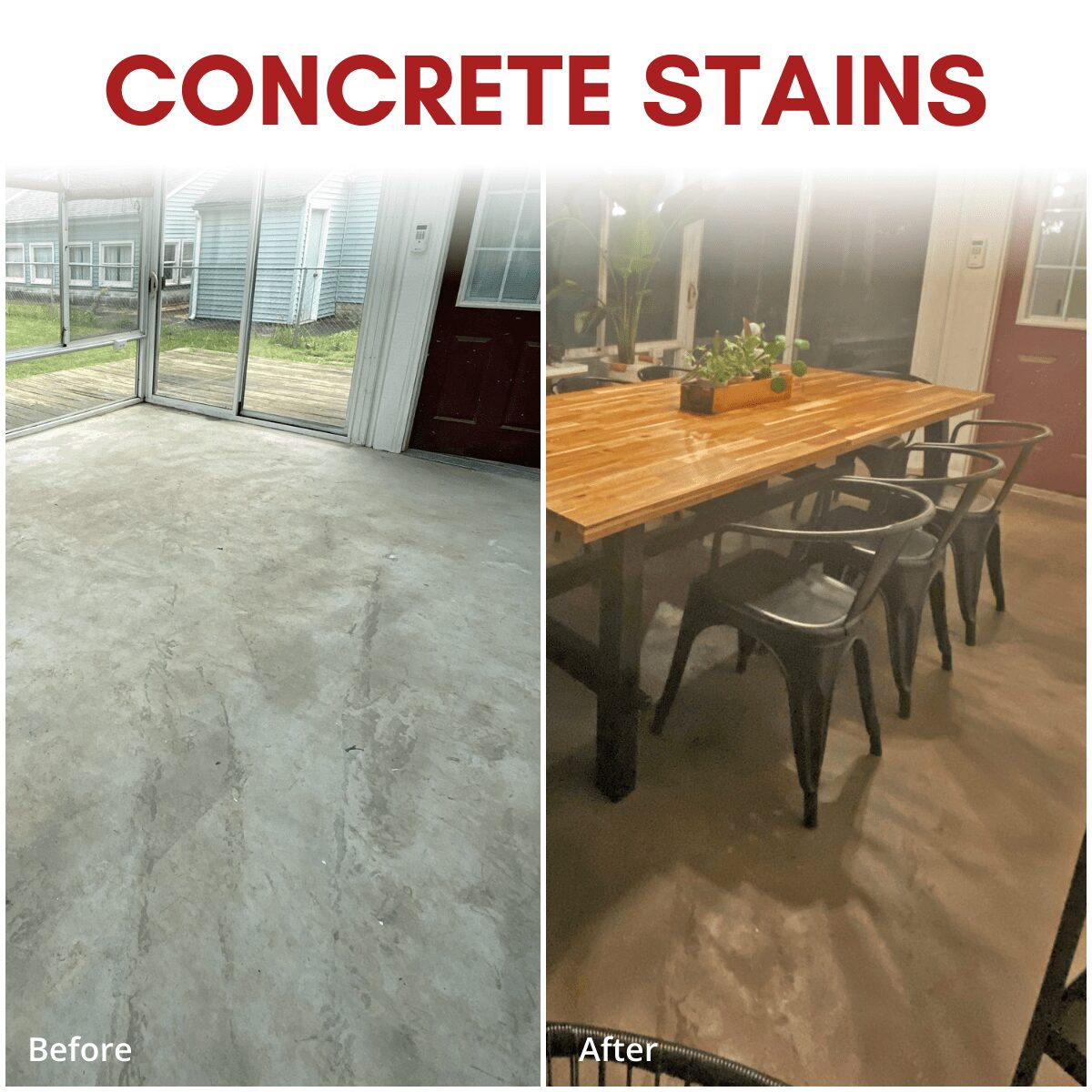 Learn How To Apply Concrete Dye with Justin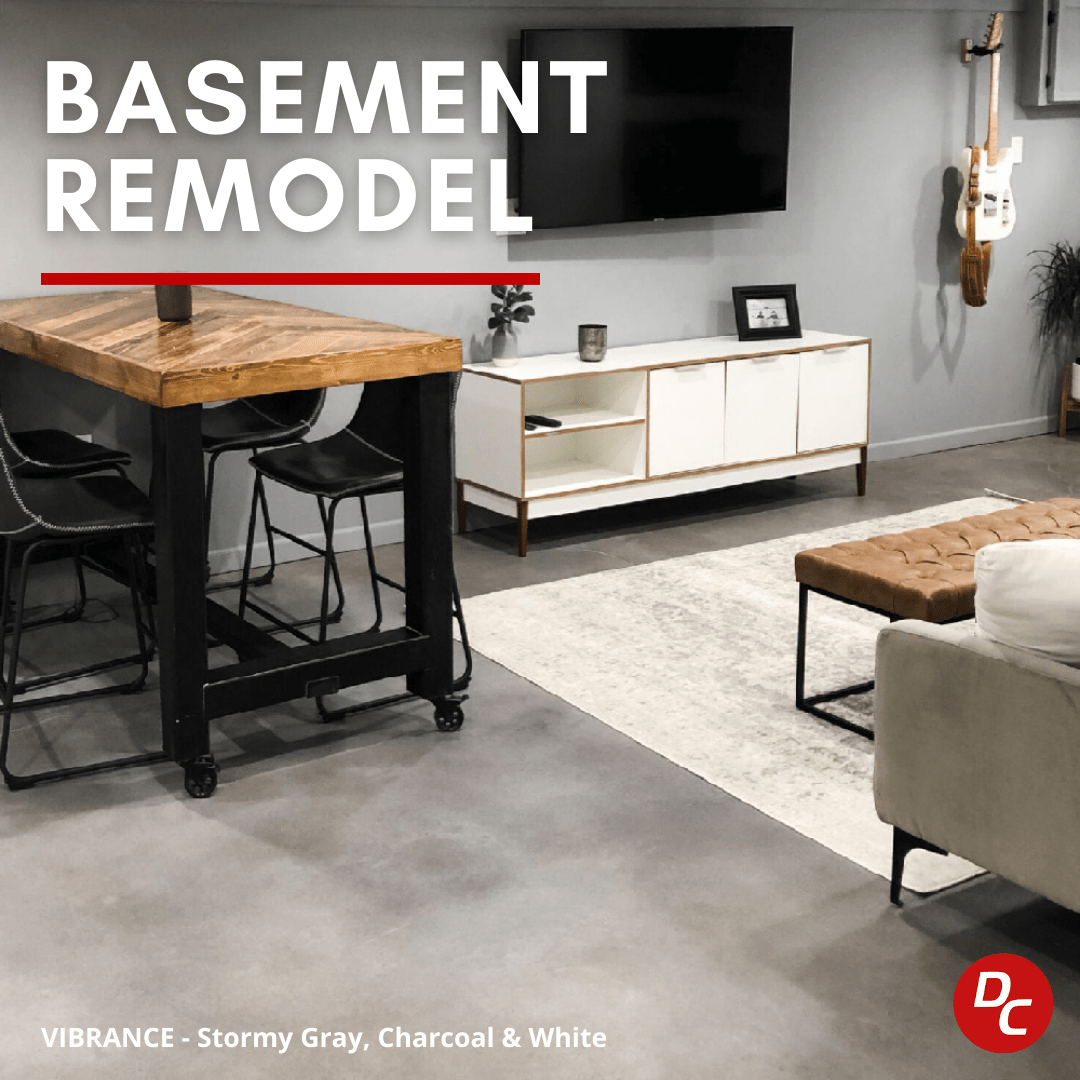 Learn how everyday homeowners use Direct Colors premium stain products to customize beautiful concrete floors