Concrete Stain Application: Do it Yourself or Hire a Pro?
By Kyle Wilkins
May 2021 – $250 Cash Winner
I am the operations manager and project estimator at Valtex, LLC.
We are a subcontractor that specializes in full shell construction (concrete, masonry, and structural framing) and this project just so happens to be our new headquarters office.
We, like anyone else, want to save costs wherever possible, so when the flooring portion of the buildout came up, I said "Why don't we leave the slab raw and stain it?"
My parents (company owners) loved the idea but when I called around to get quotes, it seemed to cost almost as much as any other flooring option.
I started doing some research to find out exactly how much it would cost to do it on my own and I came across Direct Colors.
How Much Does it Cost to Acid Stain Concrete Yourself?
After totaling everything up that I would need to complete the floor, it was a no-brainer.
At $0.50 per square foot, I HAD TO DO IT! Name another flooring option that looks as good as this for the same price.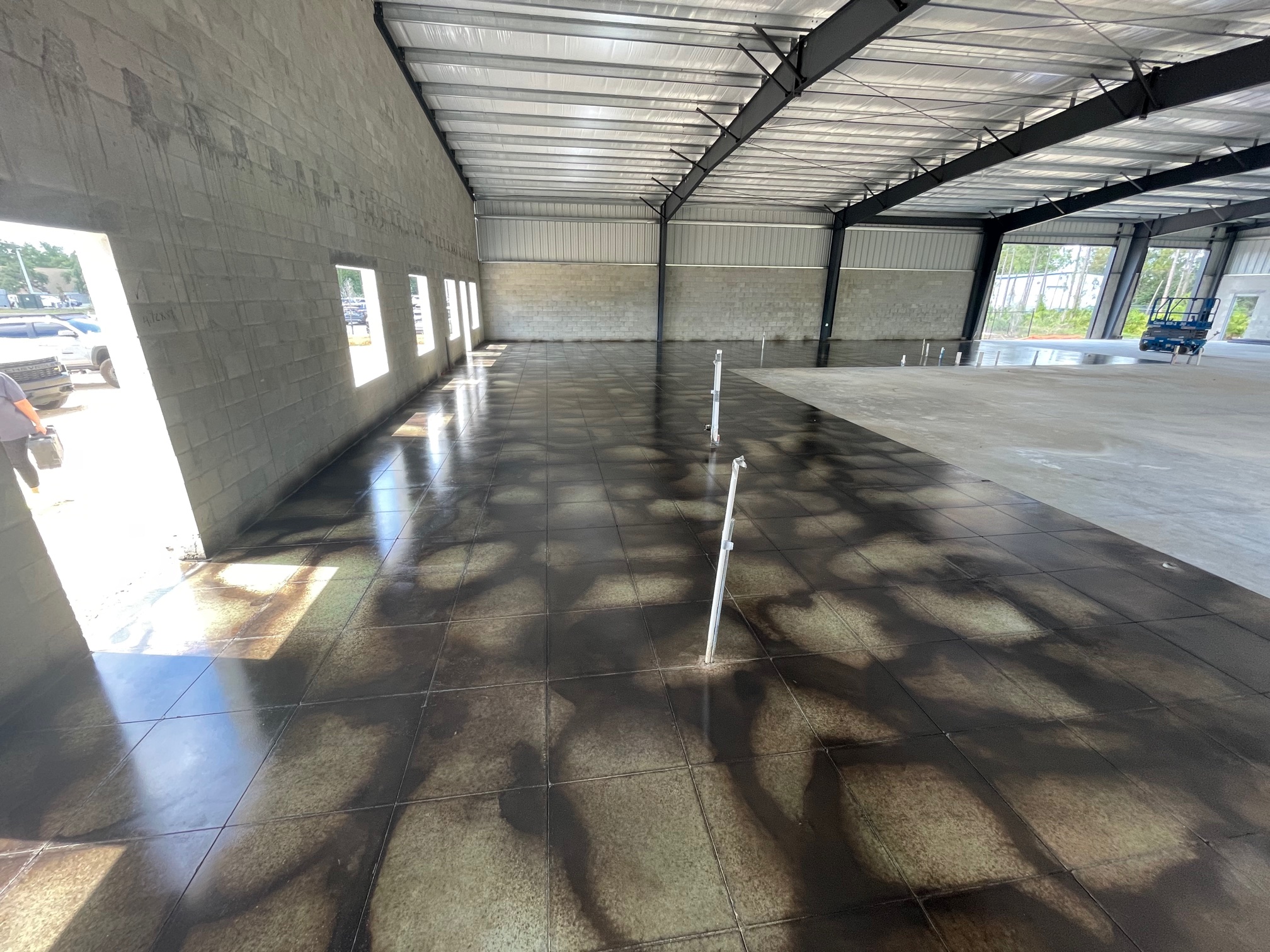 I will say, this project was VERY ambitious, being that it was approximately 3,500 square feet and I've never touched acid stain before in my life.
On top of that, I only had 3 days to complete it from start to finish. I am by no means bragging… I'm simply saying that I don't suggest anyone put themselves through that type of stress lol.
I have painted cars and aircraft before, so I did have a little bit of an advantage but this was still entirely new territory.
The most helpful tool that I had at my disposal was the Direct Colors website. There are TONS of pictures, videos, testimonials, etc… Plus, great customer service is only a phone call away to answer any of your questions.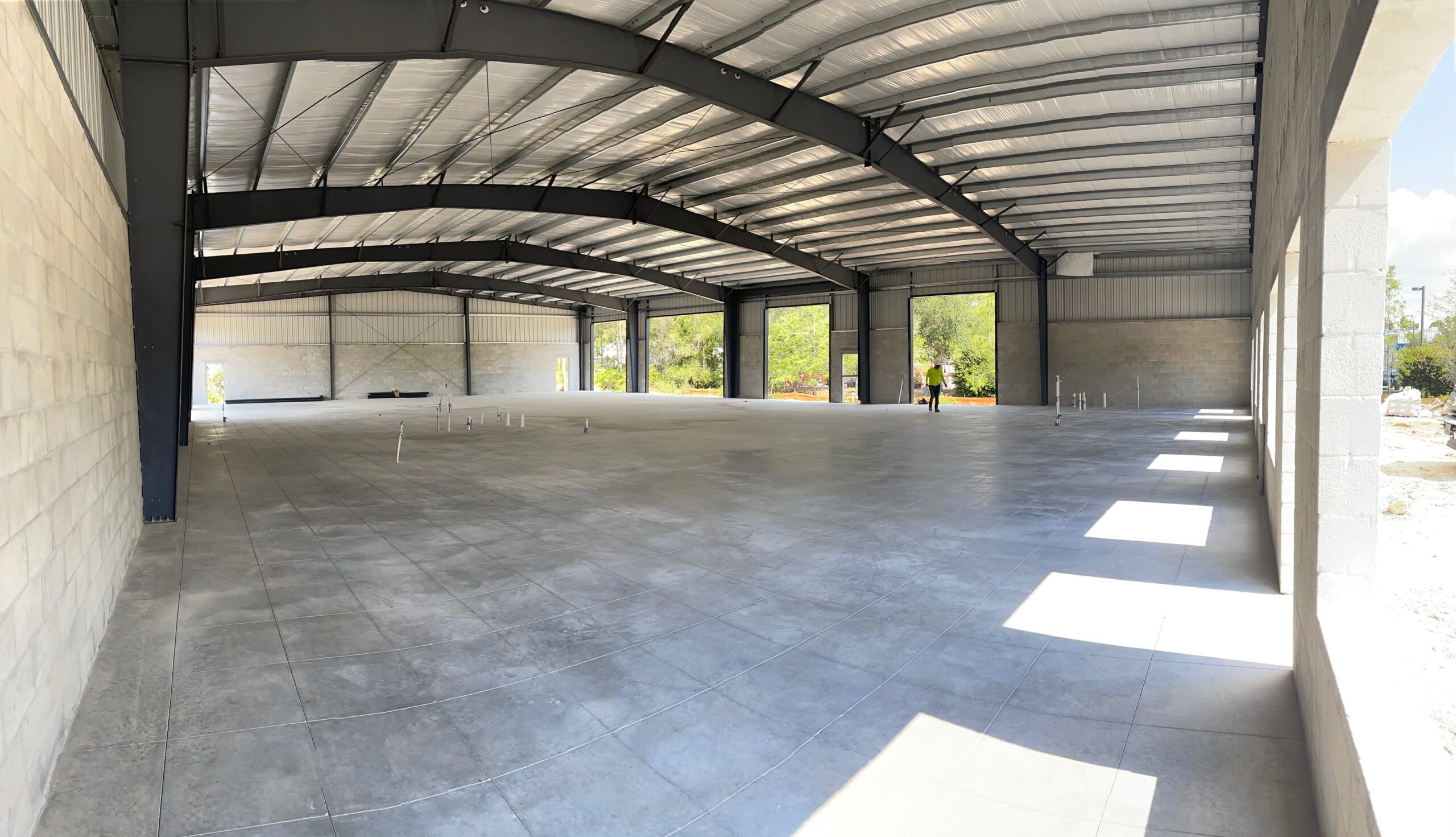 Is It Hard to Acid Stain Concrete?
The process was straightforward and all of the products worked exactly as they were described on the website.
Be sure to dig into all of the videos and tips/tricks BEFORE you start, so you have some type of game plan going into it.
Make sure to give yourself plenty of time to complete your project(s) based on the size. Don't be like this guy and back yourself in a corner from the get-go.
Most importantly, have fun with it! It was very satisfying watching a grey slab turn into a work of art that I'll get to look at every day.
Your masterpiece is only an order away!
Thank you Direct Colors for the great products and amazing customer service. This was such a fun project; I'm actually considering starting a sub-company doing acid stain!
Prep the Surface
To ensure that you have the best acid stain absorption possible, some prep work is required specific to acid staining.
This DIYer guide is specific to concrete floors that have not been machine troweled and do not have carpet glue or paint stains on them.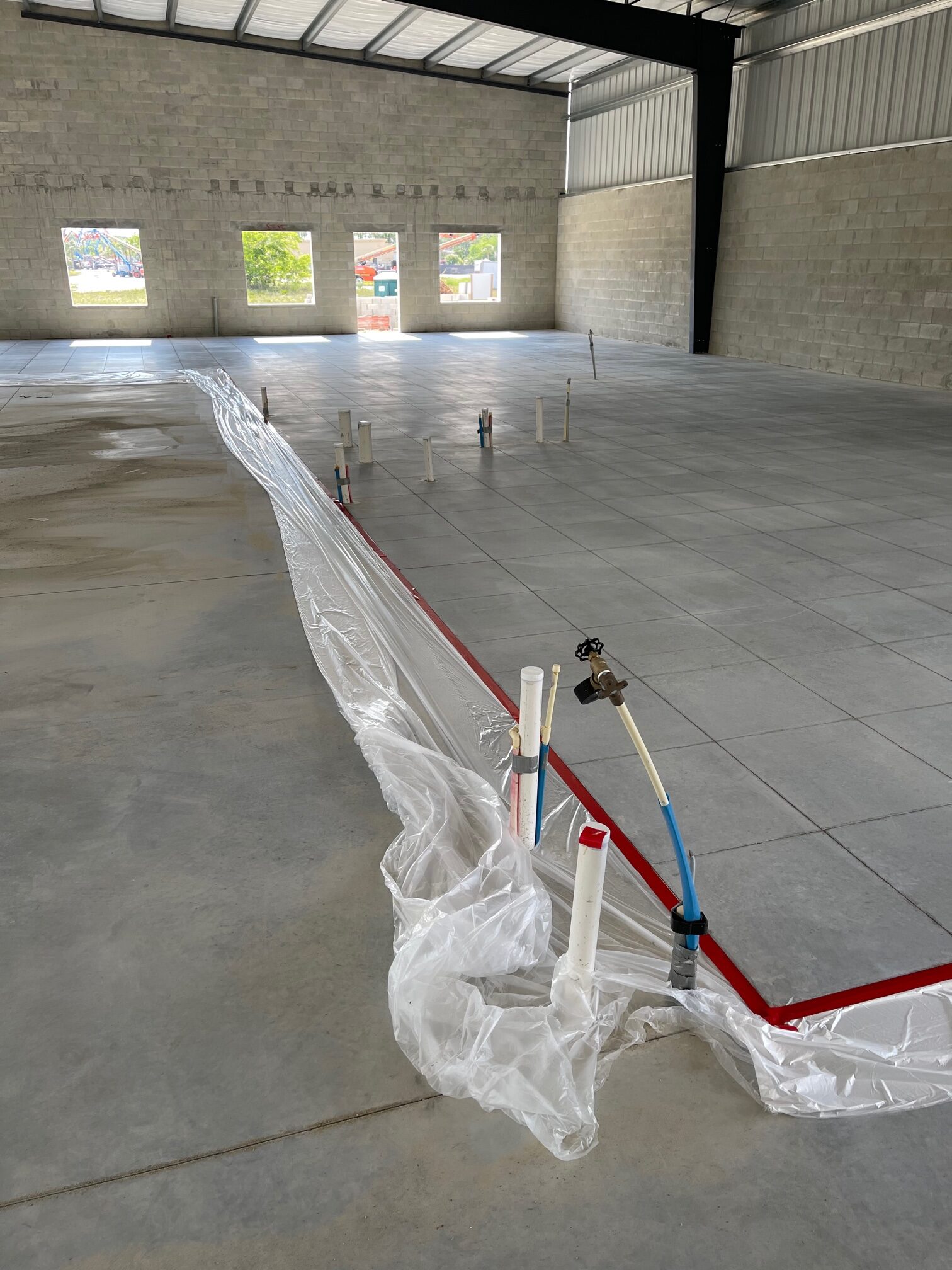 Give yourself the right amount of time for your size project.
Take your time and be patient!
You will kick yourself if you try to rush through the process.
You can never prep the surface too much. it is the most important part of the process and will show in the end product.
Don't take the risk of getting foot or shoe prints in your masterpiece.
Wear some type of spiked shoes or cleats. I purchased the spiked sandals from the DC website and they worked perfectly.
Be sure to mask off any areas where you don't want the stain.
I used plastic, which was a mistake. I recommend paper, so it can absorb any overspray vs sitting on the plastic and dripping during removal.
DIYerTIP:  If your surface requires etching, be sure to clean it thoroughly before it dries. Wear your spikes when doing this.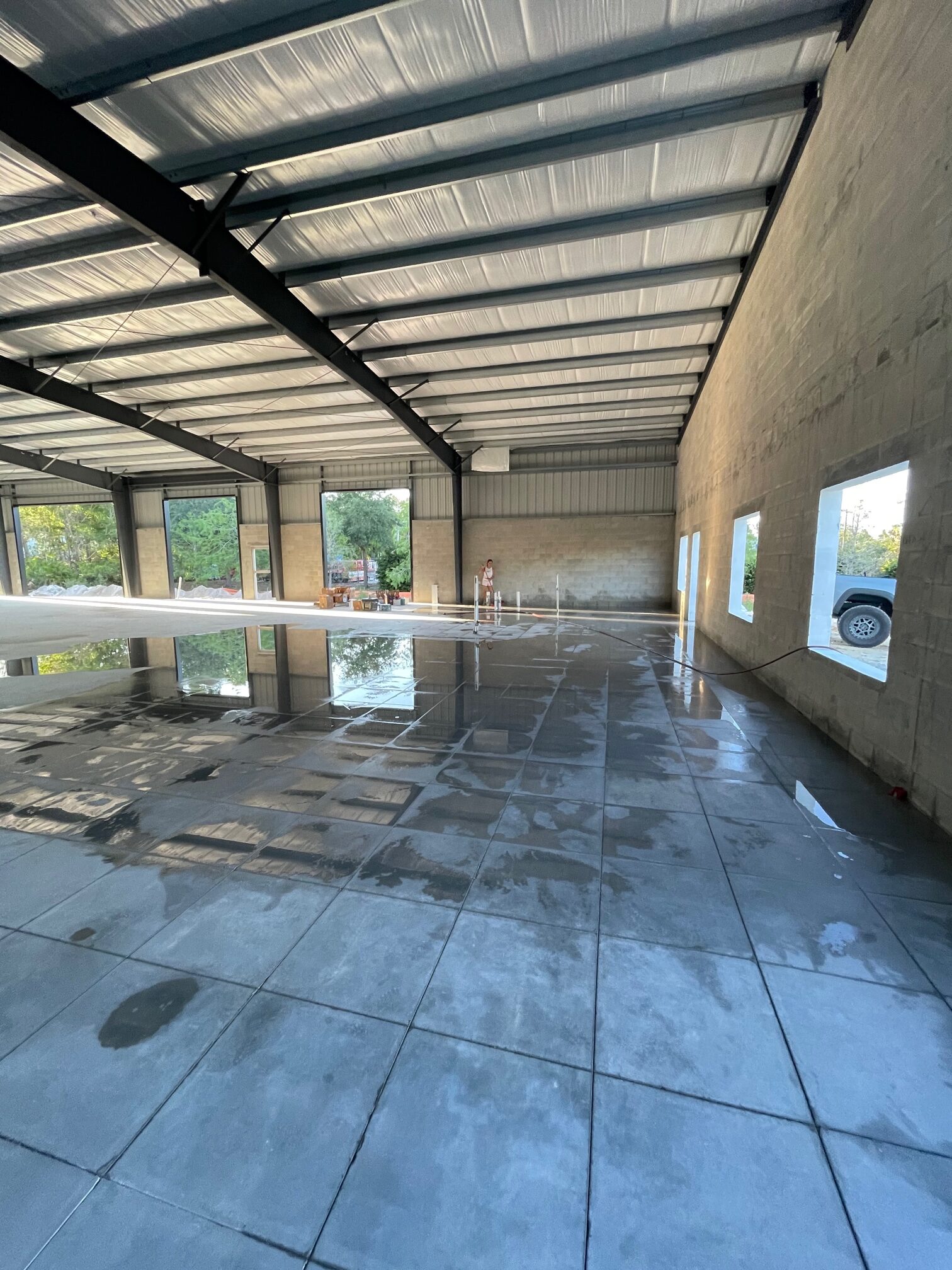 Look up the minimum/maximum activation time for your specific colors.
No two slabs are the same and they will react completely differently every time.
We recently poured our own slab (45 days prior) with acid stain already in mind. We cut the tiles in it immediately and did a very smooth finish.
I'm not sure what part of that equation is to blame, but both colors activated extremely quickly compared to the chart on the DC site.
The blue took about 5-6 hours and the black was past where I wanted it to be at three hours.
Apply Acid Stain Colors
Apply acid stain using a pump-up sprayer.
Safety while applying colorant is important. Remember to use long sleeves, pants, goggles, and gloves while working with the acid stain.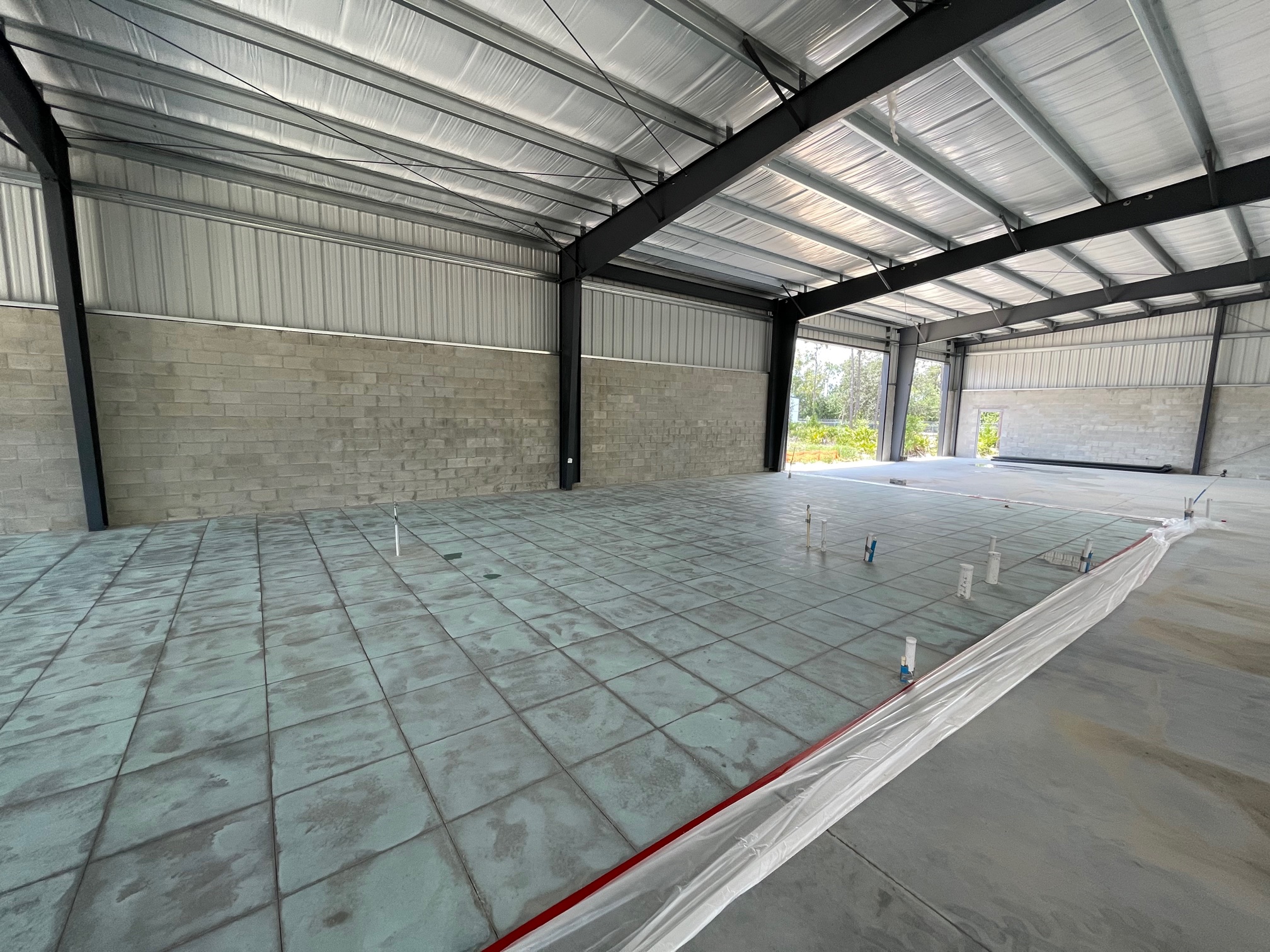 DIYer Tip: Light color(s) first. It will be much harder to get light colors to show through a dark base vs the other way around.
Step 2: Spray Accent Color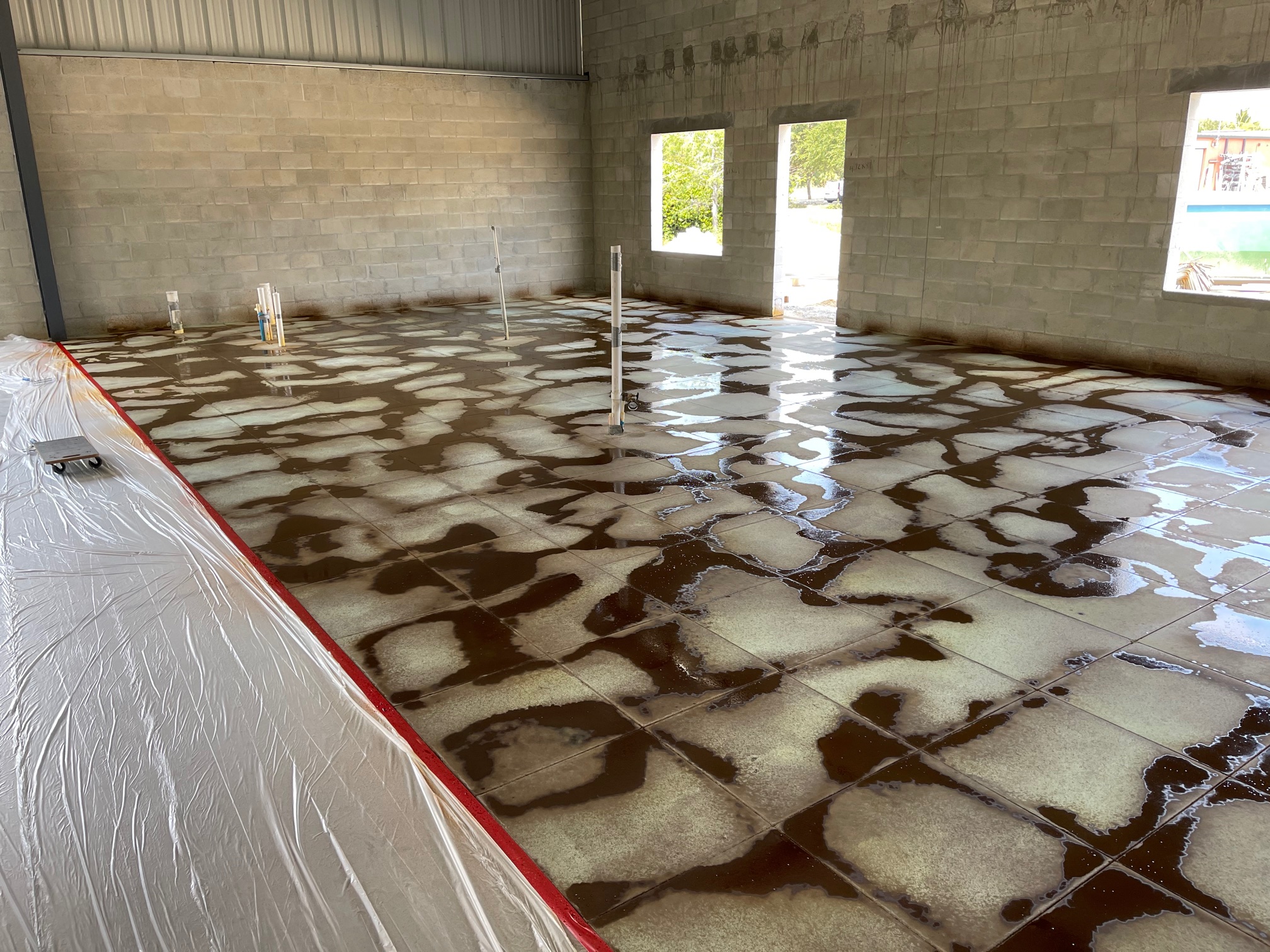 DIYer Tip:  Don't be afraid to pour water on a test spot after laying down the acid to check the progress of the activation. I'm glad I did this.
If I hadn't, it would've been way darker than I wanted. I would say to check after the first two hours and then again every 1-2 hours until you're satisfied with the results.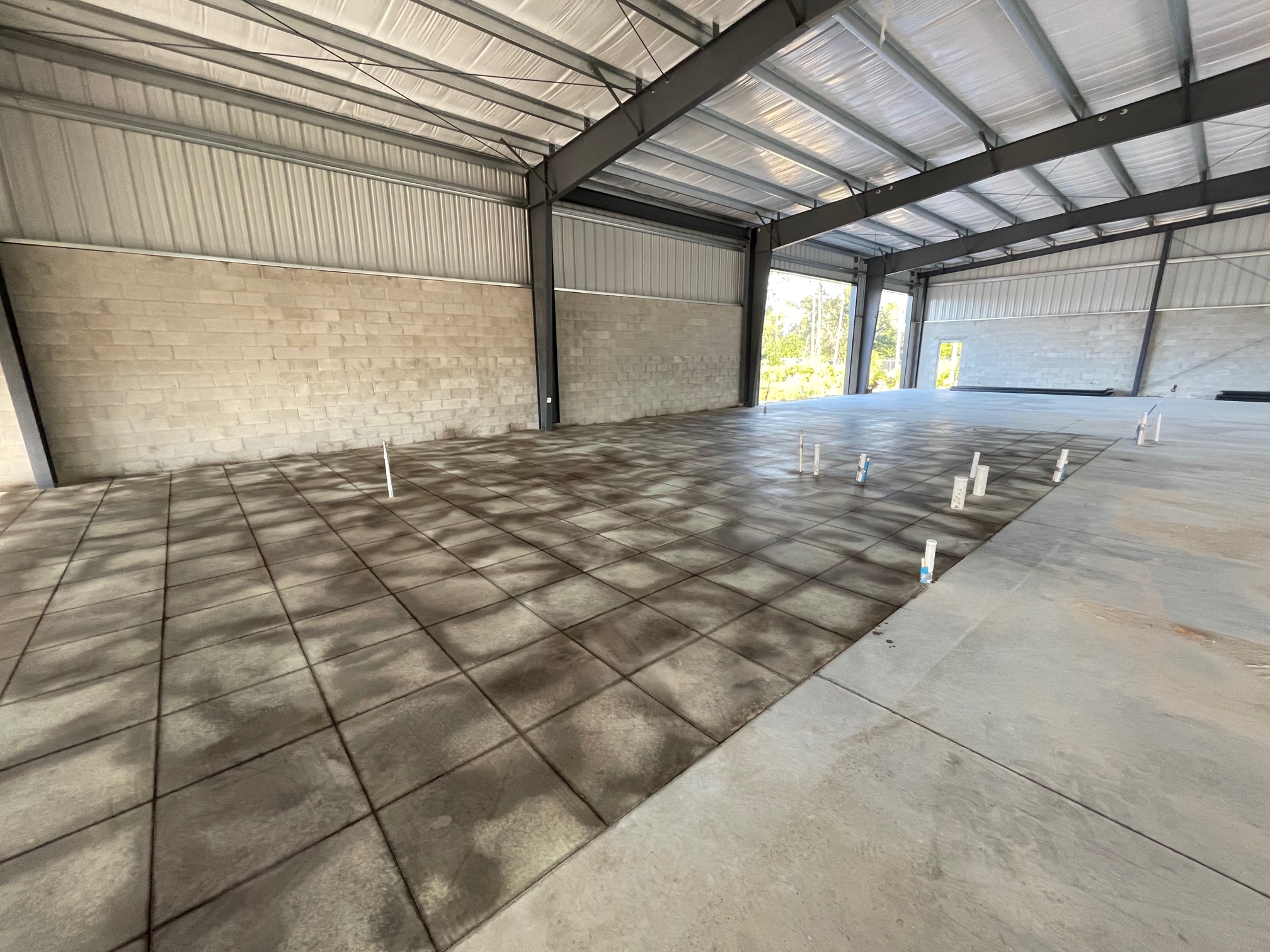 Prepare baking soda and water solution using 1-2 tablespoons of baking soda per gallon of water.
Spray or pour the soda and water solution on every inch of the floor.
Move the solution around the floor using a squeegee.
Scrub with a soft nylon bristle scrub brush where needed to remove residue.
Wash the surface carefully using clean water until nothing but clear water is visible.
Remove all residue and excess color from concrete before leaving it to dry.
For stubborn residue or porous surfaces, use an organic degreaser to aid in the removal. The clean, wet surface will be the approximate color of the final sealed surface.
Leave to dry.
After the surface has completely dried, the floor should be ready to seal.
DCPro TIP: Using a shop-vac to wash out and clean acid residue dramatically decreases the time and effort of the process.
Apply Sealant
When it comes to sealing, if you're using the solvent based sealer like I did, be generous with it. I was very stingy at first but quickly realized that a gallon goes a lot farther than you'd expect it to.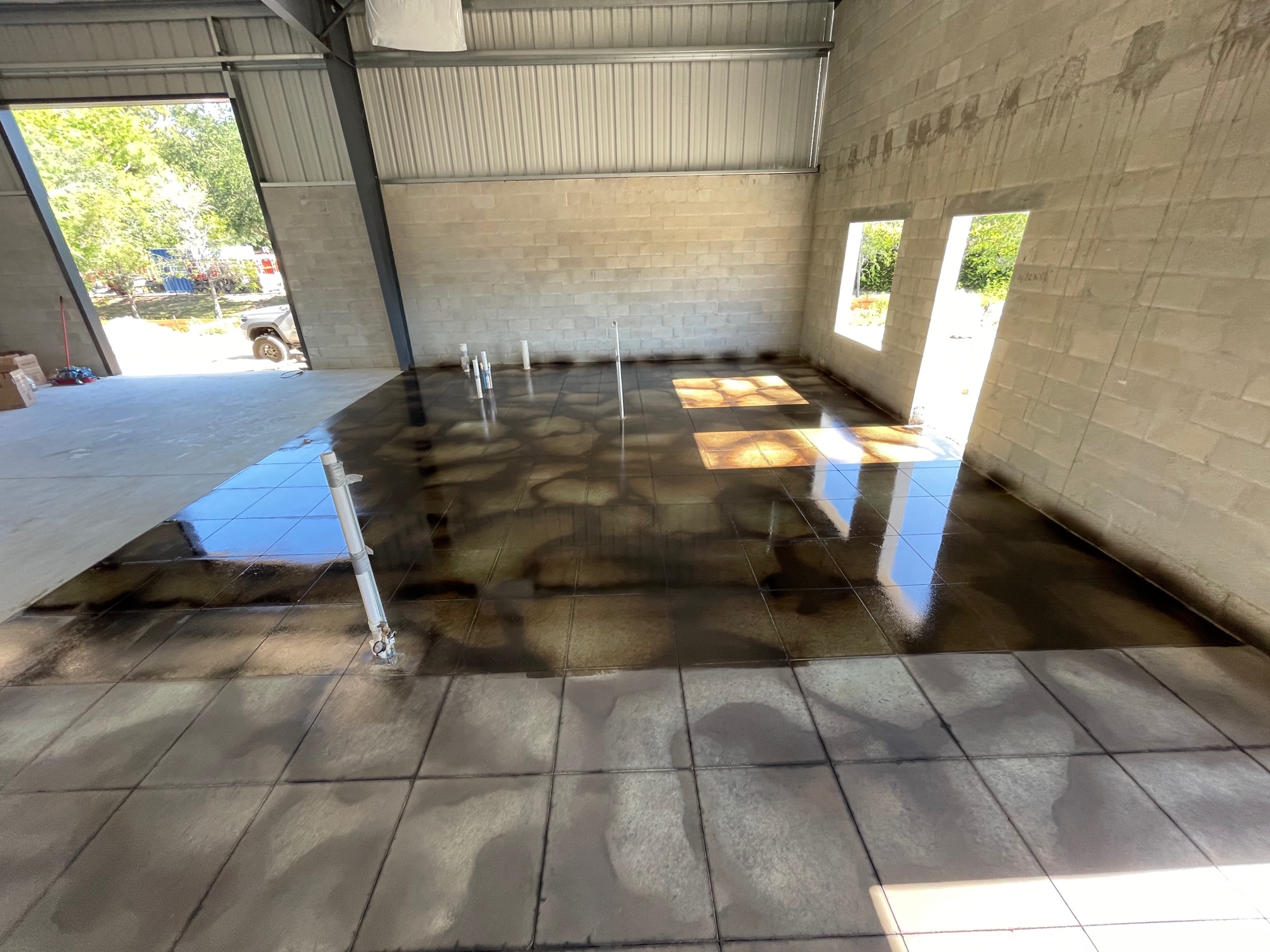 DIYer Tip:  If working in a low ventilated area, be sure to wear some type of mask or respirator. The fumes can get pretty severe at times.
When you've covered an area with sealer, DO NOT go back over it until it's completely dry.
I hit a couple [of] tacky areas with the roller and some of the nap pulled off, sticking to the surface. Now somebody is going to have a furry floor under their desk! lol.
Apply Liquid Wax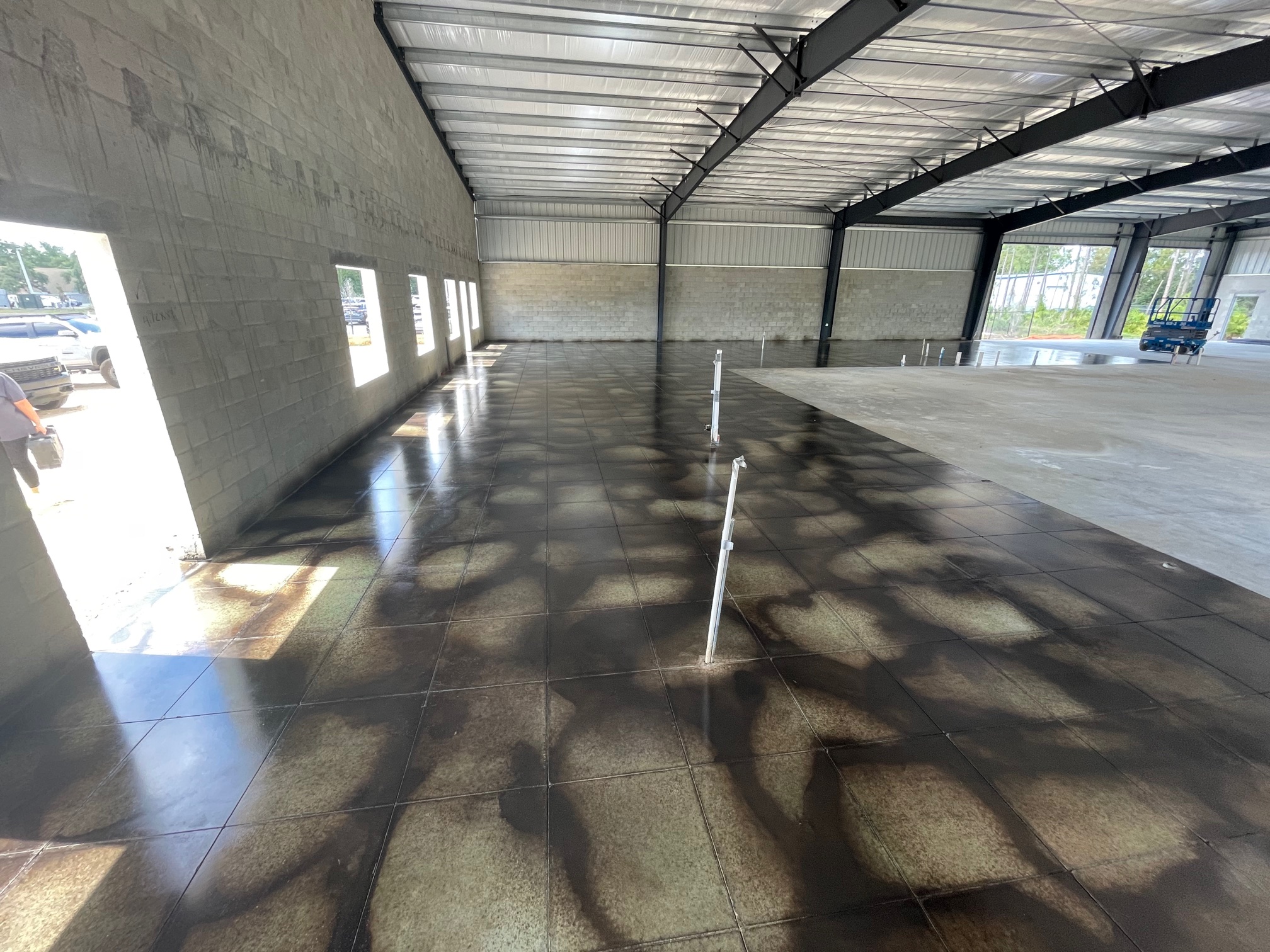 Soak the trim pad applicator in warm water.
Wring out excess water from the applicator.
Pour Concrete Floor Wax into a paint tray.
Saturate the trim pad with the concrete wax solution.
Press out excess wax.
Apply a thin milky coat across the floor surface. The product will appear milky in application but clear as it dries.
Smooth out any foaming from the concrete surface.