Acid Stain Concrete Floors
Acid stained concrete floors are a low-cost flooring option. Along with customizable color, acid staining and sealing ensures durability and added life to any indoor or outdoor concrete floor. 
How Much Do Acid Stained Concrete Floors Cost?
The cost of acid-stained floors begins at $0.37 per square foot, which is far less than tile, carpet, marble or other common flooring options. Depending on design and surface conditions, costs can rise as high as $10.00 per square foot. Yet, unlike hardwood, tile and carpet, which require professional installation, homeowners can lower costs by acid-staining concrete flooring themselves!
When deciding on a look for your new flooring project, it is important to understand that acid stains are not an overcoat like paint. Acid stains are translucent, penetrating stains that slightly etches and permanently changes the color of the concrete by reacting chemically with the hydrated lime in the concrete.
If concrete your floor has dry wall mud, paint, wood stains, tile adhesives, carpet adhesives, grease, pet stains, etc. either from construction or years of use; preparing the concrete surface is crucial to achieving the ideal finished product.
Acid Stained Concrete Floors: How to Guide
---
Surface preparation is the most important step of the acid staining process. The concrete must be free of adhesives, dirt, paint, oils, drywall, mud, sealers and stains.   Acid stains cannot react with the concrete if any of these contaminants is present.
Concrete Floors NOT Ready For Staining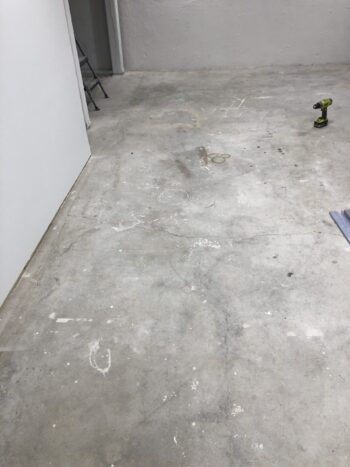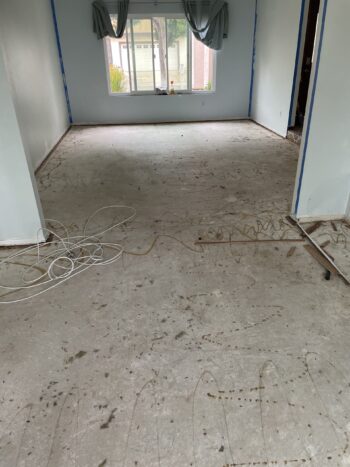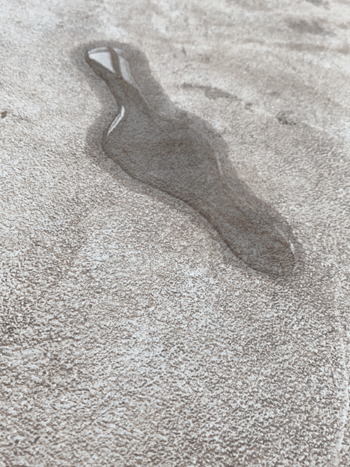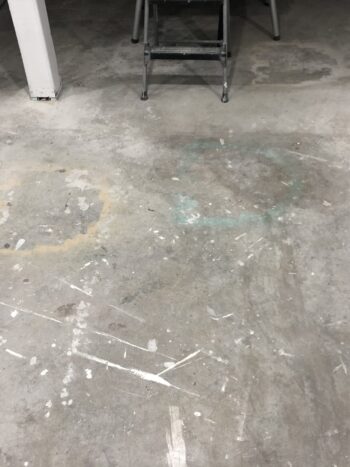 Clean the floor with a light Concrete Cleaner & Degreaser solution. Thoroughly scrub & rinse all residues from the surface. Using a shop vac to vacuum up the rinse water will speed up the drying time.
Concrete Floors READY For Staining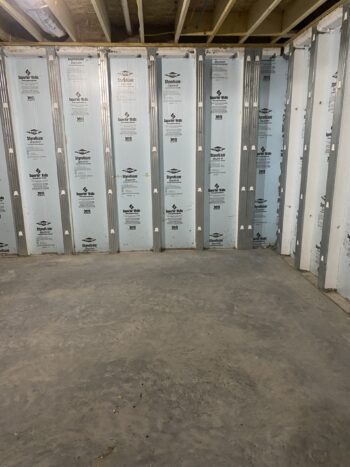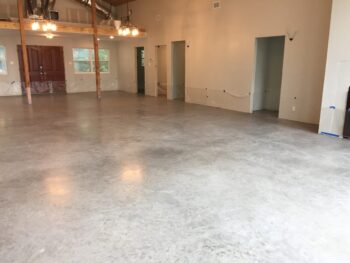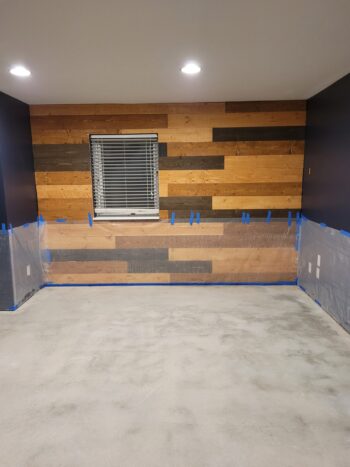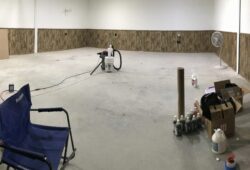 Apply acid stain using a Pump-up Sprayer. Safety while applying colorant is important. Remember to use long sleeves, pants, goggles and gloves while working with the acid stain.
The stain color finish is highly influenced on how you apply the acid stain. Here are a few tips on how to achieve the ideal finished product:
For an even-toned color, spray the acid stain in a circular motion.
For a

dark toned color, use a brush to work the acid stain into the surface using consistent circular strokes. Then spray on a second coat to eliminate any brush strokes on the surface.
For a diffused look, spray the stain onto the surface without brushing.
For marbling effect, apply one heavy coat of your base color and immediately apply scattered accent coats while the acid stain base is still wet. Continue to apply lighter, then darker colored accents until you are satisfied with the results.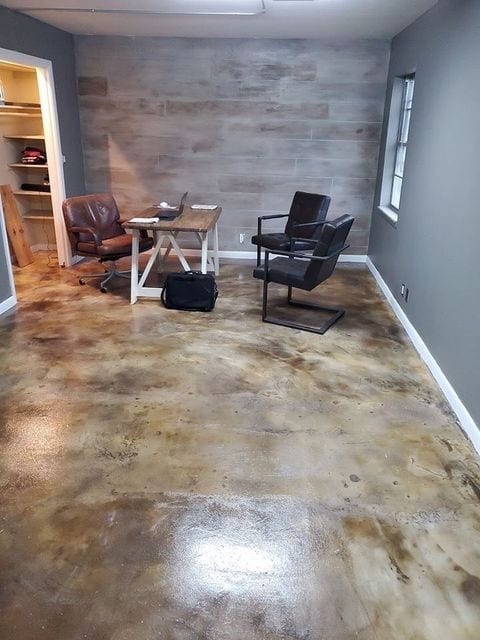 Ken wanted to create a rustic, leather-like appearance on the concrete floors so he diluted 10 parts water to 1 part of Direct Colors Coffee Brown Acid Stain before application.
As the acid stain dries and processes, a residue of alkali and minerals forms on the surface of the concrete. This is completely normal and is part of the reaction process. Each stain has different activation times to fully color the concrete, generally from 4 to 8 hours. Acid stain can be left on the surface longer if desired.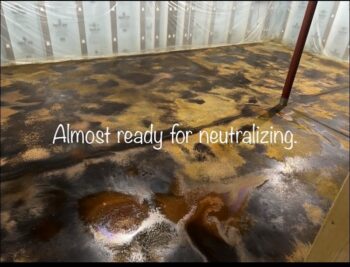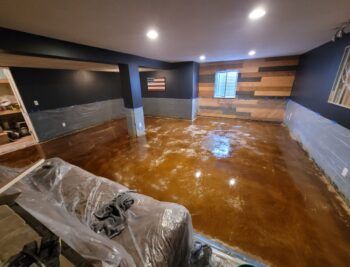 Step 5: Neutralize The Acid Stained Concrete Floor
Prepare baking soda and water solution using 1-2 tablespoons of baking soda per gallon of water.
Spray or pour the soda and water solution on every inch of the floor.
Move the solution around the floor using a squeegee.
Scrub with a soft nylon bristle scrub brush where needed to remove residue.
Wash the surface carefully using clean water until nothing but clear water is visible.
Remove all residue and excess color from concrete before leaving to dry.
For Stubborn residue or porous surfaces, use an organic degreaser to aid in the removal. The clean, wet surface will be the approximate color of the final sealed surface.
Leave to dry.
After the surface has completely dried, the floor should be ready to seal.
Step 7: Apply Liquid Concrete Wax (Interior Floors Only)
S

oak Trim Pad applicator in warm water

W

ring out excess water from applicator

Pour concrete wax into a paint tray

Saturate trim pad with concrete wax solution

Press out excess wax

Apply a thin milky coat across the floor surface. 

The product will appear milky in application but clear as it dries

Smooth out any foaming from the concrete surface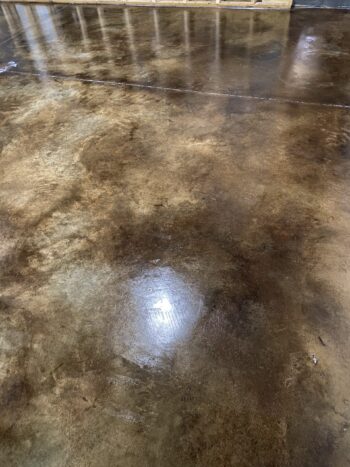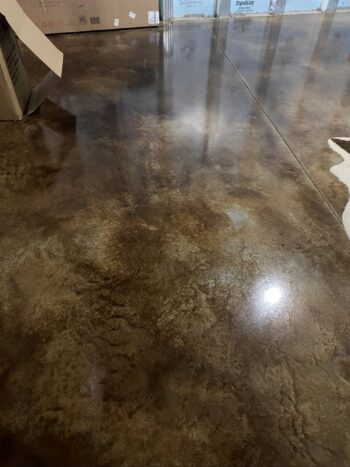 Use  Floor Wax and Polish to protect the colored floor coating from daily wear and tear. Regular waxing is important in high traffic spaces like hair salons where high traffic and repetitive motion around hair stations is likely.
Learn How to Acid Stain Interior Concrete Floors
Learn How to Acid Stain Exterior Concrete Floors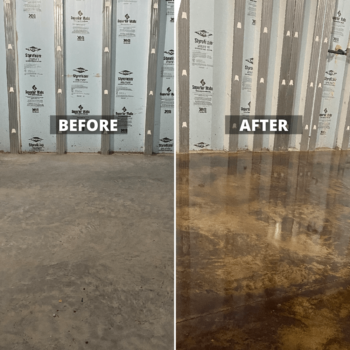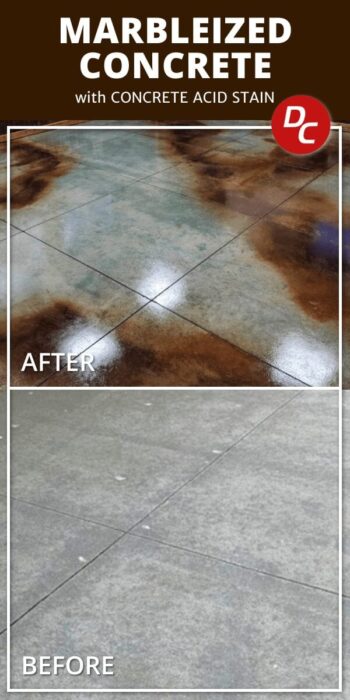 How to create a marble effect on concrete flooring is the most common inquiry that our design team receives. Here at Direct Colors, you can find every product and step-by-step, How-To guide necessary to enhance your home or office concrete with a stunning marble look.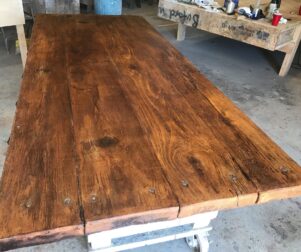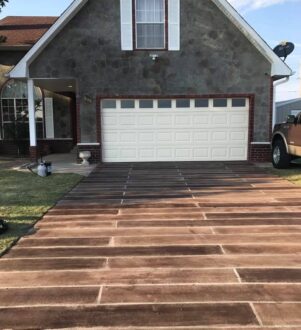 Creating a faux wood grain concrete finish for floors is becoming more and more popular with our customers. While this technique does take some skill to pull off, it can be done with the right products, tools and how to info!