Barndominium Concrete Floor Ideas: Before and After Gallery
Whether you're considering staining your own barndominium floors or are just looking for inspiration and ideas, our collection has something for everyone. From stained concrete floors to unique stain ideas, we have a wealth of information to help you achieve the perfect look for your barndominium. Browse through our gallery of before and after photos to see the incredible transformations that can be achieved with just a few simple steps and a little bit of creativity. And don't miss our tips and tricks section, where you'll find expert advice on how to stain your barndominium floors like a pro.
Stained Concrete Floors for Casita Master in Barndominium
Our DC customer used two colors of acid stain to put the finishing touches on their casita's master bedroom. Their barndo includes the main house on one side, and a casita ("cottage" or little house) on the other.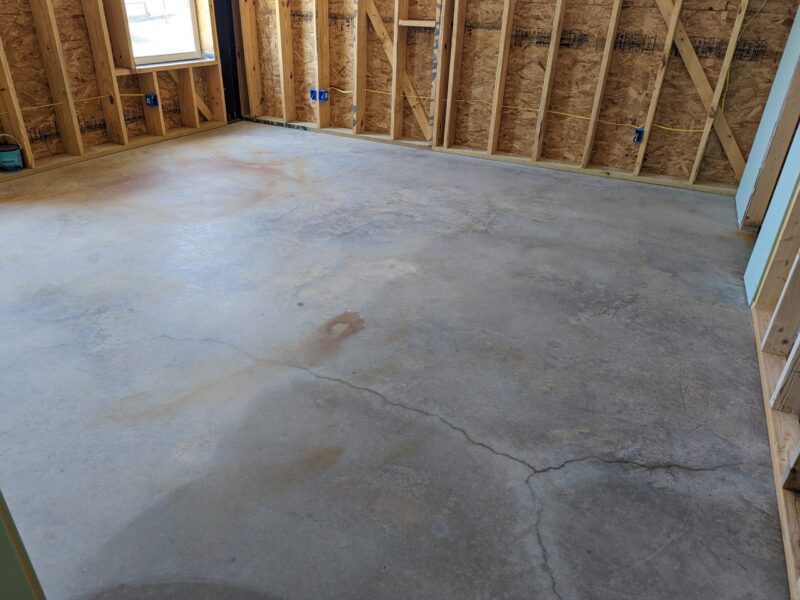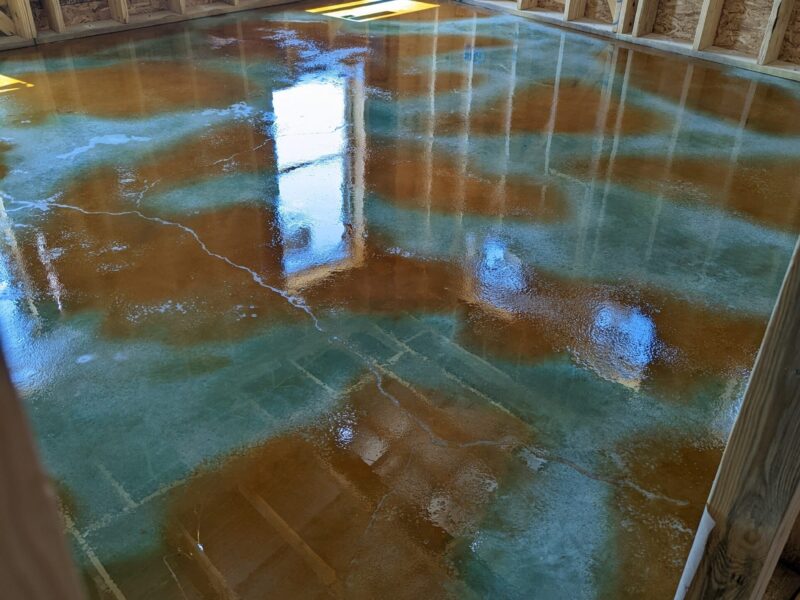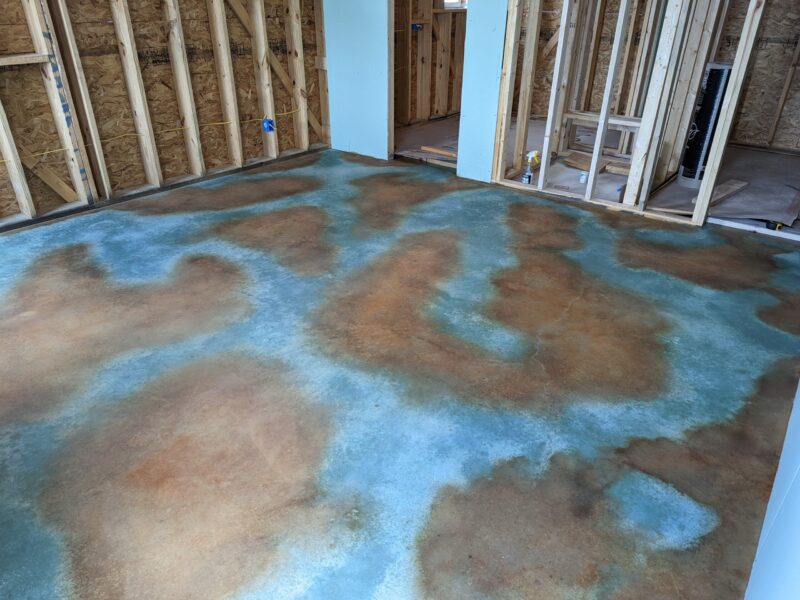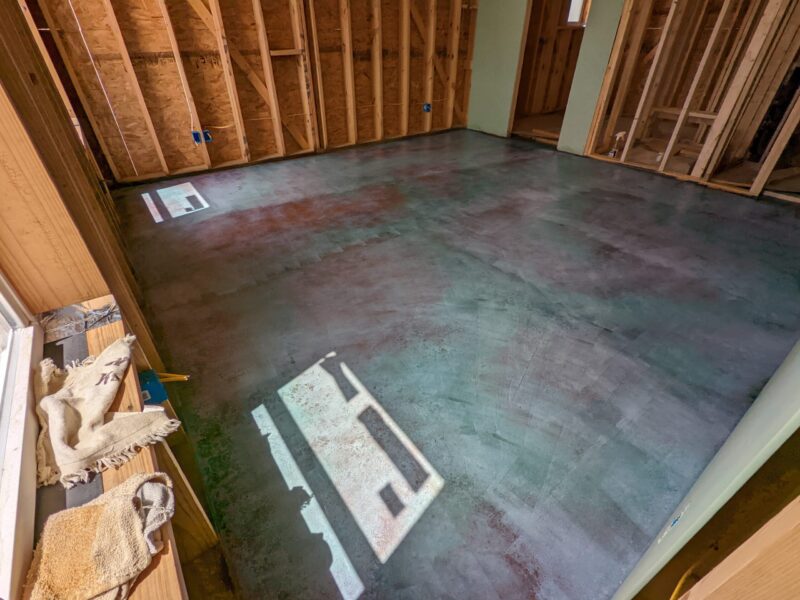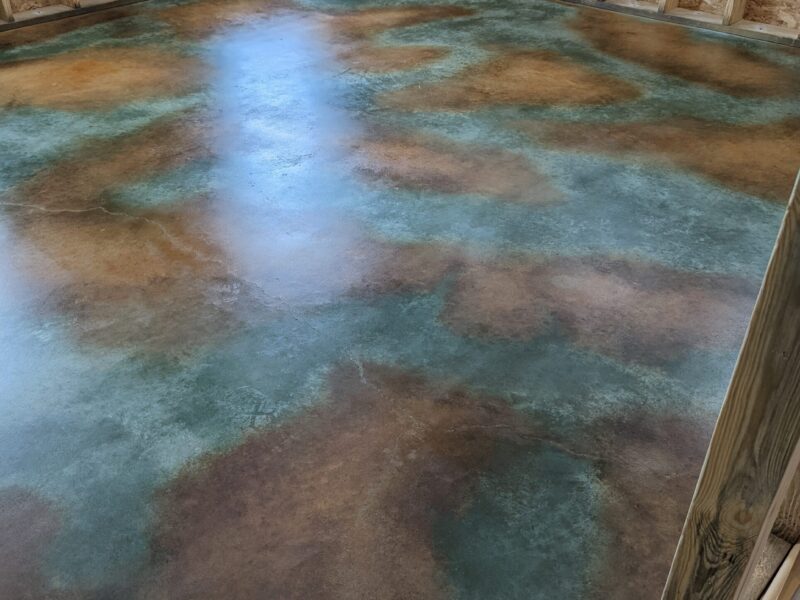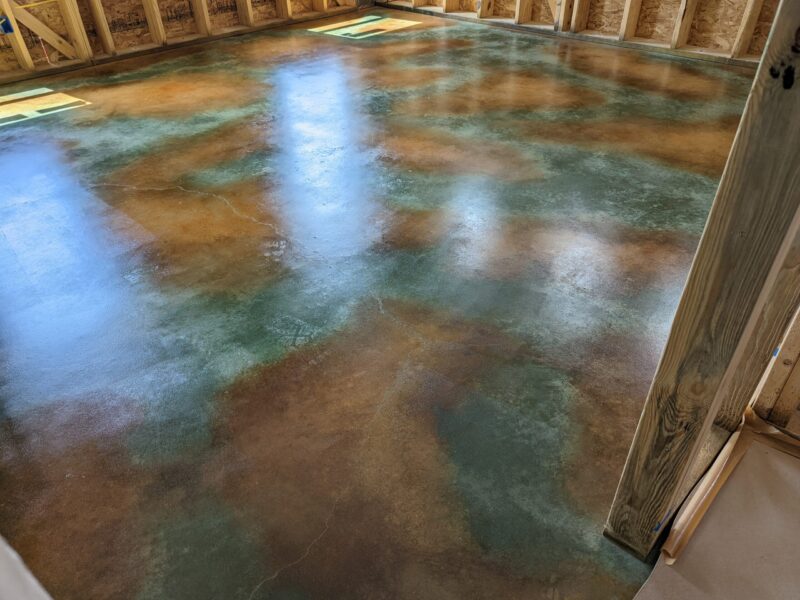 Project Info:
Project Completed In: 4 day(s)
Estimate of Square Footage: 200 sq. ft.
Project Description:
Building a barndominium that consists of a casita on one side and the main house on the opposite side, this is the floor in the Master of the casita.
Personal Tips:
When it comes to the sealer, I found it best to spray on with a pump sprayer and then go over it with a moist paint roller with a light touch, to even it all out.
Direct Colors Products Used:
Malayan Buff acid stain and Seagrass Acid stain
Other Products Used:
Cleaner/degreaser to prep floor and then the acrylic sealer in Satin.
Rustic Charm: Farmhouse Style Barndominium Flooring with Acid Stain
What a charming farmhouse aesthetic this DC customer has created for their barndo! Earthy browns and amber acid stain really make this living space look homier. From bathroom floors to kitchen floors, it's a look that works throughout the whole house.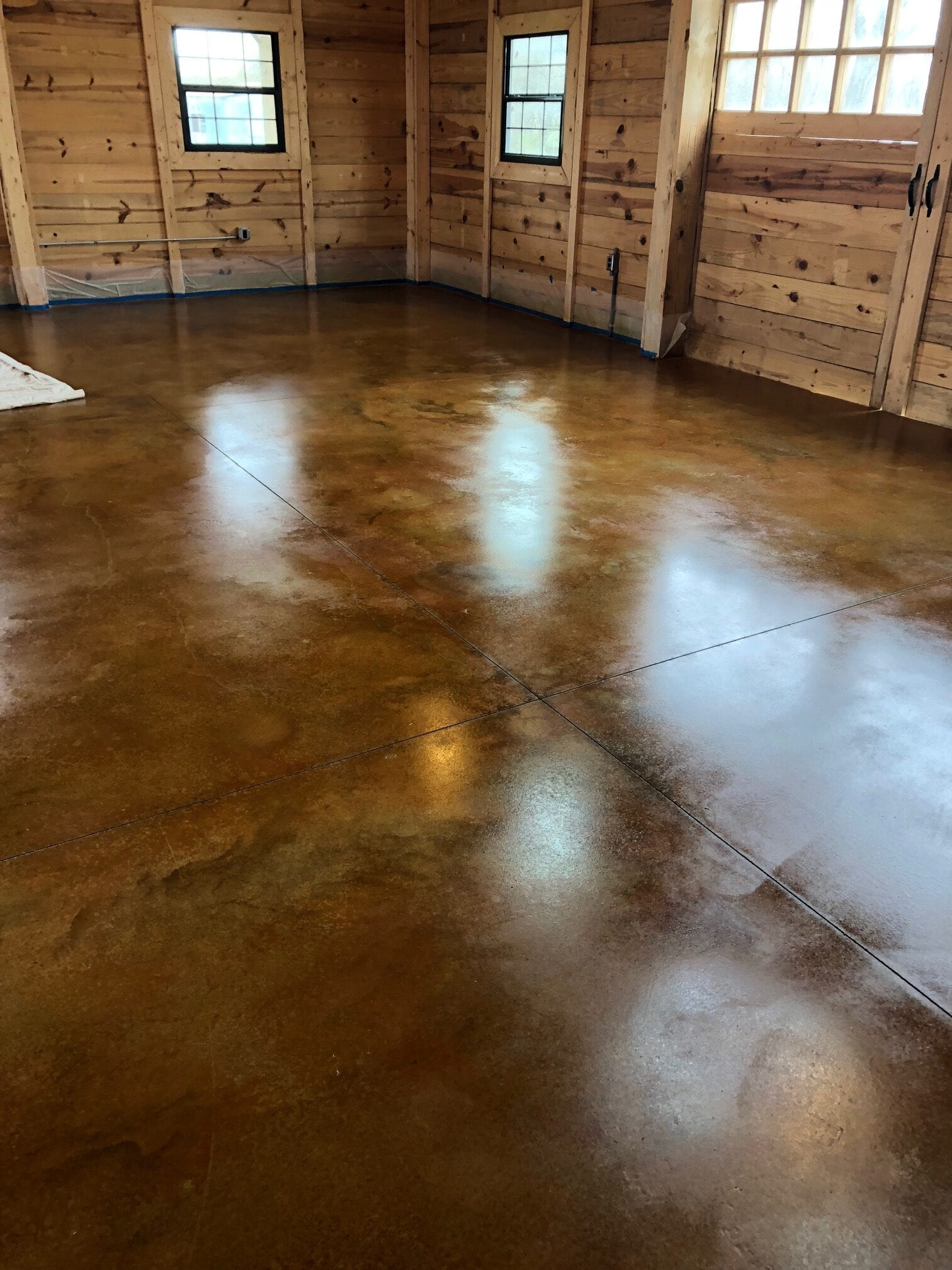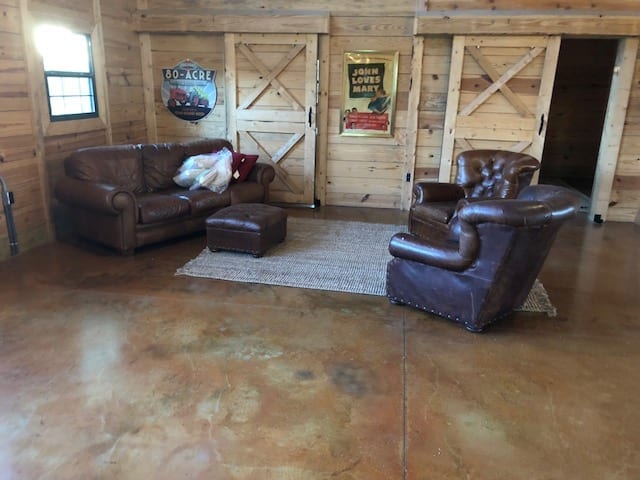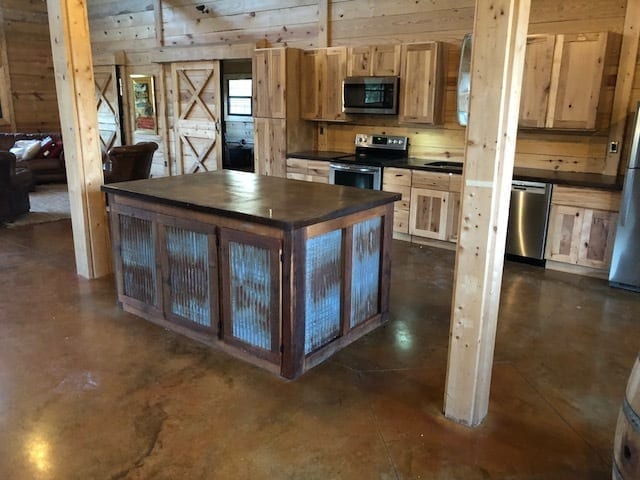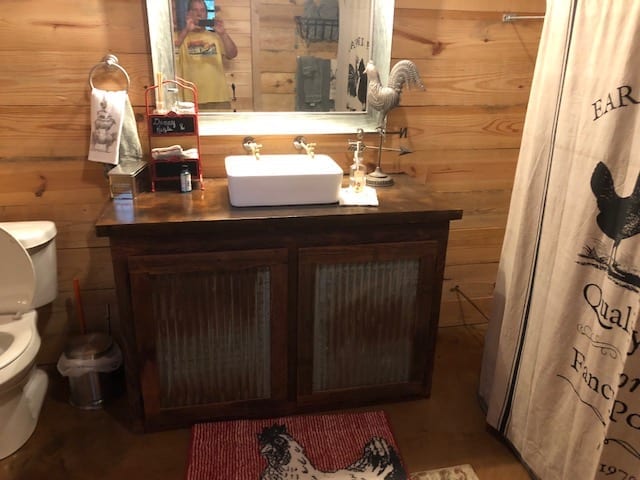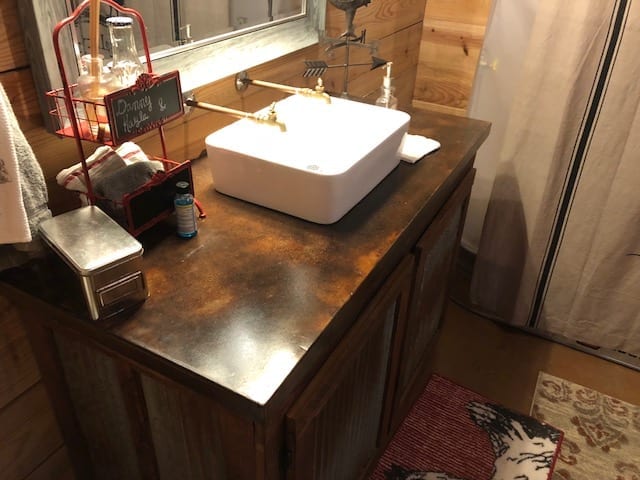 Concrete Veins: A Unique Technique for Stained Concrete Floors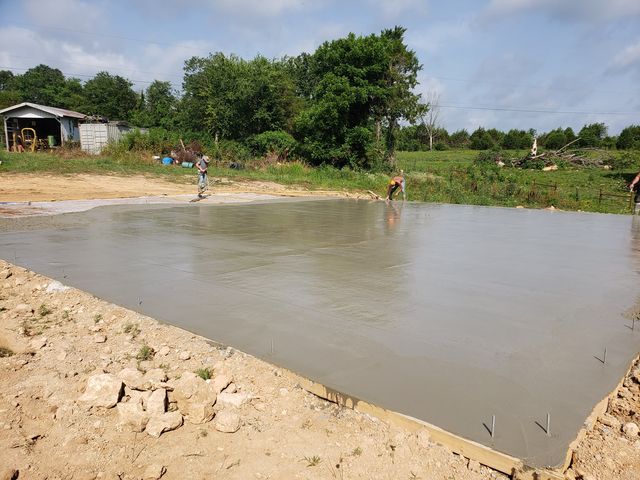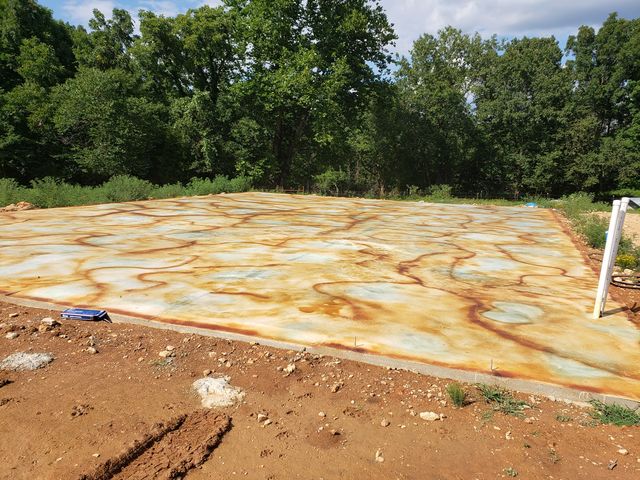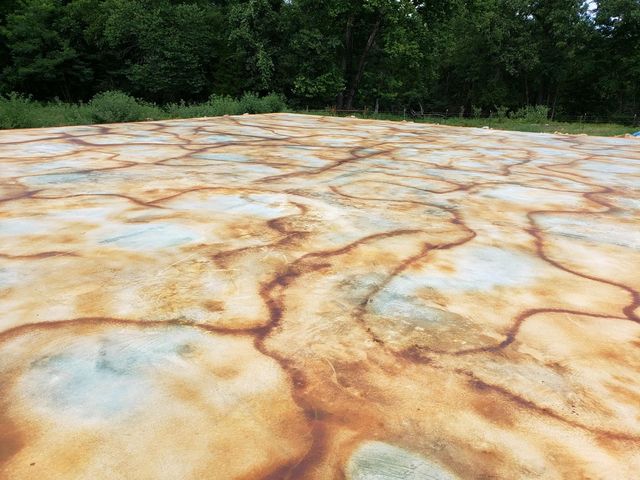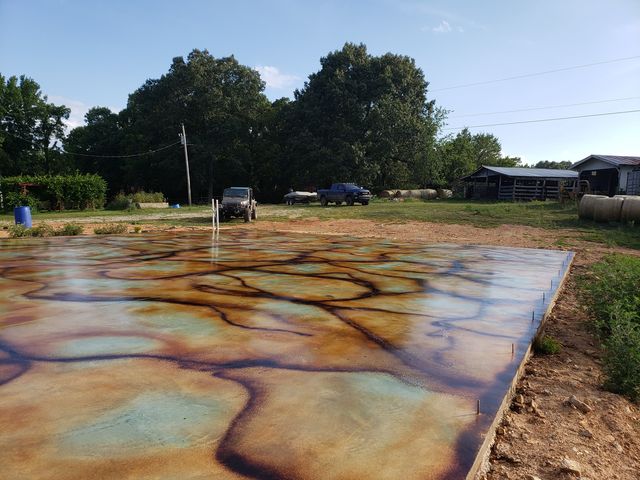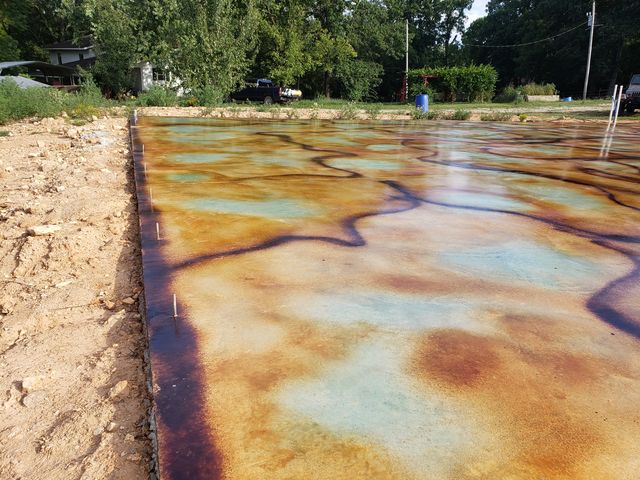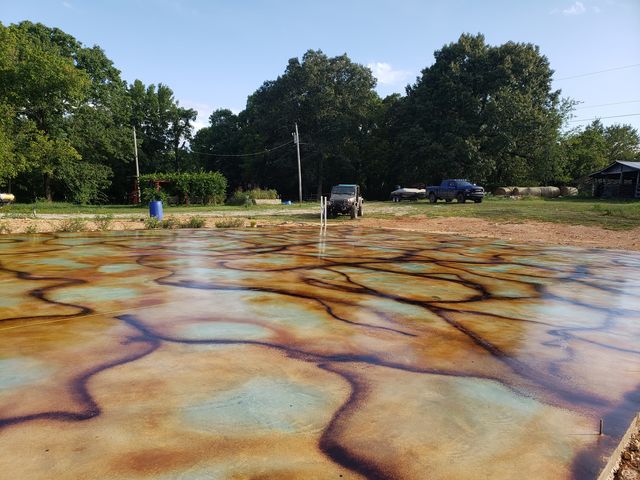 Creating a Family Hangout: A Stained Concrete Barndominium Floor
Transform your barndominium space into the perfect family hangout with an accent blend of acid stain. Learn from a DIYer's experience and see how a fresh concrete slab can be transformed into a pool hall, gym, and game room combo. Bonus tip: avoid staining in the hottest part of the day for best results.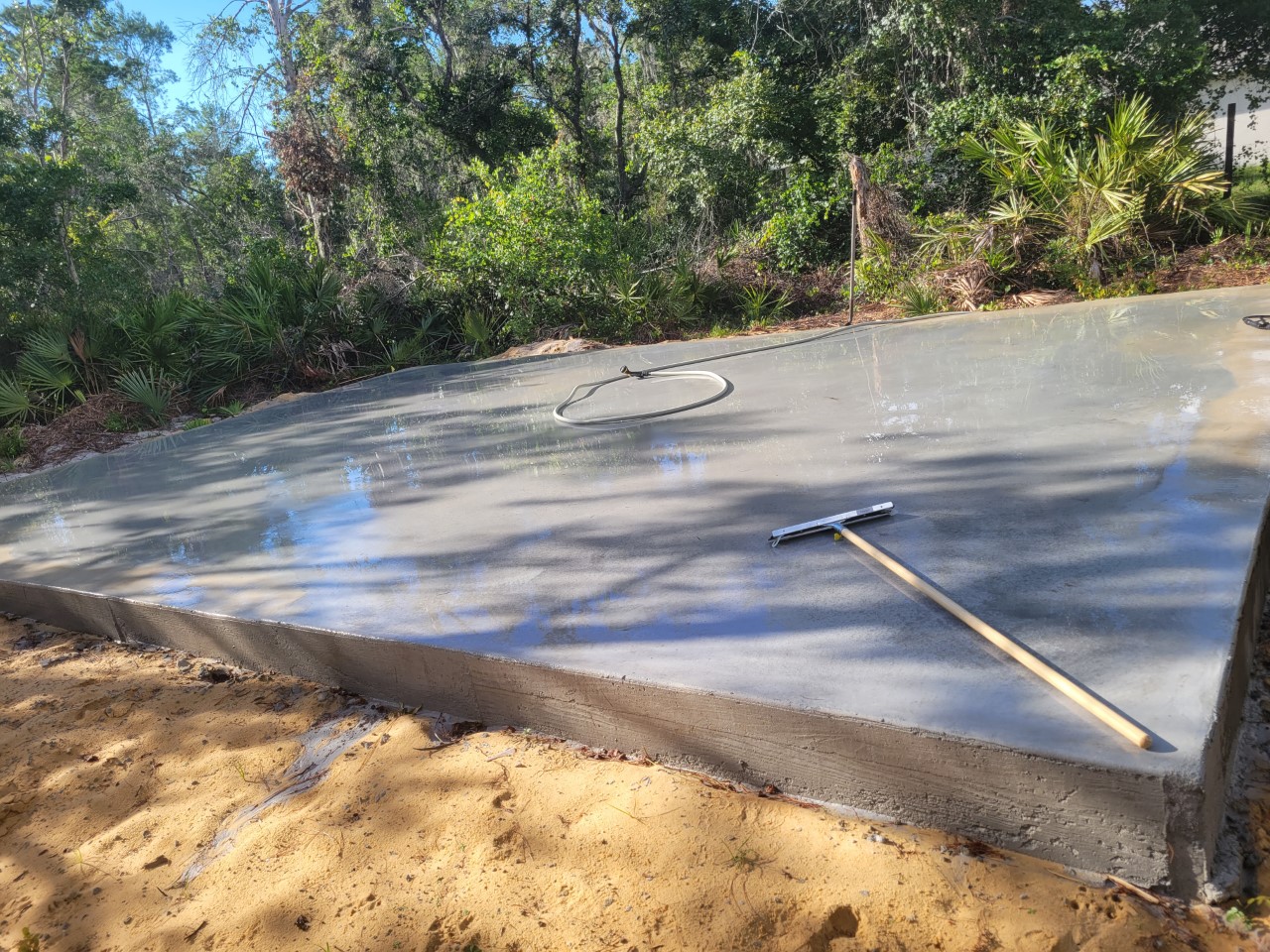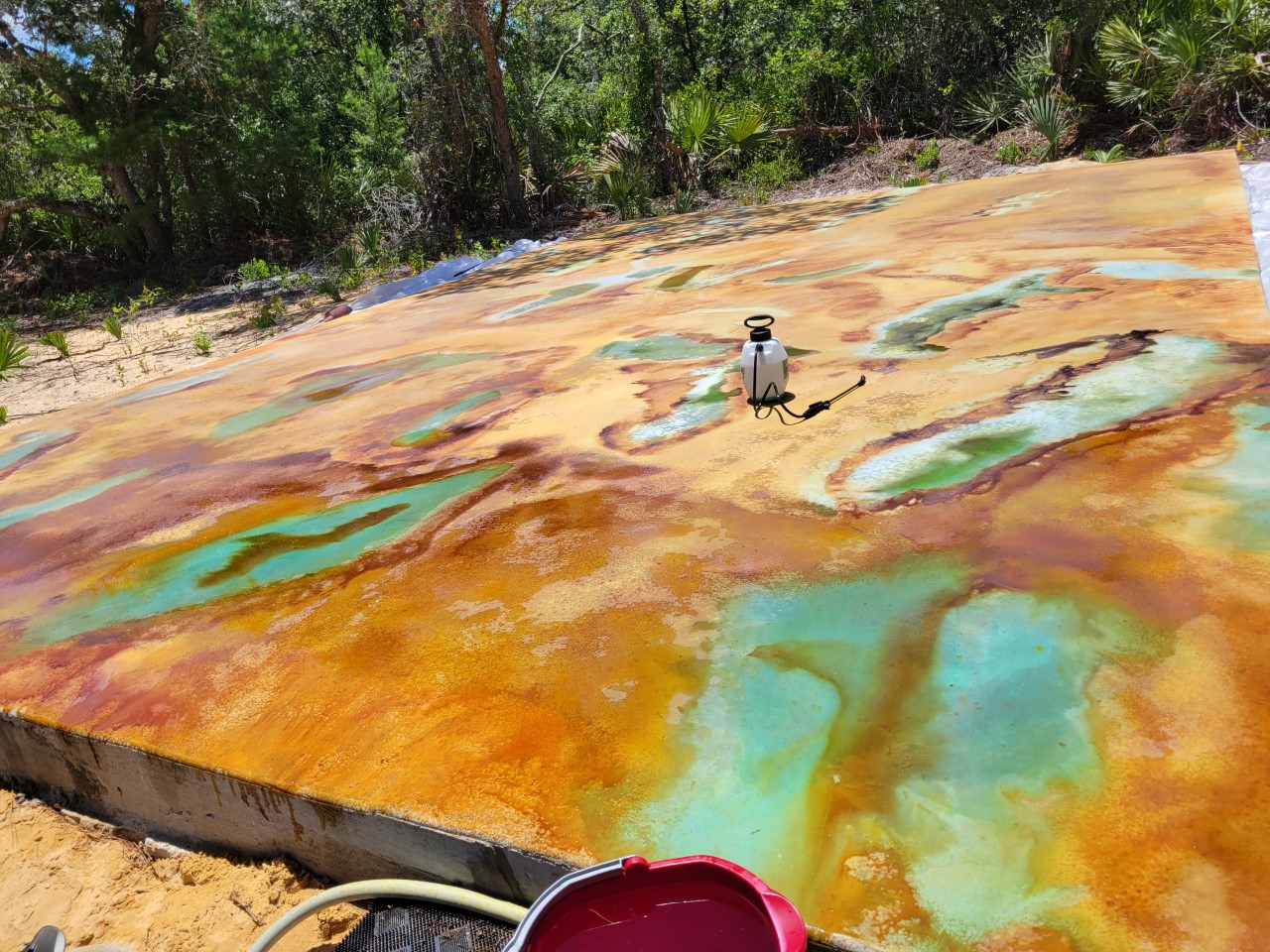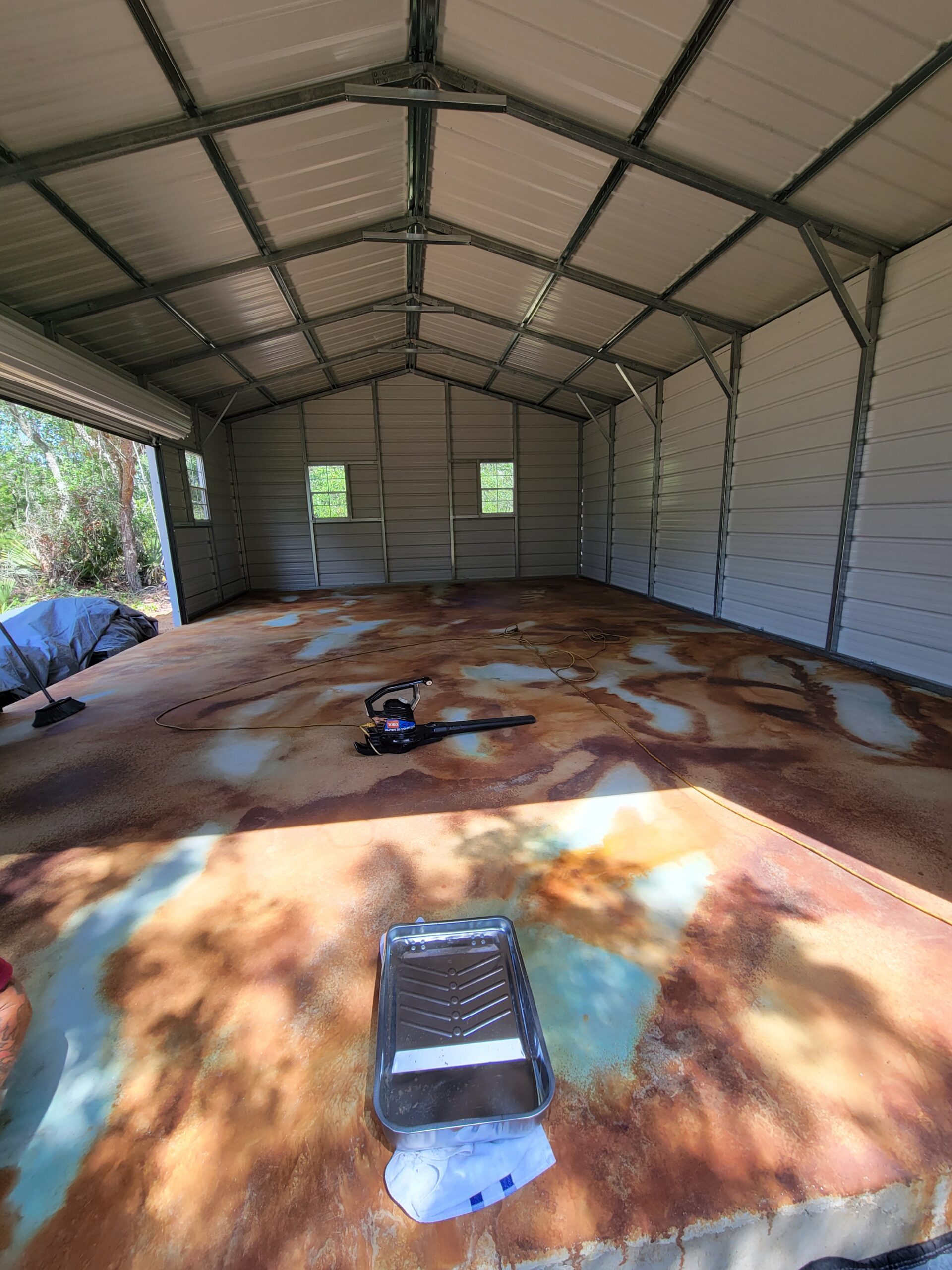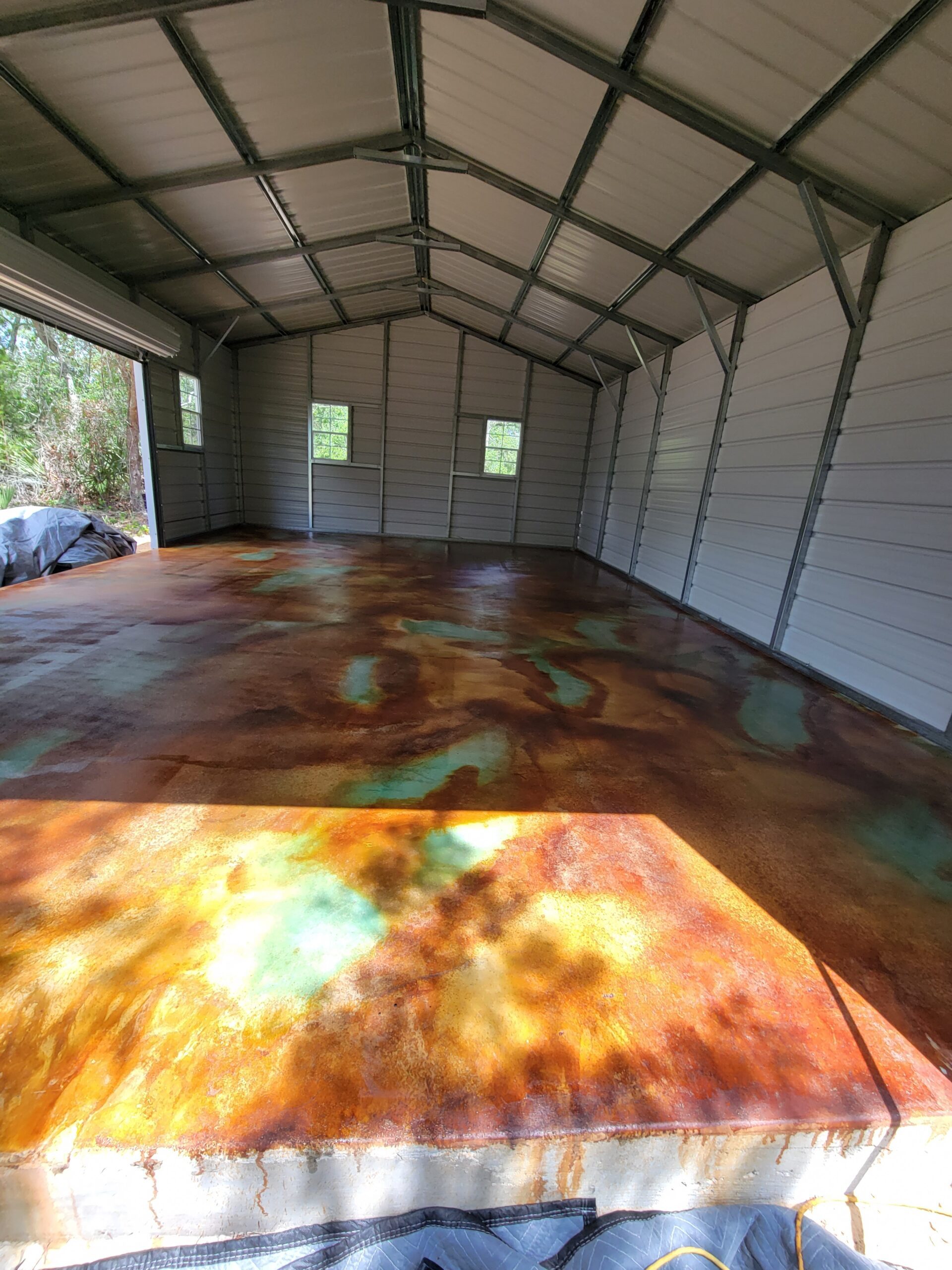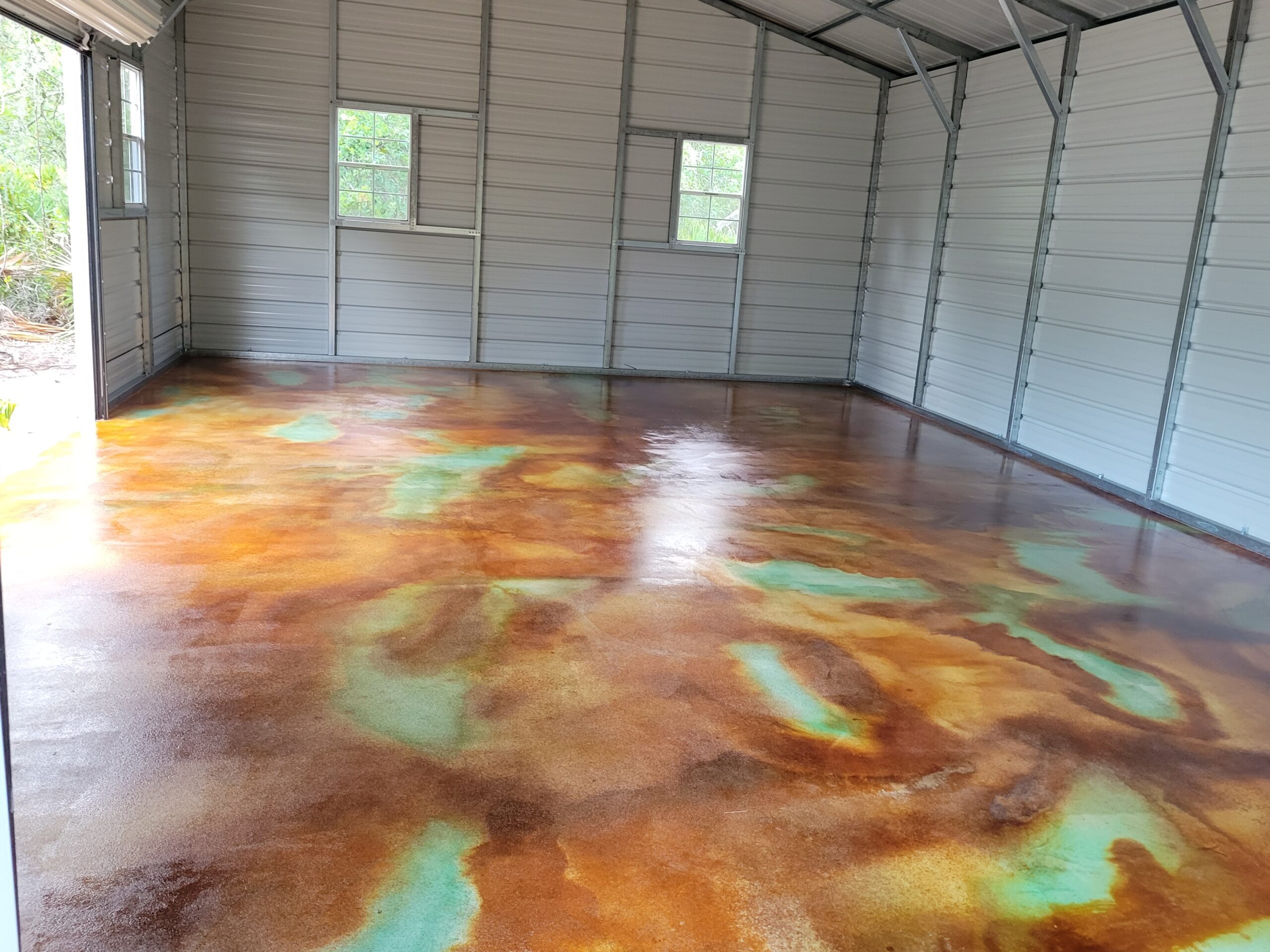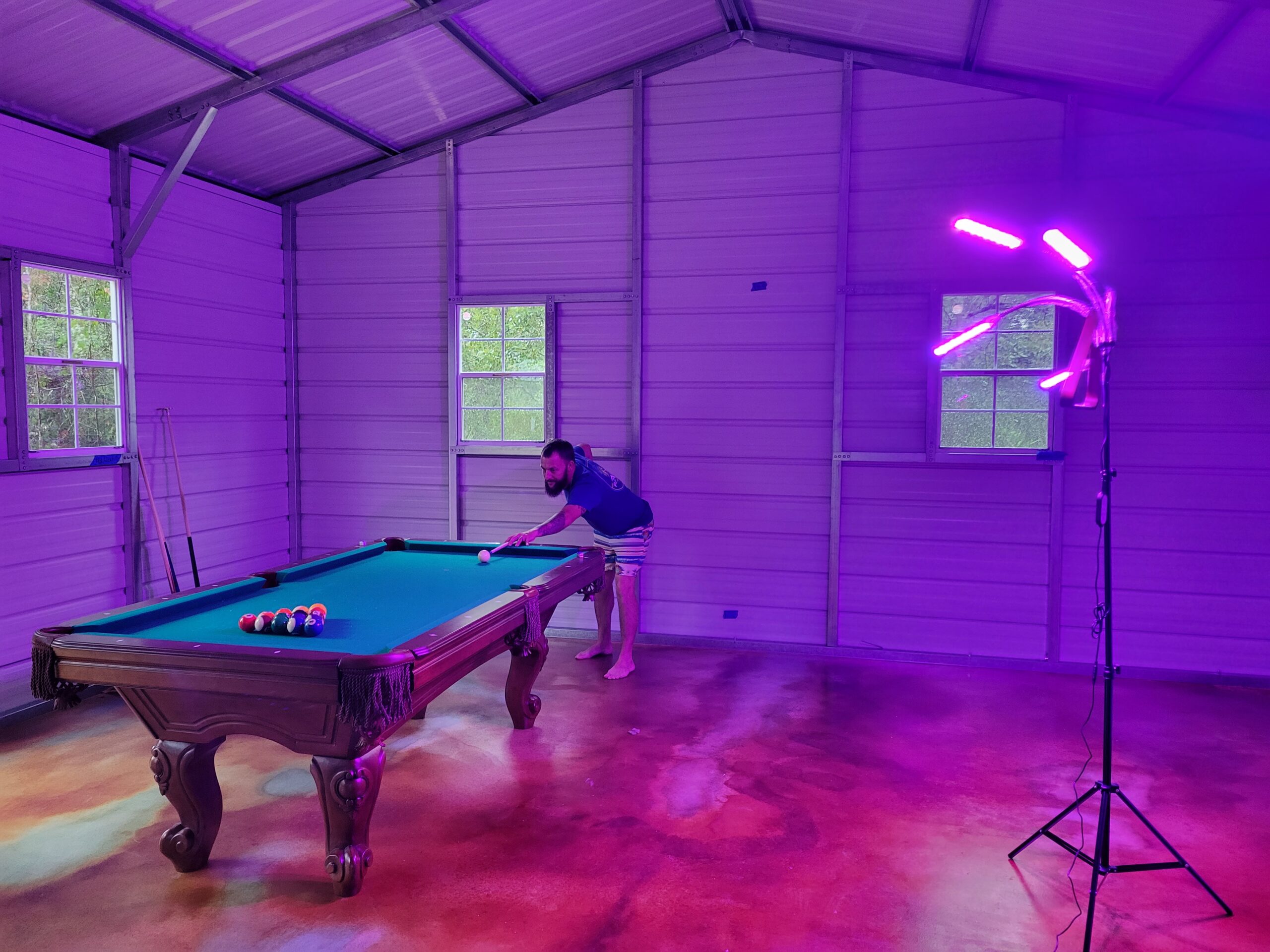 Project Info:
Project Completed In: 3 day(s)
Estimate of Square Footage: 600.00 sq. ft.
Project Description:
I had a fresh concrete slab made for our family's new hang out Pool Hall / Gym game room. 20×30 slab. Had to wait 30 days for concrete to cure. I wanted to make our floor look fun and beautiful without having to add flooring or carpet. I wanted it to be easy to clean too and waterproof. It came out great!
Personal Tips:
Well please please have extra sprayers just in case!!!! All of mine stopped working properly and definitely delayed my project and took longer to finish. I think it would have came out a lot better if I had proper equipment. Test your sprayers before using it with acid. Don't don't don't stain in the hottest part of the day like I did. The heat made my stain dry too fast to work with and I got heat stroke too. I did not have the building up yet, I do recommend doing this prior to adding a structure if that's a possibility. It made the prepping work much easier. Yes yes and yes I think all acid stain prep should have the concrete cleaned and Etched! My concrete was already porous but I decided to etched just in case and glad I did. I don't think the stain would have gone as deep. I did water down some of the darker acids and happy I did. The azure blue I wish I had not cut down with water as I had to go over those spots several times to get a deeper color.I waited for building to be put up before I did final Sealer. Glad I did because the trees around me and sand would have gotten stuck on the sealer before drying completely. I did 2 coats but wish I had more to do a 3rd coat to bring out colors vibrancy more.
Direct Colors Products Used:
Concrete etcher, Azure blue, Cola, Desert Amber acid stain, Solvent Sealer, Sprayer Pump, Spike Shoes.
Other Products Used:
Soft brush, squeegee, water hose sprayer, hand bottle sprayer.
Adding Flair to a Pole Barn: Stained Concrete Floor
How is a pole barn different than a barndo, you ask? Usually, a pole barn is built for extra storage space, while a barndominium is more of a living space. These DIYers built a pole barn with new concrete. They wanted to add some flair to the concrete floor before they began storing things inside. Acid stain added such a cool look to this storage space interior!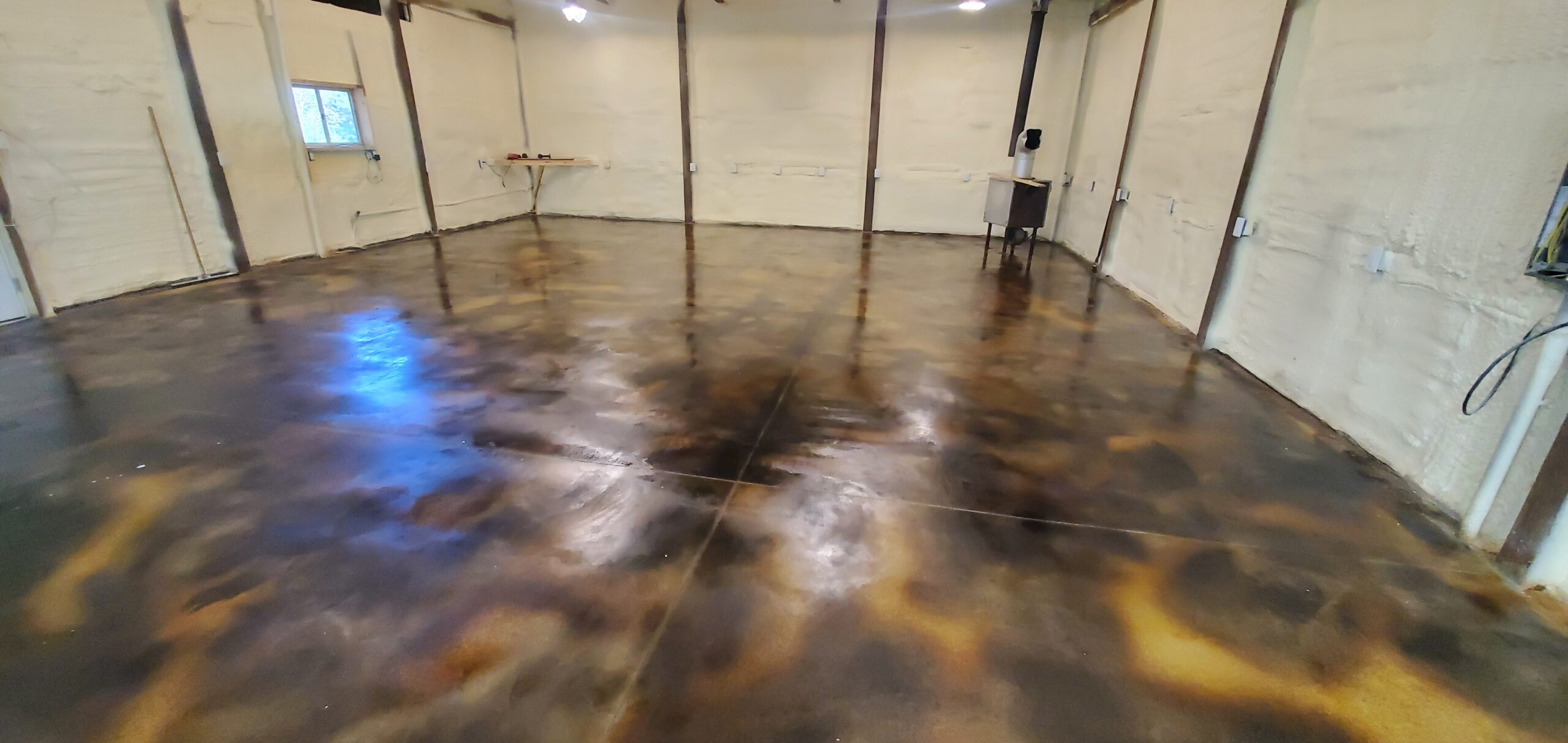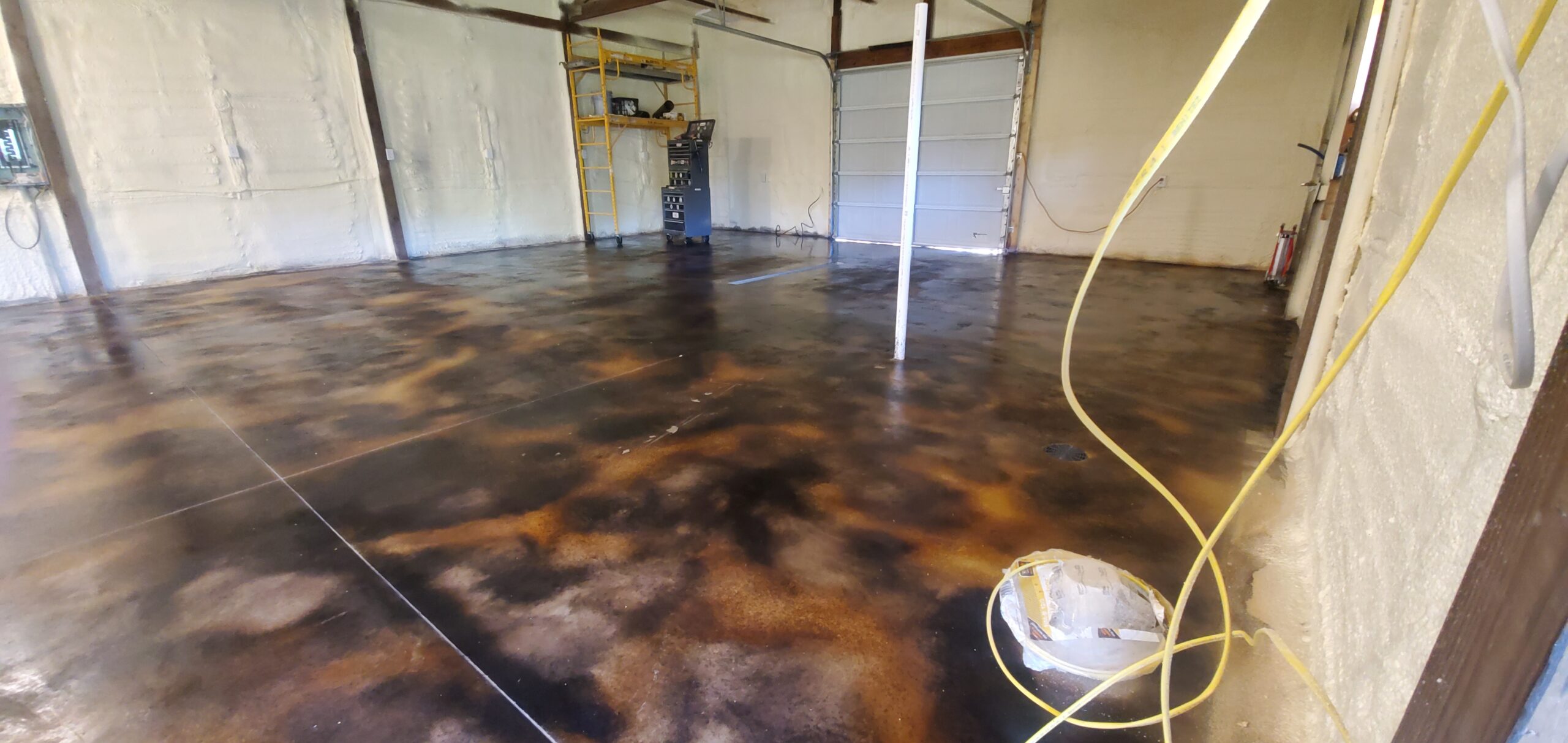 Project Info:
Project Completed In: 6 day(s)
Estimate of Square Footage: 1620 sq. ft.
Project Description:
We recently built a pole barn with new concrete. I knew I would only get one chance to add some flare to the barn before we started packing stuff inside. So I did some research and videos and went with direct colors.
Personal Tips:
I started from the back and worked my way out the door. I had two pump sprayers ready to go. I worked my Desert Amber color first in a random camo pattern and filled in with Black and a touch of overspray.
Direct Colors Products Used:
EverStain acid stain black and desert amber.
EasySeal Satin and finishing wax.
Other Products Used:
2 pump sprayers, sponge mop, soft bristle brush.
What is a barndominium?
A barndominium is a type of residential building that combines the traditional barn-style architecture with the functionality of a modern home. They are typically made of metal or wood and can be used for a variety of purposes, such as a primary residence, a vacation home, or a rental property. Some barndominiums include living quarters on the top floor, while others have the living quarters on the ground floor and use the upper level for storage or as a workshop. They are becoming increasingly popular in rural areas due to their unique design and versatility.
Stained Concrete Flooring for Barndominiums: Pros, Cons and Best Types of Stains
Concrete flooring is a popular choice for barndominiums due to its durability, low maintenance and versatility. However, as with any type of flooring, there are pros and cons to consider before making a decision. In this blog, we will discuss the benefits and drawbacks of stained concrete floors in a barndominium and the best types of stains to use.
One of the main advantages of stained concrete floors in a barndominium is their durability. Concrete is a strong and long-lasting material that can withstand heavy traffic and heavy machinery. Additionally, it is resistant to moisture and pests, making it a great option for barns and other agricultural buildings.
Another benefit of stained concrete floors is that they are easy to maintain and clean. They can be swept and mopped regularly to keep them looking new. Stained concrete floors also come in a variety of colors and finishes, and can be stained to match any decor.
On the other hand, one of the main disadvantages of stained concrete floors is that they can be cold in the winter. They also can be slippery when wet, so it's important to be cautious in damp conditions. Additionally, the initial cost of installing a stained concrete floor may be higher than other flooring options.
When it comes to stains, there are several types that can be used on concrete floors in a barndominium. Acid stains penetrate the surface of the concrete and react chemically to create a unique, mottled appearance. They are available in a wide range of colors and can be mixed to create custom shades. Water-based stains are easy to apply and clean up, and they can be used to achieve a variety of colors and finishes. Finally, concrete dyes are acetone-soluble pigments that can be used to create a wide range of colors. They are easy to apply, and can be used to achieve a uniform or mottled finish.
In conclusion, stained concrete floors can be a great choice for a barndominium due to their durability and low maintenance. However, it's important to consider the potential drawbacks and the best type of stain to use, before making a decision.