Seagrass Concrete Stain Gallery
Bring that marbled look to your concrete floors with the help of seagrass acid stain. What color is seagrass exactly? It's hard to describe, but it's an enchanting blue green concrete stain that's sure to enhance any room.  Pair seagrass concrete stain with a neutral, earthy brown (or even a black acid stain!) and upgrade your space in an instant!
Stained Barndominium Concrete Floors
If you've never heard the word 'barndominium', then you're not alone!  These large steel or wood buildings made to resemble barns are popping up all over the country these days. Our DC customer used two colors of acid stain to put the finishing touches on their casita's master bedroom.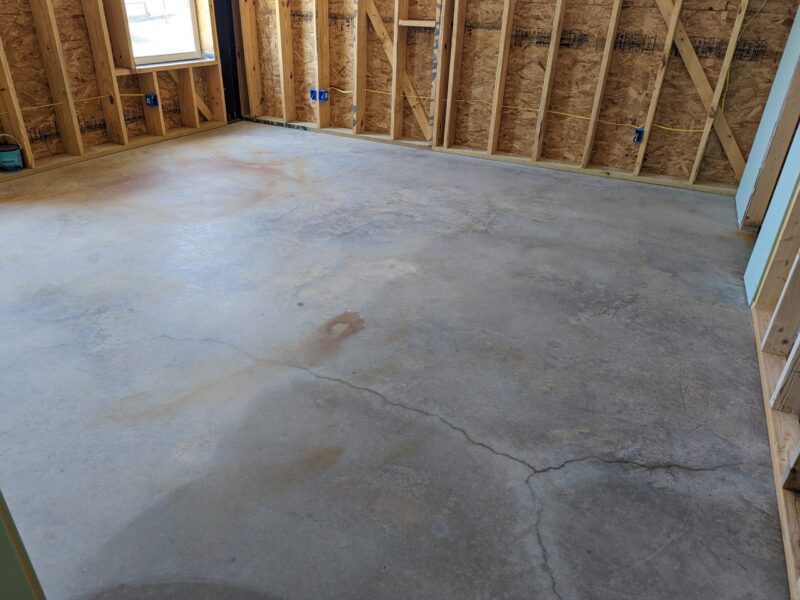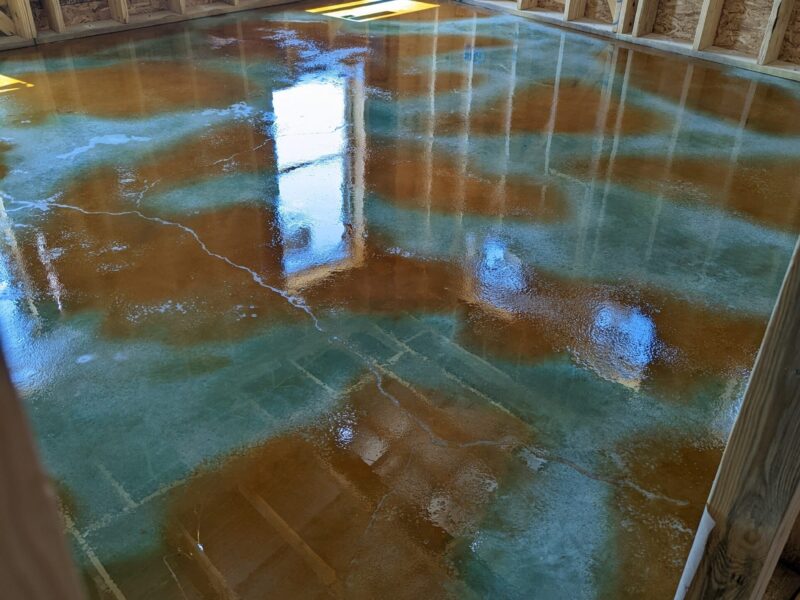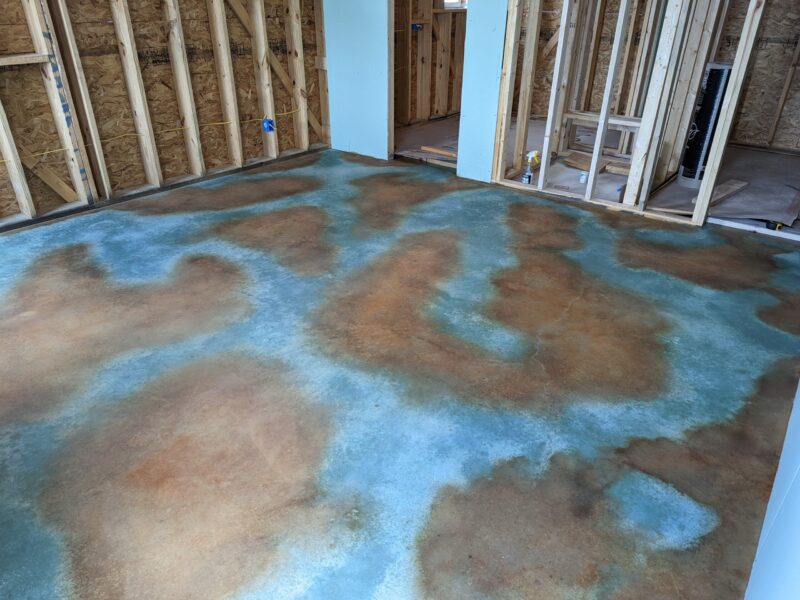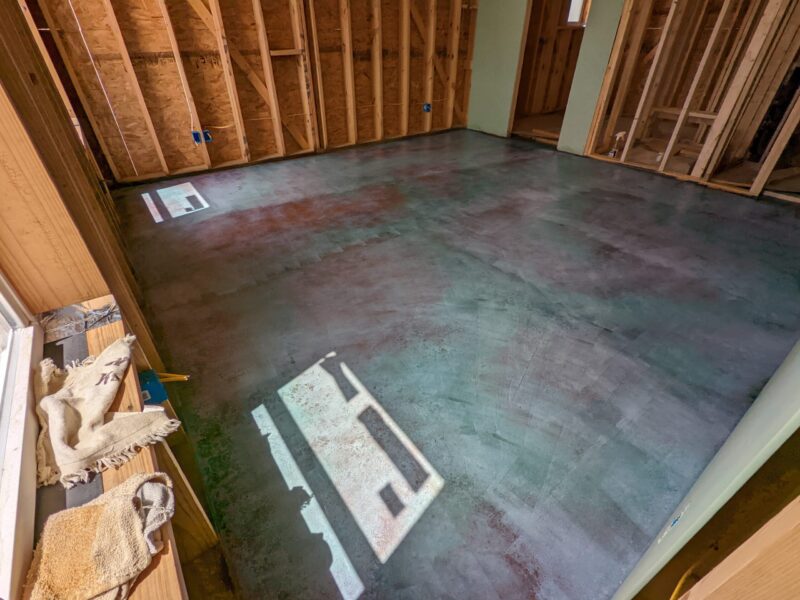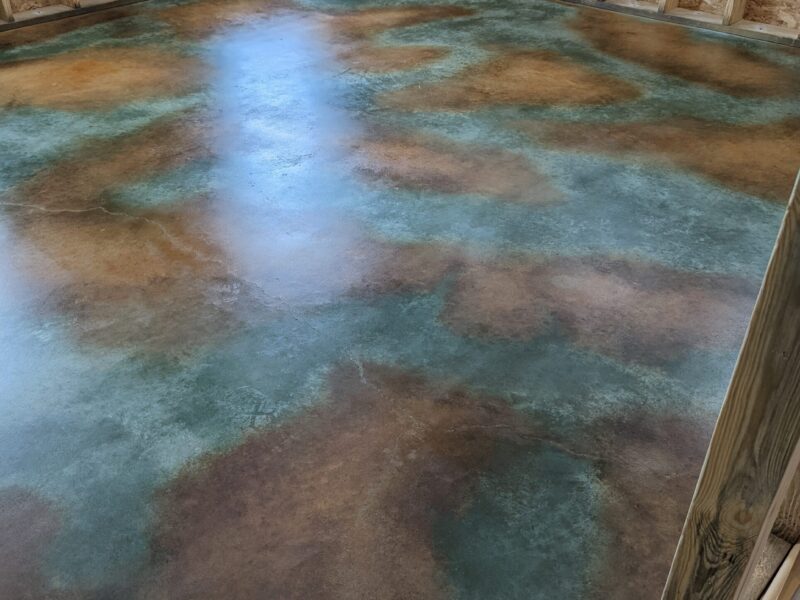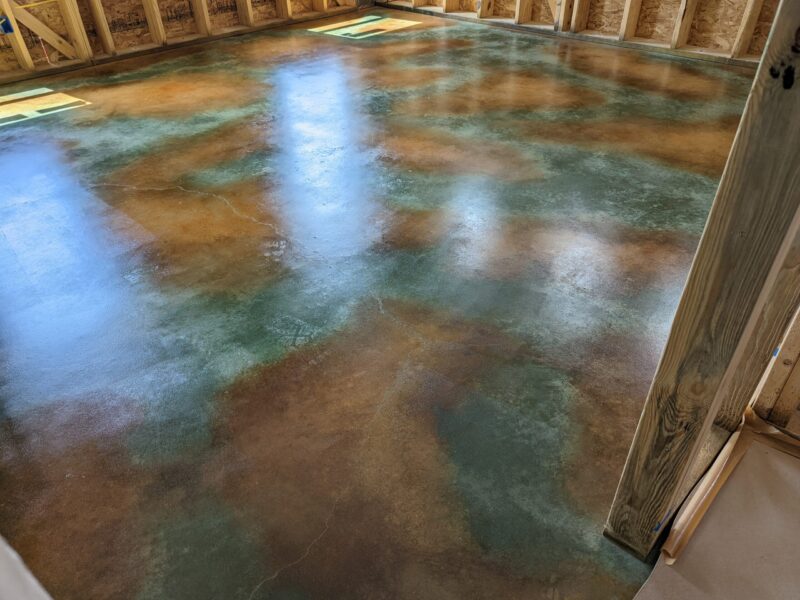 Project Info:
Project Completed In: 4 day(s)
Estimate of Square Footage: 200 sq. ft.
Project Description:
Building a barndominium that consists of a casita on one side and the main house on the opposite side, this is the floor in the Master of the casita.
Personal Tips:
When it comes to the sealer, I found it best to spray on with a pump sprayer and then go over it with a moist paint roller with a light touch, to even it all out.
Direct Colors Products Used:
Malayan Buff acid stain and Seagrass Acid stain
Other Products Used:
Cleaner/degreaser to prep floor and then the acrylic sealer in Satin.
Layering Concrete Acid Stain Colors
Numerous acid stain colors may be layered, blended or applied to the same concrete slab to produce an array of effects, ranging from a dreamy "washed" appearance to a mottled psychedelic finish. This particular DC customer removed an old stained carpet and replaced that with a layering of three acid stain colors. They really chose to embrace the imperfections on their 40-year-old slab of concrete!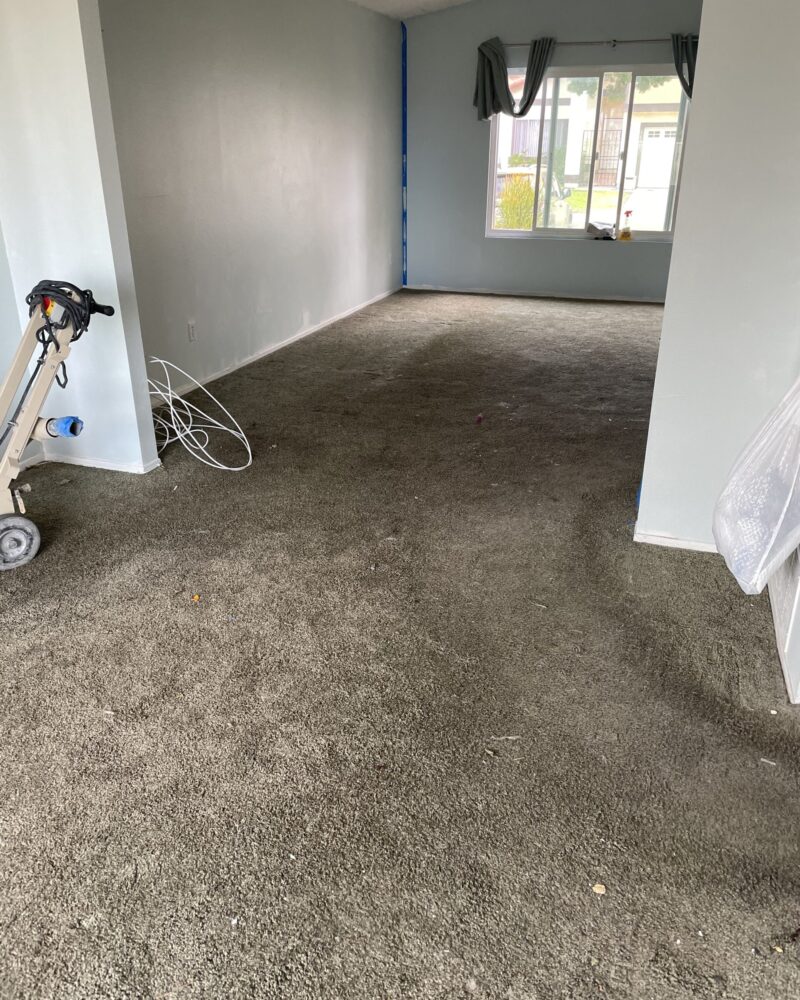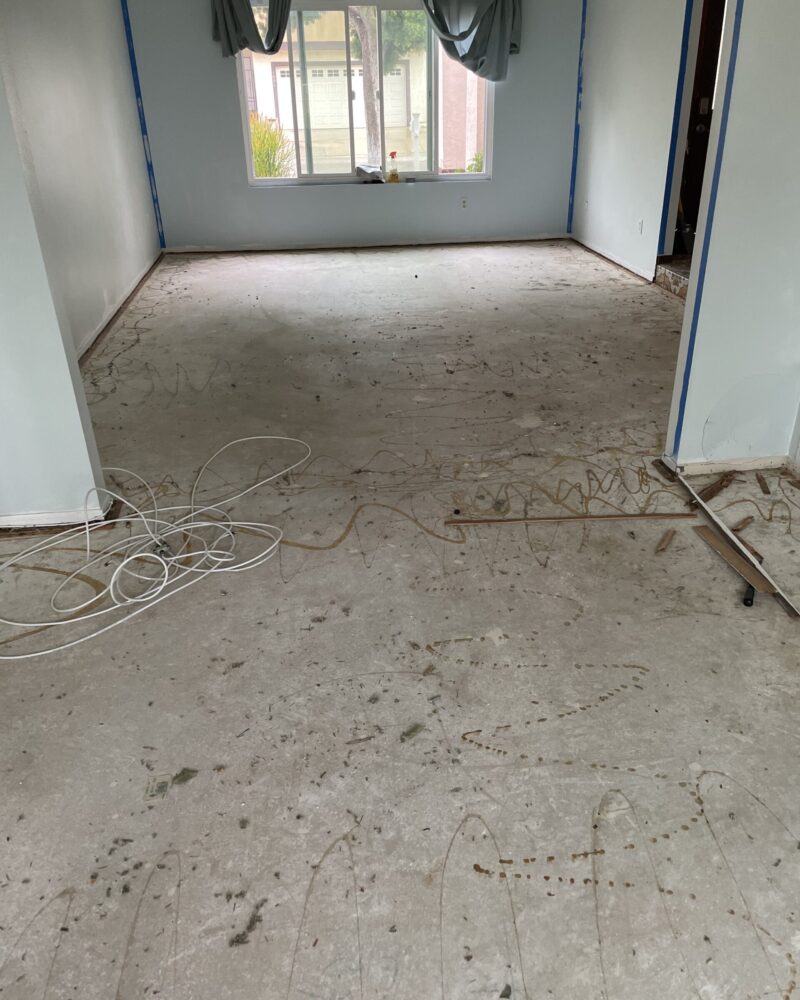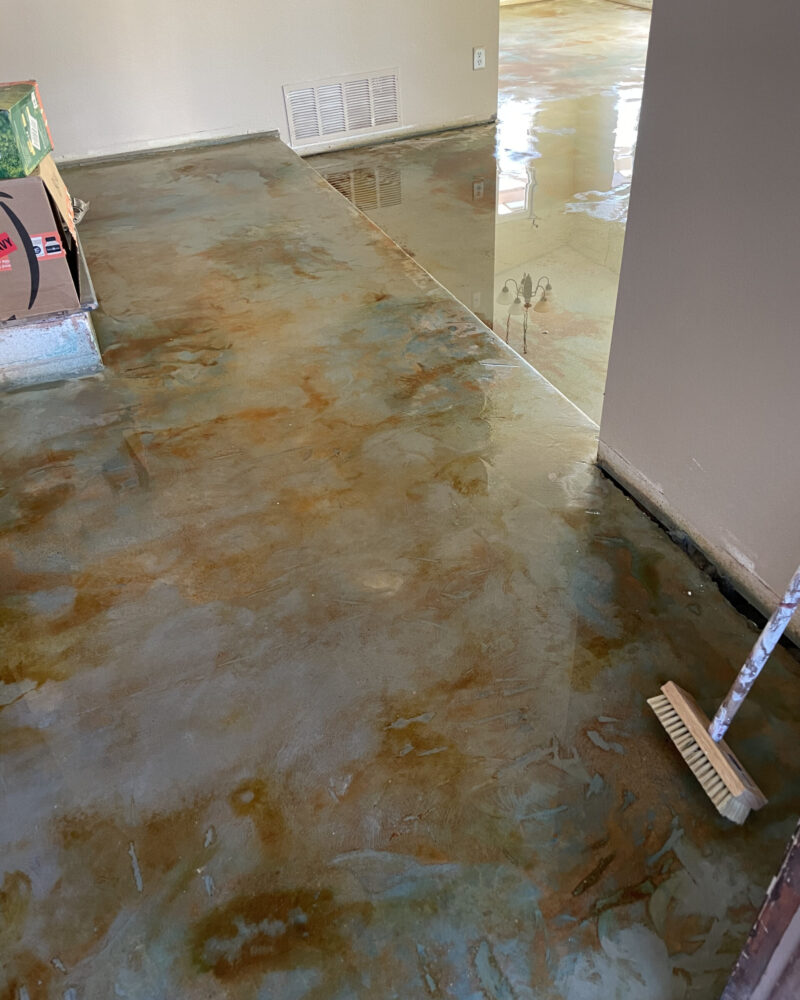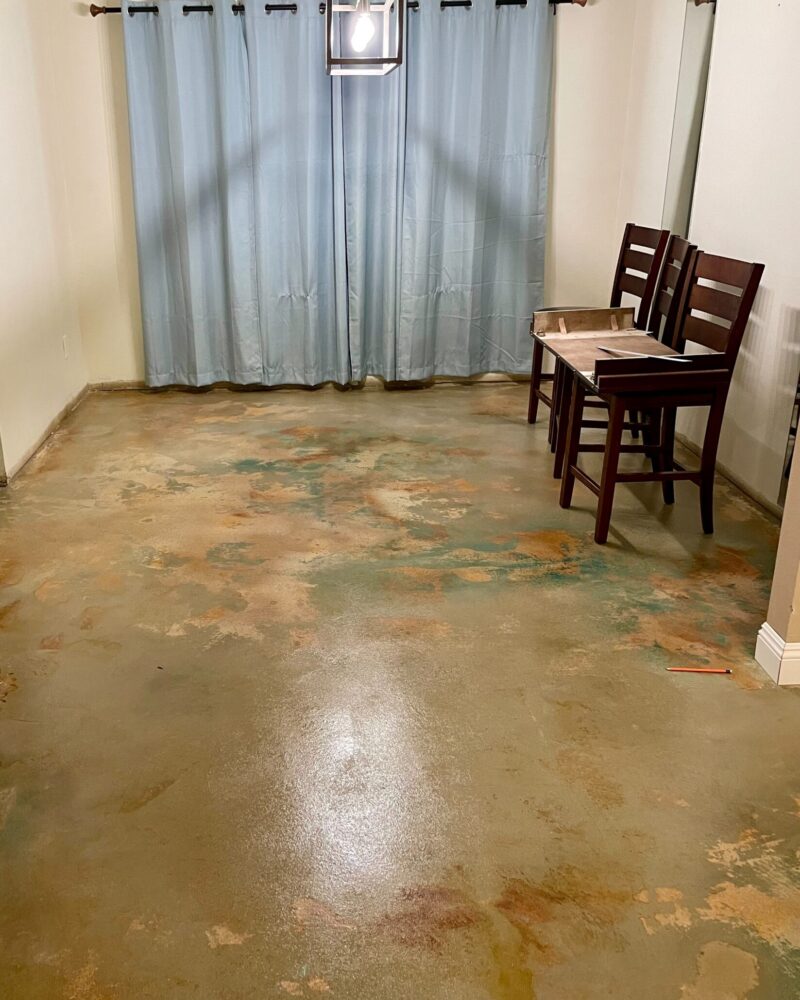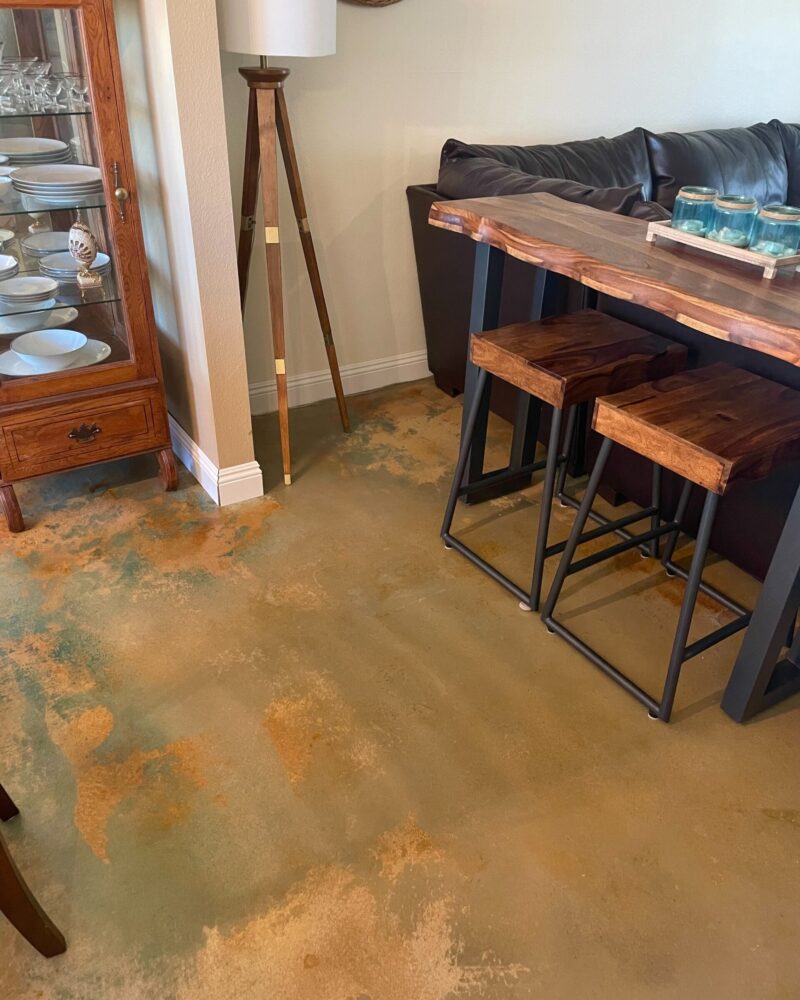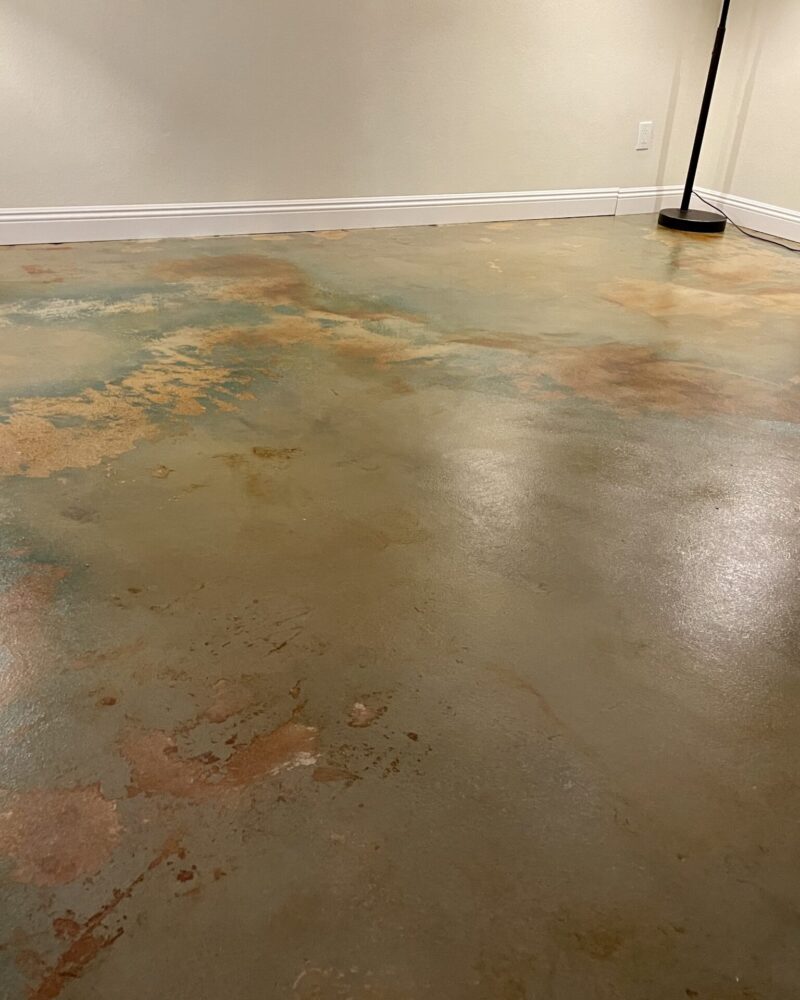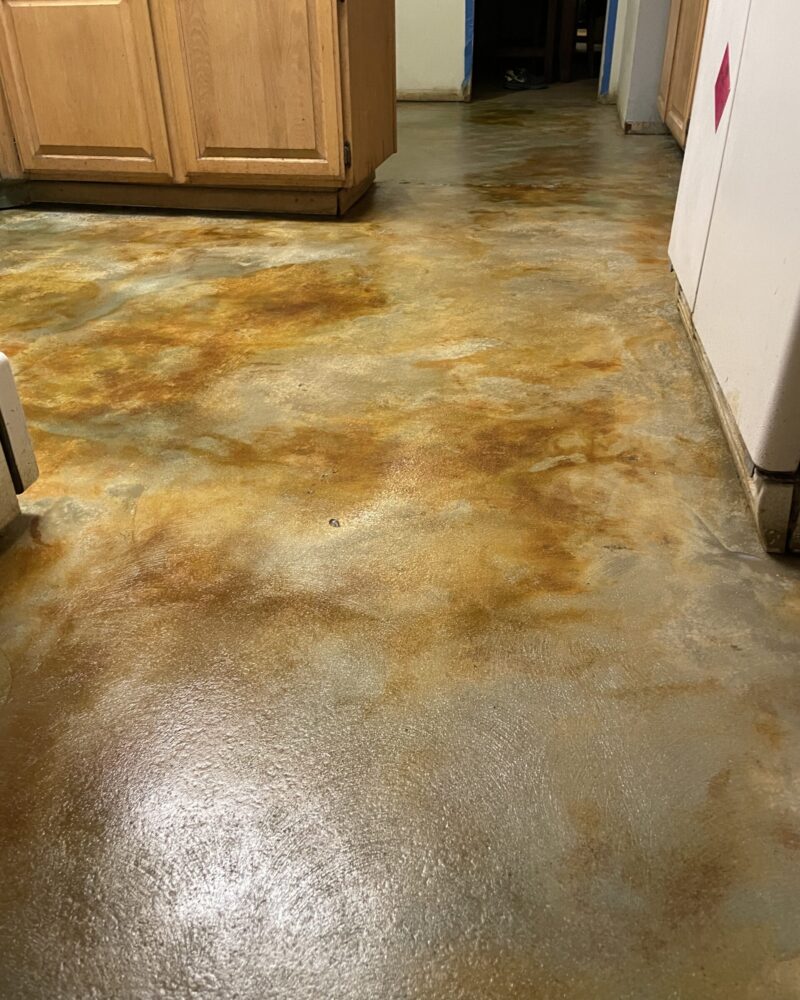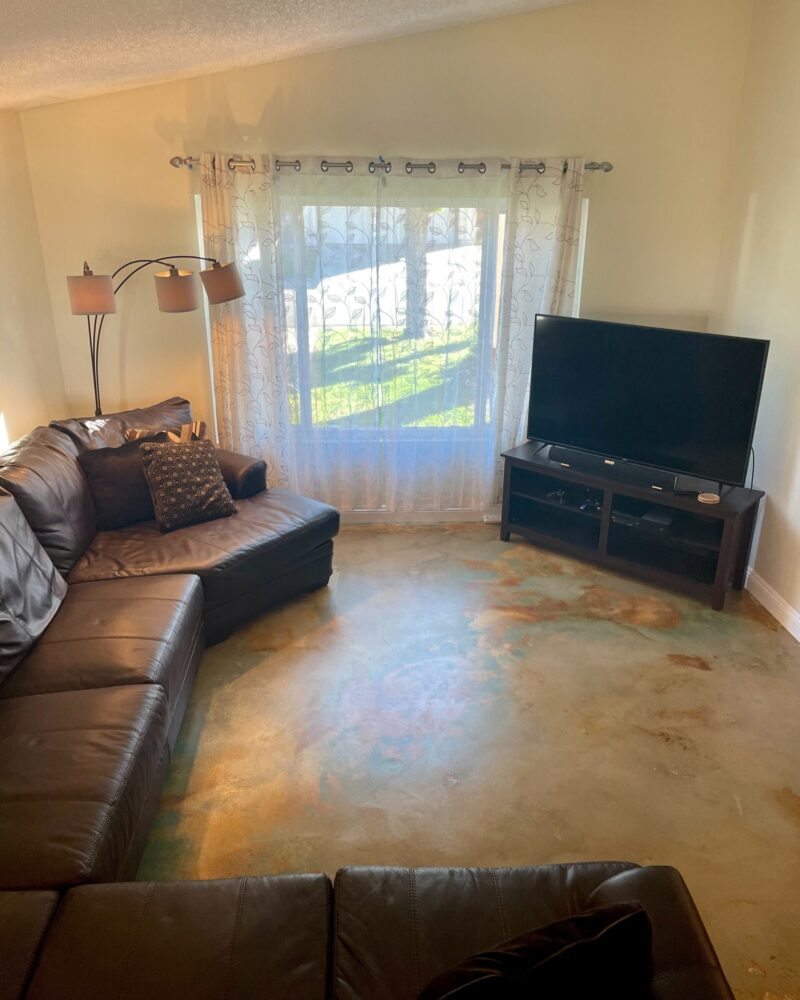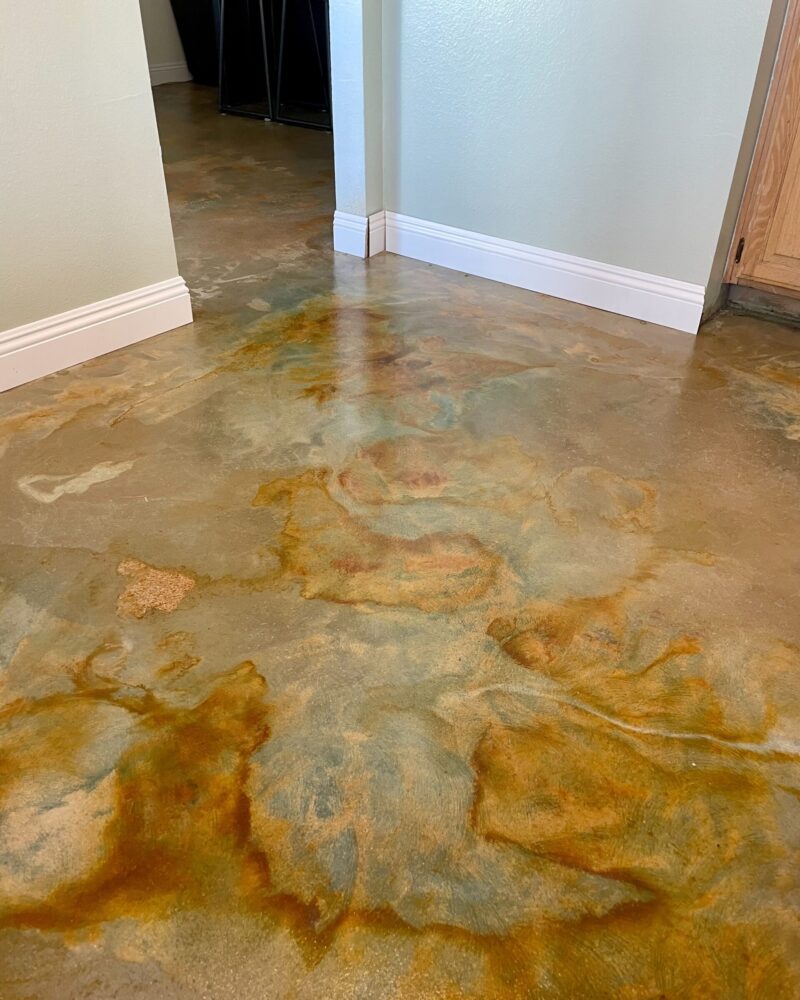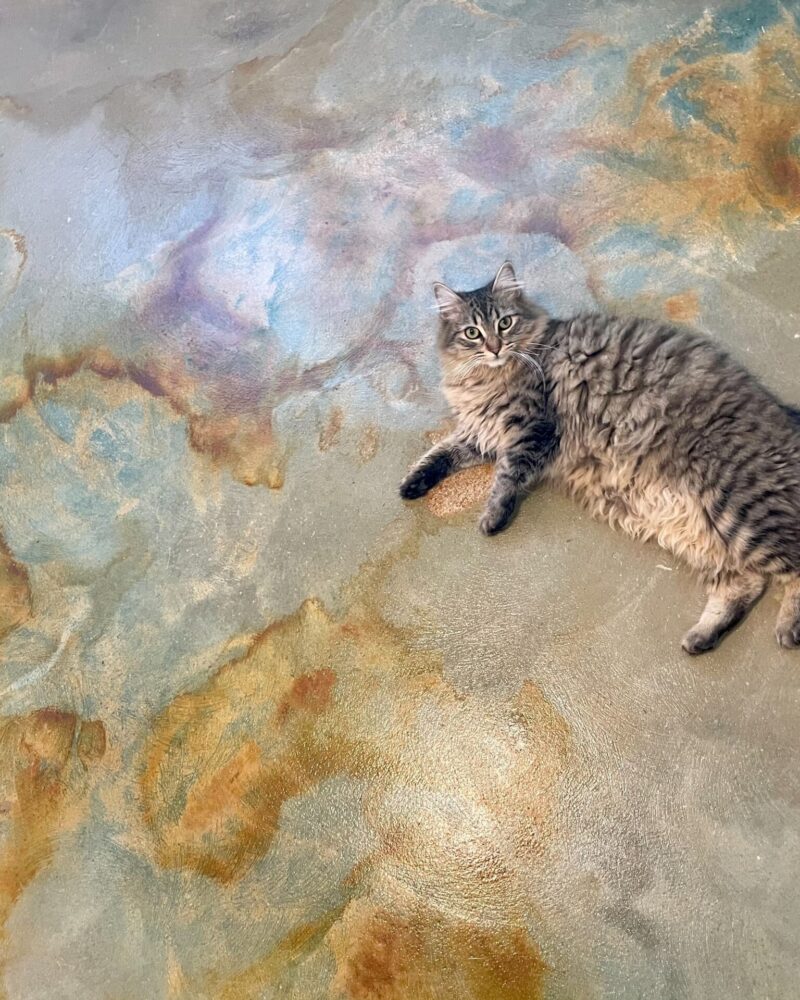 Project Info:
Project Completed In: 7 day(s)
Estimate of Square Footage: 1100 sq. ft.
Project Description:
We stained the concrete of our entire downstairs living areas. This included two living spaces, kitchen, entry and hallway. Initially, we used a generic water based stain and were not satisfied with the results. We researched and found Direct Colors and ordered the EverStain Concrete Acid Stain in Malayan Buff, Cola, and Seagrass. The end result was absolutely beautiful and exactly what we wanted,
Personal Tips:
Prep work is very important. If you want great results, you have to put in the work.
Our project and experience with concrete staining was fun. We were working with a +40 year old slab so we kept in mind that the acid would change the concrete in different and unexpected ways. We also embraced the imperfections in the concrete and liked the character those imperfections added to our end product.
Direct Colors Products Used:
3 gallons of Malayan Buff
1 gallon of Cola
1 gallon of Seagrass
Other Products Used:
Direct Colors WB High Gloss Sealer
Glaze n Seal Concrete Wax/Polish
After years of dealing with carpet, this Direct Colors customer had had enough! They decided to rip out the carpet, then stain and seal their concrete. Never having any experience with concrete stain, they started small with their dining room. Two colors of acid stain added a very modern look to this DIY makeover!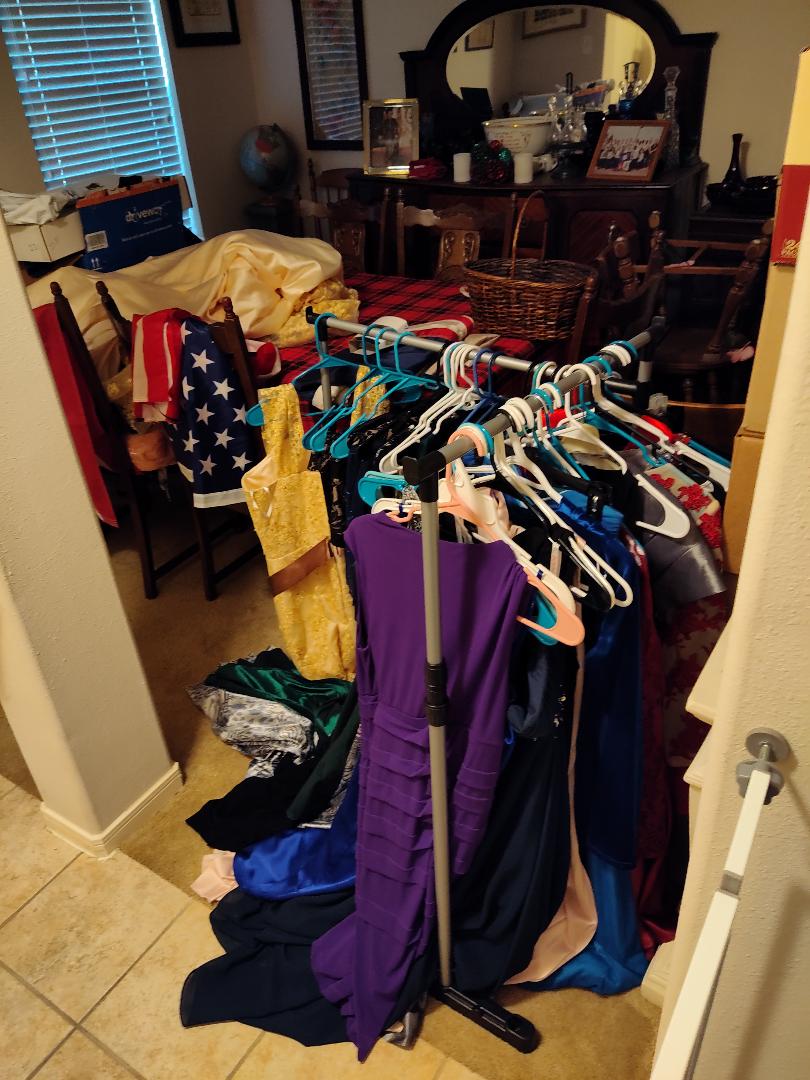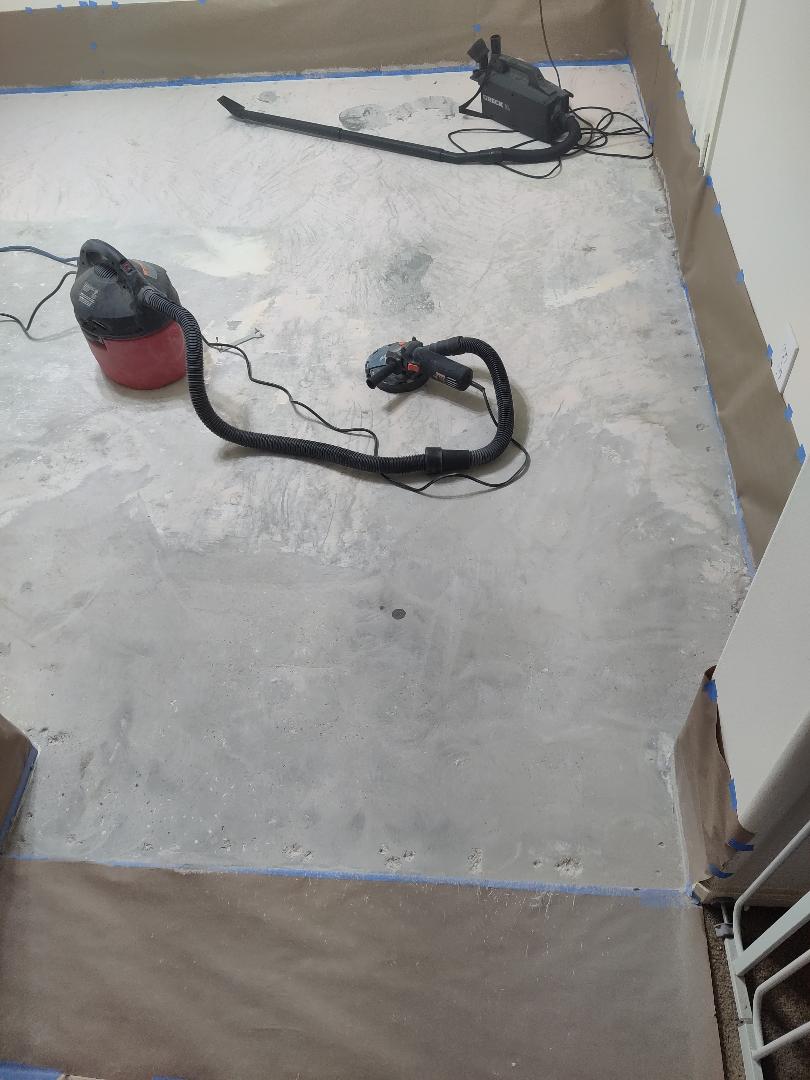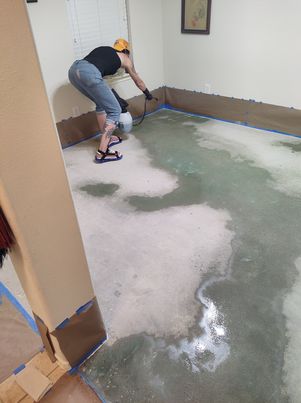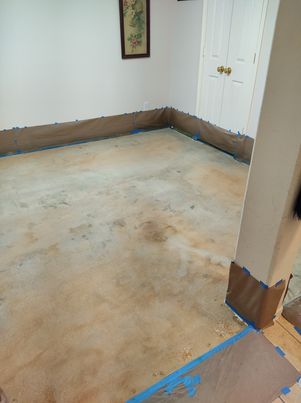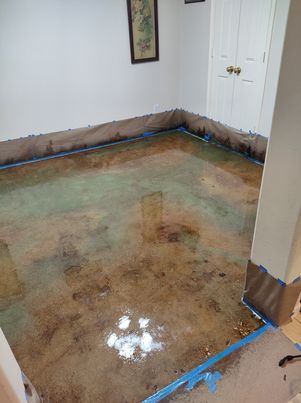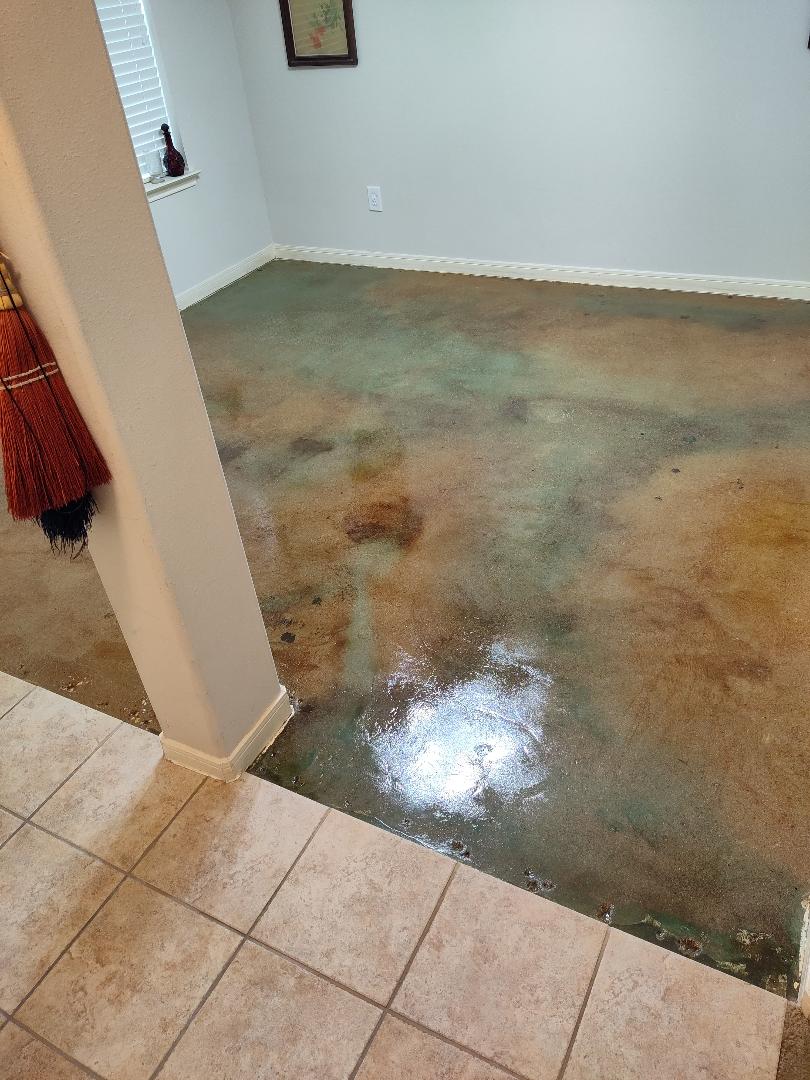 Project Info:
Project Completed In: 17 day(s)
Estimate of Square Footage: 120 sq. ft.
Project Description:
Well, after years of dealing with carpet, I decided to take this summer to rip out the carpet and seal the concrete downstairs in my house. Rather than replace the carpet, I wanted to stain and seal the concrete. I have never done it, so I started with my dining room, as it was small, isolated, and a good opportunity to learn how to stain and seal concrete. In July, I am going to do the living room.
Personal Tips:
I would suggest coordinating with Direct Colors employees, like Casey, for advice. I would be careful about grinding concrete, as it is really messy. I would consider using purple power, simple green, etc. and scrub the concrete clean that way. I would suggest neutralizing the concrete twice. Mop your concrete so it is very clean. You cannot cut corners; you need to follow directions. I almost forgot; if y ou are going to use a sealer (i wanted it very glossy), and you are sealing concrete inside, be careful about/reconsider using the solvent based sealer. We had to turn the AC off at night (twice for two coats… in the summer!) to completely vent the fumes (i only applied half to 3/4 of a gallon, and the fumes were powerful!).
Direct Colors Products Used:
Haha All of them?1 Gal. Seagrass DIY EverStain™ & EasySeal™ Gloss Kit1 Gal. Malayan Buff DIY EverStain™ & EasySeal™ Gloss Kit
Acid Stain Splashing Gone Wrong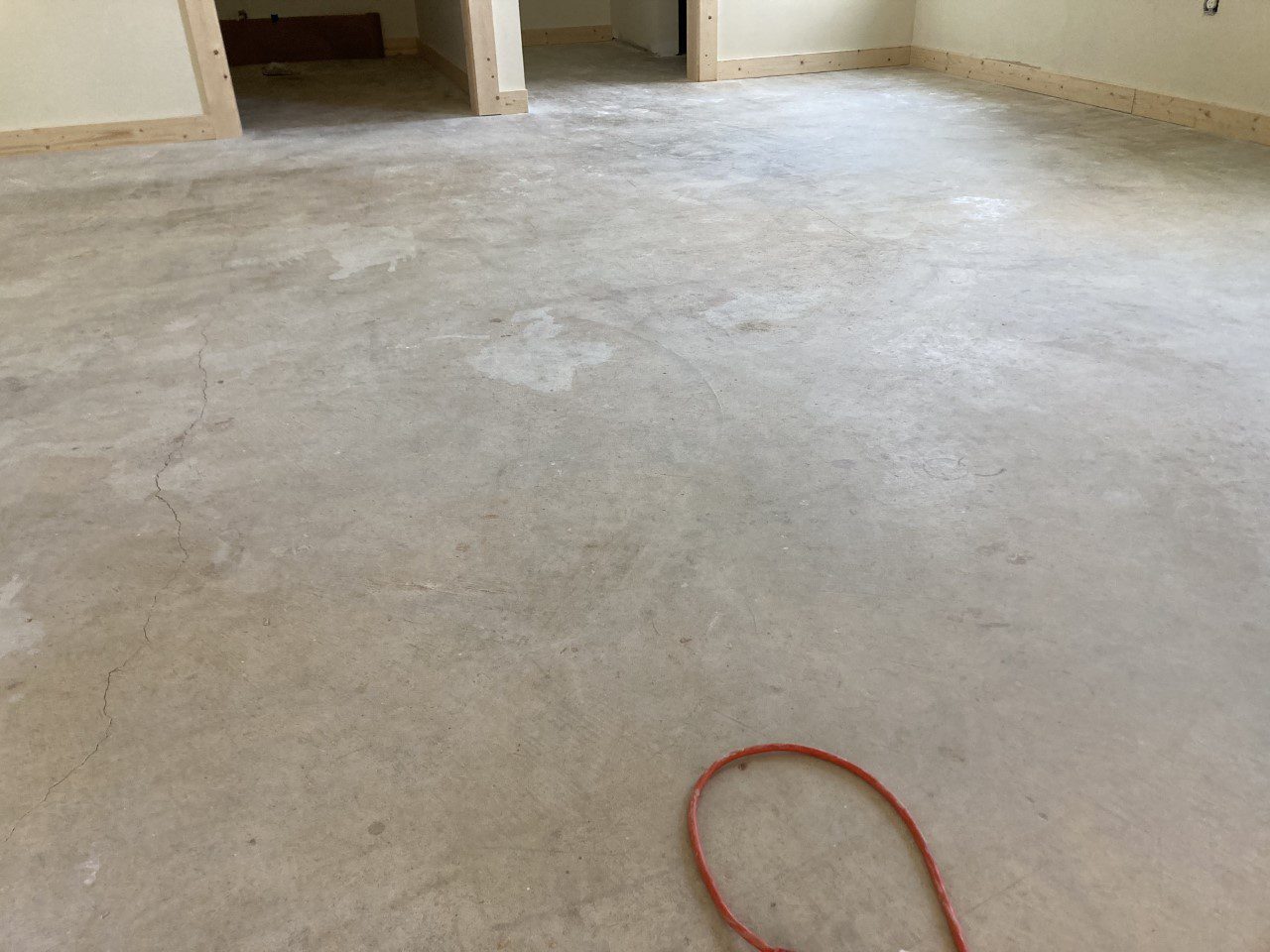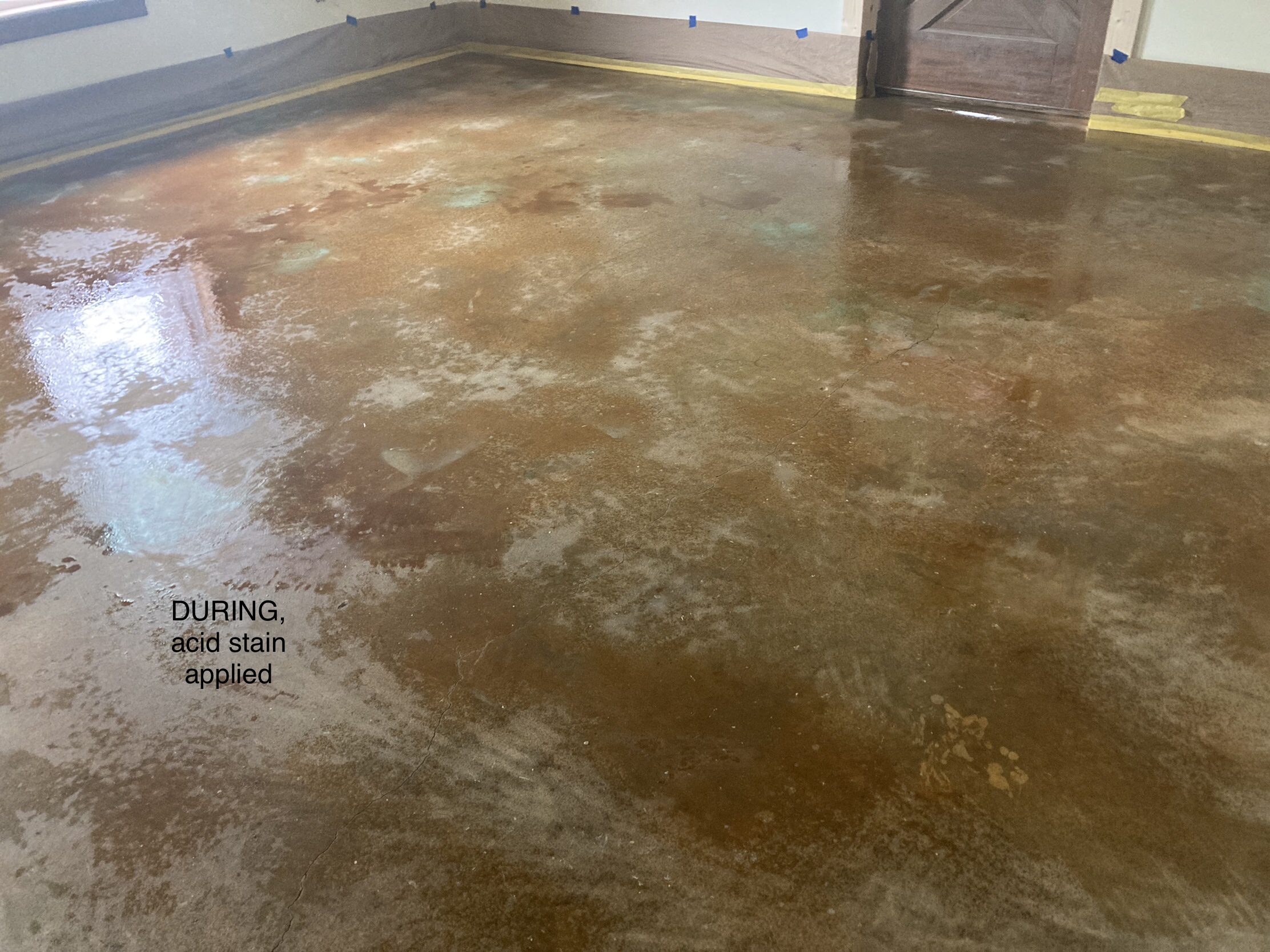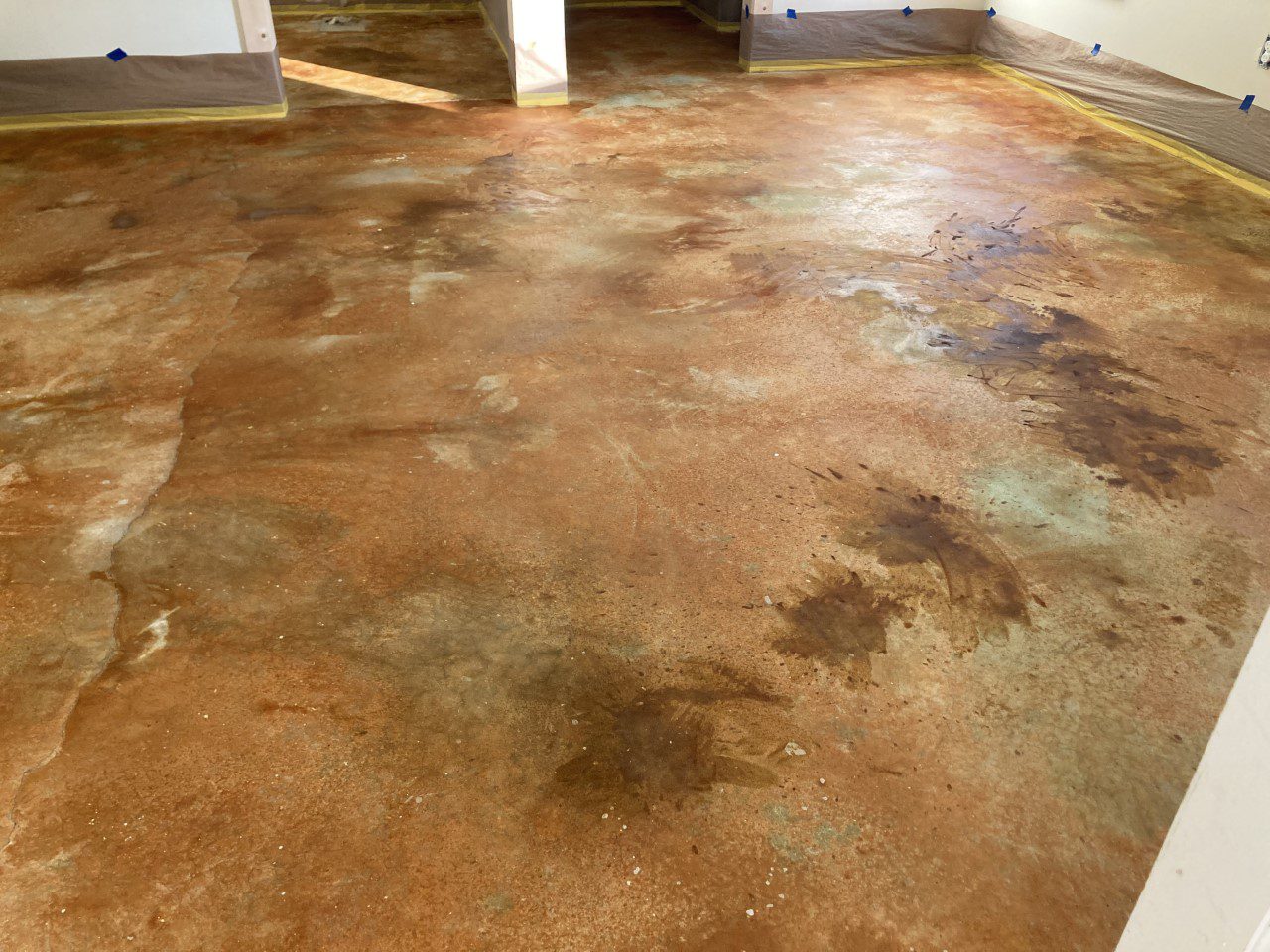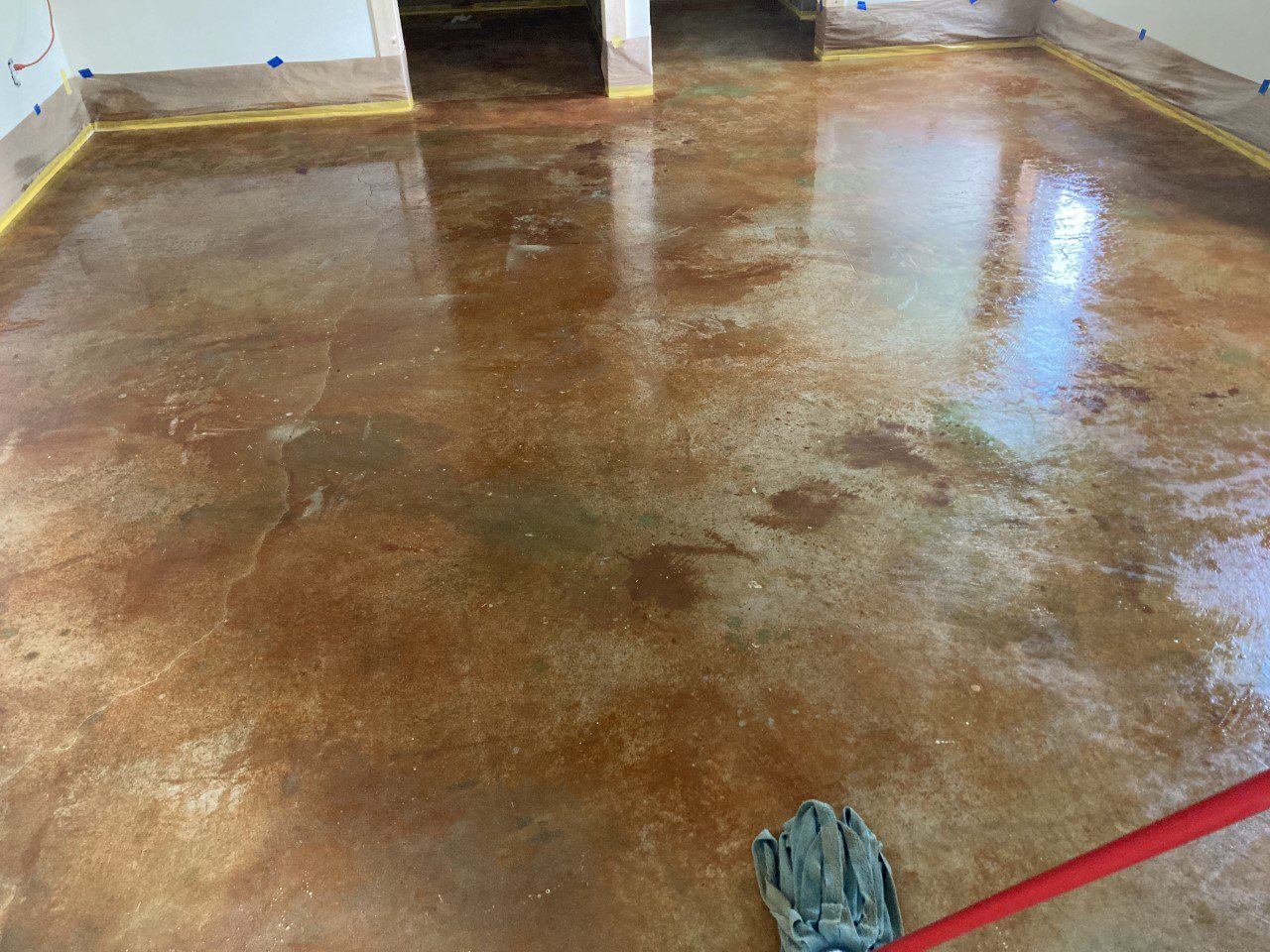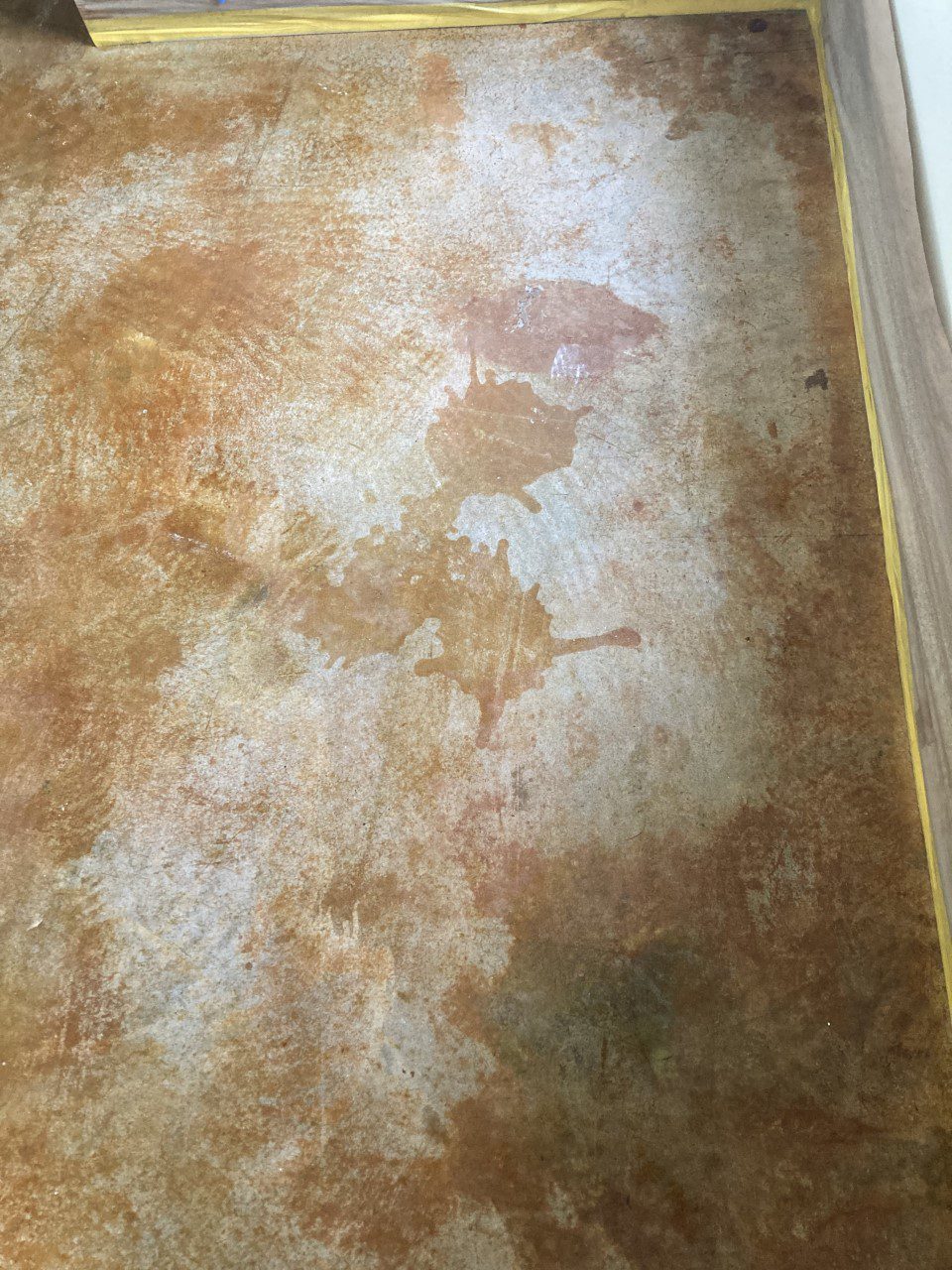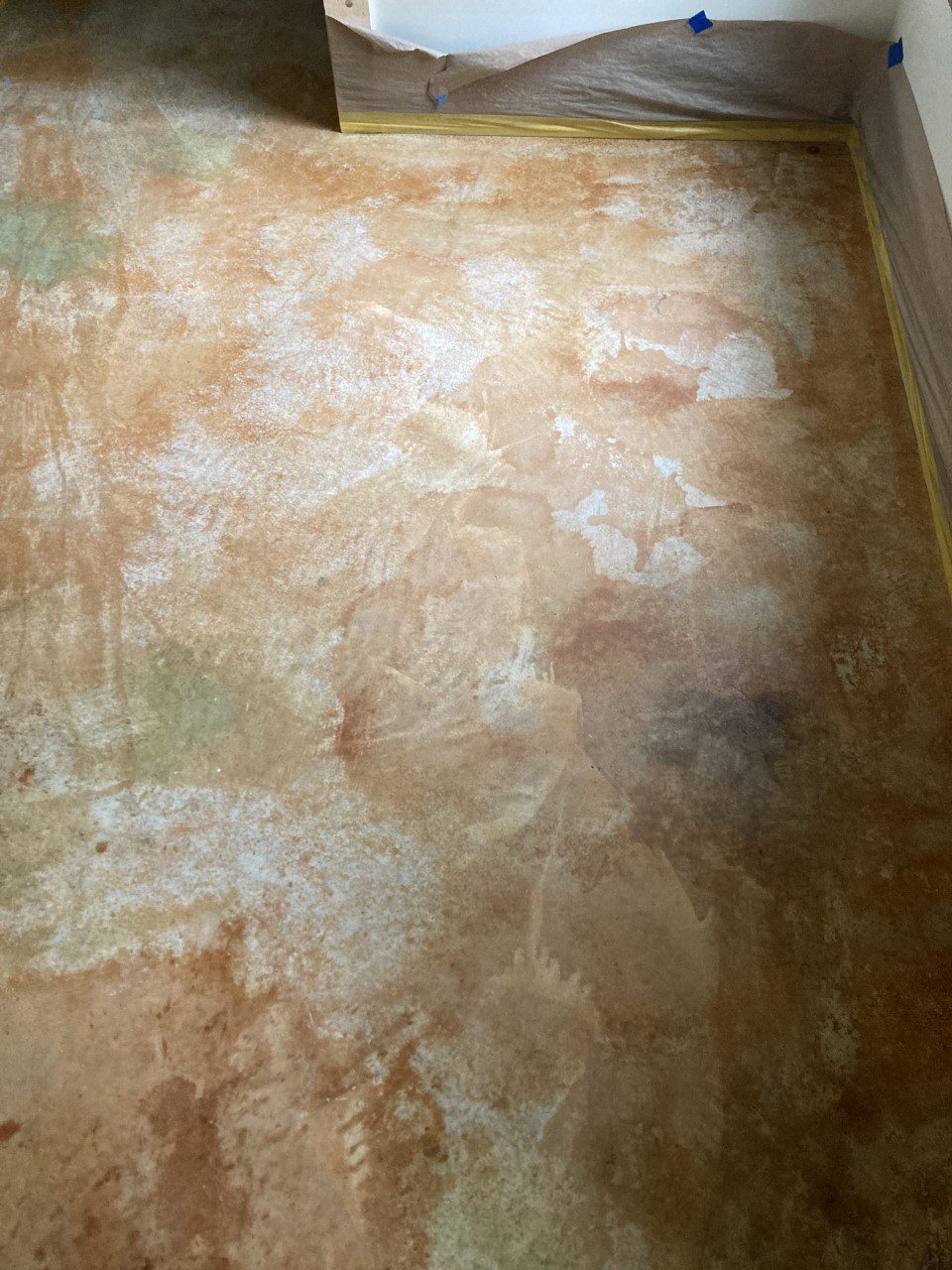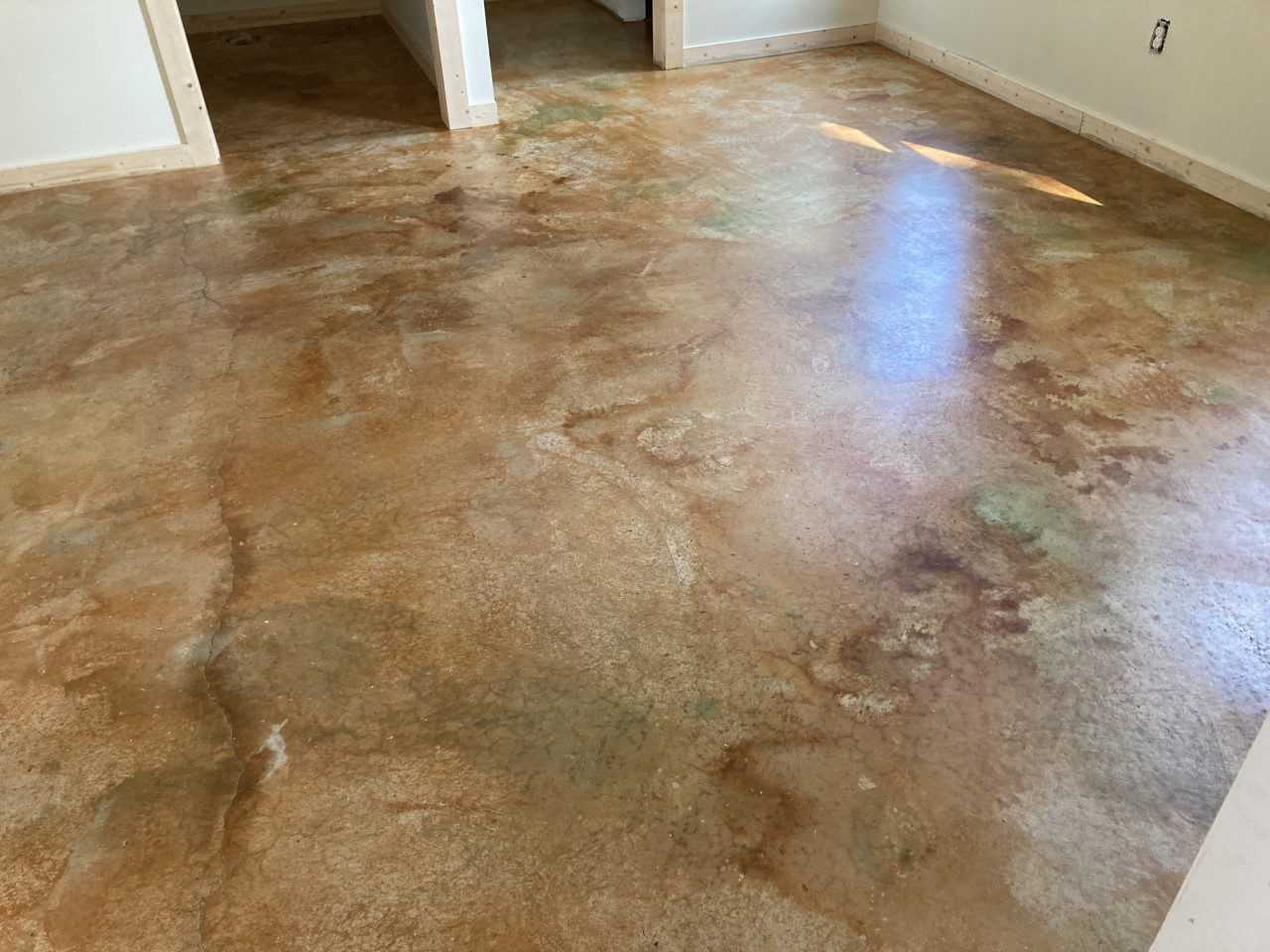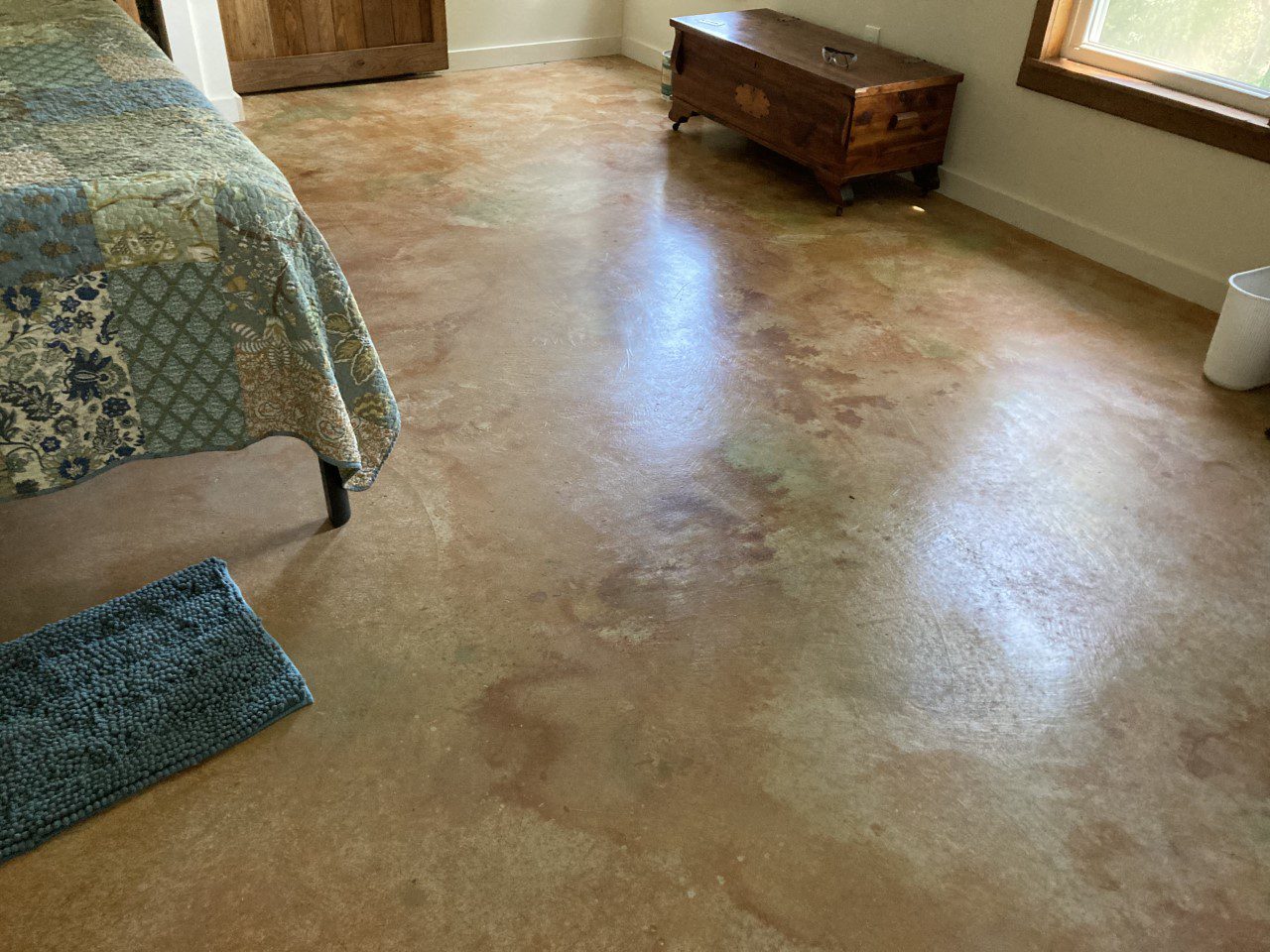 Project Info:
Project Completed In: 6 day(s)
Estimate of Square Footage: 350 sq. ft.
Project Description:
We converted a woodworking shop into a bedroom. The floors were 35 year old concrete with lots of variation, some cracks, paint smears, oil stains, and varnish. Good thing we wanted an "Organic" look since the concrete took the stain in a hugely varietal way!
We followed all instructions to clean and prepare the concrete, using soap, the Hard Trowel treatment as well as many hours of scraping, sanding, etc.
But there were some spots that just refused to come up. So we used a few "accent" colors (from the sampler pack) to mask the problem areas.
One coat of Malayan Buff, then accent colors, then second coat of Malayan Buff. BUT! We should have sprayed on the Cola instead of dribbling it on! Seagrass worked out being "splashed" on but the Cola was too strong.
Also, there were places that the stain just didn't take well. I had thankfully saved back one quart of the Malayan Buff, and after neutralizing and 11 rinses, we did another round of staining. I was much happier with the results after that.
Personal Tips:
2 people for the job is a must! One to be the Go-fer so you don't have to keep putting on the shoes and shoe covers every time the water needs to be rinsed!
Invest in a really good mop system. We used a quick wring Cedar bucket and microfiber mop that could withstand the scrubbing.
We found it was important to clean that mop with soap after 3-4 moppings, as we would never have come up with clean enough water!
Overall with two beginners, we had 4 hours prep, 4 hours of hard trowel treatment plus mopping, 1 hour for each acid coating, 5 hours for neutralizing and mopping the first time, 2 hours for neutralizing the mopping the second time, and then just 1 hour or less for sealant coats (x2).
Direct Colors Products Used:
Malayan Buff
Cola
Seagrass
Other Products Used:
Hard trowel treatment
Degreaser soap
Acrylic sealant
Wax
Lakehouse Basement Floor Facelift
Whether you're inspired to replicate a marble effect or match concrete stain colors with your existing home decor, testing your intended slab before committing to a fully-scaled project is essential. If you're anything like this DC customer, you might find yourself addicted to the process of acid staining. Before you know it, your whole house and yard will be covered!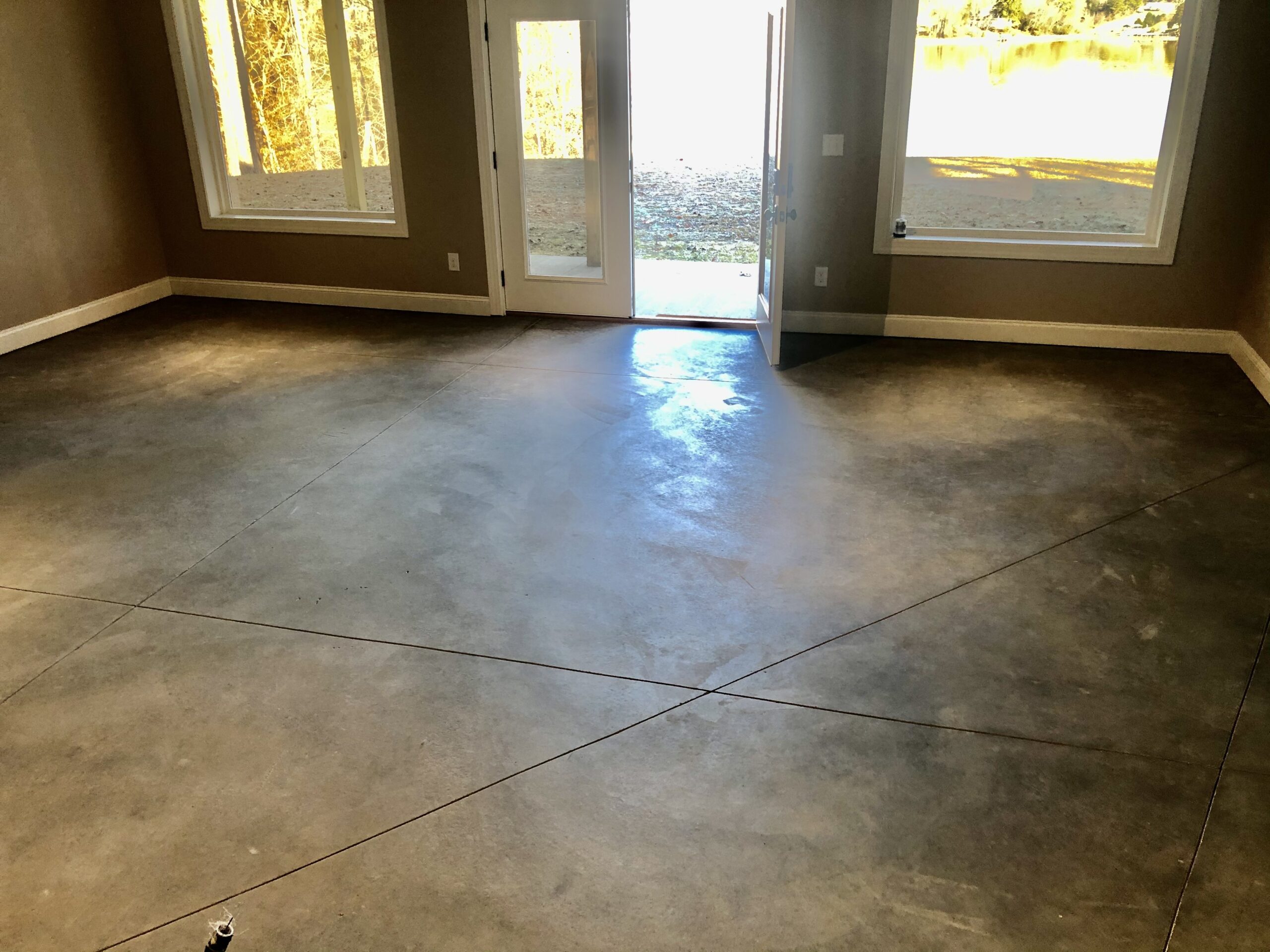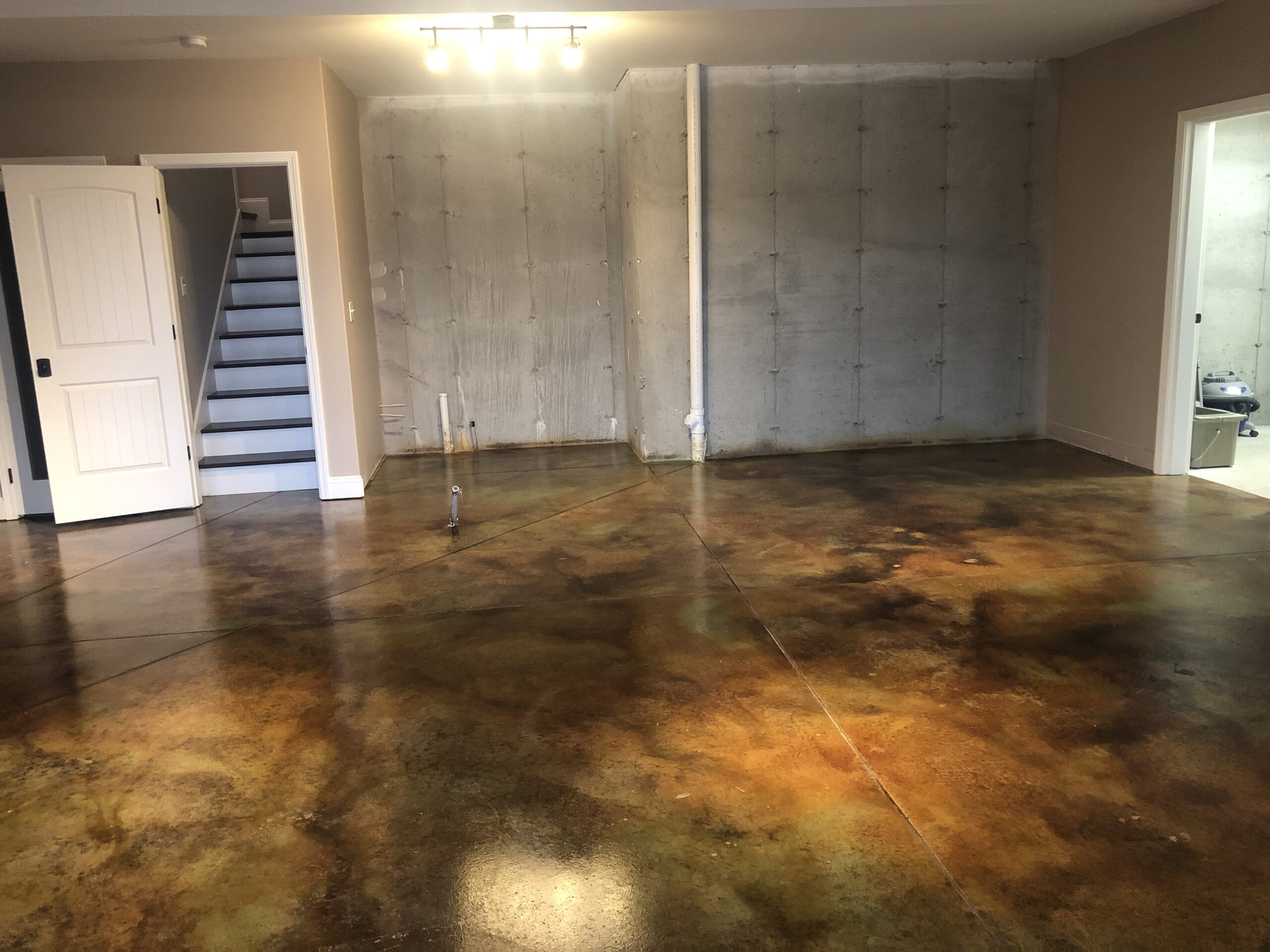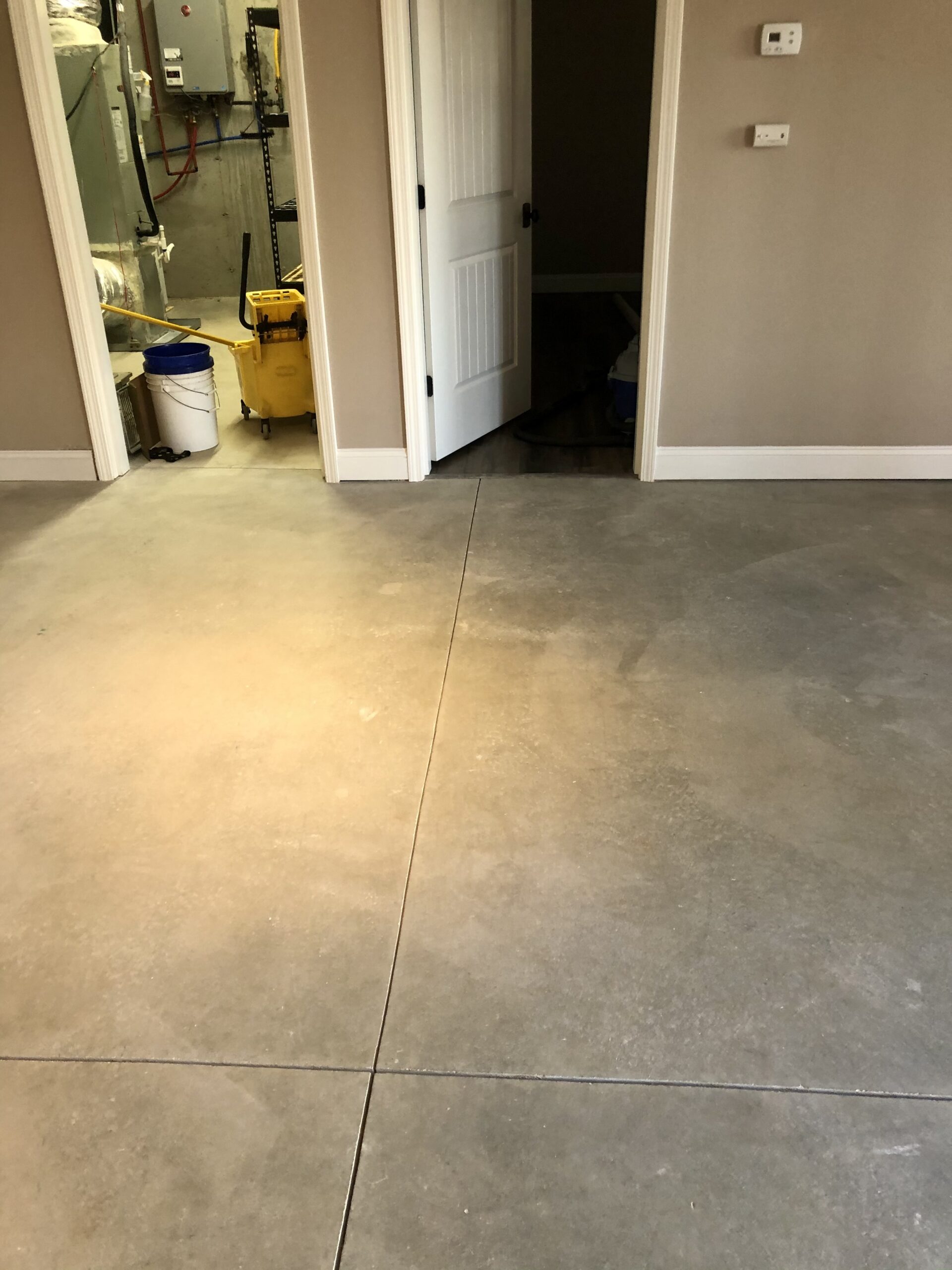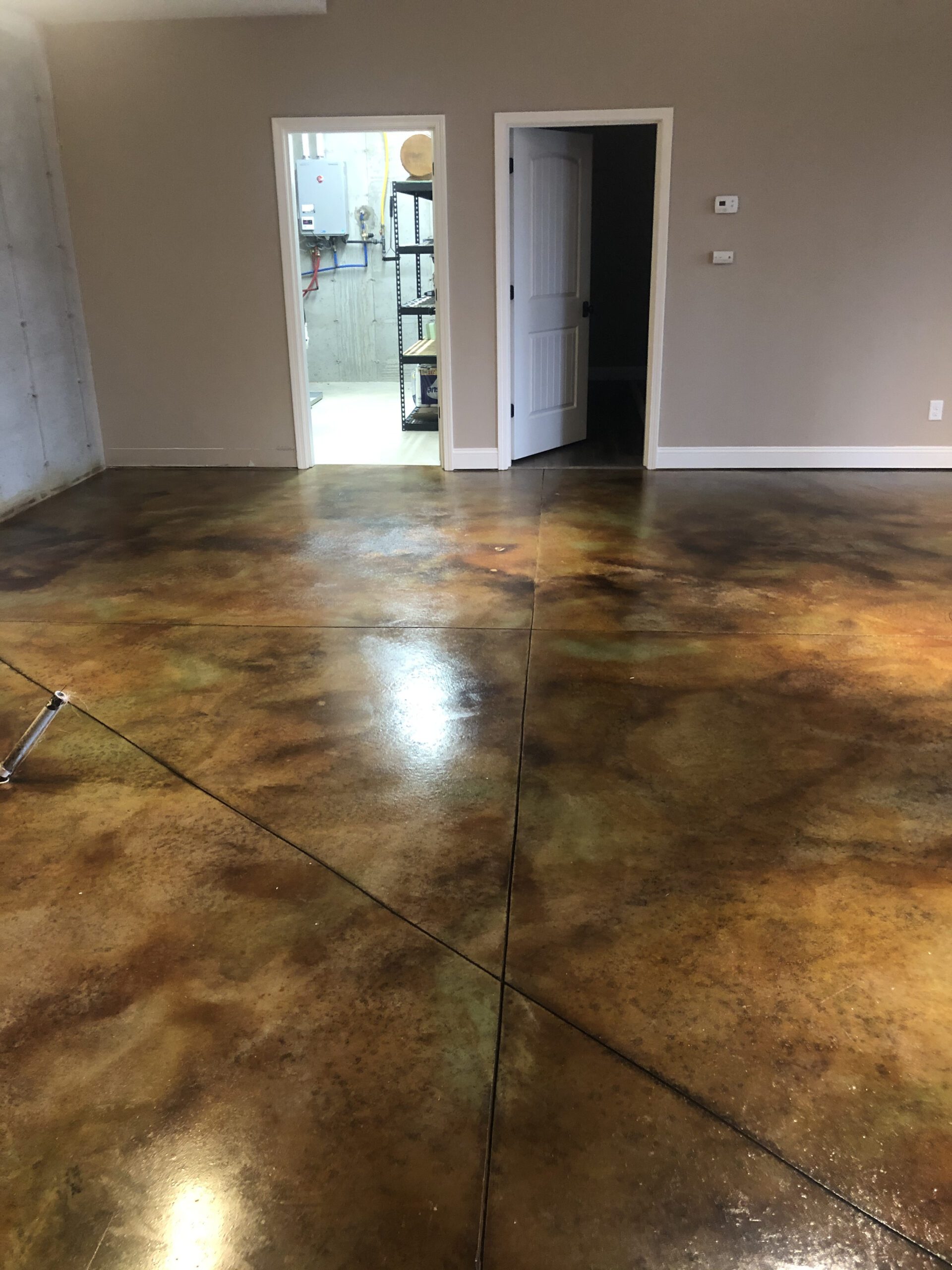 Project Info:
Project Completed In: 5 day(s)
Estimate of Square Footage: 300 sq. ft.
Project Description:
I stained a basement floor of our newly constructed lake house. The concrete was finished with a smooth service but, nothing beyond that. I used Malayan Buff, Black and Sea Grass to create a marbled effect with a high gloss acrylic sealer. I took my time and allowed a lot of drying time between layers of sealer which is why it took 5 days. I absolutely love the end results! As a matter of fact I already have my next project planned (outdoor concrete slab patio).I love the process and am thinking of ways to use the product beyond the customary floor treatments! I'm thinking concrete statutes, figurines, stepping stones, etc. The possibilities are endless!
Personal Tips:
I used a lot of water to blend the three colors to make them look seamless. I used tank sprayers for the stain and had one just for water.  I'd spray the stain. Then 'feather' any isi or lines with water. When I applied the next color I would use the water to blend the two stains.Knowing the results were unpredictable depending on type of concrete, finish, etc. made me a little nervous to begin with. Once I started the motions just seemed to flow. Again, I absolutely love the results!
Direct Colors Products Used:
Concrete Acid Stain in Malayan Buff, Black and Seagrass. Acrylic sealer in high gloss.
Other Products Used:
Roller pad (paint roller) with a long broom type handle, acid appropriate sprayers, Scotch brand tape/plastic around baseboard & up part of wall, mop and mop bucket and Cat Track shoe covers (spiked).
The concrete floor of this loft really stands out in this space! We love how the walls are crisp white so that the acid stained floor can be the main focal point.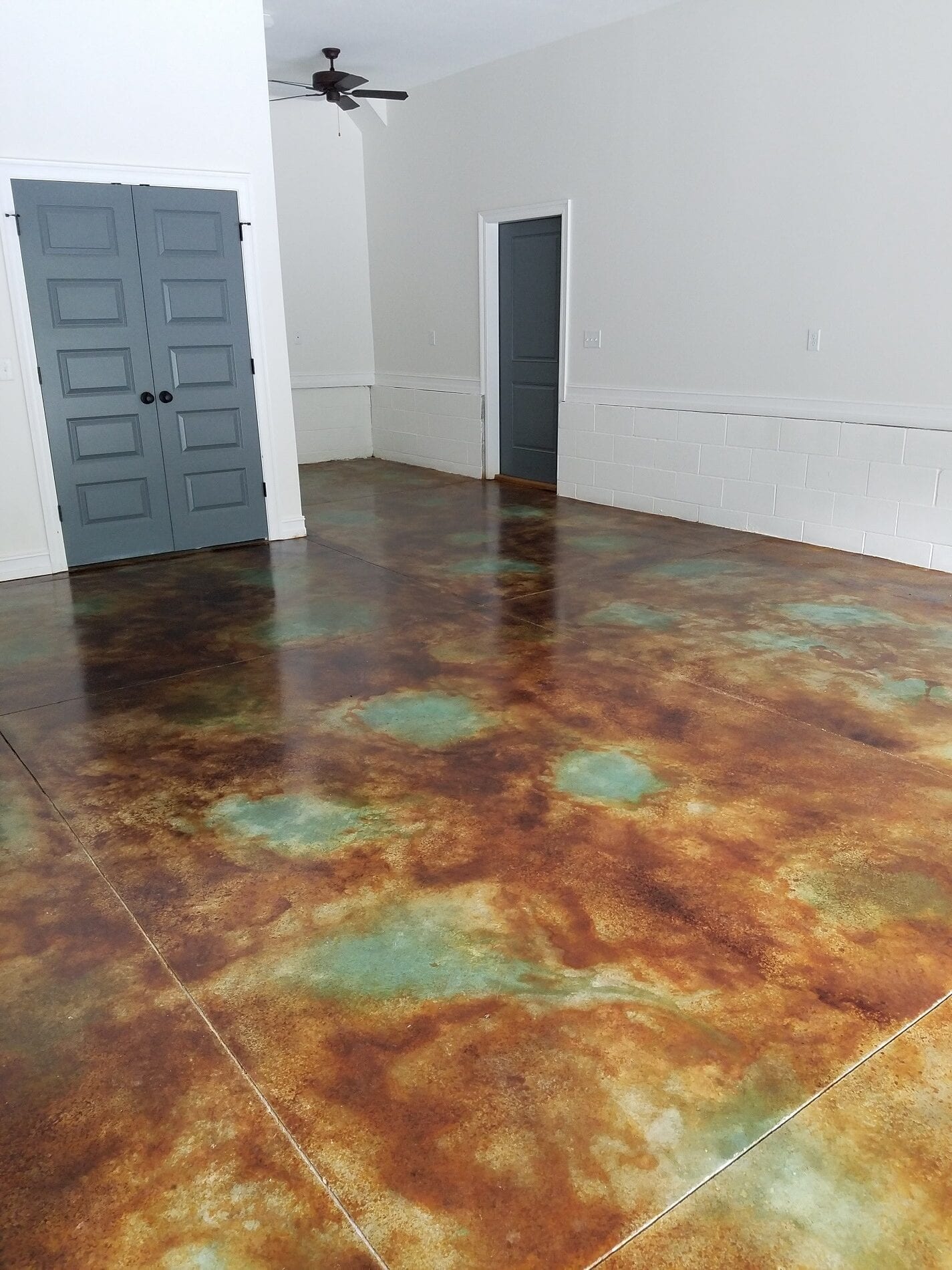 Wow, does that seagrass and coffee brown concrete stain complement that bathtub or what?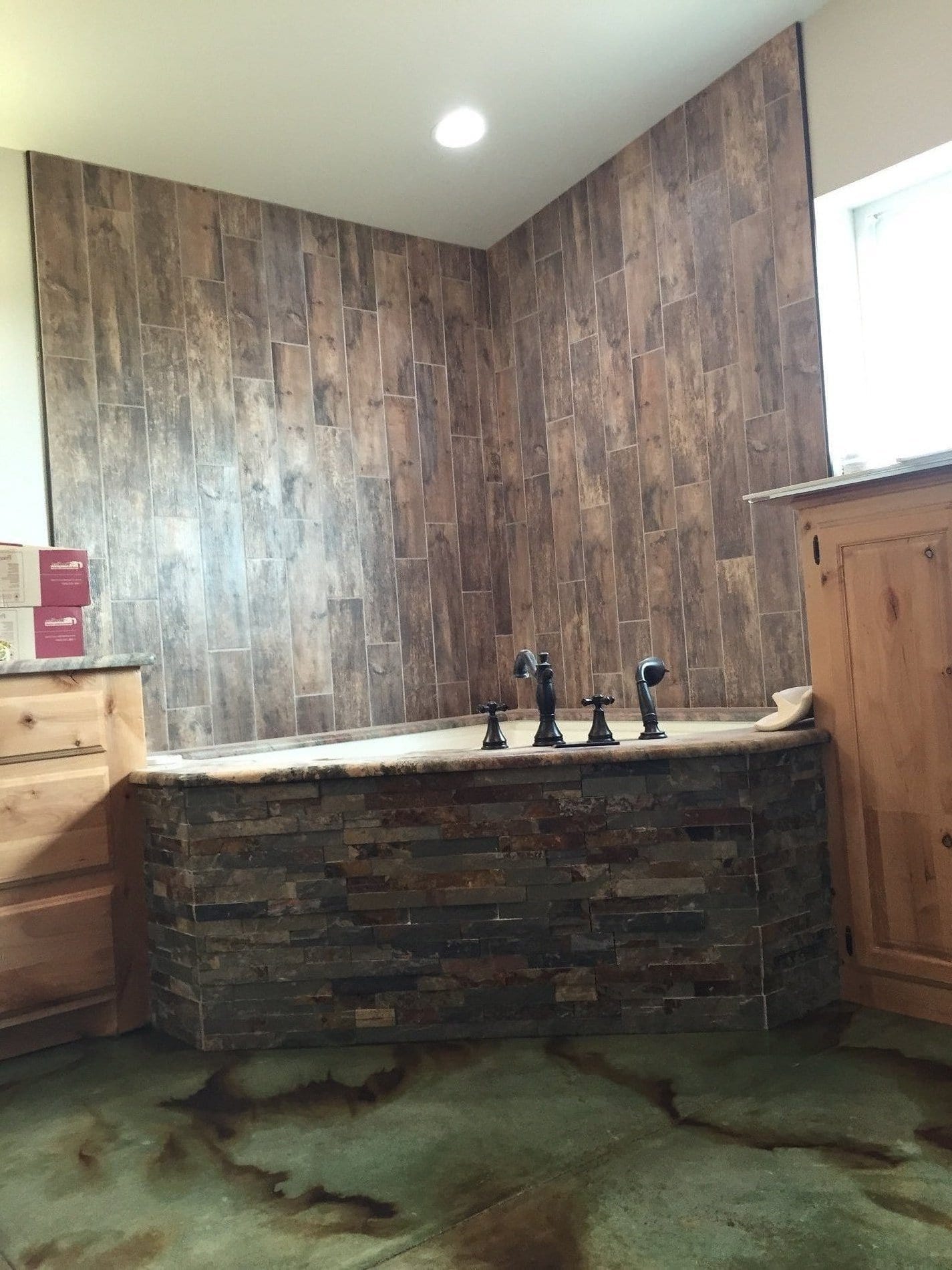 Basement Turned Bar Lounge
Can you imagine relaxing in this cool and comfy DIY bar and lounge? The blue green acid stain adds such a chill vibe to this basement concrete makeover!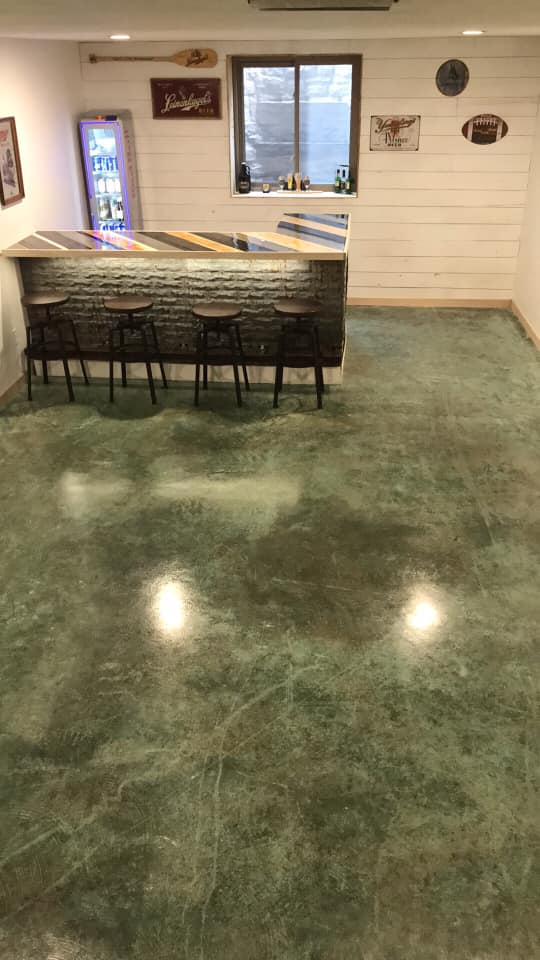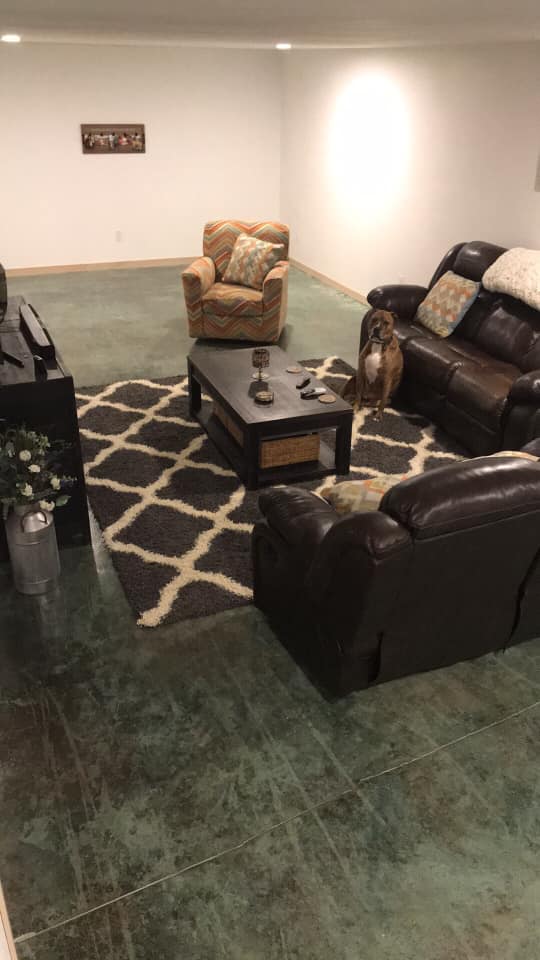 111 Year Old Concrete Basement Floor
The goal was to change this "gross basement" into a beautiful, livable space. Our customer grabbed a friend (and some acid stain) and got to work on the basement floor. We'd say this turned out amazingly well – the patchy areas absorbed the concrete stain differently, and gave this 111-year-old basement even more character!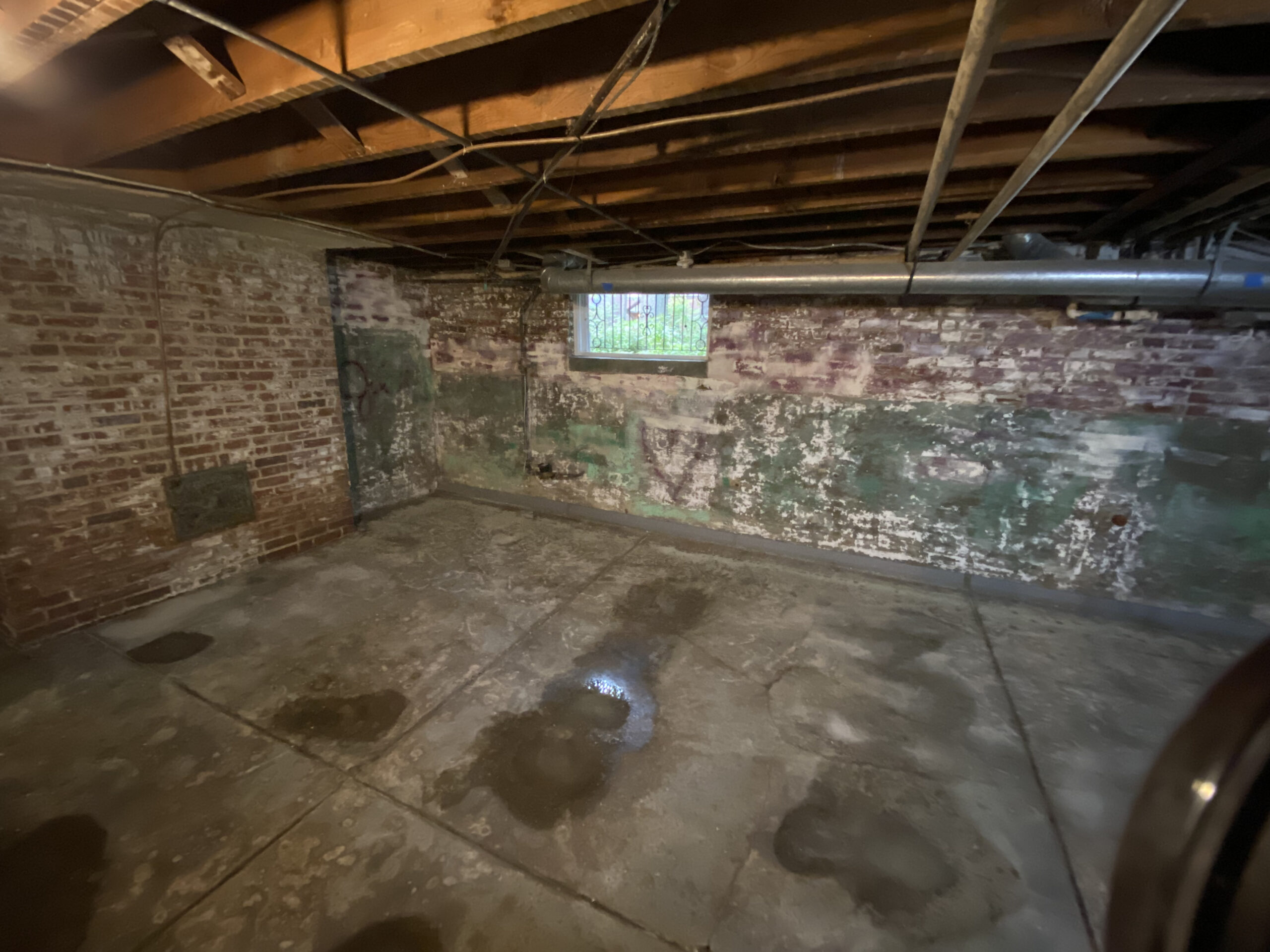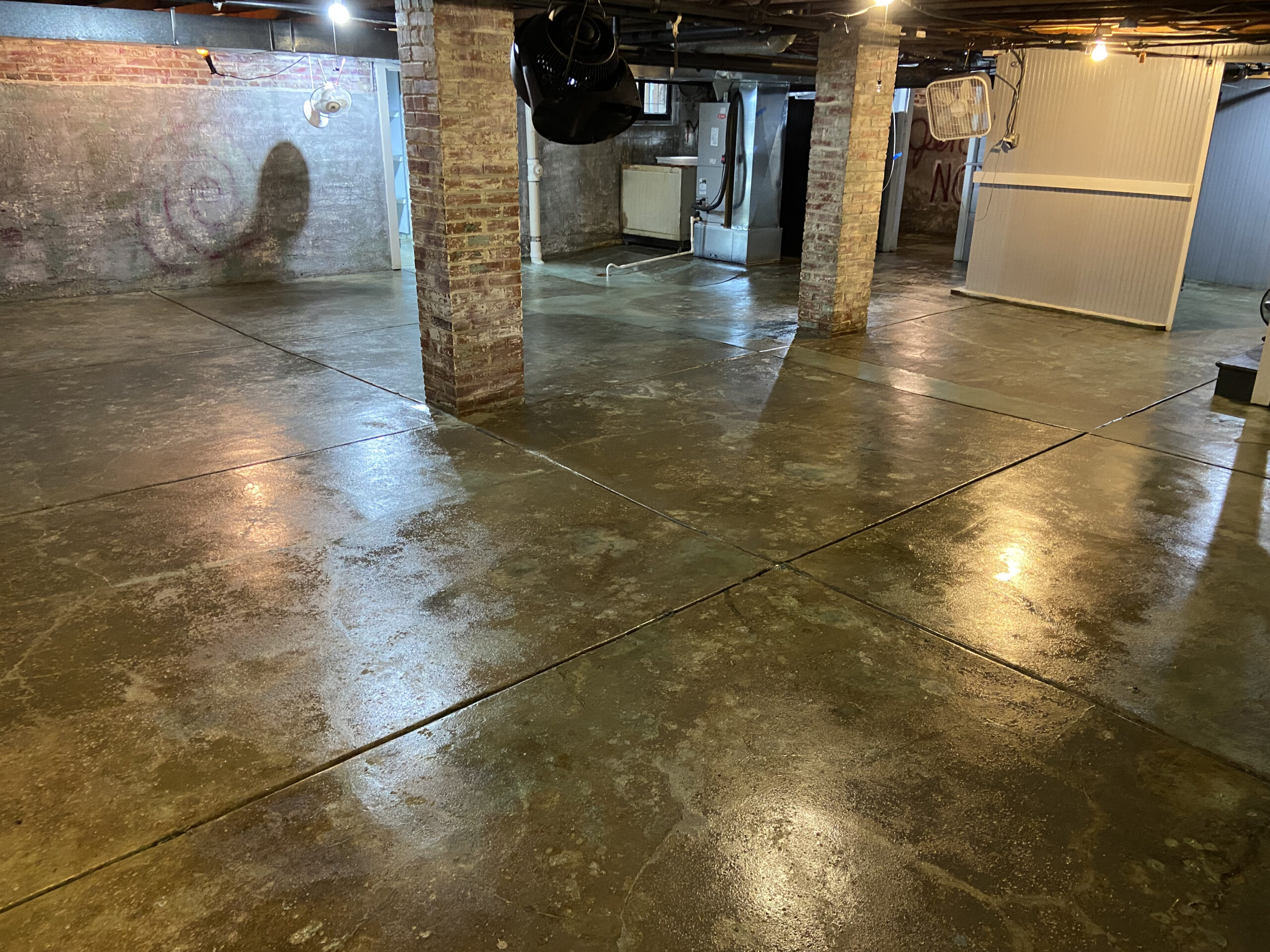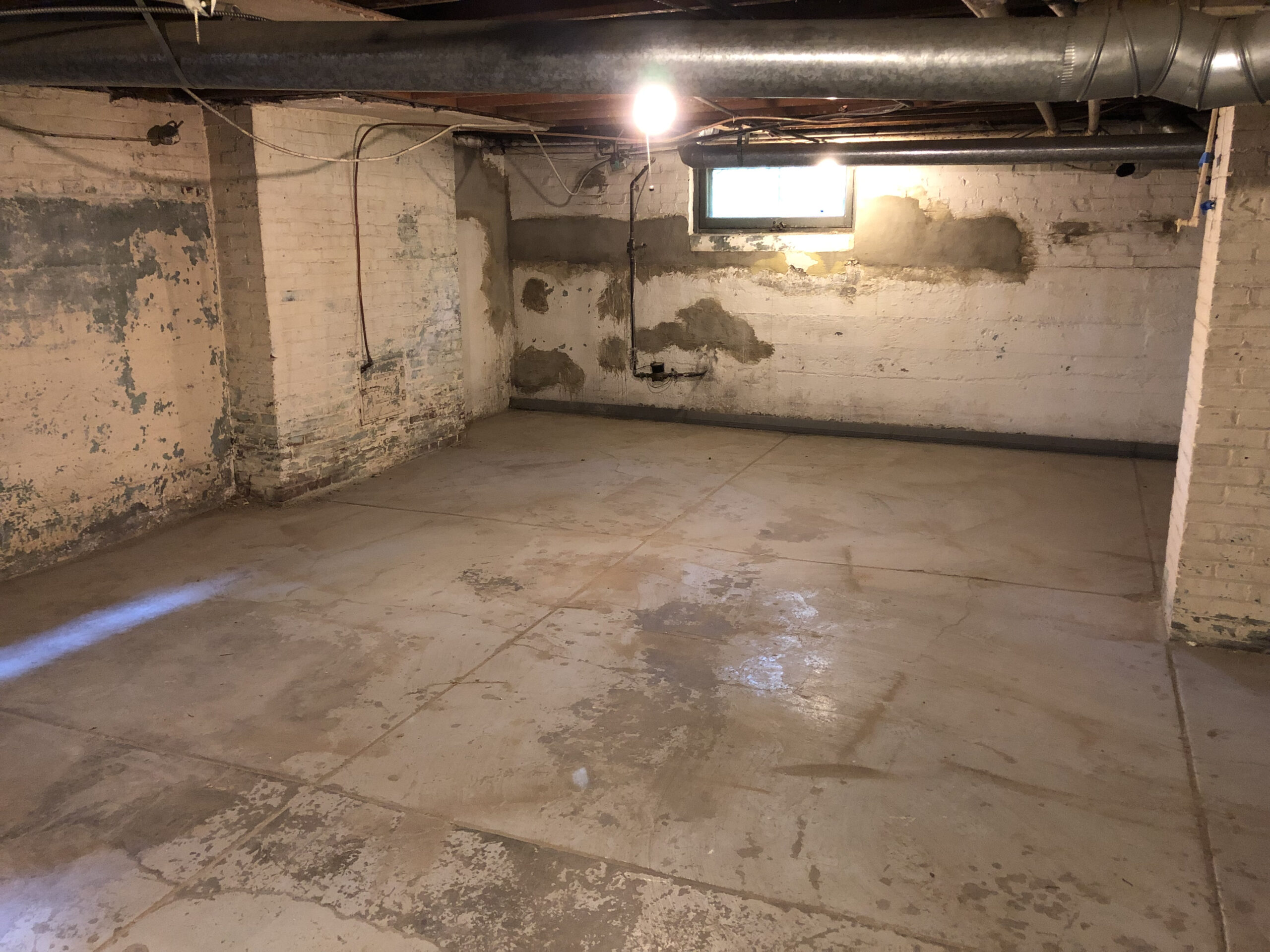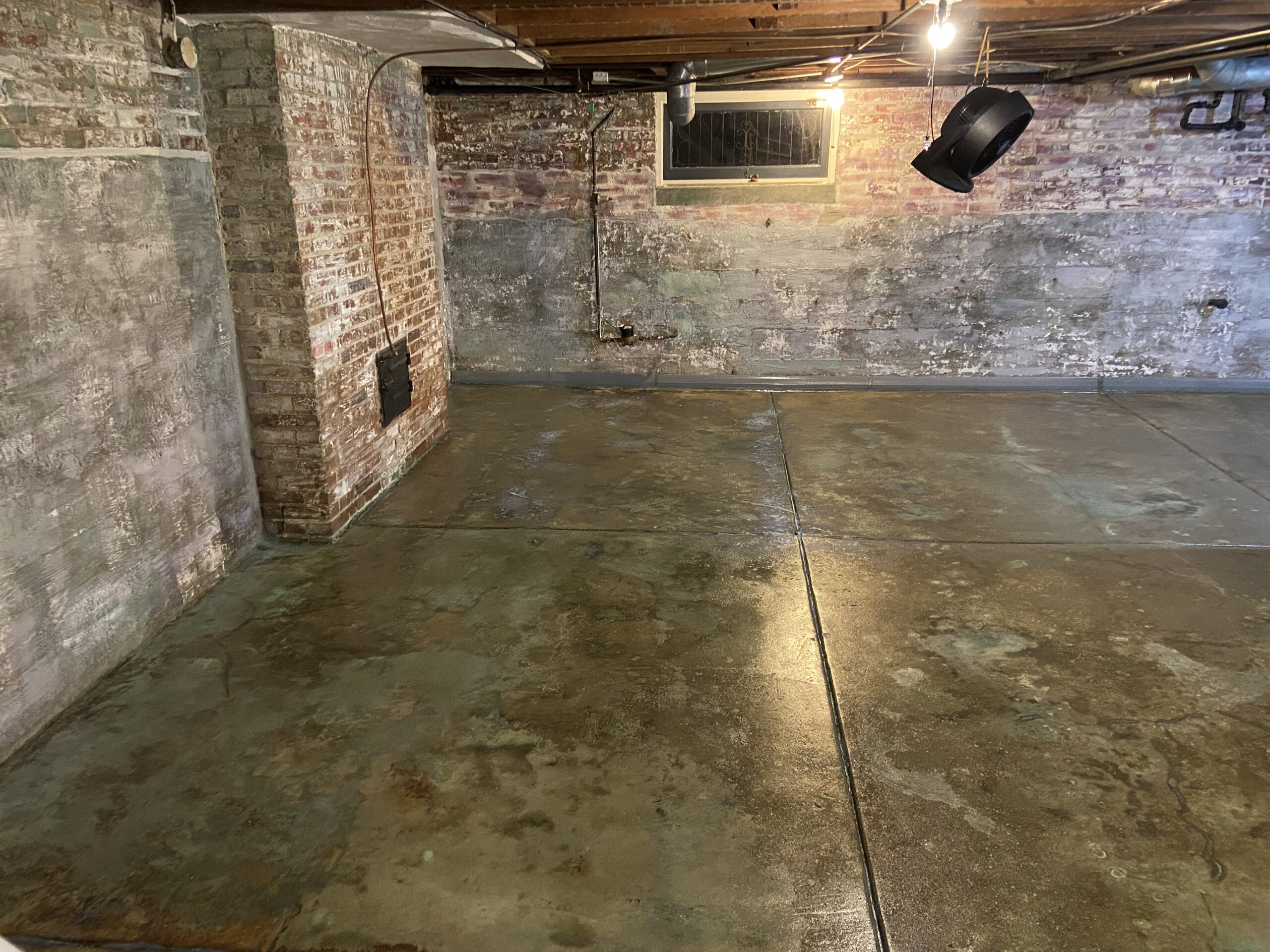 Project Info:
Project Completed In: 10 day(s)
Estimate of Square Footage: 1500.00 sq. ft.
Project Description:
Transforming gross basement used for storage into livable space. After a local company provided a $13K estimate to stain the floors, a friend and I decided to do it ourselves. 111 year old basement cement took far, far more preparation than most but we knew this going into the project.
Personal Tips:
We knew the patched areas would absorb the stain differently which meant we had a built-in variant for color. A darker stain may have taken better but we didn't want to make the space darker.Citrus Acid helped bring out the color.
Direct Colors Products Used:
All of them! Seagrass stain plus your wax, and sealer.