Gray, Charcoal & Black Tinted Sealer Photo Gallery
Whether it's silver, charcoal, or any shade of gray in between, tinted sealer in cool tones is the way to go! These tinted sealer colors have a reputation for bringing balance to any room or outdoor space since they're so neutral. Feel free to scroll through some of these gray and black DIY projects – maybe you can see yourself replicating one of these looks!
This commercial space really looks spiffy after applying some silver colored concrete sealer. And hey, if you like what you see here, check out our handy how to guide for applying tinted sealer!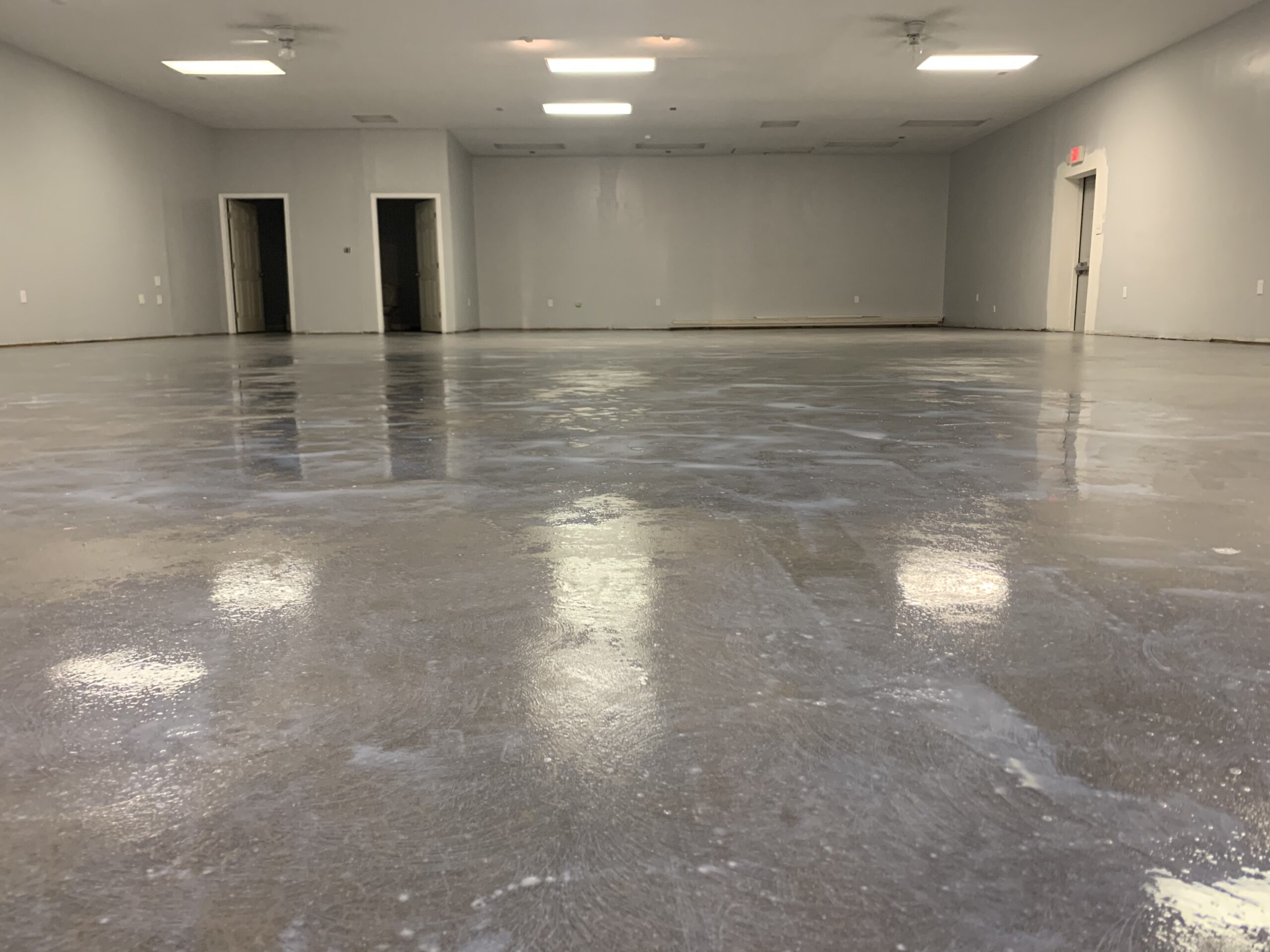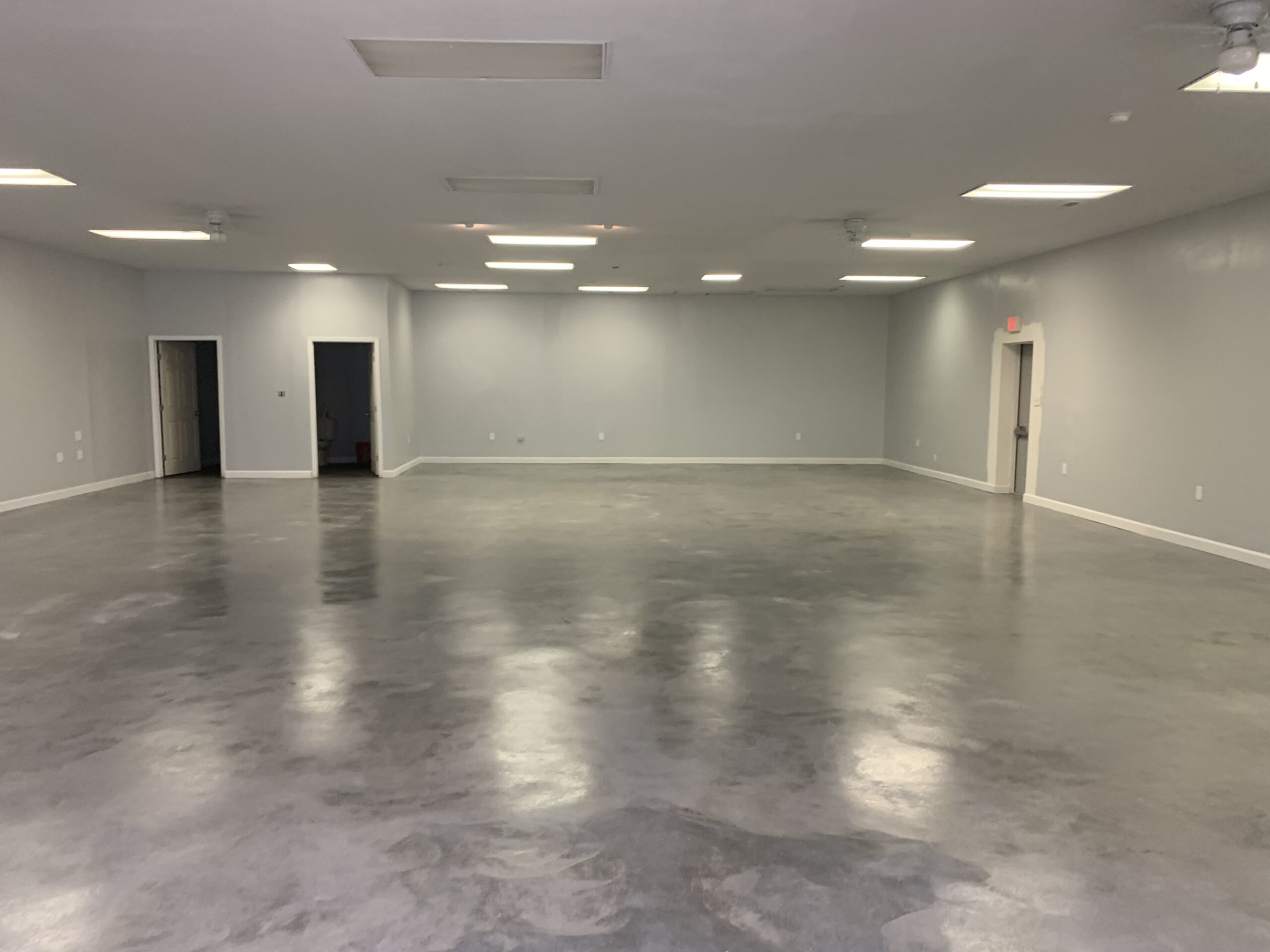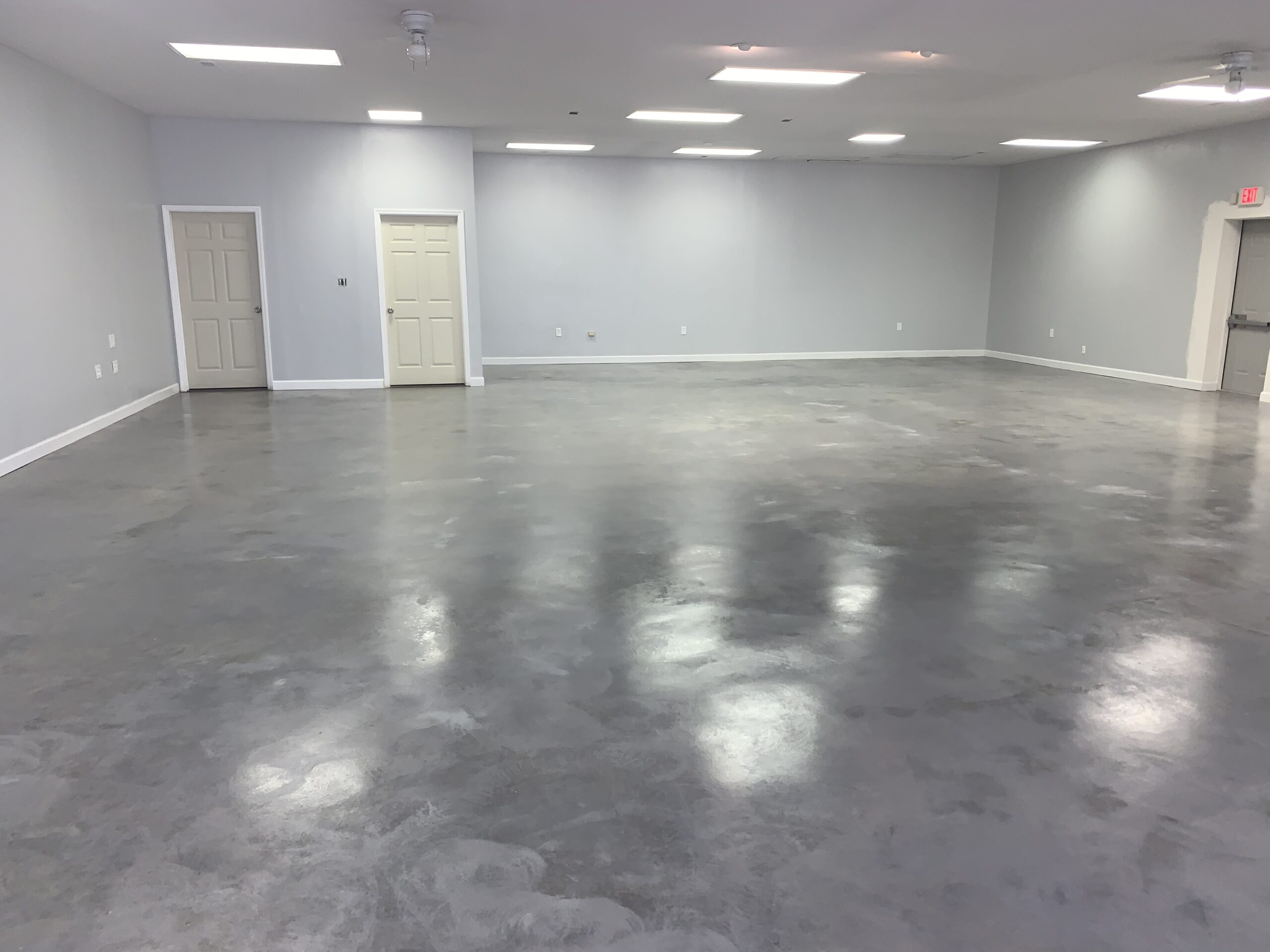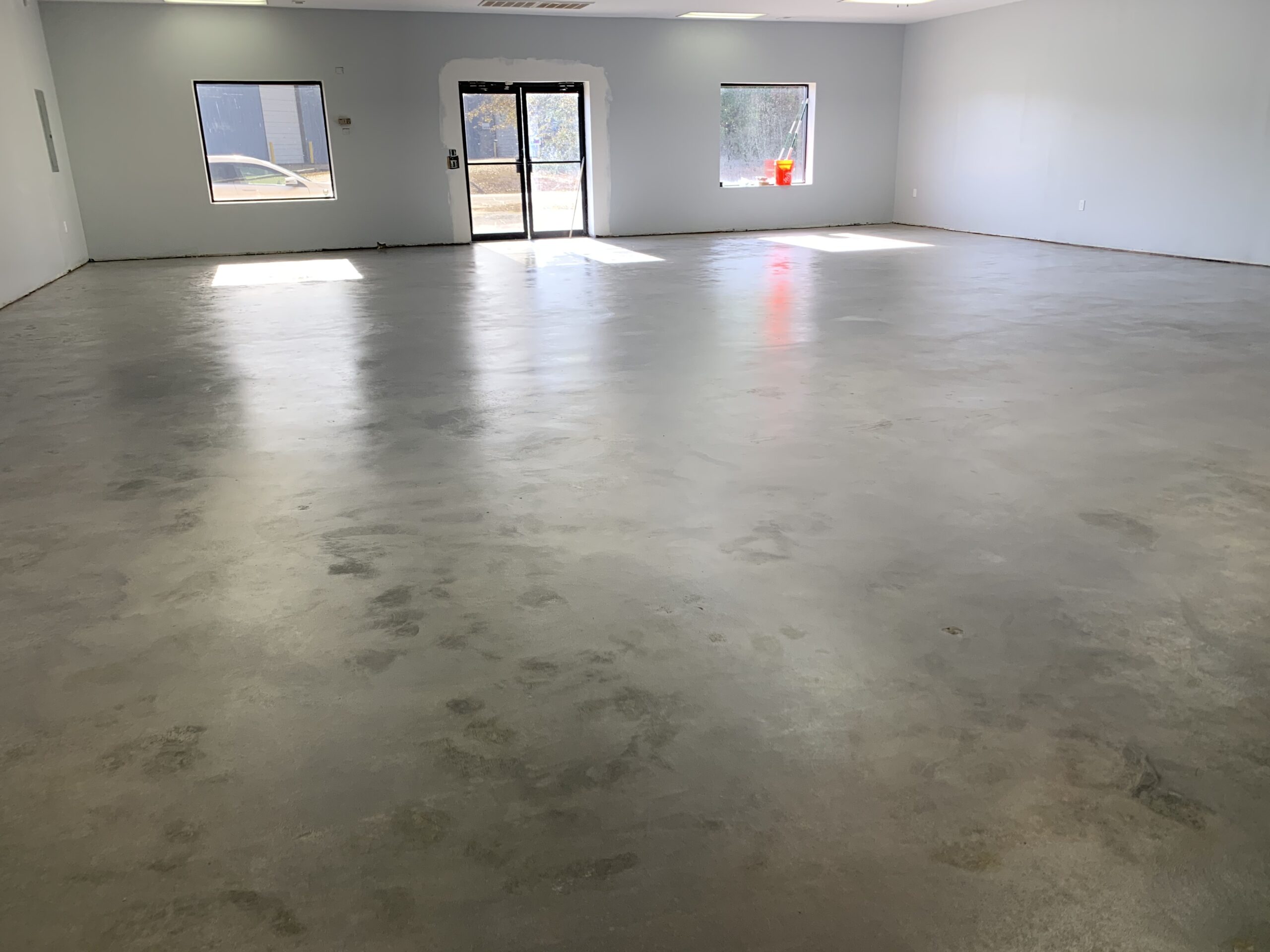 Have you ever seen a basement look so fresh and modern? Our customer used AcquaTint™ water based sealer to protect their basement floor while adding a little bit of color.  We can't get over how elegant and professional it looks!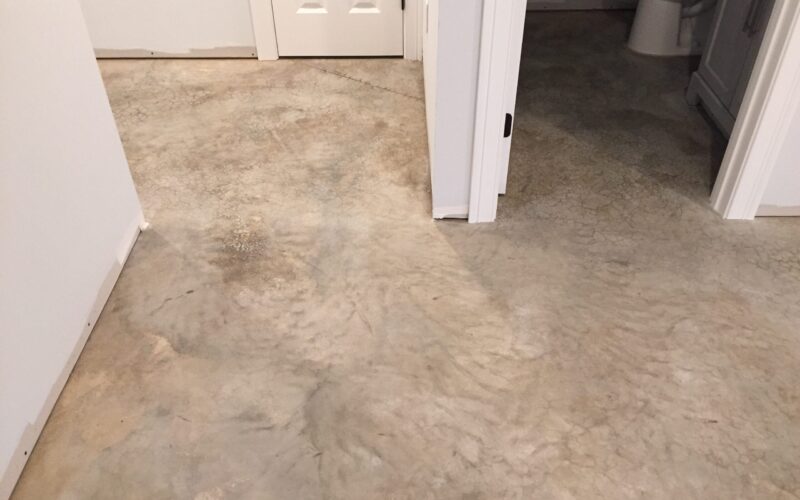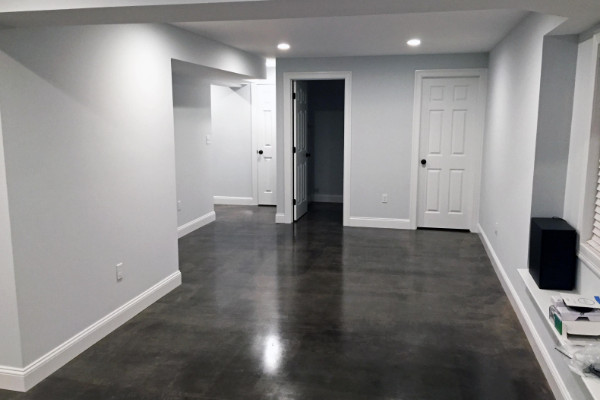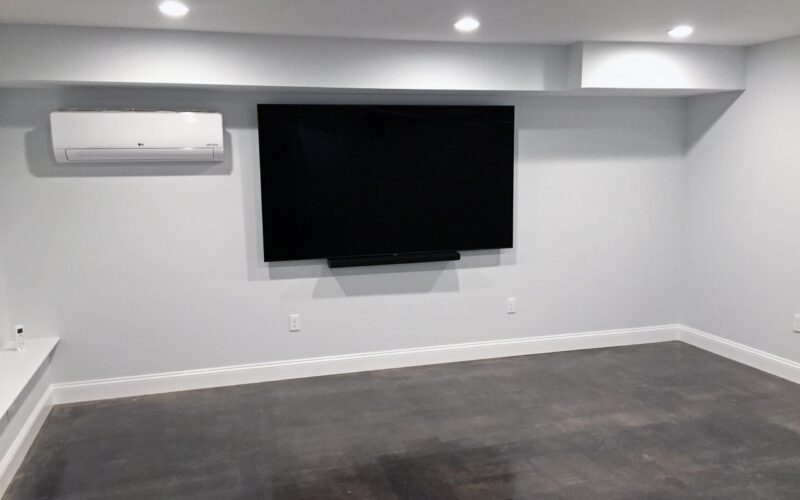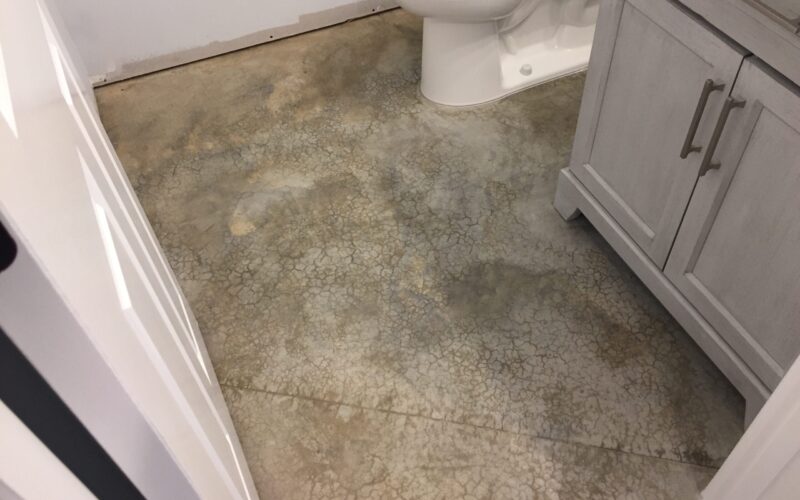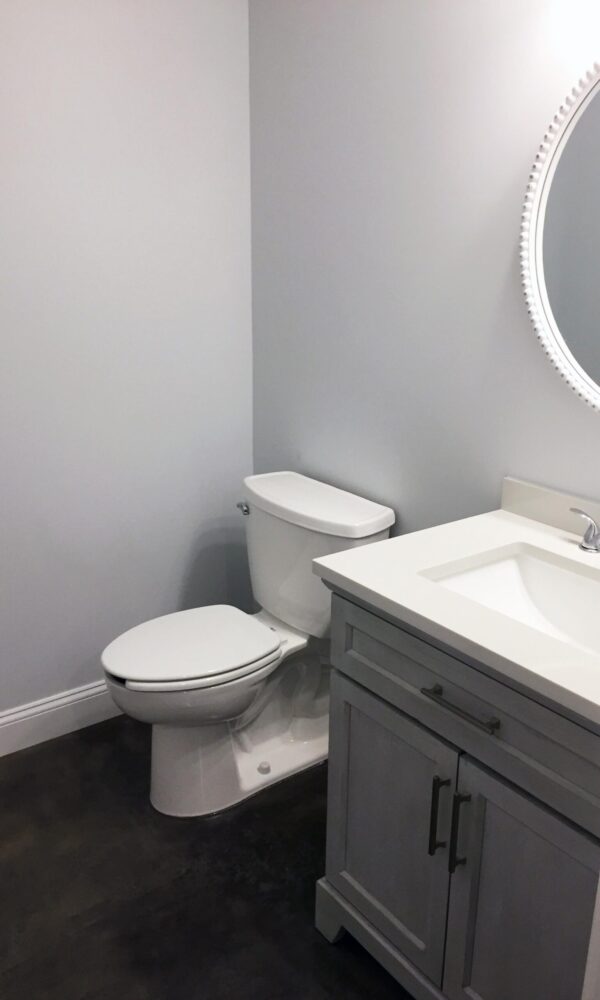 Our DC customer is a professional artist, but this was their first time dealing with concrete stain and a large-scale project. When their stain sprayer wasn't working quite as intended, they improvised – creating random graffiti-like splashes of charcoal. What a unique look!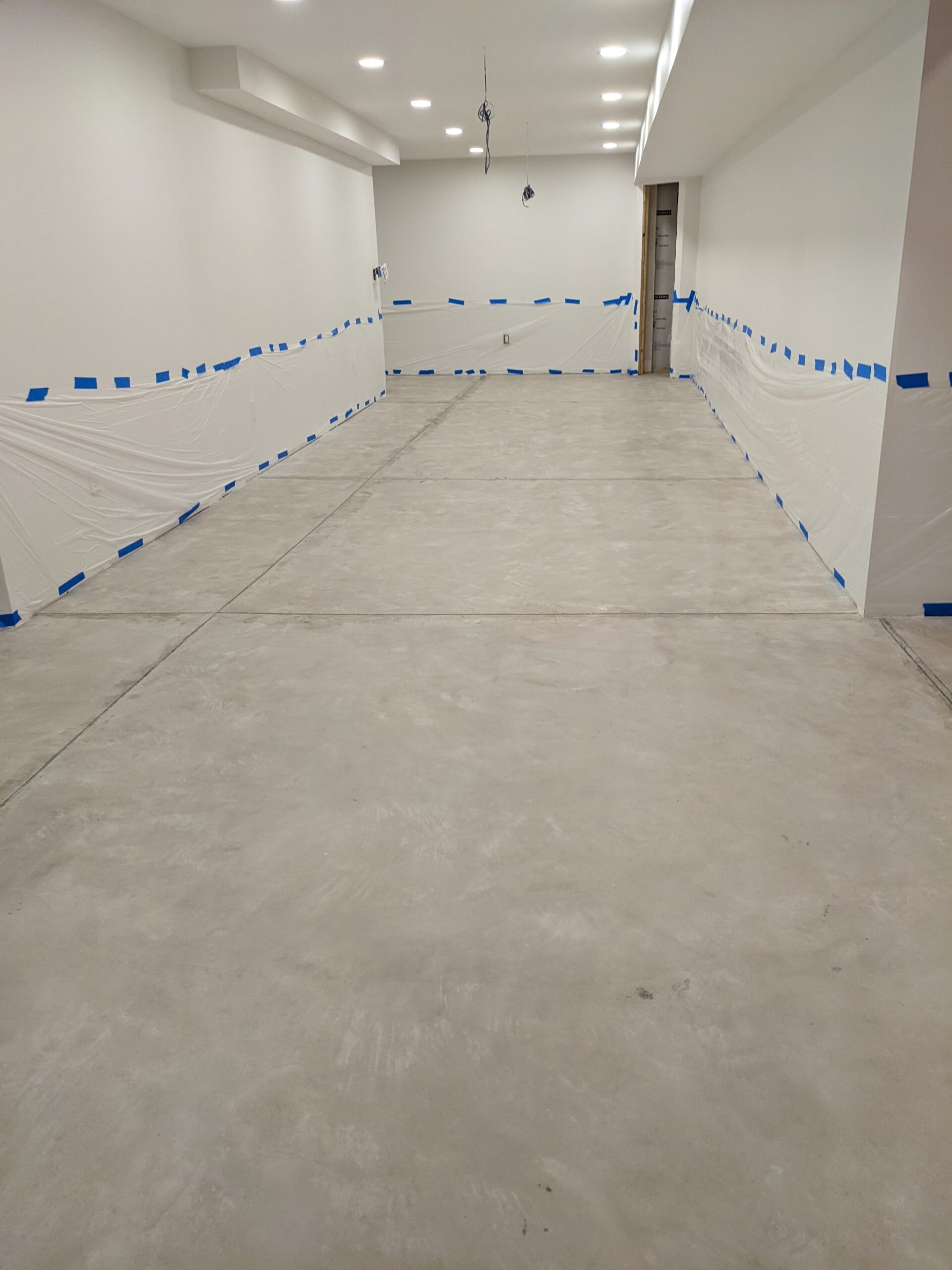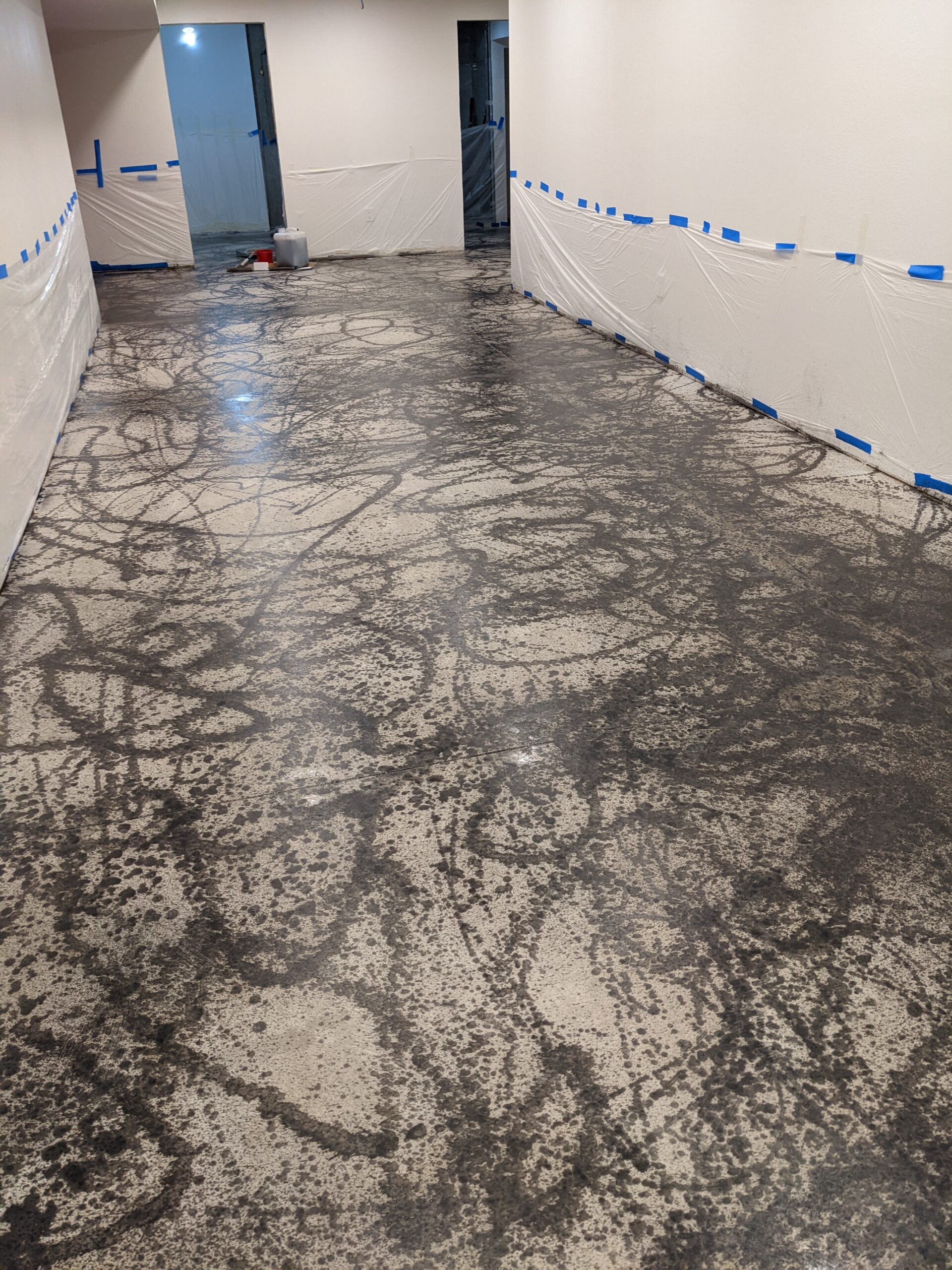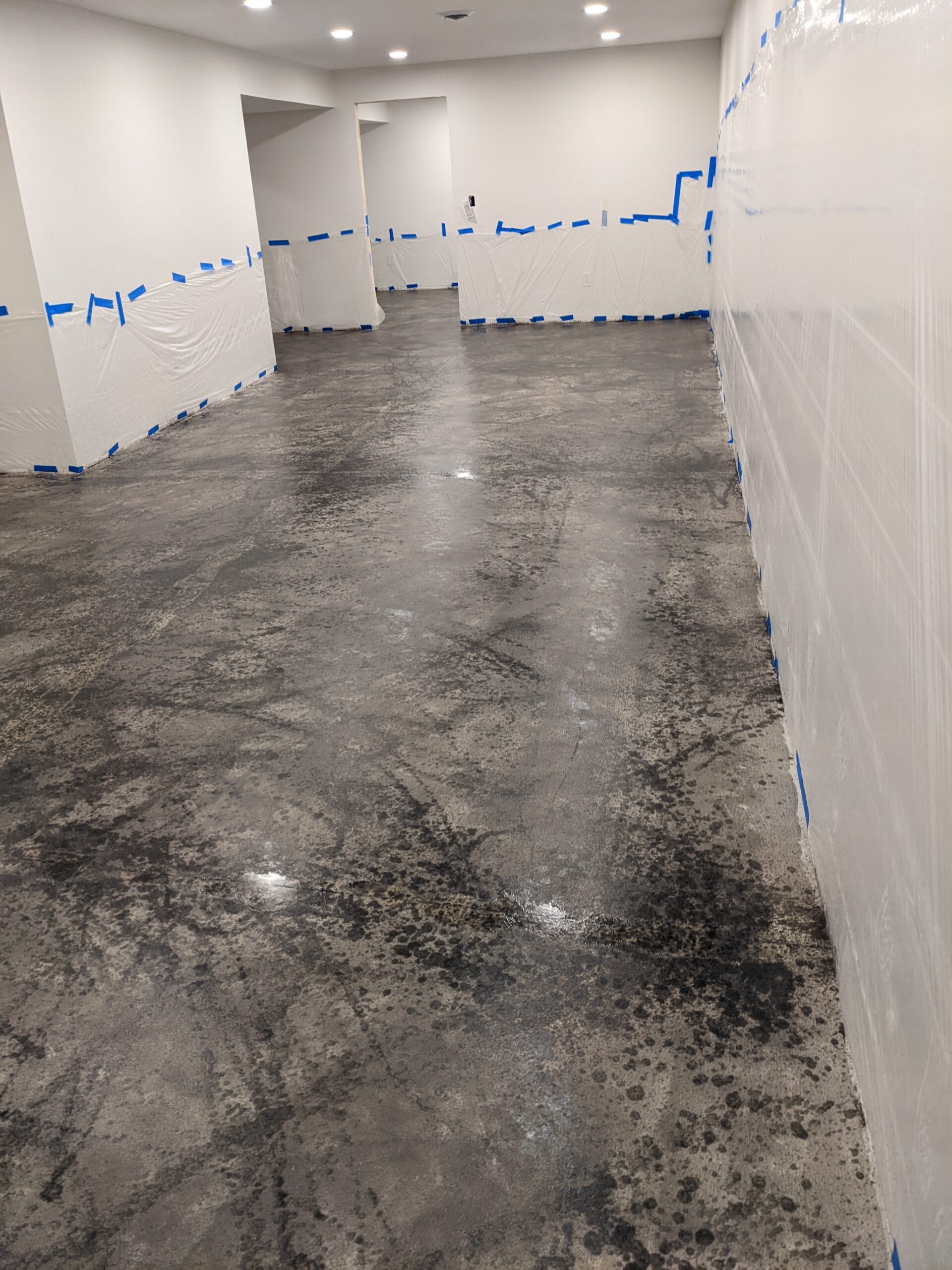 Project Completed In: 6 day(s)
Estimate of Square Footage: 1800 sq. ft.
Project Description:
I have an unfinished 1800sf basement. I wanted to keep the integrity and durability of the concrete floors.
The floors had been grinded before any work had started.
First was cleaning up drywall dust, mud and paint off floors. Some was scraped off and then washed with diluted pine sol and water and finally just with plain water. This took about 6 hours everytime, constantly dumping the dirtied water.
I am a professional artist but this was my first time with concrete stain and such a huge scale.
The sprayer I used spit and dripped out the paint so I had to change my original plan to random graffiti-like splashes of the charcoal color. Spraying the initial design took 4-5 hours and 2/3 of the 5 gal charcoal. I let that dry 24 hours before starting 2nd coat of lighter gray.
I used a 3/8″ 9″ roller to apply lighter gray over splashed charcoal. Because I was creating a mottled, random look, it was impossible to roll on in one direction as is suggested. It created lines I didn't like. Rather, I went heavy in some areas and left the lightness of one coat in other areas, always careful to cover bare concrete. The lighter gray helped to soften the contrast of the lighter areas and the charcoal. This effect took about 2 of the 5 gal. container. Because of the sheer size of the floor, it took 6-7 hours.
After waiting 24 hours, I began 1st coat of wax with a 9″ Shurcoat paint pad. It was very had to tell where I covered because of the mottled nature of the colors. After 4-5 hrs. I applied a 2nd coat of wax, noticing some areas had a higher sheen to them. I wasn't sure why this was happening but it helped create depth on the floor.
The next morning, I applied a 3rd coat of wax, a bit heavier to achieve the desired high gloss look. That was left to cure a full 24 hrs. I used 4 of the 5 gals. to do all 3 coats of wax. Each coat took about 4-5 hours to complete.
Personal Tips:
Aquatint settles very quickly and must be constantly stirred.
Enjoy the way the stain works when using more than one color.
Make sure you have very good lighting to apply both stain and wax.
Direct Colors Products Used:
5 gal Aquatint Charcoal
5 gal Aquatint Gray
5 gal high gloss wax
Other Products Used:
3/8″- 9″ roller
9″ Shurcoat paint pad -3, one for each coat of wax
2 gal Chapin premier sprayer
Accentuating Concrete Swirls
There's nothing like completing a tough DIY project yourself! This customer felt that adding sealer to their concrete was a "rewarding project". They knew they wanted a concrete stain that was transparent yet durable, and AcquaTint was the product that ticked all the boxes.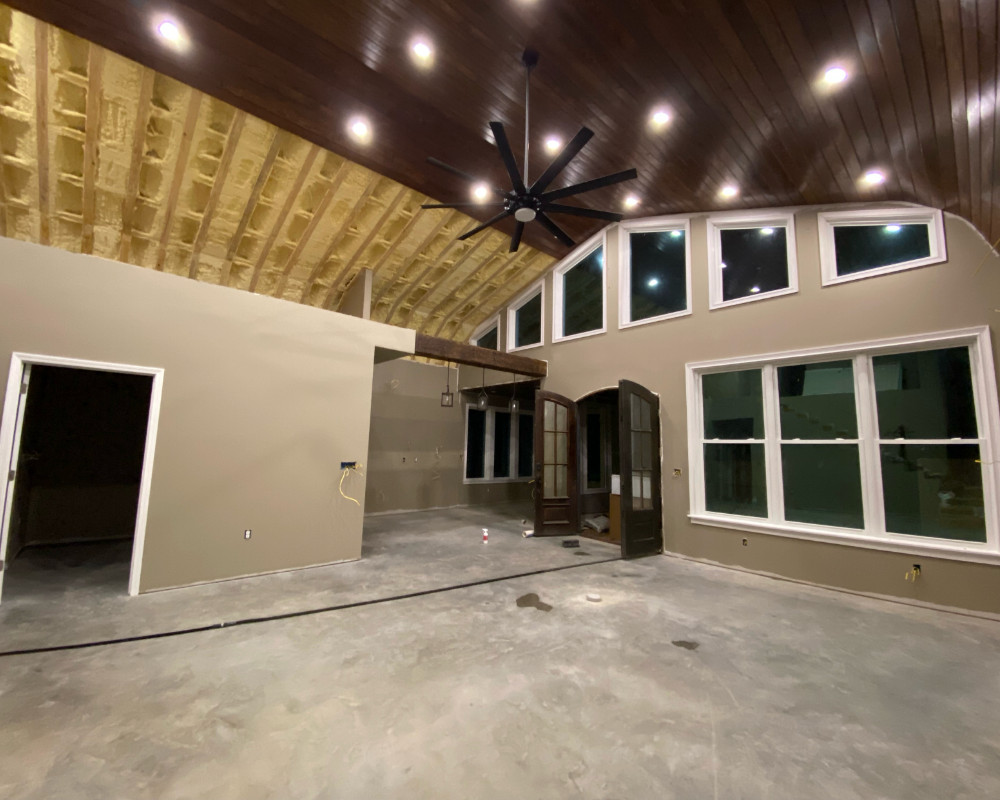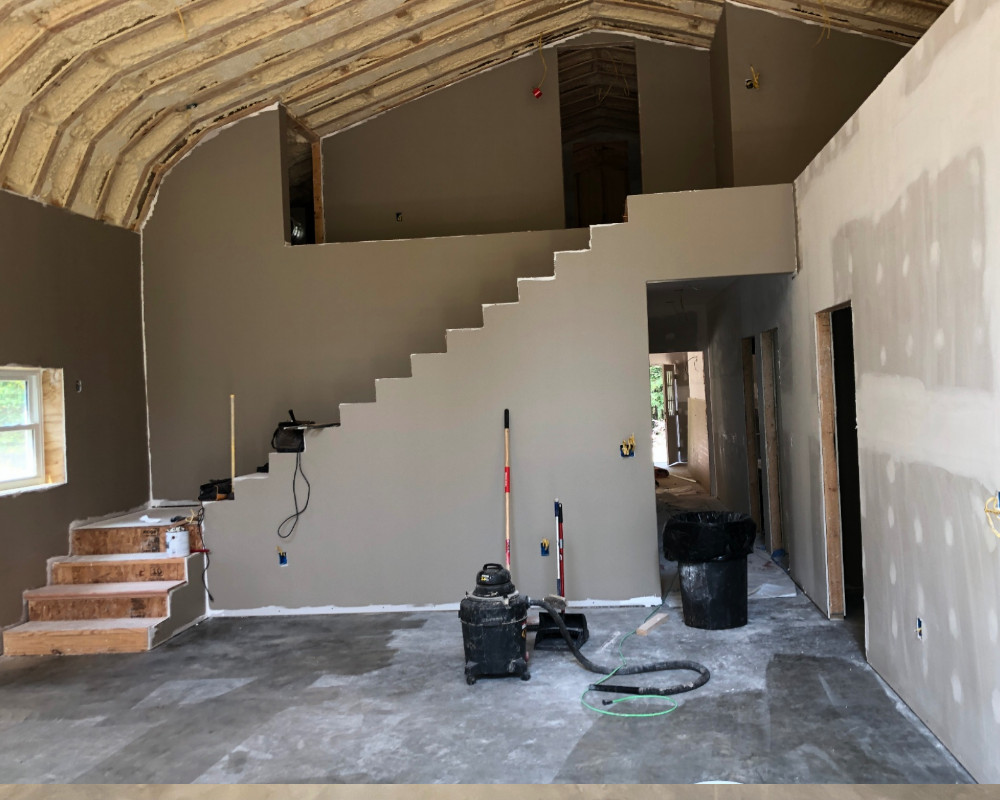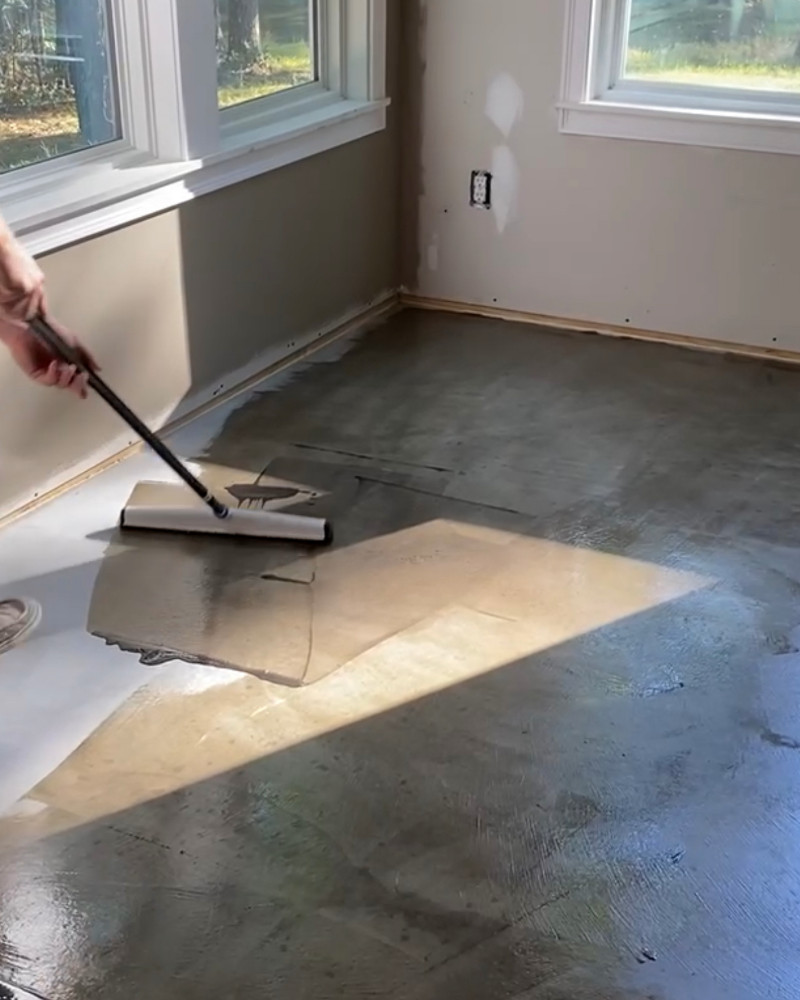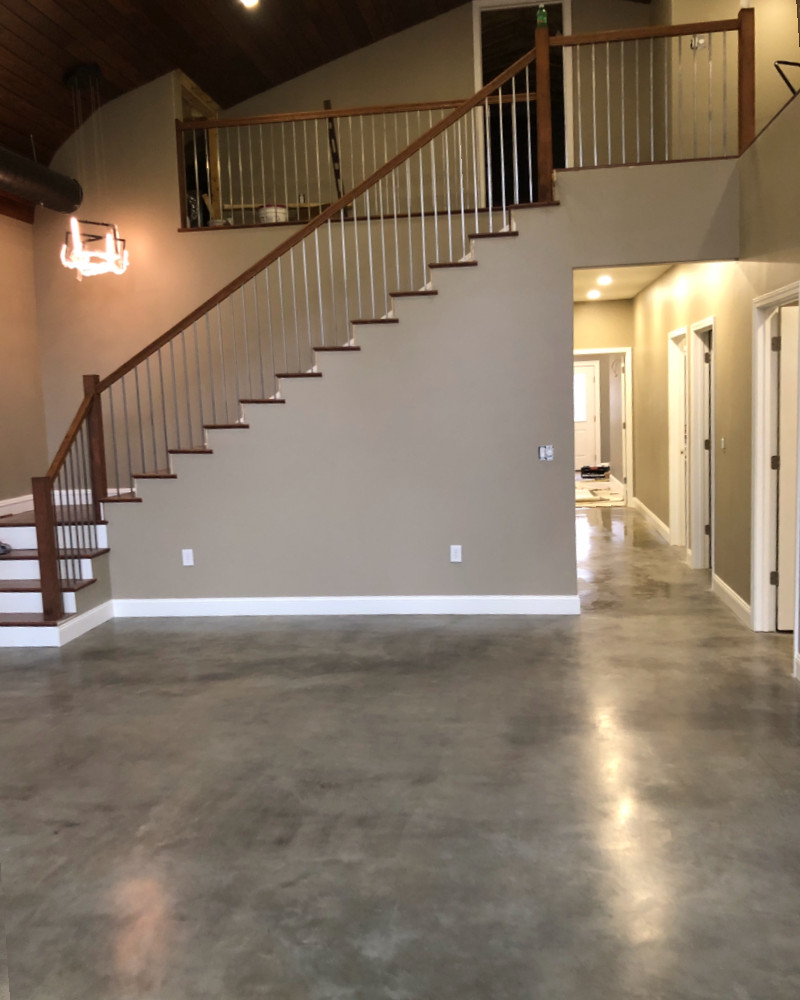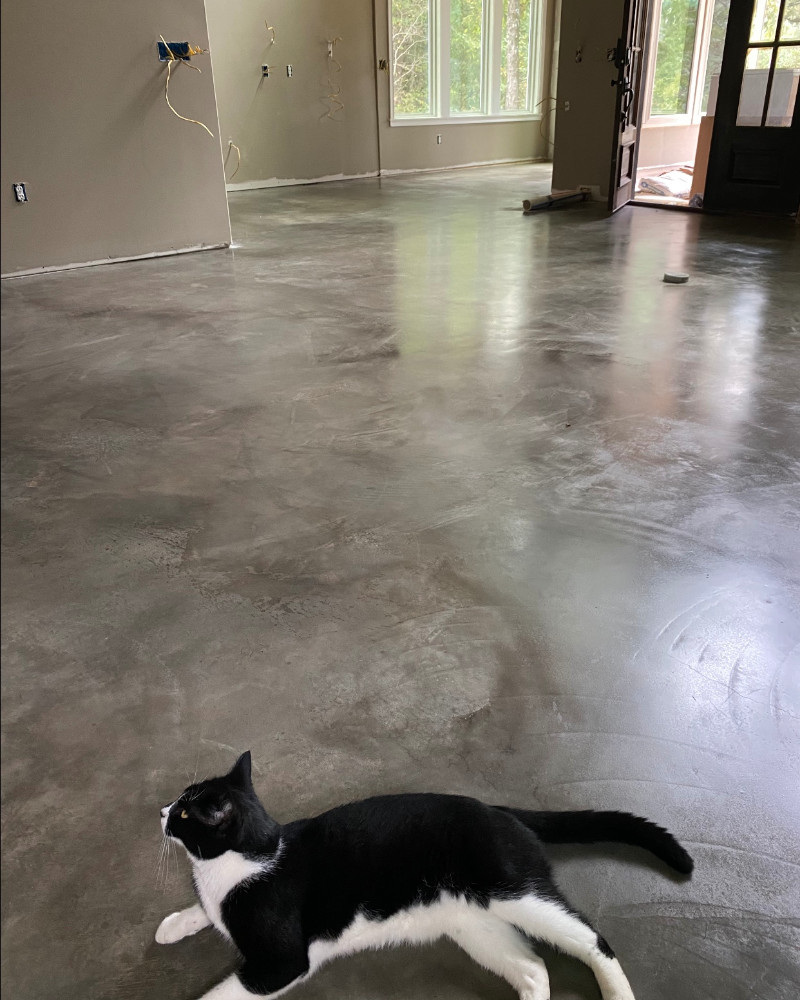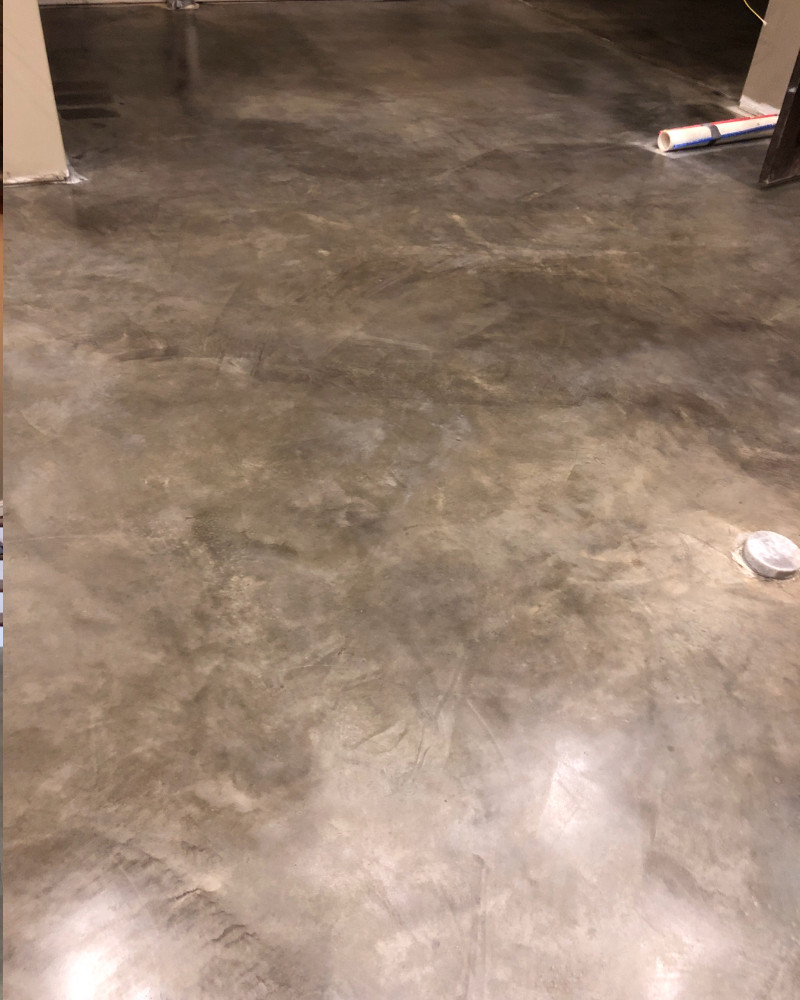 Project Completed In: 3 day(s)
Estimate of Square Footage: 1500 sq. ft.
Project Description:
We are finally all moved in and getting around to showing you all our results! We knew we loved and wanted to accentuate the power trial swirls and marbling effect. We spent hours and many test products under where our cabinets would be, but look no further direct colors has the perfect product. We ended up choosing the tinted sealer. We knew we wanted a very transparent but durable stain.
Essentially all we did was thoroughly clean the dust and construction grime off the floors with degreasing soap and let that dry a few hours. We then came back and cleaned our floors THREE more times with the direct colors degreaser, two of which were rinses. This alone took a full day for 1500sqft. Once this dried we were ready to stain. We tried many methods (sprayers, sponges, rags) and the best we came across for a super transparent look was a 18" floor squeegee! It worked awesome. Like any paint project it is all in the prep work and the actual staining process was over before we knew it, maybe 1.5hrs. After this we let it dry for a day and covered in plastic to finish construction. Once we were ready to move in we washed it again, then immediately waxed the entire floor(last picture) as you can see the floor is almost a living feature of the house as it changes color and hue based on lighting effects. Overall this was a rewarding project that we are happy to have done ourselves! Have fun!
Personal Tips:
Clean clean clean, have all supplies organized and clean up (acetone, in our case) ready. Have an extra applicator (spray gun squeegee etc.) on hand in case yours fails/breaks
Direct Colors Products Used:
1 qt ProClean Degreaser
1 gal Aquatint Charcoal
1 gal Satin Acrylic Sealer
1 gal Satin Floor Wax
The method used to apply tinted concrete sealer depends on the look you want to achieve. For Coffee N' Crafts, a marbled, varied color was the mission for Brad Carlisle from William B. Carlisle Design. The best part about this renovation? They performed a complete space upgrade without having to rip up the concrete floor!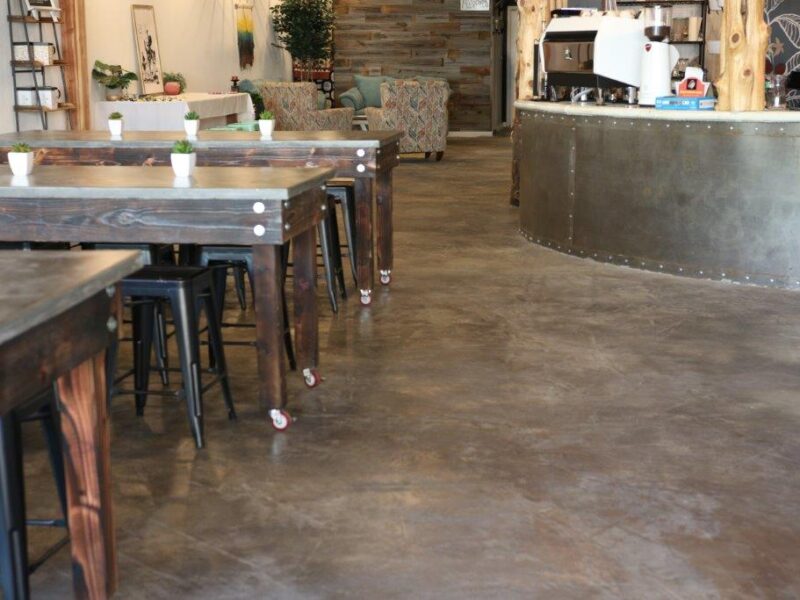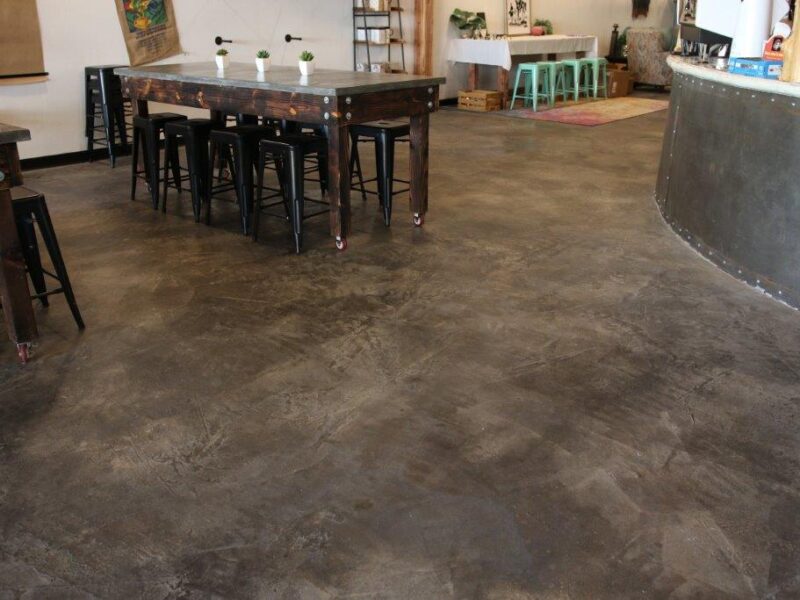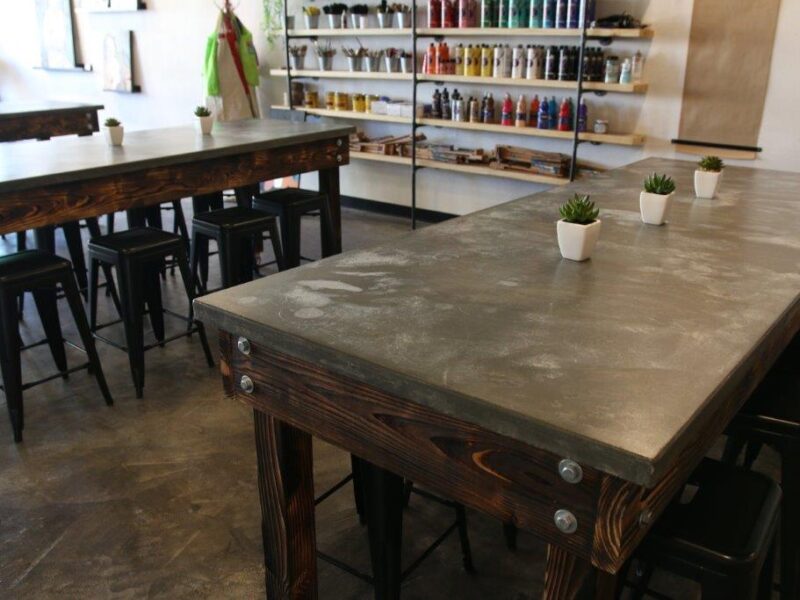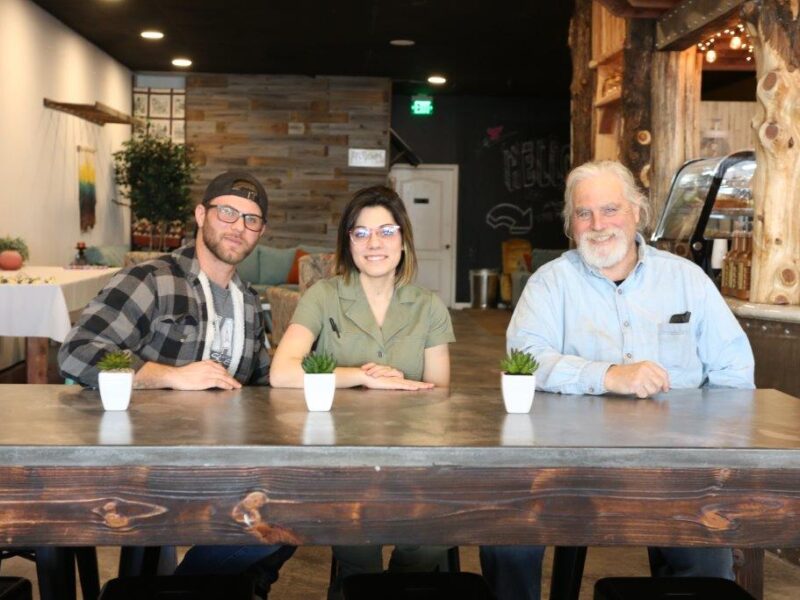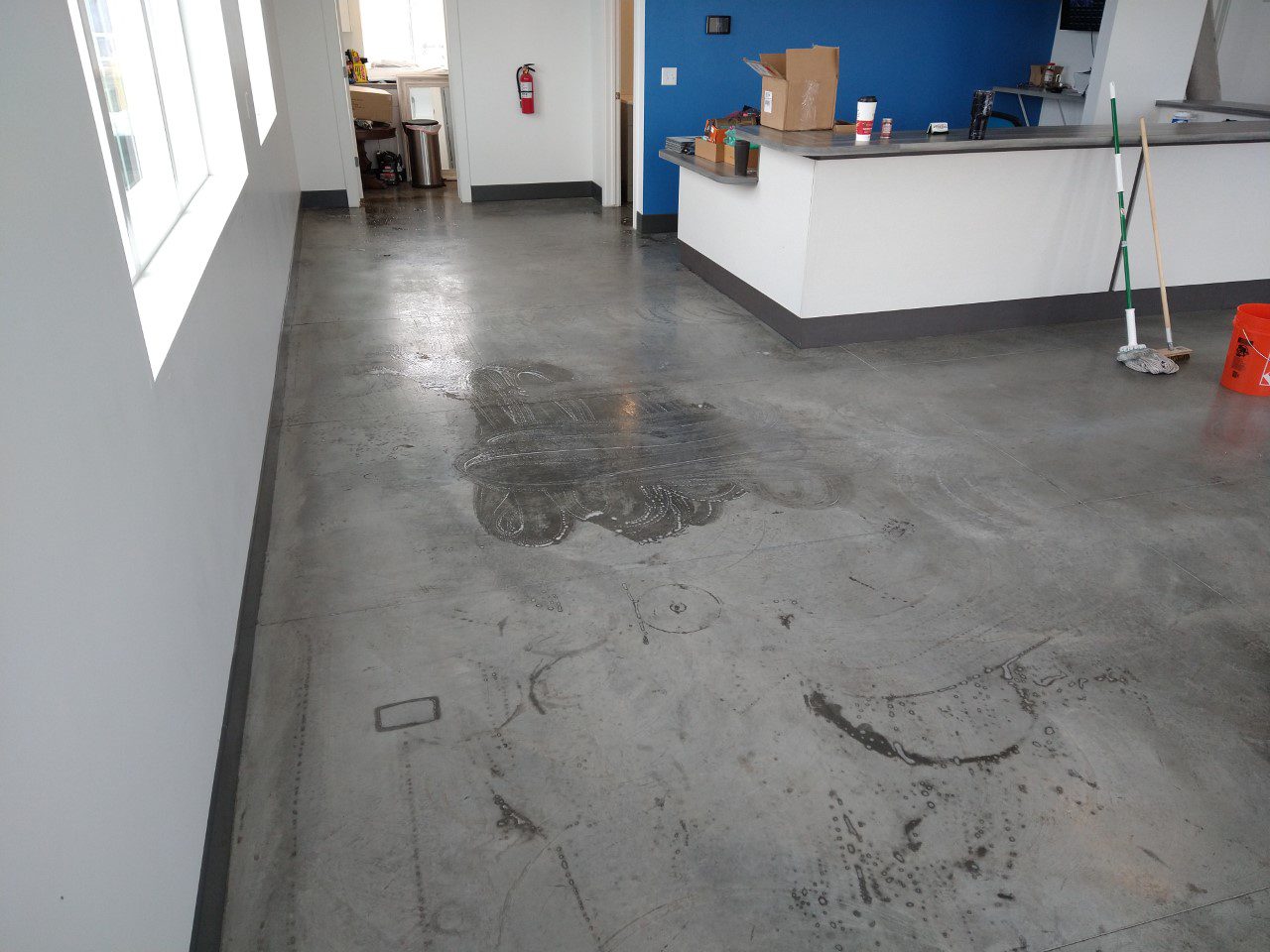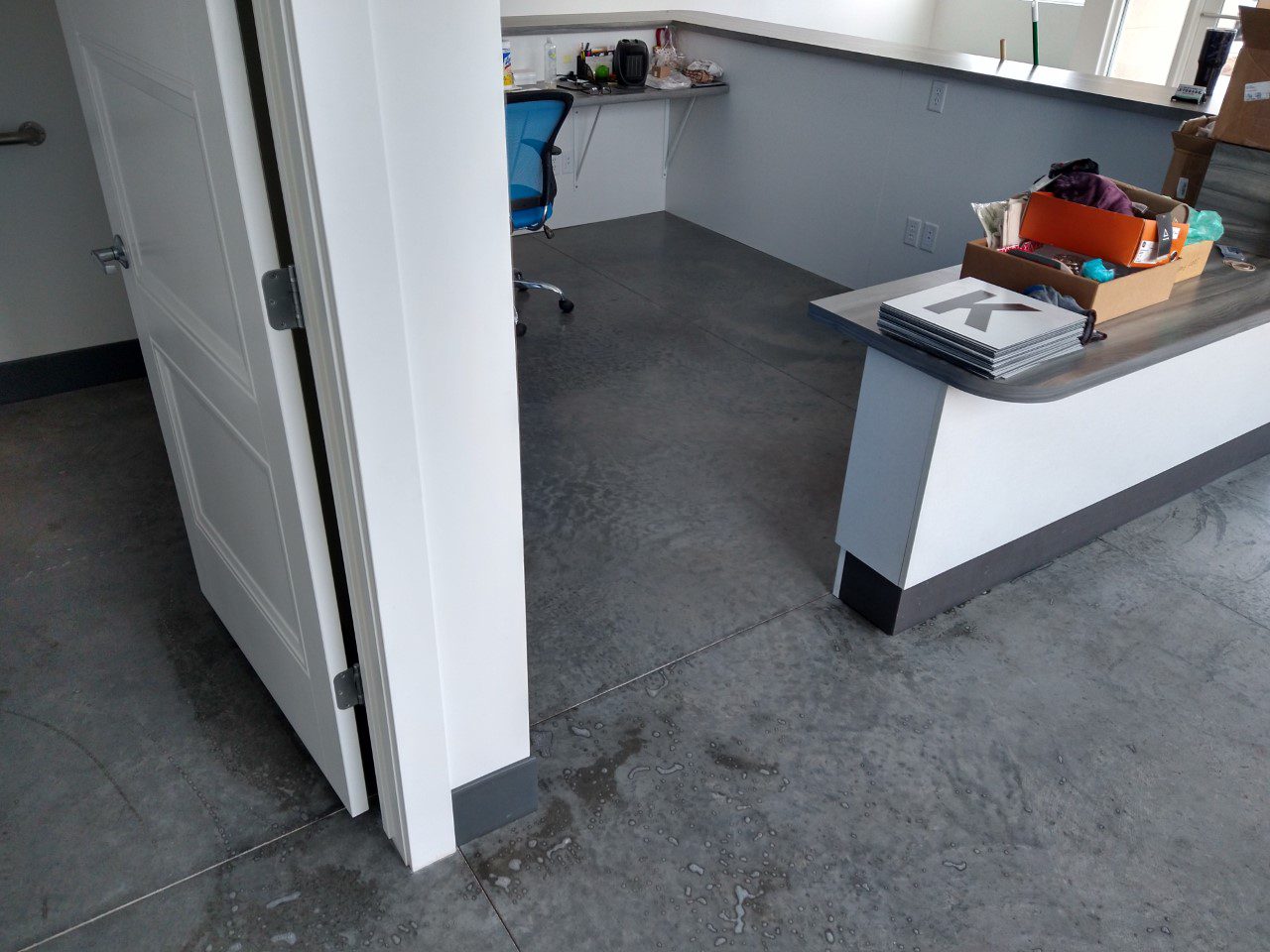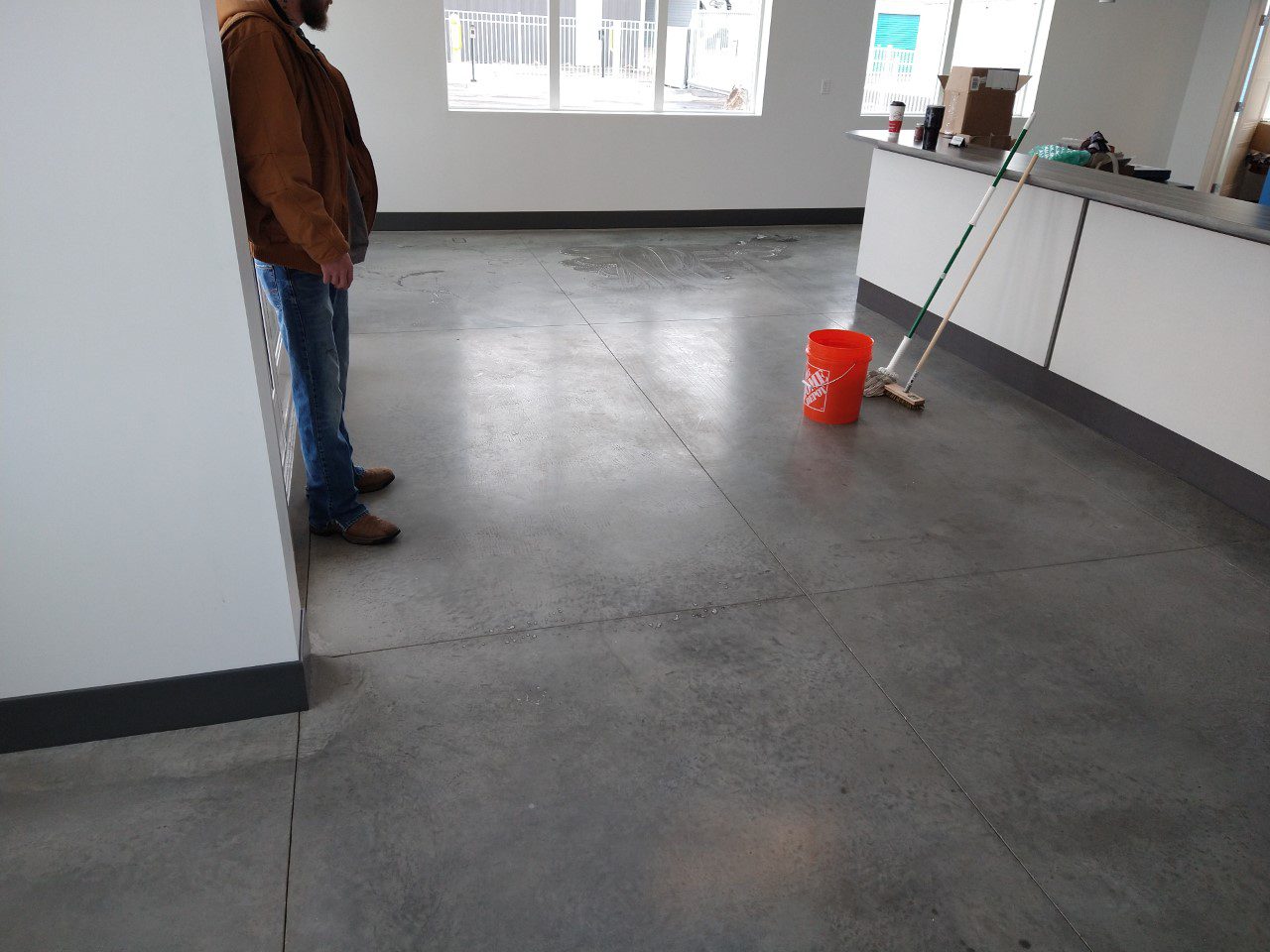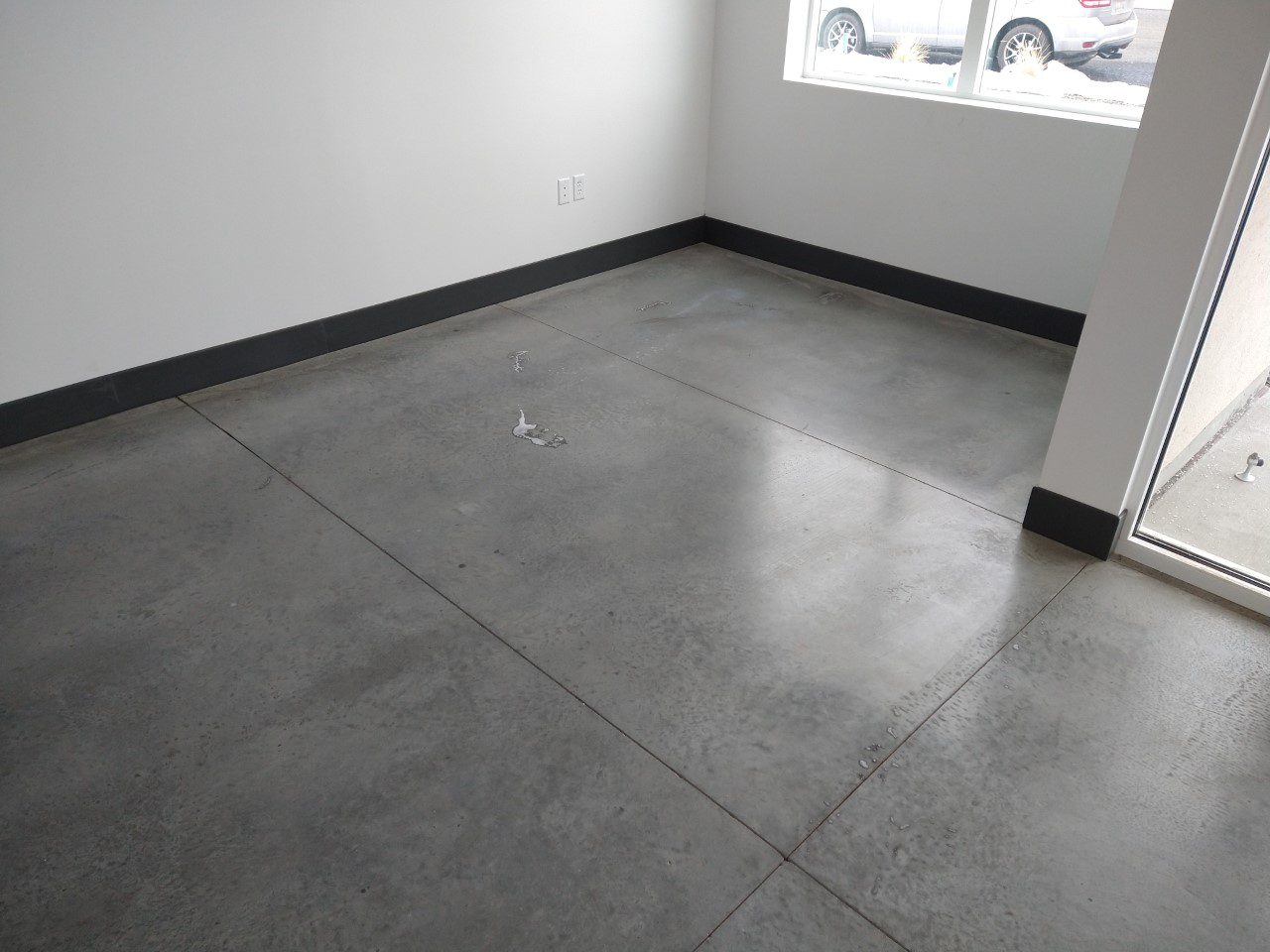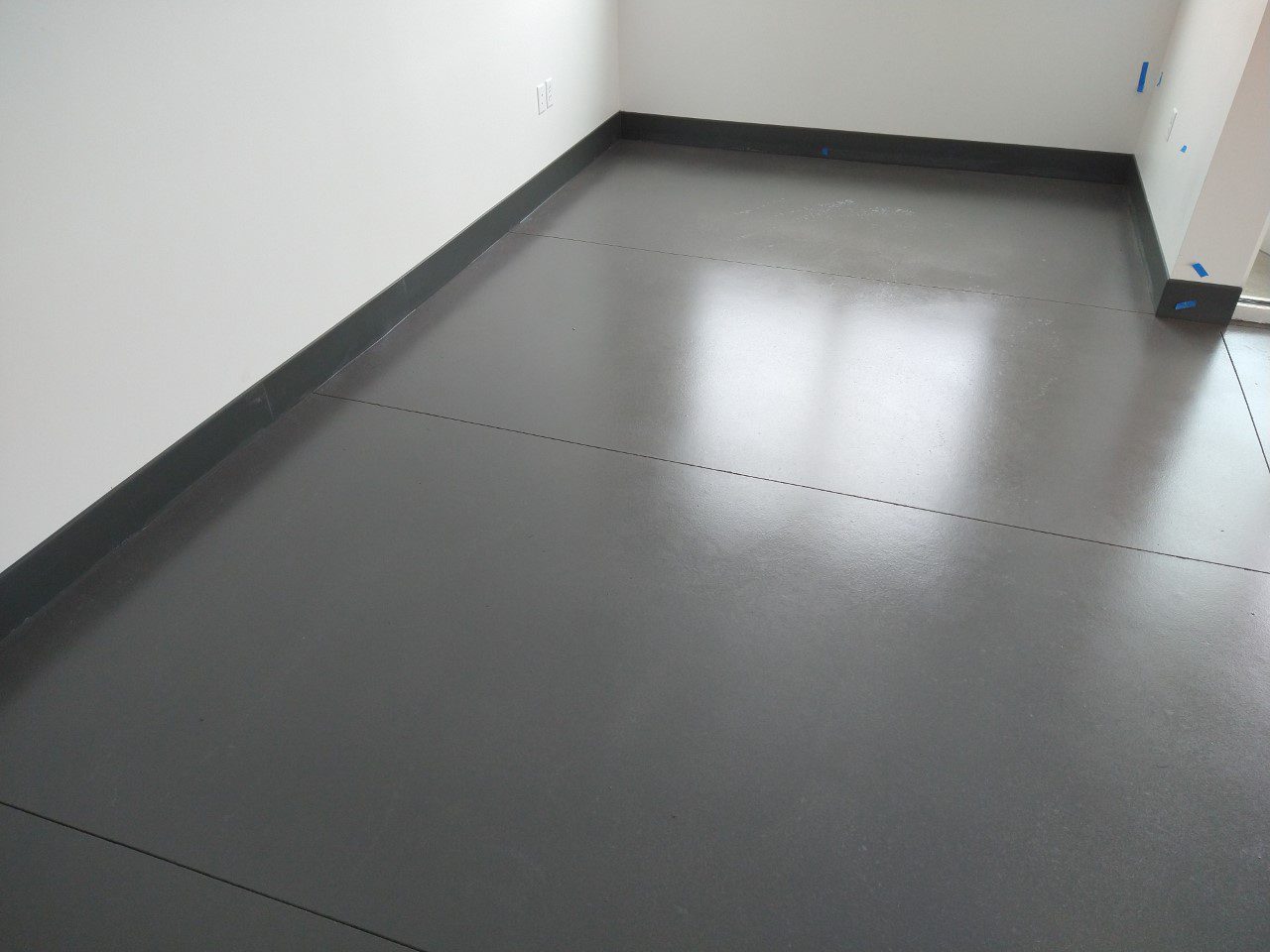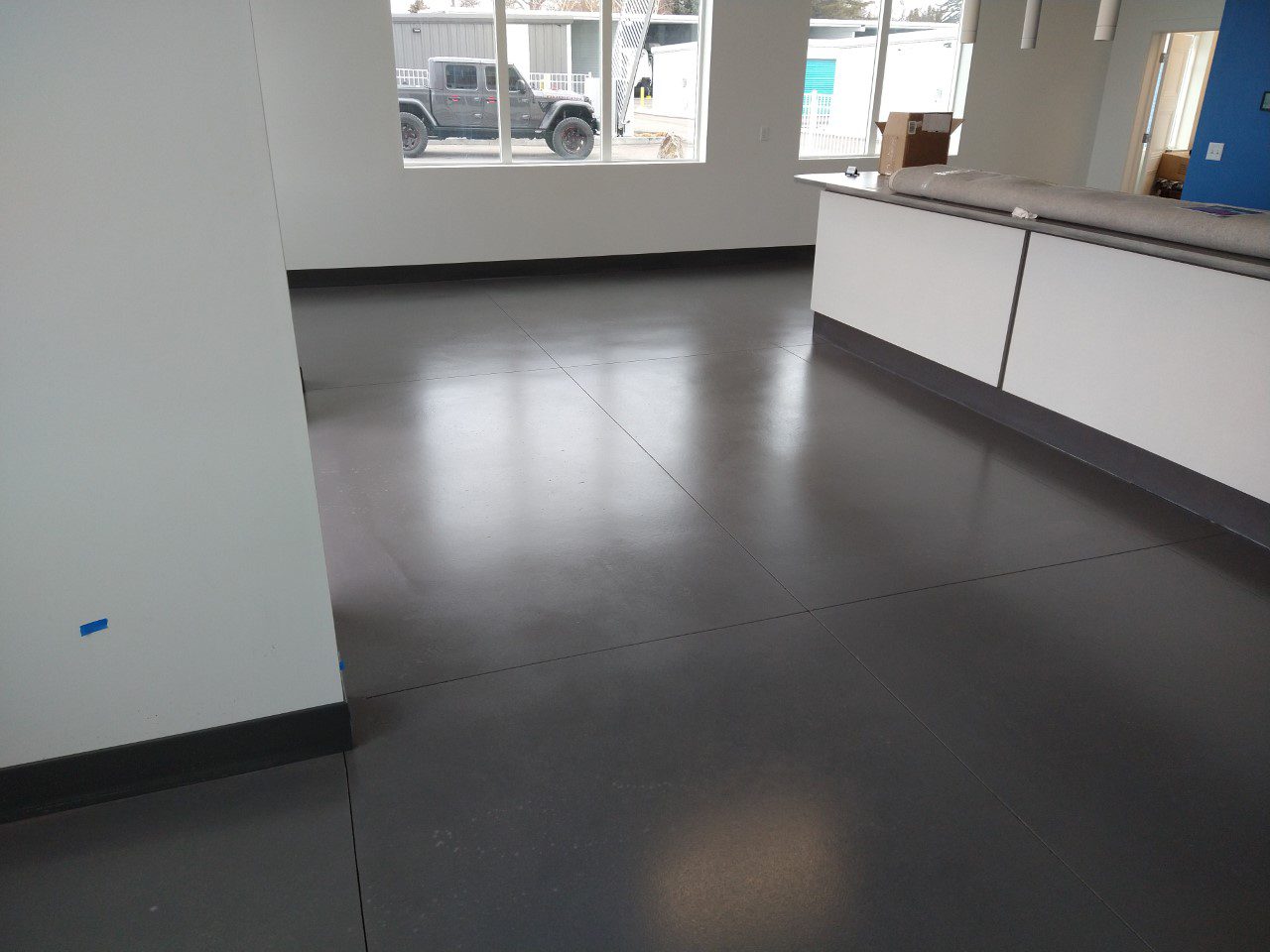 Keep the Grandkids Out When You DIY!
Our Direct Colors customer offered some valuable advice when working on your tinted sealer project: make sure you cover walls and doors! And keep grandkids out! Yes, these things are always important to remember! They used AquaTint and water based sealer for the concrete floors in their new home.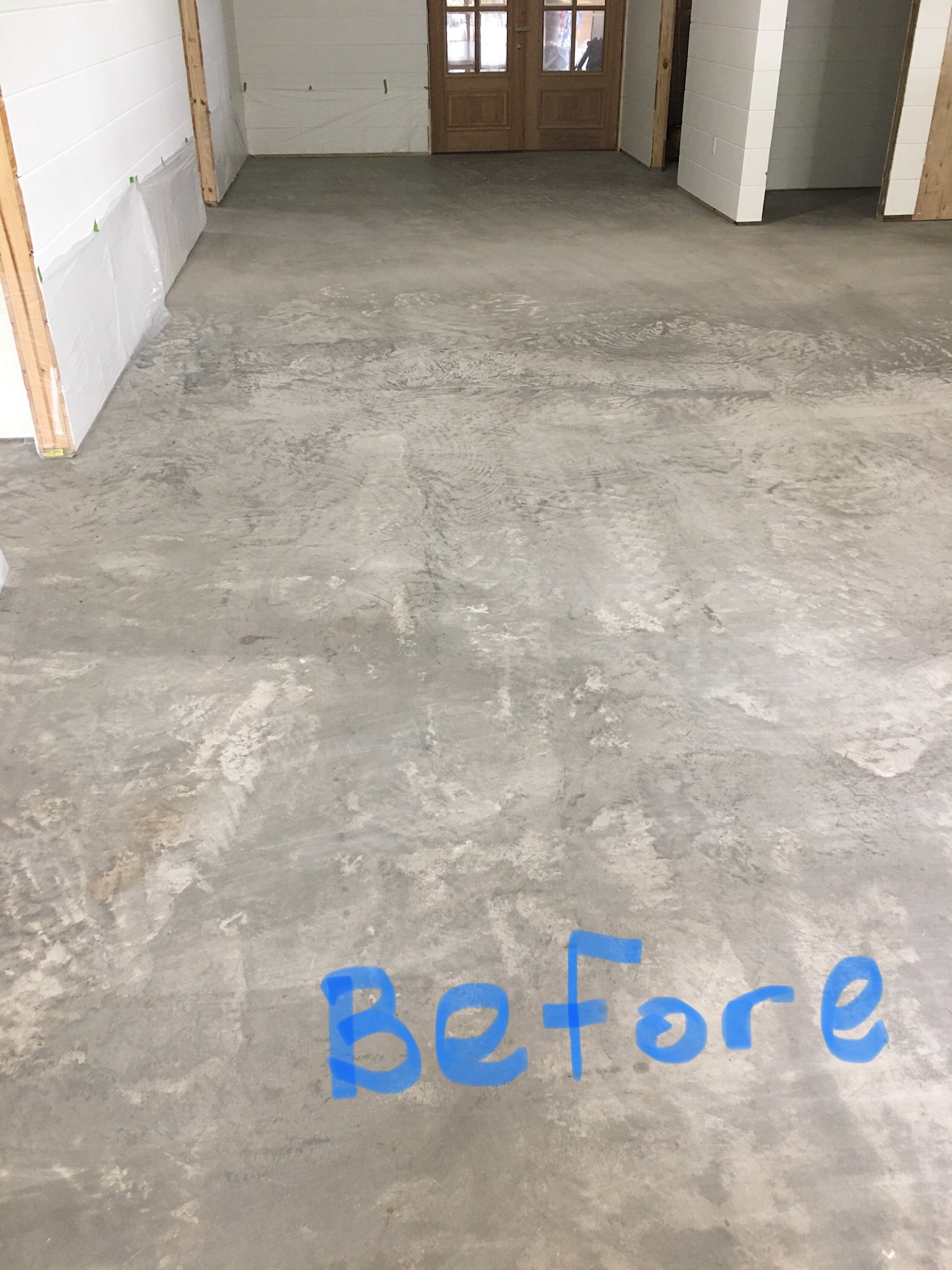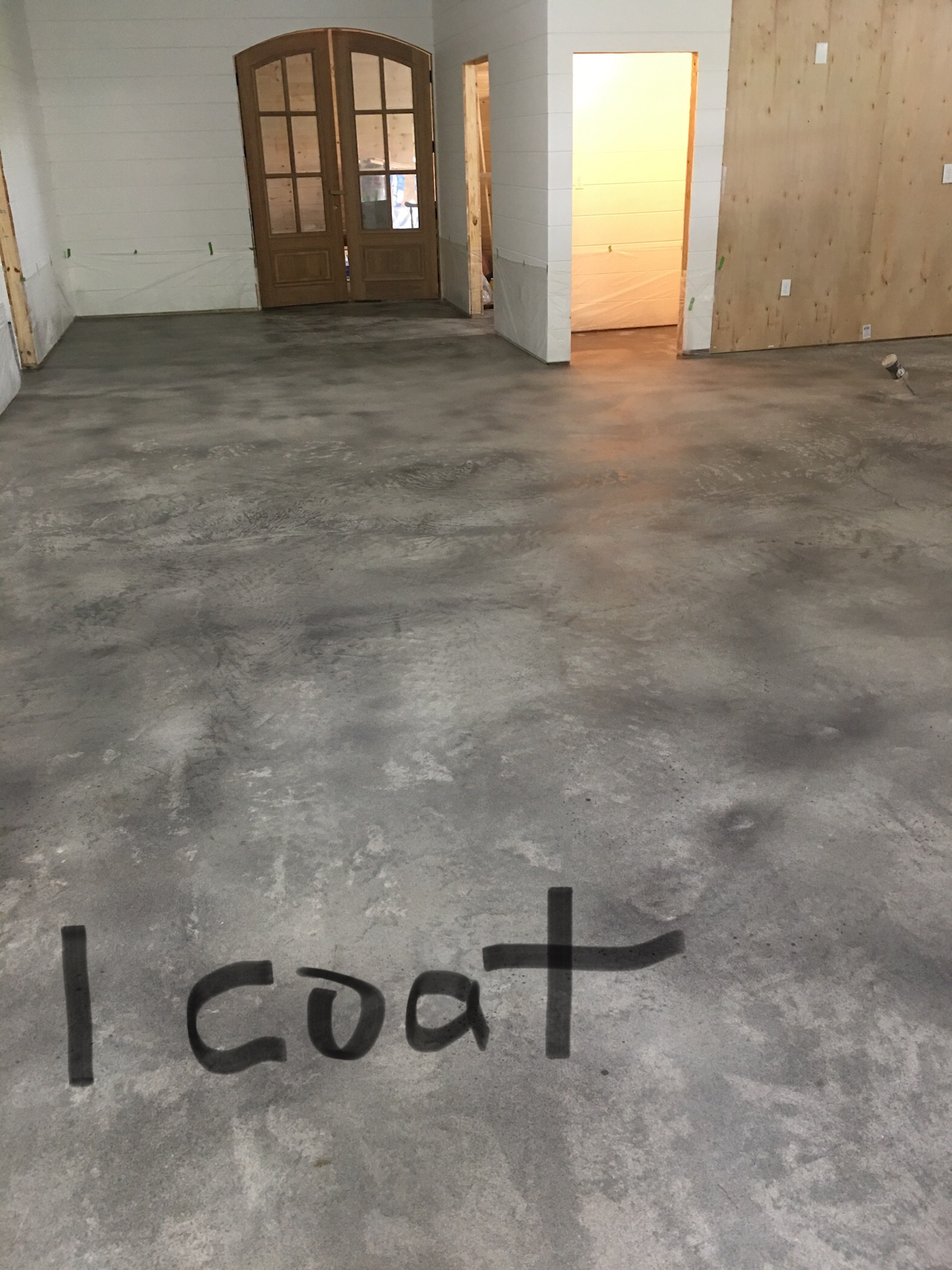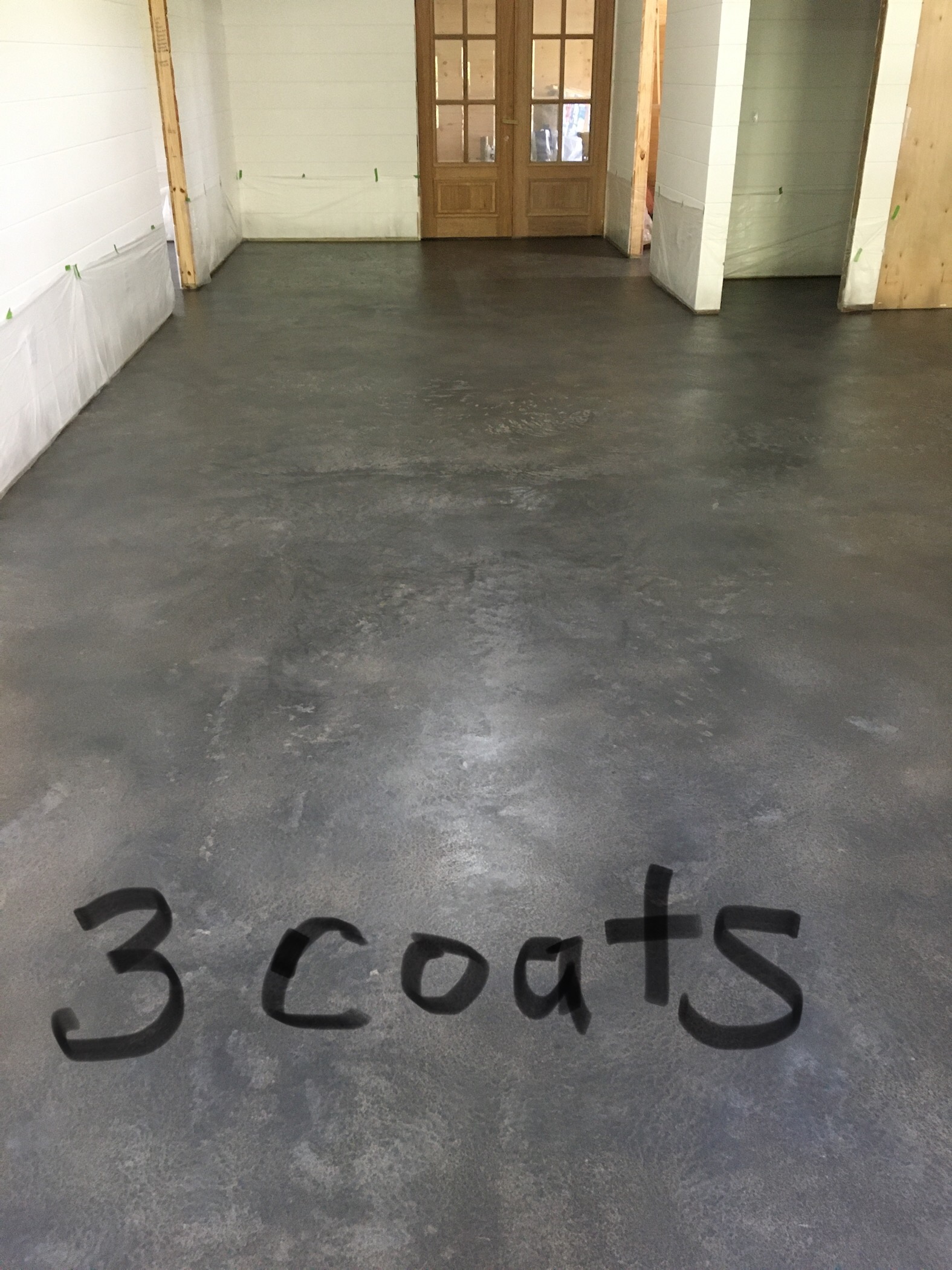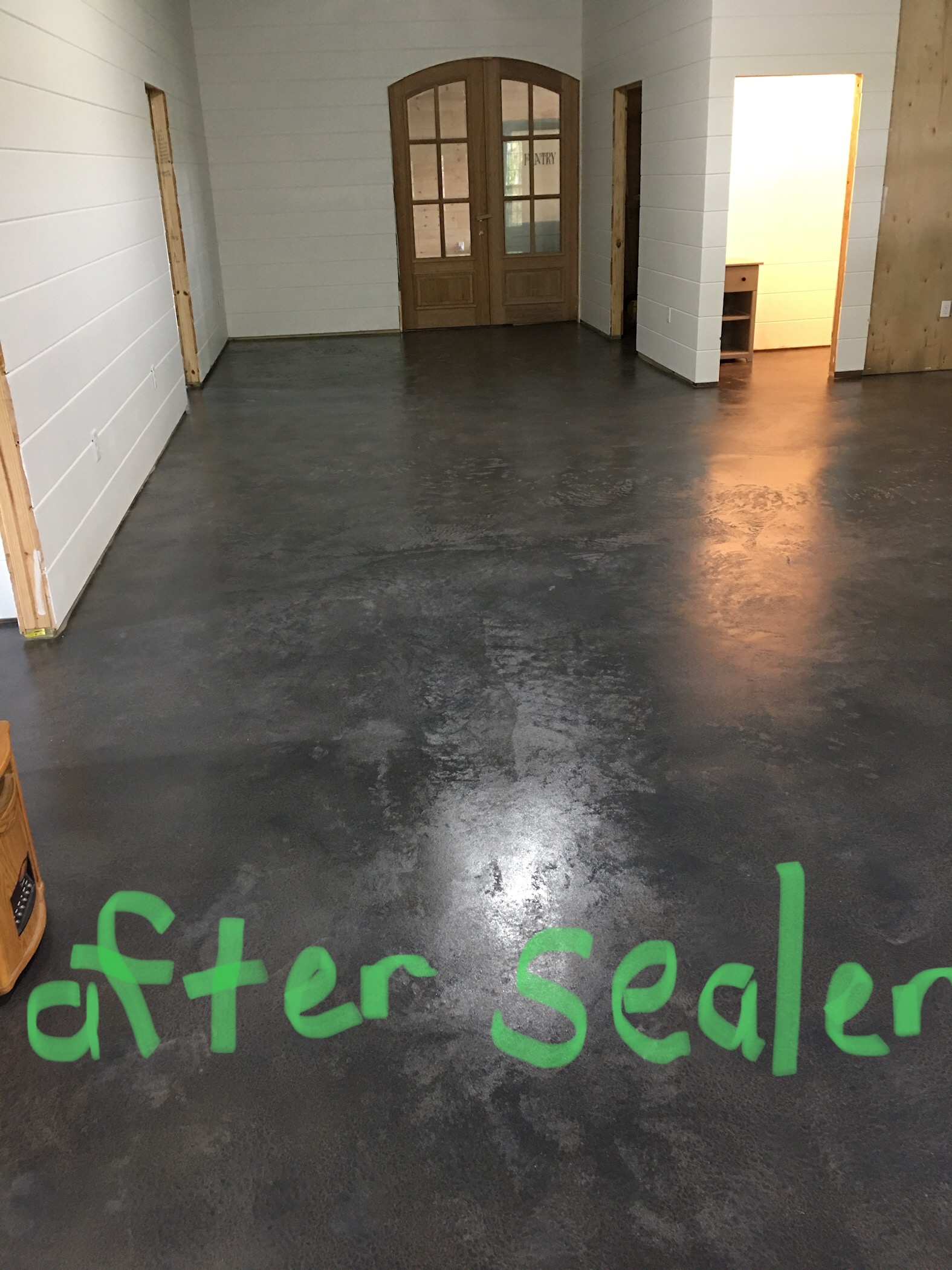 Project Info:
Project Completed In: 5 day(s)
Estimate of Square Footage: 1600 sq. ft.
Project Description:
We are building a barn house. It is semi finished. The walls are painted shiplap.
Personal Tips:
I was so afraid of messing up with the sprayer that my first coat was way too light. I applied 2 more coats and it looked great. I believe the aquatint is very forgiving when sprayed on. I followed up with 2 coats of the solvent based satin sealer. Make sure you can open up plenty of windows because this stuff STINKS! Even though my concrete is not perfect I love my floors.
Make sure you cover walls and doors! And keep grandkids out!
Direct Colors Tip: When sealing indoors, we recommend our water-based AcquaSeal sealers. They are low VOC, so you will not stink up your house.
Direct Colors Products Used:
AcquaTint in light charcoal. Acrylic sealer solvent based in satin.
Other Products Used:
No additional products except lots of elbow grease!
While tinted concrete sealer won't cover imperfections, it allows you to give your concrete floor character! That's what this customer did. We think that the tinted sealer complements their textured floor so well.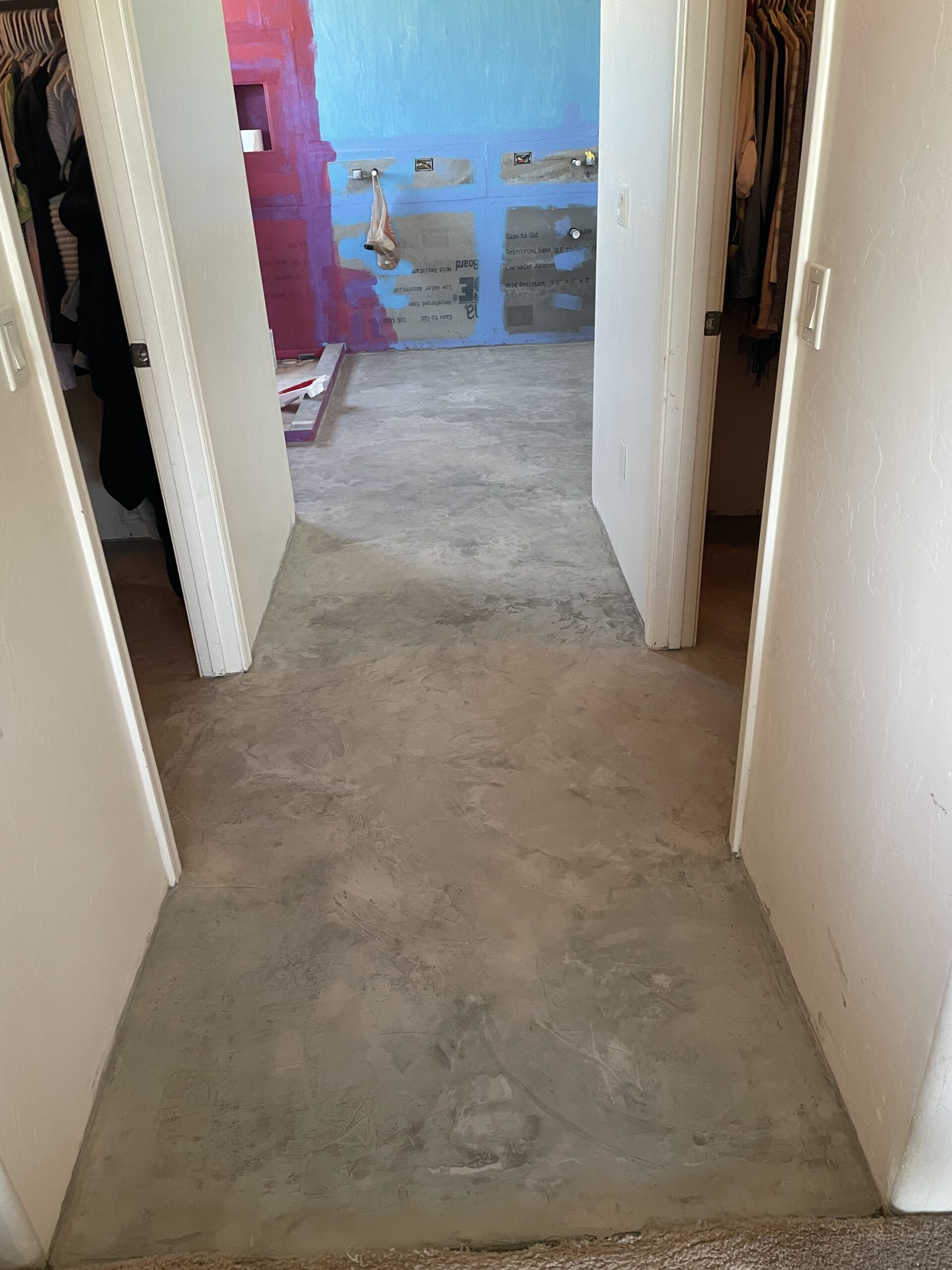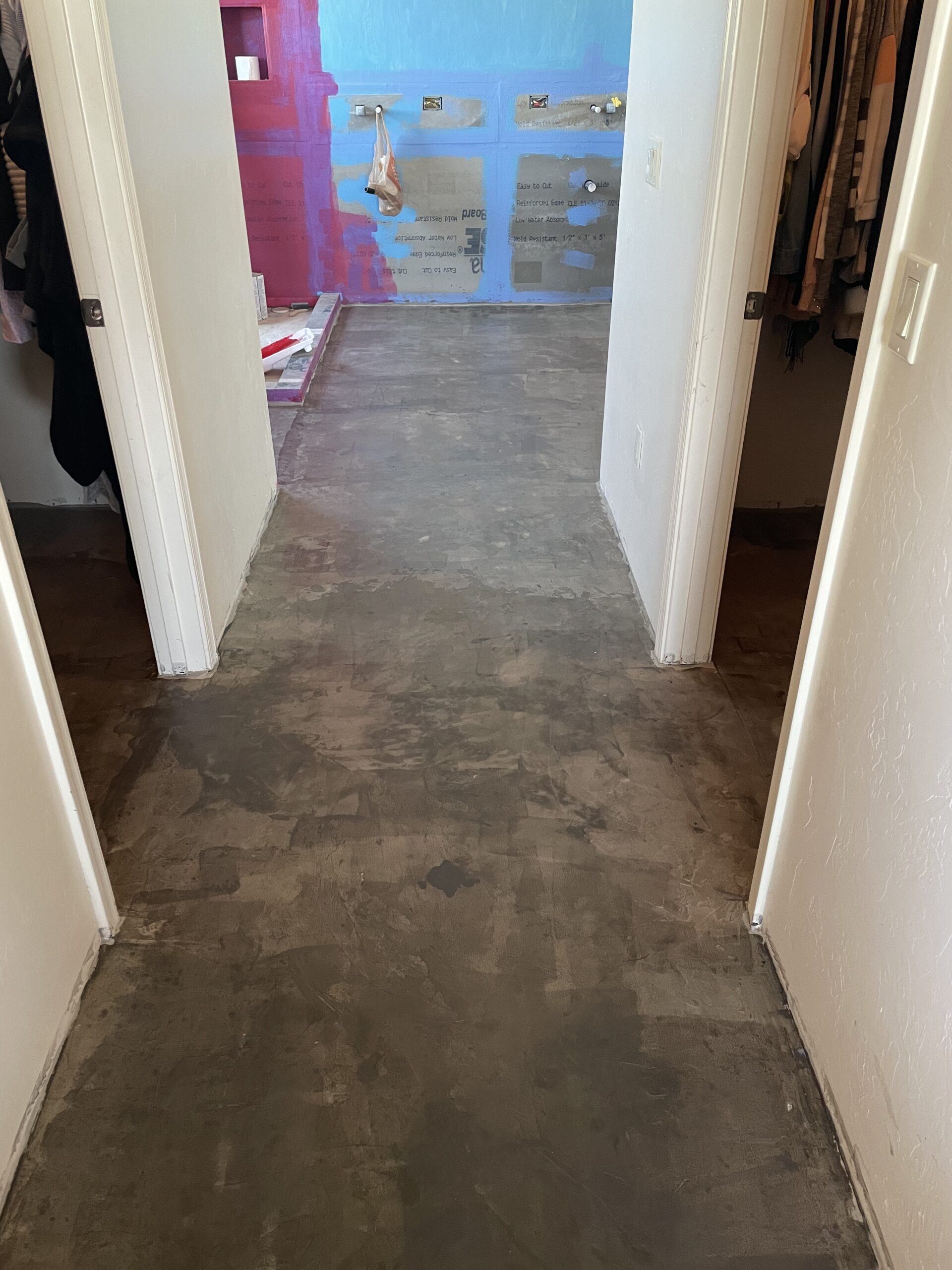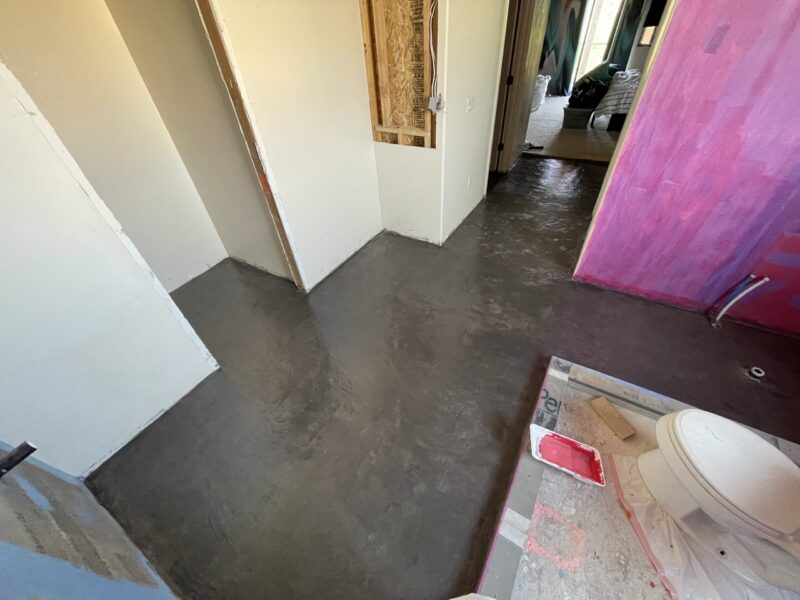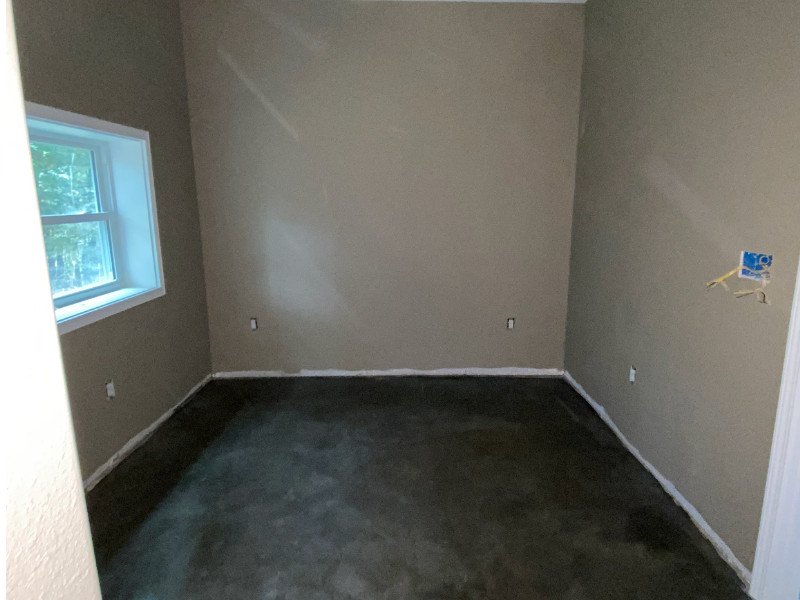 Project Info:
Project Completed In: 3 day(s)
Estimate of Square Footage: 250 sq. ft.
Project Description:
We're redoing our main bathroom and want stained textured concrete floors. The area includes the hallway, closets, bathroom area and water closet.We started by laying the concrete and then sanding. Then we used charcoal aquatint, applied using a roller. We followed the instructions completely and the application went very well.
Personal Tips:
The color deposits at the bottom of the bottle so the first few coats are somewhat lighter. We left about 10% tiny in the first bottle and mixed it in when starting the second bottle. It helped create a more even second application.
Direct Colors Products Used:
Aquatint charcoal and wax sealer.
Other Products Used:
Direct colors applied onto Henry feather finish concrete mix.
After this DC customer's basement flooded for the second time,  they decided no more carpet! While coloring their concrete basement floor with tinted sealer was a challenging project to complete, they felt that the right products made it doable.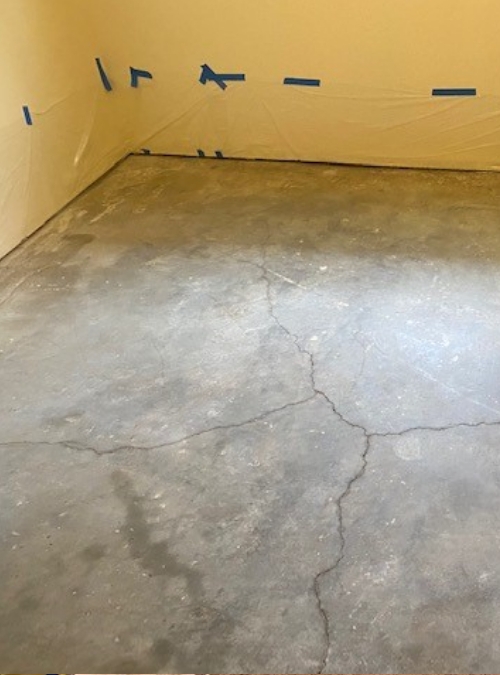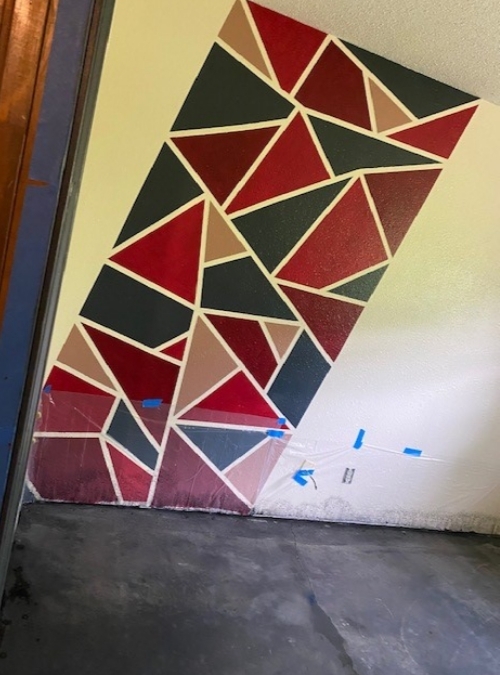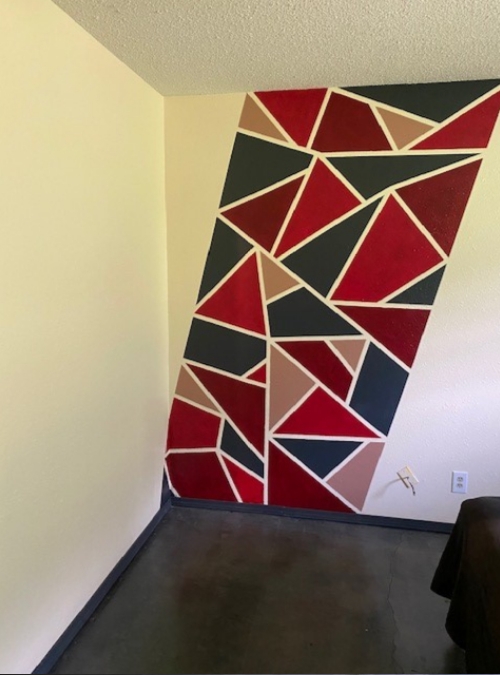 Project Info:
Project Completed In: 21 day(s)
Estimate of Square Footage: 1000 sq. ft.
Project Description:
After my basement flooded for the second time I decided no more carpet. This was a challenging project but with the right products it can be done.
1.) first I rented a concrete grinder for the day and etched the floor. My basement was sealed when my house was built so it was a necessary step.
2.) I mopped the floor two times to remove any dust or residue.
3.) I applied two coats of AcquaTint™ Silver Gray Water Based Colored Sealer, waiting 24 hours in between each coat. I rolled the stain on with roller purchased through direct colors. I would strongly recommend that because it is a high quality roller.
4.) I used a dollar store sponge mop to apply three layers of direct colors Residential Concrete Floor Wax, waiting three hours in between each layer.
5.) I waited 24 hours before placing furniture on the floor.
Personal Tips:
Be careful when rolling on stain not to overlap because it can dry with lines.
Direct Colors Products Used: 5 Gal. Satin AcquaTint™ Silver Gray Water Based Colored Sealer
Concrete Floor Wax
Other

Products Used:
Concrete grinder