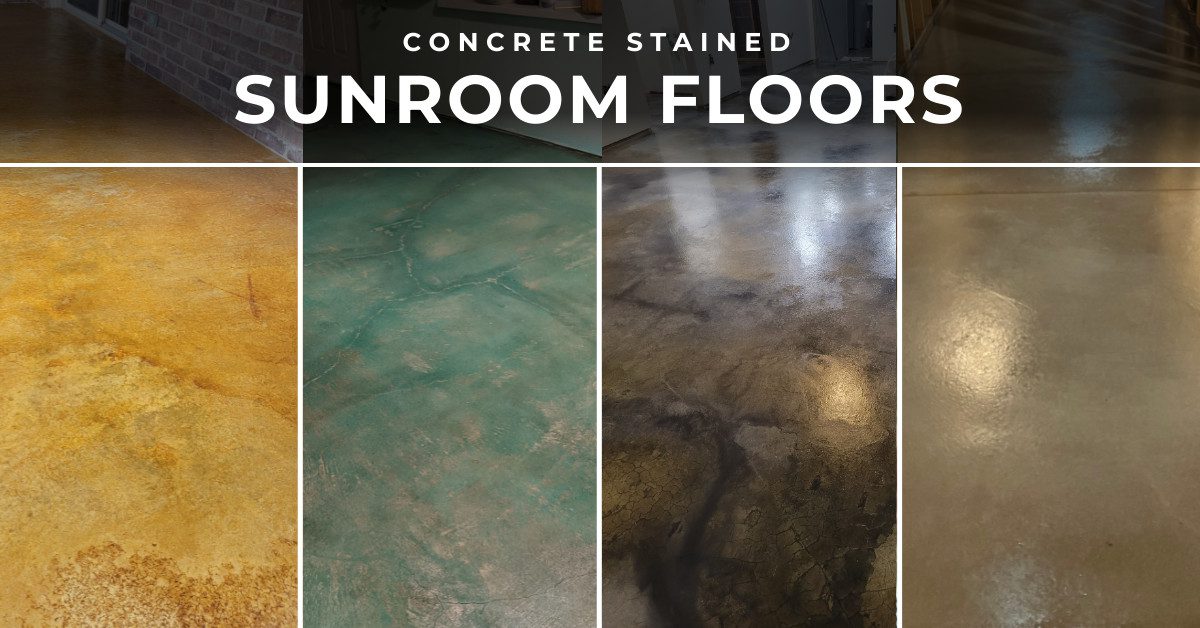 Sunroom Floor Ideas: Before & After Stained Concrete Projects with Tips and Tricks
Transform your sunroom with a beautiful stained concrete floor. Browse our collection of customer projects featuring before and after photos, as well as tips and tricks used to achieve the perfect finish. From classic stains to unique designs, find inspiration for your own sunroom floor renovation with ideas for stain color and patterns. Upgrade your space with a durable and stylish concrete floor that is easy to maintain. Discover the best sunroom floor ideas for your next renovation project.
Creating a Cozy Golden Oasis: Sunroom Concrete Floor Transformation with ColorWave Water-Based Stain
Looking to transform your outdoor space into a warm and welcoming retreat? We recently completed a project where we turned a small 8×20 concrete covered patio and sunroom into a really cozy golden space, and we couldn't be happier with the results.
To get the look we wanted, we used ColorWave water-based stain in the shade Gold. We applied it using a 1 gallon handpump sprayer, which made the process quick and easy. The end result was a beautiful, rich color that really added warmth and character to the space.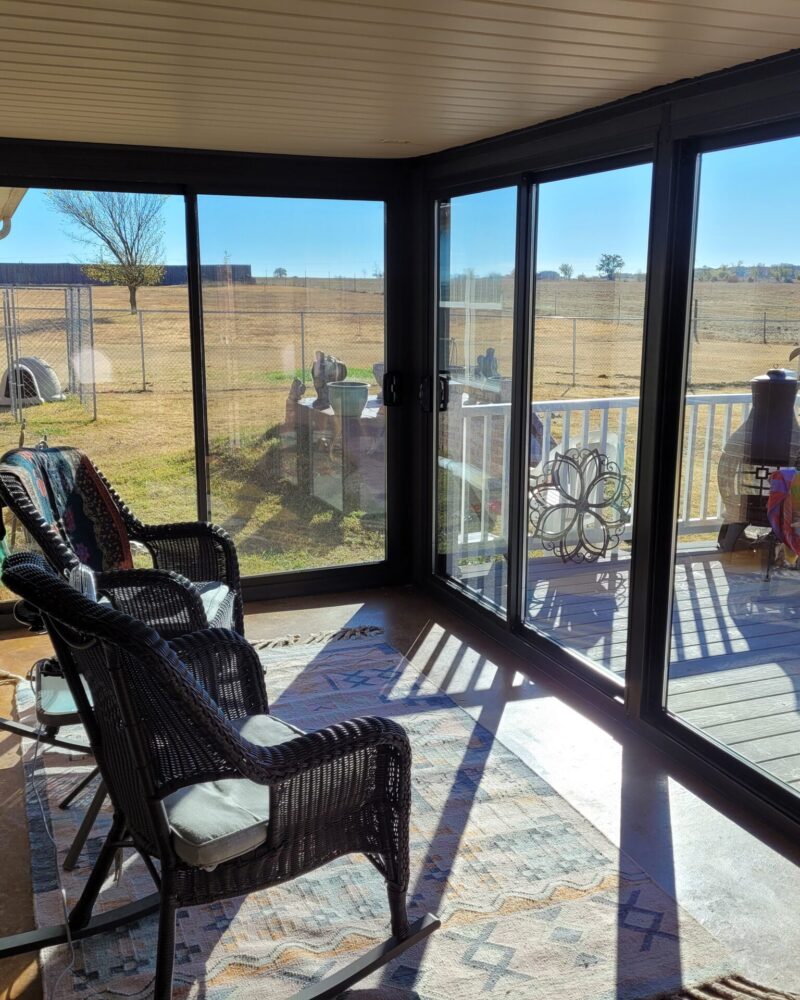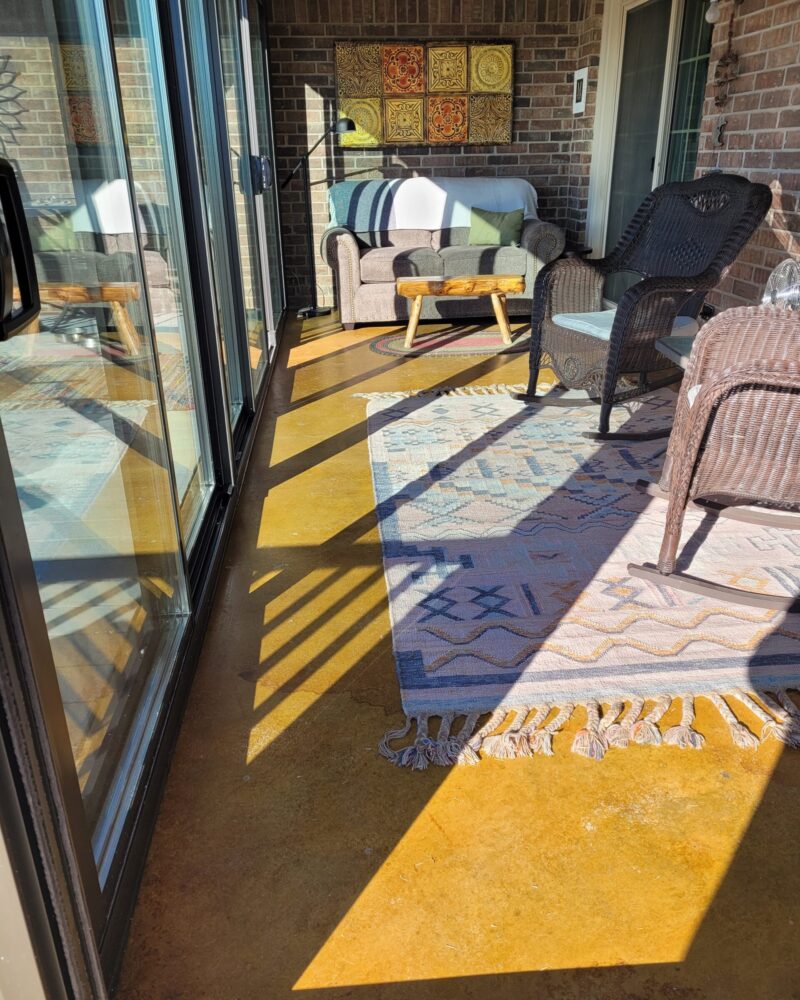 If you're looking to give your outdoor space a makeover, we highly recommend using ColorWave water-based stain. It's a versatile and easy-to-use product that will give you professional-quality results.
Bringing Vivid Color to Your Sunroom with ColorWave Stains
Bring new life to your day room with our latest project. See the before and after of how we used two colors of ColorWave stain to revitalize the concrete floor. Emerald Green and Black Forest Colorwave added a pop of vivid color to the space.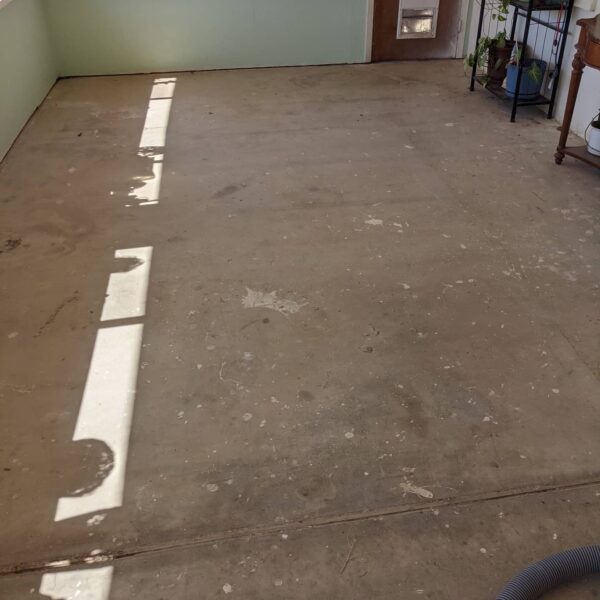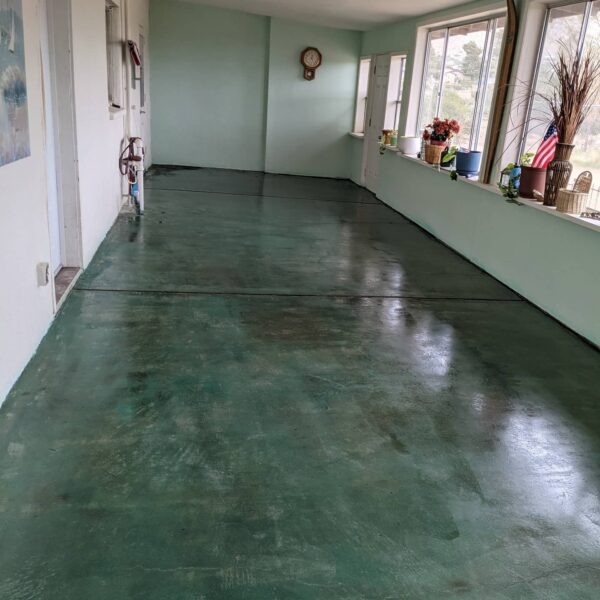 Stylish Sunroom Makeover with Stormy Gray Vibrance Dye
Say goodbye to dull concrete floors with our latest sunroom makeover project. See how our DC customer used Vibrance concrete dye in Stormy Gray to transform their space into a stylish one. Learn how to do the same with our step-by-step guide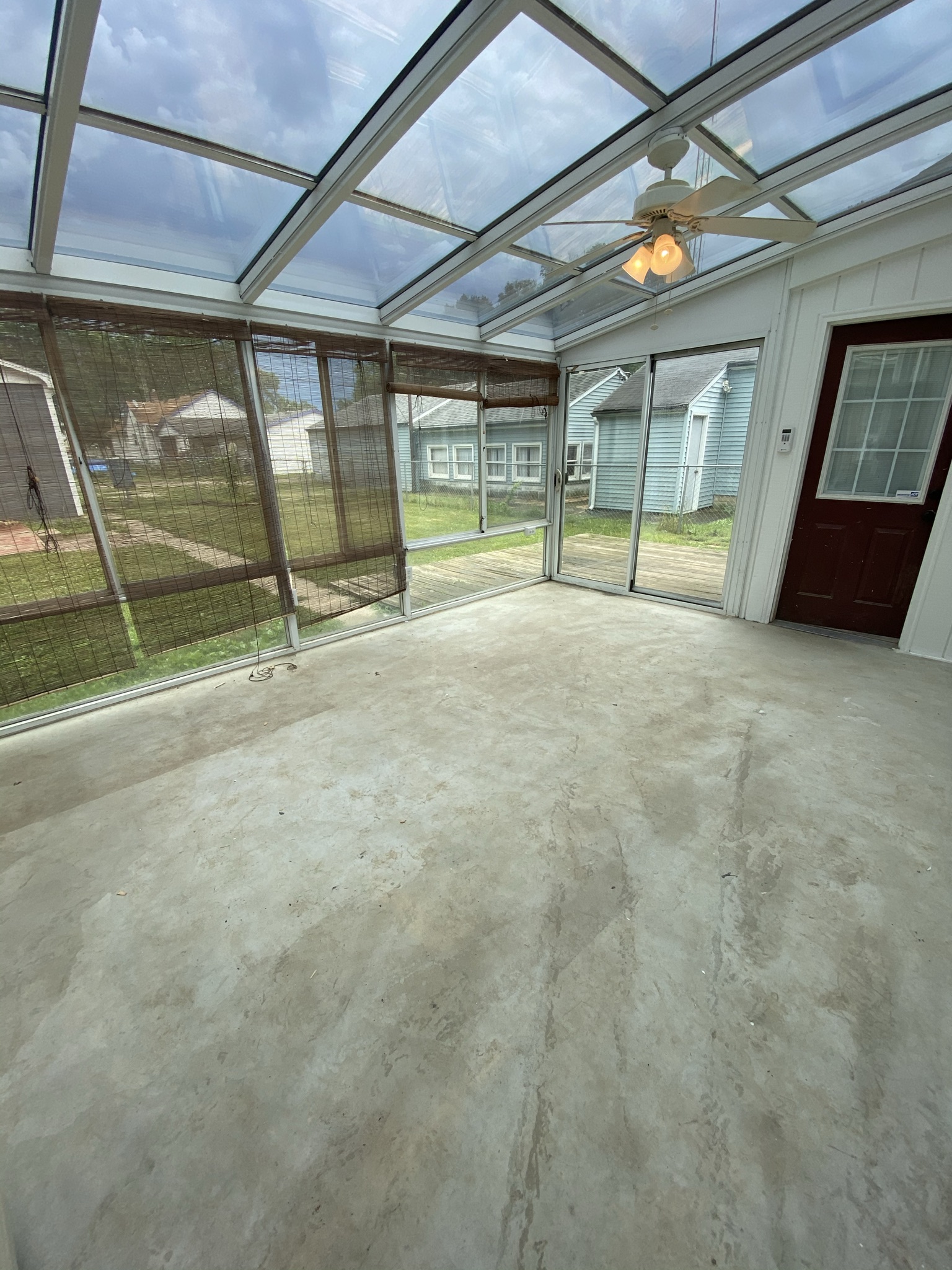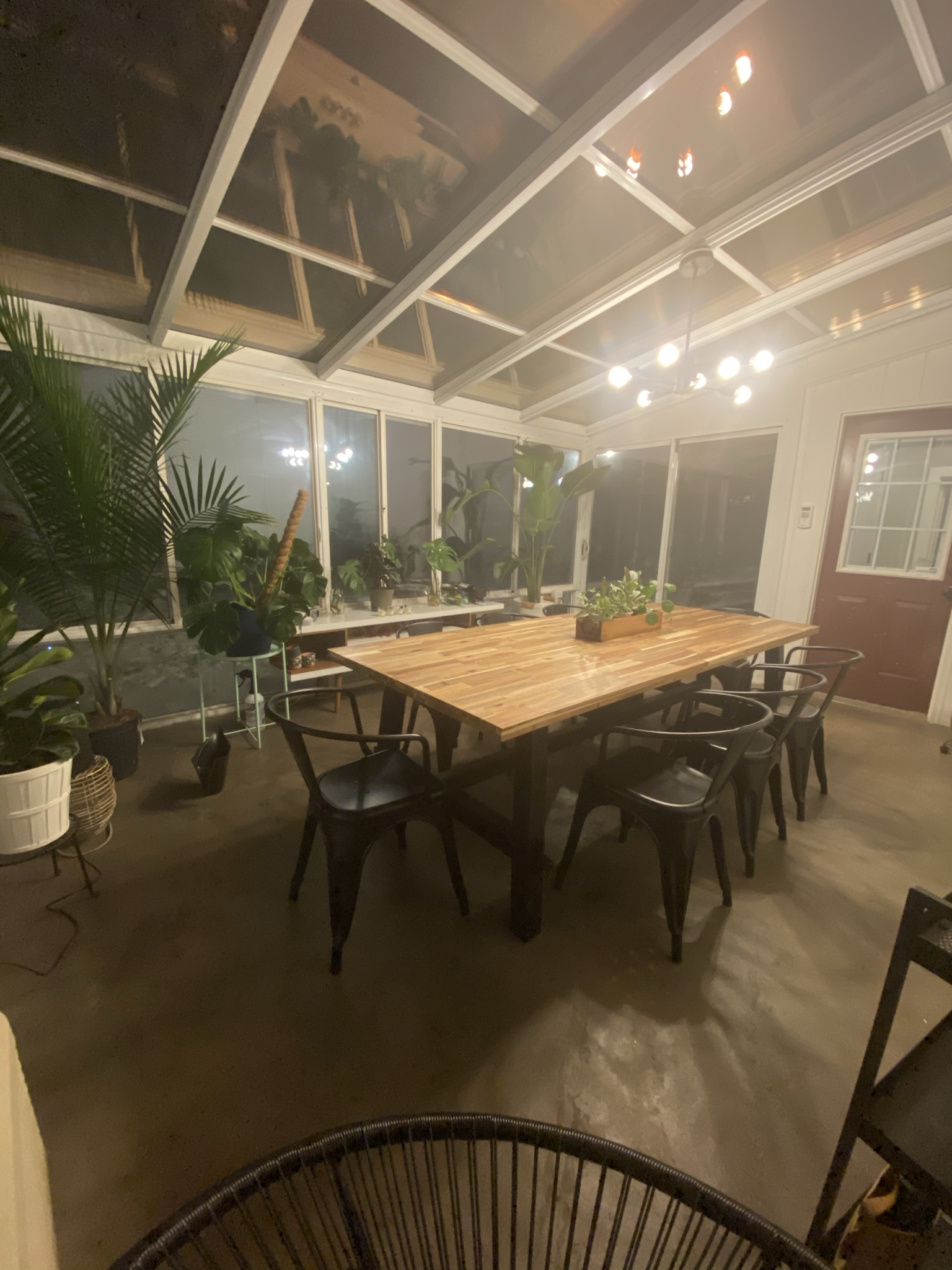 Black & White Sunroom  Floor Ideas
See the dramatic transformation of this sunroom with the use of white and black acetone dye. The once dull and faded space is now bright and modern, completely transformed with this simple and effective DIY project. Learn how to do the same with our step-by-step guide.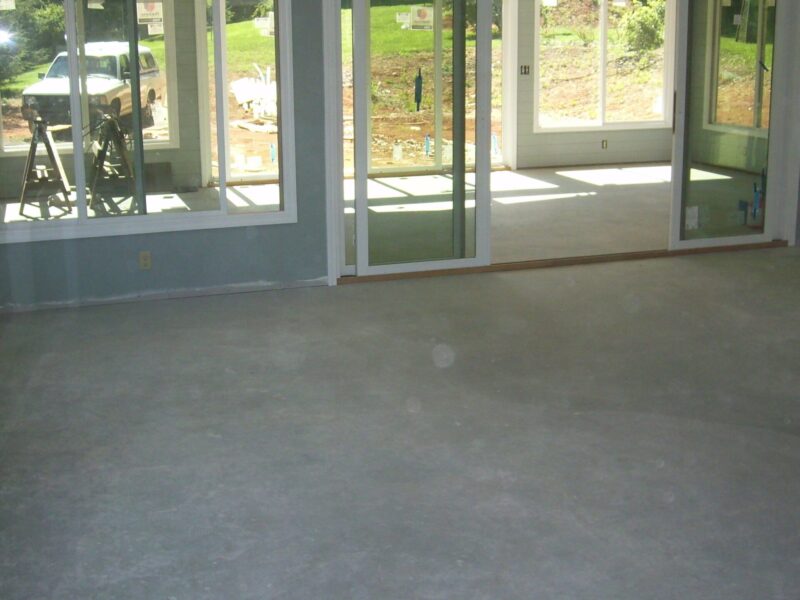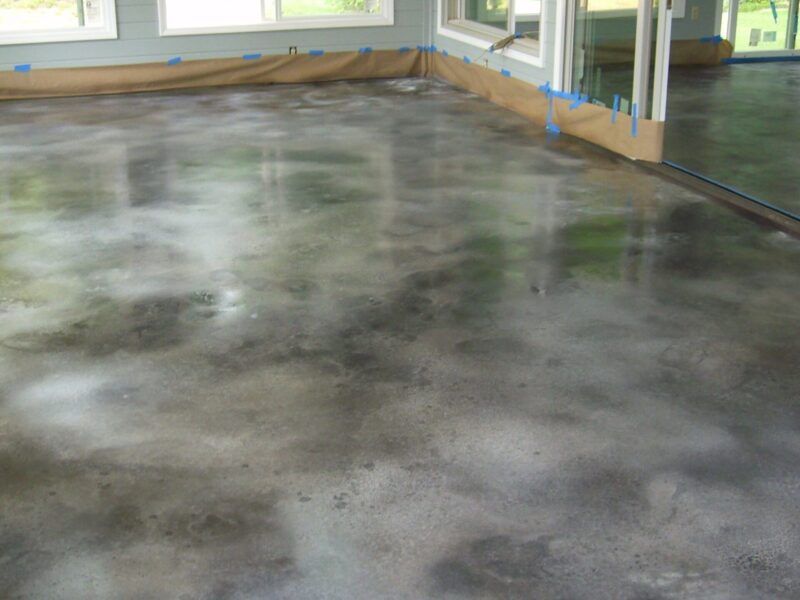 Transforming a 1980s Sunroom with Azure Blue Concrete Stain
If you're looking to give your outdoor space a fresh new look, consider giving concrete stain a try! In this project, we transformed a 1980s sunroom into a peaceful place to enjoy coffee in the morning, afternoon, and evening.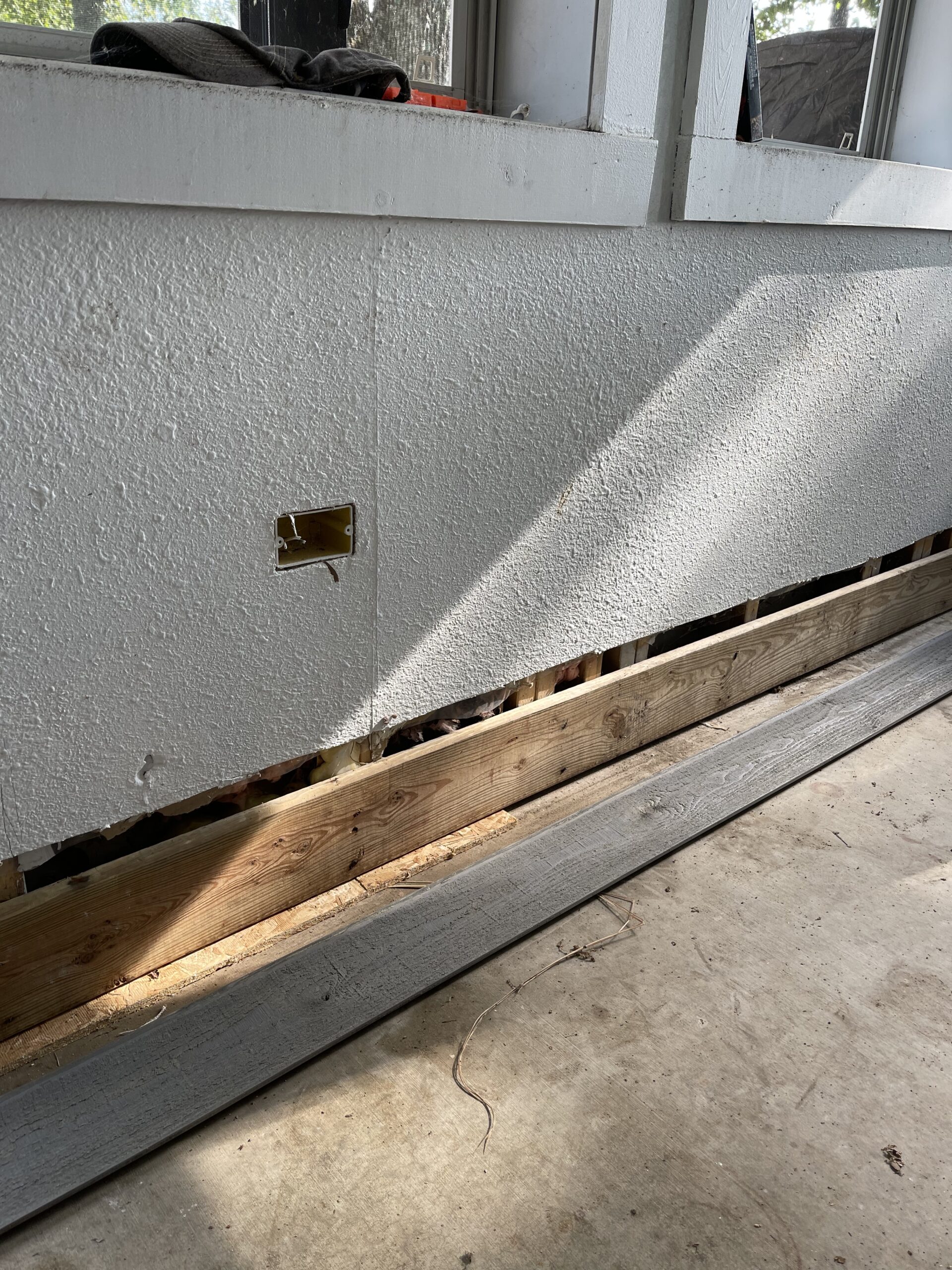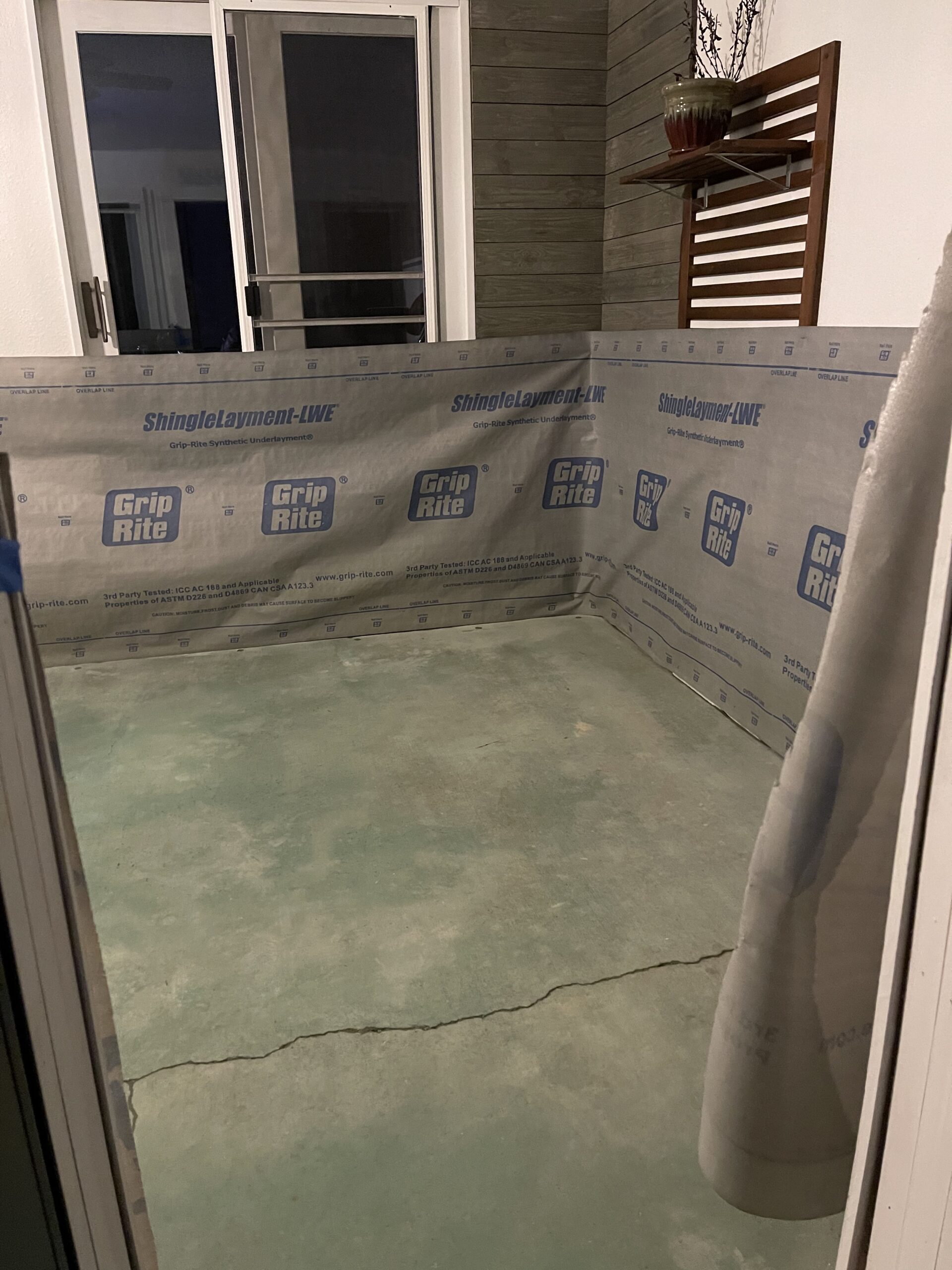 The first step was to thoroughly prep and clean the floor. This included removing dirt, rust, paint, and drywall mud. We found that a citrus paint stripper and acetone fingernail polish remover were helpful in removing tough paint, but we would not recommend using CLR to remove rust spots as it seemed to result in a lighter color reaction in the affected areas.
Since the concrete was old and thirsty, we applied a sprayed-on coat of acid stain and then went back over it with spiked shoe covers and a light circular scrubbing motion using a soft scrub brush. We followed this up with two coats of EverStain in Azure Blue. The rich blue color brings a sophisticated and calming feel to the space.
To protect the finished surface, we applied AcquaSeal in satin. Be sure to read the safety profile on the solvent sealer and wear proper personal protective equipment (PPE) when applying it. We also recommend spraying a small test run of the sealer on cardboard to prime the pump and adjust the nozzle for your desired coverage. After the first coat has dried, you can use a light coating of acrylic paint to cover small imperfections or accent other areas of interest. The second coat of sealer goes on fast and seems to require less product, and it dries beautifully to give a durable finish.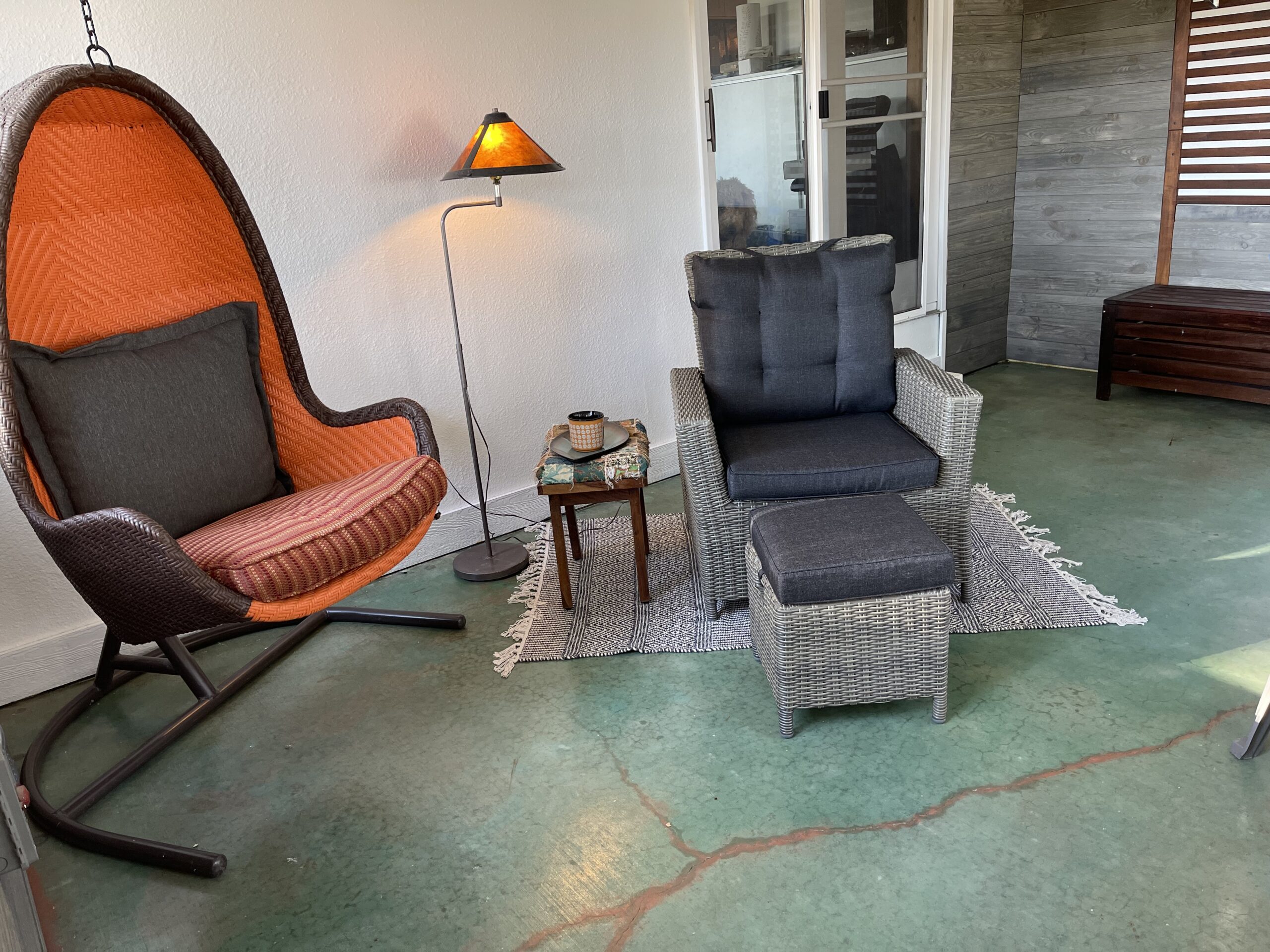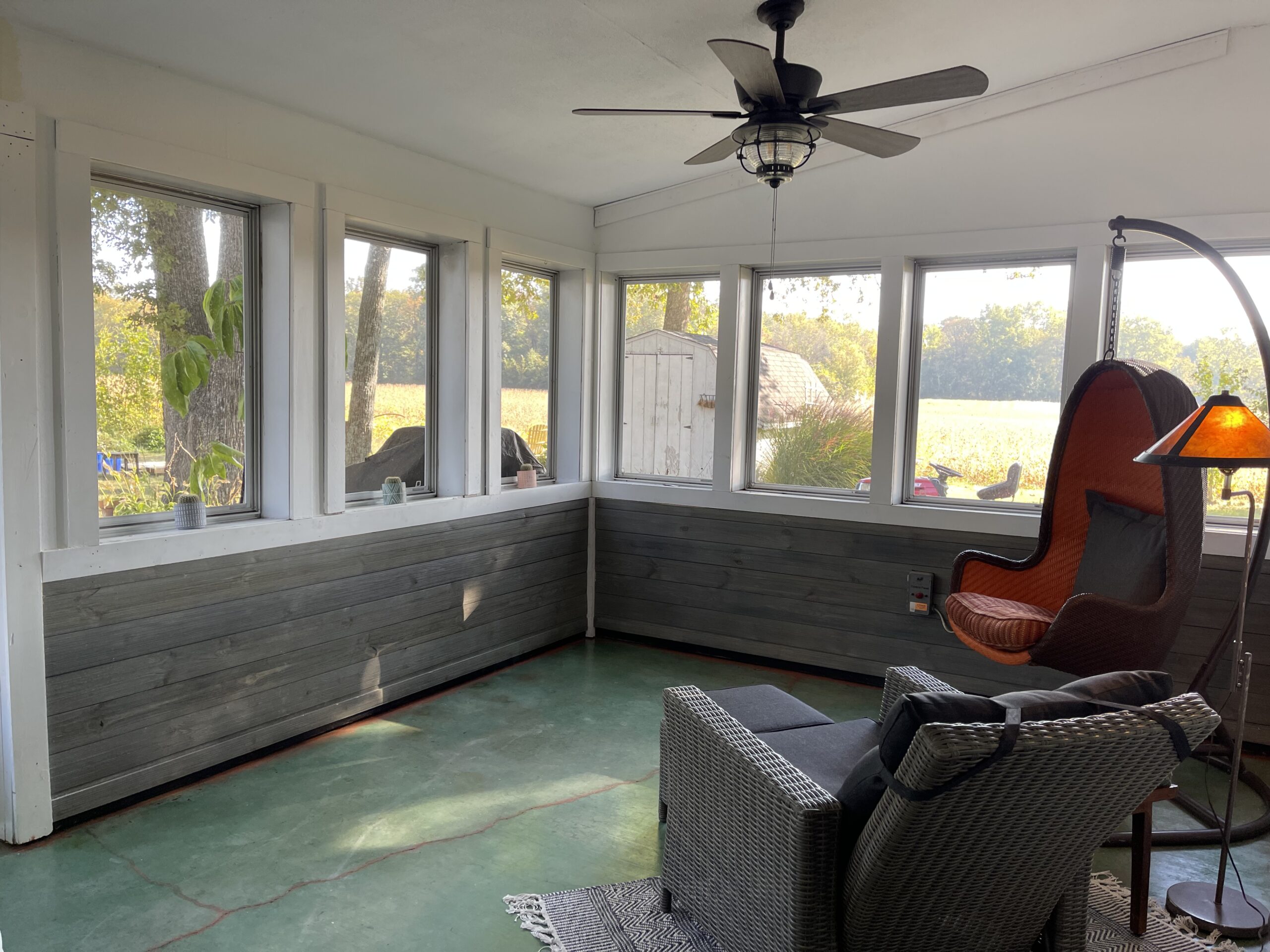 Overall, this patio remodel took 6 days and covered approximately 175 square feet. With a bit of prep and the right products, you too can transform your outdoor space with the beauty of Azure Blue Concrete Stain.
Bold And Colorful Sunroom Floor Idea
We're excited to share a bold and bright sunroom floor renovation using Azure Blue Acid Stain and acrylic paint. With plenty of prep work and imagination, this customer transformed their 25-year old carpeted porch into a stunning stained concrete floor. Perfect for those looking for sunroom floor ideas, this renovation showcases the possibilities of acid stains, paint, and epoxy for a unique and durable finish. See the before and after photos for inspiration on your own sunroom floor renovation. For more detailed information about this project, visit our blog post Bold and Colorful Concrete Transformation With Azure Blue Acid Stain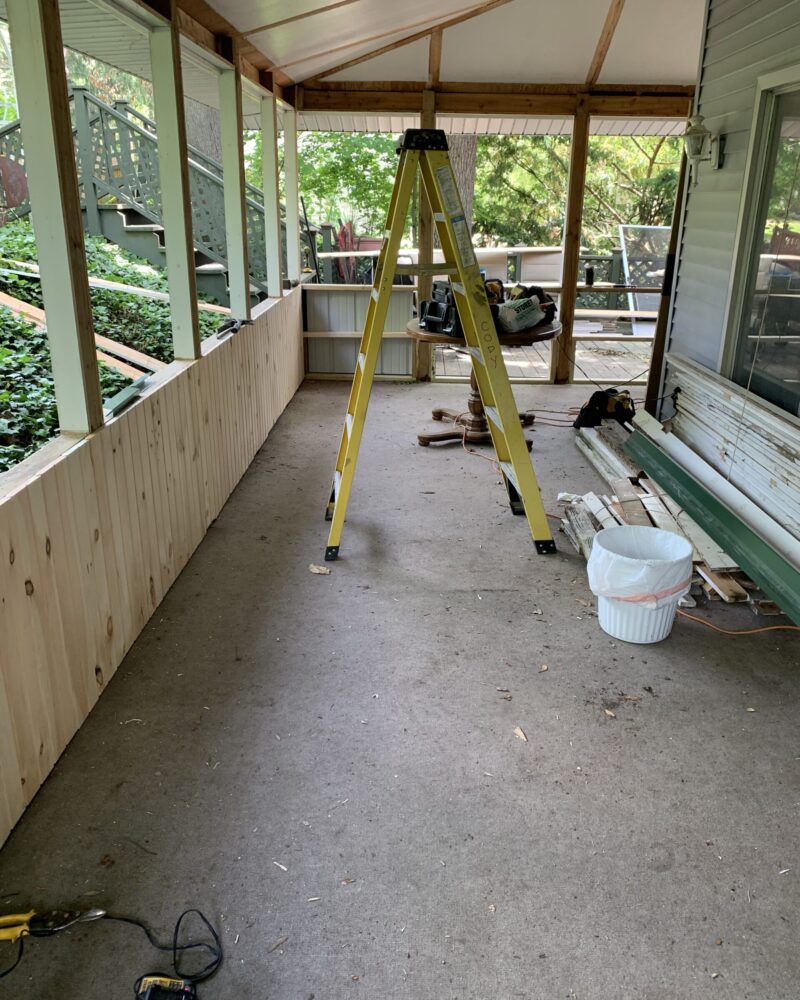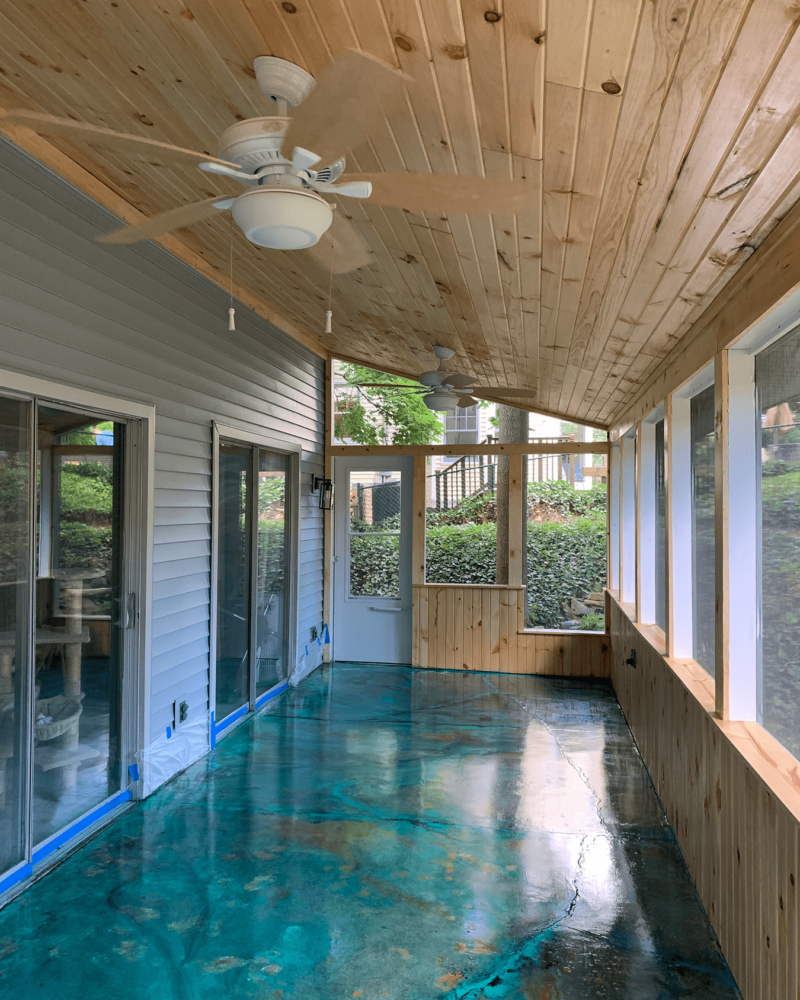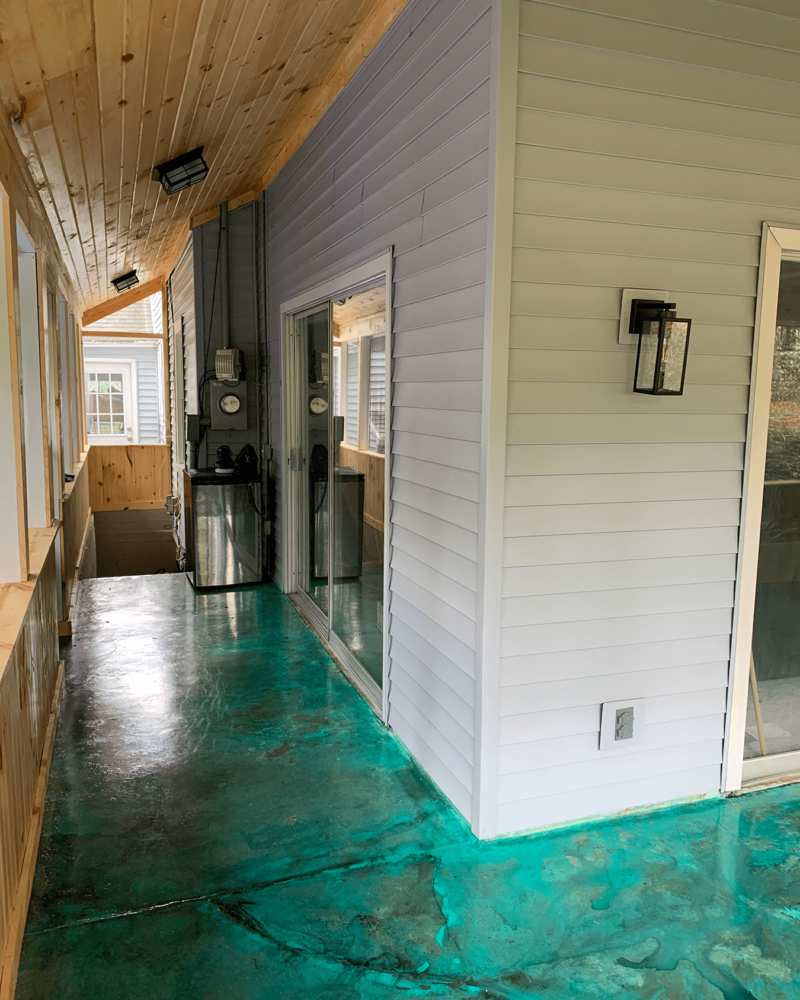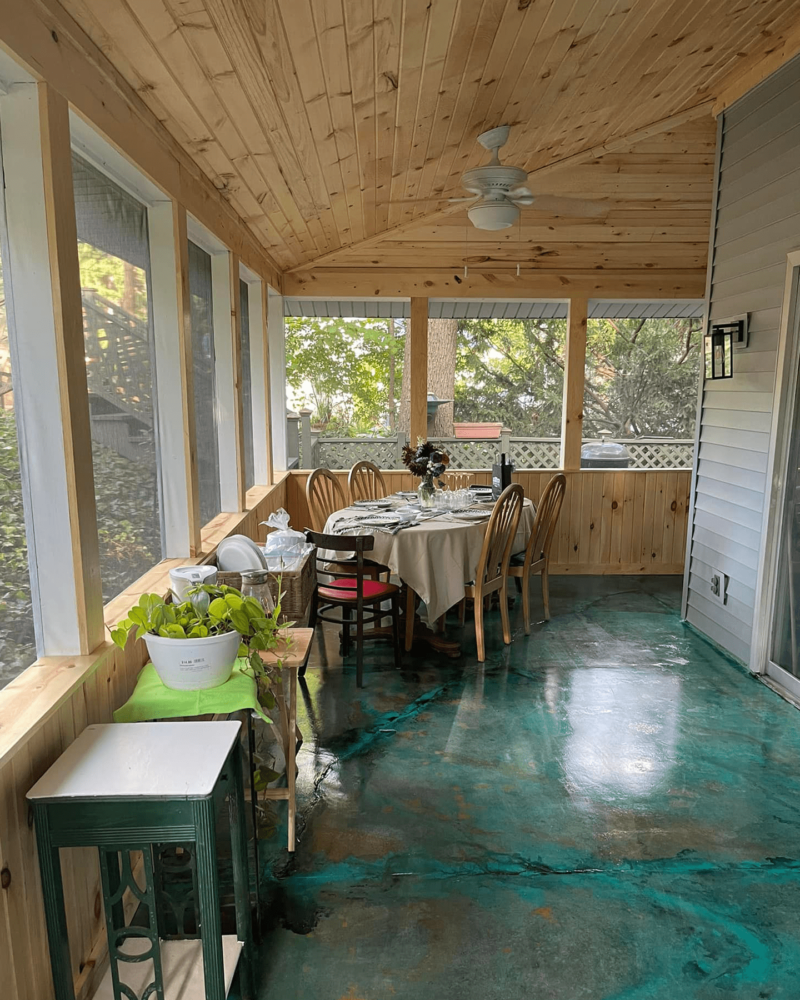 If you're looking for a quick and effective way to transform your enclosed back patio sunroom, acid staining is the way to go. In just a couple of days, you can give your space a whole new look.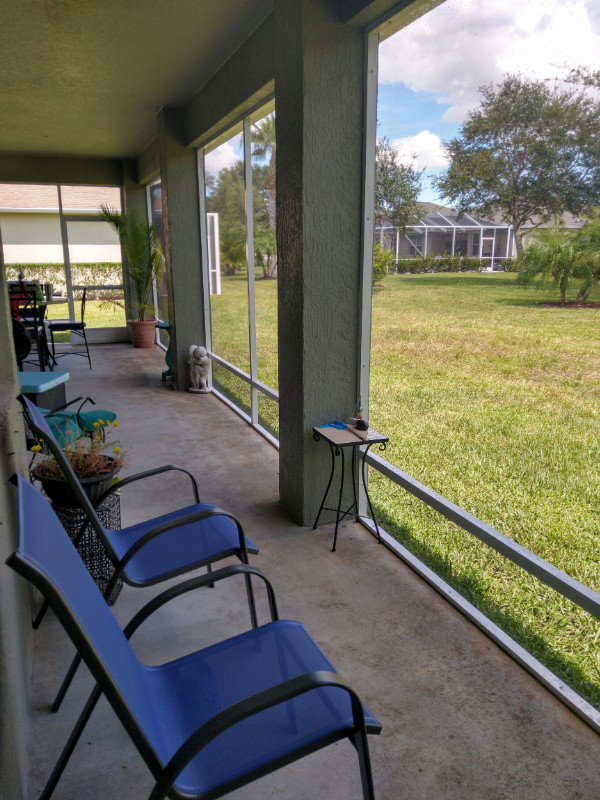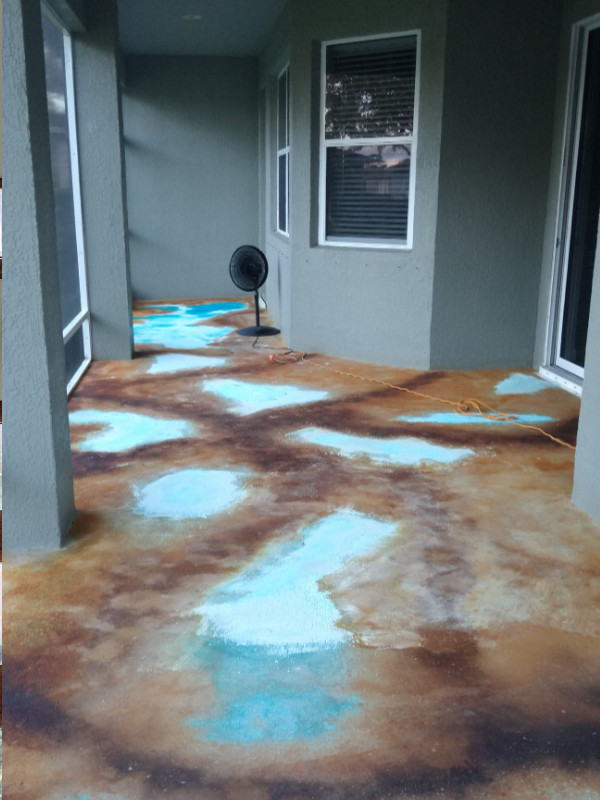 For this project, we used a wet on wet technique with Malayan buff, Coffee Brown, Azure blue, and Avocado acid stains. The resulting effect was a beautiful, multi-colored finish that really pops.
One tip we learned during this project is to invest in a pump sprayer for the acid staining. While small spray bottles can work, they can be difficult to use for larger projects like this one. Pouring the acid and spreading it with a broom is a much more efficient method.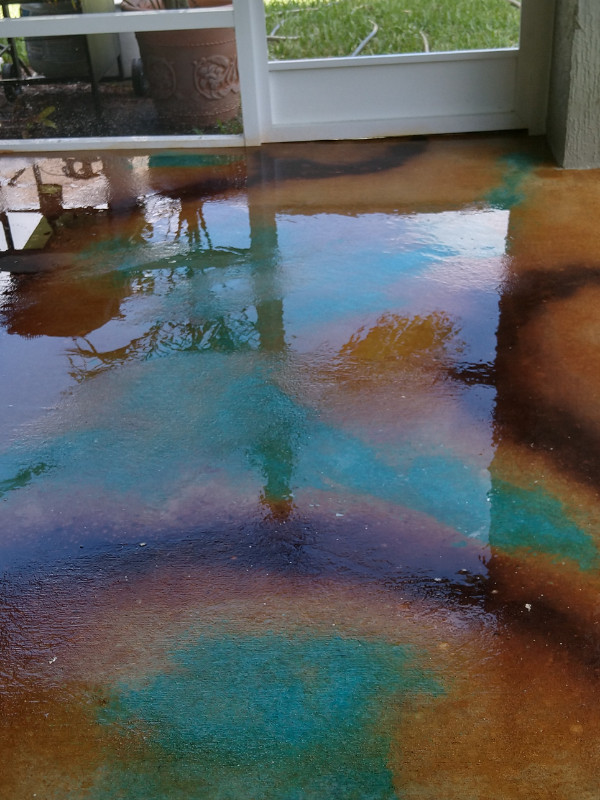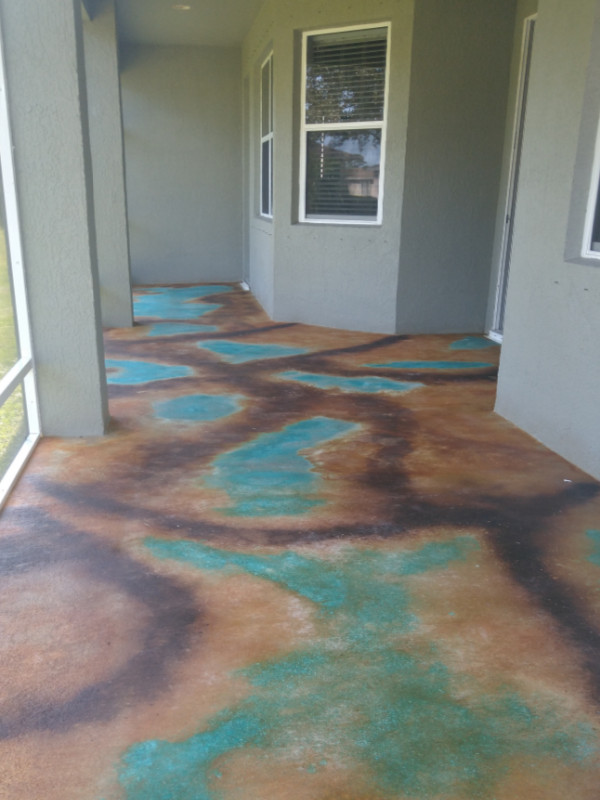 Once you've applied the acid stain, it's important to seal it to protect the finish. We used a pump sprayer for this step, which worked well and allowed us to cover a large area quickly.
Overall, this was a fun and rewarding DIY project that resulted in a stunning transformation of our sunroom. We hope these tips will help you achieve similar results in your own space.
More Sunroom Floor Ideas with Acid Staining
In this home renovation project, our customer set out to transform their sunroom by removing the old carpet, sanding and cleaning the concrete floor, and applying acid staining. The project took four days to complete and covered an estimated 104 square feet of space.
To prepare the floor, our customer first removed the carpet and glue, then sanded and cleaned the surface well using a degreaser. They then applied the acid using sprayers, leaving it to sit overnight and neutralizing it the following day. After allowing the floor to dry for 24 hours, they applied the first coat of sealant and let it sit for another 24 hours before applying a second coat. Finally, they painted the walls, replaced the baseboards, and returned the furniture to the room.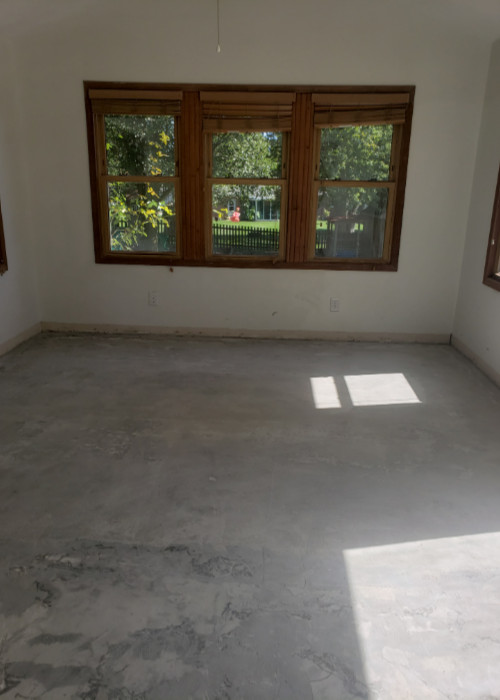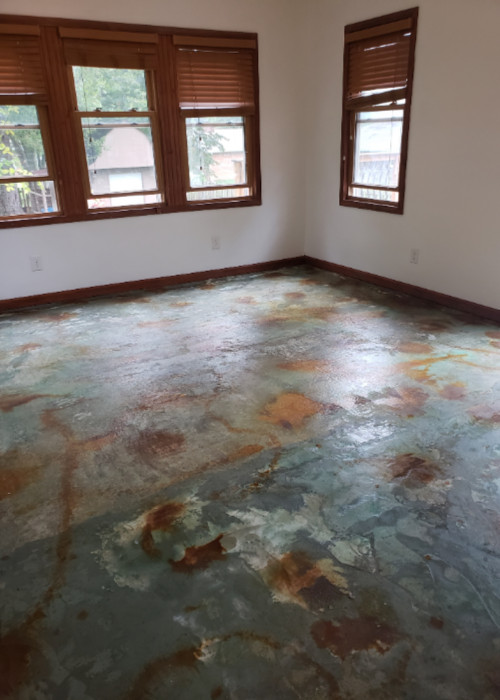 One tip from our customer was to cover the walls with plastic if using sprayers, as the acid can get all over the walls no matter how careful you are. In the end, our customer was pleased with the final result of this project, which transformed their sunroom into a bright and welcoming space with a beautiful and durable acid-stained floor."
The Pros and Cons of Stained Concrete Sunroom Floors: Durability, Customization, and Cost-Effectiveness vs Coldness, Slipperiness, and Installation Challenges
Pros of stained concrete sunroom floors:
Durability: Concrete is a very durable material and can withstand heavy foot traffic and furniture without showing wear and tear.

Low maintenance: Stained concrete floors are easy to clean and maintain, making them a great option for sunrooms that are frequently used.

Customizable: Concrete can be stained in a variety of colors and patterns, allowing for a wide range of design options to match any style of sunroom.

Cost-effective: Concrete floors are generally less expensive than other flooring options, making them a budget-friendly choice.
Cons of stained concrete sunroom floors:
Cold to the touch: Concrete can be cold to the touch, which may not be comfortable during the colder months.

Slipperiness: Stained concrete floors can be slippery when wet, which may be a concern if the sunroom is frequently used by children or elderly individuals.

Stains: Concrete is porous and can absorb liquids, which can lead to staining if spills are not cleaned up quickly.
What is the best concrete Stain for staining a sunroom floor?
If you're considering staining the concrete floor in your sunroom, you might be wondering what the best concrete stain to use is. There are many different types of concrete stains on the market, and each has its own unique set of characteristics and benefits. Here is a brief overview of some of the most popular options:
Acid stains: Acid stains are a popular choice for staining concrete floors because they can create rich, variegated color that is deeply embedded in the surface of the concrete. They work by reacting chemically with the concrete to create a permanent color that will not peel or flake off. However, acid stains can be difficult to work with and may require multiple applications to achieve the desired effect.
Dye stains: Dye stains are a more recent innovation in the world of concrete staining. They are a acetone-soluble pigment that is applied to the surface of the concrete and then absorbed into the pores. Dye stains can create bright, vibrant colors that are not possible with other types of stains, and they are easy to apply and quick-drying.
Water-based stains: Water-based stains are another popular option for staining concrete floors. They are easy to apply and clean up, and they are available in a wide range of colors.
Regardless of which type of concrete stain you choose, it is important to properly maintain your sunroom floor with a good sealer and floor wax to ensure durability and longevity. With proper care, all types of concrete stains can provide long-lasting, beautiful results. Ultimately, the best concrete stain for your sunroom will depend on your personal preferences and the look you want to achieve. Consider factors such as the desired color, ease of use, and desired level of maintenance when choosing a stain for your sunroom floor.
What is a sunroom?
A sunroom is a room in a house that is designed to allow a lot of sunlight to enter. It is typically a glass-enclosed space that is used as a living area and is often found on the ground floor of a house. Sunrooms are a popular feature in many homes because they provide a bright, warm, and comfortable space that can be used year-round. They are often used as a place to relax, entertain, or grow plants, and they can be furnished and decorated in a variety of styles. Sunrooms can be built as part of a new construction project or added to an existing house as a home addition.